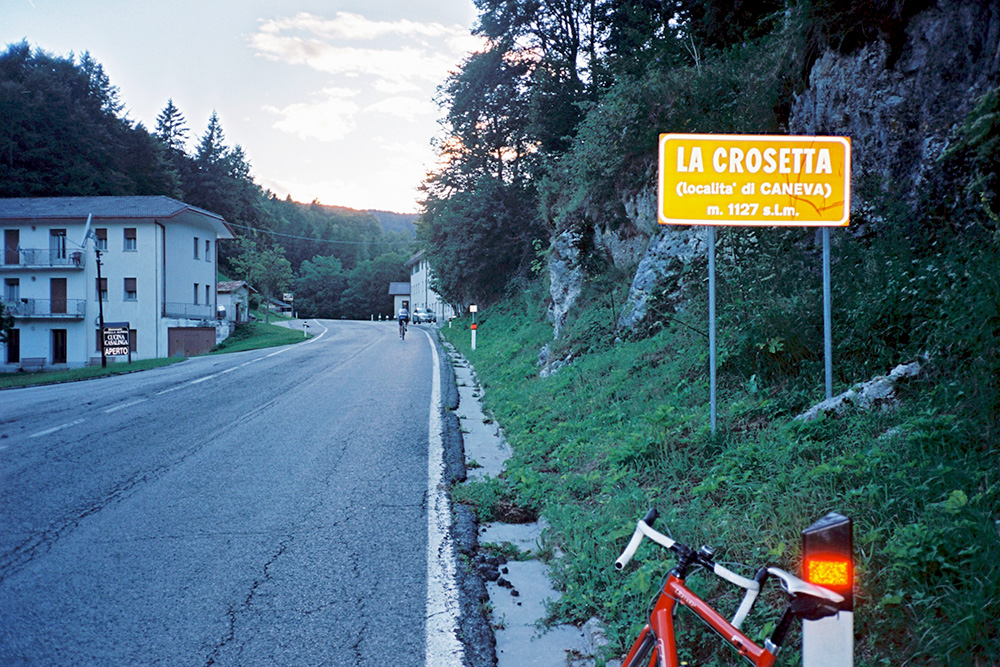 As I wrote on Facebook that day: "Doesn't look like any cycling today … too much rain (only problem is that the forecast doesn't look better for tomorrow either. Will see, but not much point cycling around in heavy fog and constant rain. Already got to see the place where they produce the local wine and got to test it (a mix of prosecco and other wines) which the man I am staying with works at (apparently there is not much work being done until later in the Summer and esp. in Winter). (Piera Dolza fr. Colli di Conegliano) – very sweet, but quite nice. Will go down to Vittorio Veneto soon and look around in the rain."
Got totally soaked shoes walking around in rain in Vittorio Veneto and had a pasta outside town, then walked back to take the local bus back to Osigo. It was actually a very nice bus ride as one goes on a nice elevated road around the area. On the way I realised the rain had stopped and the weather looked agreeable now. Feeling bad about not having cycled anything, I thought I could give it a try going up and down to Monte Pizzoc. I hurriedly got out as it was around 17 in the afternoon now. The road climbs steeply up to the main road in Osigo and then there was the long climb to Passo la Crosetta/La Crosute (1119m) that I did in fine speed. As I got up to the pass it had already started to rain again, but I was not so far from Monte Pizzoc now and at Crosetta I had been before (photo from the previous visit as it was no weather for photos now).
However, the rain increased on the way up the Monte Pizzoc road and the road seemed much longer than I had thought. Just when I saw the top the rain was massive and I just had to take cover somewhere and there was only a small house/shelter at Pian di Gesia (1456m). The views were almost non-existent and I noticed my camera battery was almost finished. I waited for half an hour, but there were absolutely no stop to the torrential rain and I was shivering in the cold. By luck I had gotten and kept the visiting card to the b&b and gave the man a call and managed to describe where I was before the phone died and he came to pick me up (paid for later, but well worth it). Theoretically I could have gone up to the top, but no views and maybe no battery for a photo anyway, so no point. Only had a mouse for company there for close to an hour. There should be lovely views from Monte Pizzoc in good weather though, but have to leave it for another time.
Apparently it snowed higher up the mountains and the man that picked me up went to have a photo of the snowy mountains on the other side of the Piano del Cansiglio before we returned back over Passo Crosetta. He then bought pizzas for us to eat at the house in the evening. I also decided to not go back up there in the morning.