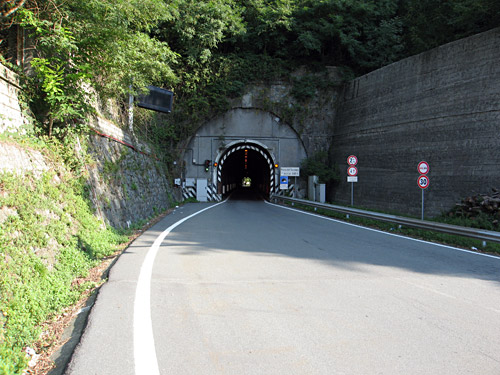 The last day I knew that I would get up to Passo del Faiallo (1061m), which is easily one of the most lovely pass roads in the area. I did not know what other plans Gabriele had in store for me though (well, only suggestions of course ;-)). Today Gabriele also thought I could sleep longer and catch up later at the pass top with the others, but this time I refused as I thought it would be nice to be a little social and take it easy. Cyclists are usually nice people and the people here only confirmed this further.
Now, which may seem to disprove the idea of cyclists being nice, Gabriele suggested that I went up to the Faiallo pass via an unusual road called 'Cima dell'Inferno' or 'La Cannellona' ('Via Superiore dei Giovi' seems to be the name of the road). But we, members of BIG, actually do like unusual and difficult climbs, so this turned out to be a quite nice alternative climb! See the profile at salite.ch. This is probably the most difficult climb in the Ponente part of Liguria. Voltri (6m) is located just at the western end of the city of Genua. Here starts a minor road which you turn right on rather quickly and the climb starts right away and soon fetches gradients around 20%. There are later over 2 km above 13% on average. It was really impressively steep and the road was narrow, but in a decent condition. Two other men also followed me up here, but told me to go ahead. The other people went up the ordinary way via the Passo del Turchino (tunnel) (532m) on a wider and more boring road. As I came up on the Faiallo road above the Turchino pass, I went down to this pass to meet up with the other people and managed to get a glass of coke at the bar there while waiting for them to arrive and then snapped a photo before we continued up.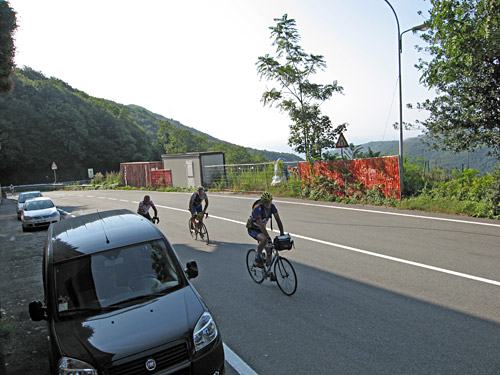 The road up to the Faiallo pass from the Turchino pass is the part which is outstanding – you can verify that in the photos here. There are some passes on the way up (for those who wonder) and it looks like Club des Cent Cols has it right here (in regard to Italy, you always have to consult both their list and Rossini's book and on some occasions they are both wrong anyway). Where you see a road coming up from the other side is the location for Giovo di Masone (674 m), then there are Sella del Barnè (894m) and Passo della Cerusa (931 m), before you finally arrive at Passo del Faiallo (1061m), where I went ahead of the last of the guys following me (though I had taken it easy until then, stopping for photos and so). (There is also arguably a pass at Pian Geremia (800m).)
The weather was splendid, so there was no problem waiting for the others at the top. The top of the pass is not noteworthy and the other side is decidedly less nice. On the other side there is a short little road going to a bar where we stopped for some time. It was clearly too early to head back and I had no reason not to go on cycling a bit more while I anyway was down here, so after some discussion with Gabriele he suggested that I take the road from Campo Ligure over Piani di Praglia and down to (below) Campomorone and then up to Passo della Bocchetta and back down via Genua to Varazze. This looked like a good idea even if somewhat demanding.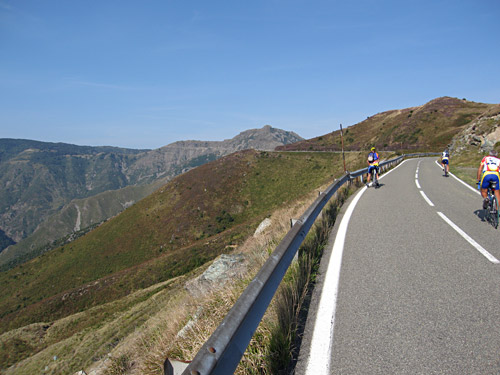 There was one major problem with all this. One error I committed two time too much during the Summer tour was time to repeat … . I thought I knew where to go so that I did not have to consult the map again when I turned off the road on the other side of the Passo del Turchino. It was a very sweet downhill ride to the Turchino pass and then a wooded descent to Masone. But at Masone (408m), I somehow thought I were at Campo Ligure. No good, it turned out after a while. I had really forgotten that Gabriele had told me to go via Campo Ligure and thought that I was really going up from the village he had told me about. This is why I continued on the bad gravel road I came onto after a little climbing on a good asphalt road. I thought it was clear from the map that I would get over to Piani di Praglia this way.
I had to walk at a few places but at other places the gravel road was possible to use. I first met someone who said it would be best to turn around, but I thought the road looked okay and continued. But after a crossroad I was sure this was not the road Gabriele had in mind (or that he had not remembered correctly himself). Luckily I heard a trial motorcyclist came when I had just about thought to give up and go back as it was surely only walking ahead on this road. I waved at him and he stopped to explain that this road was difficult even for experienced trial motorcyclists and he was already getting sweaty (and you can see why in one of the photos below). He told me the it was even worse on the other side of the crest that I saw the road went up at in a wide serpentine. And even if the road led to the Piani di Praglia, then I still would have had to walk for maybe up to 5-6 km.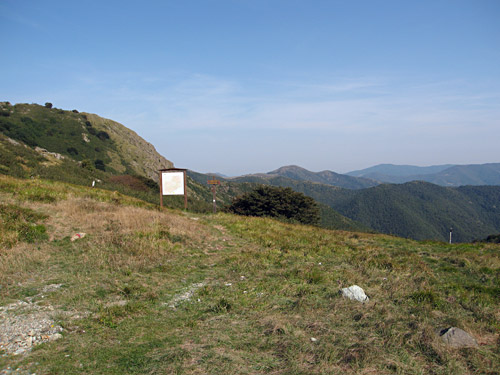 As the motorcyclist did not know what road Gabriele had suggested and as I thought that I had maybe only taken a wrong turn somewhere after Masone, I got another road suggestion that Gabriele also had not suggested. The guy told me I could possibly go over another somewhat near road by going down to where the climb up this road started down the valley and then take the other asphalted road going more right ahead there. I had not remembered it but I did find it when I returned. Luckily I did not get a flat and only lost 45 minutes or so. This other road was quite nice and also partly quite steep. It was all asphalted up to Prato Rondanino (766m) (salite.ch profile). The motorcyclist had said there were some gravel, and at this place (which looks like a saddle pass) was a crossroad with two gravel road choices (well maybe three).
Even if I suspected the best looking one to be wrong I followed it to the bar at Prato Rondanino (on this stretch I took one photo). One girl their knew some english and could explain to some degree that it was the other road I should take until I saw a green gate. I did not quite understood the last part with this gate, but hoped I would understand when I saw it. The gravel road was cyclable almost all the way – I walked one stretch just to be careful with my tyres. I had thought it should be a little shorter until the gate and was getting increasingly worried I was going nowhere. It looked for a while that I was simply going up a mountain road ending atop a mountain and guessed I should turn off before so. There were some bad gravel roads going off here along the road and I was almost following down the last one that I saw (partly because I had lost orientation now).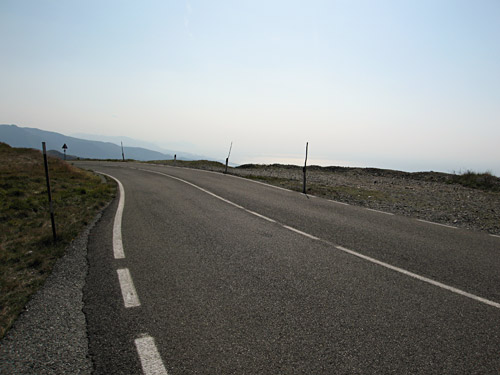 Luckily I noticed a motorcycle coming in full speed a bit above me and simply continued, while not coming down my way and it looked like he was going on an asphalt road. I went up and it was only 500 metres to the asphalt road here. Again I was totally confused over where I was without really knowing this. I was sure I should continue ahead on the asphalt road, but I was curious about what the views was like a bit in the other direction where I saw it went around the mountain. I went there and took a photo and asked a man who had stopped here just to be sure I was right about the way down toward Genua and he told me I should continue this road this way, which he had to repeat as I could not quite believe it. I was lucky and now I was at least on the right way again.
The road up here was quite nice and it looked like I passed between small mountains and went around them. I stopped to take some photos of maps, but it was also starting to rain a little. I hurried on and eventually came to Colla di Praglia (880m) (which is not the highest point on this road). Here it started to rain quite a lot and I tried to take cover under the small informative map for the Alta Via dei Monti Liguri. After a while I continued when the rain abated somewhat. I stopped to loo at the map once further down, but actually was able to guess my way pretty well down to Campomorone. Gabriele had told me to go all the way down to start the climb up to the Passo della Bocchetta, so I went all the way down to the main road from Genua to Passo dei Giovi, which is the pass dividing the Ponente and Levante parts of Ligura.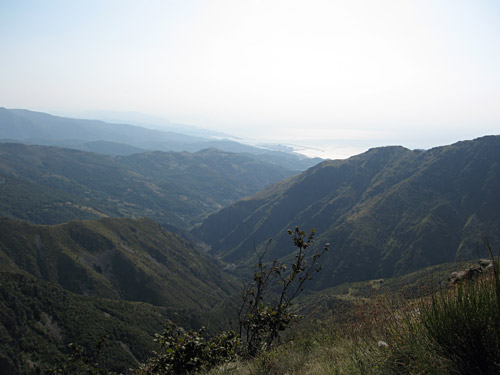 I was a bit tired over the troubles before and climbing, but decided that since it was possible to do this without being too late back in Varazze, I should really do this climb also and it would be a fitting end. Surely I suspected that it would be a decently hard climb as it is one of the BIG climbs and that Gabriele also seemed to suggest it was a classic (which I guess it must be for the Genua cyclists). It turned out to be a quite tough pass climb, which was again surprisingly nice despite being so close to Genua and the main north-south crossing road not so far away.
The climb starts in Pontedecimo (105m) and ends at Passo della Bocchetta (772m). It was hard but it also had some easier stretches. Higher up where better views and the rain had stopped when I came down to Campomorone and now it was dry on the roads again. I had two photos at the top, which a nice old man took, before I headed quickly down again feeling happy it was almost over with cycloclimbing for this year. It was a long and increasingly busy road down to Genua (again I should have stopped and looked at the map and taken a more western road down there to escape most of the city traffic, but I did not want to stop and figured it would not matter so much in time anyway). In retrospect I could probably have gained 15-20 minutes and had a nicer route, but I was not let dow much by this.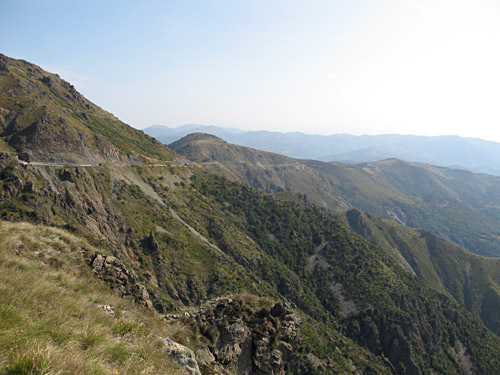 Once out of Genua at Voltri, it was all nice and sweet again. After the first big touristy village of Arenzano, there is a small little pass that I went over the other way in the morning and it is the only pass along the coast from Genua to Ventimiglia according to Gabriele. I researched this little one a lot before writing on it and I believe it is not called 'La Colletta' (as Gabriele and Rossini claims), but simply 'Colletta' (75m) ;-). ("La Colletta" is the name of the hospital located nearby.) See this interesting map that I found! ('La Colletta' or 'Colletta di Arenzano' are both fine too, of course.)
I actually got a bit tired here! I just thought I saw Gabriele in a car across the road when he suddenly called me to ask if I was on my way. I explained I had made some unplanned detours and would explain when I came back. I asked if there would be time to make a short stop in Varazze on my way back as I really wanted to a have a nice ice cream before leaving Italy again (and had been unlucky to find any good before). Gabriele had mentioned a good ice cream place before, but I had not remembered the name and did not bother to ask again now as he maybe wanted me to hurry on a little. I stopped at a decent place by the road in central Varazze. I talked a little with two older Swedish/Norwegian men who also stopped at this café and they told me they had went down in the same car that they travelled down in as youths back in the 60's and showed me the nice old car across the street. I almost forgot myself, but soon hurried on up the steep road to Gabriele and his family for a delicious pizza at the house!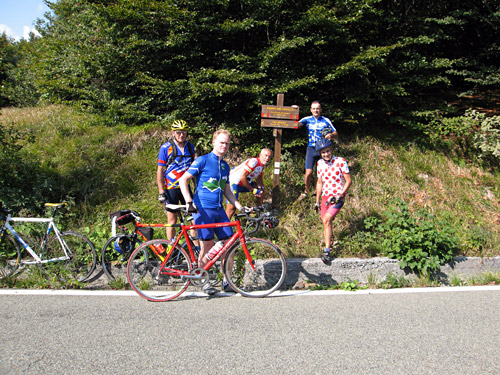 Gabriele was understandably very tired and had to return back to his other home in Milano this night already for work. We parted and I went back via London to Sweden the next day with Ryanair from Genua. It was raining heavily this morning and I nearly missed the train, but all went well in the end and I had unusually much time before the flights.
I am really happy for the nice meeting arrangement and hard work to get this meeting realised by all the participants and especially I would like to thank Gabriele (the man in the red dotted jersey in the photo here) again for all his help, friendliness and hospitality! It was very nice to meet with cycloclimbers from many countries in Europe and I think I even understood some Italian spoken. Liguria is really a beautiful region to go cycling in and obviously a place for those who enjoy good food.