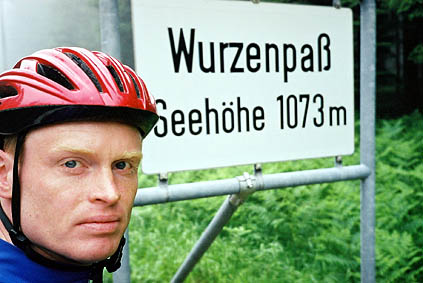 After a full breakfast at Penzion Borka, I left Kranjska Gora 810 m for the nearby Wurzenpaß/Korensko Sedlo 1073 m. The short ascent to Wurzenpaß is somewhat steep, but it has steeper parts on the Austrian side, where the climb is longer as well. I have never seen it elsewhere in the Alps, but when going down the long straight 18% stretch into Austria, there is a sign announcing 'Bremsstrecke', which means a road going up in the woods at the end in case one does not manage to get the speed down enough before the bend of the road. As the road is not very steep otherwise, it seems a bit odd it could not have been built with more even steepness.
I picked up my pass at the border as I took for granted they wanted to see it here also, but the lady just exchanged a few words about the weather. I found the little short-cut road (not so sure about that, but it was nice) via St. Job to the bigger road leading east via a myriad of evenly placed small villages, like Mallenitzen; St. Jakob; Maria Elend; Feistriz. I noticed that in this part of Austria you have every 100 meters marked on the road (a bit too much information in my taste). I got my bicycle cleaned a bit at a petrol station somewhere here. In Ferlach 466 m, I stopped for lunch (sandwiches that one could always get in any grocery). Yes, the weather decided to get really nice here too and it was sun cream time again.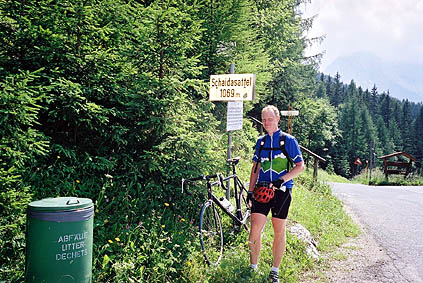 Now I finally went off this road and turned up a quite beautiful valley to Zell-Schaida. I stopped at a pub soon thereafter and asked whether Zell-Schaida is not really a pass. But even though I thought it looked like a pass, the relevant pass is higher up in the woods somewhere according to what I learned. Here a road climbs again up to Schaida Sattel 1068 m on a very small but very attractive road. There are many interesting side roads in this region, some of which I had hoped to do earlier, but they were also part of the plan to be cut out rather quickly when I needed to catch up with the overall schedule. There is a road up to Eisenkappeller Hütte for example with at least two passes on the way (and it may be surfaced all the way).
At Bad Eisenkappel 556 m, I once again turned up the Karawanken mountains. I went straight ahead to Seebergsattel/Jezerski Vrh 1215 m and took a photo at the customs post. Then went back down the last 6 km to turn up the only other tarmacced road up here, which goes to Paulitschsattel/Pavlicevo sedlo 1339 m.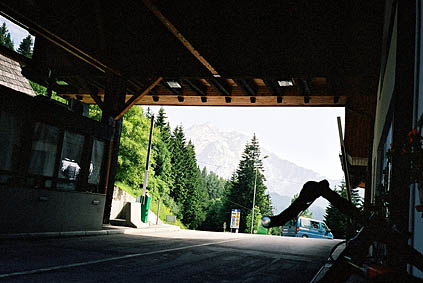 The road up to Seebergsattel is very evenly steep and only something like 6%. The road up to Paulitschsattel, I believe has only very recently been surfaced on the Austrian side (I believe it was surfaced some years earlier on the Slovenian side). The pass was only opened in year 2001 I read at some web site. It is not open on the night, I believe. This pass is a real killer pass! It is quite steep, very often above 10% and quite relentless. It is also extremely unevenly steep, which makes it harder. You may think you understand where it goes, but you are likely to be wrong. The height of the pass does not seem to make it problematic, but you have to descend something like 150 m of height before you reach the pass height. The pass road on the Austrian side is quite beautiful and with good surface and I thought it was one of the best surprises on my tour. Very recommended!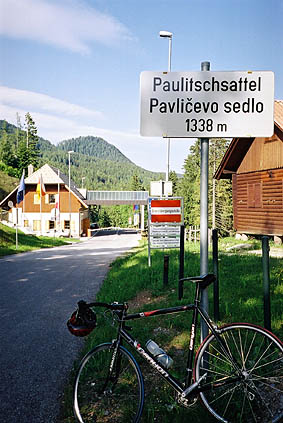 I was also a bit surprised to find a very good road into Slovenia continuing and asked someone whether it would be surfaced roads mostly in this area. I got told that all main roads are surfaced. Well, I was going to go left at the first place on a road I believed to be a gravel road and it was gravel (apart from a few metres). It started out fine and I believe it is a somewhat popular little tourist road or if it isn't, it ought to be as it might be one of the most beautiful roads in Slovenia. I only have one photo here and it captures the best part of it. It was a fine gravel road for quite some time, but after a dip it went up for a long time and became increasingly worse. I could cycle up to the top (a geographical pass without a name) with some effort and the thought it should be easy at it was only supposed to be a few kilometres downhill to a surfaced road. The road downhill had however been resurfaced with a really thick layer of loose gravel that was as easy to cycle on as cycling on the beach and was a bit dangerous for me on the road bike.
It was (or seemed) much longer than I had hoped for and I was very tired after that downhill ride. I had had plans on going up a small road and cross over to Austria again (on a path perhaps, but it was marked as a cycle path on a walking map by Freytag & Berndt) at Luscha Sattel. I did not quite understand where that road was, but it was getting late and a bit colder, so I decided to skip this adventure and go straight down into a part of Slovenia which my 1:300000 F&B map did not cover.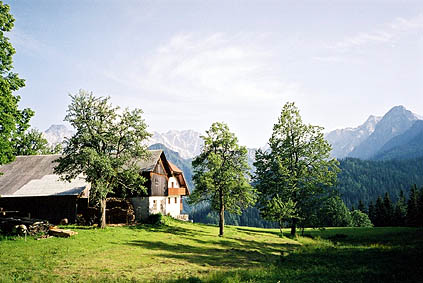 I knew somewhat well from having looked at another map which way to go. I followed the extremely small surfaced road down an interesting valley and arrived at Crna (a small village). From here I took the surfaced road that goes closest to the Austrian border further east. I passed by Mezica and a couple of other rather large villages on the way to Dravograd. It was a very stark contrast between Austria just a few kilometres away and the villages like Mezica, where people seemed very poor and hanged around large rough and sad looking apartment houses. All the remnants of a typical socialist state, but the places seemed lively and they will probably get more attractive in the decades to come. I was most surprised by how much people that lived in those rather rural areas.
I decided to stay inside Slovenia this night too, since I had so positive experiences from Kranjska Gora and thought it would be cheaper. Dravograd is on a rather popular and big road into Austria very near the border. For some reason the places I passed by and even here in Dravograd it seemed like they had not much to offer the tourist when it came to lodging. There were perhaps a few hotels, but I was looking more for a room, but could not find anything like that here. It had to be a hotel or I would have to go on to Lavamünd in Austria (which might have been a good idea in retrospect). I asked for the price at a hotel that looked somewhat expensive and was a three star hotel, but it turned out to be 29 euro including breakfast, so I decided it was a deal.
I went out and had a pizza (somewhat odd, with peas and other vegetables on) and a beer at a restaurant. Oddly enough this was one of the two places I met any Swedish people on my trip. They had also stayed at the same hotel and also found this restaurant. Dravograd is apparently on a somewhat more easterly route from the north down to Croatia, which has gained much popularity with tourists lately. The food was rather cheap and I must have given a bit too much tip as the serving lady went very happy all of a sudden.
Day 1 – Day 2 – Day 3 – Day 4 – Day 5 – Day 6 – Day 7 – Day 8 – Day 9 – Day 10 – Next Day – Day 12 – Day 13 – Day 14 – Day 15 – Day 16 – Day 17 – Day 18 – Day 19 – Day 20 – Day 21 – Day 22 – Day 23