I left Schwarzach a little bit unwilling as it had rained all night and only now the rain began to dwindle. The rain stopped and I could cycle a few kilometres on dry ground even, before the rain commenced. At Krössenbach, I somewhat reluctantly turned up the valley to Fusch and the Grossglocknerstrasse – the highest and most famous mountain road in Austria, built in the 30s with the tourist in mind. It is indeed a very spectacular road.
I was reluctant about going up there for the simple reason that it was obvious it was very likely to be snowing at the top when it continued to rain down in the valley. (They even joked (I thought) at the hotel in Schwarzach the night before that it would be snowing on Grossglockner the next day.) At Fusch, I stopped to think about the situation and wait for the rain to stop. I had a coffee or two, but at 12 the coffee place closed as it was Saturday. It was just raining more and more, so I finally had to decide that maybe it was time for a pizza at the restaurant. I was just not going to skip the Grossglocknerstrasse, which was the main road/passes that I missed in the eastern Alps due to my accident last year. Not another time!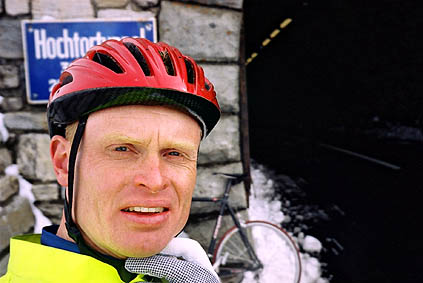 I had a pizza and tried to eat as slowly as possible so I could stay and keep warm in the nice restaurant with a magnificent view of the mountains up the road and of the weather above through the glassed terrace. I guess it around 14 in the afternoon and it still rained and I saw tourist buses coming down with thick layers of snow on their roofs. Two mountainbike cyclists turned up at the restaurant, looking like something the cat had dragged in and they were shaking and could hardly talk despite having good winter training wear (at least relative to me). I asked them about the conditions up at the top. They told me it was 15 cm snow and horrible. But, I replied, surely they must have snowploughs clearing the road up there? "Sure, no problem!" – was the only reply he could care to offer (in German). Well, I thought, it seems like the rain is soon over, so time to leave for the top.
I put on my wind jacket and my thin cotton gardening gloves (they were the lightest long finger gloves I cold find). Then just after a few hundred meters the rain stopped altogether, but it was very cold (around 8-9 Celsius were the first photo was taken). I met some more tired and wet looking MTBers. Soon the sun even came through and it was perfect weather with up to 17 degrees in the sun at around 1500 meters height. I passed by two other cyclists trying to get up (do not know where they started, since I know for sure that no one was trying to cycle up during the time I was waiting in Fusch, at least none that I saw).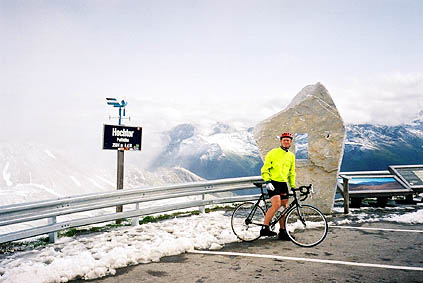 Above 1700 m there were snow on the side of the road and it got colder and colder as I struggled on to Fuscher Törl 2428 m (2407 m?). It was rather pleasant since it is easy to get hot anyway on the ascent, but it could surely have been a bit warmer. Above 1800 m I lost the sun and came into the clouds. Near the top the views opened up again, but it was very cold (around 5 degrees at first and down to 2 degrees later). I was a bit worried that the bad weather was not really all over and was also a little worried over ice on the road.
I was very happy to have reached Fuscher Törl. I saw the road going up to Edelweissstrasse, that I had thought earlier to cycle up, but it had not been cleared (properly) of snow, I believe. Anyway it is a cobblestoned road and I did not want to try that out in this weather. I then went down to Fuscher Lacke 2262 m, where there is a café a tunnel and a little lake. I would have wanted to stop at a caf&eacute, but I could not give up the little heat I had built up in my body by stopping. I continued up to the other pass, Hochtor 2576 m (2505 m?), which is at another tunnel and is the highest point of the road. The second photo was taken here (the most funny photo on the tour I think) and the third photo on the other side of the tunnel. There were some snow on the road here and it was down to 2 degrees.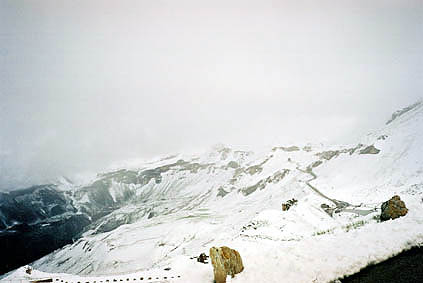 On the other side of the tunnel I could see that it seemed to be a very good weather down the valley toward Lienz and Italy, but unfortunately it was not possible to go that way if I wanted in any way to adhere to my plans. I had to go back and took another photo of the area between the two passes, just to document how much snow there was. There was a ruined house called 'Elendboden' that stuck in my mind as a somewhat suitable symbol for the conditions up there. After Fuscher Törl there was one good thing that I had hoped on, that the road actually had mostly dried up during the time it took me to reach the top and return again. That was nice and proved that I had been thinking somewhat correct about the prospects of climbing this road that day. However, one thing that was not avoidable was the very cold weather to wheel down in. My gloves helped almost not at all and the sun had disappeared lower down and now it was mostly around 7 degrees until Fusch when it was 9. I was feeling like I had been deep frozen for a long time and hardly dared to turn the pedals around upon reaching flatter ground.
I never really got above 14-15 degrees that evening and I was worried I would get sick. I tried to get as far west I could and hoped to escape the bad weather. Since I had to wait half day for the rain at the start I could not do more than 140 km this day and ended up in Neukirchen and there found a good place to stay for the night (a bit up in the village – they asked me how I managed to find just their place and I said that one should never try with the first or second most obvious choices). I had a wienerschnitzel of some kind for dinner and beers at a restaurant where I was the only guest. It was a good choice of village to stop at.
Day 1 – Day 2 – Day 3 – Day 4 – Day 5 – Day 6 – Day 7 – Day 8 – Day 9 – Day 10 – Day 11 – Day 12 – Day 13 – Next Day – Day 15 – Day 16 – Day 17 – Day 18 – Day 19 – Day 20 – Day 21 – Day 22 – Day 23