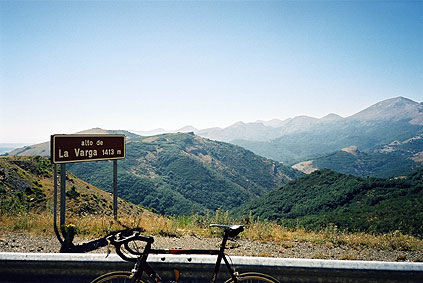 7 high passes this day and still unusual little height climbed, even though the distance was a bit longer than usual. Still it surely was not a lot of flat parts that I cycled (had to go through the height differences to make sure it really only added up to 2190 metres).
Perfect morning weather and I was shown the way to Triollo by a local (the one I guessed). The road started to climb at once out of Cervera de Pisuerga on a very sweet road (which is also marked as scenic on the Michelin map). I had not been able to get information about whether there could be a pass along this road or not and thus thought it might just follow the dam as shown on the map. However, before one reaches the dam, one has to climb rather long out of Cervera de Pisuerga and then descend a little before a final ascent up to Alto de la Varga (1413), so I had already climbed over 500 metres more than I expected that far. (Maybe a closer look on the map might have suggested some climbing.)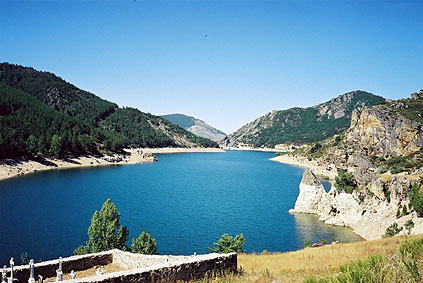 The road along the dam was indeed very flat and by far the longest flat stretch I cycled that day and maybe throughout this whole Summer trip. The second very nice photo was taken at one spot along the dam that was not flat. Here were a couple of the only sparsely scattered houses along the road and an old lady saw me taking the photo and apparently thought I had chosen a good spot for a photo. I waved and took off down to Velilla del Río Carrión.
At Velilla del Río Carrión I bought a whole baguette with a whole package of cheap melting cheese, swallowed down with Coca-Cola, which made me really stuffed for a while. But I had to made sure I was not going to get hungry as there would not be any big place ahead for a long time and I could not know what to expect of the small villages on the map.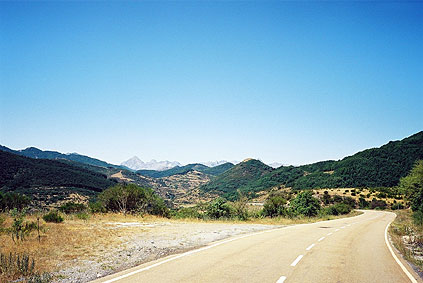 It was going to be hot today, but I was expecting it. I left Palencia via the easy pass of Alto de las Portillas (1275) and entered León. Then I continued to the crossroad at Besande, where I had thought to climb two passes on the road going west and then return, but I decided to only do the first and see what it looked like from there. It seemed I would have to go down for a pretty long time and up again in the distance, only to return while having more or less the same view as I had from Puerto de Monteviejo (1433), so I went back down again to Besande on the somewhat rough asphalt road (a little steep up there). (I had forgotten it, but think the third photo is from Puerto de Monteviejo looking toward the direction I did not continue in.)
From Besande I cycled toward Boca de Huérgano and came upon a very small pass called Alto de Picones (1316), which is extremely easy from either side. At Boca de Huérgano there was a hotel and they had an ice-cream machine, so I had to stop for an ice-cream! It was good I took it rather easy as I was all the time without any shade from the blazing sun.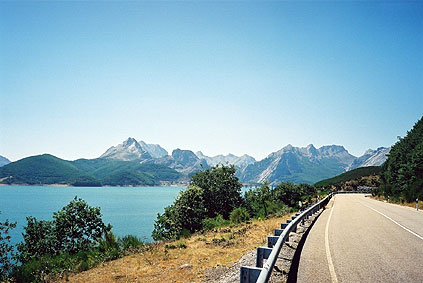 Then again it was indeed a flat stretch to Riaño six kilometres further on. Here I had two photos of the gorgeous mountains surrounding the big dam – one before Riaño and one after. In the other direction I could get glimpses of the Picos de Europa.
I followed the road up to Puerto de Tarna (1490). This road is somewhat nice and only steep at all from the last village of La Uña. At the Tarna pass I was for the first time in Asturias and it all looked impressive down there, but I believe it was a bit unfavorable with the sun and mist for a photo. As much as I wanted to get down there and felt like cheating again not climbing the north side which is obviously quite something else, I had decided to stay in León a little longer.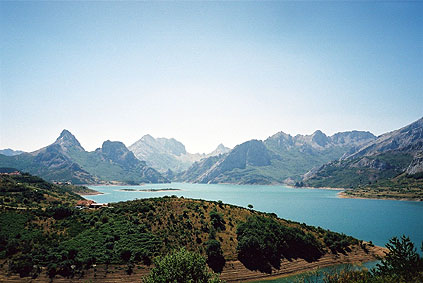 I continued climbing up to nearby Puerto de Las Señales (1625), where I had two photos and could not chose which to show here (so I have both of them). This was the second highest pass I climbed in this part of Spain.
After a somewhat long a fast descent I came to Puebla de Lillo, where I once again stopped for some fruit and something to drink (did not find any cold drinks). The grocery shops are not always easy to see in villages like these even if they are on the main street as they usually have no signs or lights and even the windows could be sealed. It says Autoserveza (spelling?) and I first time thought that it had something to do with cars … .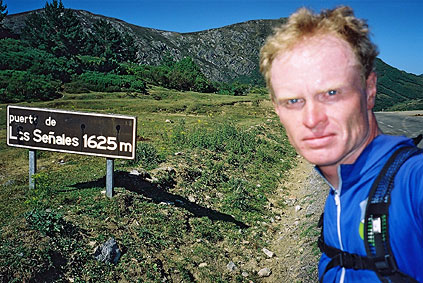 I was getting a little tired, but it was still much time before darkness and thus no excuse not for climbing over the next pass and also really wanted to get over to Asturias, which was me real goal of this westward journey. It was getting easier the closer I came to the pass as I knew it would be the last for the day. Puerto de San Isidoro (1520) is another classic pass in the region best climbed from the harder north side. It is however unusually much used and is very exploited by villages at the top and all along the north side.
I also here had two photos of which I could not chose only one.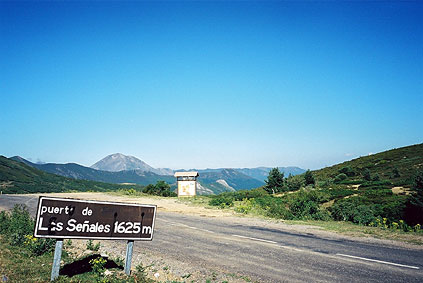 The north side was a fast descent at first and a very long one. Unfortunately I had to pedal down most of the stretch as the inclination of the slope was not high and there was a constant slow headwind.
A kid on a bad road bike caught up with me and we competed a little, which was good so I had something else to think about than the wind. He gave me some directions on how to get on to Pola de Lena (301), which was not very obvious at the end of this road that ends up at a industrial villages with many alternative roads (without meaningful signs as usual), but the other road(s) should lead right as well eventually. (I should point out that signs are often for regions rather than for places in this part of Spain! This might not be the case just here, but at many earlier places it were.)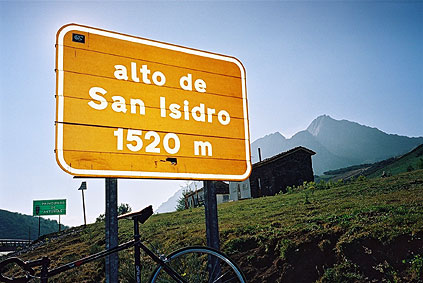 At (or just before) Ujo one crosses the motorway and takes the small road up to Pola de Lena, which was a rather boring town. There was simply no hotel or anything of the kind from the direction I approached Pola, but near the other end of the town I found some obscure sign for a hotel that I could swear was not in operation. I tried it anyway and to my surprise someone let me in and I had a room and they were actually quite nice, even if very bureaucratic. (I never saw any other place to stay at, but there may be places closer to the motorway (this was also close there).)
I did not find any good restaurant, but found a place where they served very big hamburgers and had two of them. Here I found out it was common with snacks machines that sold nearly everything in the streets and near big houses, which I later found in similar towns.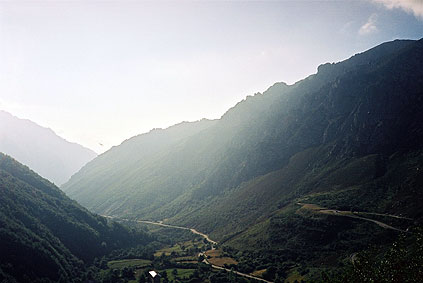 There was really nothing more to say about this place apart from that it was not quite as boring as the worst place, Llodio, that I had passed by a few days before. I think I saw some nice houses in the town, but mostly it looked like a bad suburb from the mid 70ies outside a european town. Thankfully there are many much nicer places and towns in north of Spain. On the whole Asturias is indeed very nice.
Day 1 – Day 2 – Day 3 – Day 4 – Day 5 – Day 6 – Day 7 – Day 8 – Day 9 – Day 10 – Day 11 – Day 12 – Day 13 – Day 14 – Day 15 – Day 16 – Day 17 – Day 18 – Next Day – Day 20 – Day 21 – Day 22 – Day 23 – Day 24 – Day 25 – Day 26 – Day 27