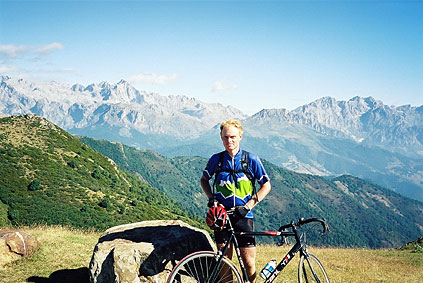 After a little breakfast (with some rather dry bread, I think) I took off up to Puerto de San Glorio (1609), which was not very difficult from Portilla de la Reina (around 1000m), but it is quite a good climb on the north side (as usual). At the pass height I noticed a little road going to Collado de Llesba (1679), which I had not hard about beforehand and just had to go and visit as it did not seem to go very far. It is a mostly flat paved road going less than 2 km from the Glorio pass to meet another unpaved road (looked as not very good with a road bike and I do not know where it went). Collado de Llesba is apparently a very popular place to visit to get an exceptional view of the Picos de Europa from the east. (There is a bear statue nearby that seem popular with visitors.) A man took the photo of me at the end of the asphalt. You should not miss going up this little road if going over the Glorio pass!
The second photo I took looking north on the road to Collado de Llesba. The strange effect in the photo I do not know how it happened there.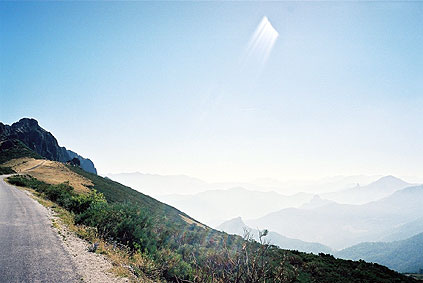 The many serpentines down the San Glorio pass was pleasant in the nice weather, but I feared for hotness later on. The weather later turned less good, thankfully (at first), and thus I did not have to stay in the heat for long (even though I notice I had 42 degrees before I got over the next pass). I had originally planned to go up the Puerto de Piedrasluengas (1313) and back north again on another road, but I thought I had to hurry on to get back in time. Thus I continued down north at Potes to La Hermida, where I turned east to climb the Collado de Hoz (658).
Collado de Hoz was mostly difficult due to the heat, but on the other side the weather got cloudy and nice. It was a bit up and down on lower passes now for the next days really. First down to the nice little village of Quintanilla, where I came upon water and a gang of cyclists on their way up to the next pass just like myself. They were some master/amateur riders out for sunday cycling and even had a following van. I just silently hanged on to them as I did not know how good they were and the speed was decent. I also felt very wore down by now and did not know what I was capable of myself now. In the end I did a little sprint in front of them at the pass height, which they found was a sign I was good. They took the photo lower down on the page.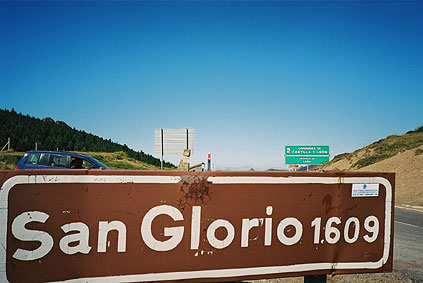 I stopped for an ice-cream and coffee down at Puentenansa (161) and saw the other cyclists coming down sitting at the café. It was rain in the air, so I quickly continued over the next pass – Puerto Collado de Carmona (611).
The road to Puerto Collado de Carmona is perfect and flat for some kilometres. The climb does not appear to be long and it is decently nice higher up. I went down to the small town of Cabezón de la Sal where I had a real rain shower the last kilometres before the town. I stopped again for an ice-cream at a good bar and chatted some with the owner and he showed me a local topographic map of the area he had framed and put away. After getting a bit warm and the rain had stopped I slowly cycled on eastwards on the CA283, avoiding the big town of Torrelavega, to Yermo. There I found another little pass I had not noticed before – Alto de San Cipriano (300).
The road east from Yermo (Yermo is not on the road) is rather difficult to describe. You have to use your intuition or ask about the way, but you will want to go via the CA170 road eastward. You should cross a railway on a road that look very unlikely to bring you to the right destination (as it is very small there). Then there are no signs for anything until you come to the end of the CA170 road (good road) near Puente Viesgo. One really goes over some sort of minor pass like the San Cipriano here too, but maybe this was too minor to have a name and sign.
Again it started to rain slowly at Puente Viesgo, but I decided to simply go on along the flat busy bigger road to Sarón and further. As it was raining I did not want to stop and bring out the map and tried to remember where I should take off the road south again. I had remembered that the place I should go to began with the letter 'L' and when I saw the sign for Llanos, I took off there, and even tough the road was nice, it was wrong and I had to return after only 2 km or so.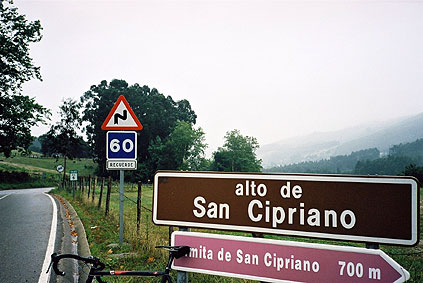 It was Liérganes I was going to. Then I was going from there to La Cavada, which actually was the place I had planned in the morning to reach by the end of the day. The rain stopped and it was getting dark. I was thinking that today there would not be any problems finding a bed if they only had a hotel as the next day was Monday. However, even though there are two hotels in La Cavada (the first should be your first choice), they did not have any beds at all as it was a special holiday that I was not aware of. The lady at the hotel thought it would be hard to find any bed anywhere around at all that night. But, she knew of a hostel up in the nearby village of Rucandio and that should apparently be open.
I cycled up the hill to Rucandio, but could not determine where the hostel were located, despite a sign down at La Cavada, there were no sign at all up here. I even asked some young people and they pointed in one direction, but there was nothing that looked like a hostel there. I was bewildered and decided to simply walk into a house nearby and ask about this. They told me it was the next house and went down their slippery staircase and fell and hurt myself somewhat bad, but stumbled over to the next house. There and old lady suggested I leave the house as if I was intruding in a private home and I could not comprehend what she muttered. She pointed to yet another house again. I could not believe this! I did not know what to do and went back to the house where I fell and where they seemed to know it was the next house, to beg them to explain themselves.
It turned out after long discussions on bad english that the lady who ran the hostel was the daughter of the old woman, but that she was probably to the theatre as there were no people staying at the youth hostel for the night (oddly enough). Eventually the people in this house let me stay with them for the night and I was and am very thankful for this! Nando (Fernando), Lucia and their younger relative were all very nice and made me a nice dinner and we talked late into the night about all kinds of things. So this day finally came to a very happy end!
Day 1 – Day 2 – Day 3 – Day 4 – Day 5 – Day 6 – Day 7 – Day 8 – Day 9 – Day 10 – Day 11 – Day 12 – Day 13 – Day 14 – Day 15 – Day 16 – Day 17 – Day 18 – Day 19 – Day 20 – Day 21 – Day 22 – Day 23 – Day 24 – Day 25 – Day 26 – Day 27