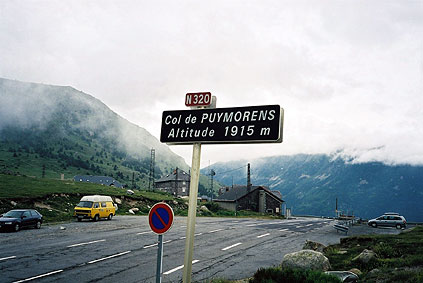 Thankfully the weather had changed again during the night and now it was drying up on the roads again. I had spotted a paved pass a bit higher up along the border toward Andorra and wanted to check out if it could be that it was tarmac all the way. It is on a gravel road crossing into France and is called Col de l'Homme (1290). I did not see any signs and it was not clear which of the deteriorating tracks on the french side that was the one to take. I believe I was at the col, but there was no sign and not too obvious a col either. One comes down to Latour-de-Carol (1248) this way (from Puigcerda (1129) via Guils de Cerdanya (1212) on the spanish side).
Ok, mostly asphalt from now on. Today was Andorra day – the plan was to get through Andorra and stay in Spain for the night again. I continued up to Col de Puymorens (1920), which has a nice series of serpentines at the end, but is otherwise a rather boring pass. Most traffic happily goes through a tunnel under the pass.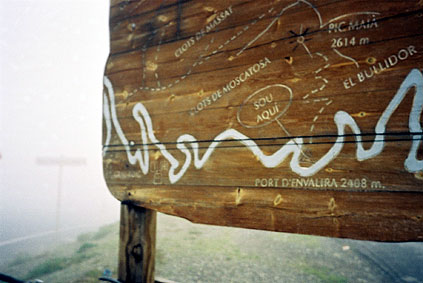 On the other side of the pass the weather changed again to a heavy mist/fog. after a little descent the climb up to the highest surfaced pass in the Pyrenťes started – Port d'Envalira (2408). For me by coming via the Puymorens col I had reduced the long climb to a moderate 600 height metres climb, that still seemed long, however.
Soon I came to a long line of cars creeping up the road and wondered a little about the reason for this, but suspected it had to do with shopping in Andorra. I had heard there were a lot of traffic on this only road into Andorra from France, but as the traffic basically stood still it was not really a problem! It was actually kind of fun as the people waiting in line had nothing better to do than cheer me on, which made me feel a bit like they were watching me and that I had to climb really fast. And I did indeed climb rather fast up feeling it went fast as I passed by cars rapidly all the time. Some of the cars were waiting to escape through the tunnel higher up, but most seem to be on their way to the shopping paradise that they have put on the french side of the pass (perhaps so that it would be possible to reach for longer periods of time during the year). There were petrol stations carved into the mountain side with 8 lanes or so and cars were parked alongside the road for some kilometres. At the top there are petrol stations on both sides of the pass. It was all swept into a heavy fog so it made it all look a bit more sweet.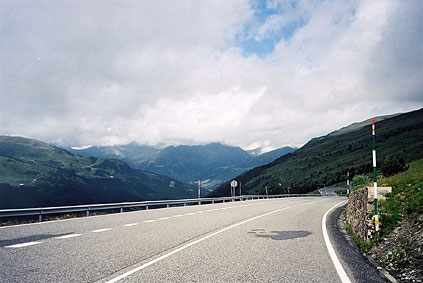 When I got out of the mist soon below the top of the Envalira pass I got some very nice views down over Andorra (third photo). The road was wide and fast down there. I had originally planned to go up some gravel roads around the Envalira pass, but it was simply no fun in the fog and I was still having a somewhat hard schedule ahead in order to be back in Lourdes by the next day and pick up my starting ticket at Mourenx outside Pau.
I stopped in Canillo where the road up the next pass starts and had a pizza for lunch in a french looking restaurant. Sure enough, they spoke mainly french there. Apparently a lot of french speaking people lives in Andorra (I had not expected this).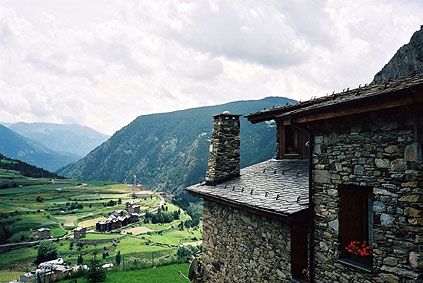 The road up from Canillo (1526) to Coll d'Ordino (1980) (passing also Collet de Montaup/Caraup (1916)) was nice and good. I had a photo here of one of the buildings just in order to document this ever-present northern spanish style of houses that they build everywhere almost looking exactly alike. Sweet, but slightly boring in the end.
Some people at the top on this fairly popular pass to visit by car. One of them took the photo of me (apparently a little chilly as I had my wind jacket on). Very nice views here at the top with views over the mountains I was about to climb next. It was a nice road popular with sport cars drivers down to Ordino. It was more in the shade here and somewhat wooded. It looks very tidy mostly in Andorra – a bit like Austria in this regard.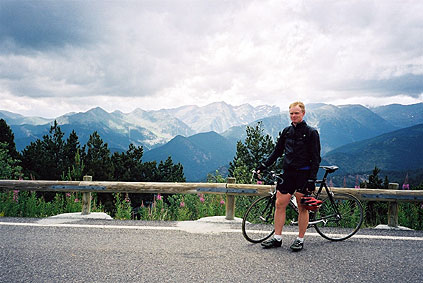 Down at La Massana (1326) I stopped by an Internet cafť to check through some e-mail and sent off a message or two. I granted myself half an hour for this and had a coffe at the same time.
Then I realised that the weather was still a bit undecided with heavy clouds in some directions. I also came to realise that since I was determined to get over Port de Cabýs (2301) and down to Spain on a not so good gravel road, I better cross my fingers and hurry on. Therefore I went in a pretty high speed all the way up to Coll de la Botella (2069) and skipped 1-2 other paved road cols in the area. The rain was hanging in the air in the vicinity and at Coll de la Botella I could see over the valley to Port de Cabýs on the other side and that the gap there was very much threatened to close by bad weather. You see this in a photo further down (had much photos this day that I did not want to skip).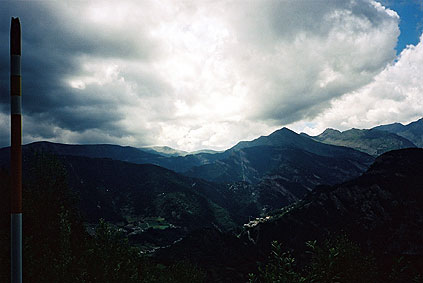 I stopped to take a photo of the valley dividing the the two cols up here. The climb is continuous up to Port de Cabýs (2301) from Coll de la Botella. At Port de Cabýs it was still not raining thankfully. I had another photo back toward Coll de la Botella and possibly one could see Coll d'Ordino in the background. (The photo was rather dark due to the bad weather.)
Now it was time for the somewhat dreaded gravel descent into Spain. It started out fine, but the rain caught up with me and I tried for a little time to get lift by a car down the valley. There were quite some traffic over this col despite the bad gravel road (mostly 4-wheel drive vehicles). It did not work out, but the rain eventually stopped anyway before the road got bad – lucky again.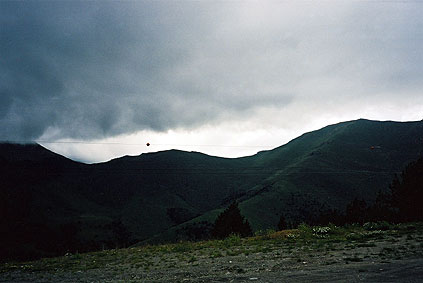 I have a photo from where I stopped for the rain looking down on a little mountain column. There is a road choice around that little mountain and as I could not quite see what road looked best from above or down there, I choose the left one as I saw a car used it. That one however had a place filled with water where I had to walk around (not very clear how normal cars could make that passage as I later met a totally normal car, but they may take the alternative road).
After a pretty bad stretch of the gravel road (basically from the mountain crossroad to the tiny village of Tor) where it was just about cyclable with a road bike, I came on a better gravel road going down to Alins. The second last photo is of the old little church in Tor (1650). T gravel road still has a fe places not so good further down, but it is all easily cyclable. It is quite some stretch up to Tor from Alins (1040) though and one wonders a bit how come they have built this rather difficult to build road. Somehow I got the idea that no one wanted to improve the road as it seemed that it would unlikely be possible to make it secure for heavier traffic anyway. Some parts looked like they could any day fall down in the river close to which the road was squeezed down the valley.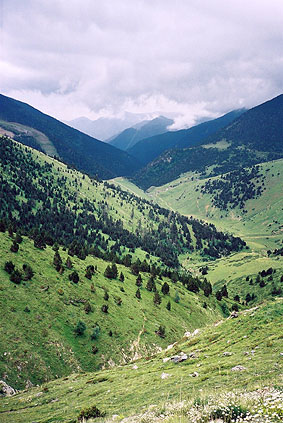 Suddenly (for no obvious reason) tarmac commenced and there is a short climb here. Here it opens up and my last photo was taken here in the direction almost from where I had come (but more to the west). The road here is very nice.
Alins (1040) lies rather alone up this valley and the main road down the valley is not much wider.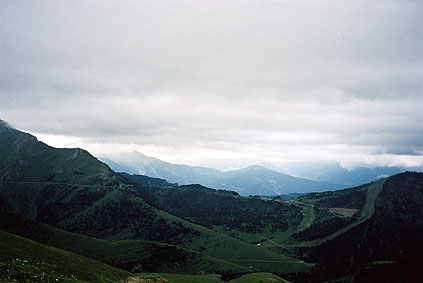 Down at LlavorsŪ (800) I stopped to buy something to eat and realised the time was getting late. I did not want to stay there as I knew there would be a long way to cycle the next day. So I hoped to find some place to spend the night higher up the valley that starts here. This valley is the one that leads up PÚrt de la Bonaigua (2072).
I managed to find a petrol station with equipment (high pressure water) for washing my cycle, which is really helpful (even though not the best for the bicycle, I cannot care less – better to go through the bicycle when coming home than washing the bicycle by hand during a trip like this (doing that would actually border on insanity in my opinion).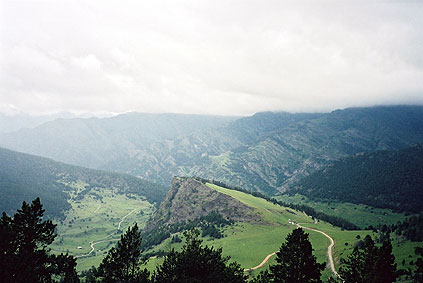 It seemed like the valley up here was somewhat popular among tourists (esp. spanish) and arriving at Esterri d'ņneu (960) I did not dare to go further as there did not seem to more than a few scattered houses higher up the valley. It is also here the real climb up the Bonaigua starts.
I got a room at a decent and somewhat cheap hotel. The was not much choices of restaurants in this village. I went to the most popular bar and got a pizza and a beer. Thought about ordering a dessert, but decided to have another main course instead – a hamburger with french fries ;-).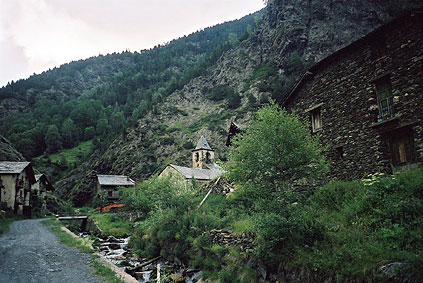 Had problems sleeping since some teenagers were out playing on the street all night and making a lot of noise. Nor was I in the mood of trying to stop them.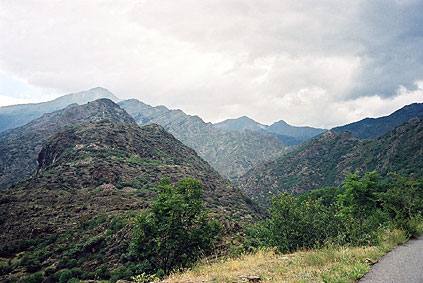 The next day was destined to be a hard one.
Day 1 – Day 2 – Day 3 – Day 4 – Day 5 – Day 6 – Day 7 – Day 8 – Next Day – Day 10 – Day 11 – Day 12 – Day 13 – Day 14 – Day 15 – Day 16 – Day 17 – Day 18 – Day 19 – Day 20 – Day 21 – Day 22 – Day 23 – Day 24 – Day 25 – Day 26 – Day 27