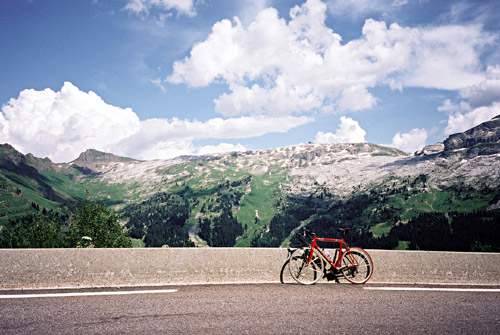 After a long breakfast I finally left the house around midday. It was an easy and nice start down to Sallanches (529m). From Sallanches I took the busy road down toward Cluses and turned off the road at Balme (489m). Here the climb up to Col de Pierre Carrée (1843m) and the well-known ski resort Flaine starts. This is a huge climb!
There is only a cafè at Arâches-la-Frasse (950m) and here one could go on a tarmacced road to St. Sigismond and Col de Chatillon, which would take one over a high point of 1133m (which looks like a pass, but has no name). Les Carroz (1100m) has a grocery shop and several bars and I stopped here for a late lunch break. I continued and talked a little with a very tired cyclist before he told me to not wait for him. Not many cyclists on this climb otherwise, though apparently they had some kind of cycling event here as a banner announcing a record time up to the pass by a well-known cyclist (Patrice Halgand?) and that one could try to compete with this time sometime. (I was only half-way up (before Carroz) and think Patrice would have been at the top at this time, so it felt more like a joke on me.)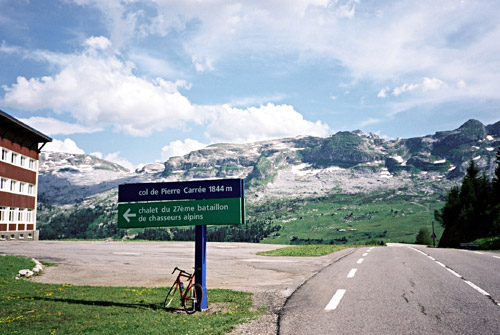 The last stretch was hard but finally the temperature was going down to make the continued climb possible. The road is winding its way around the mountains at the top and just at the top they have a golf course. I descended just a little on the other side to get a good view of the really nice area surrounding Flaine with the Désert de Platé in front of me across the ski village below. I took one photo here and one at the pass in the same direction (shown here).
The descent was smooth and fast. I returned back almost the same way to Chamonix. I stopped at MacDonalds outside Sallanches and noticed it must be one of the better situated MacDonalds around as they have a great view up the Chamonix valley from there even though it is located in a shopping mall area. MacDonalds might not be the first choice for cyclists ;-), but it works quite fine for me when out cycling this long. Fat, salt, some proteins and carbohydrates from the Coca-Cola are all needed even though some fine pasta meal might have been to prefer, but it is difficult to get pasta even in Italy it seems to me (maybe up in the mountains only, or maybe it is because I usually think of ordering pizzas). Moreover, MacDonalds are not closed when you are hungry and it's, well, fast food (even though it is preferable and nicer with a two hour French lunch, if you have the patience and time or preferably friends with you). I wish there were more reasonable alternatives … .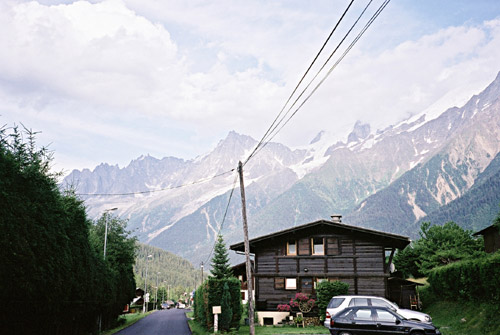 I invited my sister and boyfriend out for dinner in Chamonix in the evening. They mentioned there was an Indian (or some combination of Asian kitchens) restaurant there and as I had not eaten anything such for a month at least now, I wanted to try this place. It was actually quite good and we could sit outside with a view of Mont Blanc in the sunset. Everyone was happy.
Really sorry to disappoint you!, but next day I did not cycle one metre. It was not hard for my sister to talk me into a resting day. We went by car up to Lac d'Emosson on the border between France and Switzerland. I was planning to go there by bicycle, but decided to do so anyway later. So we jump ahead to the day after on the next page, where I made sure to get back on track with one of the harder days on my trip (really the hardest, all things considered).