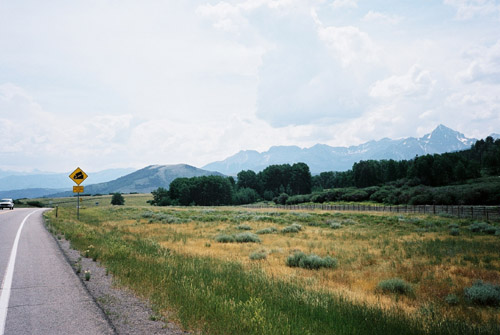 This was the day I had planned to be doing the so called 'Death Ride' with 370 km and some 6500m climbing, but as I already said I chickened out of this and it was probably for good! But surely I was going to take a ride on this day anyway – that much was clear. I started the day, as usual, with a coffee at the nice little coffee place in the book store on the main street in Telluride (very nice staff also!).
It was another hot day and the road options with a road bike out of Telluride are few. I had thought about, before leaving from Sweden, to get down to Naturita (and perhaps beyond) one day, but there was not time for this and I preferred to go over the Dallas Divide (that I had came into Telluride over, from Montrose airport, when I arrived). The third alternative would have been to get up the Lizard Head Pass, which is nice, but doesn't make much for a loop unless one does the Death Ride. Well, it was the same situation going over the Dallas Divide (no loop, unless doing the Death Ride), but I was hoping to catch those two passes on the other side of Silverton before returning – Molas Divide and Coal Bank Pass, which would perhaps be possible even with a somewhat late morning start from Telluride.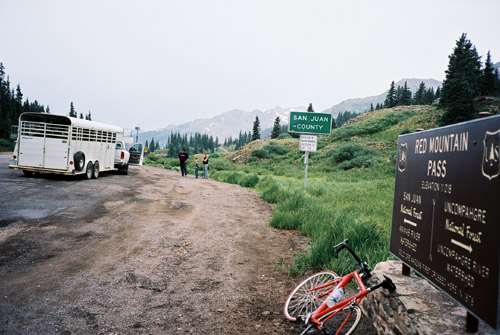 There was heavy road work just outside Telluride and I had to wait some time before getting down the canyon toward Placerville and the turn-off for the Dallas Divide. I had thought the road was a bit steep in some parts when going over the pass in a van, but now I found it rather flattish and easy. It was hot and dry down in Placerville and a bit like one would expect it to be in nearby Utah. Up at the Dallas Divide, it was very green and more like in central Europe. One goes for a long while by the giant ranch owned by Ralph Lauren when travelling over this pass. The views are quite nice on the top of the pass over the Mount Sneffels range to the south. The first photo is from here.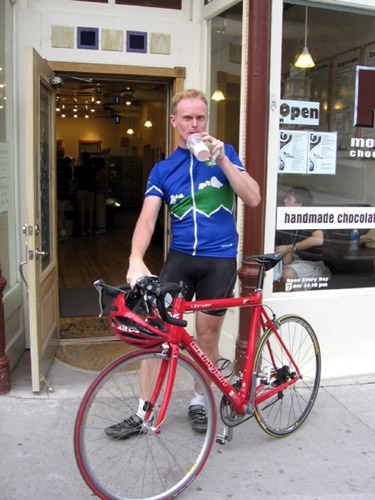 Many of the people at the conference was going by bus to Ouray this day, and I saw some of them while passing by Ouray. I stopped shortly at the grocery shop and then continued up to the Red Mountain Pass (3376m). The climb from Ouray to this pass is pretty long and sometimes a little steep. Above Ironton the height was again taking its toll on me and thus the climb was pretty exhausting as I went in a good speed. As I was closing in on the pass height it started to rain and it did not look like a good idea to continue down to Silverton if the rain would continue. I did not want to take any chances so I just quickly took a photo at the pass. –They had reindeers in the trailer in the photo and I was told to stay away as they got nervous.
I hurried back down to Ouray in trying to escape from getting all wet and succeeded. Possibly it stopped raining soon thereafter, but I did not like to take chances this day on not getting back to Telluride. Back in Ouray I stopped by the nice coffee place I had visited on my previous visit to Ouray and had a coffee and milkshake (again). Some Norwegians from the conference showed up outside in a jeep they had hired in town and asked if I wanted to get a ride back to Telluride – surely I wanted that as I otherwise just had to go back the same way I had come. When talking with them a Finnish girl from the conference showed up and took the photo of me with the milkshake that she later sent to me (thanks Marja!).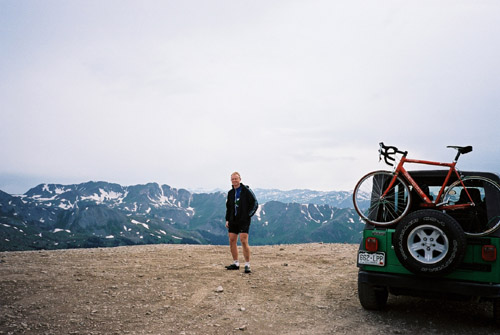 I went into a hardware store (or such) and bought some straps and attached the bicycle to the jeep and joined the crazy Norwegians ;-). They were not about getting just over the Imogene Pass back, but (just like me earlier) wanted to get up some other pass-roads and if possible as bad as they could find. The Engineer Road was bad enough and we went up there rather quickly on a road that is feeling much more hazardous sitting in a car than on a bicycle (supposing you could cycle up there, not too sure one could cycle much there). There were giant drop-offs from the roadside and no kind of barriers.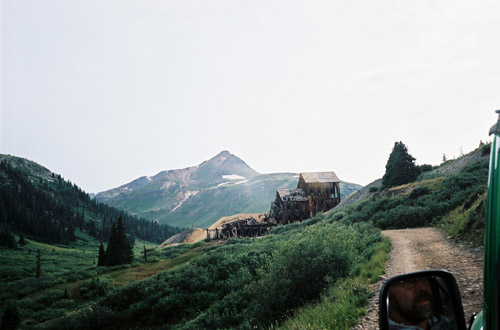 We went up to a high point just near the Engineer Pass from where I have one photo here (very cold when not cycling up). Then we went down to Animas Forks and up California Gulch to the California and Hurricane passes before getting back down over the Corkscrew Pass. Then it was back down to Ouray and up over the Imogene Pass (same way as I had gone earlier with my mountain bike). Even though I had travelled this stretch already, it was interesting to see how it would be tackled with a jeep. Thankfully the Norwegian driver was an expert on this and he always took the worse of two passages when there were choices. We survived!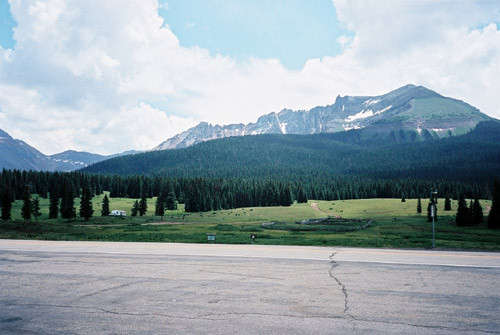 Another day I went up to nearby Lizard Head Pass, which is the closest paved mountain pass road from Telluride. Still I came a little late for a lecture on Plato, rushing in with my cycling outfit on. Later in the day, I climbed a hard unpaved road up to the great (free) gondola top station (St. Sophia) from the Mtn Village, which is above 3000m (10,500 feet). It was up to 17-18% in places. The gondola connects the Mtn Village with Telluride. I took the gondola down to Telluride – the unpaved road up from Telluride looked like I could not have ridden all of its length with a road bike. Cycling downhill would be fun with a mountain bike, but not with a road bike (not with my own anyway …).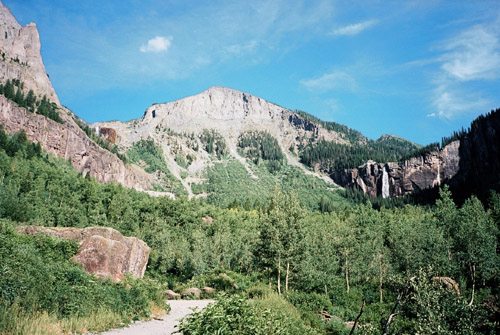 Telluride was a really nice place with a very good Asian restaurant on main street (I recommend you try one of the Thai dishes there!) People were mostly very friendly like in the nice coffee place in the bookshop. The weather was fine and the temperature ideal most of the time. If one continues toward the start of the Black Bear road one comes to the site of the famous Bridal Veil falls, where I went one day and took a photo (one of the most photographed places in the area from what I have heard). The Gondola was perhaps the nicest thing, travelling up and down both in splendid daylight and at night-time (it runs daily 7am to 12pm) and it was especially nice on the rainy day with surreal views of the valley mixed in rain and sunlight! Telluride is expensive, however. House prices are similar to Manhattan, New York as some girls told me who had moved their from Manhattan. The town is famous for its hippies, but the same girls told me they lived in the woods, which I suspect is not quite true (not all houses looked that posh). Many, if not most, of the people you meet in Telluride has not lived there for long and it is difficult to afford to live there and get work that pays for it. I talked with a Norwegian and a Swiss girl who had stayed there for a few years and they might have to move back to Switzerland as it was hard for them to get by here. I stayed at the probably cheapest hotel in Telluride and it was not very good, but I still had to pay just under 100 dollars a night (without any breakfast).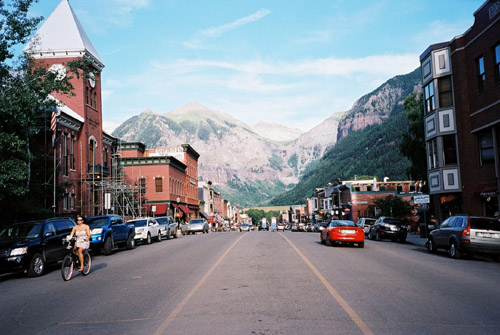 And finally a photo of me in my old own-design shirt at the final dinner at the conference, (grinning as I was looking into the sun) … .