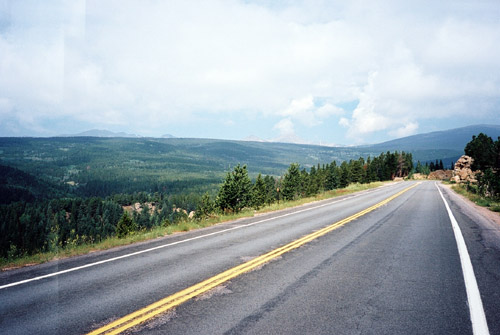 As always it was perfect weather in the morning and I started out on the somewhat lonely Peak-to-Peak road with many ups and downs. The views of the Rocky mountains are a bit in the distance, but still nice and you get closer to them the further north you go. The road is very good as most paved roads are in the US. Almost all paved roads are wide highways. Smaller roads are generally unsurfaced in this part of the country.
After some nice bicycling I came to the junction with CO 7 that comes from Lyons, here it is just to continue toward Allenspark. After a while here the road gets much more narrow and you are close to Longs Peak – the highest mountain in the area, which offer a very nice view. Before the descent to Estes Park you reach a pass called Wind River Pass/Issa-bes-nox (2789m). From here there is a really nice and fast descent to Estes Park. Estes Park is full of restaurants and tourists. I had something to eat here and also bought my additional postcard I needed and got them all finally sent off (typical of me waiting so long to send them, but one has to write them also).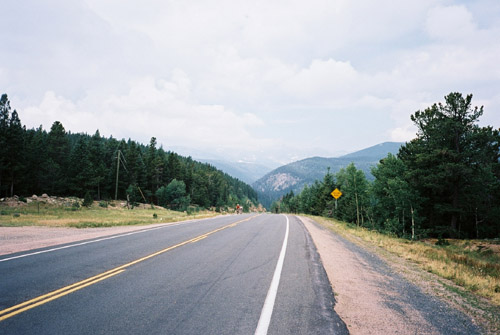 The guy in the gift shop recommended me to take the right-hand road up the Trail Ridge road as the other could be more exposed to the sun. When I reached the toll gate of the Trail Ridge road it was obvious there would be rain ahead though. Here one has to pay $10 indeed (but you can cycle around there for a week then, if you like …). I asked about the weather forecast and they told me I would have rain for sure as they expected it to come in soon over them too. Well, there was no other road choice of relevance for me now, so I just cycled on. I simply had to get down to Granby at least this day.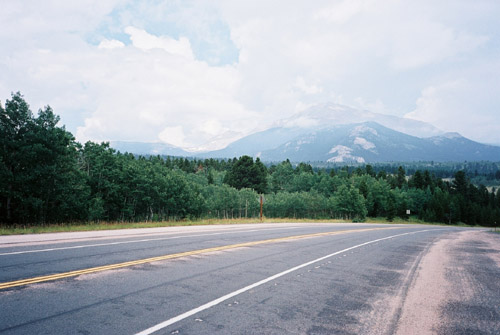 It turned out that I was very lucky as there was no rain on the whole climb and I could enjoy both the climb and scenery. The road is really very good and nice here, as one would hope given that you have to pay for riding it. It is mostly a steady climb apart from a short descent early on after the junction (Deer Ridge junction) with the other road heading up from Estes Park. It is never very steep, but given the height it feels just like any other steeper climb in the Alps. Since it is a ridge road it offers plenty of views along the way and especially when you get out of the woods.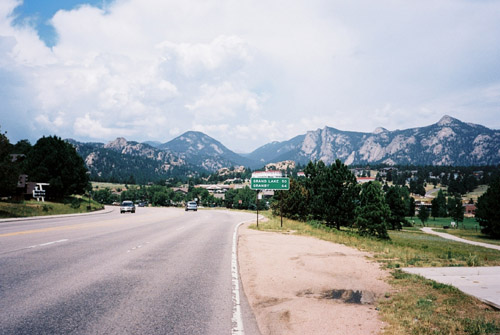 The top part of the climb which is sustained by going up and down and up for some time is probably one of the nicest road sections in Colorado, and this is of course widely known. Perhaps it was good the weather was not better as the road probably would then have been even more jammed with tourists. It was just about okay now. When I reached what I thought was the highest point of the road, I noticed a paved path going off the road and walkers going up there. I read in the book on all the passes of Colorado that there should be a pass up here somewhere called Toll Pass (3688m) and there should be a path leading to it and I hoped this was the one. I could just about cycle up this steep path with much determination. It soon goes flat and offers splendid views, so I would recommend going up here even if you prefer to walk! I am not sure about whether the pass in question was located here somewhere or not, but I had two of the photos here taken on this path. (The one with me standing amongst some rocks is the absolute end of the (easy) path and where I turned around.)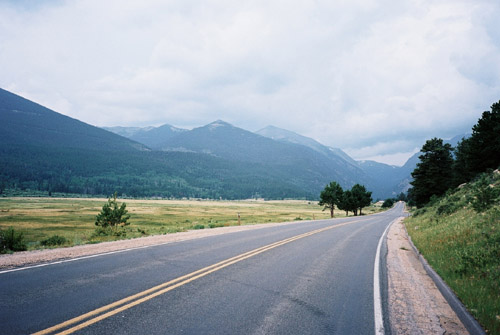 I then descended a little to what I believe is the Iceberg Pass (3605m), which is the highest pass on the road. After a last ascent to what I believe is the highest point (12183 feet/3713m) I took the last photo up here. There was rain in the air. Then there was (of course) some road work ahead down to Fall River Pass (3595m) and the Vistors Center there. An unpaved road goes up the Fall River road to this point, and it would have been fun to try it out, but in this weather it was not an option and I would anyway have wanted to climb the ridge road first.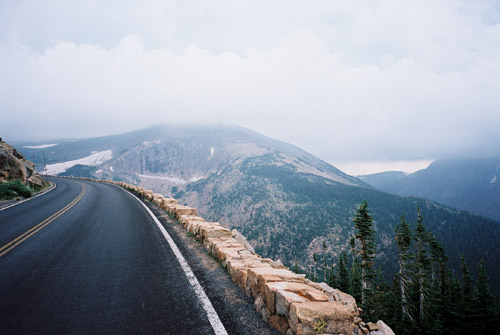 After this point it started to rain and just after reaching Milner Pass (3279m) the rain became heavy and I had to go down slowly to try and not get totally soaked as I had long to go. But the rain did not stop quickly and I got more or less totally soaked before getting down the steep part and there eventually escaped the rain. It took long before I got warm again as the road continues mostly downhill for a long time and is at first mostly through woodlands down to Grand Lake. As I got closer to Granby the views from this side toward the Rocky Mountains were almost better than on the Peak-to-Peak road on the other side. The last photo was taken over Lake Granby toward the Rocky Mountains. It is a more rural farm type country on this side of the mountains.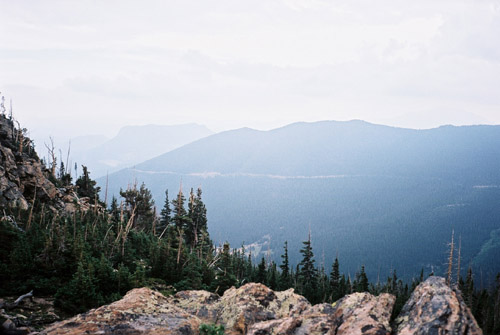 Granby looked like a big hub for the nearby farmers and not so charming, perhaps. I stopped for a coke and a look on how far it was to the next likely place to find lodging for the night. I went ahead hoping I would indeed find some place to stay at in Winter Park (or else I would have a problem). I went rather quickly to Winter Park, but was still not there before twilight was upon me. Here were plenty of places to stay at. I got a tip by some locals to try a cheap-looking mexican restaurant on a small market square and it was well worth the money. I later hanged out for a while at a pub on the main street (I did not find any really good place open that late). The next day would be a long ride!