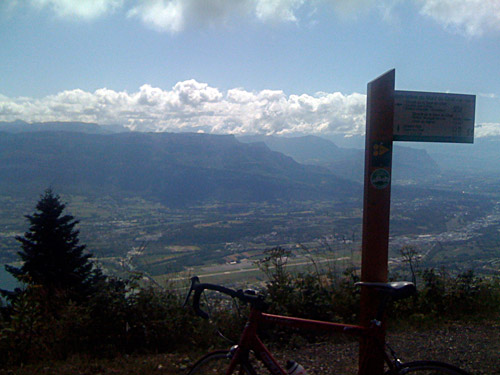 Last day that I took several good photos now lost since my camera was stolen this night. This was a very nice and hard day that ended all too late and with mixed feelings. This was the longest day with most passes and most height metres on this tour. Now I was really back on track.
I started out on a private road from the hotel (239m) up the Mont du Chat (1504m). I asked them at the hotel if that road was possible to take and he said that although it was only for locals, I was staying at the hotel and thus was a local user now! This might be the hardest approach for the Mont du Chat as this road goes quite straight up to meet the regular road to Mont du Chat. It is signposted for Relais du Mont du Chat, I think. There is a bar at the top and also a television pylon there (I left out the photo of this one). This climb is on a serpentine road that goes on and on rather regularly until it eventually reaches the top, which you could see at some places along the road. This is 10% on average for 12 km and that makes it one of the hardest climbs in all of France, but since it is somewhat evenly steep it is not really as hard as one would imagine (it is similar to Mont Ventoux). There are not many very hard climbs in France. One of the hardest asphalted climbs is probably Col d'Arnosteguy (1236m) from Arnéguy (245m) or Col Sensibile from Mendive (both in the western Pyrenees), but many of the hardest climbs in France are still not documented on the Internet as far as I can make out. Col de la Moutière (2444m) is one of the hardest fully asphalted climbs in the French Alps.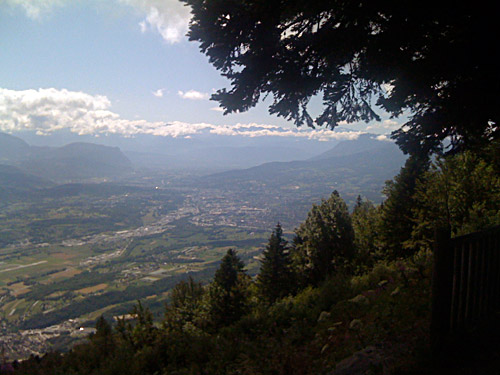 It was nice weather and perfect temperatures this day (almost all the day). It was however slightly chilly in the woods on the boring descent on the other side of Mont du Chat, where it had just dried up from the day before.
I went down rather steeply to the first junction, where I turned off up another road leading south along the mountainside. This road climbed for quite some time up to open landscapes with just an occasional farm here and there along the road. Here it is quite nice and you feel as if you are really far away from any cities or even any villages with more than a couple of houses can be seen as far as the eyes can reach. At one point one I took the small asphalt road that continues up the mountainside towards the forest higher up. This forest road is actually one of the best asphalted roads I travelled on this year. It was marked with signs as being an "intercommunale" road through the different forestry regions there! :-) This road takes you up over the unsigned Pas du Lièvre (1060m), which is only 260 metres higher than where you turned off the Mont du Chat road, which seems unlikely as you would have been climbing up here for quite a long time. A short decent leads you to near the top of the next pass across the Mont du Chat ridge – Col de l'Epine (987m). This is a nice small road which is a little rough through the woods on the other side.
I had decided to not descend to Chambery and found a road (not sure if I took the one planned) to the south on the descent here. Eventually I got down to the main road from Chambery going south and followed this until Col de Couz/Col du Cheval Blanc (624m), which is a minor pass here. Just at the pass I took the road going up the Chartreuse mountains. This road is a bit steep and forested without any views at first.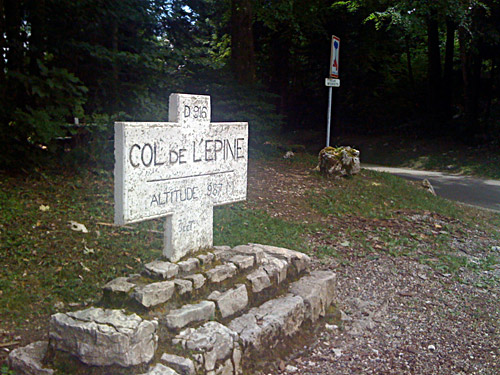 When you arrive at Col des Egaux (958m) the landscape opens up to the very nice mountain scenery at this part of the Chartreuse and from here on you will have wonderful views. I stopped at Corbel (842m) for lunch at a nicely located little restaurant with many tourists (sitting outside of course, which I would never dream of doing – am I not outside enough as it is …). (I had a nice photo here, but with the other camera.) I had some small ravioli which they serve with milk and cinnamon here (not really Italian style?) and ice cream.
I almost did not want to leave the area, but continued up the next pass, Col de la Cluse/Passage de la Cochette (1169m). From here I went tour and retour to a nearby pass called Col du Cucheron (1215m) and which should be gravelled according to the Chauvot guide by Club des Cent Cols, but it was in fact asphalted, albeit with much gravel and some grass too. (It only took 10 minutes extra to visit this, not so interesting, pass.)
Then I started to descend to Entremont (where one also could find places to stop and eat at). I had noted in my plan an optional pass here, but usually skip these additional tour and retour passes. However, I noted that the road looked well asphalted at the start up to Col du Mollard (1320m) and the weather was fine and I was not too interested in quickly getting down to the hot valley at Pontcharra. So I went up this pass also, but soon the road turned to gravel and even though it first looked fine, it turned progressively worse. The longer I went the nearer the pass I would be and the less I would want to get back before reaching it. As it was hard going it did take quite some time to go the mere 1,5 km to the pass which seemed farther removed than I had envisioned. I was also hoping to maybe get some nice views from the pass, but I would have had to continue on a path behind the pass to get some views and I was not into this now, so I returned back a bit disappointed. At least I did not have a flat.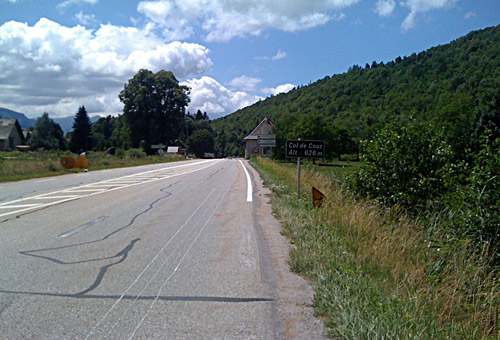 After the quick descent to Entremont/Épernay (830m) I went straight up to Col du Granier/Frêne (1134m), which is a short climb on a busier road. It is also very nice at Col du Granier and here I had a photo with my iPhone. Many motorcyclists around here. I descended the small road right down toward Pontcharra (255m). Not much traffic here and I only saw one more cyclist. I stopped briefly in Pontcharra and had a coca-cola while figuring out which road to take in order to get up to Allevard (464m) via Le Moutaret (559m). It turns out that the road is really only signposted for the nearby Tour d'Avallon. This is a nice little road. After slowly making my way up here a local cyclist passed me by and then I woke up. I started to cycle a bit faster and got closer to him the closer we got to the highest point, where I overtook him. We talked a little and he explained that it was his last training round before a triathlon event he would take part in soon. He lived up in Bellecombe near the descent from Granier on the other side of the valley.
I said goodbye after Allevard as I turned up the next pass here, which is Col du Barioz/Col de Bariot (1041m). Here I kept a good speed until near the end. It turned out to be a longer and harder pass than I had thought (I had thought it was around 800m in height). The idea here was to continue along the D280 high road above the valley down to Grenoble and stay somewhere along the road when it was getting late. The original plan was to get up over Chamrousse (1750m) and Col Luitel (1262m) and down to Séchilienne and thereby bypass Grenoble altogether. However it already started to get late now.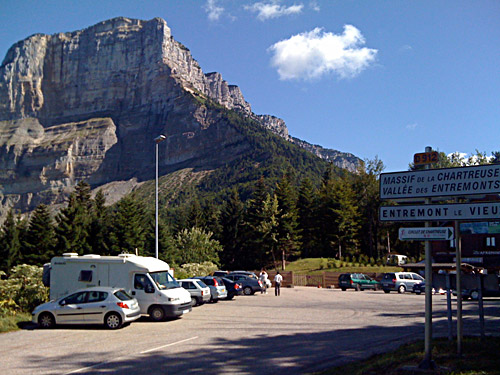 I continued down to Theys (600m) and then up to Col des Ayes (948m), which might have been the nicest pass along the road (one of the two photos taken there is shown here). Around here there were a few places one could possibly stay at for the night, but I am not sure as it seldom is possible to stay at Gîtes d'Etapes in France in my experience (it often seems like a closed club for the already initiated and I do not know how it works and sometimes they are more expensive than hotels anyway).
It was still sunny, so I did the small descent on the other side and then climbed up to Col du Lautaret (984m). Here I saw some ugly looking ski resorts high up on the mountainside. Now I started to look for a place to stay at for the night, but suddenly it was much less touristy and I could not find any accommodation. I went over the wooded Col des Mouilles (1021m). There were signs here for a place to stay at, but I never found it (I think it was away on some other road). I asked at a Gîtes d'Etapes at the low point on the road after this pass, but there seemed to be no one there who knew anything so I had to continue. In the next small village (Le Cholet) there were also a sign for a Gîte, but probably these were places rented out for longer periods in advance or something (no signs on the houses themselves). As I round the corner of the Croix de Revollat it started to get dark.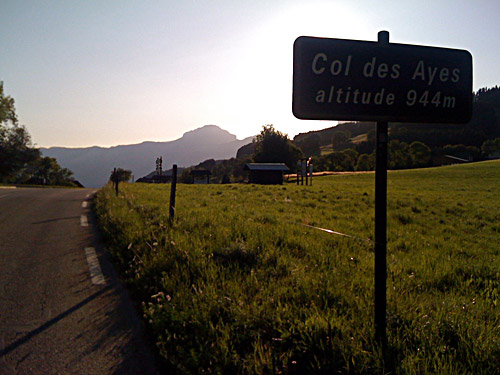 I stopped by a house to ask someone about a place where one could stay for the night and the lady suggested a place further along the road and down a bit somewhere, which I never found (I think). I continued, but soon guessed I might be forced to get down the mountain toward Grenoble. I asked at another house. They suggested I get down to Revel, I think it was. There I met a coupe who told me to get down to Domène, where there should be a hotel. A bit fun to try and get down this narrow and steep road in the dark, but it went fine. Down in Domène I cycled around for a while before seeing the hotel and asked in a restaurant across the hotel if there was another hotel as this one was closed (which they first found hard to believe), but there was no other hotel and I had to go to Grenoble, which I guessed my way to.
I got into the centre of Grenoble without seeing any hotel. I had even seen some more closed hotels before coming here in Gières and got advice about another hotel which I never found. Not even in the centre of Grenoble did I see any hotel, but I just cycled ahead and came to the other side where I asked a girl who were out cycling and she pointed to the corner across the street. Here was a two star hotel and that worked out well. Luckily there was also a late open Kebab bar across the hotel so I could get there and get something to eat. It turned out the kebabs there were very good and the personal quite nice. BUT, as I ordered yet another kebab I had put my camera on the table as it is difficult to sit properly with that in my back pocket and suddenly it was gone. Oh well. The guy at the hotel took my e-mail and talked with the owner of the kebab place to see if they could figure out who stole it, but without success. Now I had to carry even less weight! ;-/