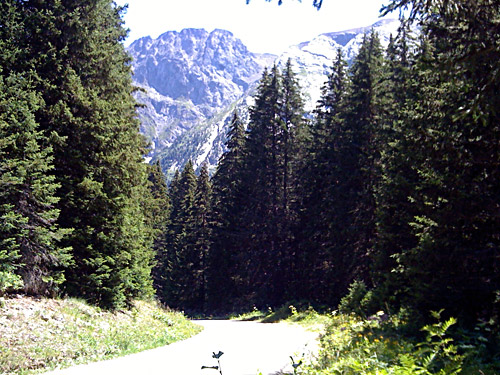 I was up to breakfast and on my way out I went over to the Kebab bar to hear if they had found out anything about my camera (they told med to hear back with them in the morning as they had suspected a certain guy). No luck, but they kindly offered me a coffee and cake for free. The way out of town was easy to find and once on the main road south toward Vizille, it was only straight ahead.
I stopped to wash my bicycle at a car wash on the way out. After some cycling I arrived in Séchilienne (364m), where I could continue according to my plan. I stopped for a coke and banana, before I started out on the first long climb for the day up to Pas des Escaliers (1700m) or rather the road goes to a parking place near a lake called Lac du Poursollet. This is a pass of dubious merits as it not clearly marked in the landscape and more looks like you are cycling on the side of a mountain where there is a place which is somewhat flat that you cross on your way to the end of the road. Whether a pass or not, this is a nice road and also a pretty hard climb from Séchilienne. It is also one of the highest passes left in the Alps that I had not yet visited before this year. My idea was to collect the passes around 1700 metres that I had left to do in the Alps and in this greater area most of them are located, including this.
I was in good mood and it was fun going up to Plan de la Morte (which is a poor ski resort and also a recreational area in the Summer). Many hairpins up this twisting road. It is not very steep, but quite a climb. I cycled past a family with the man carrying their child behind in one of those caddies that you attach to your bicycle – it always looks like quite tough going on roads like this, but they struggled on.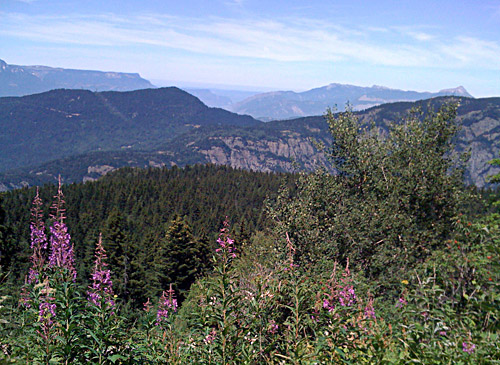 Just before arriving at the Col de la Morte (1368m) at 1346 m there is a road taking off east up the mountainside between many chalets. It is signposted for one of the lakes far up here. The road is not very good at first, but the road becomes better after the houses. Then it also becomes quite steep for a while, even with some concrete pavement once or twice (max 14-15%). Then when you think you must surely be up at 1700 metres height by then, you soon discover that there is a descent. The descent is over 100 height metres and a bit steep. I was almost turning around here, but I would not want to miss a pass sign ahead if there was one, so I continued. The road again climbs, but actually not as high up as you were before. The highest point is at 1720 metres. This climb is thus 1441m in total plus that you will have to climb back more than hundred height metres extra. There is a tiny lake at the pass and the first photo (not so good) was taken here. The road goes down again a little to the parking a few hundred metres ahead, where there also is a monument for a battle during the second world war up in the mountains here.
I had thought that there would be no traffic on this tiny little road going nowhere, but I was very mistaken. I have never ever seen so many cars parked along a small forestry road as here. I wondered why, but just guessed it was popular to start out on hikes from here up the lakes. When I came back down to the Col de la Morte (1368m) I stopped at the first restaurant there for a crêpe and coke. The couple running the place where obviously new here and wondered why there would not be more people on a nice day like this at their restaurant. I told them to go up the road I went up and have a look (they did not even know about that road it seemed like). I was a bit surprised when I on my way down the steep part to the Morte pass again met the family cycling up from Séchilienne – I was impressed and said hello! At the restaurant they put on the Tour de France for me, but I soon got on my way down the other side of the pass, though I was not in a hurry as I expected it to get very warm further down.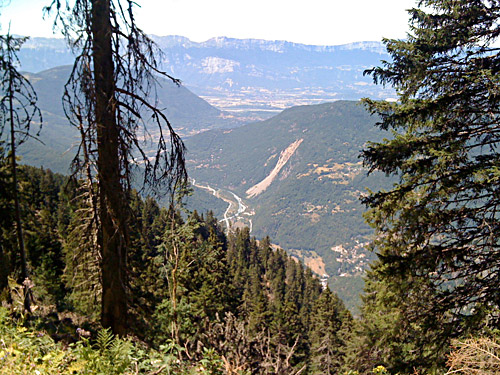 After a short descent (well 12 km) one arrives at La Valette (949m) where one could continue down on a smaller road or take the one I did over to La Mure, which passes over Col de Malissol (1153m) where it was very warm this day. After another descent with some turns here and there, I arrived at La Mure (855m) where I stopped again for soft drink and ice cream. I took a photo while sitting there out on the pavement down the road that I was about to descend. It is a hilly and somewhat confusing landscape here around.
If you study the map of the area, you will see that there are not many crossings of Le Drac (the main river down the valley here) as it is mostly buried down a deep gorge (I think). I went down to Pont de Ponsonnas (597m), which is a small bridge built high over Le Drac. It was so hot on the way down here that I lost grip on the asphalt where they had repaired some cracks in the roads with tar which was melted now, but luckily I got control of the bike before I had an accident (this was the second time I was close to an accident this year, despite trying to be more careful than usual). You never really know when dangerous situations are coming up – if you did, they would not be as dangerous.
Down at the bridge there were bungie-jumping going on and some people watching. There is another bridge around two kilometres further down the river and it is nearly 100 metres less high above sea than this one. On the other side of the bridge I turned up the small D227 road, which turned out to be a fun serpentine road climbing up the other side. Just before you would arrive in St. Sébastien you can turn off up to Masserange to collect some further passes here. I had to stop consulting the map here as there is soon another asphalted road turning off the D227 up toward a place that looks like a pass, and which is a pass, but one could get to more conveniently by first continuing straight ahead to Col de Masserange (930m). Just before coming to this pass, you will see a flat little road going back toward the place where the confusing road went up to. Continue along the ridge for a few hundred metres and you will see the sign for the Masserange pass. (A fun looking local cyclist also came up there at the same time – he looked like a local farmer taking a little ride on his 1970 bicycle, but it is fun that all kind of people get out and bicycle and I said hello before turning back.)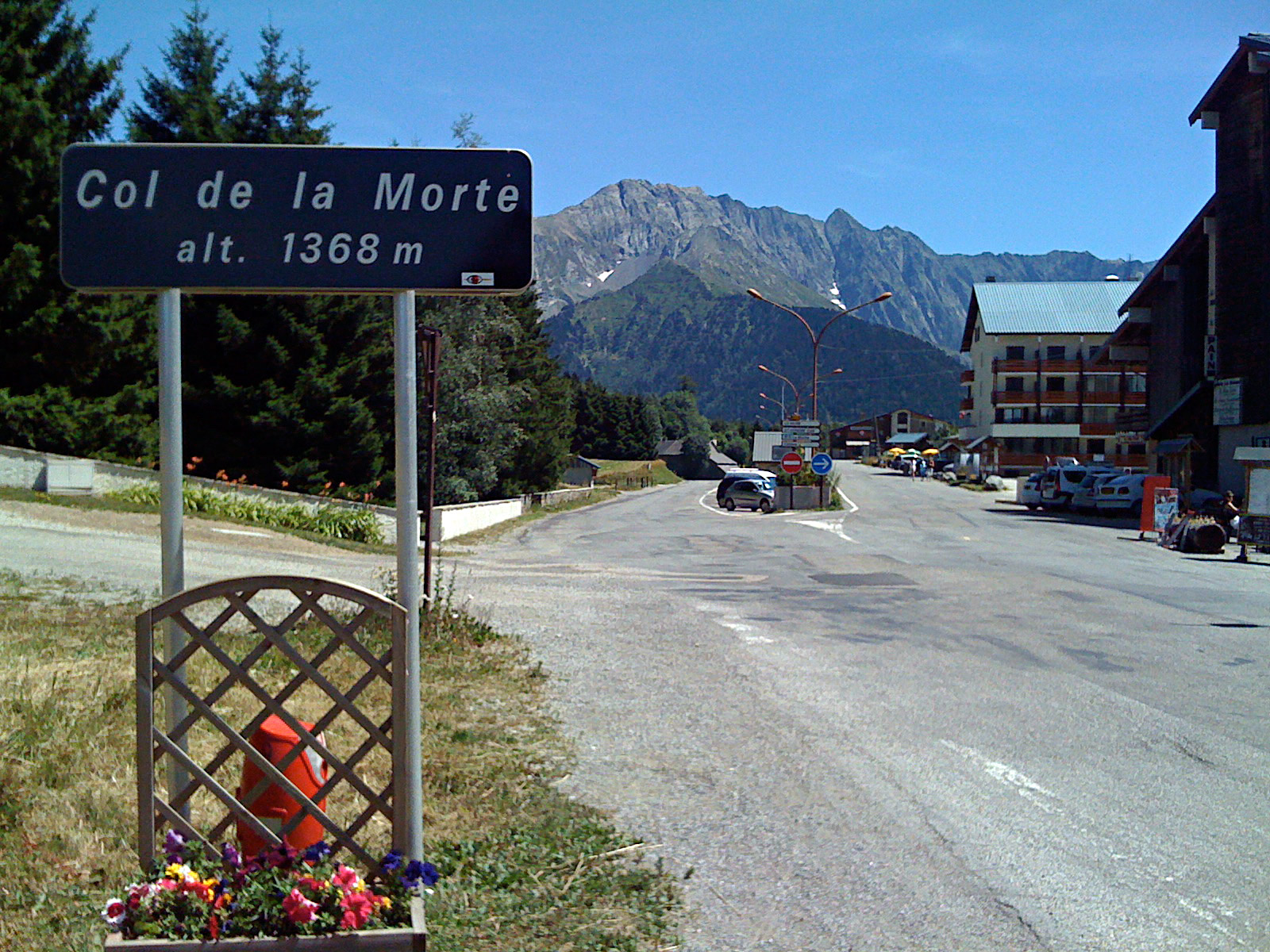 The small road going along the ridge is fully asphalted. Col de Laye (925m) is the pass you would have come up to on the earlier confusing road and it is the only pass on this short ridge road. At the end of the road you arrive just below Col Saint-Sébastien (983m), which is well worth getting up to as it is close by and has decent views. I had a photo there and went back down again as I was heading south and did not want to get out too far westwards this time.
Now it was time for a lot of almost flat cycling (a bit like at home really). It was also hot and not much shade anywhere, with open farm land everywhere. The kilometres seemed long. It is nice here and very little traffic. I did not see any cyclists anywhere. After seeing the turn-off for Monestier d'Ambel, which offer an alternative road up the next passes, the road ahead started to get more interesting and shaded. It was nice around St. Disdier (1033m), but there were road work going on here. After the village one could optionally take a higher going road, which probably offer some good views, but I was taking the easy direct road ahead, as I would anyway get higher up eventually. One could also go directly up to St. Etienne-en-Dévoluy, which I was going to visit, but first after visiting two more passes.
I went straight up to Col du Festre/d'Agnières (1441m), which is a pass with really great views. The climb up here is long, but never steep. I had several photos around the pass, which is a somewhat wide saddle area. The road over this pass is very good and wide. Then I went back down the same way for 2 km on a super nice descent now in perfect temperatures and with splendid views. Then there is a little ascent to Col des Rioupes (1429m), which is also sign-posted. From Rioupes, one could conceivably take the gravel road over Collet du Tat (1612m) to Superdévoluy (1496m), but I had not studied that option before and it was anyway getting a bit late for trying out difficult gravel roads.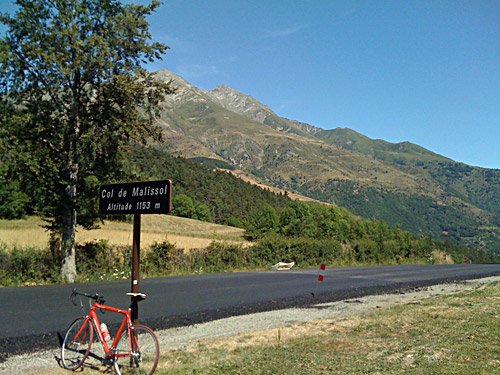 The lowest point on the way to the next pass, Col du Noyer (1664m), is at Pont de Giers (1238m) (an old bridge that has recently been rebuilt after a partial destruction by flooding). This is a nice place, but my photo down the gorge was not very good as is usually the case when trying to capture such deep ravines from above.
Just as I came to St. Etienne-en-Dévoluy (1277m), there was a small road taking off up the mountainside to Col du Noyer. This road is a bit bit steep and very narrow. After arriving up at a higher valley, I met a car coming up from another road and apparently there is a an easier road up here that is also asphalted. Along this valley the road only climbs very slowly and from here the asphalt is in perfect condition even if the road is just as narrow as before. Then the road takes off up another side valley for the last little steeper climb to the pass height. There are very little traffic here (at least this late in the day). The climb to Col de Noyer looks tougher on the other side of this pass and it here has a really great serpentine road looking like any real high Alps pass climb, but the road is still narrow. (Salite.ch only shows the easy road alternative on the west side.)
I hoped to find a place to stay at for the night down the other side at Noyer or further down on the Route Napoléon. I came down to La Fare on the Route Napoléon (the main old road going down to Nice), but there did not seem to be much in the way of hotels here around. I noticed the nearby St. Bonnet on the other side here and went up there. They have a nice looking Logis de France, but it was fully booked. I then went to the other hotel in St. Bonnet an they only had one big room free that they did not want to give to me. I asked about the next place where I might found accommodation around here and they suggested another village further up the valley/area. However, I was a bit tired now and knew that I might well get problem at the next place too, but then we agreed that I had dinner there and they would let me have the big room (something that I anyway would have wanted … and they were still cheaper than the Logis de France). I got really good food here and all was well.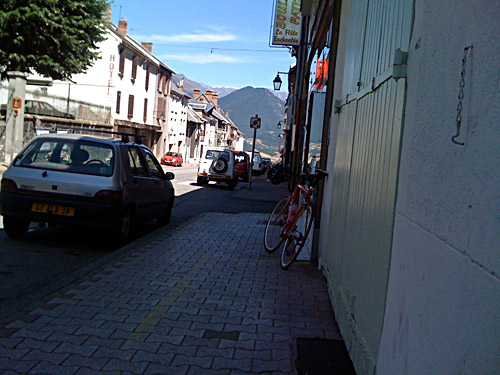 This day I started to use my iPhone a lot … .