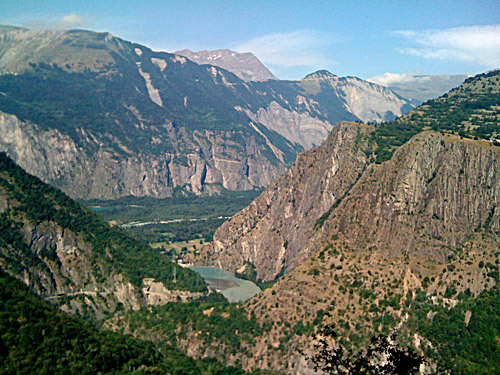 What about the ratio in height metres to the distance today? Must be a record in that respect for me. The day started nicely with breakfast at the hotel. Maybe I should have tried to get away a bit earlier, but in the end I might not have managed to do the last climb intended for the day anyway (or rather it might have turned out to have been a bad decision even if I had managed to do it as it is usually not a good idea to try difficult gravel roads late in the day). I probably cannot choose what photos to leave out this day, so hope you enjoy plenty of photos (record number for one day and with good reasons) – hope you followed my advice not use Internet Explorer … .
I went out on the main road up toward BrianÁon. First there is a long totally flat section and when passing the turn-off for La Bťrarde (1713m) (which would be nice to visit one day), the climbing starts. Some way after the tunnel up here there is a good asphalted road taking off to the right (sign-posted with another D road number than what the maps show (D220), but you will probably understand which road to take here (the turn-off before looks like it is also possible to use with a steep ramp up through La Rivoire). The nice and well asphalted road climbs somewhat steeply up through the woods for quite some time. When the road starts to flatten out it clings to the mountain side. Here are lovely views and I had some photos here. I continued up to Bons (1306m) and then on the main road up to Les Deux Alpes and the Col de l'Alpe (1652m) located in the centre of the village. Many road cyclists went up to here and stopped for a coffee before descending back down again. Typically they only use the much more boring main road up from the Lac du Chambon, unfortunately.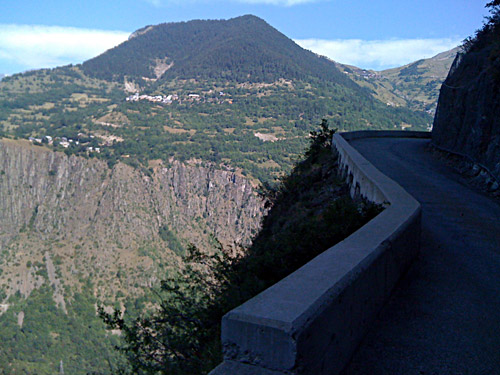 I stopped in Les Deux Alpes and bought something to eat at a grocery shop. Then I had decided to try and continue up from here to Col du Jandri (3151m) on one of the highest roads in all of the Alps. (One could debate which road goes highest, but it is mostly a matter of how bad a track could be and still be called a "road". Other similarly high roads is one going up from Breuil/Cervinia to near Theodulpass; one track going up to Pic du Lac Blanc and tracks above Val Thorens – all of which might be usable on the descent with a mountain bike, but might not necessarily be possible to climb even with a mountain bike.) I have heard that the road to Col du Jandri should have been improved and that there has even been talk of asphalting it to make it become the highest asphalted road in the Alps and maybe include it in the Tour de France one year.
I hope they one day asphalt the road, but there are some things to consider if they would like it to be used in a Tour de France stage. It has two ramps that are likely to prove too difficult for the poor TdF riders ;-). They would need to put in an extra serpentine here and there or just make the road a little bit longer. The two ramps are above 30% and at this altitude it is not easy to handle even if asphalted. I had not printed out a detailed map of the area but studied it enough to believe I could find the way up here anyway. At first I tried to find the wrong way up, but soon I figured out that I should have tried the obvious road at the information roundabout when first entering Les Deux Alpes.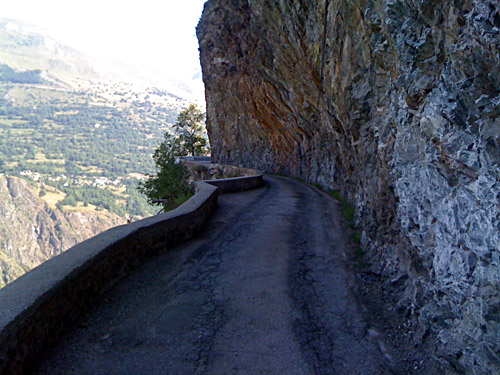 I was happy to discover that the road is asphalted up to ca. 1730 m altitude, just above the highest houses on the side. Then it turned out that the gravel road was good enough for cycling with a road bike on, BUT it is still quite steep AND very dusty! On top on this, you will have cars going up and down here. Most of the cars might slow down so you do not get totally covered in dust right away. BUT, again BUT, on fine Summer days like this there will swarms of downhill riders and mountain bikers. No one of them are cycling up, but take the cable car up to different places. These guys and girls would just love to have you all covered in dust, just like themselves! So there is simply NO WAY you could climb up here without getting quite dirty.
It is also hard going, but I was out early and had planned that the ascent could well take 2-2.5 hours, so I just took it easy and went on as if I had no plan on stopping at all. It was quite nice and felt a little like an accomplishment to get up to the first cable car station after the first series of long hairpins. I was now up on the 2189m point along the road and so far so good. Now I got a little glimpse of what was in store for me, even if I still was far from beginning to glimpse the end. The road got less good, but still fine until you come to the obvious ramp ahead, which is the first place where I simply would not have a chance to climb up. I jumped off here and walked up in my cycling shoes as it was not so long (maybe 200-300 metres).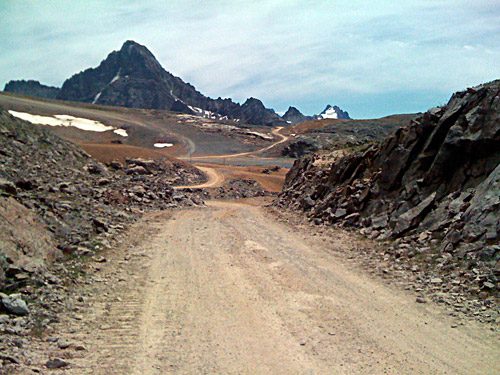 Up at point 2281m and I jumped on the bicycle again, somewhat less confident that I could cycle as much as I had hoped for. The road descended a little and then came a set of nasty steep hairpins that I must say was the biggest bragging point that I managed to cycle all the way up through these. I would find it hard to believe many others had done that on a road bike or even that others would find it likely that I managed to do it, but I did. Here I got more tired than anywhere else this Summer, I think (the Rionda was much more tiresome on the whole and the difficult Furgge was close to this, but for an even longer time). So now I came cycling up to Col des Gourses (2550m), which is the only pass between the Col de l'Alpe (1652m) and the Col du Jandri (3151m). That felt fine, except that I have had to walk the earlier steep ramp, but only 300m walking to reach this high pass on a road bike is quite good, in my mind.
Again, I think, I had a little descent. From now it was partly walking and partly cycling as the road quality was now slightly worse again. I jumped on and off for some time until I reached a flat place just below the Col du Jandri and from where you first have a look of the rest of the road ahead to the top. Here I met a Dutch couple and changed to my walking shoes – my very convenient Nike Lunarlite shoes that I had bought partly with this climb in mind, realising beforehand that I might have to walk a little. The young Dutch couple seemed to know the place since before and said that even mountain bikers have to walk up the last part. But I know at least one Polish guy that has cycled up the whole way with a mountain bike, so it should be possible, but even he (who has much experience of tough climbs) thought it was quite difficult. I only cycled about 100-150 metres after I changed the shoes up to the restaurant (from the place in the photos 5-7). The last ramp is steeper than it looks in the photo.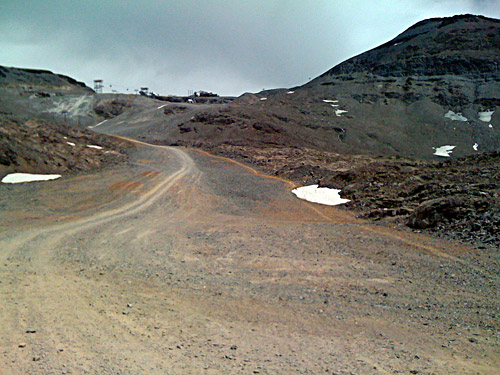 I was not even very interested in trying, partly because the surface was a little too rough now. With asphalt I would have tried, but even then I doubt I could have made it to the top at this altitude (maybe not even at sea level, indeed, not with 39-27). It was a nice day and there was no way I would turn around here with just 1.5 km or so to walk up to the top. I even saw a downhill guy falling on the way down, but I think he took an even steeper way over some snow and scree. I really did not want to take the same way back down and when I reached the top I asked if it was possible to buy tickets for the ride down with the cable car, but the woman was apparently selling something else in her booth (ski cards or something). She wanted to help, but I asked her that I was on my way to the restaurant and thought I would find out on my own when getting back down to the cable car station if someone there could help me.
It is really lovely up here. Some people were up skiing here, but the slopes did not look too inviting. I had a cake and coke and had some photos and found a guy working here that took a photo of me before leaving. The cycle parked on the terrace of the restaurant is the highest point I have ever been to with my bicycle in Europe up to now – ca. 3160m.
I found no people at the cable car station and decided to just jump on and see if someone perhaps charged me on the way down somewhere. I was not really wanting to get back down on the dusty road again now. Maybe I could have made a deal with a downhill rider (I talked with some on the way up there who were a bit impressed by me getting up there) as they only use the cable car for getting up and nearly no one uses the cable cars for getting down. There was an older couple out walking that joined me down to the next station though. I took plenty of nice photos out of the cabin on the way down and it felt like a luxury going down here. I could very much recommend going down with the cable car if you get up here with your bicycle! I was a little worried of dropping my slippery iPhone out of the cable car window, as I have no cover for it! When coming down, after quite some time, no one seemed to care about whether people had bought tickets for the cable car when going down, so I did not care about trying to get hold of someone to pay (but maybe I should have tried a little …).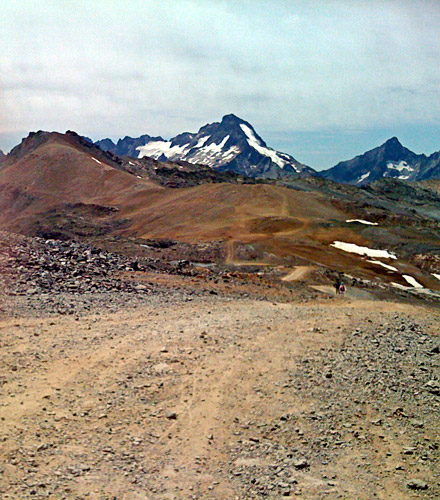 However, I was about to have to pay for something else, I just realised. My rear tyre/tire was worn down so that I could see the thread. First I found a place where the downhill guys could get their bikes cleaned and happily paid to get my bicycle cleaned (also helped the guy there a bit as he seemed worried about cleaning my bicycle properly). Then I found the only place (several bicycle shops in Les Deux Alpes, but not exactly geared toward road bicyclists) that sold road tyres, but they were very expensive. First I started to get on my way hoping the tyre would last until the morning when I could visit a bicycle shop in Bourg-d'Oisans, but then I turned back since I decided that it was not worth taking the chance and having troubles with flats. I was also still thinking that I might be able to do another gravel climb this day. They at least had a red coloured tyre (Hutchinson) that matched my other red Michelin tyre.
Also had a visit to another grocery shop before heading down to Barrage/Lac du Chambon (1044m). I stopped to have a photo of the lake/dam, before coming down to the main road up to La Grave, Col du Lautaret and BrianÁon. This road was what I dreaded most as the last time I went up here I got very tired of all the heavy traffic. It is also a long road that only climbs very gradually. It was a bit hot down here too, but I decided to get going in an even tempo and just go on and it would probably get a bit colder along the river higher up, and so it did. It went pretty smoothly up to La Grave (1481m) this time, even though I wondered why they do not try and keep this main road in a little better condition than it is in (lot's of bumps and deformities). I stopped in La Grave for an ice cream and soda.
Now, I was going to take off this road on the other side of the tunnel just above La Grave. This was something I was looking forward to as this is the last part of the climb up to the only pass above 1700 metres in the whole of the Alps that I had still not visited (it came to my knowledge only last year as someone in Club des Cent Cols had found a tiny plate announcing this pass up here). It is the Col des Portes (1835m) and is located on the last bend before reaching Le Chazelet (1800m), which seemed like a popular tourist vacation village and it is probably a good place for starting walks up above La Grave and I think it is also a (small) skiing resort.
Now this road was at first covered with loose stones on the asphalt, which made it less than fun to climb up here. On top of that, this is also a quite steep road. Eventually I got up above the section where they had put on loose gravel and the remainder of the road was in perfect condition, so then I got happy again. When coming up here you will also get quite outstanding views of the areas around here and most of all the best possible views of one of the highest (and surely the most famous) mountains of the Massif des Ecrins – La Meije (3983m).
The weather was wonderful although it was already starting to get a little late. I think it was now already 18 pm. One surprising thing here: I wondered whether it could really be raining as I got water over me, but the sky was totally clear. I also could not see any water spreader for the fields around. After a little investigation I found that the water that ran under the road here hit some stone on the other side with such force that it was sprinkling up over a little area here (almost invisible though). Two French guys came walking up from Chazelet before I found out the reason for the water and they were as puzzled as me at first. We talked of how great views there was here and I asked them to take a photo of me with my iPhone. I saw the guy had a really nice big camera himself and told him I had got my better camera stolen. He then offered to take two photos of me with his camera and send via e-mail to me a few weeks later and so he did. I am really happy for his photos and he showed me a webpage with some of his own photos – I only wished I could take as good photos as him (but I have never been particularly interested in learning everything about cameras). (Here are some of his photos from the previous year (no cycling).) He complained about me not having maps for my trips, and I agree that they are sorely missing and will one day add such, but I am not quite happy with the solutions out there right now (but may make some "quick and dirty" Google maps).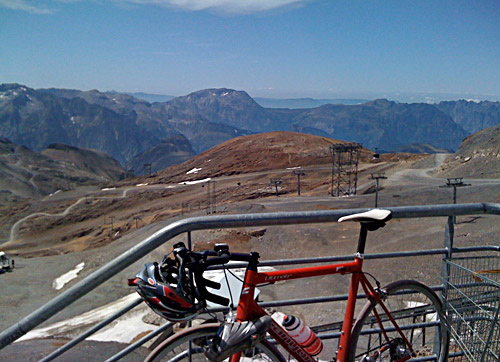 Full speed back down again and now it was not as hot down at Lac du Chambon (1044m). It was already 19 pm now and I was trying to decide whether or not I would do one of the 10 hardest climbs (according to salite.ch, which cannot always be trusted) in all of France before going back to Bourg-d'Oisans. – Am I totally insane or what? If that is not enough, this climb up via Besse (1557m) is gravel road for the better part. The last 6.5 kilometres are above 10% on average on gravel, but according to a report at quaeldich.de it should be fairly easy since the gravel is good and the steepness is even. Then there is an interesting version up to here from MizoŽn (1186m), but that side (which could be seen descending from Les Deux Alpes) might not be as good and could require a mountain bike.
What did I do? I wish I could say that I did the crazy thing and went up to Col Saint Georges/Chalet Jausserand (2245m) via Besse and back and managed to get back to Bourg-d'Oisans before dark, but what I did might be nearly as crazy. I decided to start on the road up to Besse and since it is the same road as the road to Col de Sarenne (1999m), I would take the road to the later pass instead and go via Alpe d'Huez back to Bourg-d'Oisans instead if I deemed that Chalet Jausserand was impossible. I went in a high speed up the steep road and actually decided just as I reached the turn-off for Besse not to try the Chalet Jausserand road. The issue was fairly complex and it is interesting how many factors may be relevant when making such a decision: I was counting in my head on how many kilometres it would be and how long time it would take to climb them and knowing that I needed to be down the gravel part at the very least before it got dark. I even considered the possibility of staying the night in Besse despite that I had a booked night and some stuff left at the hotel in Bourg-d'Oisans, but this I would never had done apart as a last resort. I was considering whether the sun would be up and that I could get some nice photos for me and you. In the end it was too risky to get up on this gravel road that late, so begrudgingly I decided that I would skip it and come back another time perhaps and then maybe be able to do the round trip up there.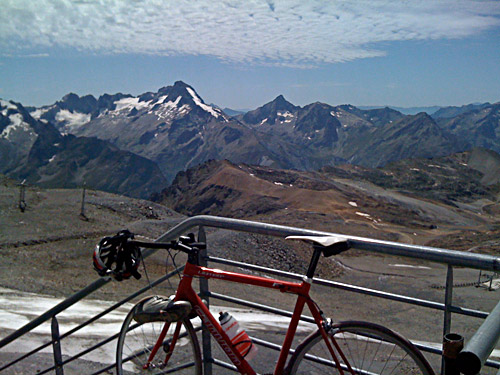 This was a bit frustrating as the weather was really good for climbing up here. But hard decisions has to be made at times and there will always be places one could still go and visit or visit in better weather, etc. I could have taken less time earlier, get up earlier, etc. etc., but there is not much point in thinking what you could have done otherwise as you never know exactly what that would have meant in practise – it could have meant that I had gotten more tired earlier etc.
So instead I went full speed up the Col de Sarenne (1999m). Apart from stopping twice for photos, I guess I hardly could not have got up faster during a competition than I did now. I do not remember the time exactly now, but it was like 1 hour and 15 minutes from the lake to the top, which is almost 13 km and almost 1000 height metres (with a little descent on the climb). Somehow I had not remembered well the road between Col de Sarenne and Alpe d'Huez from my previous visit here and it turned out to be quite hard going partly because of my quick climbing on the Sarenne, but also because the road here is VERY bad, with at least 10 really nasty drainage passages with big stone pavement. The road is called "Pastorale" (something) and they have surely tried to keep it "pastorale" with lots of stones and holes here and there. I tried to go as fast as possible so I would get down the Alpe d'Huez before it got dark and so that I could get dinner, which meant I would need to be at the hotel by 21.00.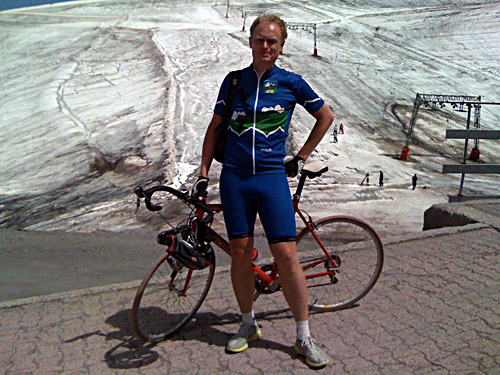 It was quite nice up here this late with the last sun and nearly not a person in sight anywhere. A lady was out running (with her husband in the car), but I only saw one or two cars on the Sarenne climb and no cyclists at all. Eventually I arrived in Alpe d'Huez and took the first road going down, which I am not sure I have been taking before. This road is much nicer than the road going straight up more westward. They both meet ca. 2 kilometres down. Then I was trying to head down the Alpe d'Huez serpentines as quickly as I dared. This was kind of cool – I had this famous road almost entirely for myself as if it had been closed off just for me! I overtook three late guys descending a bit slowly lower down, and met perhaps 2-3 cars, but other than that the road was empty, nice, wide and fast.
I was down in 15 minutes or so and arrived just 2-3 minutes after 21 at the hotel just as it started to get dark. That's pretty good timing! I also got dinner and they even told me I could take a shower before, which I happily did very quickly. Despite not reaching Chalet Jausserand, I must say that I was quite satisfied with the day on the whole.