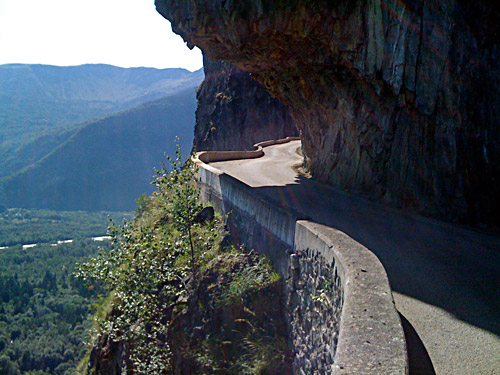 Another day with splendid weather lay ahead. What about the Col du Solude that I had thought to do upon the arrival at Bourg-d'Oisans? Well, today it was time to tackle this climb, which I had really wanted to visit after seeing some nice photos on the web of this climb. This climb starts just outside the centre of the village on the "back side" so to speak. The road is easy to find and is sign-posted for Villard Notre-Dame. Few bicyclists actually visit this road – probably because they have heard that the pass above the village is not fully asphalted. There is in fact about 2 km of gravel at the top, which is mostly flat and with maybe 100 metres that is not very good. This is surely no excuse for not getting up this pass, which should quite obviously be climbed up from Bourg-d'Oisans as it is endlessly much nicer on this side and the other side has much better pavement, making it much more fun to descend.
I did not find climb very steep, but looking at the profile for the climb at salite.ch suggests it is mostly around 10% on average when it climbs. It has several nice tunnels and the road is cut into the mountainside for long stretches (just like many other roads in the area). One tunnel is long enough (and bent) so you will not see anything at one point as the tunnels are unlit, so it might be wise walking a few metres in this tunnel. You get quite good views after just a little climbing as you quickly raise above the Romanche valley. I stopped a couple of times for photos. After a while you get up in a wooded section with not much good views, but when you turn around the corner of the mountainside you are climbing, you get some very nice views again up toward Pic du Col d'Ornon. Here you are likely, if not before, to feel like you have somehow left the world behind as there are very little traffic on this road. You will soon arrive in the little village of Villard Notre-Dame, which may have one bar and may have some water (I cannot remember).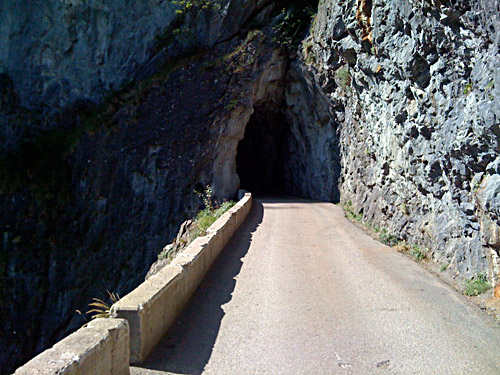 From the village one of the most humble (in size and appearance) roads I have ever seen continues up the mountain and is signposted with a funny warning (see photo): 'Route Privée: Viabilité Incertaine: Danger'. Few cycle paths at home are this narrow. There were a few houses above and some people sitting out by the road, so it surely comes across as very private, indeed. Actually a big car was overtaking me higher up, where they stopped and took out their mountain bikes (I guess you are never supposed to use mountain bikes while going up on roads … but sure, I also think mountain bikes are only for single trails or very stony tracks). They managed to pass me by on the gravel section that followed once one reach a bit up here after a last little steep section. (Talking of cars: I never had a big reason for getting myself a car before I joined a bicycle club – you cannot really be a professional cyclist without having a driving license (in Sweden, at least), but I still have no driving license (but I can drive) and guess that is what I have to blame for why I am not a better cyclist than I am ;-).)
Above Villard Notre-Dame you have great views. On the gravel road section it is wooded again while you go in a straight line back toward a point almost straight above Bourg-d'Oisans. You have the best views from anywhere of the Alpe d'Huez and the serpentine road up there from here. The serpentine road is not easy to see in my photos I am afraid and I only saw it partly myself. You might get a better view in early Spring with less leaves on the trees or with a zoom on your camera. Then there is a very short steep switchback up to the pass itself, which is a grassy open place with best views in the opposite direction. The asphalt returns in the steepish last little ramp to Col du Solude (1680m). It is close to being a 1000 metres climb from Le Bourg-d'Oisans (717m).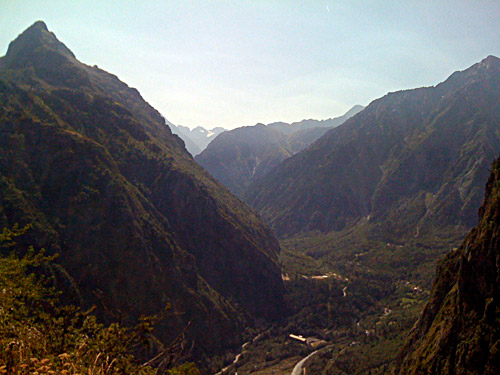 I had thought Villard-Reymond on the other side of the pass would be a little bigger village with maybe some restaurant and maybe even a shop, but it only looked like a small group of houses with nothing much open for visitors, although I cannot say for sure as the road goes around the village. The road down from the turn-off for the village has been newly surfaced and is in near perfect condition all the way down to the Ornon road. There is a small, very narrow bridge just before going up to the Ornon road and one should probably be a little careful on the descent in some places. The Ornon pass road is then very fast down to La Paute (730m) and this is the nicest section on the Ornon road, I think. While descending from Reymond-Villard, I stopped to take a photo across the valley as there is supposedly a road on the other side, which looks close to impossible – this road is marked on the IGN map as "route dangereuse", which makes a lot of sense. I think I saw the start of this road, which was also marked by a similar sign as the Solude road above Villard N.D., but it looked like a bad gravel road only and I am not sure it is actually passable.
I continued on the flat main road down to the next crossing at Rochetaillée (711m) and turned up on the road to Col du Glandon (1927m) and Col de la Croix de Fer (2064m). I had hoped to find an open grocery shop in Allemond here, but the shop was closed (maybe I was too late). I continued on the straight and flat road through Allemond but found no more shop, so I continued as I then could just as well stop anywhere along the road at a bar for a more expensive lunch break. At the end of Allemond (the main village is laying above) there is a climb up through one serpentine to the big dam above – the Barrage du Verney (772m).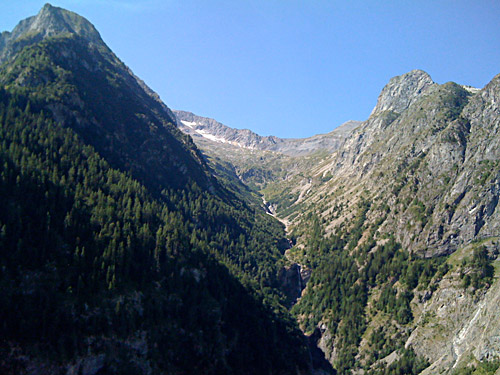 It seems like I should perhaps get a bit better on taking appropriate maps with and when I have maps with me, I should have a look at them every now and then. It is fun to guess ones way ahead, but less fun when taking the wrong roads. A bit too many wrong turns perhaps this Summer, but from my own perspective I think I was pretty good on guessing my way most of the time – you are bound to get wrong sometime on a long trip like this no matter what (probably even if you keep staring at a GPS device, which I think really is no fun at all, but might be helpful for mountain bikers in woods). So, yes, I took the wrong turn up toward Oz-Station as I thought I knew the road up to Vaujany and Col du Sabot (2100m) that I have been cycling up before and now thought I was going up toward. I turned into Oz, as that looked like the right direction (which it is), but the road ends in Oz. Then I went back and continued up to Le Roberand before I realised that something really must be wrong. (Looks like there was a gravel road a bit ahead that I could have followed that eventually might have taken me over to Vaujany, but that road might not be any good.)
The road up to Oz was also a bit steep, so I was happy that I stopped and consulted the map, even if late. The road up to Vaujany (1240m) is well sign-posted and at the end of the dam – it is really very difficult to make my mistake here. This road is also quite steep and it can be hot here, like today. It had quickly got very hot outside and this climb was hard going. Still I overtook another cyclist on the way up. I also stopped for water higher up. Then I decided to stop for a short lunch break in Vaujany and had a coke and ice cream at the same place the other cyclist was going to (meeting some non-cycling friends of his). I talked shortly with them and they had a good IGN map of the area, which made it clear which way I should take next in order to get to Le Collet (1707m), which was my goal up here. I had suspected the road that turned off just before Vaujany, and it was the right one. I had asked the lady at the café, but she had not heard of either the Bois de Bessay, which that road was sign-posted for or Le Collet, which is the end of the road and which is also a minor pass and viewpoint.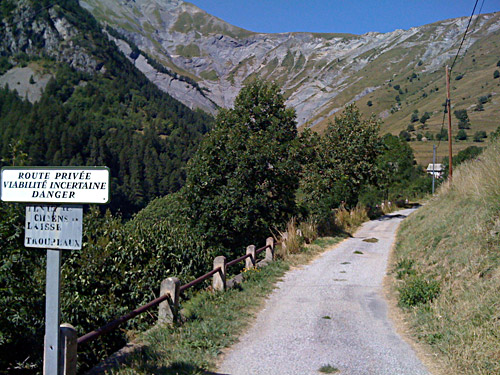 Le Collet (1707m) is a pretty hard climb from Barrage du Verney (799m), with 9km just under 10% on average, but it is at least evenly steep. The road from Vaujany is indeed a forest road and it is almost without any cars. I only saw one house along the whole road. There is a viewpoint place at the top and a little picnic table under a little tree. Some 80-100 metres up from here, the asphalt road ends at a small parking place and fence. Here is also a path crossing over to the other side, which is what makes this a small pass. Club des Cent Cols notes this as being at 1700m, but the IGN map and the little pull up to the path crossing here suggests it is 1707m, so I stick with this. Thus it is among the asphalt passes above 1700m that I have all climbed now. Just today (October22, 2009) while writing this I have realised that another pass I had some thoughts of possibly visiting this year, should indeed be asphalted and above 1700m. It is the Gestelenpass (1851m), more known as Meienberg, in Switzerland. It was accepted as a pass by Club des Cent Cols this September only. There is only a directional bicycle sign with this pass name on (which I actually read about earlier in the planning). But I also read that this pas should not be asphalted at the pass height, even though mostly asphalted. But Pierre Mai of Club des Cent Cols and responsible for the Swiss pass guide told me today that it was asphalted already in 2001 to the top when he was there. I wish I would have known it before, but the more one tries to claim, the easier it will become to find new passes that will have become asphalted or that was not really well known before. Looks like I will have to see the Alps again!
Le Collet was very nice and I had several photos here. I had 37 degrees Celsius in the sun here at 1700 metres height! There was some older people sitting at the picnic table, who went just when I was going back down too. I let them descend in their car before me as I doubted I dared go any quick down on this road which had some loose gravel and debris here and there.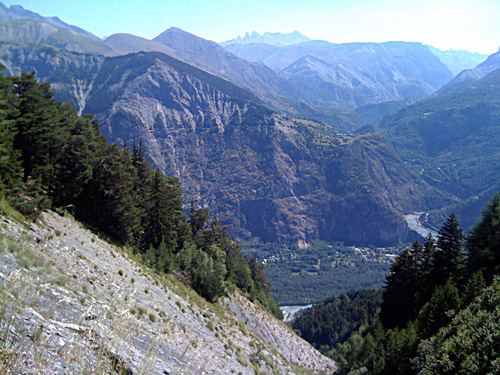 Soon I was down at the dam again and it was actually less hot here – at least when starting the climb up to Col de la Croix de Fer (2064m), which is shaded at first and where the road runs close to the river. I was a bit just wanting to stop again and the next open bar and relax. I came to a place where they serve crêpes that looked inviting after the first somewhat steep climb up through the woods and was close to stopping, but for some reason I decided that it would be better to go a bit further before stopping. Of course, then there was not really much places to stop at along the way. I continued up to the Barrage de Grand Maison, which should be hiding an "asphalt road" at the bottom of the lake as the dam was built (1978-85) first after the original road up here had been asphalted. This part involves a nasty descent and then steep climb up the other side of the valley as the original road was long since overrun by a landslide.
Well up at the Grand Maison dam there are no longer any trees around. A bit after the end of the dam you come up to the bar just below Col du Glandon, but now I was so close to the Croix de Fer pass that I had no reason to stop. The last part up to Col de la Croix de Fer is quite easy and you have the pass in sight ahead of you.
The whole area around the Croix de Fer pass is quite nice with a varied mountainous landscape with green pastures all around. Tour de France had passed over here recently and there were much signs of this at the pass. Here were also a lot of cyclists. Sometime I almost forget there are other cyclists out climbing high mountain passes as I visit ever more obscure passes that few cyclist has ever heard about.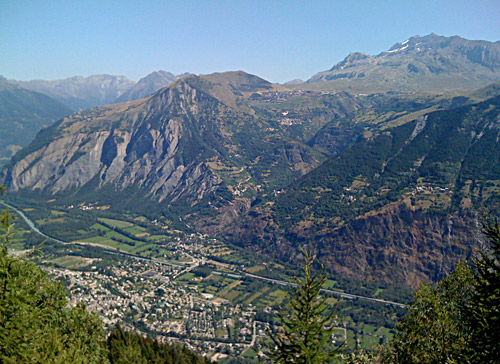 I visited Col de la Croix de Fer for the first time in 2004 when I took part in the yearly marathon ride – La Marmotte, which starts up this pass and then climbs over the Galibier and ends up at Alpe d'Huez. I did not have any photo up at the pass that time, so now I took a few photos for the first time here.
There are some nice hairpins down the other side of the pass until you come down to the first village, St. Sorlin-d'Arves (1510m) where I stopped by a grocery shop to get something to eat. They had some discussion before they allowed me to buy a sandwich with cheese. In France it is often difficult to get a sandwich made at a grocery shop and they somehow think it is disloyal toward the bars operating there, which charge double price for sandwiches to bars in other countries … . Another problem was apparently that I only wanted a half baguette and not a whole one. If French people can create problems they are always eager to do so. I continued down the road (pretty bad in places) and turned off to Col du Mollard (1638m), which is an easy climb on a bad road from Belleville (1227m).
Just as you reach Col du Mollard, there are some nice views back up the mountains you had descended. The views ahead from this pass is not so good as the mountains on the other side are far away and this is also the site for a pretty ugly ski resort.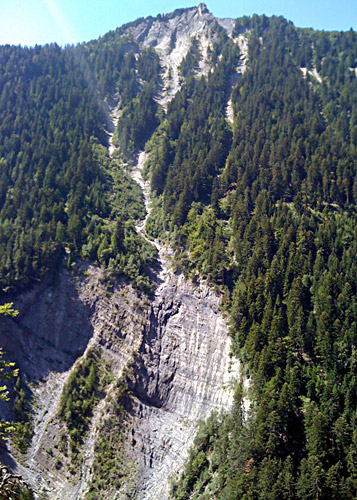 You get two extra cols on the way down here as a bonus if taking the left-hand side road (D110) down to St. Jean-de-Maurienne (561m): La Cochette (1355m) and Le Collet (1140m). This later road is pretty good and wide at some places, but also a little dangerous.
I have been to St. Jean-de-Maurienne two times before, but still it was not very easy to find the way through. I got through and continued a little tired down the main valley. I hanged on to another local cyclist who passed me by as we crossed over to the other side of the valley and I just conveniently followed him instead of consulting the map. That came handy as I was tired and there was a nasty head-wind here. He turned off the road somewhere around Pontmafrey, where the famous hairpins up to Montvernier starts. One could climb up to Montvernier on another very nice road going through Le Châtel also (as I noted on some webpages), but I have not climbed that road myself. I climbed up to Montvernier and Col du Chaussy (1533m) in 2004.
I had decided to try and find a place to stay at for the night in La Chambre, but when I came there I heard right away from a motorcyclist that he had gotten the last room in the village. I asked at a hotel there and they told me to go to St. Etienne-de-Cuines (448m) on the other side of the motorway. I finally found the Etap hotel there, which is one of these roadside motorway chain hotels. It is not very expensive and it is practical, but also impersonal as a plastic bad from a super market and boring beyond belief. Oddly they had reduced price for cyclists (but they are not especially practical to use for cyclists, even if it works and I surely did not see any other cyclist here), but I think I had to have a French bicycle license for the reduced price. (They had partnered with the Tour de France and have many hotels in the Maurienne valley, apparently.)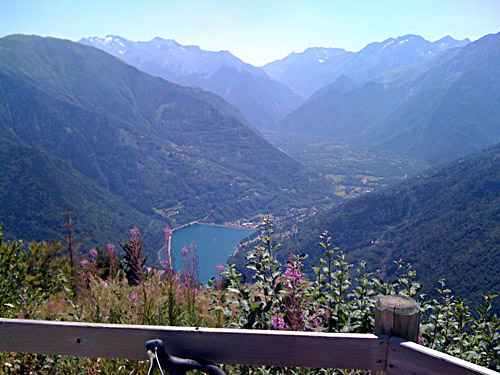 The only place nearby where one could get something to eat was a truck driver restaurant next to a gas station. They had some kind of buffet, which I refused to order and just had a plate with something edible and some simple wine. So this was a little different stop-over from before. I hoped I would not have to stay at such a place again during my trip. Anyway this might have been one of the few hotels in France where I have ever come across a fully functional shower (even if the shower cabin was very tiny). The next day I would climb up from La Chambre to Col de la Madeleine (1993m) and visit this pass for my third time.