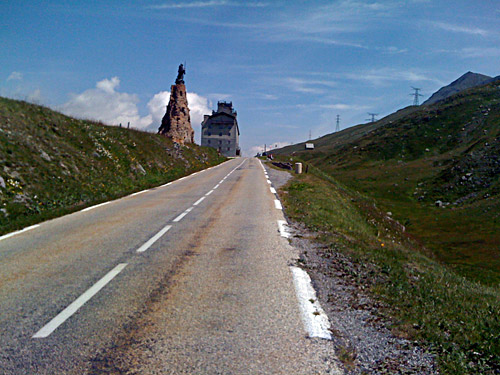 Today was a really wonderful day, but with one very unfortunate "road" choice at one point. My tour really started to wind down in its ambitiousness and I was starting to feel a bit worn down. I decided upon skipping some exciting points on my plan in favour of some easier asphalt roads. I think it was rather realistic and even if I usually do not have much of respect for being realistic in my ambitions, I was trying to do so now. This, of course, does not mean that I did not visit some exciting places or just took it easy.
Today I started by climbing up to Col du Petit St. Bernard (2188m) from Bourg St. Maurice (813m) via Montvalezan, which should be a bit harder and interesting climb up this pass. After some initial serpentines up the main road from Séez, I turned off to Montvalezan on an almost flat road. Then there was a somewhat steep climb up to Le Châtelard, but here I took the lower road meeting up with the main road to St. Bernard. Continuing up through Le Châtelard would have saved me some cycling at the cost of continued steepness. There are some decent views from around Valezan up toward Val d'Isere and up toward Arc 2000, but the main road might have been as nice on the whole.
Up at La Rosière (1827m) there are plenty of shops and bars, but as it was still early I had no wish to stop yet. After La Rosière the climb is very easy up to the pass. As this was a pass used frequently with horses hundred of years ago it is never really steep anywhere. At the top are nice monuments and buildings from the time Napoleon and his army used this road. This is one of the most historic of the high Alps passes. At the pass and on the Italian side the views are simply fantastic.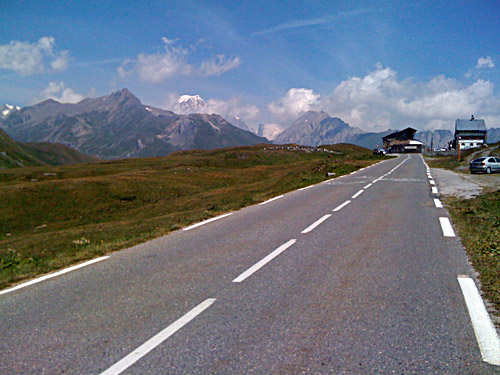 I was, however, going to climb up higher here. I first stopped for a cake and coffee at an Italian bar at the pass. There is a little gravel road going off to the right just after the bars up here on the Italian side. This road is actually possible to bicycle up to near Colle di Fourclaz (2486m) with a road bike. It is well worth the trouble to get up to this pass for the outstanding views of Mont Blanc from here. I made a mistake here again as the actual pass is up a final ramp after a little descent. I confused this pass with Col du Belvédère (2569m) and thought I should turn down on a road before here if I would not want to get up to the Belvédère pass. I really must bring maps with me or I could perhaps have consulted my iPhone maps at least, but the main problem was that I thought I knew were I was and did not need to consult a map – big mistake! I was thinking of returning down to the Bernard pass road or getting up to the Belvédère pass, but instead I tried the very bad gravel road going down here as I thought it was the road I had seen on maps and satellite photos on viamichelin.com (better photos of Italy than googlemaps.com) beforehand. This was the worst possible choice as I had to walk down and then the road disappeared and turned into a steep mountainside where I did not dare to walk down in my Nike shoes and instead continued in my bicycle shoes as I got a better grip in the 50% slope. (I was too far down at this point to turn back up again). I eventually got down not too pleased with this excursion and now I had difficulties engaging one of my cleats in the pedals, which never really worked perfectly until I came back home again.
That later part was a really pointless adventure and now I made two such in one trip (with the error at Col des Gentianes above Verbier). This was bad, but still I had some very nice views in fine weather. For the sake of fairness to myself, I must say that I cannot count on how many times I actually remembered things correctly and also made the right road choices without consulting a map. It is just that I can tend to get too confident in my memory and analysis of the terrain at times or too careless, perhaps. It is tiresome and boring to spend too much time looking at maps and this is the result.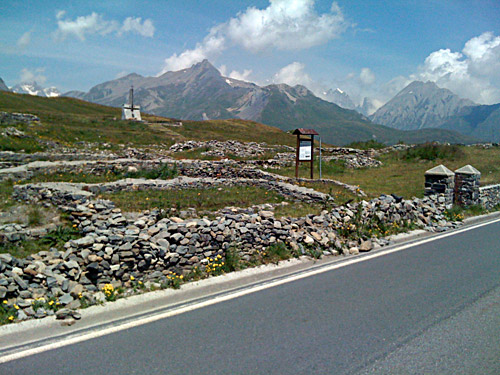 I stopped at La Thuile for a late lunch at a shop at the lower end of the village. I was sort of tired then at cycling and thought about doing something else (well, eventually one could have such moments). I went down to Pré-St.-Didier and stopped for a photo of the Mont Blanc range at the only point along the road where you have a nice view in this direction.
At Pré-St.-Didier I stopped and filled up water and talked a little with another local cyclist. I felt a bit at a loss of what to do now as my plan had been a bit screwed up time-wise (I would not have time or interest in doing another gravel road climb). I had thought about trying to get to Col des Chavannes (2603m) from La Thuile, with great views of the Mont Blanc, but first I saw there were some road work up on this road and it would be another cul-de-sac and a very long gravel road climb of dubious quality. Since I had so good views of Mont Blanc from up near Colle di Fourclaz, I did not think this was very interesting and I was sort of tired because of all the walking. Other possible climbs were not nearby and would take too long time to get to. (Colle San Carlo (1971m) have been done before.) I asked the man if he knew about Col du Mont Joux, but he told me to ask at the tourist information nearby, which I did. The girl showed me a very nice map of the area and I located the pass just at a corner of the map, but she had (of course) not heard about this place and said it was outside her area. It seemed like her husband (or a friend perhaps) was there and he knew this road very well and told me it could be climbed on both sides with a bicycle. One side has a long gravel road approach through woods and is not so fun (I think), but the other side looked interesting and was within reach from here. I had spotted it on a map when I visited Courmayeur earlier (I had vaguely noted before that it should be a gravelled road pass that would be possible to do, but as it was lower than 2000m height I did not think so much about it (gravel roads I most often do not care much about unless they go very high or are very interesting for other reasons, like Col de Tende).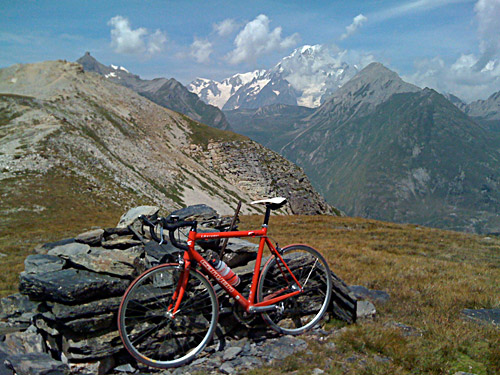 So I continued down the Aosta valley to Avise (762m). Here starts a very interesting climb up to Cerellaz (1252m) and a high balcony road over the valley, which is a must see road! The climb got me back in a good mood. It started with cobblestones through Avise and then it is quite steep and long. It has countless hairpins and at every bend it keeps alternating between 8% and 15% ramps almost all the time until you assuredly very tired will reach Cerellaz. There is one nice viewpoint of Mont Blanc on the way. I noticed a small hotel here and decided that this might be a good place to stay for the night at, so I booked a room and left some things and continued up to Col du Mont Joux (1930m). I was close to yet again make a wrong road choice, but I quickly stopped to consult my map and I must say that I was lucky that I had the map from the tourist information with me as these roads are not marked at all on normal road maps. There are many roads up here and a good map may be essential (even if you are merely taking the balcony road ahead).
I found the road, which is the second major road going up the mountainside after passing by yet another small village. The road is very nice with little traffic and majestic mountains all around. Only the last 300-400 metres are gravel. The road is very narrow up from the last village, Vens (1735m), and less good. The pass itself is the only boring place on the whole climb. The climb was a bit long and I tried to hurry because the lady at the hotel wanted me back in good time for dinner. Of course I was too late back, but they were waiting for me.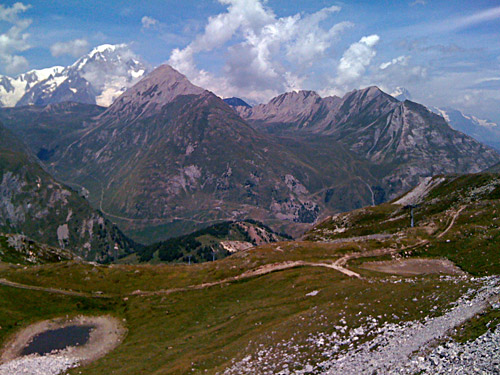 The hotel was quite charming in its austerity (incl. the "austere" bed … almost military in style). People living up here are pretty tough, so do not expect too much smiles, but they were very nice. The dinner was fun too – everything looked like it was 1960 including the way people talked and the way the food was served. I especially noted the salt and pepper was kept in a very simple glass tray where you had to pick up salt and pepper with your fingers (I do not think I have ever seen such and they looked like they could not have been made later than 1950, but maybe). I was the only guest, but the man looked out at me from behind a window and hurried out when I had finished a plate to offer more. I got two white pieces of round breads, the same that I got at the breakfast, but then they had cut them up in slices.
I had an ice cream and a beer at the bar and talked with the man that had served me dinner about whether I could find a bicycle shop in Aosta. He showed me where to find one on a map. He offered me two maps and I kept the one that showed Aosta and made notes of turns to take along the balcony road in the morning (which proved to be helpful). I did not sleep too well in the hard bed.