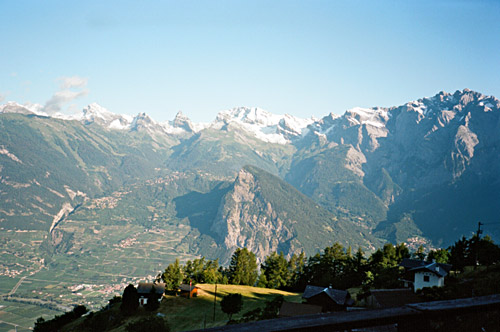 Another fine morning! I had breakfast and left the nicely located hotel at Les Crêtaux. The descent is not so long and goes through one unlit tunnel. At a wooden bridge at 1292 metres the gravel road over to Mayens-de-Riddes (1506m) starts and is a hard climb from this side (up to near 20% at one point), but the road is mostly fine. Actually it is only the Michelin map that refers to this place as 'Mayens-de-Riddes' and it is in fact the area that is called so – the place is called La Tsoumaz. I wanted to revisit one of the nicest unsurfaced pass roads that can easily be used with a road bike in the Alps, which is the (Col de la) Croix de Coeur (2174m). I was unsure as to what extent it was in fact asphalted and if it had changed since 2002. It turned out that it is basically similar to how it was in 2002. It is indeed asphalt most of the way up this side and the last couple of kilometers are quasi-asphalted, while only the very last 1-2 km are plain gravel and then very good.
There is a newly built bar at the top trying that tries to get cyclists to stop by there. The views are still as great as ever up here though. Here I had the last photo with my analogue Olympus camera (without zoom) as the next roll was not finished when the camera got stolen in Grenoble a week later. I really miss the photos from the end of this day, but luckily I had taken a couple of photos with the iPhone to have something to upload to Facebook for friends there and after Grenoble I took even more photos with the iPhone as I was not into buying a new camera then.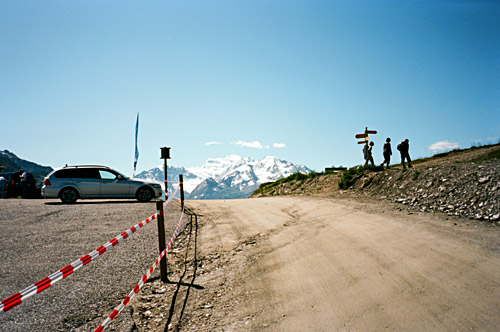 After photos and a little talk with another cyclist at Croix de Coeur, I took the high flat road taking off just below the pass on the Verbier side going toward Les Ruinettes and the ski stations up here. There is a lot of people walking, running and cycling on this road in good weather and there is an unlit tunnel. The road is good gravel though and presents no problem to a road bicyclist. The road that continues to La Chaux (2266m) is even better and wider.
Now I had thought to see if I could climb up to Col des Gentianes (2886m), but at La Chaux (restaurant) it all became very confusing. I had thought the road would simply continue up here, but there is no proper road continuing up here at all. The track that looked most like a road turned out to be the wrong one. When I found out for sure this was so, I had cycled and walked for quite some time up the steep mountainside and was getting less interested in trying to get up to the Gentianes pass by then. I thought I saw the track climbing toward Gentianes and it did not seem like it was even used by jeeps as there was no discernible road in the steep ski slope. Actually, a Polish guy have convinced me that I went wrong and shuld have brought a map (which I have had before when I had planned climbing up here, but thought I knew how the road would go this time). You are supposed to get down at La Chaux, on the road I later went down on, and then up on another gravel road taking off this road, which I saw while descending, but thought that it was leading elsewhere. I was up at the Grands Creux at around a height of 2380 metres before walking down through the grass to the path/track that I saw ahead of me toward the Gentianes pass, but then returned down to La Chaux.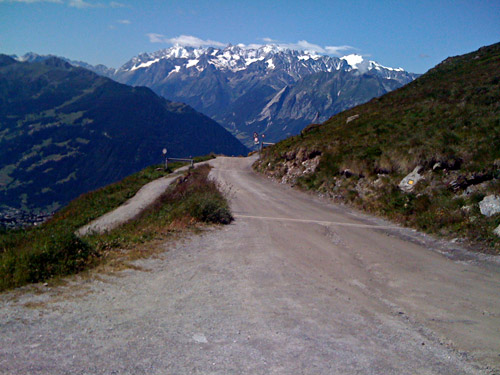 I decided to try the road that the lady at Les Crêtaux told would be possible to use down from La Chaux, by-passing Verbier altogether. Even this road is difficult to see. One has to get down on the only possible road down here and although it looks like it ends soon, it actually continues down first as a very minor track which is rideable, but this becomes a little better and one does not have to go on forever before one reach asphalt, which starts at around Plan Varzay (1667m) or a little higher. From here it is a mostly good and somewhat steep asphalt road down the valley to Sarreyer (1239m). Just in Sarreyer I had just bumped into a stone or something and was checking out the tire, when a car came up full speed through the little village and in French style was going in the middle of the road. I reacted quickly but had to pass by the car on the wrong side – that was really close! And I who had promised myself to be extra careful this time so I would not have another accident even before my broken clavicle had healed fully. It is typical that dangerous situations arise just when you think you can relax a little – never relax on descents! Breathing out a bit too much and easily is always accompanied by cars sneaking up unexpectedly toward you!
Down at Lourtier (1074m) I was tempted for a second to go up the valley here to Lac de Mauvoisin (1976m) as I was already up the most boring part of the climb. But in the end, I guess I made the right choice not to go there this day. I stopped for a little "grocery shop lunch" below Verbier at Le Châble (821m) and here I saw several cars from the Tour de France that had arrived here the day before (Verbier was the finish that day and today they were climbing over the Col du Grand St. Bernard (2469m)).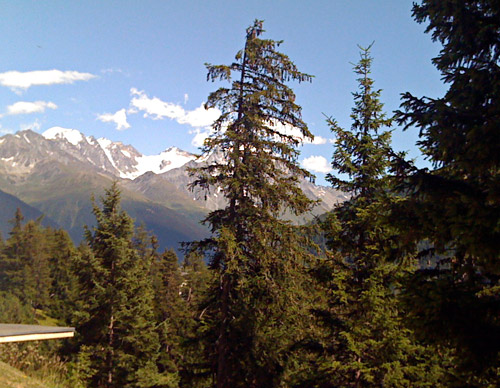 At Sembrancher (714m) I decided to stick to my plan and climb the Lac de Champex (1498m), which is one of the most famous passes in the Alps without a proper pass name. This is a quite nice little road with a nice lake at the top (had some good photos with the stolen camera, I now remember, up here). There were road work on the ascent from Orsières (where the TdF had passed through earlier in the day) higher up and I met a few cyclists there. It was almost a kilometre of very bad gravel up/down that side thus at this time and all in all this road over Champex was less good than the Croix de Coeur road, where you almost never find any road bike cyclists.
I went on the gravel path around the lake at the top, which was very nice. The descent toward Martigny is very good at first, but further down this side the asphalt road is quite bad, so if it was not for the road work on the Orsières side, I would absolutely recommend going in the other direction. Actually one comes down on the road between Martigny and Sembrancher only a little down from Sembrancher, so this road is not very helpful as a short-cut in any scenario.
The descent to Martigny is very fast. I stopped a little for something to eat at nearby Vernayaz before I continued toward the Lac Leman on the flat and windy road. I was going off at Lavey-les-Bains (416m) – make sure to take the cycling path going off the main road right here which leads you directly to Lavey-les-Bains right across the river. I was on my way to the horrendous climb up to (perhaps) legendary Rionda (2157m) (a military installation (area) atop the mountain overlooking the area around Martigny and which is still in use).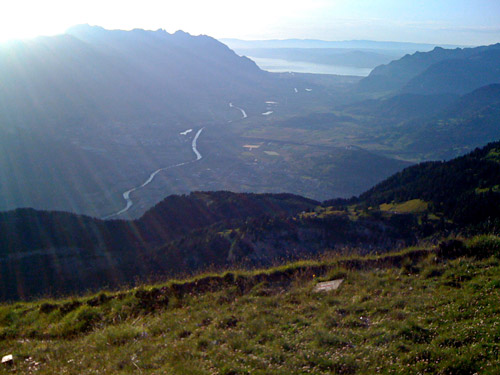 The climb from Lavey-les-Bains to Rionda is one of the absolutely hardest climbs anywhere in the world (see the profile at salite.ch). It is number 7 in the salite.ch list of the hardest climbs in Europe, but some climbs harder than this are actually clearly easier as they are fully asphalted contrary to this one and some of the others are simply not possible to climb with a normal two front chain rings equipped (39-27/28) road bike. The number 3 – Pico Ariero on Madeira, might be harder, but I think that is also fully asphalted and it has easier gradients for some parts where you could get a little rest. I would however argue that the salite.ch measurements does not tell the true story at all of the difficultness of the climbs it lists. A climb like Alpe Vaccaro, for example, is harder than any of the ones listed as being harder (but it much depends on your equipment, surface and other non-accounted for variables such as the weather). There are also several climbs not included at salite.ch which would be up there among the hardest, like Monte Rite.
The climb up Rionda is both very nice, fascinating and acts as a good test for any cyclist of his endurance. The climb is not very hard at first, but soon becomes pretty steep and stays that way through a long series of numbered (31?) serpentines up to Lavey-Morcles. At Morcles the road shortly becomes less steep and now you get better views. The road is always quite narrow. I mistakenly took the road that looked steepest in Morcles as I thought this was a very hard climb and thus it would be logical to take the hardest road ahead. After fighting my way up the +20% ramp, it ended in a gravel track. I returned and asked some people who had sat watching me outside their house if there was perhaps a little less steep road up to Les Martinaux (1670m) – if I had asked for Rionda, then I feared they would have thought I was insane, so … . Some funny inhabitants had written "Allez! Allez!" on this steep asphalt detour – apparently I was not the first taking the wrong turn here … .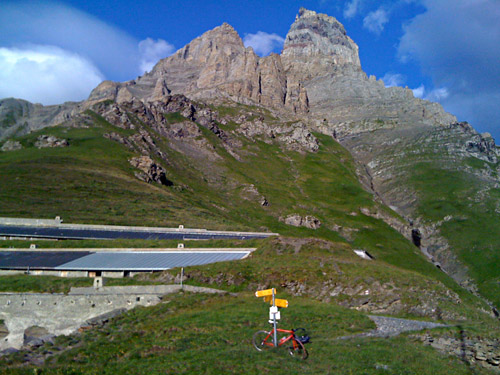 I went through the tiny village and after a road choice (where one road goes to some military installation), there is a short almost flat stretch, which is also the last resting place. Then it gets really steep again and eventually ones comes to the end of the asphalt around Les Martinaux. The gravel road is good enough to not be an excuse in itself to return at this point, but coupled with the steepness, I really find it unlikely that few road bike cyclists would really have the determination needed to get much further here. I was really not clear on whether I should continue myself and it was starting to get a bit late. But hell, I had been going here with the intention to do this climb as I failed to fully climb the similarly hard (or possibly harder) Furgge/Breithorn, I thought it would be kind of sad to have failed yet again. I struggled ahead.
Soon one comes to a bar across the road where I had to lift the bicycle over (or under). Then the last horribly hard stretch started. Despite being constantly steep it was still possible to ride on the road with a road bike (sometimes I had to switch lanes when the surface got a little loose). Standing up is difficult or impossible and thus it becomes extra hard as you cannot change position and use other muscles. I was actually nearly giving up a few times here and started to wonder when, if ever, the climb would end. It was just about doable for me. Finally I could see the end – the military barracks at Rionda. There was a heap of loose stones at one point where I walked over, but otherwise I could cycle the whole distance and only in the last 300 metres or so, it got flat again. To actually continue the last stretch from seeing Rionda to getting there was also a challenge to my determination, knowing I had to go back the same way.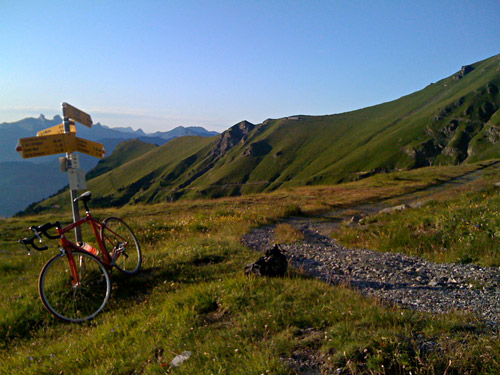 It surely felt as an accomplishment to actually manage to get to the end and I was awarded with very nice and far-reaching views, toward Mont Blanc and Lac Leman. There could not be many places from which you can see both Lac Leman and Mont Blanc (reachable via a road)! Unfortunately my best photos were taken by the stolen camera, but luckily I took some photos also with my poor iPhone camera, which is better than nothing.
I had seen a small hotel in Morcles and decided to see if I could stay there on the way back as it was getting late and it would be nice staying a bit above the Valais valley. After trying to accommodate me with someone else in the little village I got a room at the hotel (which was big enough for a group of ten people, which was why she tried to get me into another house). I had dinner here (not any options really) and I asked what I could order as part of the half board (often there are certain limited choices for the people staying at a hotel and I was the only guest this late). The chef told me I could order whatever I wanted from the menu and after a while I decided to take a Cordon Bleu (because it is usually a somewhat big dish), despite that I usually get disappointed when I choose this. It turned out to be some of the best I have ever eaten and this place is highly recommended for food (the room was not so great). Quite a surprise and I had some nice rosé wine as well. The potatoes were served in a very nice way. Then I had some home-made ice cream. Almost worth to get bicycling up here only for the food! (I told me sister living in Chamonix to take a trip over here one day.)