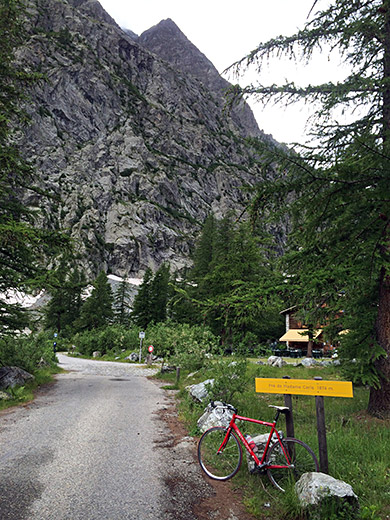 Yesterday had been great, but this day the bad weather would return. It started fine and I had a nice ride up to the nearby BIG climb, the Pré de Madame Carle (1874m). It is a bit steep at the end on a twisty narrow road up the valley. A nice climb, but the skies got grey as I came up there. Still some views.
Here a view of the glacier that is the main attraction here (guess it is smaller than what it has been, like most glaciers in the Alps, but still there).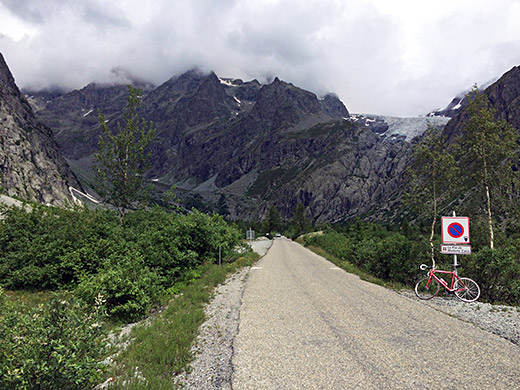 The last stretch is nearly flat (arguably better views from here).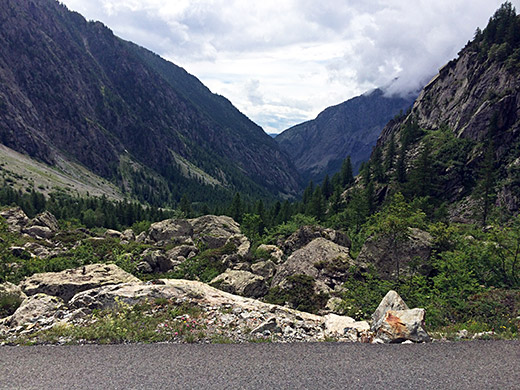 Here is the narrow and steep valley the road climbs and one wonders a bit where they could have built it and why … .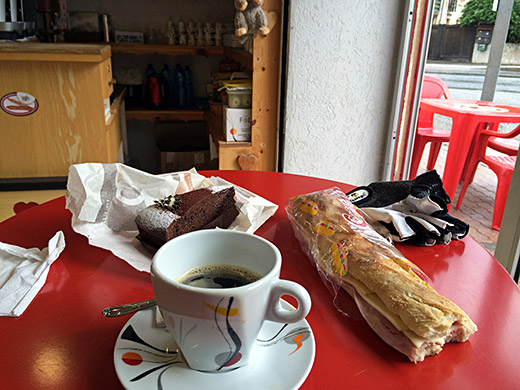 Back down without any rain and I continued down toward Guillestre – the least sign-posted for town/village in the Alps, I guess. I stopped as a rain shower came in Eygliers (896m) below Guillestre for a little lunch stop.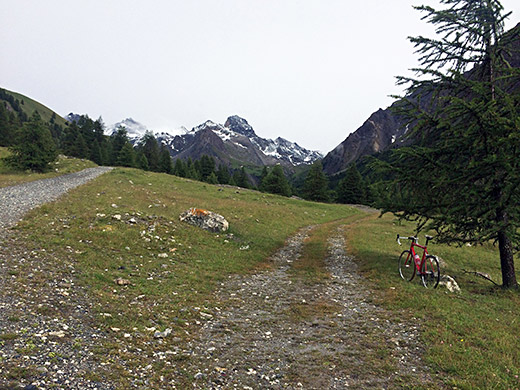 The rain soon stopped and I continued up on the road that goes to the famous Col Agnel/Colle dell'Agnello (2744m), Col de l'Izoard (2360m) and Col de Vars (2108m). I passed by the road up toward Col de Vars and continued into the Gorges du Guil. This time I took off on a cul-de-sac road up to Ceillac and Le Bois Noir/Le Rioufenc (2012m) just to climb another nice +2000m asphalted road. However, the rain returned when I closed in on Ceillac and I had to take cover there and ended up at the centre du vacances, where I could wait out the rain. But the rain did not seem to want to stop ever. I waited close to four hours before the rain eventually stopped.
Again my plans where destroyed, but one has to make the best of it and I know I have to be flexible and cut out things. Anyway I eventually and very late got up the last part of the climb to Le Bois Noir/Le Rioufenc in the Vallée de Cristillan. It seemed as if it was only up here it was raining so it was a bit irritating, but it was a decently nice road anyway and nice to have been there.
Looking back the views were much better and now there are no traces any longer of the horrible weather before. On satellite images it had looked as if maybe there was asphalt even higher than this, but that was not the way so turned around here.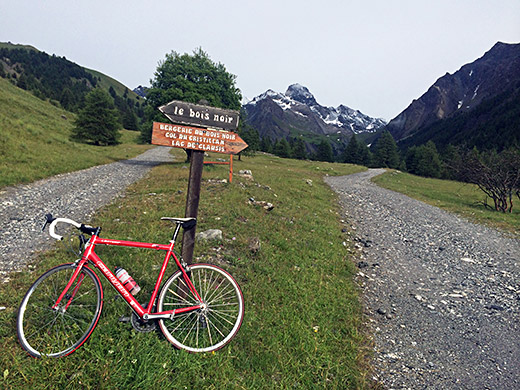 A last photo with the signs.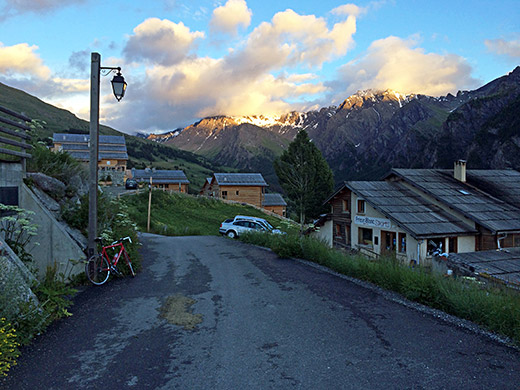 I was supposed to have done two more climbs and the get over the Col d'Izoard (2360m) this day which was not even remotely a possibility (maybe not even at the start as I should have done the Pré de Madame Carle climb the day before). So I came up with the idea to go to St-Véran (2065m) and hopefully find a place to stay there for the night.
It took time and as approached the village I knew I just had to find a place there as it would get dark on the way down. Here I am close to the highest asphalted point just above the village. I had planned to go on the gravel road to Chapelle de Clausis (2380m), but unfortunately I decided to skip that this evening and also in the morning. It is not much better views from up there and only a slowly climbing road inside the valley, so … .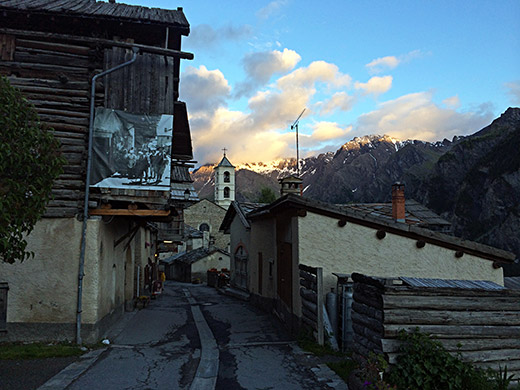 Here I am in the village on the highest point through it and nice views in the evening.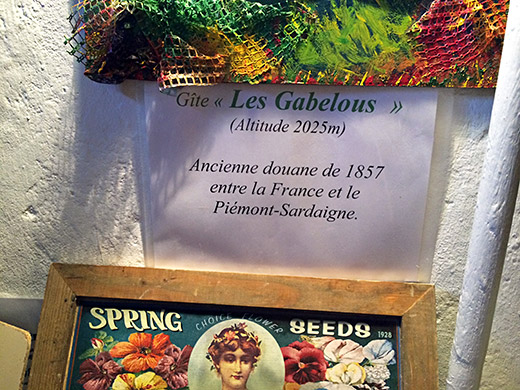 The first highest hotel I asked at was fully booked, then tried a gîte a bit lower down and they had like just one bed free or so and not a proper hotel with linens, towels and a separate room, but the people staying here were mostly nice older people and not busy young people, so it worked out fine.
So I got to sleep at above 2000m for once, which I usually do not want, but it was nice here. I got something to eat from the nice man running the place and talked with some nice guests until bedtime, which was irritatingly early just as I finished dinner at around 10 (everyone was to bed and it was of course dark in the room when I eventually got to bed).