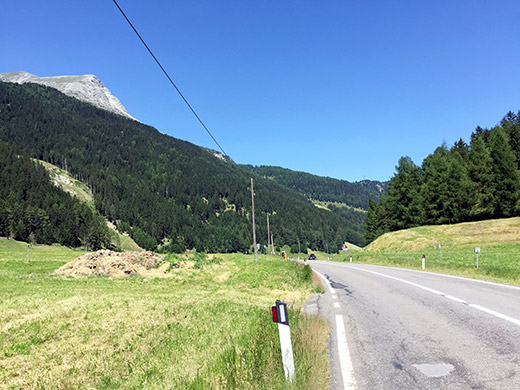 Had some simple breakfast and did not bother complaining about the horrible room/hotel outside Landeck – I felt lucky to have survived it and that was it. I went out to collect my bicycle and two of the motorcyclists there mumbled something about my bicycle not looking good. The rear wheel could not be turned around and there was a flat on it. Cannot really see how that could have happened by itself during the night, so suspect someone did something with it, but what could I do. I fixed the flat and widened the brakes and took off, as the wheel went around (the spokes were not broken).
The weather was great again and I continued a little late up towards Italy. It was a long ride up there this morning. In Prutz there were no bicycle shop, but in Ried I found a sports shop also dealing with bicycles and a guy that was finishing off work with another bicycle's untrued wheel. He worked a while on it and after a little discussion worked a bit further on it and then it was basically true again and got the tyre pumped up properly, so now all was fine again and the wheel actually kept its trueness until the end of my journey. Got a coca-cola, sandwich and yoghurt in Ried by the grocery while I was stopping and then it was finally time to get out of Austria. Still no water bottle that worked with my Tune bottle cage (they need Tacx bottles and for some reason they seem to have gotten less popular lately even though they are arguably a bit better than most others).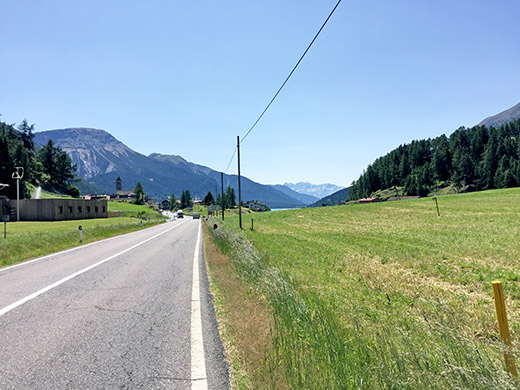 Just before Pfunds you are eventually allowed to use the main road (that was fine to use up until the mid 2000's or so) when it becomes narrower and more dangerous with the same amount of traffic. I took the normal road to Reschenpass/Passo di Rèsia/Pass dal Raisch (1509m) via the fort – now this road seems to have gotten permanently forbidden for cyclists too, but I could not care less! Even though I like climbing and the road over Norbertshöhe (1406m) really is a great alternative to take at least once, there is no sense in forcing cyclists to always take that road, especially as this is not exactly a motorway. The road is a bit narrow, has some traffic and also some tunnels, so unless you do not feel fine with that, then by all means take the other road.
The normal road is quite nice in parts though and you get to see the nice fort along the road, where they were just rebuilding the road when I passed by, maybe in order to make it better for lorries. I am not the only cyclist confused by this cyclist ban here and another cyclist who had gone up part of the way asked me what to do. I said be careful and go straight ahead and forget about the ban of cyclists here as he then did.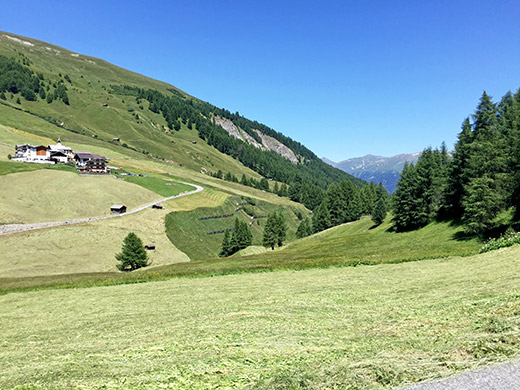 At Nauders (1340m) I stopped for something more to drink (as as I had no water bottle as it were). Then I passed over the border (on the road) and it says Reschenpass here and Google Maps also thinks the Reschenpass is here (earlier the local technical maps from Alto Adige also did not know where the pass was located, but now they have located it almost properly, but not quite), but this is merely the name of the area, not the pass itself, which is firmly located inside Italy (the Swiss maps have been more reliable here though). The first photo is from the exact pass height looking back down toward the border and the second photo I look ahead at the same place and you can glimpse the Reschensee there.
It felt nice being in Italy at last. I had originally planned to have done more climbs in Austria (for example Fisserjoch) and then done some climbs down near Lago di Garda this day, but as I had gotten much behind in my plans mostly due to the heat and optimistic planning, I had wondered what I could reasonably do this day and it wasn't really much. However, I should be able to climb to Schöneben/Belpiano (2116m), which is one of the highest asphalted roads in the Alps I had still not visited (there is really only one road (separate climb over a longer distance) that is higher that I have not yet visited and that is Camona da Nagens 2142m (I was supposed to do that climb the day after the accident, but may have had to skip it as I was running late, again) and possibly Pagiger Bleis 2135m (only concrete strips for the wheels).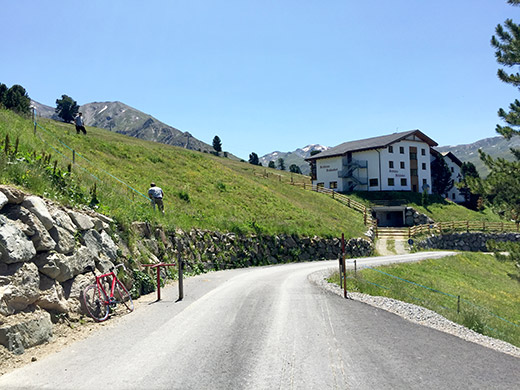 So up to Schöneben/Belpiano. However, just before reaching Rojen in Rojental I again noticed I had a flat. Now I was getting tired of this and of buying a new tube every other day. I noticed that my McGywer-patching of the tyre with part of my backpack-strap had a hard edge that had eaten itself into the tube, which could have explained the flat in the morning too (maybe). I took my little sandpaper and slowly tried to take the edges out of that little patch and slowly and carefully patched the tube with one of my extra patches I usually have as a backup in case I get more than one flat before I find a new tube. Then continued a bit disillusioned. I stopped to take a photo of Rojen (above) and continued to the very top of the road an the bigger restaurant up there by the cable car.
I went in and had a sausage and fries and something to drink. Then a lot of mountain bikers arrived. I think they take the cable car up here and cycle on up the grassy mountain and down again to the lake. It was a nice day.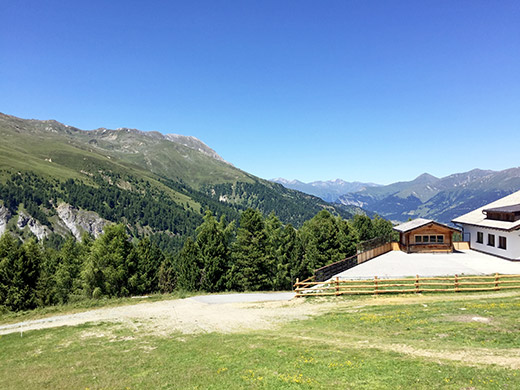 I went up the other road here and walked up the grassy mountainside a little to get a better photo from up here. Here looking back into Austria.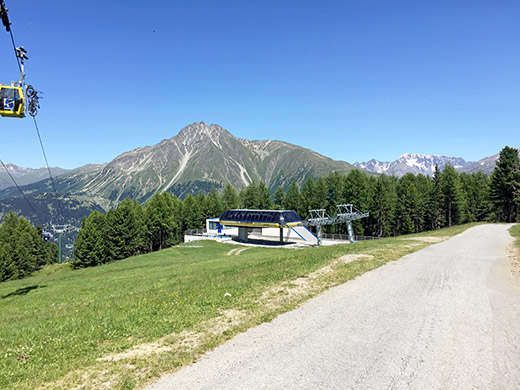 Then down the other side and to the other end of the Reschensee. Here is at the start of the road looking at the mountains at the other side of Reschen.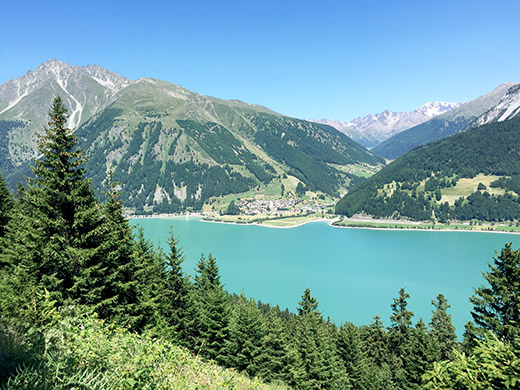 Here is a lovely viewpoint and almost the only good view along this narrow forest road down to the lake.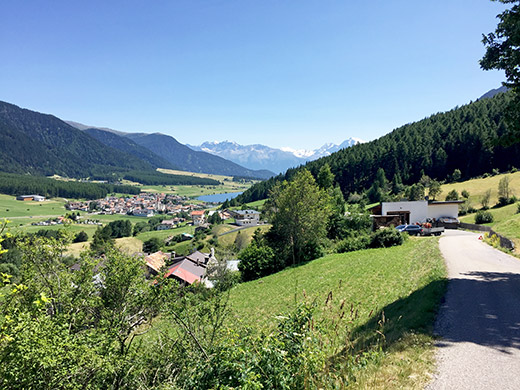 Here I am almost down and we see the next see – the Haidersee/Lago della Muta. I went out on the main road along the sea, but then decided to take the little road recommended for cyclists on the right hand side, which is a quite steep little road in places. I think the little road on the left hand side might be a nice alternative. The main road is also fine as it is very quick downhill and thus no problem even with a little traffic.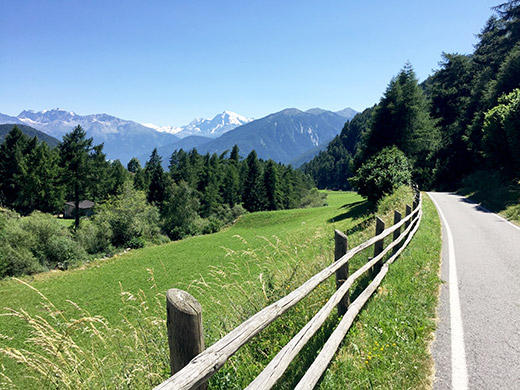 Here is this nice steep bicycle road that also have a little local traffic.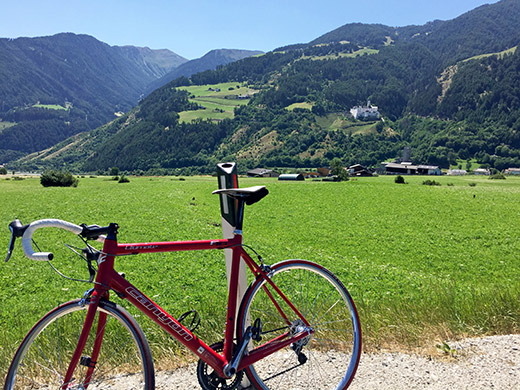 I got tired of this awkward road and decided to get out on the main road in Burgeis/Burgùsio again (I see that I could have gone out a bit below also easily). Looking back to that village here from the main road and the Marienberg monastery above.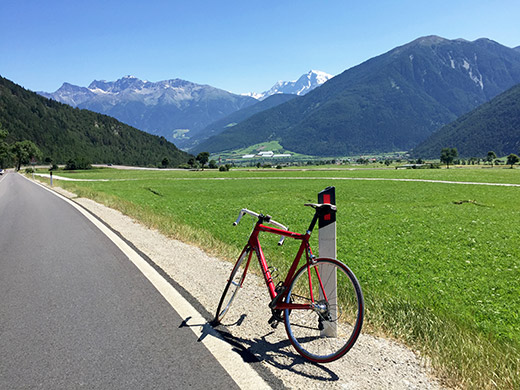 Lovely asphalt here (I had remembered that it had become terrible from my last visit) and no traffic just when I was there, so full speed down, but soon the terrible asphalt was coming back, but it gets better again after Mals. It used to be all perfect, but now they patch up the roads a little by little when there is money (even the main roads like this one).
I kept up the spirit as it was mostly downhill through the Vinschgau and as there was no terrible traffic I could stay to the main road for a long time. It got progressively quite hot down there. There is always a bit of traffic around Schlanders/Silandro though and it takes time before the road eventually starts to drop abruptly down here. Sometime before a tunnel down the valley (not allowed for cyclists and none you should try and take) I took off on the small road along the river, which is sometimes just a bicycle path, and stopped at a bakery somewhere for a cake and coca-cola, but it was very hot and I was trying to hurry down to Merano/Meran now to get to a bicycle shop to try and get hold of a new water bottle.
The Vinschgau is a quite long valley though. At Naturns/Naturno I went out on the main road again and then turned off just above Merano on the old road that cyclists are nowadays supposed to take down to Merano, but now the air went out of the tyre again. I stopped to try and get the air to stay in long enough so I could get to the bicycle shop before they might be closing at 18. But I had to stop again and again with shorter intervals, so shortly before getting into the centre of the town I had to give up and change tube. Then full speed in there and I remembered well which bicycle shop I had visited in the centre last time where I got good help and was there at 18 sharp, but they were open to 19. No help with truing the wheel more, but it also held up the remainder of the journey, so there were no real reason to be worried about that. Got a new tube and luckily the man in the shop had a water bottle which was his own of the Tacx type and was nice and gave it to me for free – that was very much appreciated! (They did get a wheel from me though the last time … . I told them I had a Facebook friend from Merano and the man knew him well.)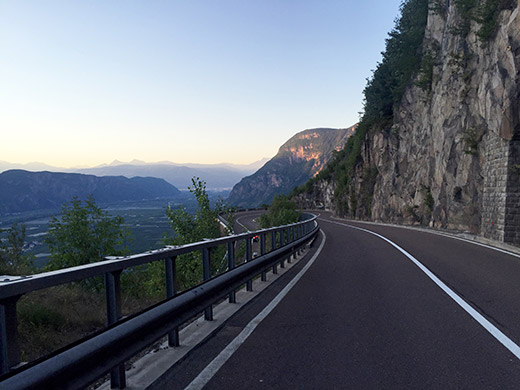 Then I was off to the train station to get a ticket down to Ora/Auer in order to be able to reach Lago di Tésero before the night and the booked bed & breakfast there. That left me with some time to get back into a pastry shop to buy something more to drink and eat and back again to the train and a relaxing journey down via Bolzano/Bozen to Ora/Auer (223m).
Now the clock was already 8 pm and I noticed the bus that seemed to go up there from the train station, but I should really go cycling up there and I had also not done the full climb before up to Passo di San Lugano (1100m), which is a bit of a climb from down the valley floor. I felt really good and apart from stopping to take the photos here and below, I have seldom cycled this fast up a pass. I was up in one hour from leaving the train station, which is pretty okay, I think, as it is over 16 km and uphill for sure. (I think it was 1 hour and 3 minutes exactly from the station to the actual pass including photo session, but I was in San Lugano on one hour sharp.)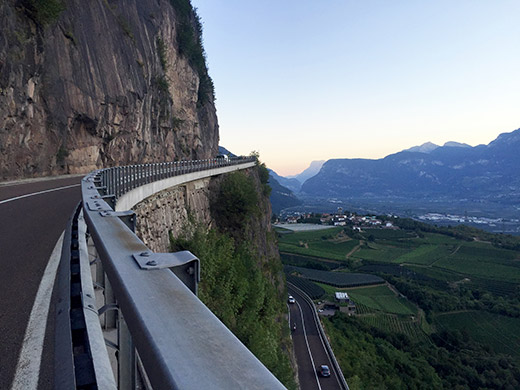 Now it was starting to get dark and I had envisioned just having a short and nice roll down the other side to Lago di Tésero (896m), but that was not quite so. It is only downhill shortly and then the road is rather flat for a long time until Cavalese, where I went on memory, that did not serve me so well. Instead of continuing to Tésero, I decided that I should follow the road down to the valley and after cycling through the cobblestoned centre with lots of people I found the right road down. As I went down it really turned dark. I thought I should cross over on a bridge and then turn back shortly, but that left me in Masi and this would have been right if going down from Tésero, but after consulting my Pocket Earth Pro maps (lots of good use with that app) I quickly realised where I was.
It was not a long way to Lago di Tésero and I found the place rather soon and had already told the lady while on the train that I would be rather late, so she was still waiting for me when I arrived. Luckily there was also a late opened pizzeria out in the nowhere, by the place for the start of the brevet road bike event in the morning. After fooling around for sometime (I took my bike to get there before it was too late) and asking a young boy for the right way, I got there and had two pizzas that were quite good. After 10 as it was they only served pizza, but that was fine with me. The next day I was supposed to be back here and ready for racing at 7 in the morning. Breakfast was earlier, but I slept well and this place felt like coming to heaven from the place I was sleeping at the night before in Austria, which was not unlike hell if you can imagine, and they were roughly the same price.