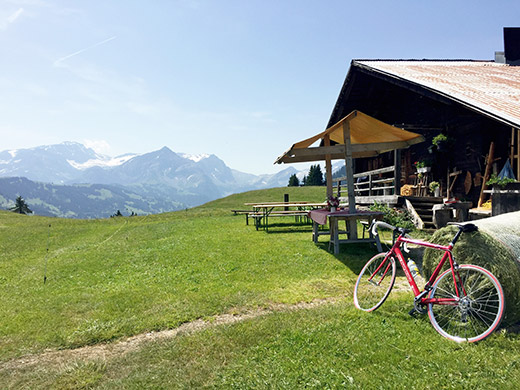 Guess I could have tried to get going a bit earlier these hot days, but as I keep going all day, I need some sleep and breakfast is seldom served before 8 am in the morning anyway, so with a slow breakfast in normal clothes, putting on sun cream etc, it means that one is off by 9 am, at which time it is of course nice and decent temperatures, but it changes quickly later.
I took the planned alternative road on the south side side up the valley to Saanen via Gérignoz. Unfortunately it is not fully asphalted, but the short gravel stretch poses no problem for a road bike. It is a bit up and down, so nothing is gained in time, but with less traffic it is a nice alternative. I went out on the main road at Rougemont and took the road by the airfield, but there was work on it, so no good alternative this time and anyway I went into the slightly boring village of Saanen to get something to drink and a banana. It is not easy to avoid Saanen if one intends to climb passes in this part of Switzerland, but anyway Saanen is a bit nicer than nearby busy Gstaad.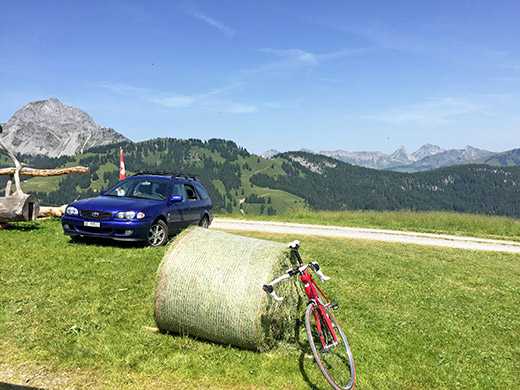 I was going to do a climb here right up the corner of the mountain to the south of Saanen. Crossing the river at the train station and following the little alternative road to Gstaad (a popular choice for bicyclists). At the first turn-off to the right one starts the climb to Chalberhöni, which is quite a steep climb on a good road. Once up in the Chalberhöni valley the road is almost flat for some time. Continue to the end and a road starts climbing the mountain to the left and now it is even steeper than before on a narrower road. I had severe problems with stinging insects just before the start of this part.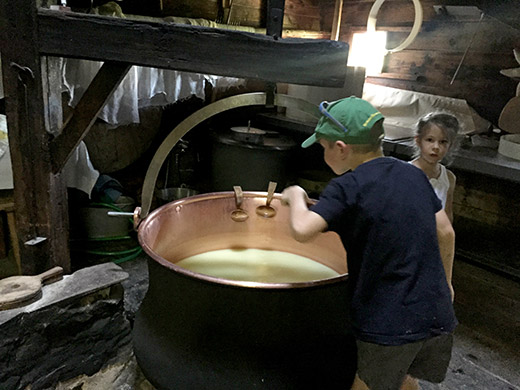 This road is quite nice and you will be greatly rewarded by great views from up the road as you see in the photos here. (Vorders) Eggli (1660m) is the end of the good road, asphalt runs out 20m before the house here seen in the first photo. Got to taste some of the "milk" in the huge kettle you see here – this is residue from making milk, but it taste just like milk (very good, but warm). For once a photo not just of road signs and grand lanscapes ;-).
So nice up here so I did not really want to go down again to the heat sink at Gstaad. (The house you glimpse to the left here has the highest point of asphalt up here.) Great views on the start of the descent and I stopped for some more photos.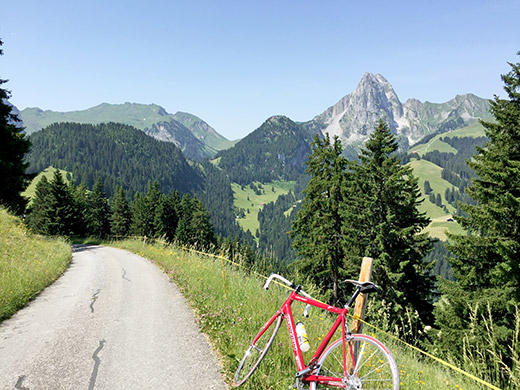 Down on the steep asphalt road.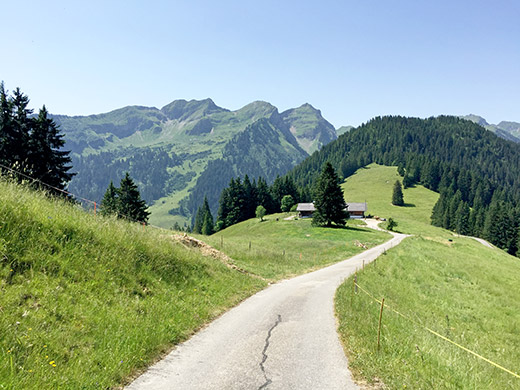 This is Hinders Eggli (1590m) and a real pass as far as I am concerned, with a path down the other side of the house here. The sign is at the next bend a bit lower than the pass at 1579m where the path takes off over the pass. I had originally planned to walk over here and try to get to Col de Wild Boden to see how good that road is – it is another pass on the same ridge, but with a kilometre of flat gravel road (I think). Might try the road on the other side another time and it is asphalted all the way up to Inners Läger (1773m) (at least it looks like that).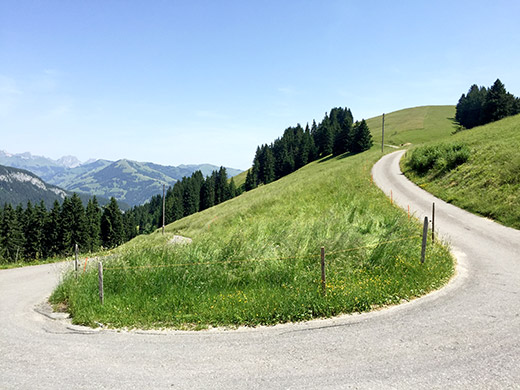 A nice switchback at Hinders Eggli, before the fast and nice descent to Gstaad. From Gstaad (1026m) I took the short-cut road over to Saanenmöser/Col des Mosses de Gessenay/Saanen Pass (1279m). It was a terrible little climb in the heat. Once up at Saanenmöser I collected money from an ATM machine and as I picked out the credit card from my back-pack it felt like I burnt my fingers merely touching the fabric on the back-pack! It was 41-42 degrees in the sun now. Really sweaty, but from here it was downhill again.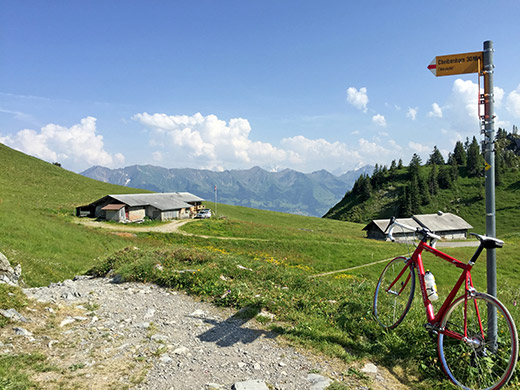 I stopped in Zweisimmen for a coca-cola and to escape into the grocery store to cool off a little. Then further down the Simmental valley I stopped again in Därstetten by a restaurant to have a proper lunch for once. Think I had a simple wienerschnitzel, but good to get some real food occasionally. A little bit further down in Erlenbach (721m) it was time for the next climb that I had wanted to get to for some years now. Only today it was going to be hell in the middle of the day. But there we went.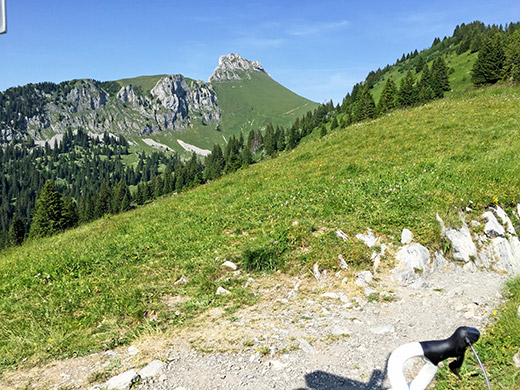 I did not get more than up to the woods before I broke down due to the heat and had to rest at a park bench for a while before continuing on the ever-steep road up. People on roller bicycles ("Trotti-bikes") came down in good speed. Those bicycles do not have pedals and then you know you are on a road with a constant somewhat steep climb! I continued, but then had to stop again higher up. I even stopped a third time at the last bend in the woods before getting to the top, though maybe I did not really have to stop that time, but the pulse was quickly raising in the heat, so no use pushing it as I had anyway already stopped before. Normally this climb should not require any stopping for me, but no way this day.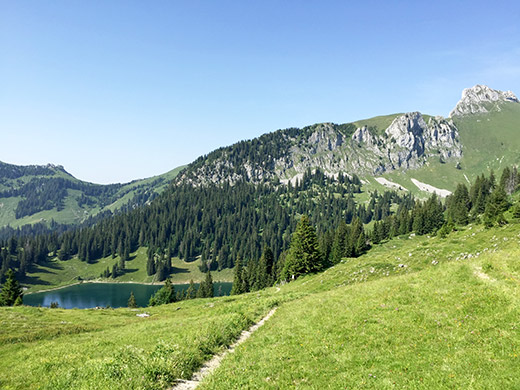 The two photos above and the one here and below are all taken from the pass height at Vorderstocken (1799m). It is only 80m to walk up there from the end of the asphalt road. This pass also doesn't have a proper pass name as far as I know, which could be because the most obvious way down the other side here is on the other side of the Oberstocksee here in the photo and as you see there is a little climb up that side too (1622m to 1689m). But there can be no denying this really is a pass. Maybe it should be called Worderstocken Chrindi (which suggests a pass in the area, but haven't found a reference for that).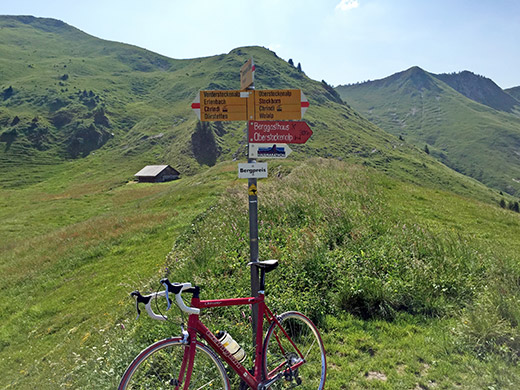 At least I got a "bergpreis" here! They have a local running marathon up here – seems awfully hard and makes me feel like a spoiled person … . A huge climb it is anyway with 1078 height metres from Erlenbach.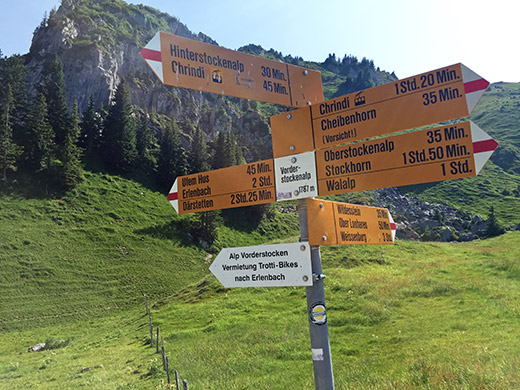 Here is the sign near the end on the asphalt road for Vorderstockenalp.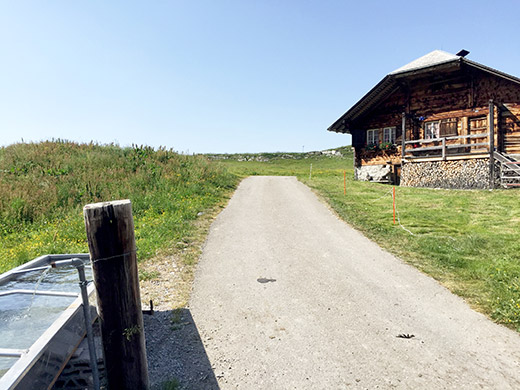 The last bit of asphalt from the sign with the pass in the background.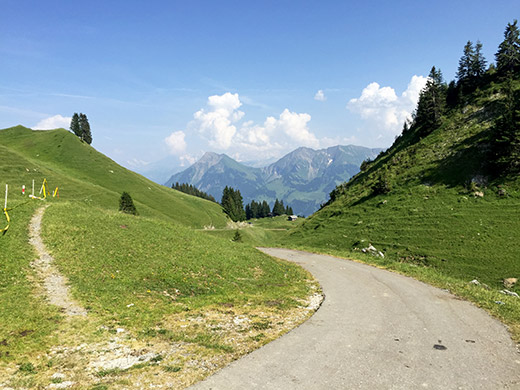 Now I could enjoy the lovely views on the return journey as we see here and in the following photos.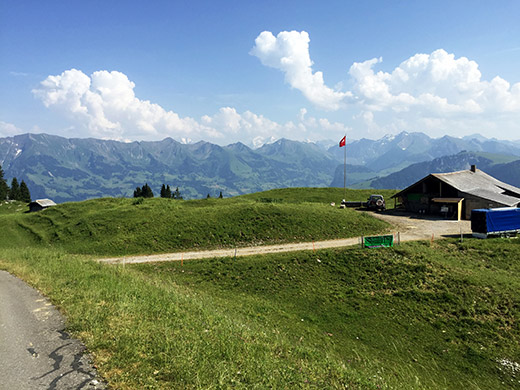 Here is the place for renting Trotti-bikes, but mine worked well as a Trotti-bike down here too.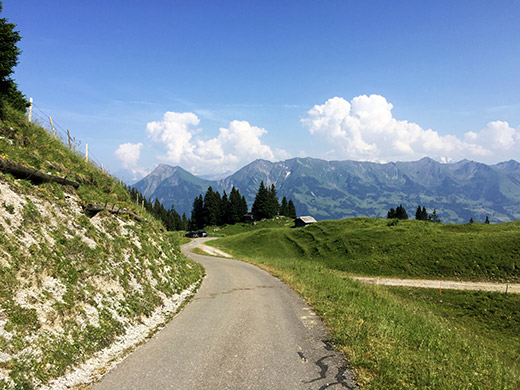 I took an alternative way down in the middle, which is also fully asphalted that avoid Balzeberg. They are rather similar in steepness and all.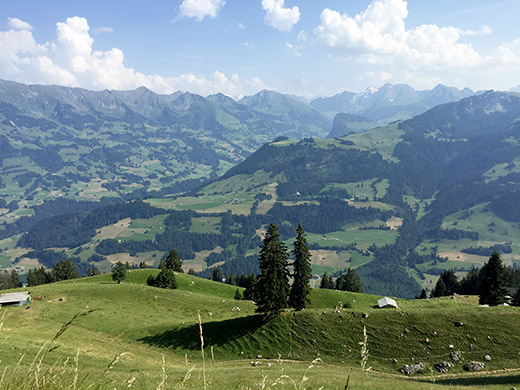 This might have been along the alternative road.
This is below Balzeberg and where it was really hot.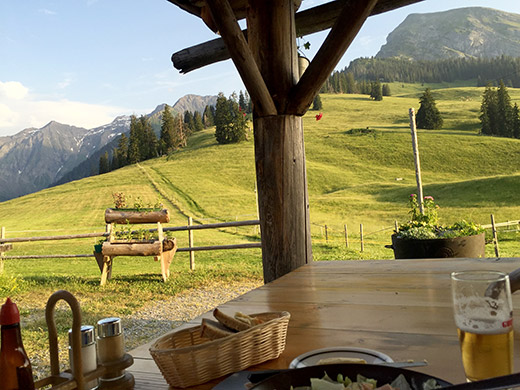 Down to Oey (669m). I had originally planned to take a short-cut (in the other direction) to/from Diemtigen above Oey, but was too tired to care now and it was getting late, but not so late. I wanted to climb the Schwarzenberg and had thought about staying there as I knew they had lodging. It seemed like that was also all I could do for the rest of the day and so it was. The road up to Zwischenflüh (1035m) is rather easy apart from steepness at one place. From there a fairly steep road continued up the mountain to Schwarzenberg (one really has to know where to go and look on maps as there are not much signs of any help here).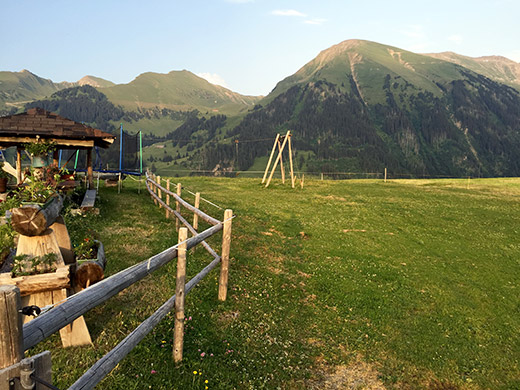 Once out of the woods it is quite nice here in this very nice Diemtigtal area, but not as nice as the climbs up to Hintertärfeten Chrindi and Rinderalp that I did another year, and also not as nice as the road over Meieberg/Gestelenpass that I had initially thought to go over again, but cut out. Had also planned to go up the road to Seeberg (1800m) which should be nice as well, but decided against that being a pass (as there is no way down the other side) and allowed myself to skip it this time. Will think about that climb another time though as it looks like a pass in every way apart from a path down the other side and it would surely be nice either way.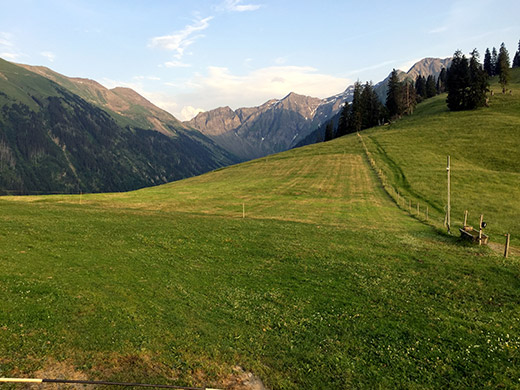 Stayed at schwarzenberg for the evening. The girl here who served me food was nice and knew some English as she had been living for a while in England, but her parents seemed really "shy" … . Anyway it was a nice place. Seemed like mostly local tourists going here. They did not offer me the usual menu for the evening, but they mixed some sausages and sallad in a jar and jumbled it together. It was good for me.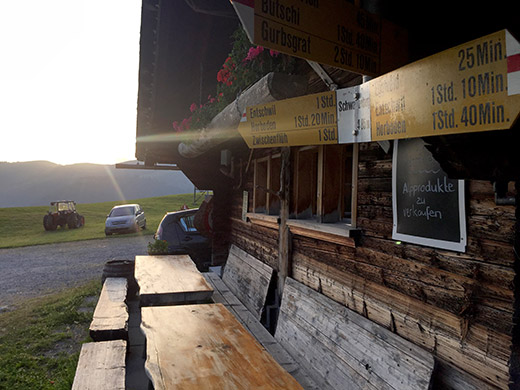 Walked around the area to explore the pass in the evening after dinner and took some photos that you see here. The path down the other side shown on the Swiss map was not easy to see, but there seemed to be a track up and down the other side of the valley that would likely be useful, but that is not noted on the maps for some reason. Looking on satellite images I guess both works, but the track would likely be easier with a bicycle. The pass sign is on the little house I slept in here (higher price than sleeping in the main house, but it was still not more expensive than any place else in Switzerland, so decided to indulge myself in sleeping in a real bed.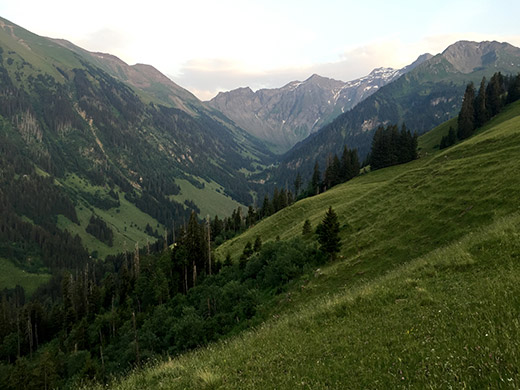 Here you see the track I was talking about.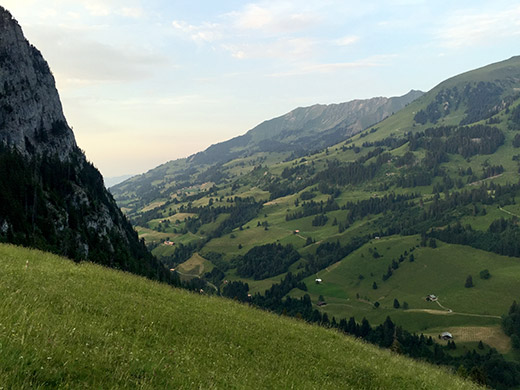 In the other direction it looked really steep.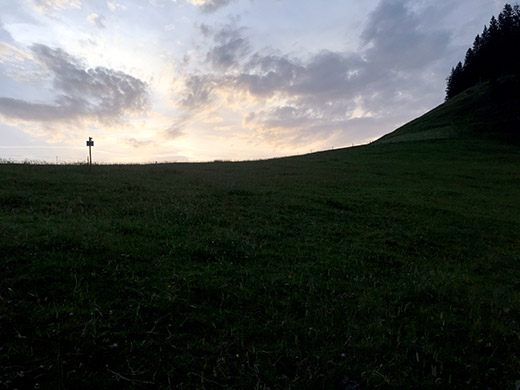 Looking back up to the pass.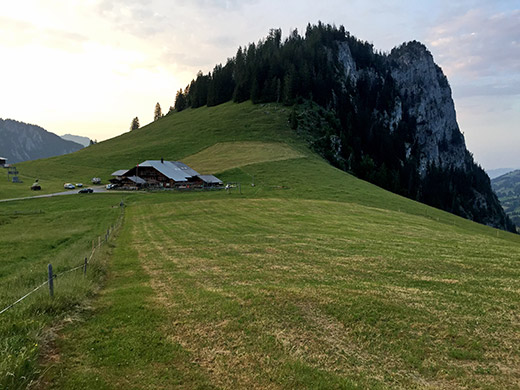 The general view of Schwarzenberg and the mountain behind with the same name. A lovely evening with perfect temperatures up here by then. I slept well.