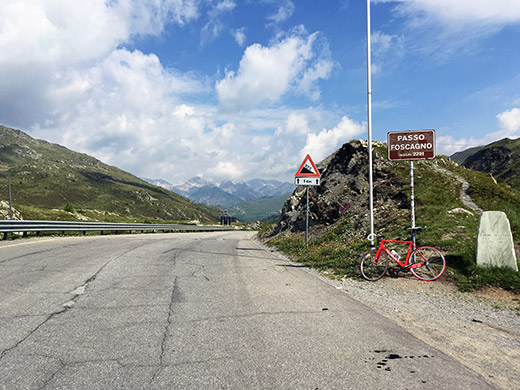 Nice morning and I tried to get away a little earlier, but maybe it was at most half an hour so probably at 8:30. Today I expected yet one more very long day as I had to get close to where I had planned as the following day I needed to be in France and even if I had planned a train journey part of the way, it was still a tight schedule. I had looked up carefully most options in advance and even pre-booked train tickets from Domodossola to Martigny via Brig, but now I am not anywhere near Domodossola.
It was still a bit left up to Passo di Foscagno/Pass da Fus-chagn (2289m), but now only 408 height metres left to climb and that was a good warm-up. At the pass where I never took any photo on my previous single visit there, I now had several photos. The descent was a bit longer than I had remembered and I had not really realised that the Foscagno pass is quite a bit higher than the Eira pass (but only 78m). I got clear on that at Passo d'Eira (2211m).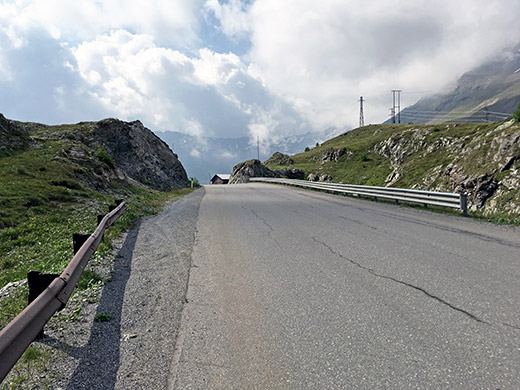 Here I am looking back at the pass – took another photo further down at the pass, but this looked better.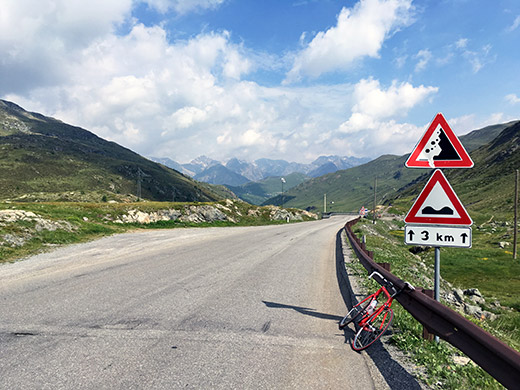 Another photo looking at the Eira ridge and the Livigno mountains behind before continuing down here. This road is good and there is relatively much traffic on the road. Someone drove a bit carelessly, but it went well – maybe they go and buy cheap liquor in tax-free Livigno, but the man was not even there yet.
I cycled by the hotel I had thought to stop at and couldn't make out if it would have been a good place or not as I passed by. At the pass I went up the only short little road with pavement to get up as high as possible on asphalt (2220m) by the pass to get some better views as they are not good at the Eira pass itself. Up here at I could at least get a good view back over Passo di Foscagno and also over the Passo di Val Trela (2295m) just to the left of the edge of the photo, which unfortunately have no proper road over it as it otherwise would make a very nice combination with the Passo Torre di Fraele/La Bocchetta (1938m) and Lago di Cancano and San Giacomo (took another photo showing both in the same photo, but this was ultimately nicer).
A view over the pass and behind and a girl sitting behind the house cycling on a trainer – that is also a way to get high altitude training … .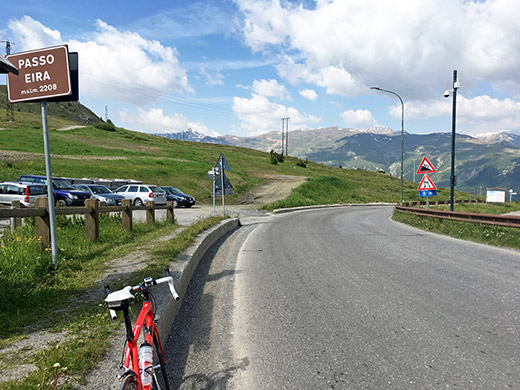 A photo of the current pass sign and quite uncommonly the pass is given a lower height on the sign than the factual height and what maps usually says. Now this is already the easiest asphalted +2000m pass in all of the Alps taken as a separate climb as there is no point counting the start of the north climb earlier than Livigno (1818m), which is the longest climb with 393 height metres and it is not even very steep. However, you do not get to the starting points without climbing some other pass, all of which are harder.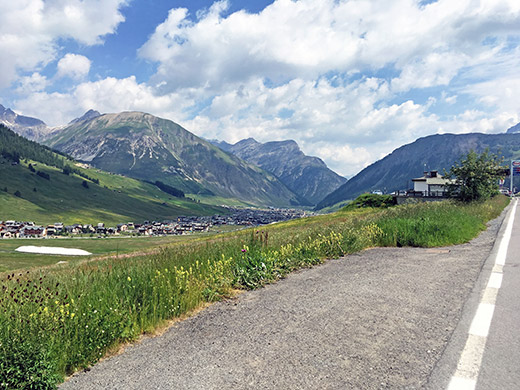 I wanted to stop for a good photo over Livigno, which turned out to be a much more difficult endeavour than expected. Eventually I found a decent place to stop at and think the photo is fairly fine. The road down was being re-paved for a stretch so not as pleasant a descent as expected either.
Once down on the main road toward Forcola di Livigno/Fuorcla da Livign/Passo Forcola/La Fórcola (2314m), I stopped by maybe the last grocery store and bought something to drink and a yoghurt.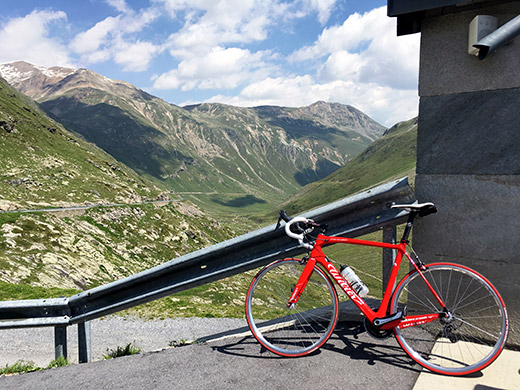 I took it easy one the way up to Forcola di Livigno and think I was overtaken by another cyclists. There are always cyclists around in this area in good weather in the Summer. Here I am looking back down the valley from Livigno I had just come up now.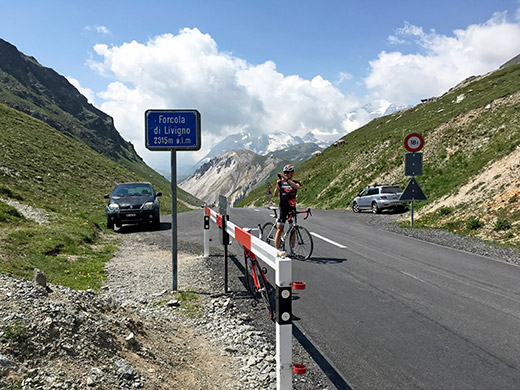 Here is the classic pass sign with another cyclist taking a photo on the other side (he probably came up that harder side). Probably the Polish guy I was talking to briefly before going down.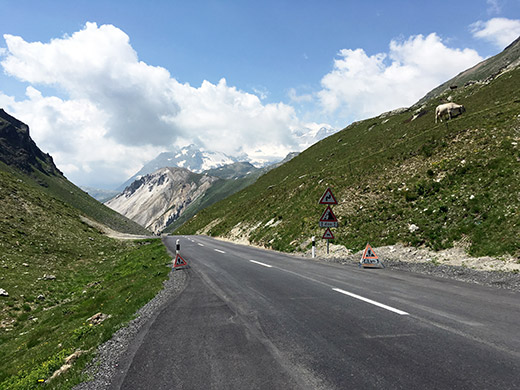 And here a less obstructed and pretty nice view of the road ahead down into Switzerland.
The descent to the customs control by the turn-off La Motta (Dogana) (2055m) on the Berninapass road is quick and slightly dangerous as it is a narrow and steep and often filled with cars.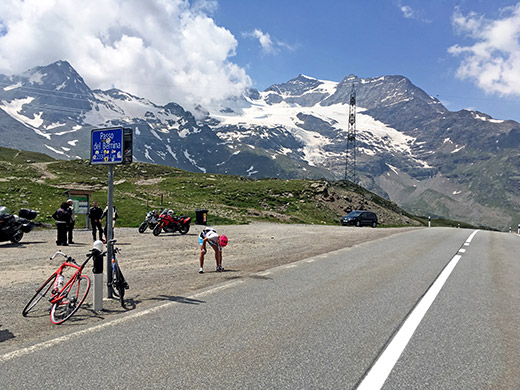 Again cheating on the Berninapass as I have never climbed it the hardest way down from Tirano (438m), which is one of the harder climbs in the Alps, but given how many times I have now been up at the pass already I guess it at least equals one ride from down there in Italy ;-).
An American girl (I think) was leaning her bicycle against the sign on the other side and is placing her camera on the ground to make a selfie.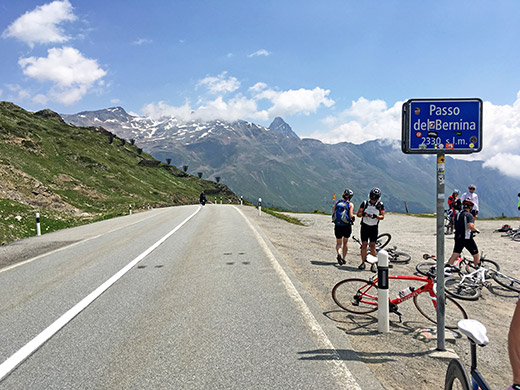 Another photo taken before or after the previous photo at the Passo del Bernina/Pass dal Bernina/Berninapass (2328m). Trying to find angles I have not previously already taken photos in up here, but now I think I really got enough of photos from here.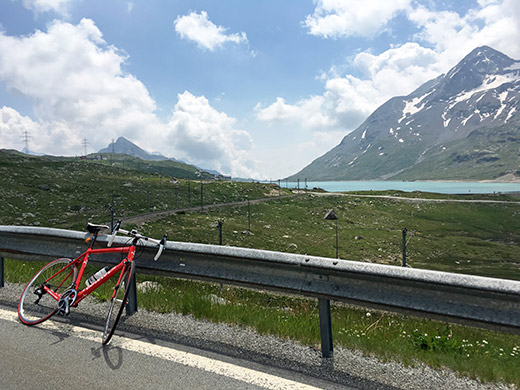 I stopped again a bit further down to take a photos of the second Berninapass for walkers, trains and mountain bikers. Pass dal Bernina/Passo del Bernina (2235m) is nowadays marked well on the official Swiss maps and this pass is really a distinctly other pass than the road pass as it goes down a separate valley not visited when going down the road pass. (I still do not recognise it as a separate pass in my pass list of the highest passes as I think it is redundant from a bike perspective and no one else list both either, so let us just call it the walking/train pass).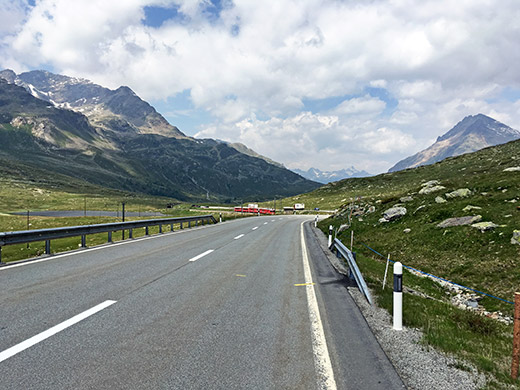 Nice to be back on more consistently good roads, which is one of the best things with cycling in Switzerland. Here I caught the oncoming Bernina train also – the regular service train going highest over an Alps pass in Europe. Could have waited and had a bit closer photo from the other side, but guess I was just on my way when the train showed up (or I was lazy).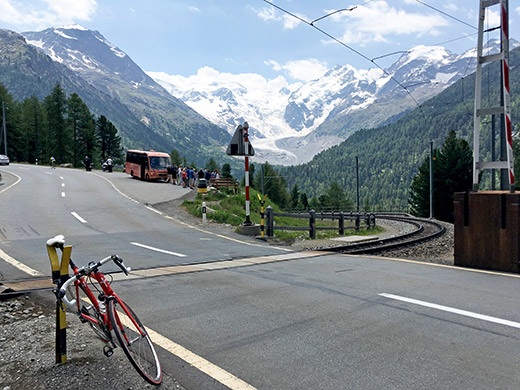 Stopped again at the same place as last time visiting the road to take a photo of the Bernina mountain from the best place to compare with my earlier photo, which was maybe slightly better.
So, now I better get going and down I went to St. Moritz. If I had been a bit more attentive I could have hanged on to a big gang of cyclists coming from up from below at the turn-off for St. Moritz, but much traffic and letting some pass by made me loose the chances to hang onto them. They looked quite good and cycled in a good speed, but after the turn-off it was heavy headwind and if I had been sitting on their back I would likely have gotten a much easier/faster ride up here. Anyway, I got a little help later on from a local cyclist (I think) that I cheekily hanged on to up to Silvaplana/Silvaplauna (1802m) where I again stopped at the grocery for another coca-cola and filled up water as I never found any down from Berninapass at a place where I had thought I had seen water before (just below the photo here).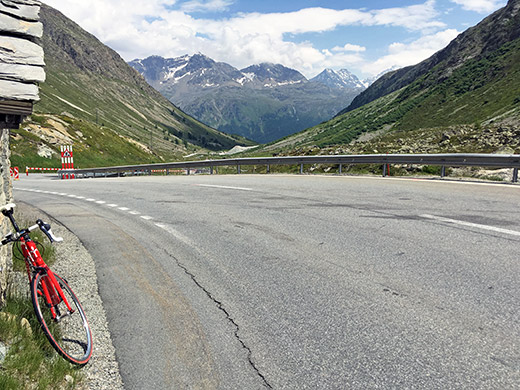 Then some road work initially up the road to Julierpass/Pass dal Güglia/Passo del Giulia (2284m) where there otherwise are nice views down over the lake by the village. I stopped much higher up for a photo back down but then there are no lakes to be seen. I thought I was closer here to the pass when I was, but it is still a pretty short climb.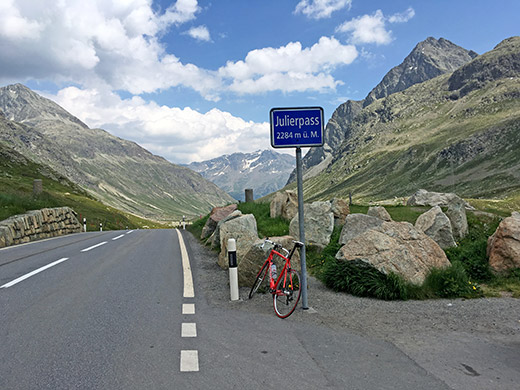 Then a photo back from the pass and it all looks fine here this day.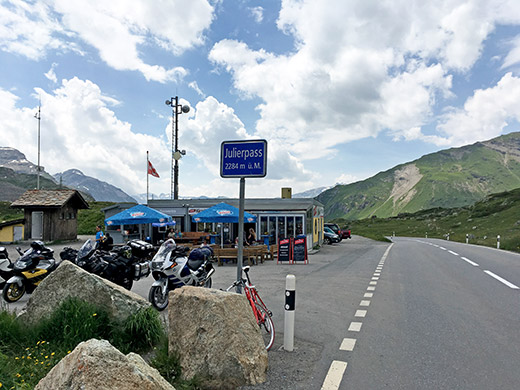 There's a little restaurant and some motorcycles at the top as usual and the view ahead is not so good from the top of the pass.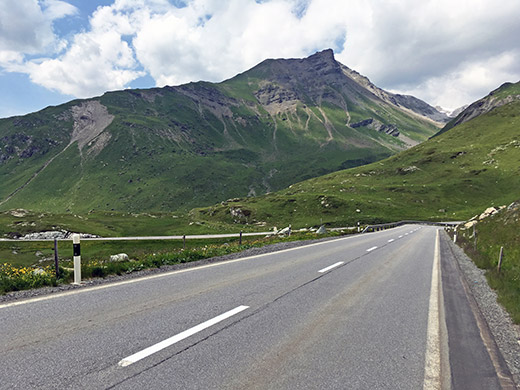 Wide bends down this road to Bivio.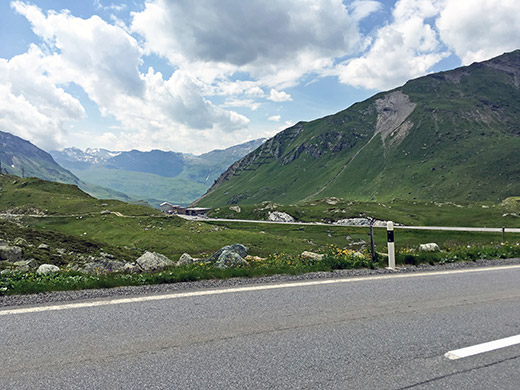 Here another photo and nothing very particular in view, just generally nice.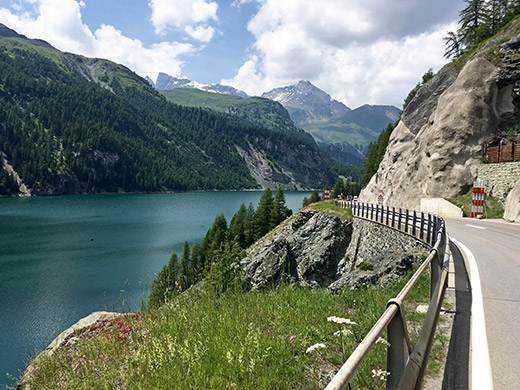 Some more road work down through Bivio and I just continued down to Lai da Marmorera, which is pretty nice and I have not really stopped here before to take a photo, so stopped now to take two. This is early on when coming down from the Julierpass.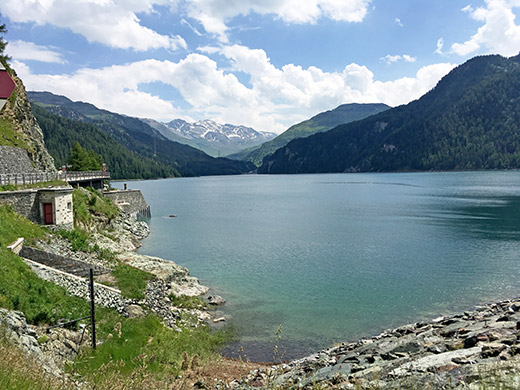 The second photo is from next to the dam (1684m). from here the road starts to descend more sharply again, passing by the turn-off for Sur/Sour and Alp Flix, that I have been interested in climbing up to one of these years (the road up there should be fairly steep, but asphalt runs out before 2000m height). Then the road is almost flat and straight for some time until Rona/Rieven (1410m). Now a guy caught up with me and we chatted a little past some more road works, but I stopped soon in Tinizong (1232m) for a coffee and ice cream by a café I had stopped at before.
Then eventually after a long tunnel and a nice slope I was down in Tiefencastel/Casti (851m) where the same guy had stopped outside a café I had stopped at there. Could have stopped there instead if I knew, oh well. He was also on his way now and we continued together down to Sils (683m) through flat busy tunnels, but he kept a good speed and thus me too. He lived down in Sargans and he had done a good tour as well this day from Sargans and over Splügenpass/Passo dello Spluga/Pass dal Spleia (2115m) and over Passo del Maloja/Pass dal Malögia/Malojapass (1815m) and the Julierpass. So I joked with him that It would have been straighter to Sargans from Tiefencastel via the Lenzerheide(pass)/Parpaner Höhe (1550m), but as I knew it was of course easier to take this road down to Chur/Coira.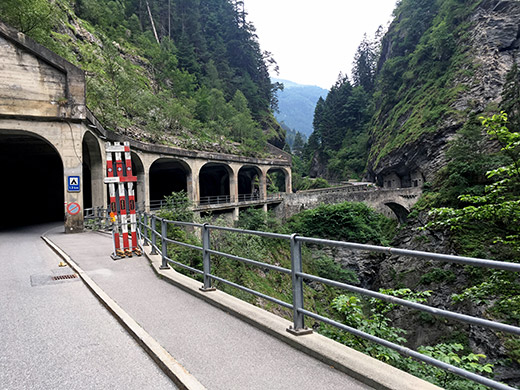 Then I just had one more +2000m pass to do for the day! Time was going, but I was determined to make a good attempt of getting as far as I could this day. So right on I started out on the way up to Passo del San Bernardino/St. Bernhardinpass/Pass dal S. Bernardin (2067m) and took the normal Via Mala road (and not the one closed to traffic (nor the motorway ;-)). Here in the photo at the early part before coming up to Zillis/Ziran.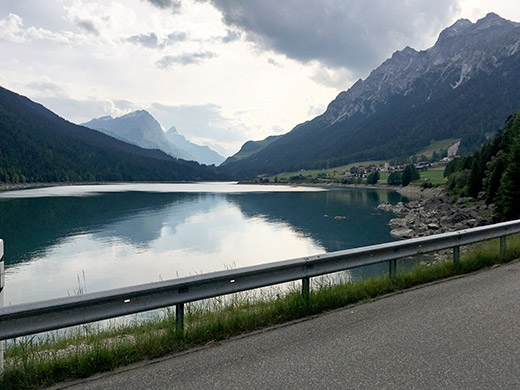 I continued up via Andeer and the Puntcrap/Roflaschlucht where the road climbs up in serpentines through the woods and eventually one reaches the Sufnersee, seen here. There were a little rain in the air on the way up through the woods, but it stopped so just to continue.
Now the road up here started to feel a bit long (as expected) and the guy did also sound a bit doubtful when he heard of my plans for the next climb. I had hoped to stop again in Splügen (1457m), but arrived there just after the grocery shop had closed, so I continued on hoping that there maybe was some other place I could by at on the way up. I had remembered from my only visit to the Bernhardinpass before in 2002 (long ago now) that I followed another older man down a cobblestoned road to Nufenen and was not looking forward to go the same road again, but even if the main road up here was sometimes a curiously narrow and little used road on the side of the motorway, it was not cobblestoned. I see on the map now, that we must have been taking the higher going road from Hinterrhein to Nufenen. Could be a nice alternative when going up at least if one has time for it on a sunny day.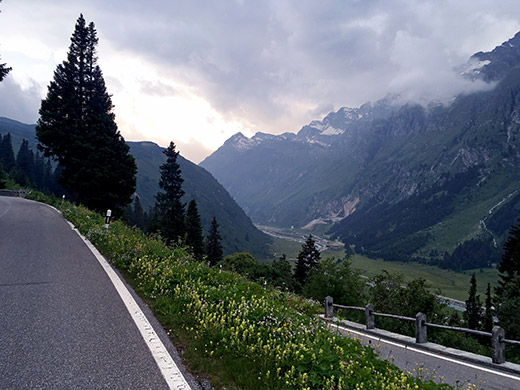 No obvious place to stop at either in Nufenen or in Hinterrhein, but saw a big restaurant ahead at Grossmatta (1611m), where the motorway disappears into a tunnel under the pass, but this was an abandoned building (not looking very good either).
So a little reluctant I just continued on my way up the lonely road to the pass in the evening. Only a few cars and no cyclists in sight for sure. The road was very nice, so that helped even though I was getting tired. The weather started to look very gloomy also. I stopped before getting too far up for a photo on the nice serpentines up from the valley. Ahead you see the dead-end valley after Hinterrhein – that valley is an abrupt dead-end and even for most walkers I would think (no obvious paths up the few passes close to 3000m height at the end and terribly steep I am sure).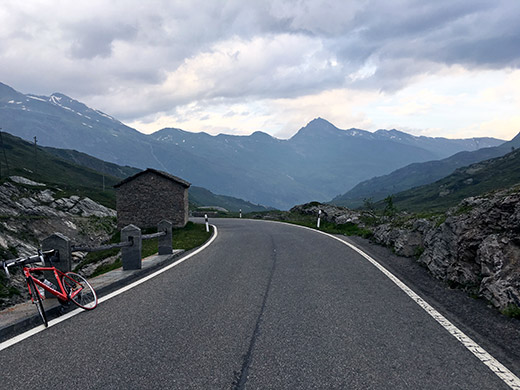 Another photo before loosing all sight of the valley I have climbed up from and before perhaps being engulfed in rain. I was a bit worried now as I would not be up by the pass before ca. 20 and there might not be anything open.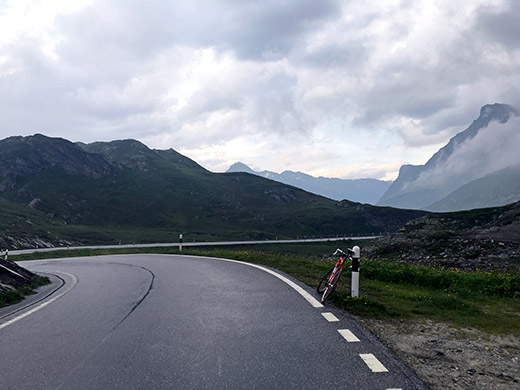 Still no real rain here even if the road surface was now wet. Very nice and green and close to the pass now.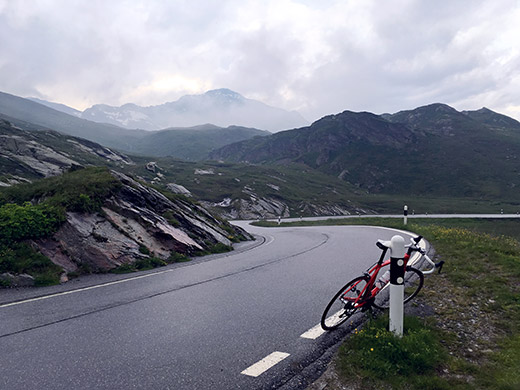 Here I am at last at the real pass which is a little before the pass sign looking back again.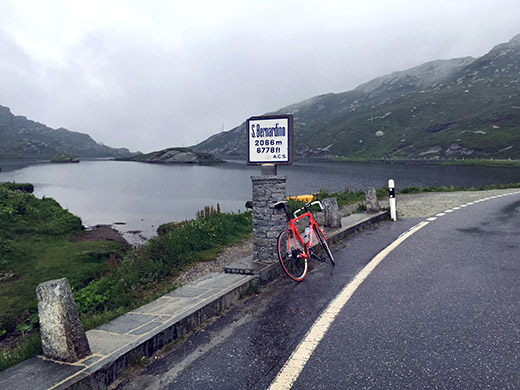 And finally the pass sign at ca. 20:00 and on with the wind jacket. It looks better in the photo ahead than what it looked like in actuality.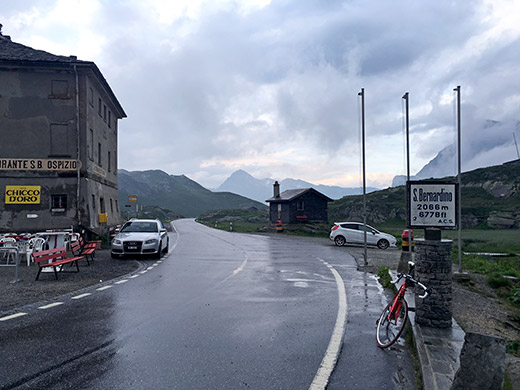 The restaurant was very closed. It looks a lot more welcoming in the direction I was coming from, but sometimes there is a plan one has to follow. Two cars and there was actually a cyclist who maybe had come up from the Italian (language) side and who went down the same side again. He had some kind of mountain bike or so and proper clothes and I think he was a local so no worry there.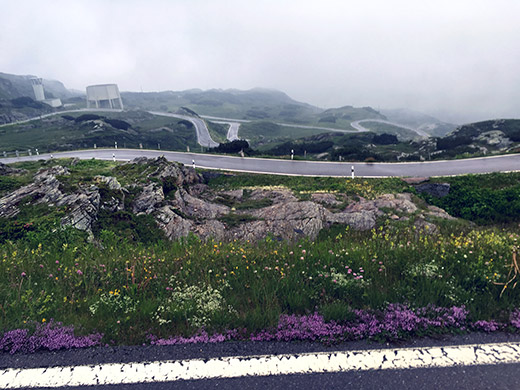 Start of the descent. I stopped while I could still move my fingers to take a photo, but no hope here to get any good views this side that should be rather nice and spectacular otherwise. Never got any good photos here in 2002 either, which was one reason I had wanted to visit this pass again now, but at least got some better photos at the top and the other side.
It was very cold and I was close to stop by one of the hotels down at San Bernardino (1608m) as it was still light and here I could likely get a bed and something to eat, but the places here did not really look very inviting, nor the few people I saw here, so I decided to move on. Most of all it was so cold up here and I would not want to start so high up in the morning if the weather was still not so good then and hard to get the clothes to dry up.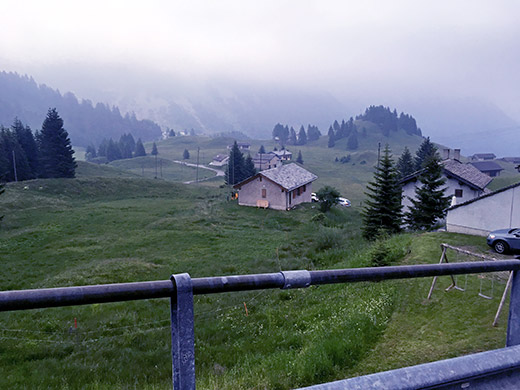 I stopped again for a photo of a curious and most of all dubious pass called Forcola (1618m), which Is till retain in my list of passes, but it is a very vague pass with little merit. It is basically just because of the little hill in the photo that a so called pass runs around it on the little road from the main road seen in the photo. If it was not enough with cold and bad weather, now a section of the main road was gravel (road work). Eventually I got down to Pian San Giacomo (1170m) and now it was no longer so terribly cold, but now the rain started just as I saw a restaurant. I stopped and walked in and ordered a pizza so that I at least had some dinner before the night and to wait out the rain.
It was a good pizza. Before leaving I asked if they knew where the closest place for lodging was and first they started to my disbelief to talk about San Bernardino (1608m), which was not really an option any longer. But they said there should be lodging down the next village in Mesocco (770m). So when the rain sort of ended I got on my way again in the dark, but now the road was quite dark and quite steep and I had to go very slowly and it felt like it took forever to get down there. Eventually I went down through Mesocco, but found no obvious place to stop at, nor any signs. All was closed except one bar on the main road that I had passed by, so went back up there again and asked and it turned out that they had a room for me on the second floor. Very simple room, but good enough and I first got a beer and sandwich. Squeaking floors upstairs, but I managed to find a towel and a bed and one of the toilets and showers worked ok, so all ended happy that day too. I had hoped to get a bit further down the valley, but it was still a long way down to the place where I had planned to stop at and since it was downhill, it would not take so long tomorrow on hopefully dry roads. 6 asphalted mountain passes above 2000m in one day must be a new record for me!