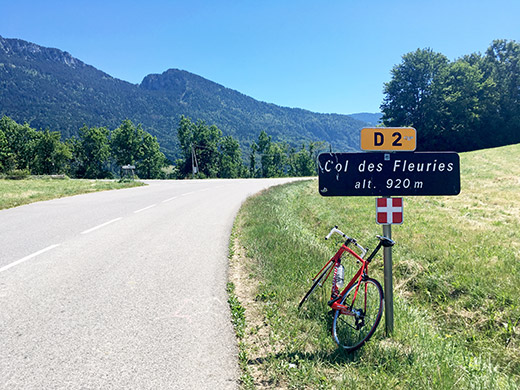 Still there was one day more of cycling left for me this Summer, but I got off somewhat late, thinking it would be enough (without counting much on the time needed) as I aimed to make a somewhat short ride this day. I took the train down the valley towards Annecy. Guess I could better have cycled down as it would have been faster than the slow train and especially since I missed a connection in Le Fayet and had to wait there almost an hour, but had a mini-pizza to eat so I did not have to stop so soon again later.
I eventually went off the train in La Roche-sur-Foron and was not that happy I had been taking such a late train, so now it was long into the afternoon already. All right, I went on and the road twisted up the hillside and before I knew it I was seeing a pass sign that I was not prepared for as I had planned to come here from the south (other direction) originally. It was the Col des Fleuries/Col de Doucy (930m) and a nice little reward on the hot climb up here.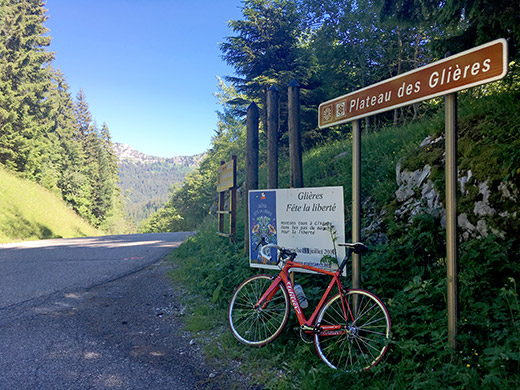 After a short descent I arrived at Thorens-Glières (679m) where I tried to find fresh water, but didn't so continued on the first real climb and one of two of the +1400m paved pass climbs left for me to do in the Alps, both this day. From the Pont sur le Flan (660m) the climb starts gently up to Col des Glières (1446m), but later into the valley the road suddenly starts to climb up the side of the mountains through the woods and now it is a quite steep climb until one reaches a minor pass on the way.
The sign here only says Plateau des Glières, but there is a pass called Le Collet marked on Michelin maps, but not on the IGN maps. There is no col where the Michelin maps want to place it as Les Collets nearby just names the house there. There is a downhill to the crossroads (1354m) for Les Collets that comes from the point in the photo and there is a cycling sign showing the gradient of the road and the distance to the Glières pass ca. 500m before this point that says there is an intermediary pass in 500m, so with that we relocate that pass to that point which actually makes sense as a pass also. This pass is also close to 1400m (an old IGN figure says 1397m, and online measuring says 1398m).
It is very nice once up at the Col des Glières (a plain also with a pass name). It is a bit fun with a normal road pass sign at a point where the asphalt runs out and the road suddenly turns into a tiny not so good gravel road. Going full speed straight ahead here is almost like driving off a cliff. (The asphalted loop road at the pass reaches 1461m.)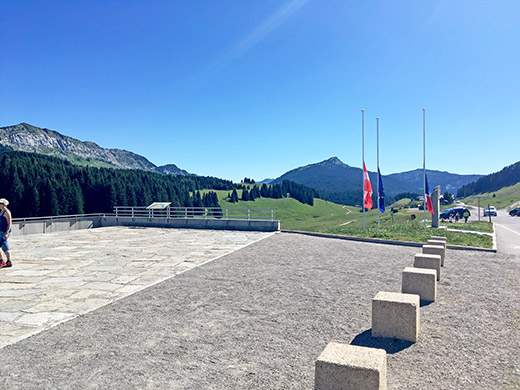 There is a monument here for the French Resistance during WWII (thanks for letting me know Benjamin Fourio!).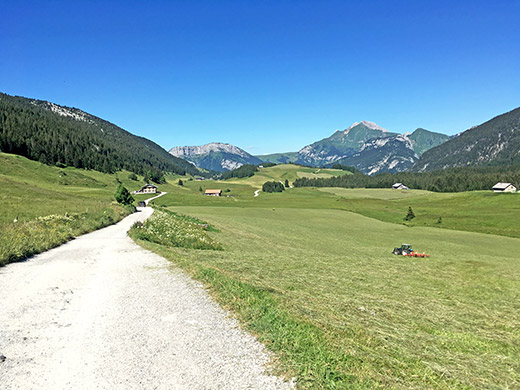 Here is the gravel road down the other side. It is possible with a road bike to cycle down here, but it is far from perfect. The asphalt returns after 1.9 km by a restaurant (Chez Regina) where I stopped for a nice raspberry cake and coca-cola. The road down the other side is then very narrow and very steep and not in perfect condition, but ok. The road down is ca. 6 km at 11.5% so it would have been more of a challenge going up this way!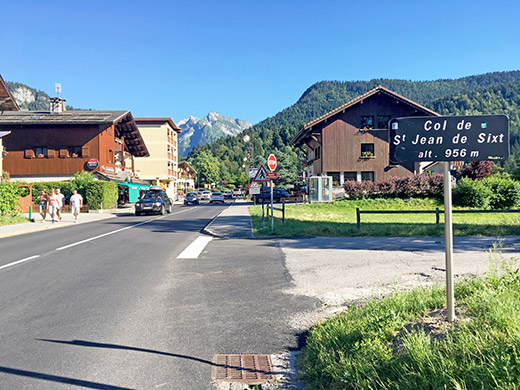 I still thought I would have no problem getting back in time this day as it seemed so short, but time is running. I cycled up on the somewhat nice road to Col de St Jean de Sixt (959m) where I stopped yet again (last time now) just for a coffee.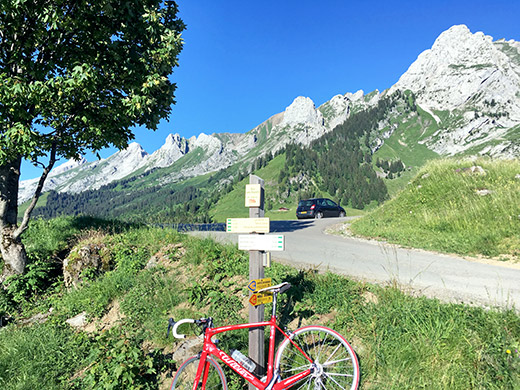 Now it was time to do the last of all the +1400m passes at last and that made me feel relaxed. There is a side road on the road to Col des Aravis and Col de la Croix Fry from here. The climb starts in nearby La Clusaz (1067m). Here a road up the Vallée des Confins goes to Plateau des Confins and its pass Col des Confins/Sur les Ascets (1432m). This road was a rather busy road for being a cul-de-sac road, but many tourists were up here now and plenty of permanent residents too, I believe.
The road is a little steep for a short while, but otherwise it is mostly just a nice road up the valley and when it reaches the plain it goes flat until the pass in the photo here.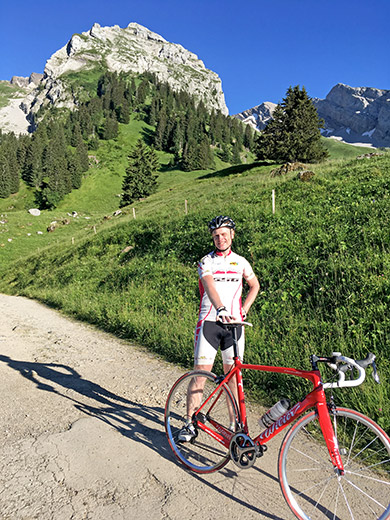 Another cyclist came by continuing up the still asphalted road going sideways up from the pass, so I went after to see how far it was paved and how far he went. He said he was living down the road and was apparently just up here on a little evening ride. He was nice and took a photo (maybe not the best, but) where you see the asphalt ends at Crêt Pollet (1464m).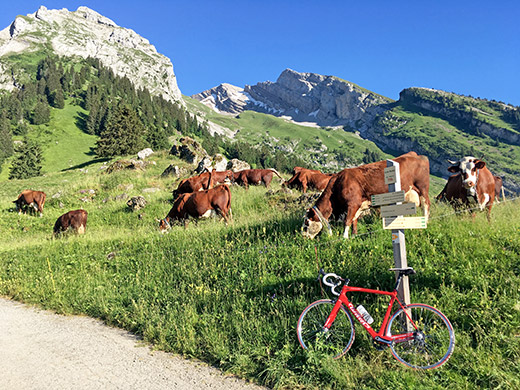 Many cows to photograph here too.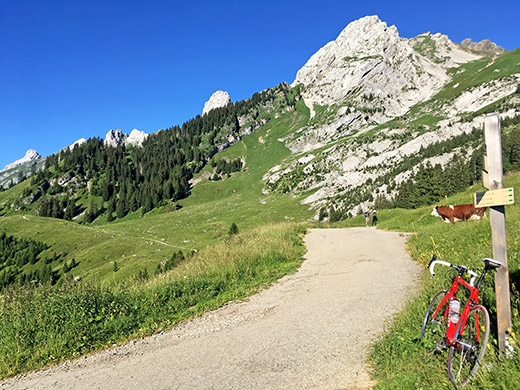 The gravel road nicely continues along the Chaîne des Aravis, but one cannot get down anywhere with a road bike, so just to go back down the same way.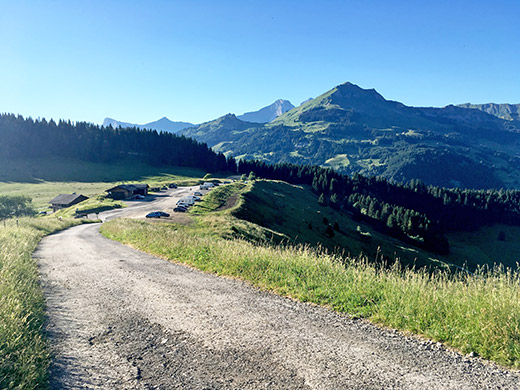 Here is the general view over the pass area. Found out about this pass from Club des Cent Cols, but I have no idea of where they have found evidence for this pass being properly named as they always think is very important. Anyway I do agree it is a pass.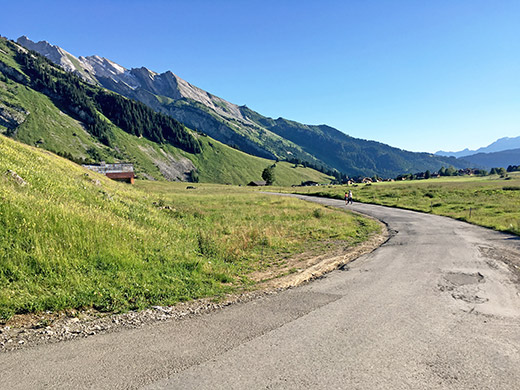 Quite lovely in this valley this evening and I almost did not want to leave the area now.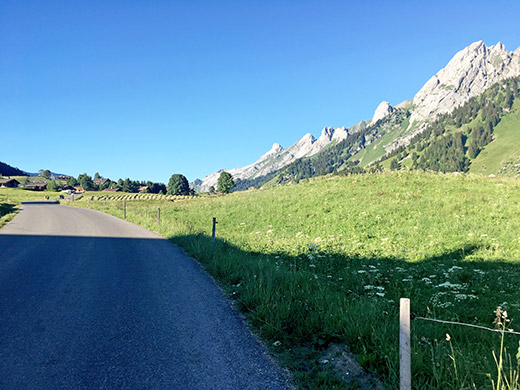 A last time looking back up the plateau and the mountains. A little nice lake is just hidden from sight here.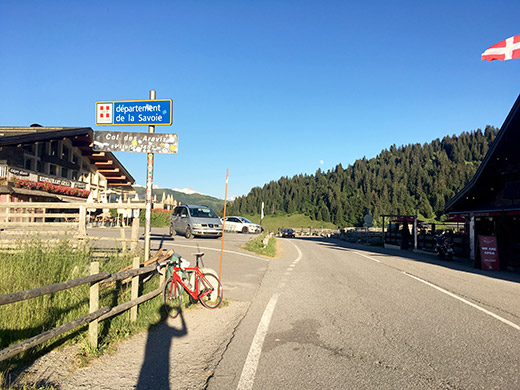 All right, mission accomplished and time to go back home. I just had to take the easy road over Col des Aravis (1486m) and then roll down to Le Flumet and then over Megève to Le Flumet. All fine up to Col des Aravis even if I started to realise now that I was getting late. Could get some nice photos now without so much traffic.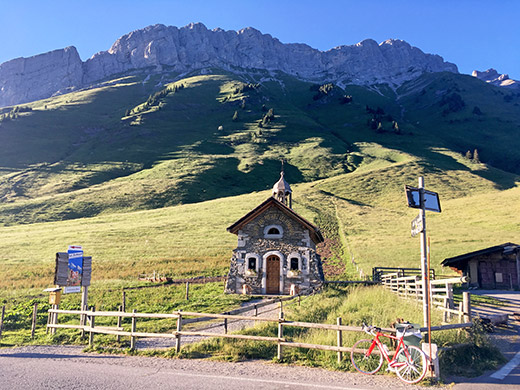 Here looking north at the pass.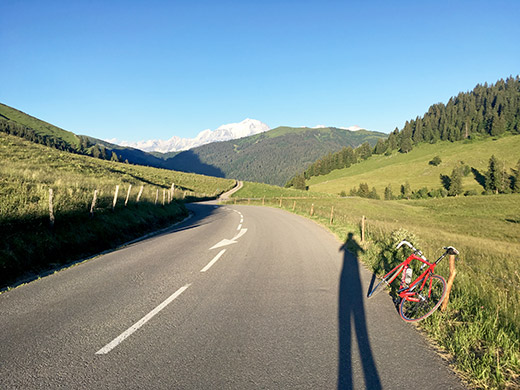 Long, long shadows now and the view down to Le Flumet. It was warm and nice up here, but shortly I would get down into the shadows and it would be a bit chilly. I stopped for one more photo below with the view over the mountains up to Col des Saisies, but it was not so good so left it out here. The road is going flat and even a bit up down to Le Flumet so it took a while to get there.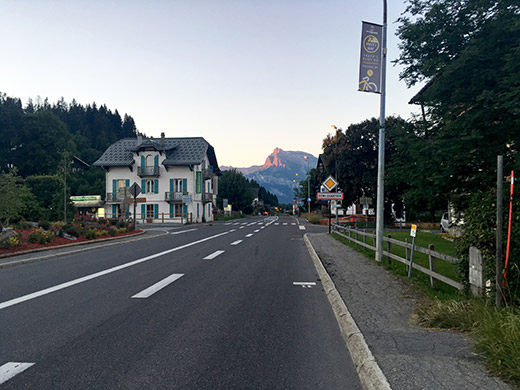 On the way up to Megève I could get a bit warmer again. I stopped before Megève for a photo, but that was also no good. Then I stopped at the place (or shortly after) at the watershed/pass at Megève called Seuil de Megève (1107m) to take a last pass photo this year. From here it was only down to Le Fayet on yet again the same road as the day before. The only problem being that I was later than yesterday and I was not sure if there was a train one hour later also, but hurried on down a little.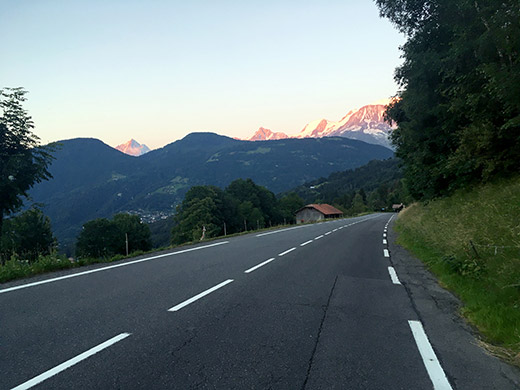 Stopped yet again on almost the exact same spot as on the day before to compare the photos afterwards and in short not such a good photo this day as the day before a bit earlier (also went over on the other side then apparently).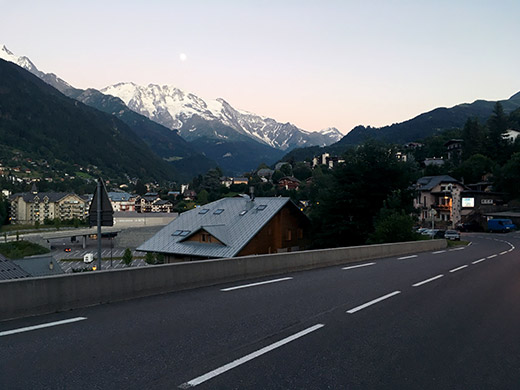 Never had a photo of St-Gervais-les-Bains before, but actually looked very nice now with the full moon fully visible in the twilight above the mountains. Looked even more unreal in reality – some kind of shimmering light over it all. Here is where I would have come down if the road had been paved over Col du Joly the day before.
Quickly down now to Le Fayet and it can be slightly dangerous going down the road in full speed to Le Fayet and easy to relax too much at the end, but luckily it all went well. There were no more trains this day. There was however a bus going up instead and the bus driver was so nice that I even did not have to pay. I was worried getting my bicycle with me as another time when I took the bus as the train from Sallanches got delayed, I was told I was not allowed on the bus, but eventually managed to come with the bus that time too. It was dinner at home for sure this evening.
I was happy all went well even if I had hoped to do more this year, but I started the planning before my accident at the end of May. I accomplished finishing climbing all those 460 highest paved passes of the Alps and that was good enough for this tour!