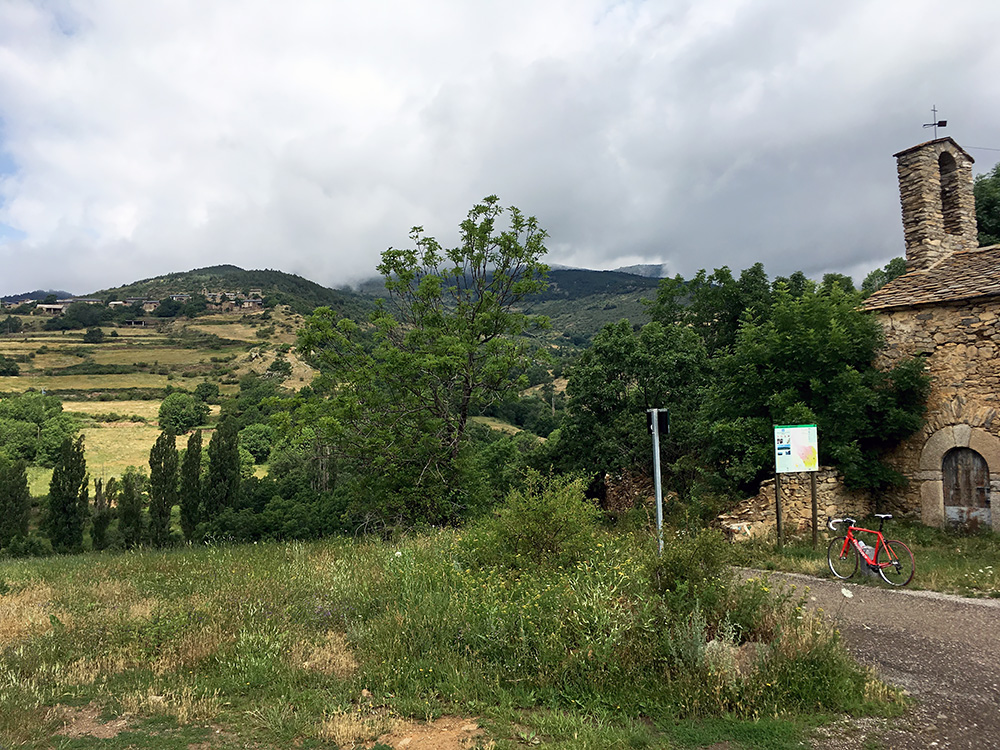 Today was one of the two worst days of weather on this tour, but it all started fine in the morning. It was a nice and easy ride on the slowly sloping road down toward La Seu d'Urgell. I stopped already in Ger to see if I could get another coffee early on, but found no open place in the little village (several of those villages looks a bit sterile as if there are only tourists living there, but maybe not, but houses are very much the same even if nice). Think I found some water.
I continued down to Bellver de Cerdanya (1017m), where I went into the village and found a more local looking bar on the top which was a nice one. Then back down to the main road and the first road on the other side before entering the village goes to Ordèn and I had spotted a pass there on the Catalonia maps: Coll de Tans/Ordèn (1477m), but one goes higher (1510m) in order to reach the village and pass. Here I have just reached the place and took a photo up to the village above Talltendre (not sure if that one is paved, but likely not). No pass sign.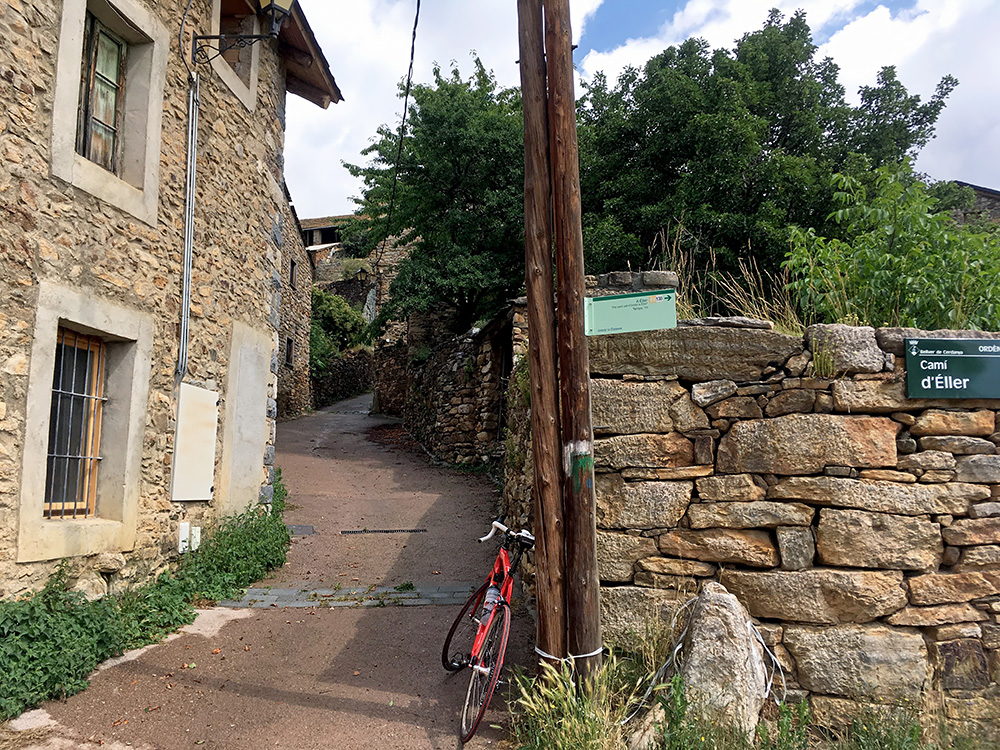 The road up here was surprisingly steep and out of nowhere I got a heavy rain shower in the steep section and no place to hide at along this road. I took some more photos and went back down again the same way.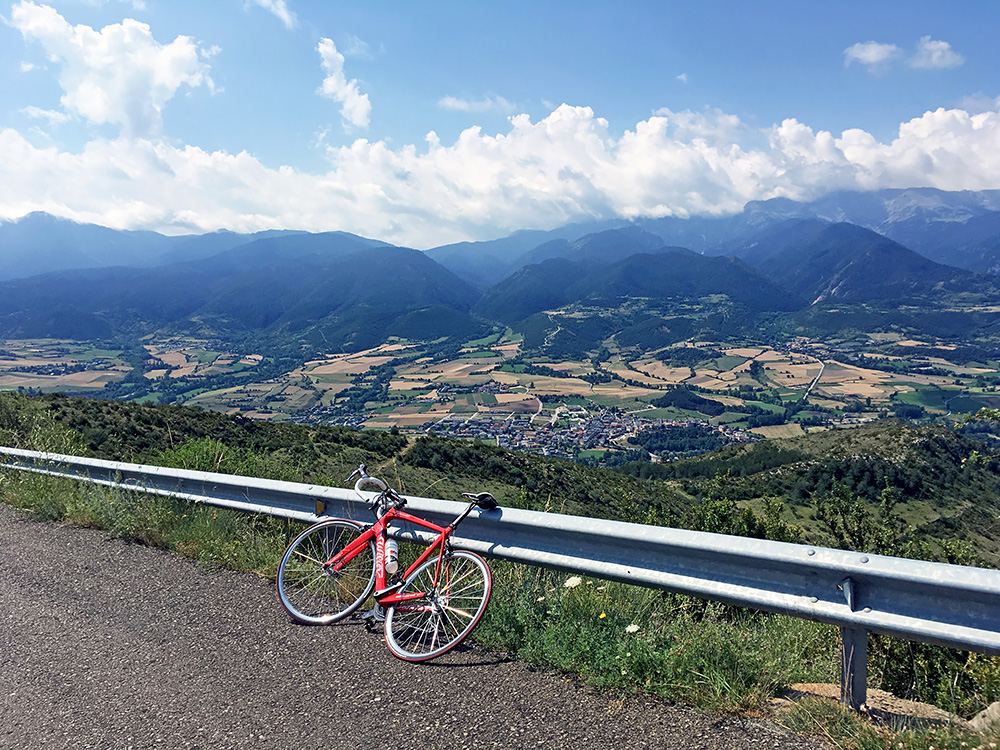 Nice weather again on the return to Bellver de Cerdanya and fine views in the direction I was later to go in. I just needed to see another nearby little similar pass first.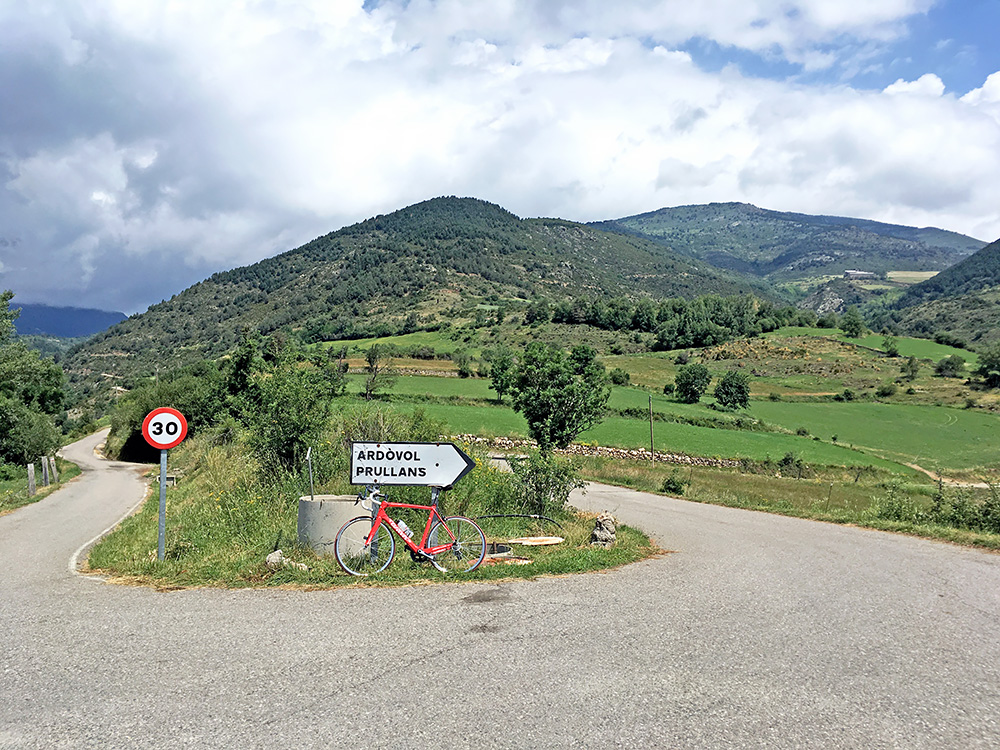 The map does not show the road clearly to be asphalted from Prullans up the mountains and Google street view ends a little after, but I had seen on satellite images that it should be asphalted. However, the road surface was a bit "funny" in a Sicilian way maybe … very good surface and then all of a sudden the asphalt was terrible for a long section until it became all fine again just before the pass. It is very much either or with roads in Spain – they are never generally poor like in France (esp. in Ariège), but either very good or very bad. Here at the pass.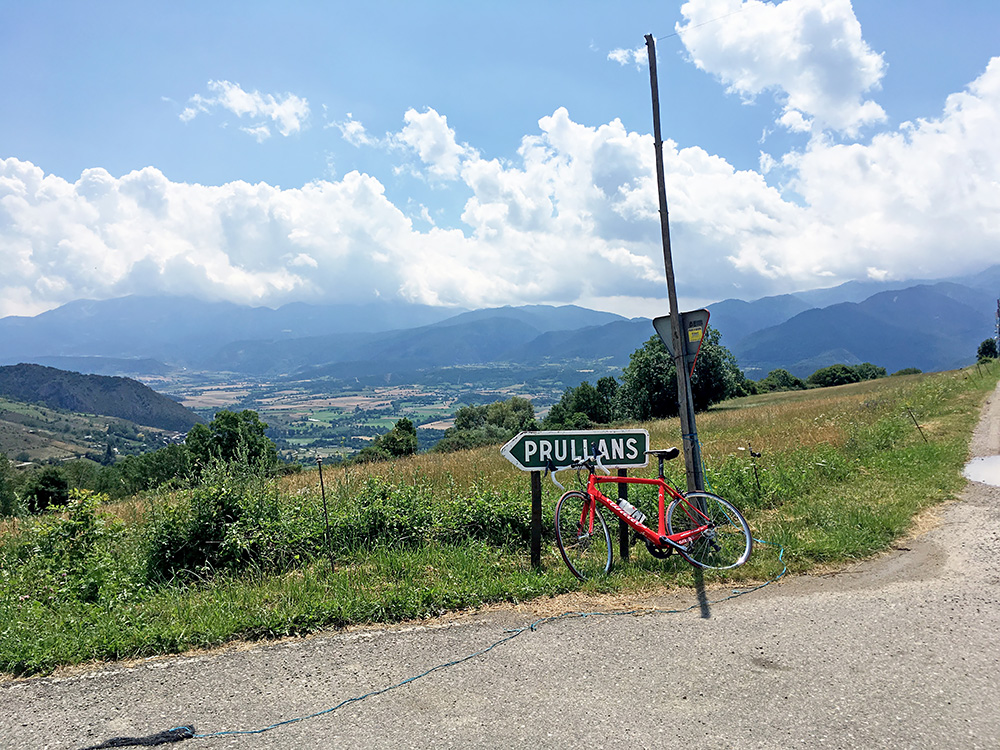 Here the views in the direction I was going again from a bit southwest now. The road up here via Prullans was not all that obvious and there was no sign for the road continuing out of Prullans and thus I went straight through Prullans on the way up (which is not the way one is supposed to take). That is possible but it ends with a section well over 20% (some alternatives equally steep) to get up to the road above. So I got a bit of a challenge even on this rather minor and slightly uninteresting climb.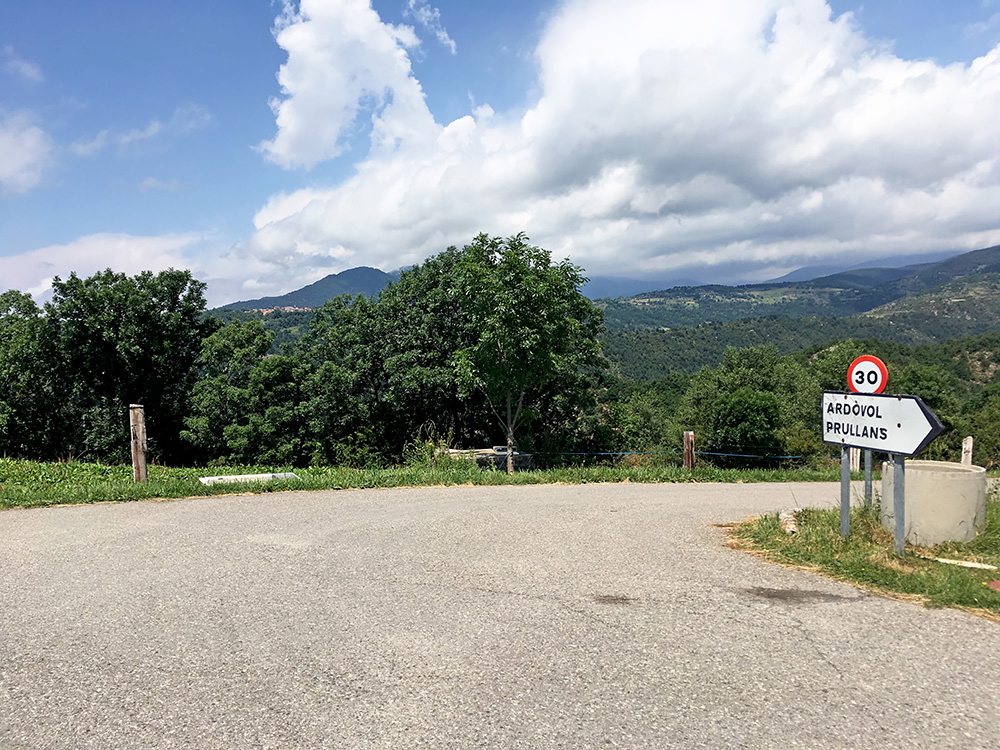 Looking here in the southwest direction and where I had originally planned to go to climb a road up here to Refugi Cap del Rec (1956m), which is the highest asphalted road in the area south of the Coma Morera road I went up the day before.
I went down and back up to Bellver and took a short-cut road up to the main road to the Túnel del Cadí (not allowed for cyclists). I then decided to stop by a roadside restaurant to have lunch and to be prepared for the climb ahead over Collada de Toses (1777m). It was a somewhat good place and ordered and extra dish of fries or what I had. All seemed fine with the weather, but maybe I should not have been so slow early this day as things changed later on.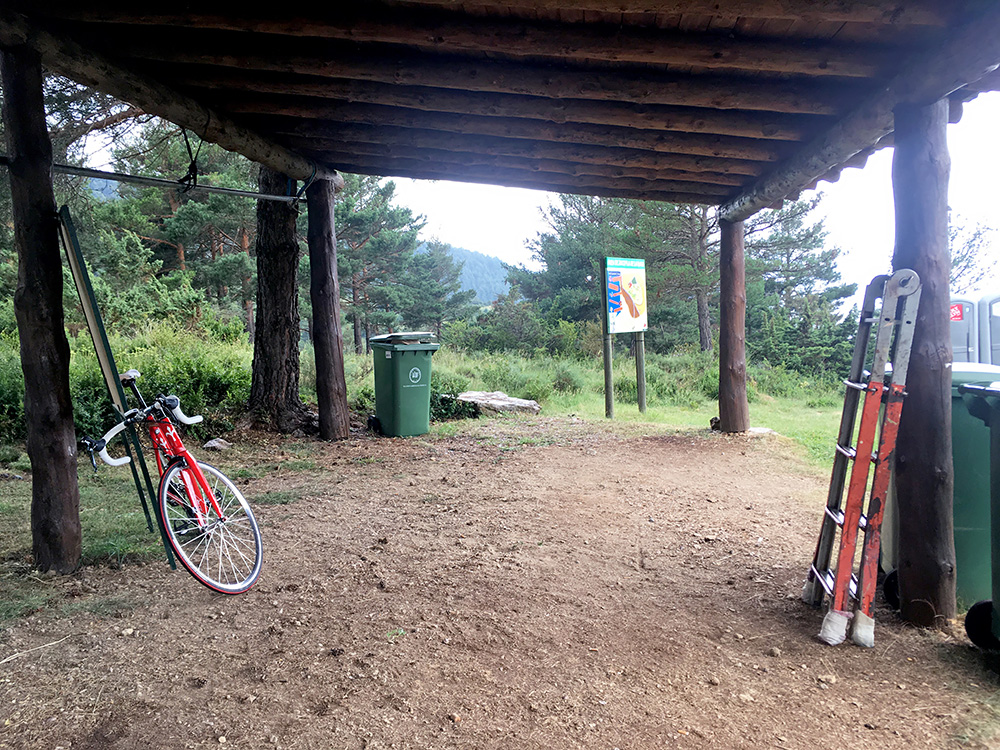 A very uneventful low pass after the Cadi tunnel on the now less big road is Coll de Saig (1114m) and from there I soon turned off on some minor roads where I had to consult the map now and then up to Das.
At Das it was now clear the weather was turning bad, but I had stopped recently so wanted to get going as far as possible now, so I took the chance of going up the mountain and went rather fast on the steep road up here to try and reach some place where I could hide when the rain would come. The rain started just before I reached the crossroad from Alp and now I had to think quickly. I dragged my bicycle up the woods on the other side and then saw a perfect shelter (in the photo) just in time before I got really wet. So lucky there as there are not many shelters up the roads in these areas.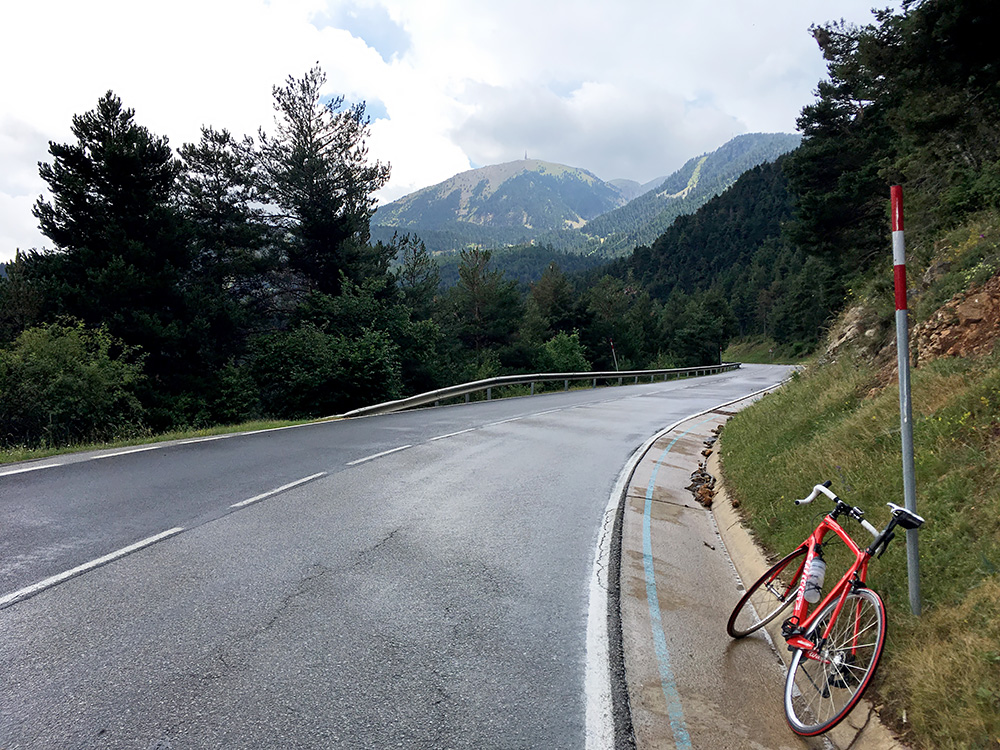 Eventually I could leave the shelter and no problem with a wet road as I was going up and was hoping that was it for the day as things seemed to get better again. Here on the way up to Masella. Just when I reached Masella not far up from here terrible weather came back yet again, but I was again lucky to just exactly reach the big hotel here as a hellish blizzard started. Now the whole area was turning white and it looked as the ski resort would look in the winter maybe. Not too happy about this, but had a coffee and ice cream waiting it out.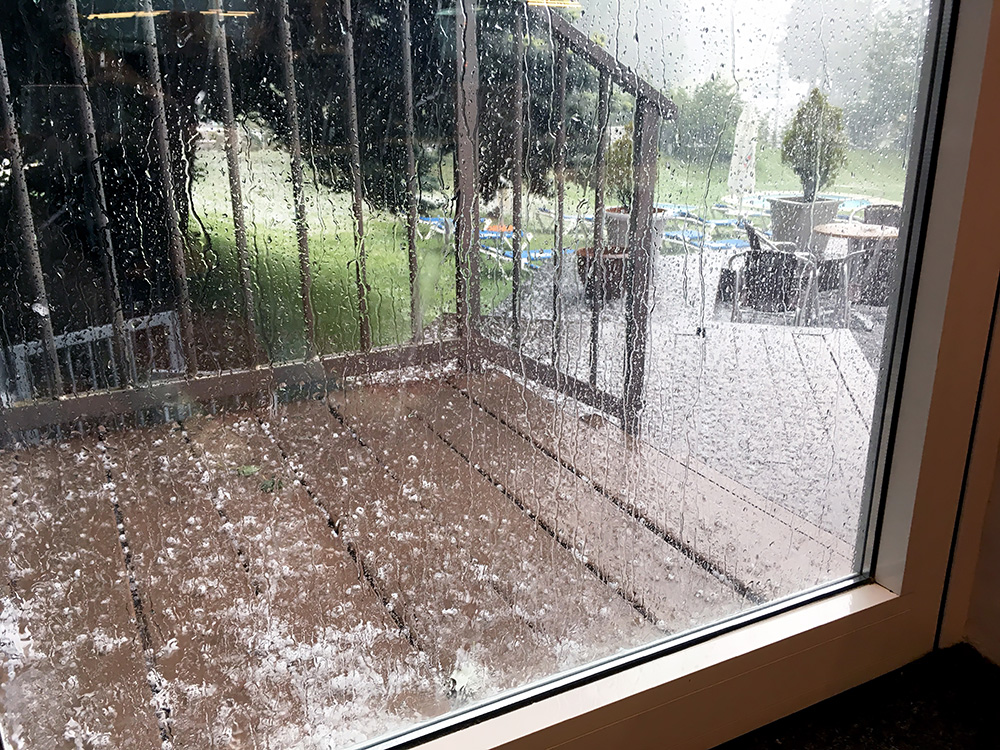 Here the view from the hotel. That really had to be it for the day? I continued hoping the worst was over, but now it was a lot less warm outside, but could still get warm on the climb. There was however a little downhill ending with a dangerous drainage gully. That went fine and the road is wide a perfect here. At Supermolina it again started to rain a little and I briefly again took shelter, but nothing much came of it so continued ahead to visit another obscure pass, the Coll Siser/Sise (1725m), but here again it started to rain heavily and this was getting tiresome now.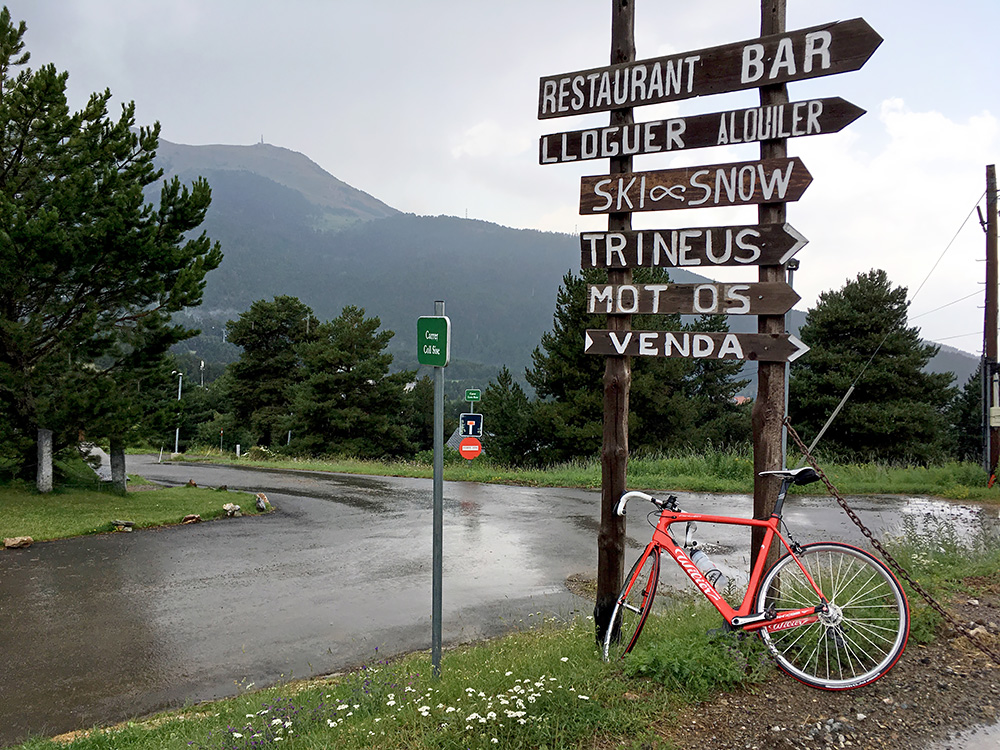 I found an odd place ideal for taking shelter for the rain (photo below, here the Coll Siser itself). There is a bunch of small passes nearby, only some of them meaningful for cyclists. The wait up here was quite long, but eventually I could continue, but there was still some light rain in the air and it was now cold with all standing still.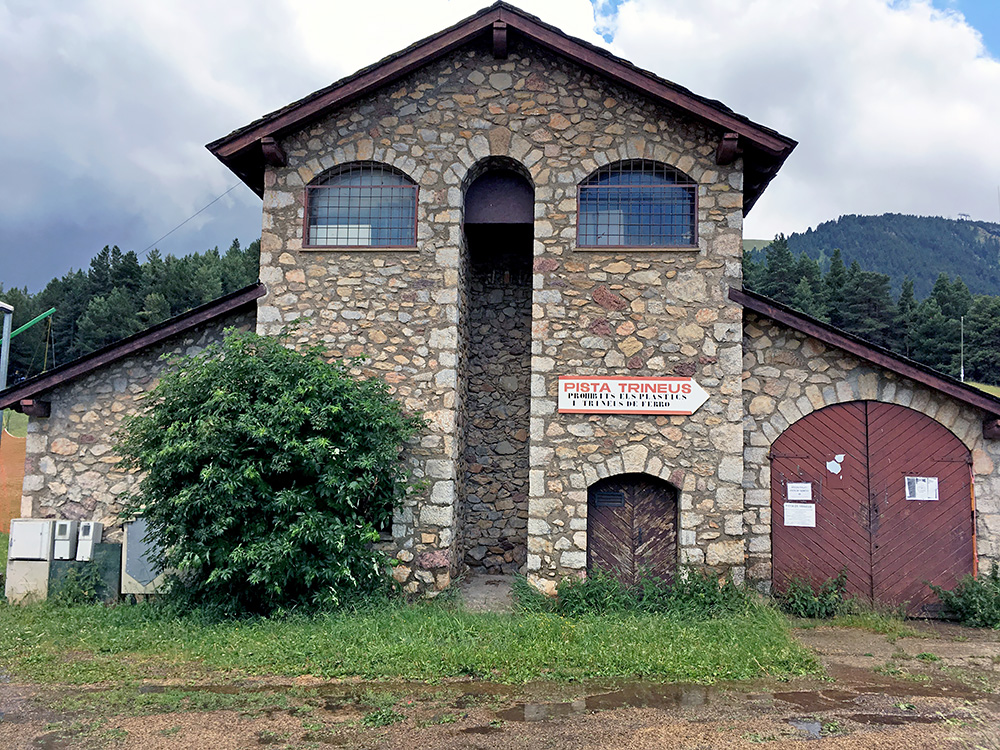 The shelter was very well-spaced to make perfect room for me and the bicycle. :-)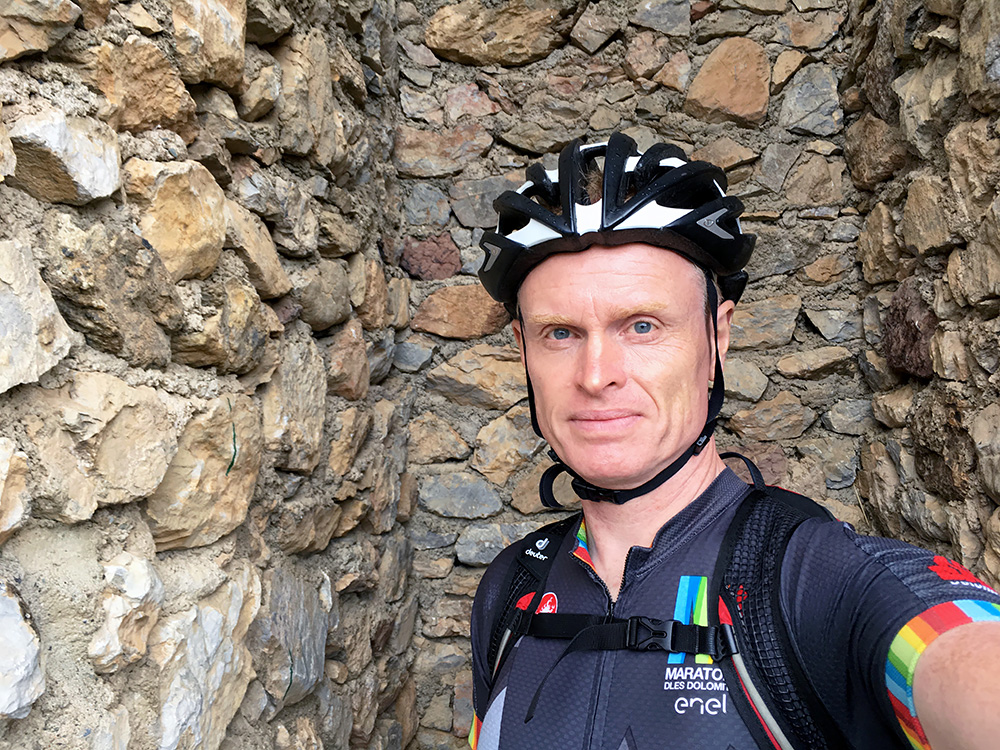 A selfie while waiting out the rain.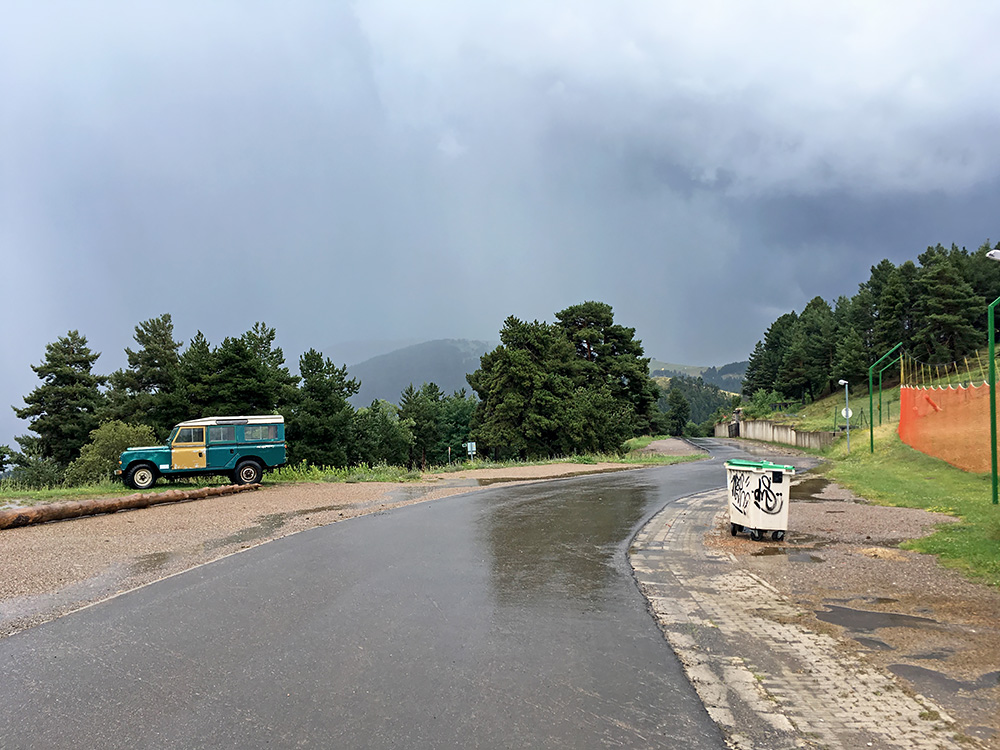 Going back down to the nearby main road from Supermolina.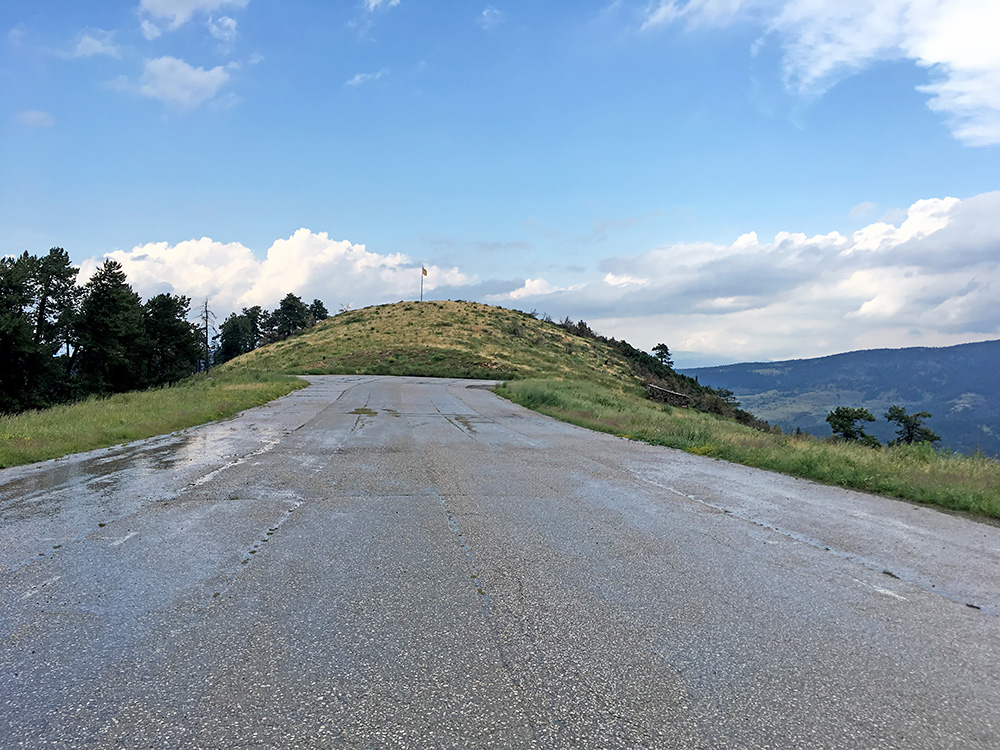 Nearby pointless Coll del Roc Blanc (1747m) by a car park just next to the road. Now the weather looked all fine, but I was obviously not going in the right direction.
I continued up to the high point (1809m) where it was really cold and now it was starting to rain a bit more again as I arrived at last at the Collada de Toses/Collada Baixa (1777m) where I had planned to go down to Ribes de Freser and then maybe climb some more down there. However, the weather did not look promising down there and the valley is rather steep and lonely at first on this minor road. That combined with me already shivering from the cold made me think of that maybe I could get a hike down the road. Soon a car came and he stopped (first car!). It was a nice man working as a forestry supervisor of some kind and he had been to Sweden recently on a fair for forestry equipment. He had also been cycling a lot himself, but had more or less stopped as he thought traffic was getting more dangerous lately, which is sort of odd as drivers on the Spanish side here are driving a lot better and more careful than the ones on the French side.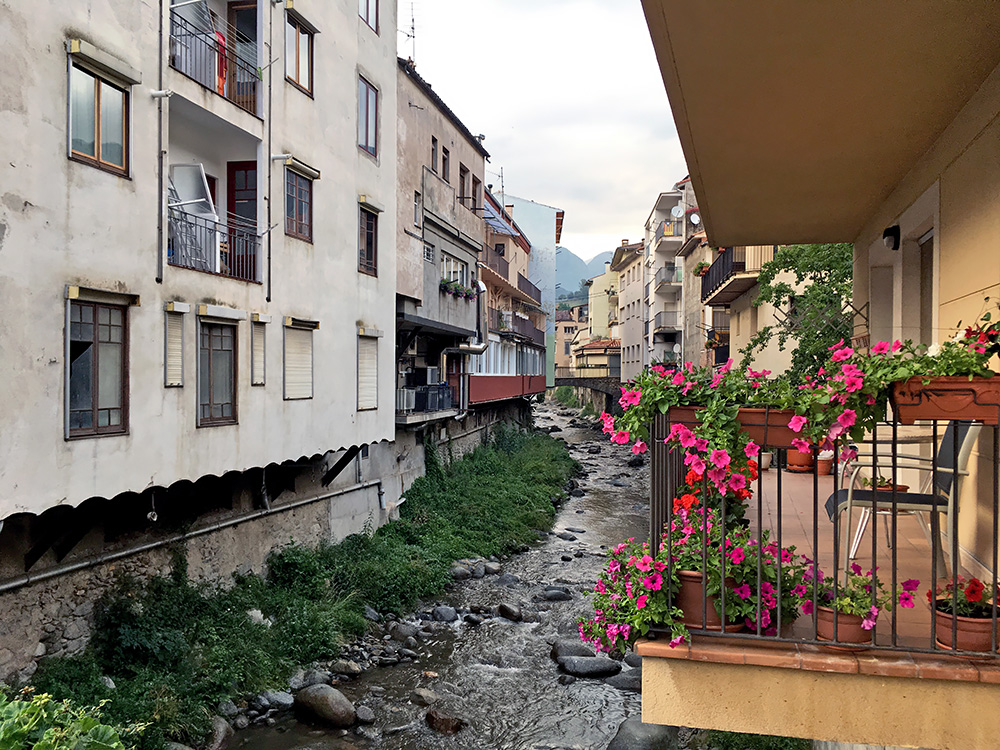 It turned out I was lucky as the rain increased on the way down and I would have been pretty wet by the time I had reached Ribes. The rain almost ended as we reached Ribes de Freser. I was lucky and the guy left me of south of the village near the train station where I stopped at a café again for a coffee to determine if the weather would be good enough for doing another climb this evening that was the sole reason for going over the Collada de Toses (as I have been to all those other passes before). However, the rain continued and sometime after 19:00 I decided to forget about it this day and instead go and find a room for the night.
I had originally planned to stop here, but a day earlier for the night (so was now already one day behind my schedule exactly), so I had looked up a place that seemed ok on Google beforehand and in this case choose that hotel. It was a bit more modern style hotel than I normally would want to stay at, but it was fine and the food was great (Hotel Sant Antoni in the very centre by the main road).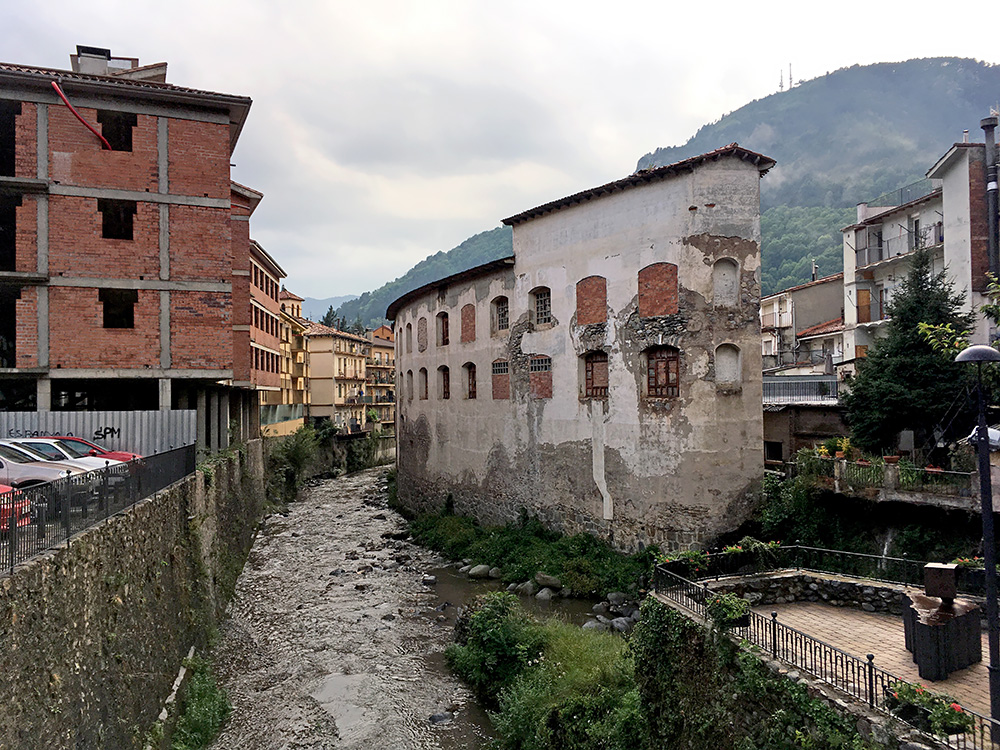 I went out in the village as it was still before dinner started when I had showered, and bought a piece of local cake and some soda at another shop. There were priests casting blessing over car drivers going in the village here (weird) and it was jammed with cars. Think this is a very popular place for religious people and they typically want to visit the huge Santuario-Basílica (Sanctuary-Basilica) up the Vall de Núria where you could only walk up or go by train. (A closed road following the railroad some way seemed to be surfaced up to some kind of pass (Coll Oric (1429m)), but I think I rule this one out as the road seemed closed to all traffic.
The weather was turning better for the evening and in the photo here you see where I had planned to go asnd would do so the next day.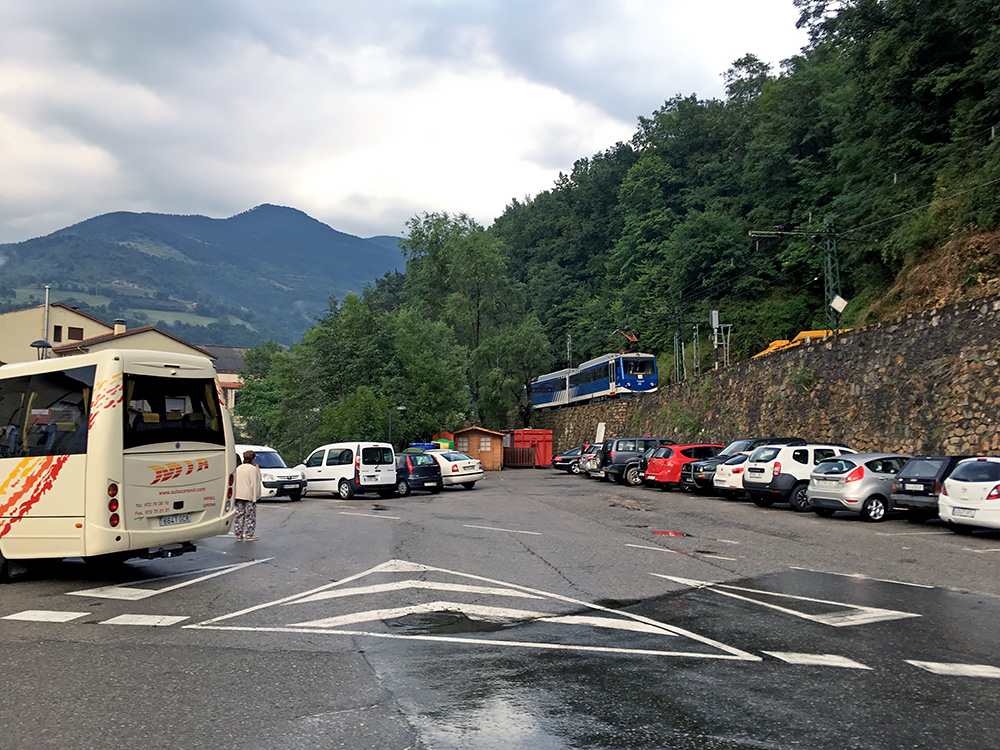 Here the Núria train. Would have been nice if there had been a good road all the way up there. There is a road up to Collada de Fontalba (2070m) (above Queralbs) where one should have good views up the valley, but even if the gravel road looks ok, it would have been nice if it had been asphalted. Time for dinner and sleep. A short day, but probably just good to have a bit easier day once in a while.