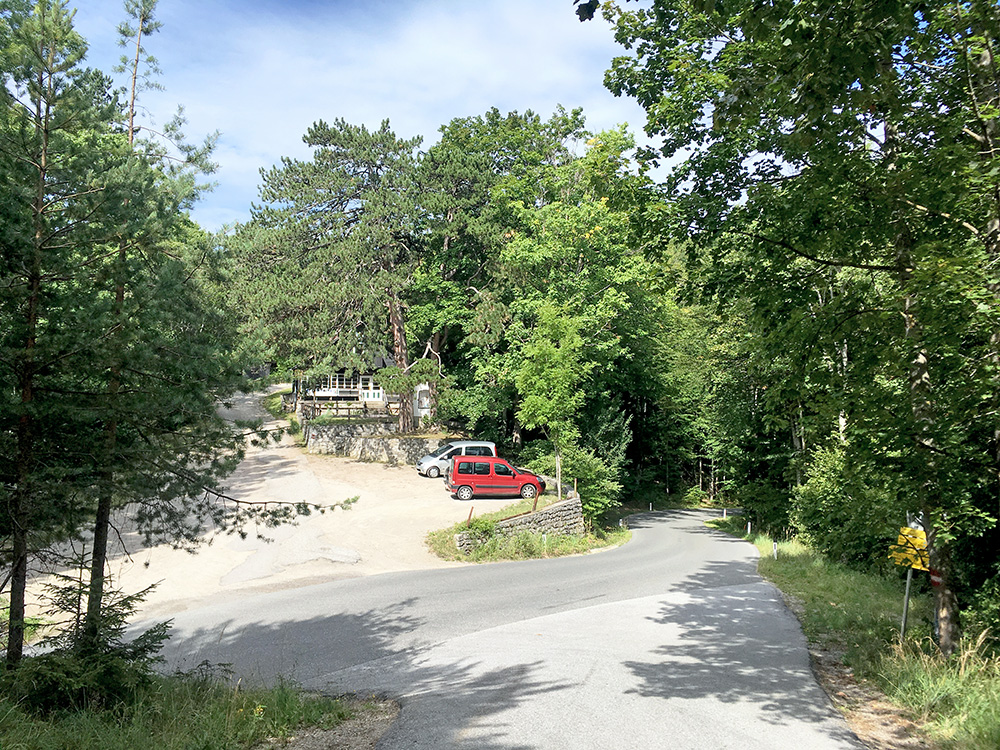 The day started nice with a group photo (not here) before we took off for the day to stay away one day and return to Wiener Neustadt on the following night. I led the group out of the town, but after a while they decided to follow the track they had made up (though we could have separated a bit later). I was taking in another minor pass, but intended to catch up with them later. It was nice and it felt good, but it was also rather hot on this day and I had forgotten to fill up my water bottle at start and here were not any places to fill up water.
Here I am at Auf dem Hals (661m) and all was fine so far and down the other nice side. I then had hoped to find their planned stopping place (where they had things to drink and eat) in Weissenbach and der Triesting, but I had maybe got this wrong and they were not there.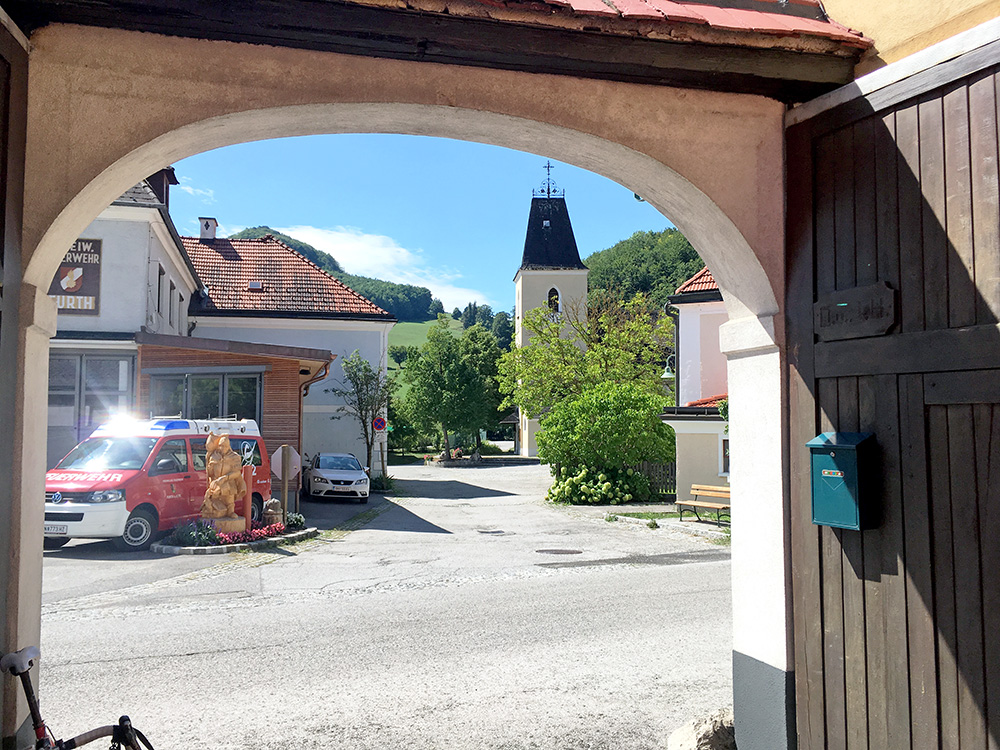 I just went on up the small nice road to Furth and der Triesting where the climb up to Hocheck (1002m) starts that we all had planned to do. Nor did I see any sign of them here either, but found a restaurant open in the little village and now I just had to drink something before continuing. I got a Radler (soda and beer mixed). Very nice and felt refreshed and continued up to Hocheck as I gathered they must have managed to start up the climb before I got there. On the way up I got a message (we used Whats App to keep in touch) that they have arrived at the top and I quickly said I was on my way and continued.
On the way up it is steep, but not remarkably so. Still it was hot and I soon felt I have not had enough to drink and should have had water most of all and also did not fill up the bottle as I knew I would soon catch up with the others and get things to drink (stupid of me). So on the last part it got increasingly hard for me and I was going a bit dizzy and really had to fight to get the very last bit up and was then of course in not so good shape, as also is evident from the photo. Calmed down as much as I could, drank and took it easy, but the others soon wanted to leave.
I wanted to get up to the top (the others walked back down from when I arrived) to see if there was any good views as there were none at the end of the asphalt road and rather lacklustre views on the climb itself. Here is the tower at the end.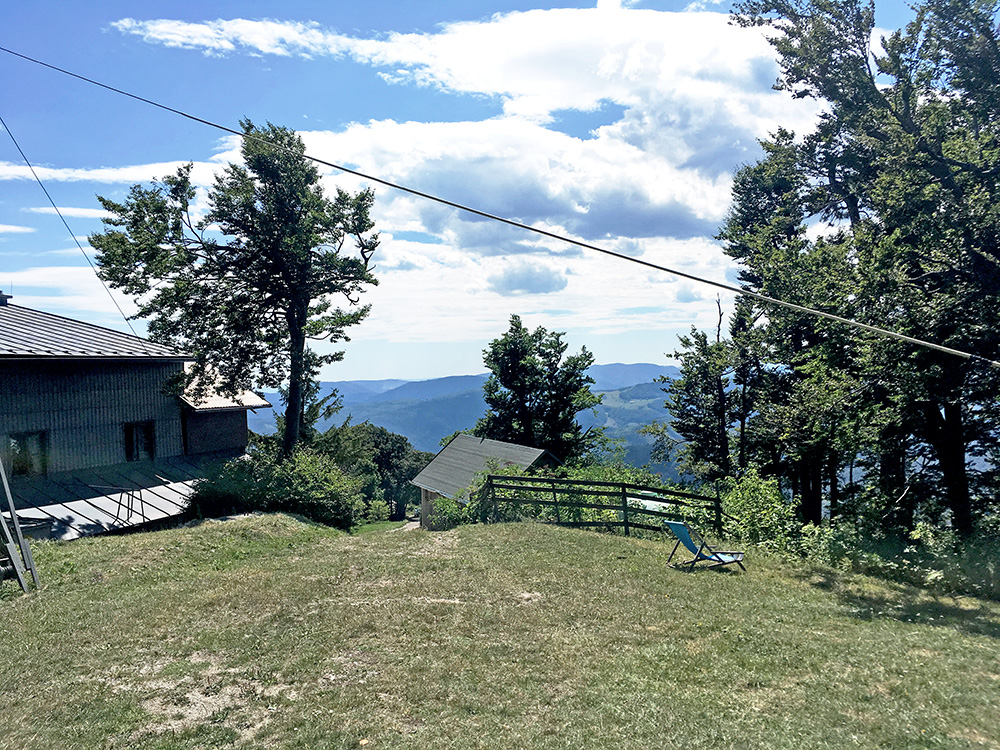 Here looking back down the valley.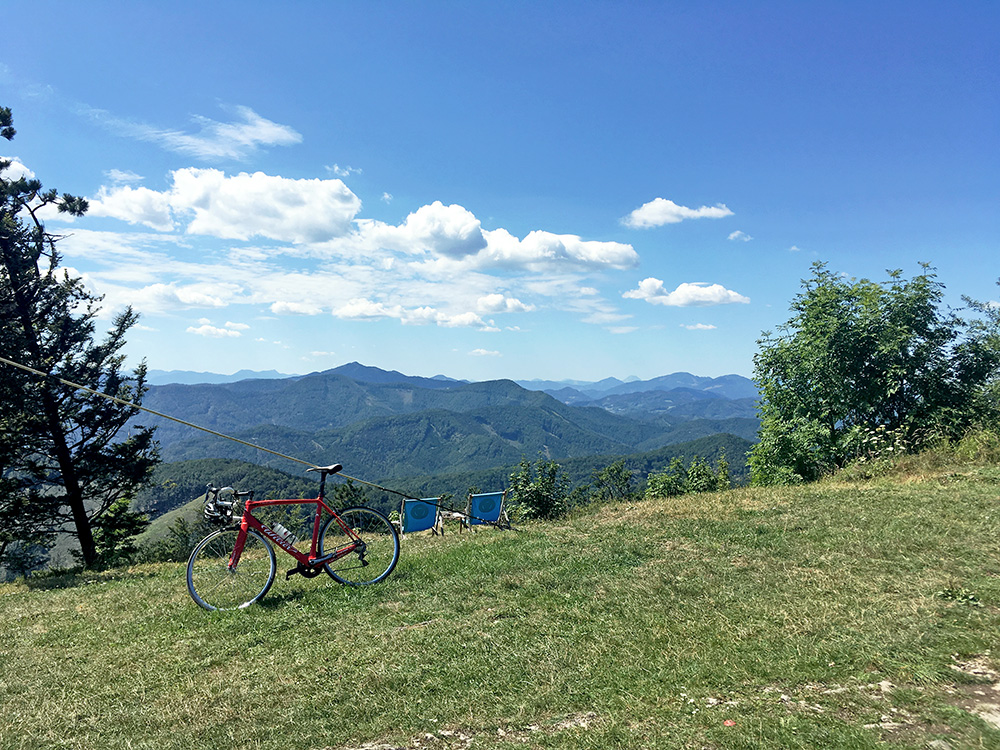 A last photo from Hocheck (1035m) and then walked down quickly to the parking again, but now they had all left apart from Hans (our nice driver), but he also went down now. I had to hurry up a little but caught up with the others around Furth. Then followed the others to Weissenbach and a little further, but they now went in a fairly good speed and I was still not very well from the lack of water before and decided to leave them when they continued on the bicycle track to take the main road instead. I still went slightly faster than them there and stopped and filled up water on the way to the next unnamed little pass – Gerichtsberg (580m). They had still not arrived at the village below when I had filled up water, but then they came as I went slowly up to the top.
Then we mostly went together to another refreshment stop on the way to the next climb. This was very much welcome for me as I was getting dizzy again. They did notice I was still not ok, but we refilled well and the distances were not so long. Still I let the others go ahead now as I just had to take it easy (easiest of them).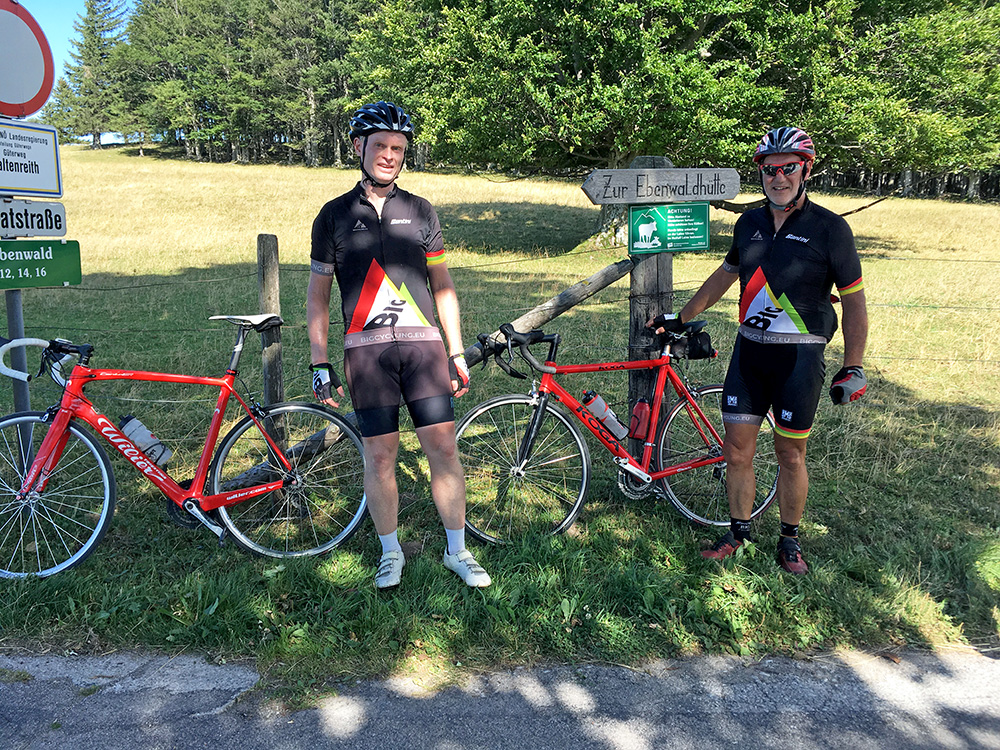 I stopped briefly again just at the start of the next climb to fill up fresher water, I think. Then I went slowly ahead not sure if it would be a painful experience all the way like on the last part of Hocheck. It started badly, but I just went slowly, after getting into the woods I felt slightly better and caught up with the slowest guys. Then it went better and better until the end where I almost felt fine again. The two or three fastest have already arrived then, but now I could relax and we had refreshments again.
Here at the top at Ebenwald Parkplatz (1020m) – a plain, but also a pass, with our great organiser Christiaan. Christiaan also wisely had a red bicycle! One could glance I was perhaps still not all rehabilitated from before. The climb was a fairly hard one that seemed like it never ended even though on paper it should not be so long.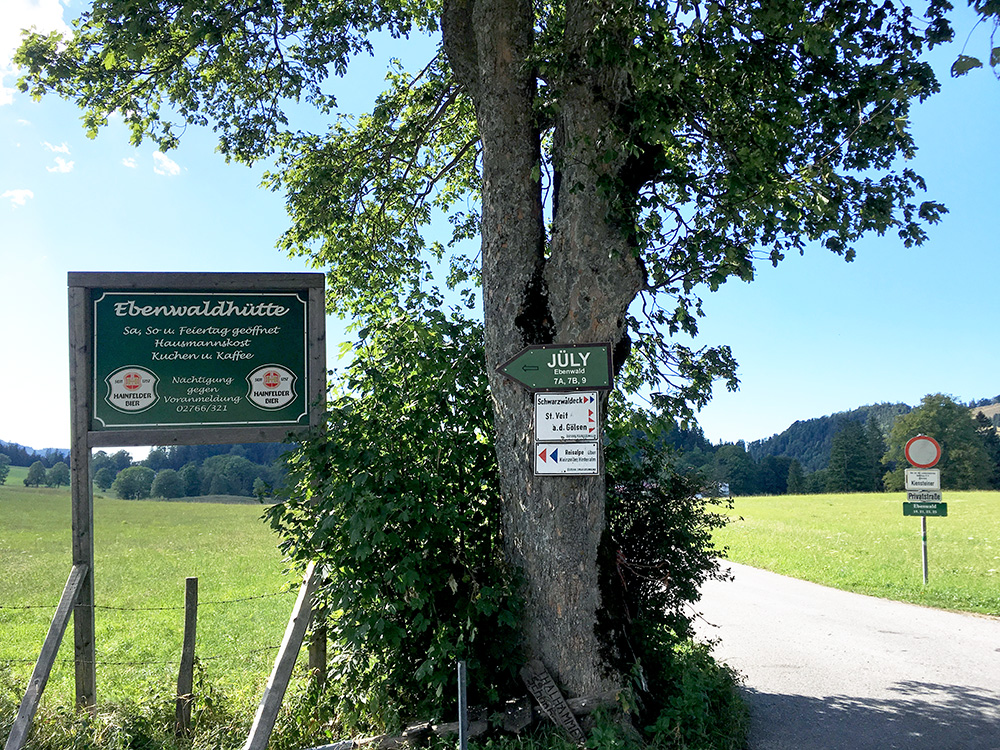 This was a bit fun – I asked Serge jokingly where the toilet was located and he said jokingly back: just go up three trees and to the right. We did not know, but as I started up in that direction I found a single outdoor toilet 3-4 trees up to the right! (Left in the photo here.)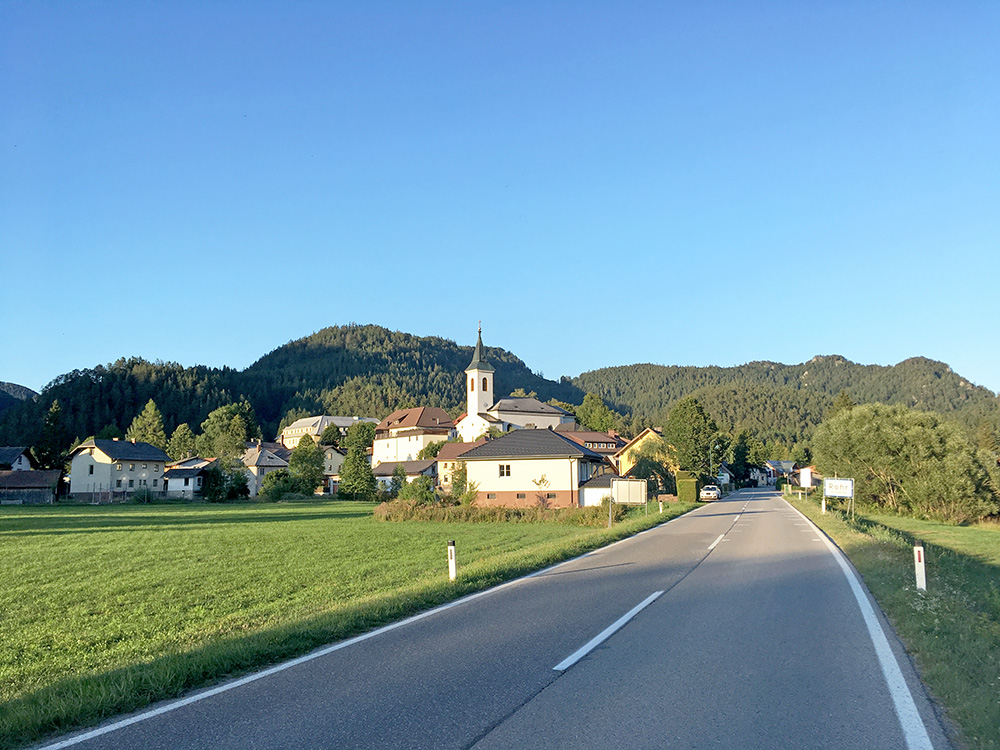 Back down in Kleinzell I was again rather on my own but then caught up with Daniel (our president of the BIG challenge) and later also Serge, who were maybe the fastest beside me (I guess I was fastest, but I am also not so fast these days). We went in a good speed up to the supposed end for the day at another small pass at Kalte Kuchl (730m) and on the last stretch I went ahead and now felt all fine again.
I believe I ordered dinner to eat rather right away at the busy and very popular restaurant as I had planned to visit another pass and go back again here for the night later on but might then had been too late for dinner. Enrico cycled by to go up to another pass and back again before stopping here (that pass I planned to do the next day), so I was not alone in doing some extra and alternative roads. Kalte Kuchl is a three way crossing. It was a modest hotel, but the kitchen was good and nice people here.
After dinner I went down and then up via Rohr, photo here on the way back, but looking the direction of Rohrer Sattel (859m), which is yet another BIG climb and a pass, but an unusually easy and uninteresting one. Nice at Rohr though and it is a practical through road. I was back up at Kalte Kuchl for an evening beer and some discussion before bedtime.