The roads were surprisingly nice here around even if the mountains are not so high. The only road that goes up from Kalte Kuchl (730m) is a twisting fine road that passes over an unnamed (In der Grün (804m) hard to see) pass and then Ochsattel (863m), where the location could be debated, but it is likely at the high point before coming down to the building with the name here. There is a road down from the main road here, but I continued down on the main road and met one other cyclist. Today I went totally on my own to take in some of the climbs the others would do later on, but which would make it possible to me to leave down to Slovenia later on without missing these climbs.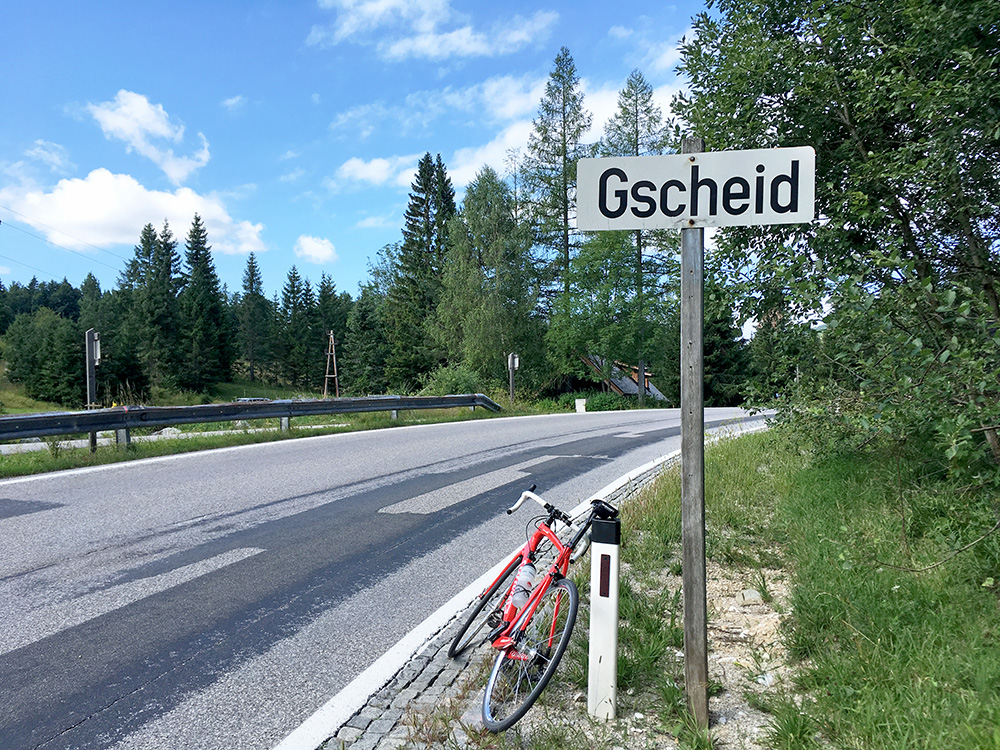 It was a long and winding road that seemed to go in strange ways (I could possibly have gone north when coming down from Ochsattel, but that was a longer way) via Kernhof and then it was up again on a road that varied in width and was actually a bit steep up the last stretch to Kernhofer Gscheid/Am Gschaid (970m). There are not many roads around here that does not lead to yet another pass.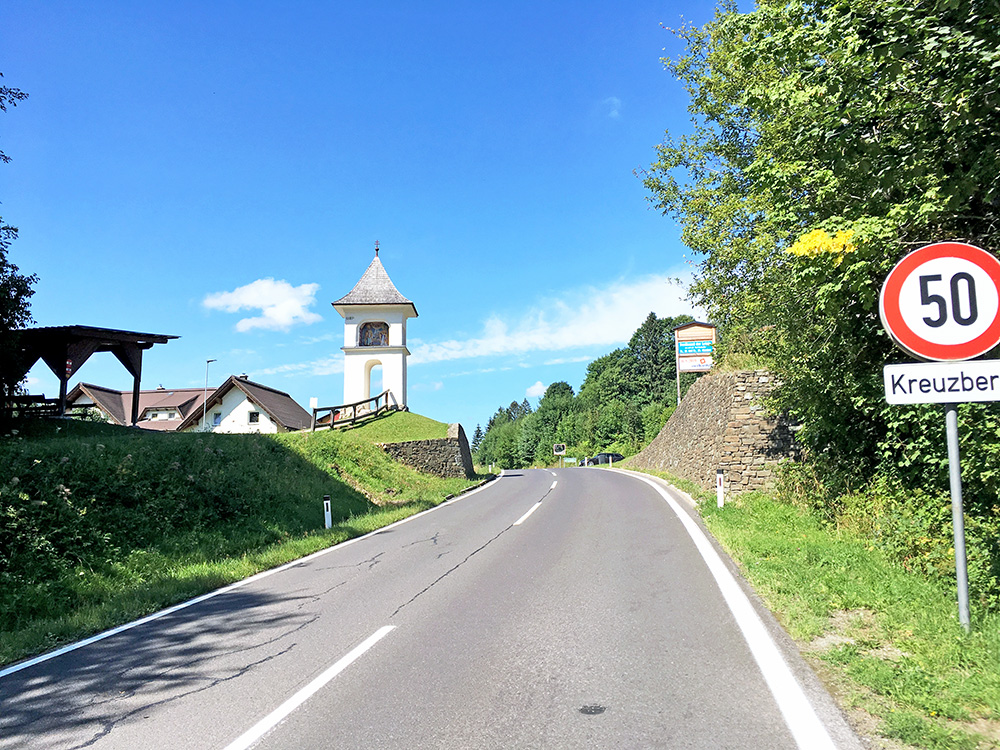 I continued on the main road to Mariazell, but the road soon started to climb again, but this time only to escape the a gorge. After skipping to see the Lahnsattel the road continued nicely slowly down, but then a bit before reaching Mariazell, there were suddenly some switchbacks up to another little pass, Kreuzberg (875m).
I was not sure which way to take into Mariazell and went down a bit and had to cycle up there again as it is high up a steep slope in the landscape. Think I bought a coca-cola at a gas station, but wanted something more and went into the city and soon found a central big café (Pirker) and decided to try it. I asked for an apfelstrudel with ice and a coffee. This was the most luxurious apfelstrudel I have ever seen! Maybe good I do not live anywhere near here … . I was briefly confused if one could get refills of the coffee here around, but that was not a popular question, anyway it was more like an espresso and not filter coffee, so should have guessed so. A very good café nonetheless.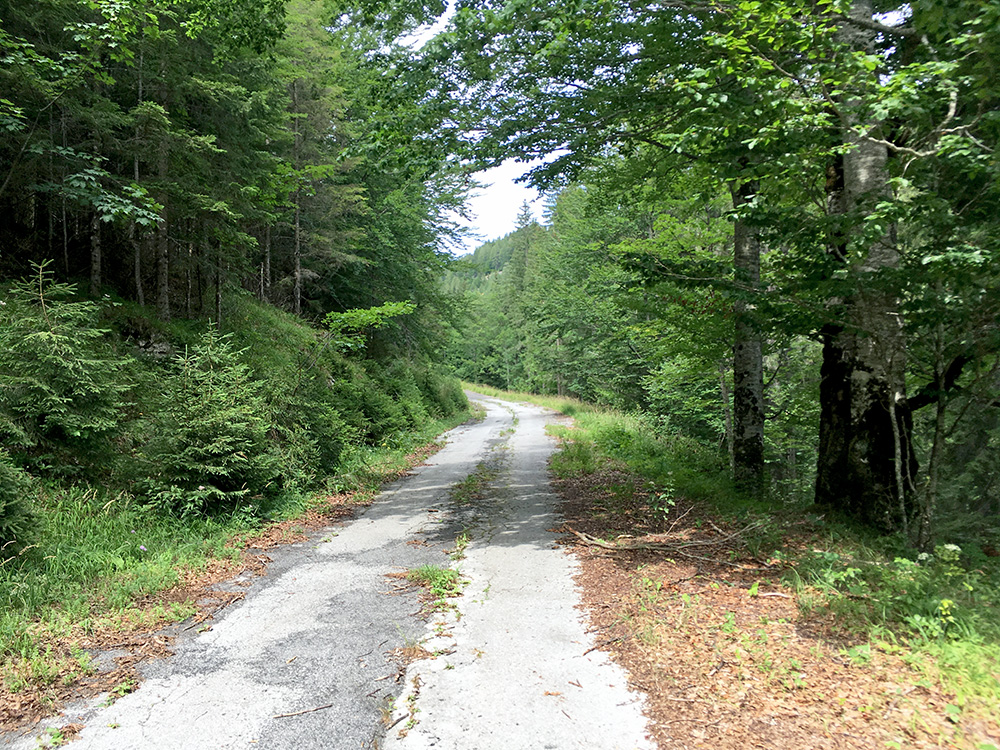 I wanted to visit another BIG climb that the others had not planned into the general schedule of events – Zellerain (1122m). I had noticed there is an old road up to the pass from the east and likely that road was the main reason to designate it as a BIG climb in the first place (not sure). The old road is quite steep up close to 20% at the steepest, but it has been replaced by a new road and the old road has been closed to traffic. Anyway I decided to have a look if it could be possible to use the old road still.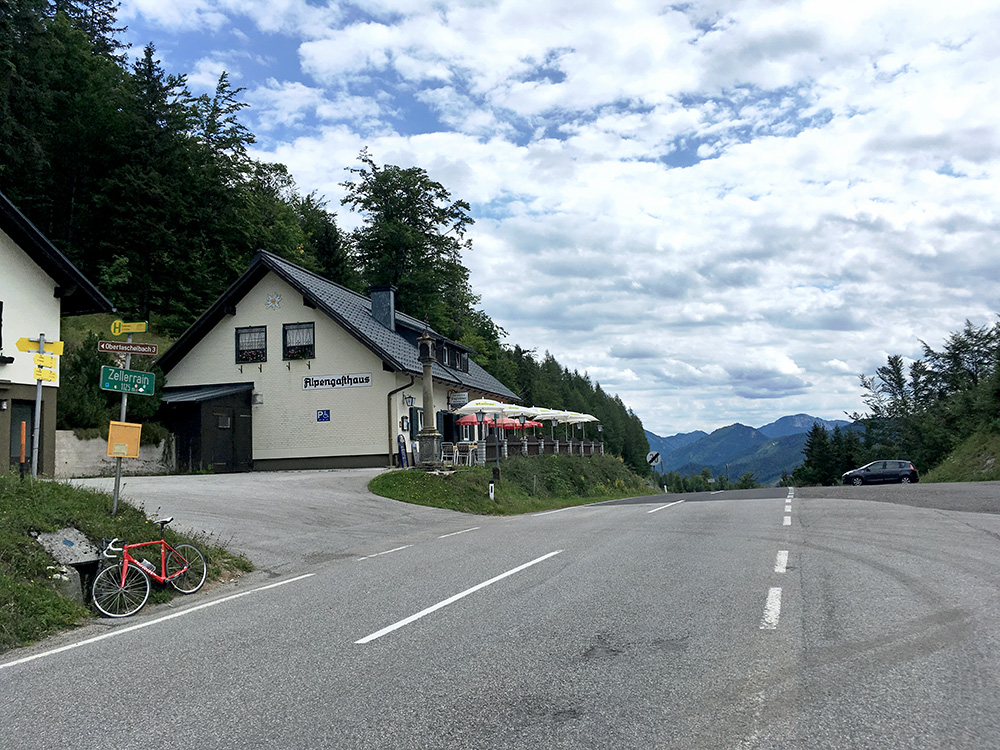 At the start of the old road there is a gate and several signs saying it is a private road that is forbidden to all traffic including cycling, but then one sign said that people using the road do it on their own risk and I thought that maybe, well yes, I was willing to take the risk, so went by the gate and cycled on. The road quality is initially good, but as it is little used and not maintained (much) it becomes a lot less good further on when it starts to climb. It is almost as if the road only starts to climb just below the pass. There were a few cars and maybe 2-3 houses along the road, but did not see any people. After going up the first steep part I came to the final section and at the start there were people cutting down trees and lots of debris on the road from the operations here. I think they saw me, but I just kept going on and no one said anything. The main problem was now the bad and steep road, but in the end I got up all fine sitting down most of the way. One arrives just at the pass on the east side (behind the car in the photo here where I look back toward Mariazell).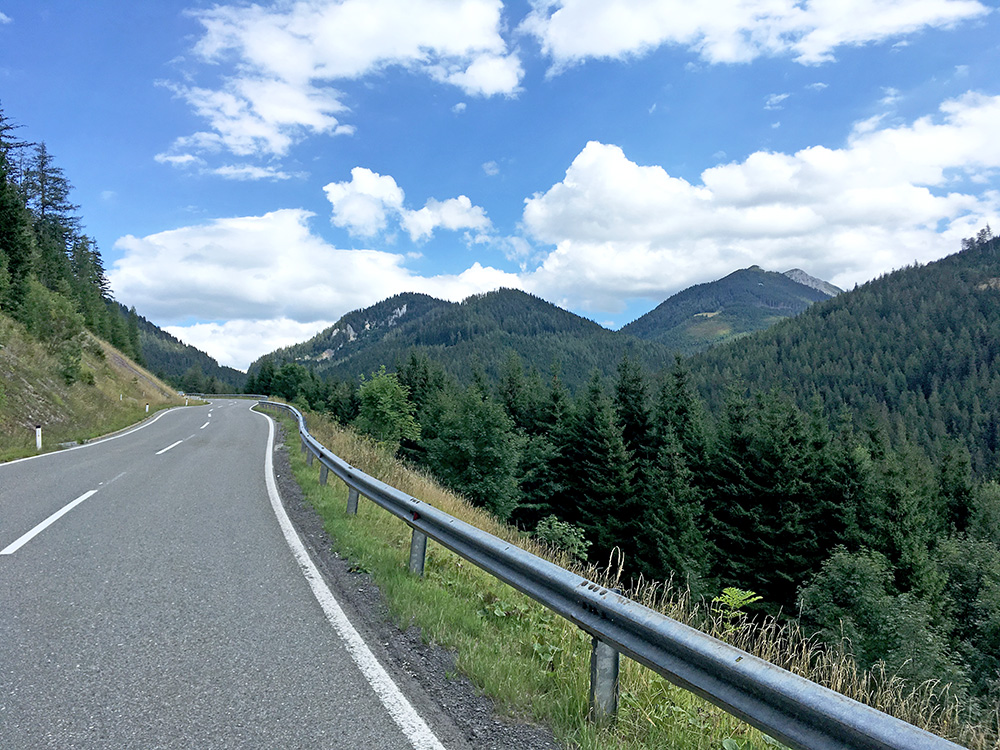 It was cloudy now, but luckily the weather was stable and it improved a bit again on the way back. I was now fairly far away from Wiener Neustadt, but was now going more or less straight back east. However, the road back involved climbing over two more major passes in the area. Here I am on the west side of Niederalpl (1221m) and now a stable photo while cycling.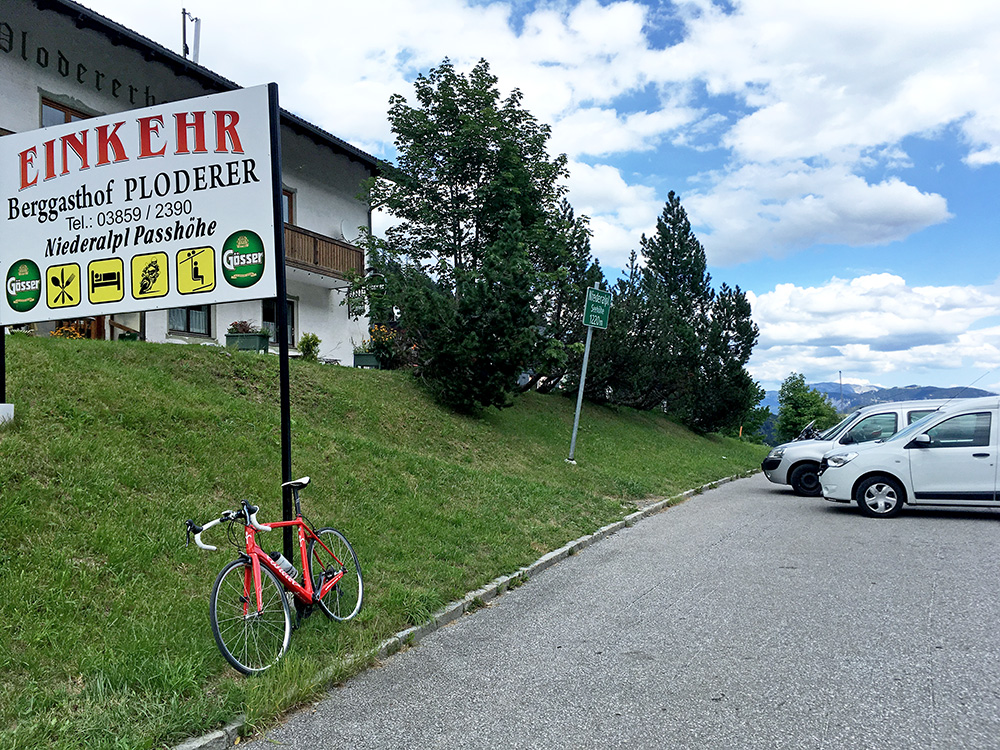 Niederalpl felt like a fairly lonely pass road without any really great views on either side, but also not many cars and no cyclists in sight.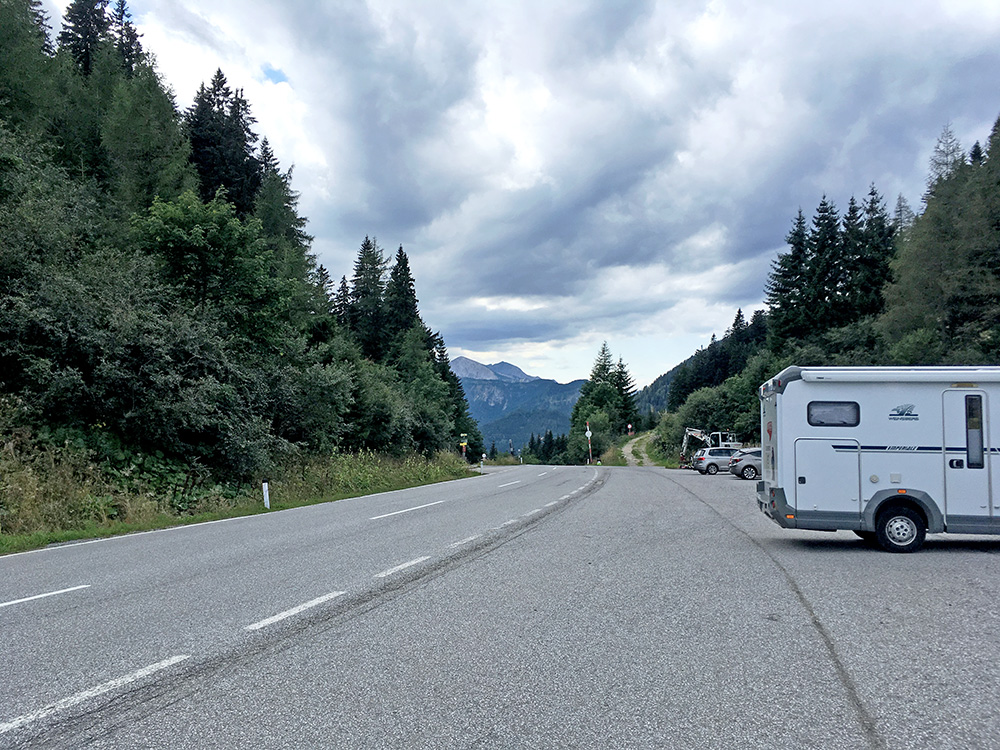 A decent view back here west.
And a fair view ahead east here from Niederalpl. It was slightly chilly at the top, but soon was perfect temperature again on the way down to Mürzsteg. I stopped in Alpl for an (expensive) glass of coca-cola, but the locals were nice and interested in my journey.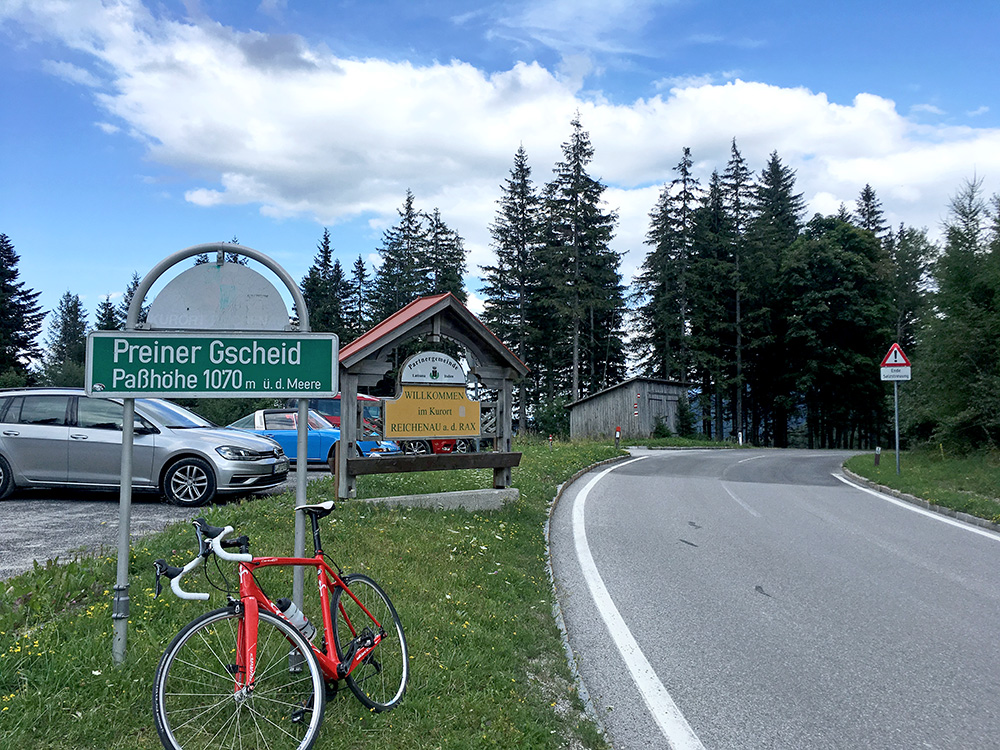 Then I was soon on my way up the final pass for the day, the Preiner Gscheid (1069m). It was maybe a bit nicer, but less wild.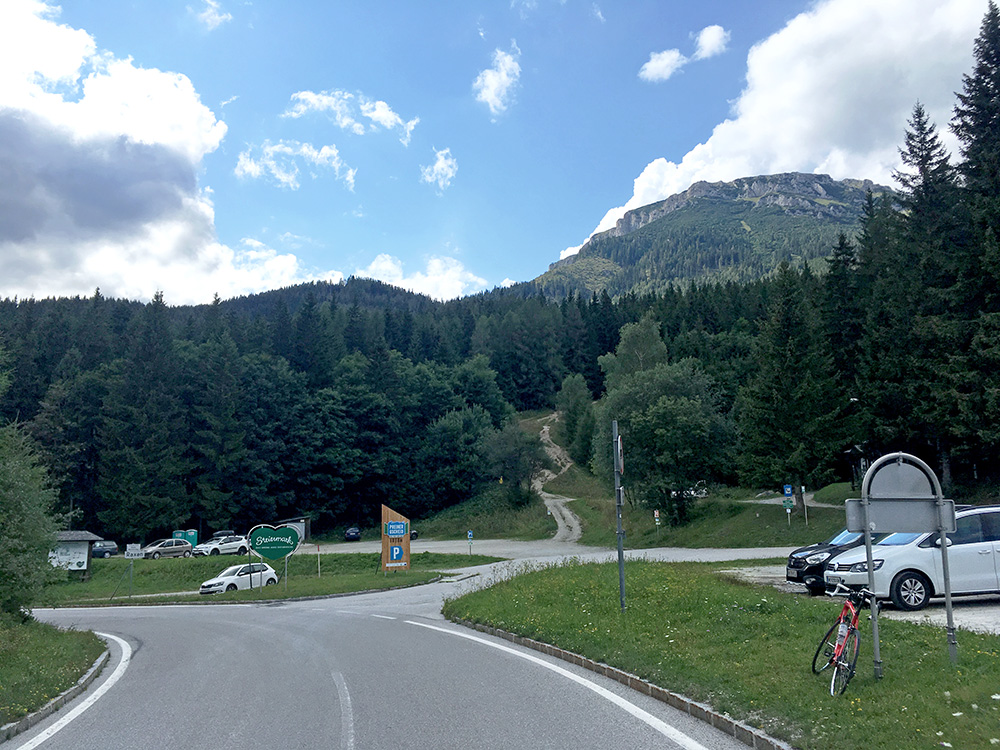 The pass itself was perhaps not so interesting (it had a restaurant, like so often).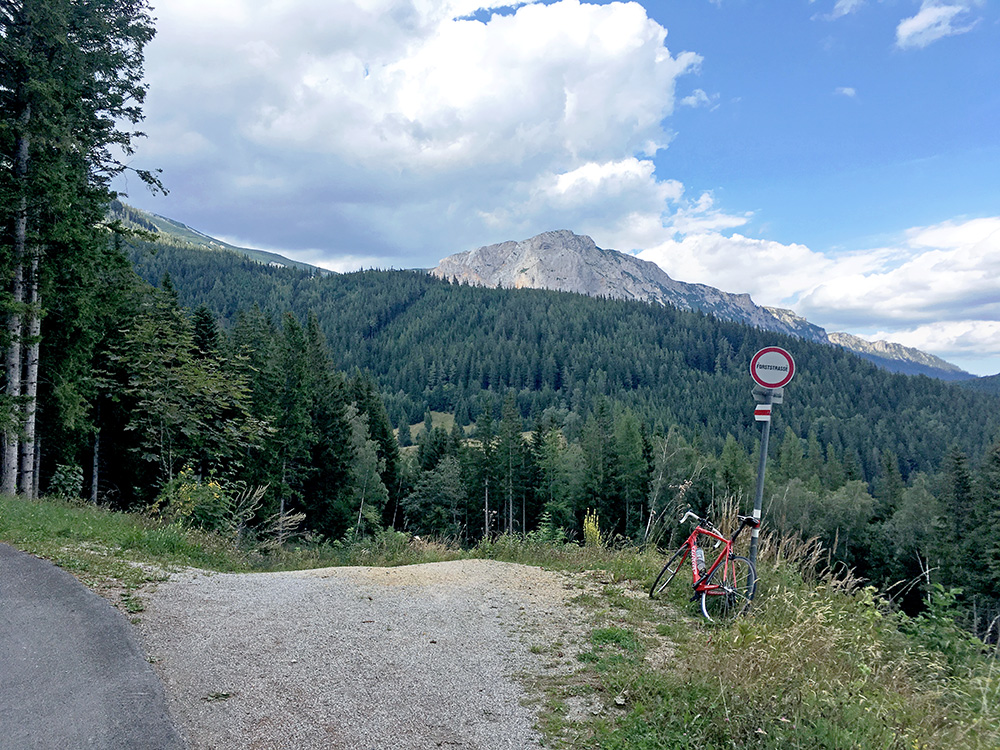 The views were nice down on the east side and it was a nice downhill ride to Reichenau and der Rax. At this time I had forgotten my original plan to go over Breitenstein (and some minor pass here) and just continued down and the road soon got busy with traffic. I think it was in Gloggnitz I made a final stop to get something more to drink at a grocery. I checked with the others, letting them know I was on my way and they waited for me.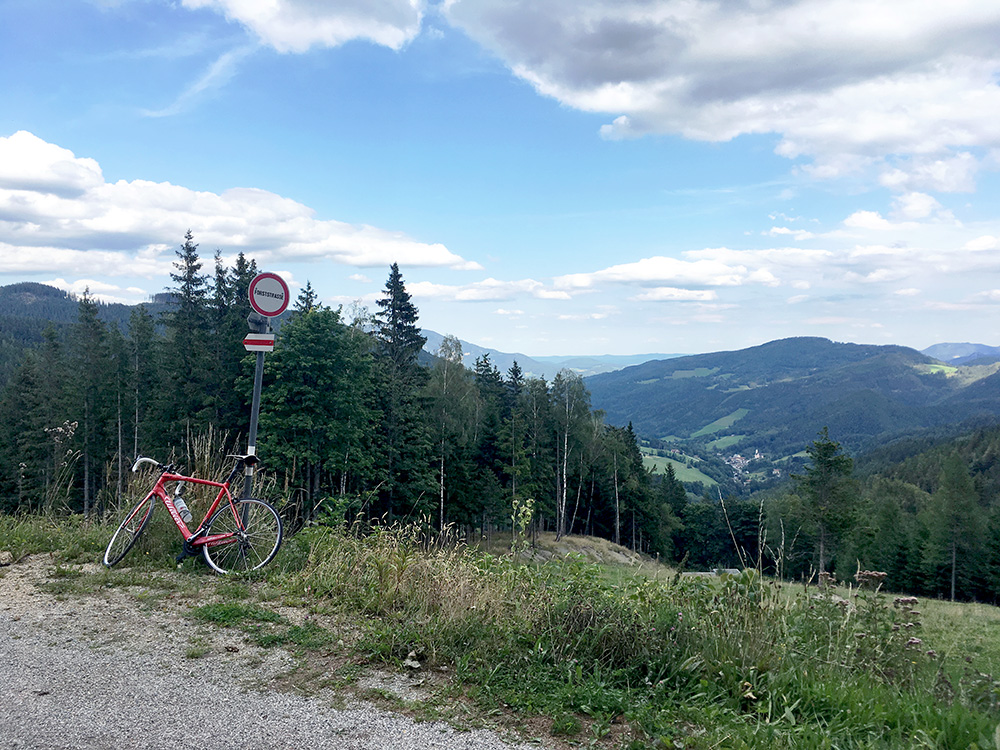 I held a good speed back and took the main road from Neunkirchen straight back to Wiener Neustadt (it looks so big as if it is a motorway, but it is allowed). I found a turn-off over the railway to make a short-cut to our house and got just in time for a quick shower and then eating out at a nearby cheaper pizzeria with the BIG group. It had been a good ride this day.