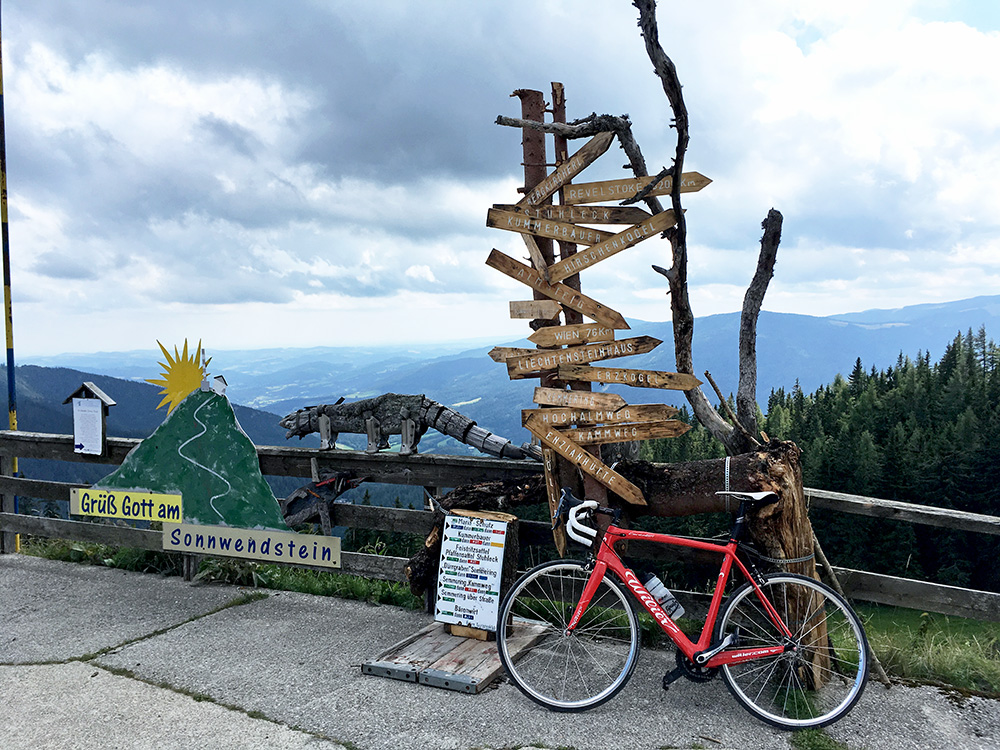 Today I started with the others of the BIG group from Wiener Neustadt and at first I followed them on the planned route, but eventually we got out on the big road to Neunkirchen and up to Gloggnitz and I was cycling mostly in front to help keep a steady pace (later they said they were riding with me rather than I with them, but it was only on the boring stretch to Gloggnitz). A few had left earlier.
Once in Gloggnitz we started out on today's first climb up to Semmering (985m) and Serge again seemed best to keep up with me and was not long after me up (apparently he took the steep short-cut I had seen). I just managed to order a coffee and ice cream. We waited there for a while waiting in all, but then I decided to go ahead up to Sonnwendstein (1516m) which is a BIG climb (via Semmering), but it is after a short stretch of asphalt all gravel. The gravel was not very good, but just enough so I could go on and kept going as I hoped it might get better. It was slightly better later, but still not so good. I got up, but it seemed much longer than what I had thought.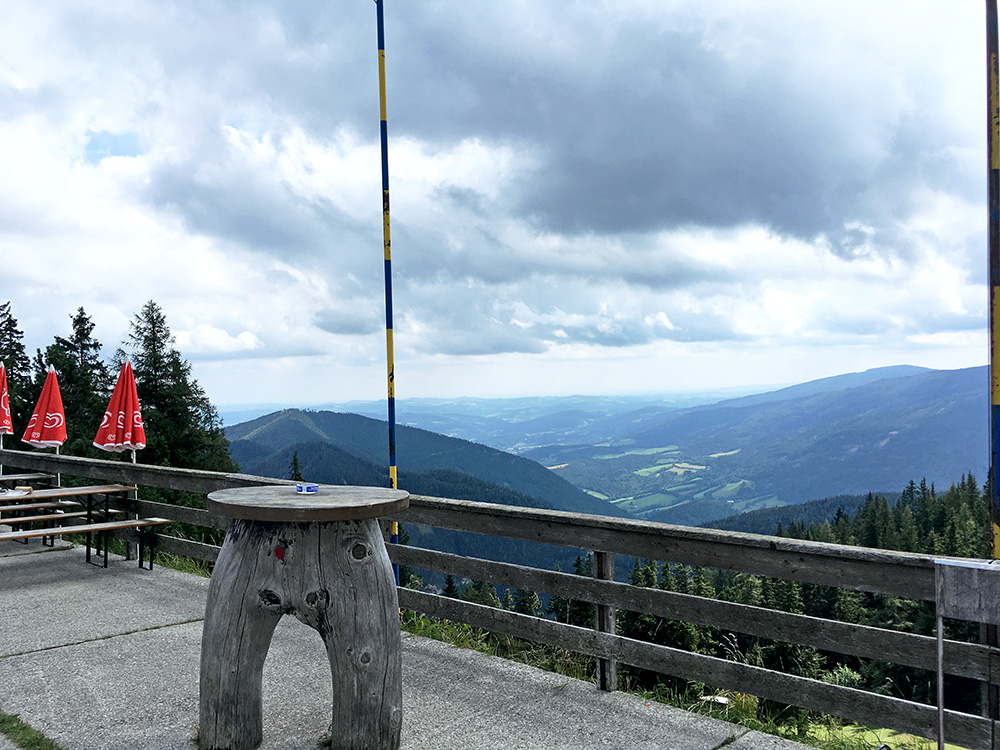 Here I am up at the restaurant, with a last ramp that was simply not possible to conquer with a road bike (so walked). The view here is to the southeast.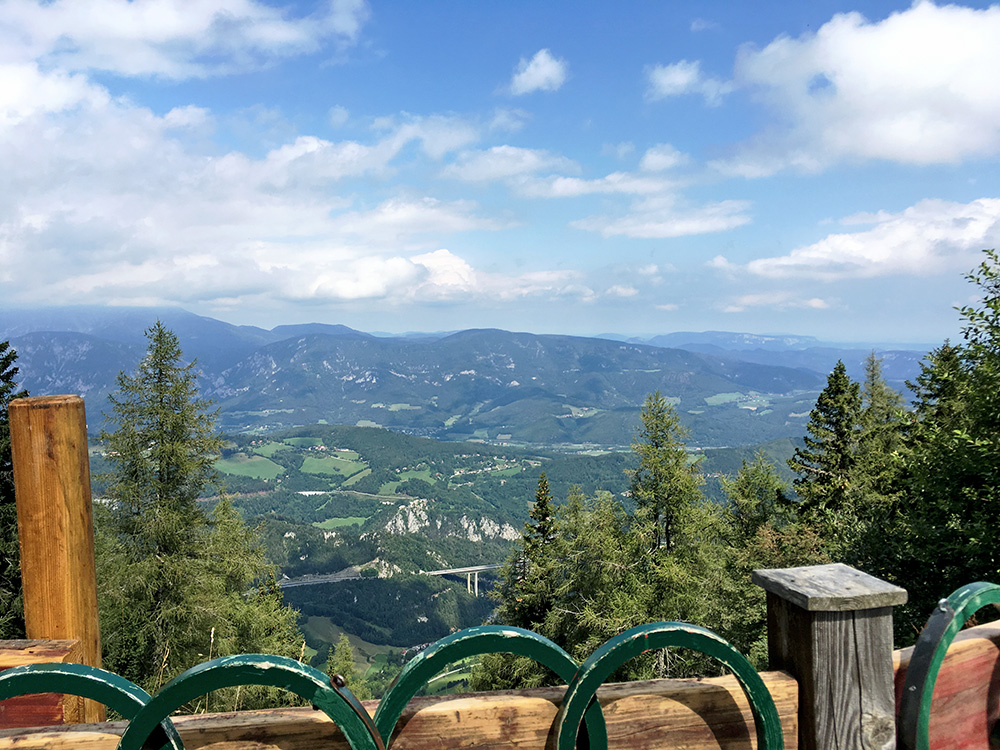 There is also a view down on the valley up to Semmering on the other side of the restaurant here and you see the big motorway below that we cycled under on the way up.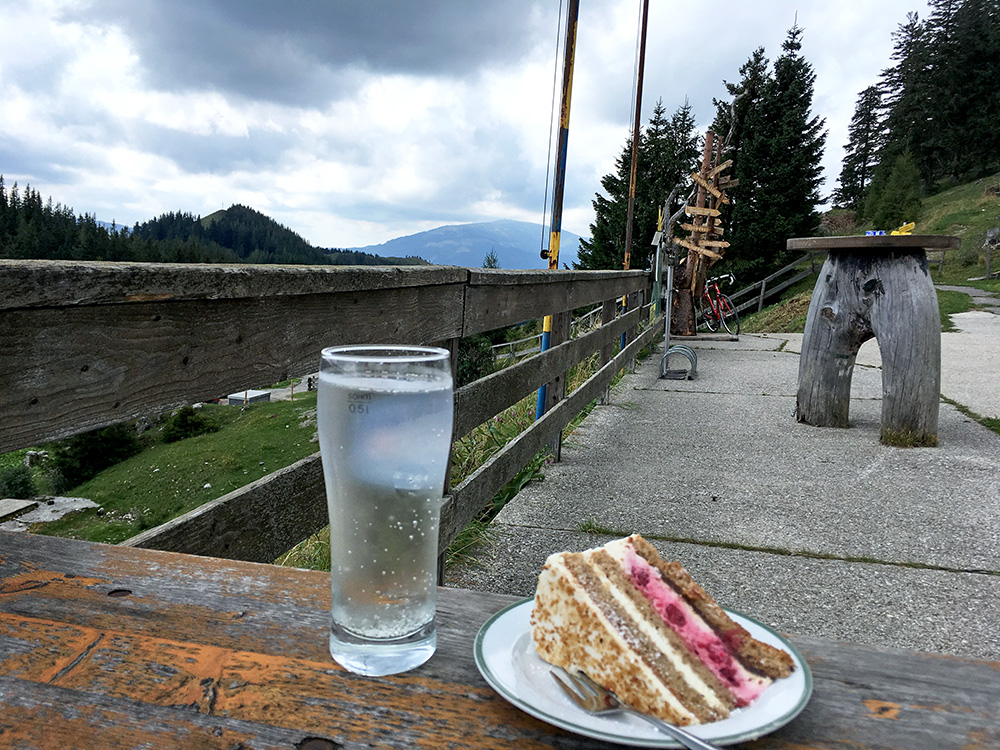 I had an elderberry soda and cake of some kind and finished it before any of the others showed up.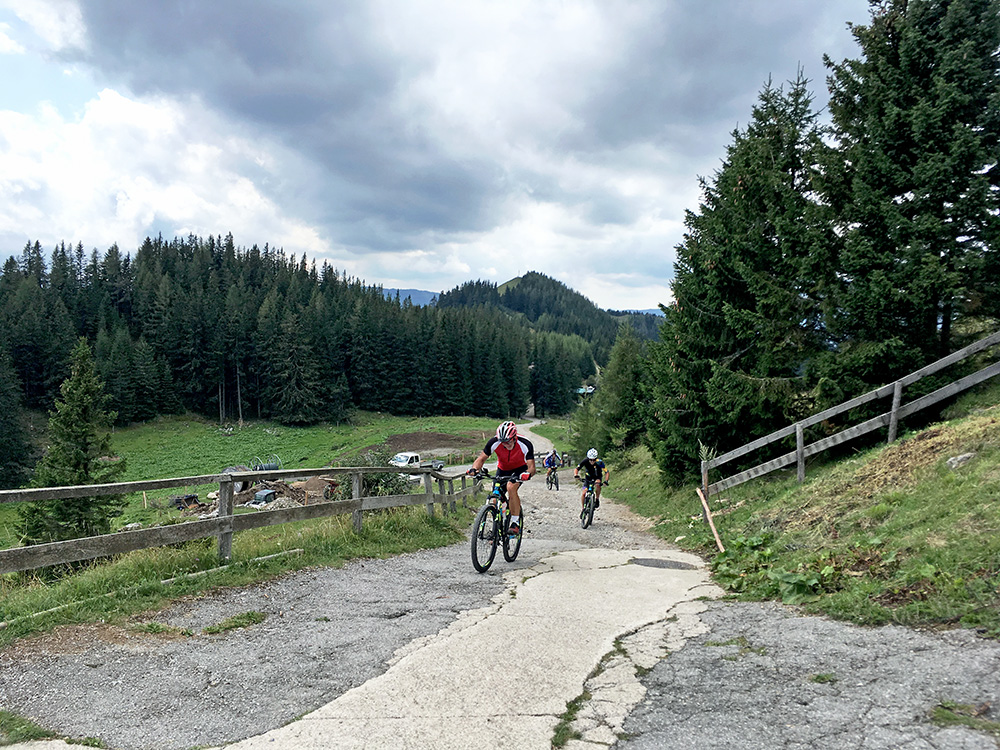 Here the guys eventually shows up almost when I started to wonder if they turned around. Fighting their way up the last steep ramp and it is much steeper than it looks here. Daniel (coming a little later) just about made it up on his cyclocross bike and there was a nasty high edge on the concrete/asphalt in the photo.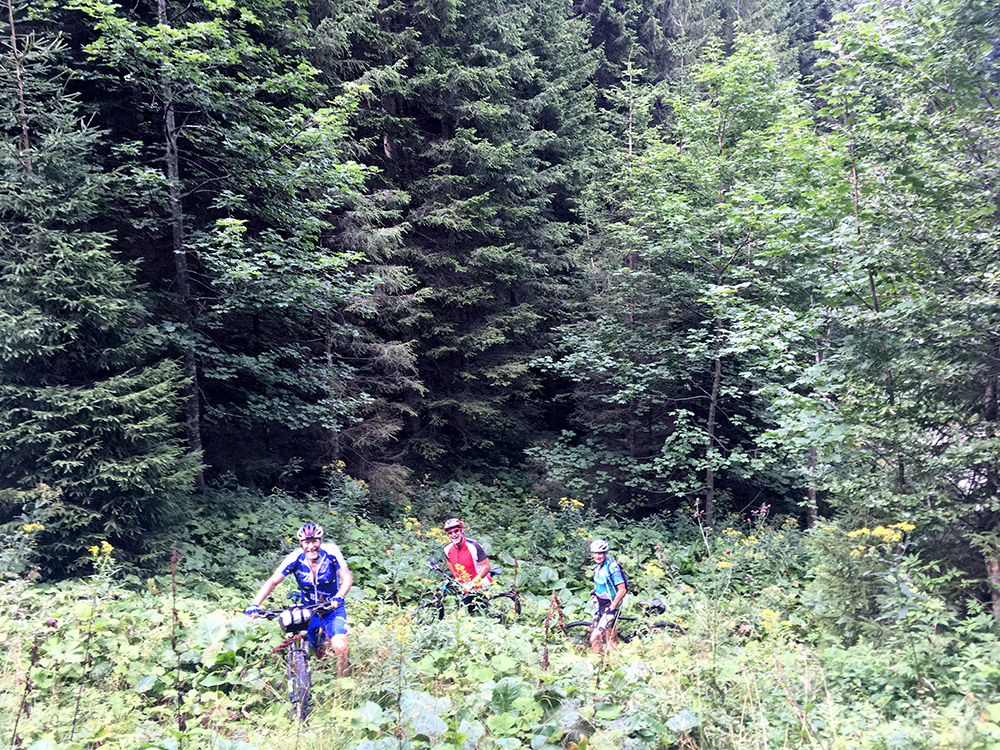 Next up was going down and they all of course passed me by on the descent to Semmering. Then we took the old road down the other side. We did not keep very well together, which was perhaps not such a good idea here it later turned out, or maybe it was, depending on how to interpret what happened next. The next climb was starting just down the road at Steinhaus (825m) up to Pfaffensattel (1372m) and from this highest pass in the area, we were going up to Stuhleck (1782m), the highest road in the area, but that part is only gravel.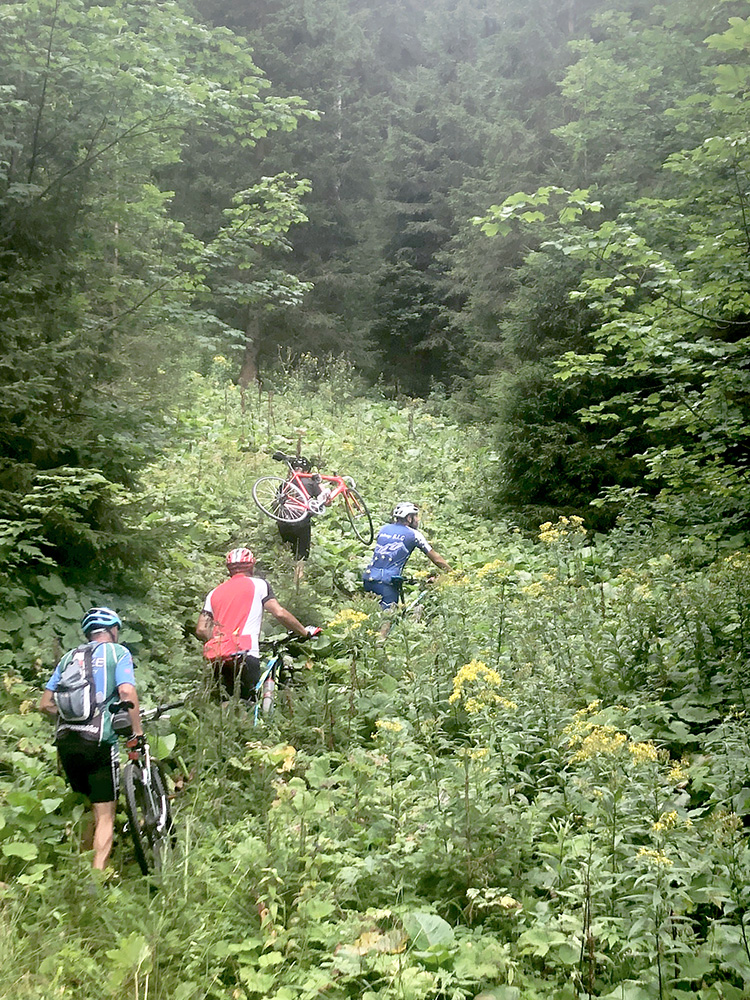 As you can see here in the photos (borrowed from my friends, as I only had one photo myself from this section), we took a strange way up there. I met Daniel early on the climb coming down and thought he had turned around because of a problem getting up to the pass (later I learned he had parked his car above to go down and go up again after us). I was going up before the main group and after a turn where the real climbing started, the road was barred to traffic because of road work. I tried to get up anyway, but was told by machinist that I could not get up even if he would let me pass by (for some reason). I asked If I could not walk around, but he said a bridge was not usable and there was no way walking around there, so I gave up and went down and thought Daniel had the same discussion already.
As I came down to the curve in the valley where the road was blocked I noticed a small forestry road going straight up the valley, but sort of continued down a little anyway and could not quite make up my mind. My plan was contrary to the others to cross Pfaffensattel and get up some other passes before meeting them in the evening again, so I really wanted to go up there and this pass was one of the main reason for me to go to Austria this time as it was the highest pass I had not done before in Eastern Austria. The main group arrived soon and I discussed the situation with them and noticed we could try the valley forest road. They were undecided, but eventually followed me along as I then and there decided to get up to the pass somehow.
I could cycle up the steep gravel road to a curve higher up, but then noticed this road ending and following it further would not be helpful in getting to the pass. Enrico and others cam behind me and checked Google maps etc and thought it was best to follow the forest road, but I checked OSM maps (which was much better here and often are in places like this) and managed to convince them to follow me up through the shrubs and then the steep forest. Enrico later doubted my path choice and had to convince the others we were soon up, but I knew it was a bit still to get up, but was fairly confident in the way I took (amended it slightly to make it shorter later, but in the other direction than the others thought). In photo here they had the last discussion if they should really trust me or not, but eventually they got going. Paret of the reason they did not like my way was likely because it was very steep, like 30% all the time and it was tough and I was impressed they all got up fine in the end.
Soon before we reached the road and at least Christiaan believed in me now and was quick there behind me and commenting jokingly on that he now understood why I wanted to take the road bike (lighter to carry).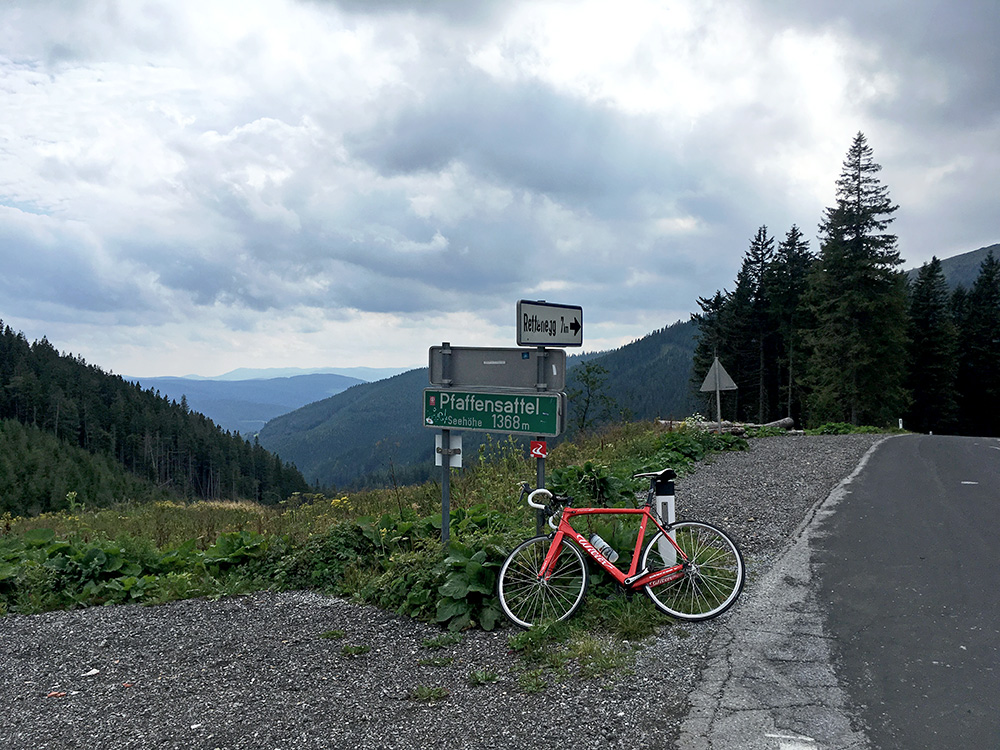 A few more switchbacks and we were up at the pass itself. I doubted for a while if I really wanted more hardships now with the gravel road to Stuhleck as I thought maybe I had done enough already of bad roads for the day. But now I could go with the others together up and as I brought them this far it felt good to accompany them up to the top so we all did this together too, except for Daniel that never figured out the way we took, nor did he get by the workers either (as I expected).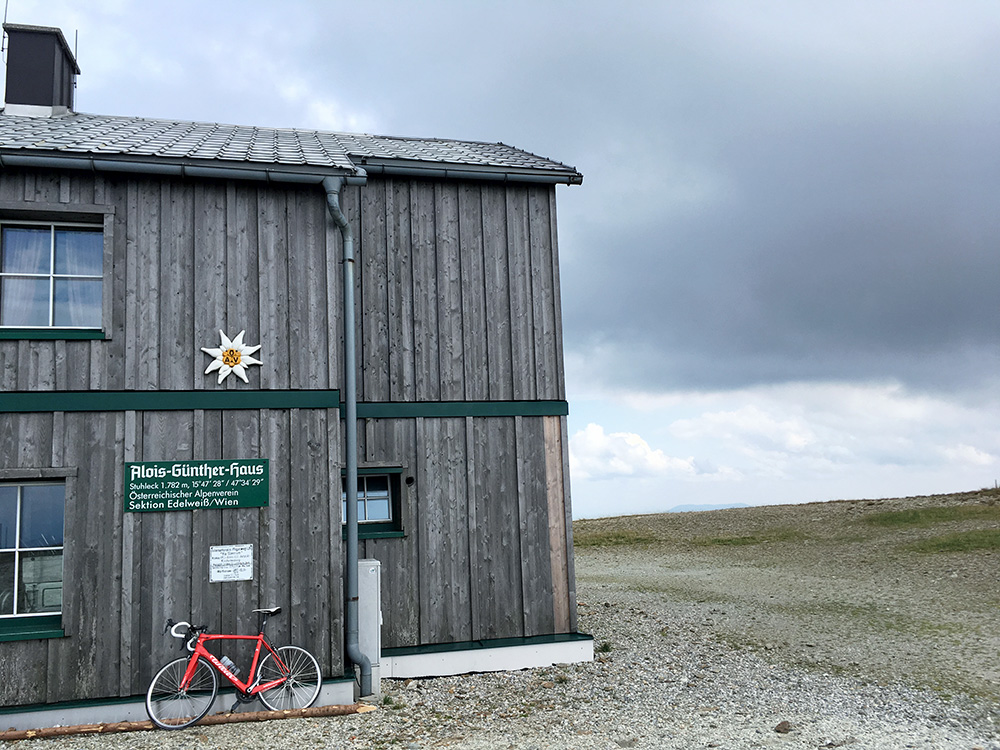 I walked in one place maybe 50m, but could otherwise ride all the way up and rode the bike all the way down later. The road was a bit better once out of the woods and then I could overtake the last guys and get up first to Stuhleck. Here at the destination.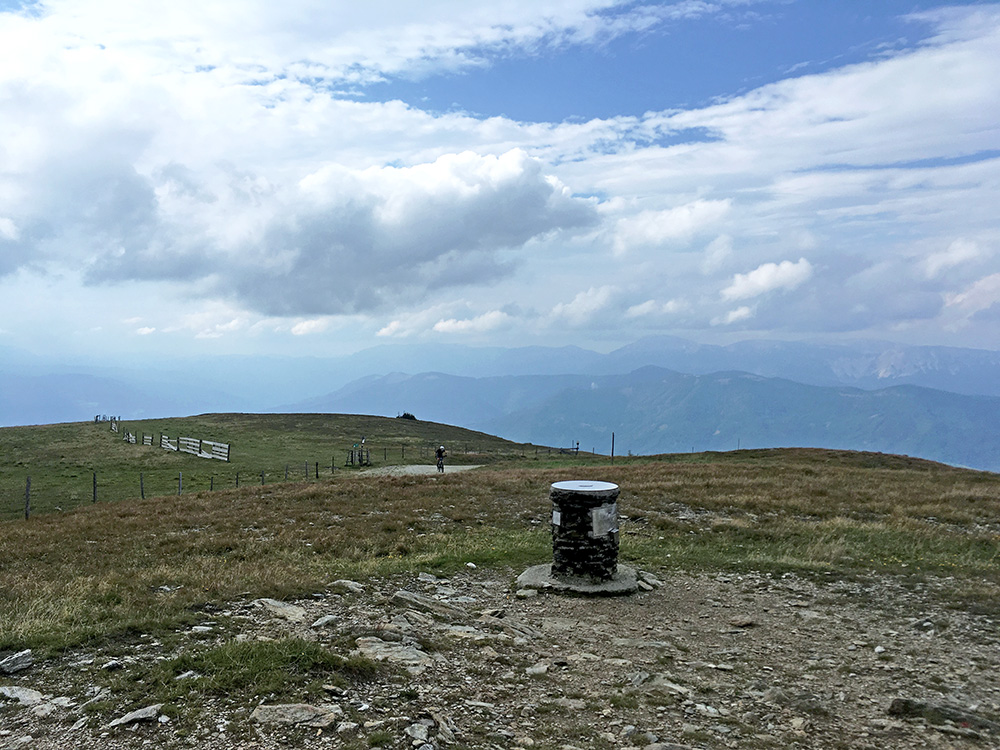 I walked up to the cross marking the mountain height and waited for the others. Think this is Serge coming up and guess he was second again.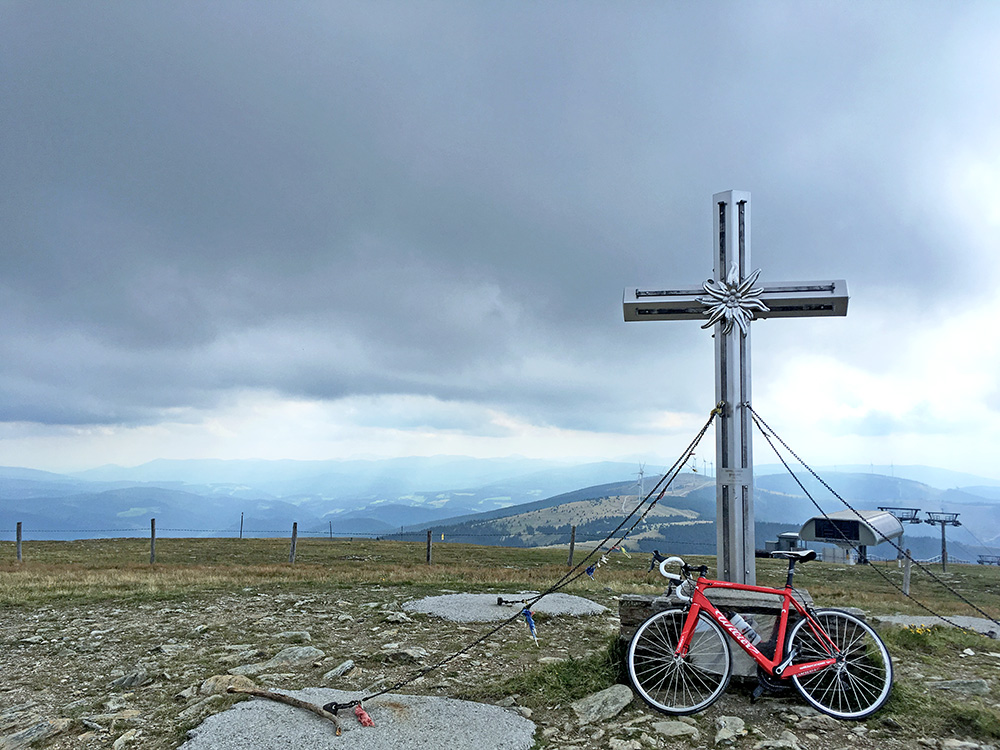 Looking westward here.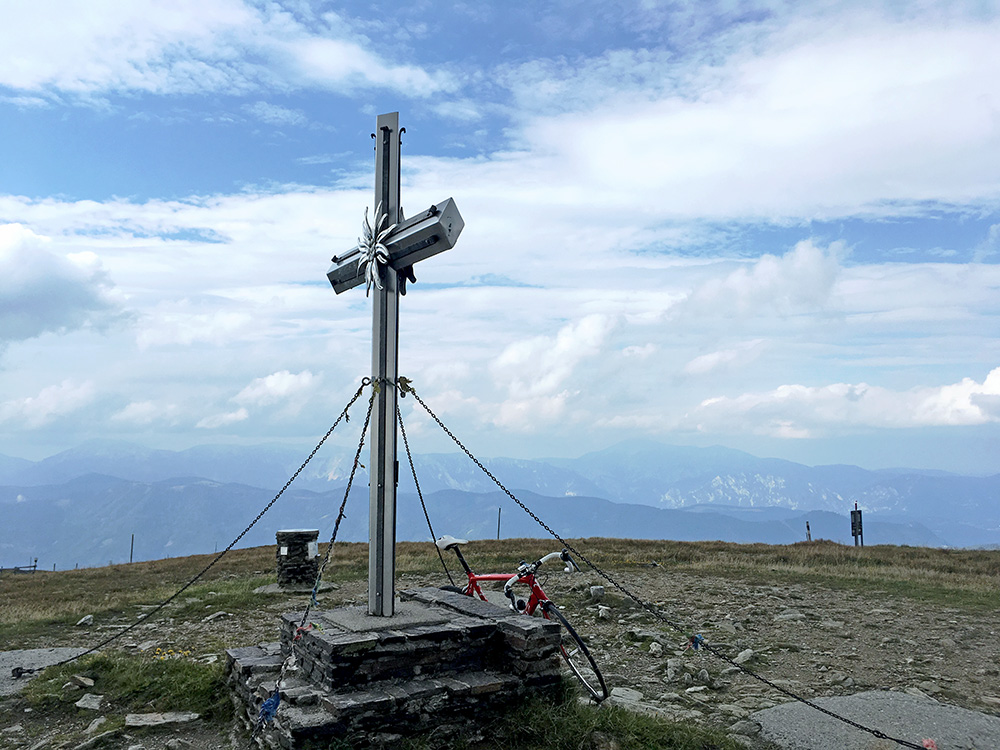 This should be the views up north (maybe the best views).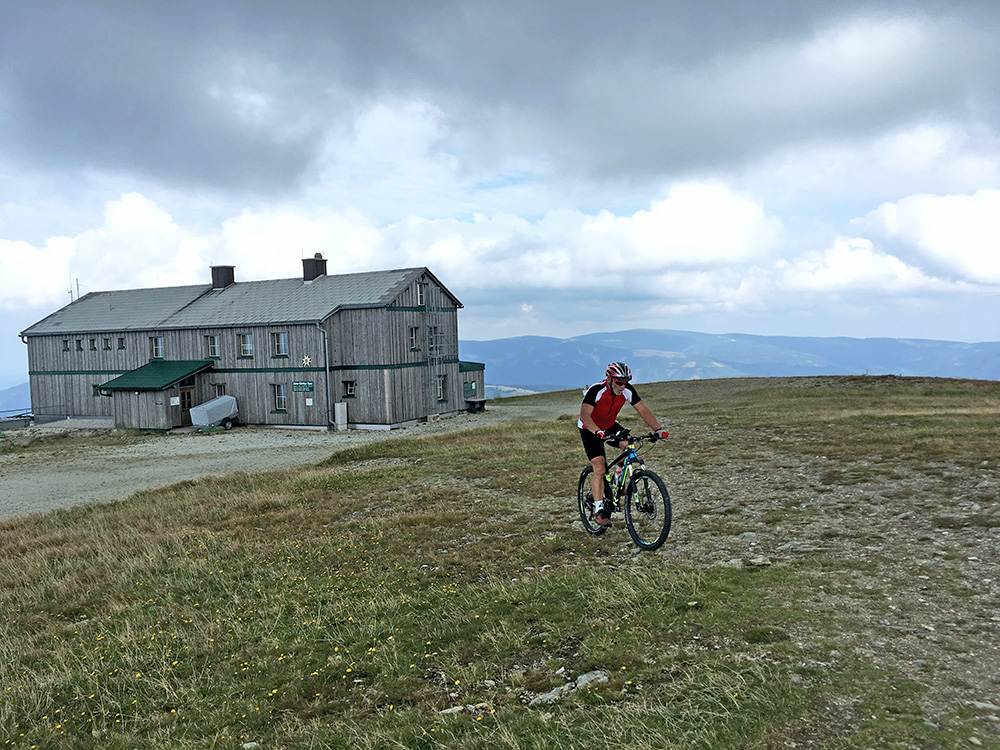 Here comes Christiaan cycling all the way up!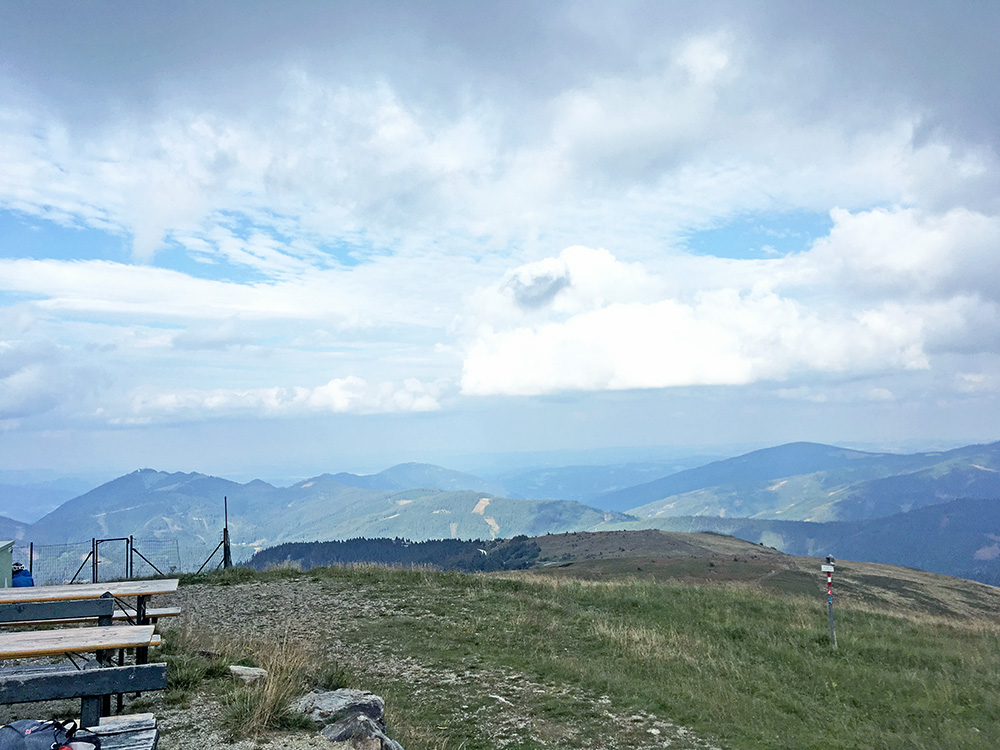 Here is the view back from the other side of the restaurant. We walked in there and had something to drink and talked a little with the owner and wondered if they worked long in the day on the road – I hope so, he said (as he missed many customers now apparently and we saw nearly no one else up here). Luckily it turned out the workers had stopped working when the others came back down and could pass by the working area without much problem, while I took the nice and lonely (esp. now) road down south.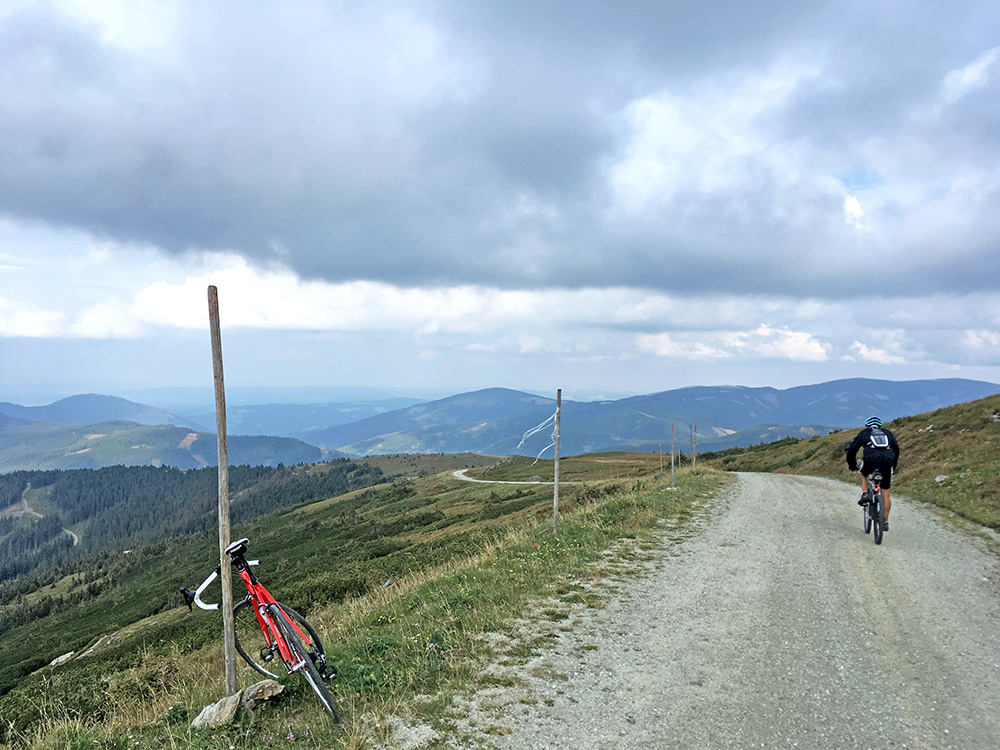 On the descent I stopped for some photos and let the others go ahead as they would do anyway. Here is the last, György, going back down to Steinhaus. Here the gravel was at its best.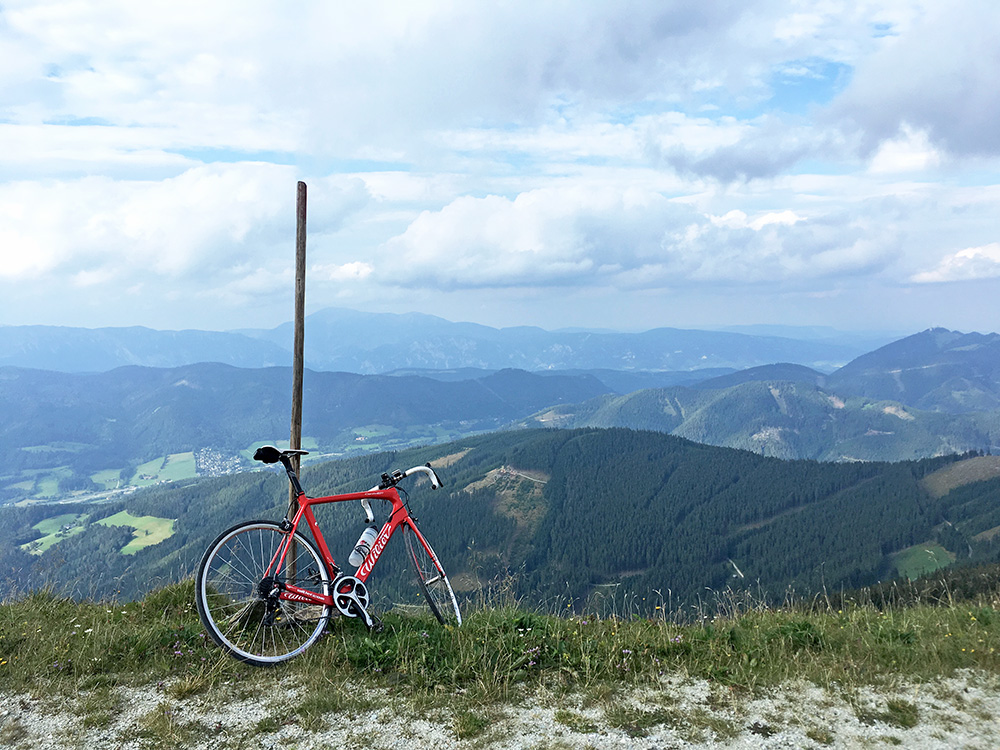 One more photo up north.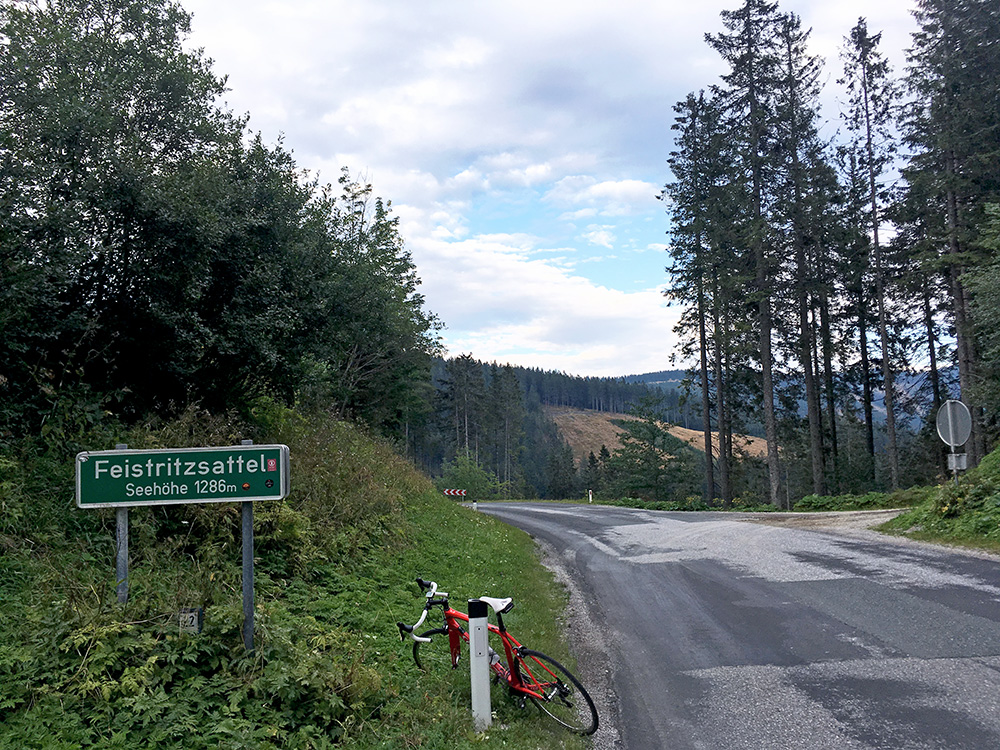 One pass which is also fairly high that I wanted to have visited also, was Feistritzsattel (1287m), which was easy to reach from below Pfaffensattel. The downhill from Pfaffensattel was nice, but the road to Feistritzsattel was a bit boring (maybe better on the east side I never got to see).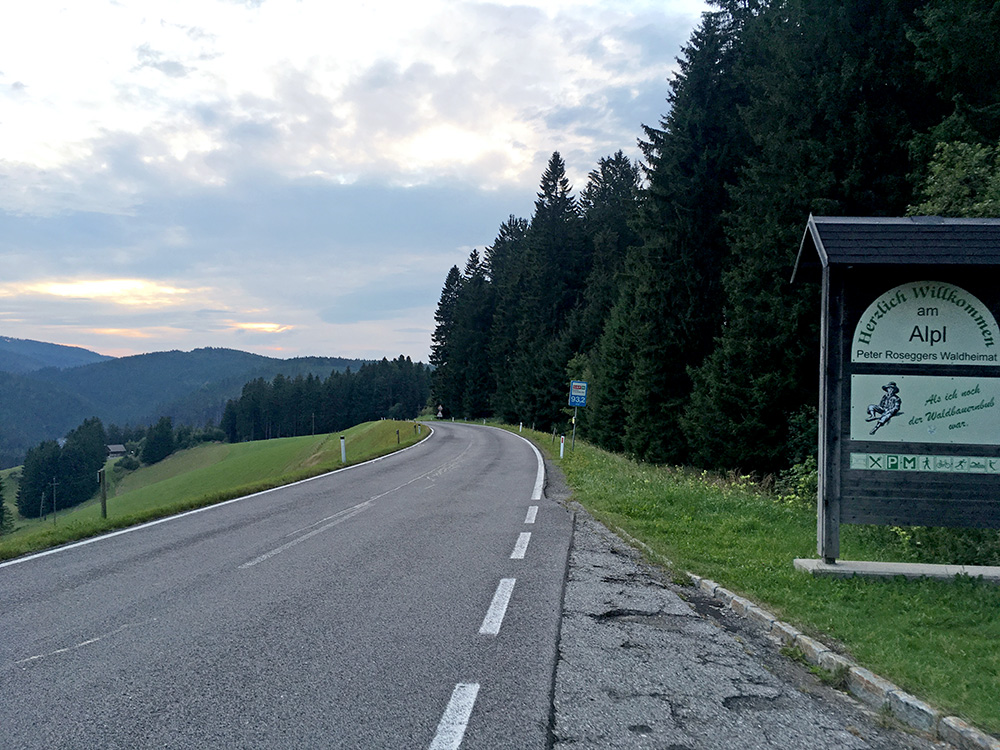 Now it was just about getting to the destination for the day. Back down to Rettenegg (845m) (the turn-off for Pfaffensattel) and now on the nice road down to Ratten (716m). I think I just continued then as it was getting late. So took the nice road over Alpler Schanz (1095m), which had one steep ramp, but was otherwise nice and easy from this side. Here at the high point, which is unclear as the road goes down and up a bit again along here (there is at least one pass along the road though).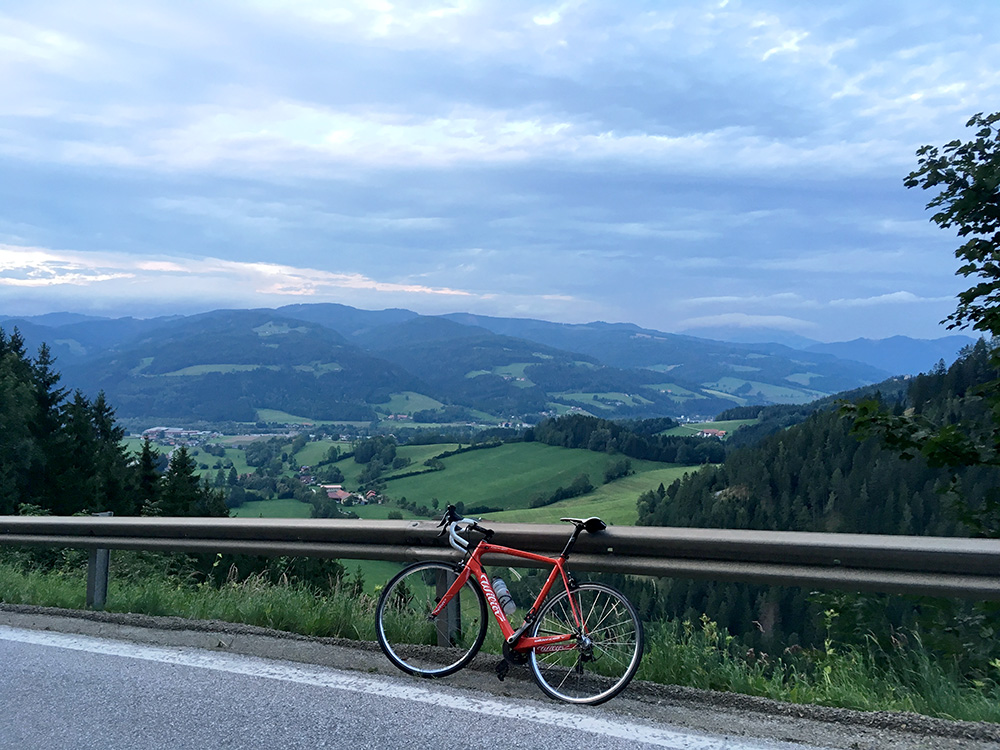 A final photo on the fast downhill to Mürztal and the evening was arriving. I got down quickly to Langenwang and after some confusion there found the others around 20:00 and had a quick shower and off we were to eat at the most nearby place, which was good (the hotel was more like a simple hostel though (had to sleep in an upper bed), but we managed fine). A good ending to a long and challenging day.