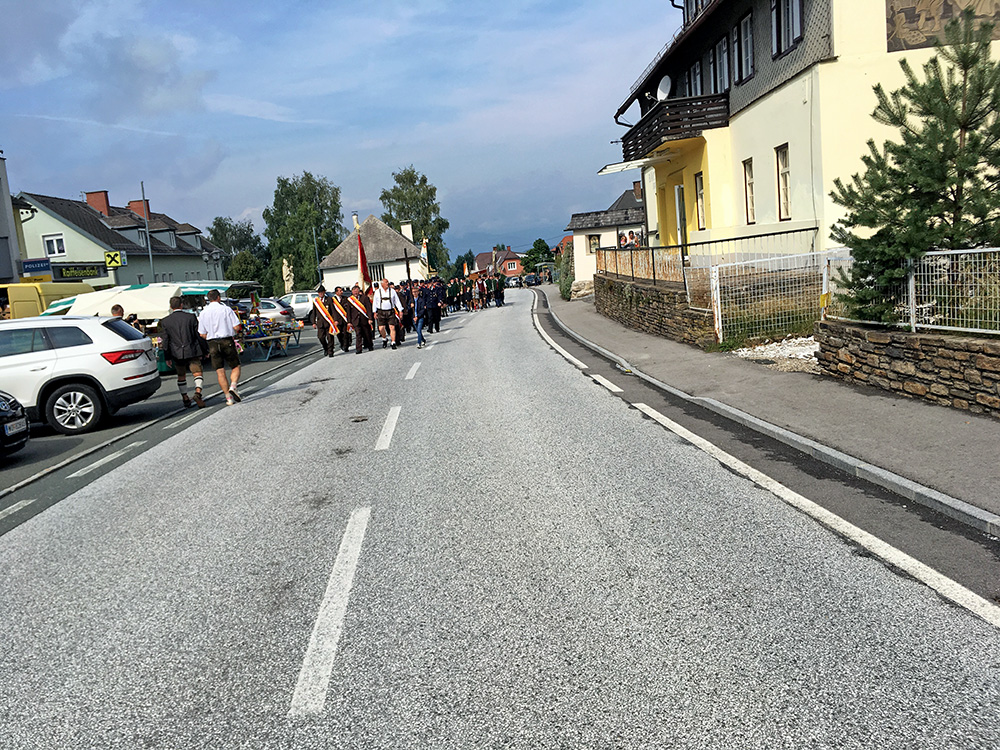 So, finally we arrive at the end of my Alps cycling in 2019. We started together in the morning after breakfast. I got my flat fixed and the weather was good again now (the forecast suggested some rain, but we had none). I also did not need to bring as much with me today again as I would join the others later in the day again at the Graz hauptbahnhof, but it turned out I got to see them earlier. They were going up to Weinebene (1666m), but I did that nice pass another time from the east side (however it is steeper on this west side). Instead I was going up a parallel road higher up north to Packsattel (1169m) and Hebalm (1414m).
The climb up for me was nice and not so steep. The first part of the climb ends up at Preitenegg where they had march through the village and I took a quick photo while passing by.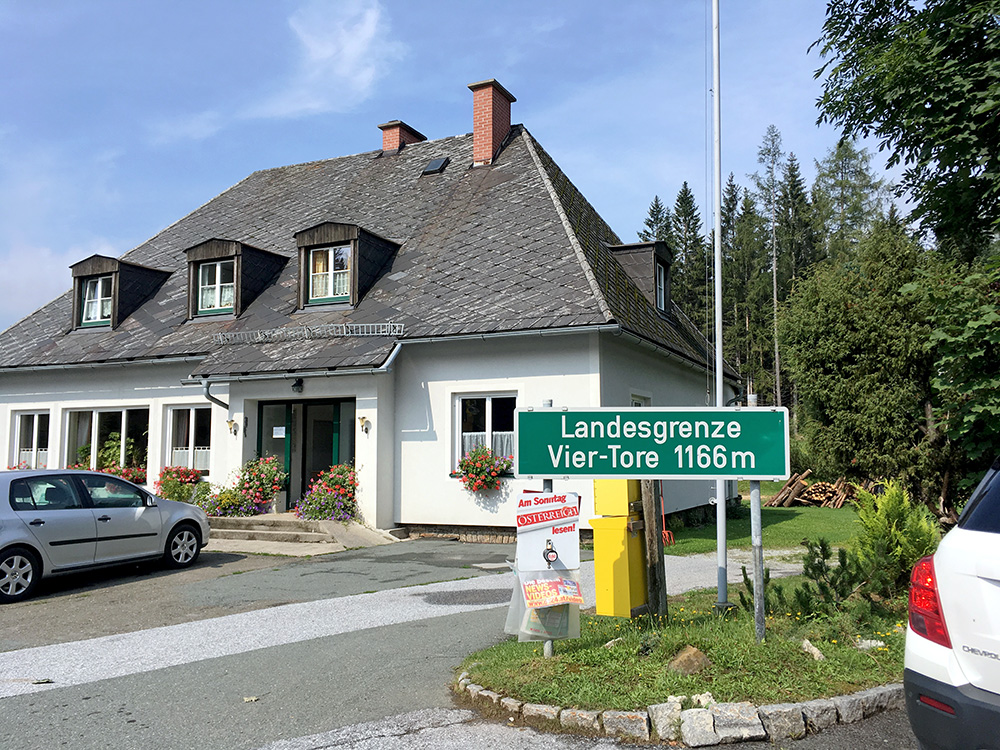 Then it went down and up again to the crossroad for Packsattel and Hebalm. I was going over Hebalm as it was the highest road, but as I was so close I wanted to have been also to the well-known Packsattel/Vier Töre (1169m) (I think the road went a bit higher in between there) and I had to take the same way back (ca. 2-3 km each way). People were picking mushrooms and maybe berries up here (apparently the Autumn was coming here now too).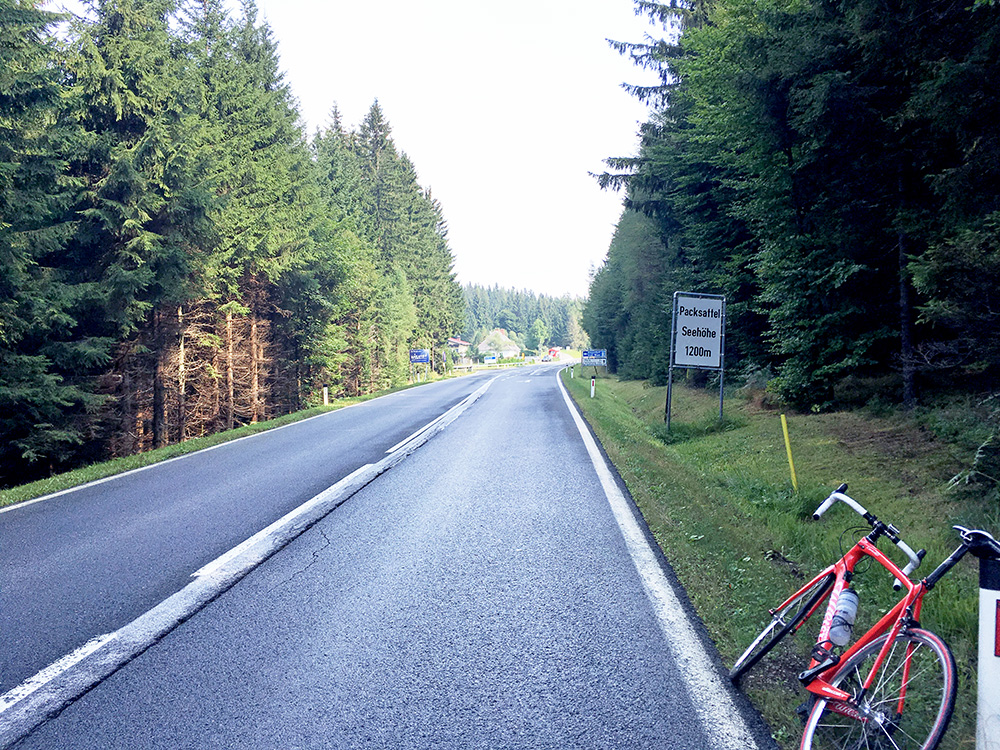 The pass sign coming from Hebalm.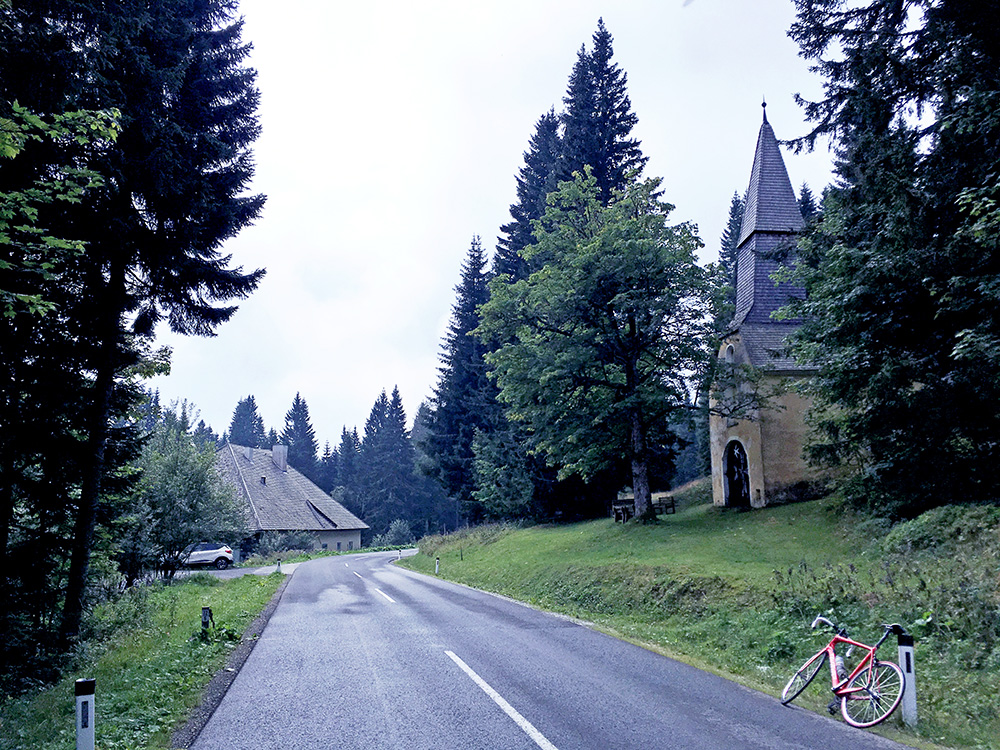 The Hebalm road is much nicer though and had a few steep places near the top. Here I am at the highest point at Hebalm Passhöhe (1414m) – the Malteserkapelle. I have found no reference for a pass up here despite that there are at least two passes one comes to here (one before at 1296m and one just ahead at 1408m). In any case this is an obvious pass road and a fairly high one too for the area.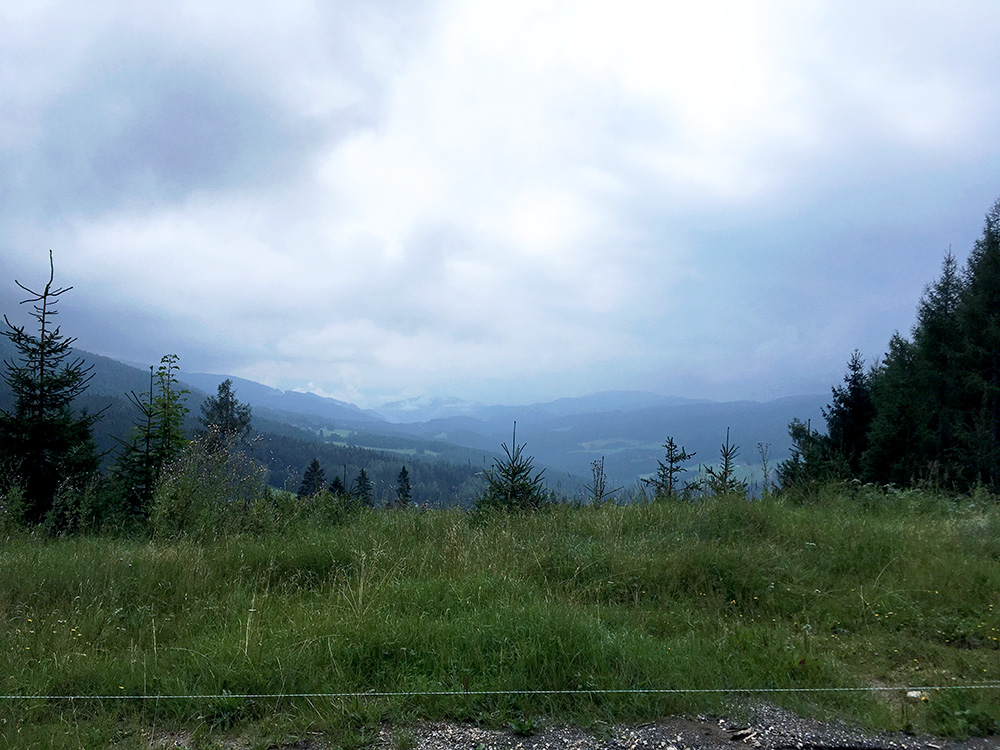 Mission accomplished for me then as this was the last one I really wanted to see on this trip and I was happy I could do all that I had hoped to do. Then a nice rolling down the mountain (here looking down the south side). I had to stop once to look on the map, but then it was fairly obvious. Eventually I came to a small road where I was going to take a short-cut in the direction of Graz. Here I decided to contact the others and it turned out they were just arriving at the other end of the short road here.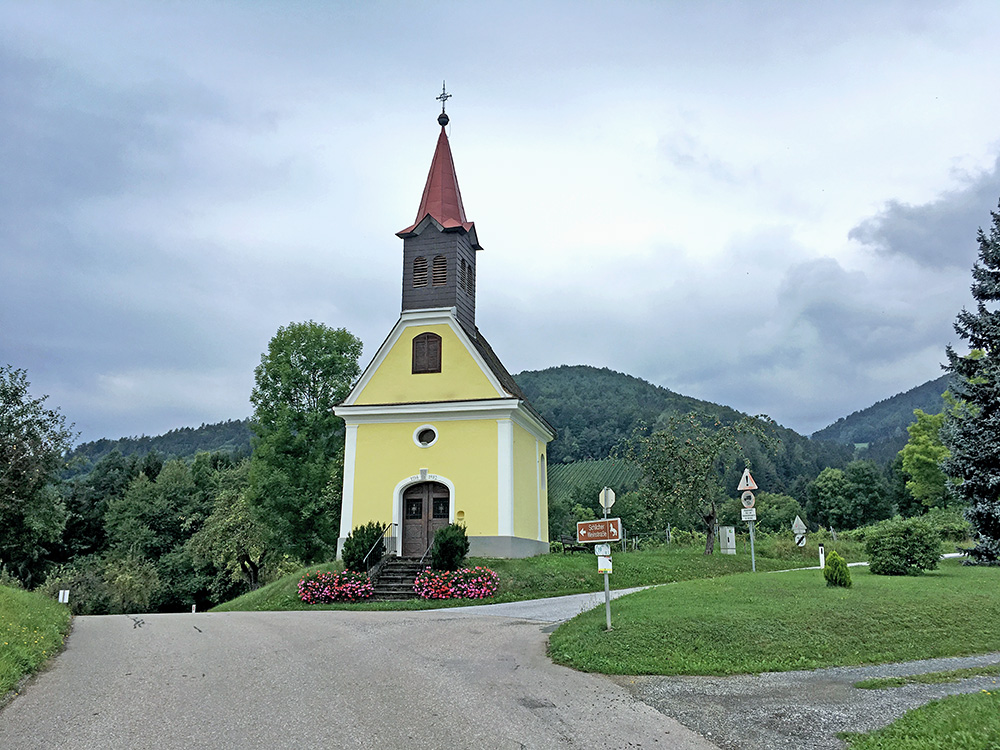 I stopped for this photo at Bergegg on the nice little pass-like road to Bad Gams, where I met the others just metres away from where I came out on the main road and they had stopped to drink and eat some from the proviant in the car. Last eating and drinking stop on the tour, so it was nice to catch up with them here.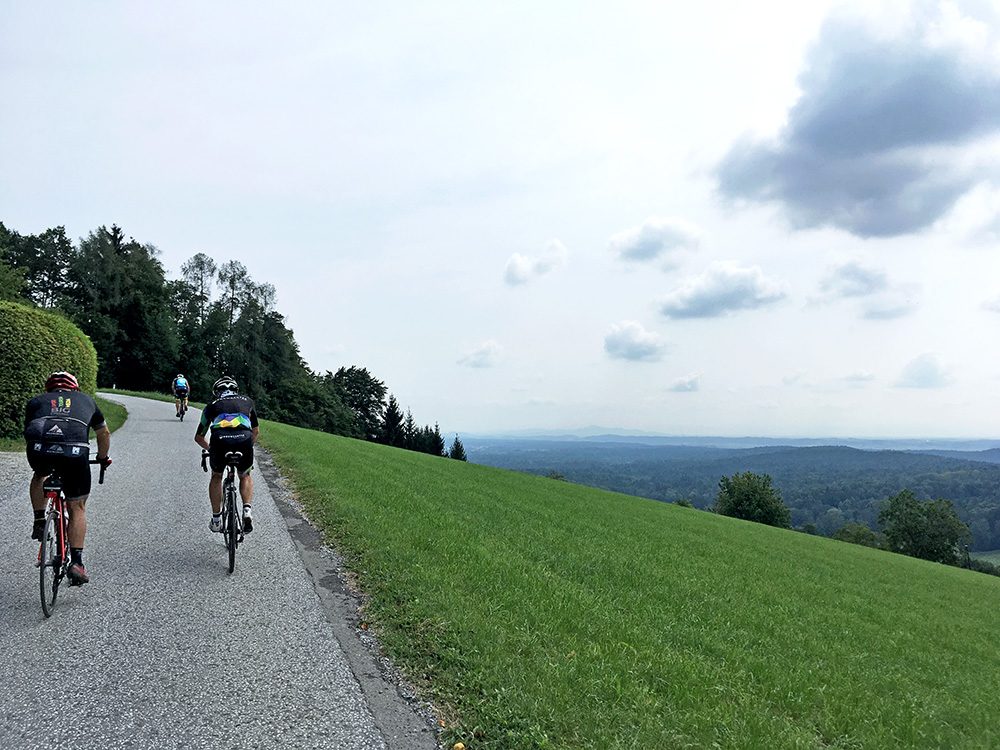 They kept a fair speed up and down the roads. I let them go ahead a little at some places (at hills I got ahead) as long as I could see them (so I did not need to check my maps). Then I caught up with them as we closed in on Graz. I heard they Enrico (now also a Club des Cent Cols member, collecting passes) had talked them into going up a small pass (Greifgrube (506m)) outside Graz and we all went up there. The photo here is on the return from the pass point (which was not highest). Fair views down south form the other side of the mountain ridge to the west of Graz.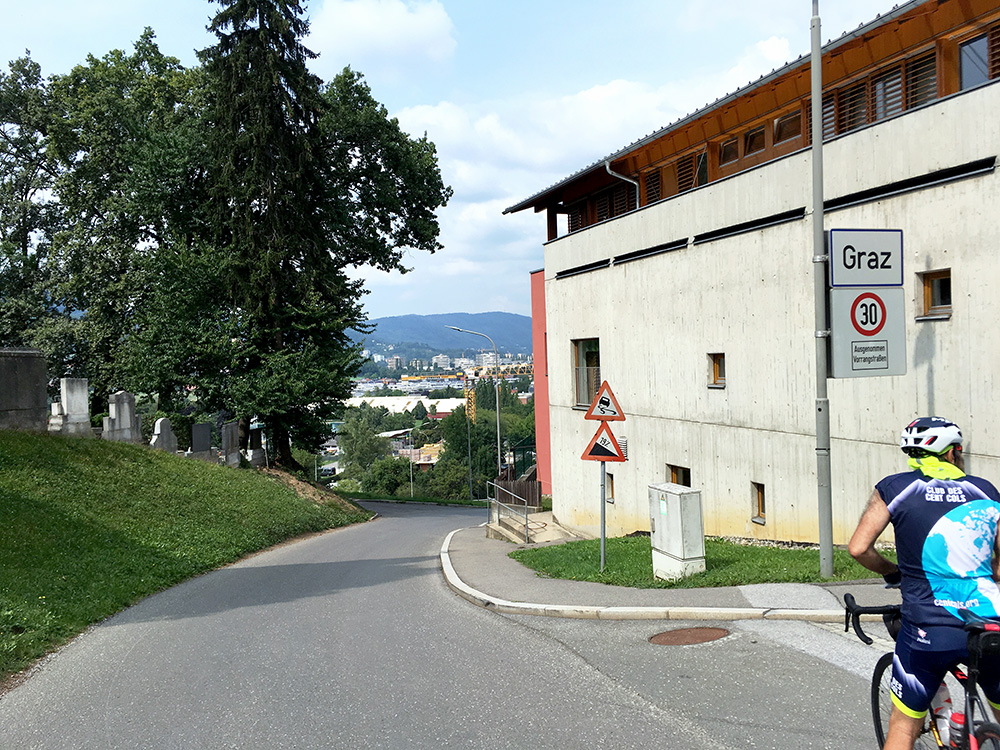 Here is a steep road down the other side, with the west side of Graz visible behind, but we took a smaller and at least as steep road up here from the right. We then continued in a steady speed into Graz, but at some point the others got behind and after a while they were not visible and it turned out they did not also want to see a last pass with Enrico (in the photo here), but I kept him company as there were still time before the train would leave from Graz Hbf.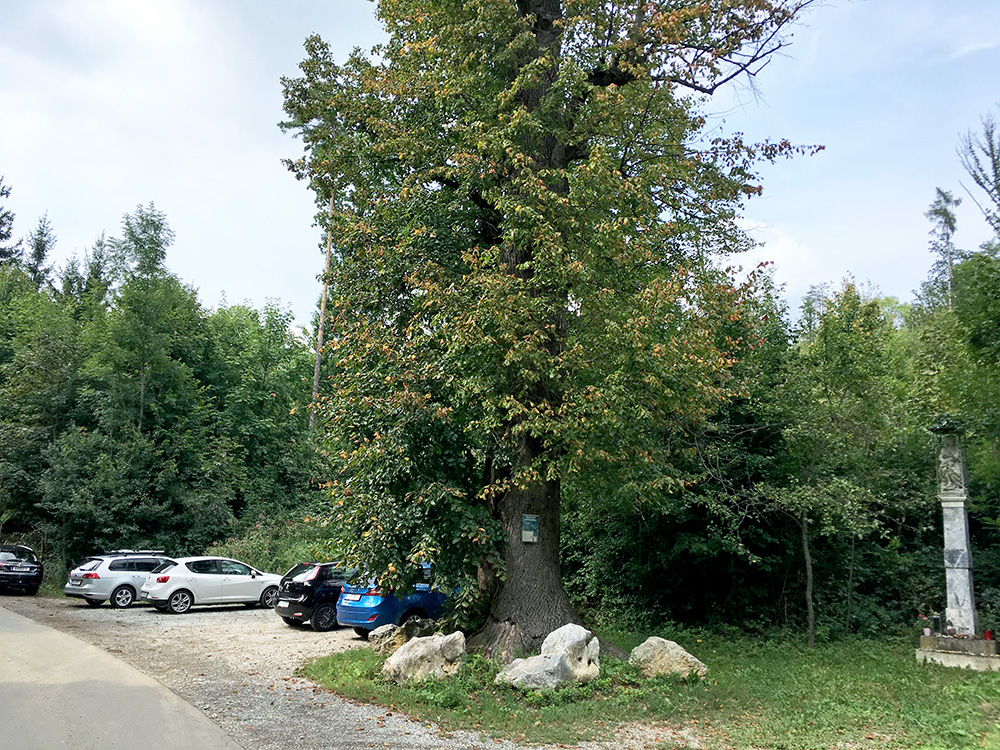 This little pass that we first missed the turn-off for (from an arguably bigger pass road) we eventually found and it was much more of a pass climb than the previous road. It was steep and nice and had a clearly defined pass with a proper name – Gaisbergsattel (527m). There was a restaurant along the very narrow road on the way up that offered good views over Graz, but it was awkward to stop for a photo on the way down, so this photo from the less interesting top was the last photo I took this Summer.
We all met up again outside the Graz Hbf and Christiaan had gotten tickets for us all, while Hans took the car with all our packaging back to Wiener Neustadt, where some of us stayed for the night. We were eating again in the evening at the nearby restaurant. The travel home went all fine and the trip had been successful.