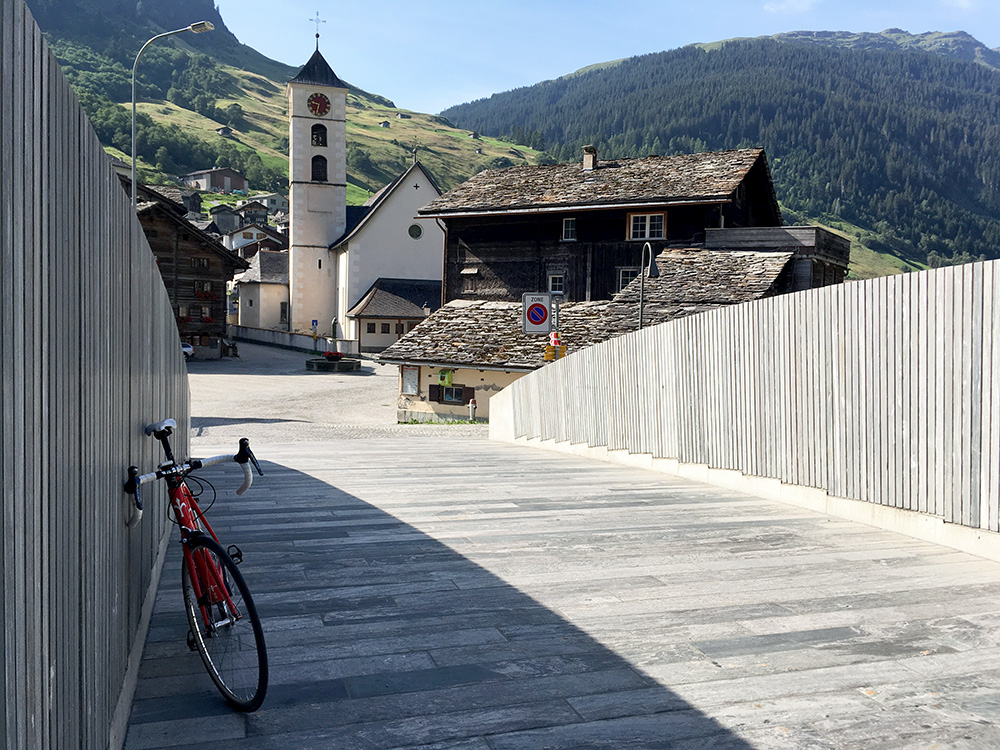 Today it was getting even warmer, but it was a nice start down the Valser Tal in the morning. Once down in Ilanz/Glion (702m) I at once started up on the long road up the Surselva valley. However, I wanted to stop before the first climb and stopped in Danis (824m) by the grocery there and had a coca-cola and blueberry yoghurt. It was still not so hot and I felt fine. Listening to families there seemingly speaking Rumantsch (but it sounded also a bit like Italian and think it is a bit close, so likely Rumantsch, but maybe some speak Italian there too and I am not sure I could tell).
Photo from leaving Vals and the church across the square from my hotel (out of sight).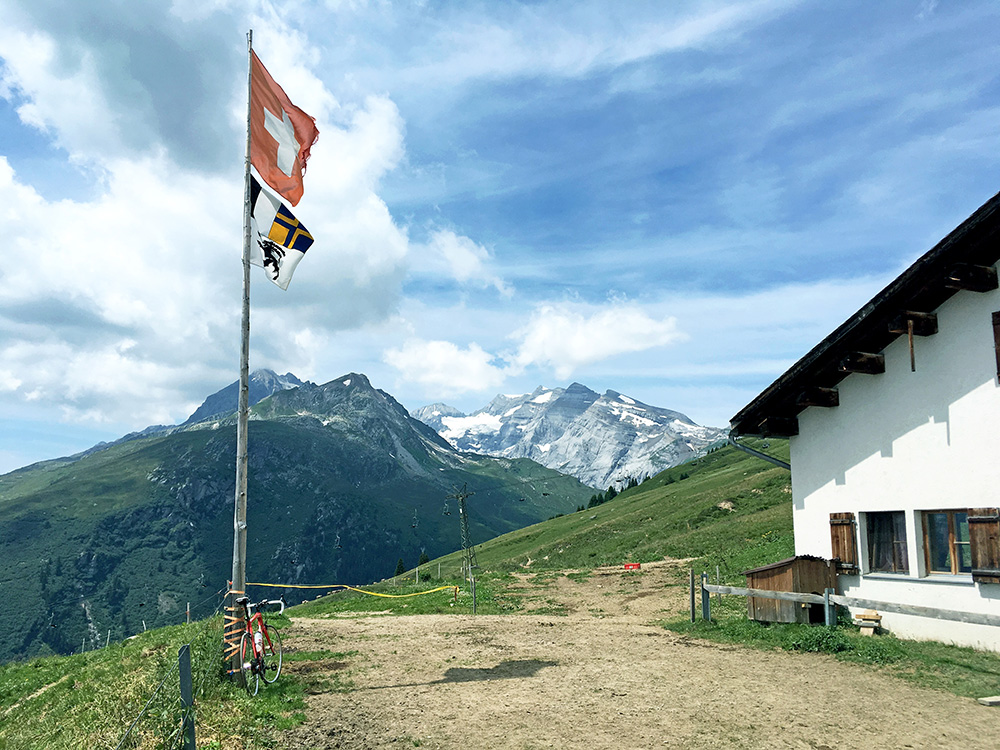 I continued, but now it got more exposed to the sun and it was suddenly very hot and also steep up to Brigels/Breil. There was some road work in Dardin (and on several other places too), but I got by on the dusty road for the final section up to Brigels/Breil (1285m). The road goes slightly down here, but I was just too tired here to continue straight on. First I searched for water and then found a good café that took me some to see while fooling around there (on the main road just ahead where it goes down). I had to make another stop and took my time to prepare with coffee and toilet visit and also left my bag there as I had to come by here later anyway.
Now I was in a position to tackle the remainder of the climb to Alp Quader (1906m) despite the heat that I have to blame. I have long noticed this climb and thought it would be interesting. However, this was the biggest disappointment on my tour despite the nice view at the end here.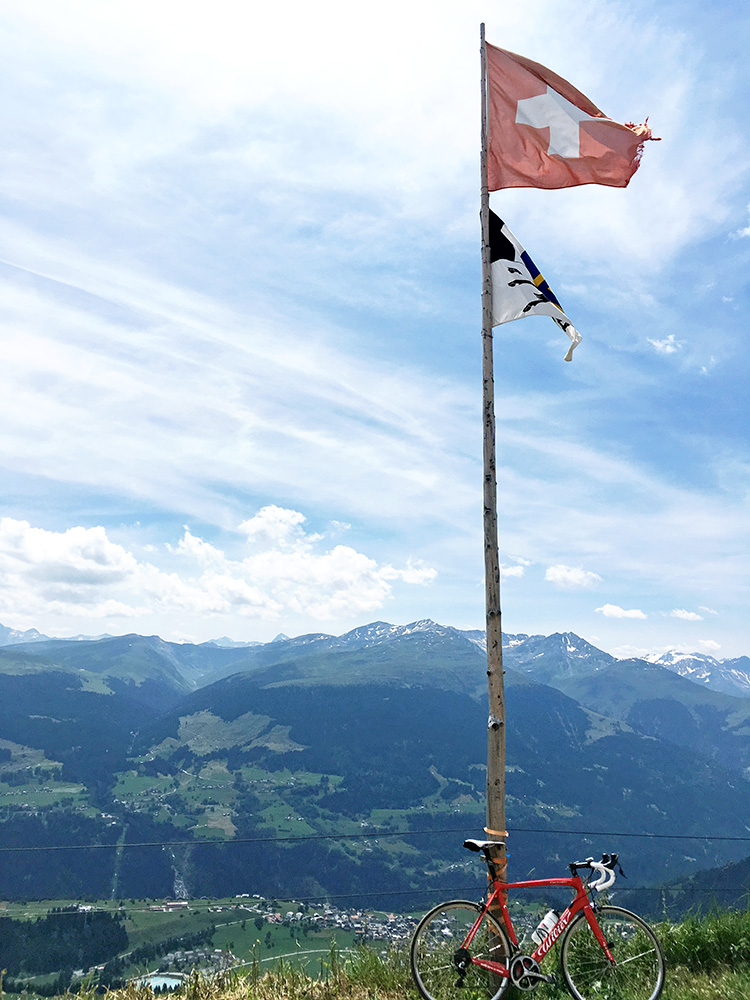 Great views at the top, but the road was being worked on and they were working on houses along the road so it was a virtual working area all the way up apart from the last long serpentine which was the only place with decent pavement.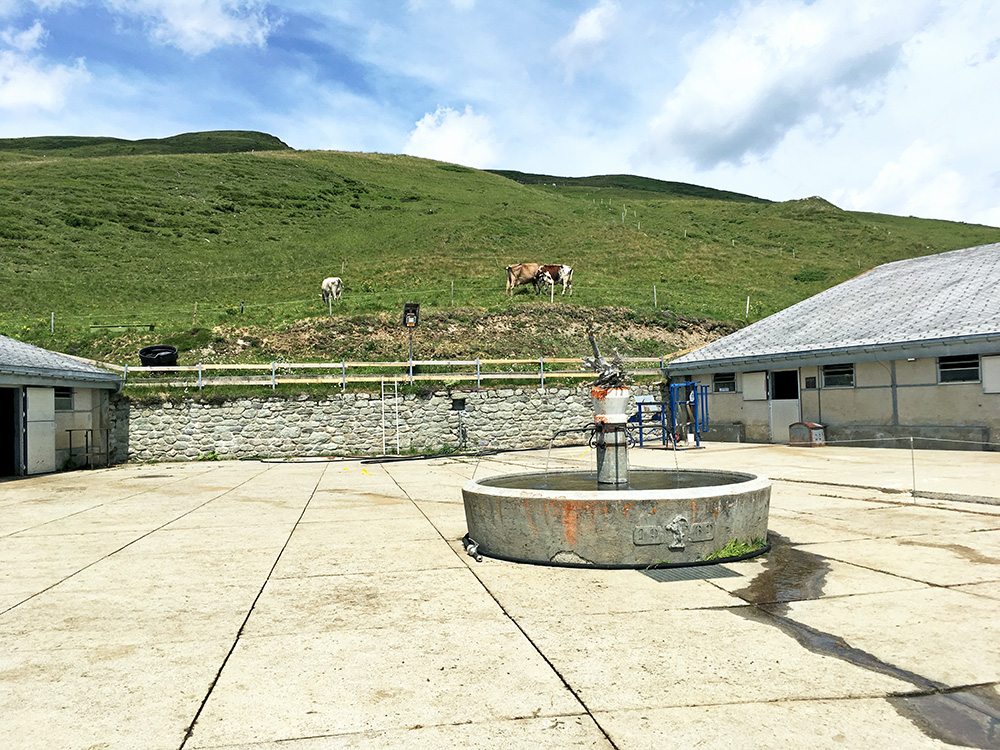 This is one of the highest paved mountain side roads in the Surselva. A fine and well-built farm here at Alp Quader.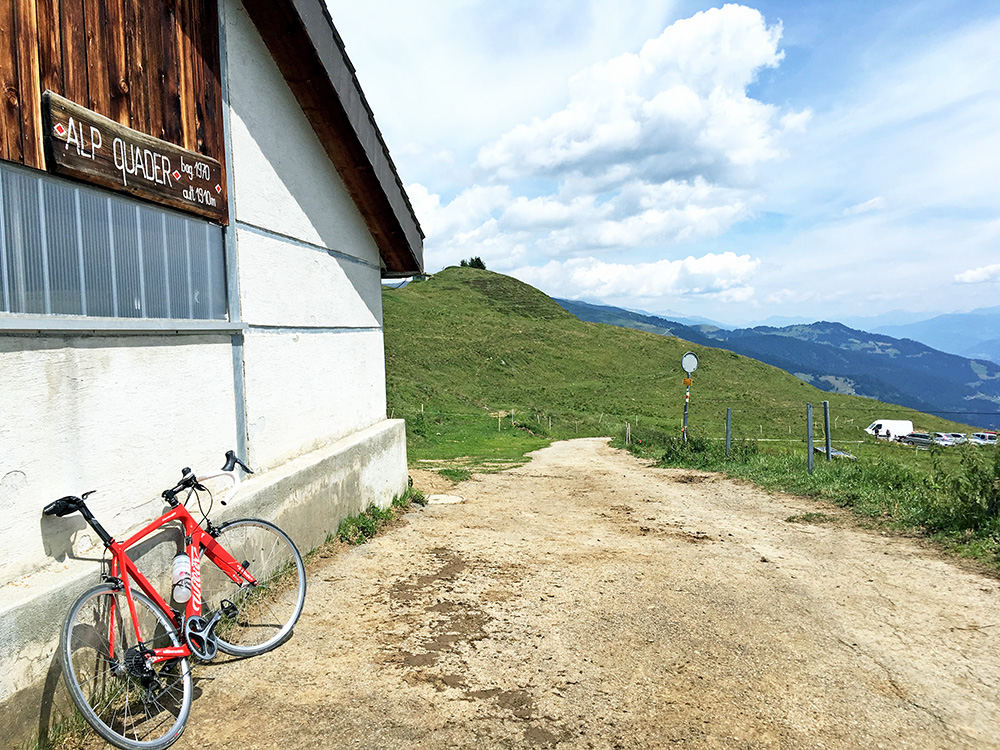 Here is the sign and the last stretch up here..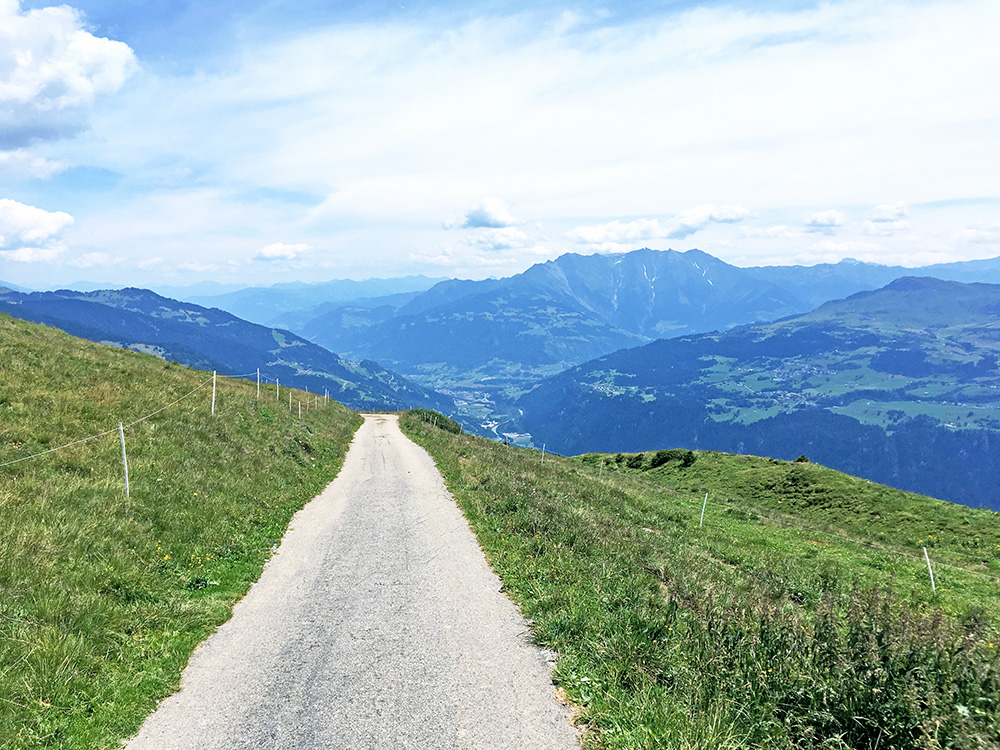 This is how I had hoped the whole road would look like. Quite nice here, but guess I also did not enjoy it so much as it was a bit too warm even up here (over 30 degrees in the shadows, but no shadows).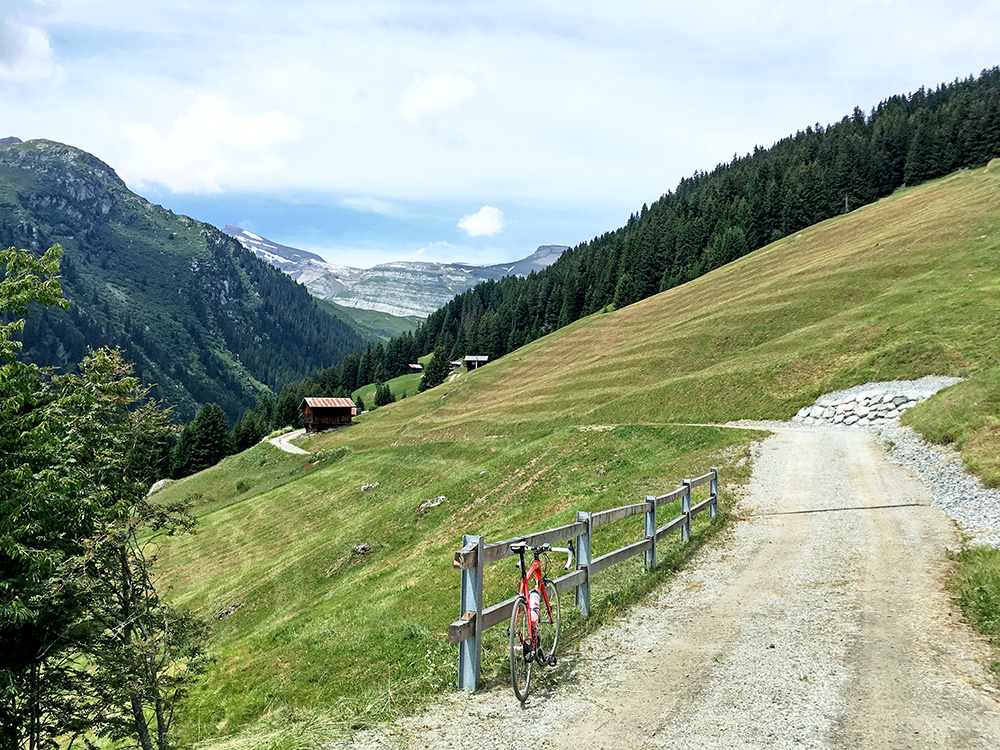 On the way down/up there was this interesting valley, but unfortunately there was only this gravel road there.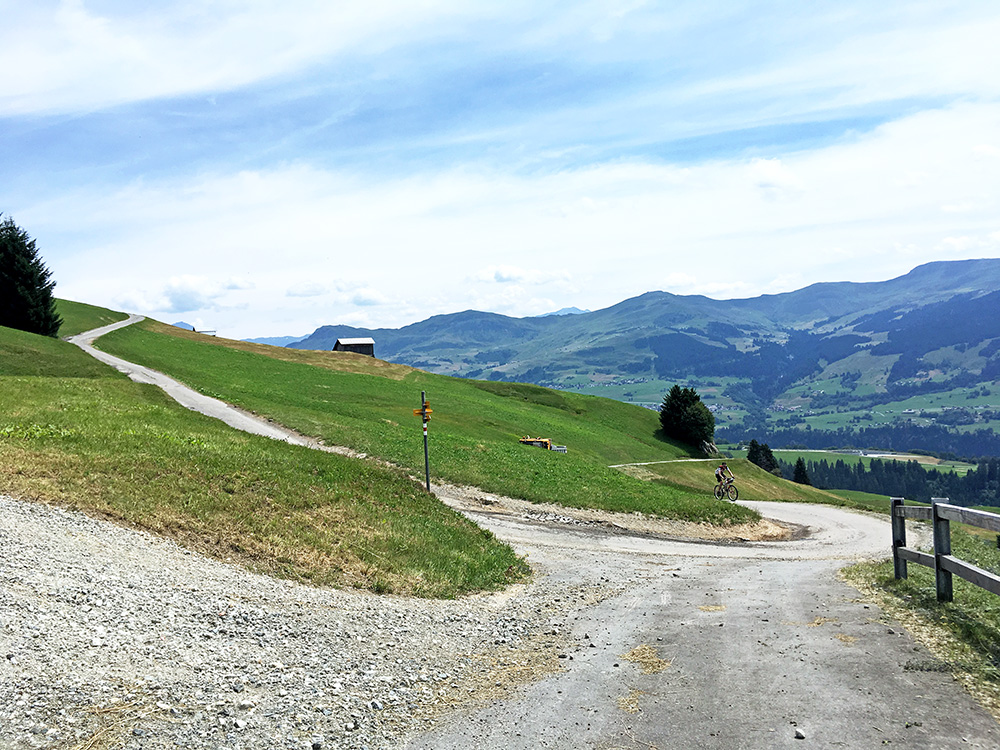 A mountain biker is coming up (popular area for mountain bikers I guess).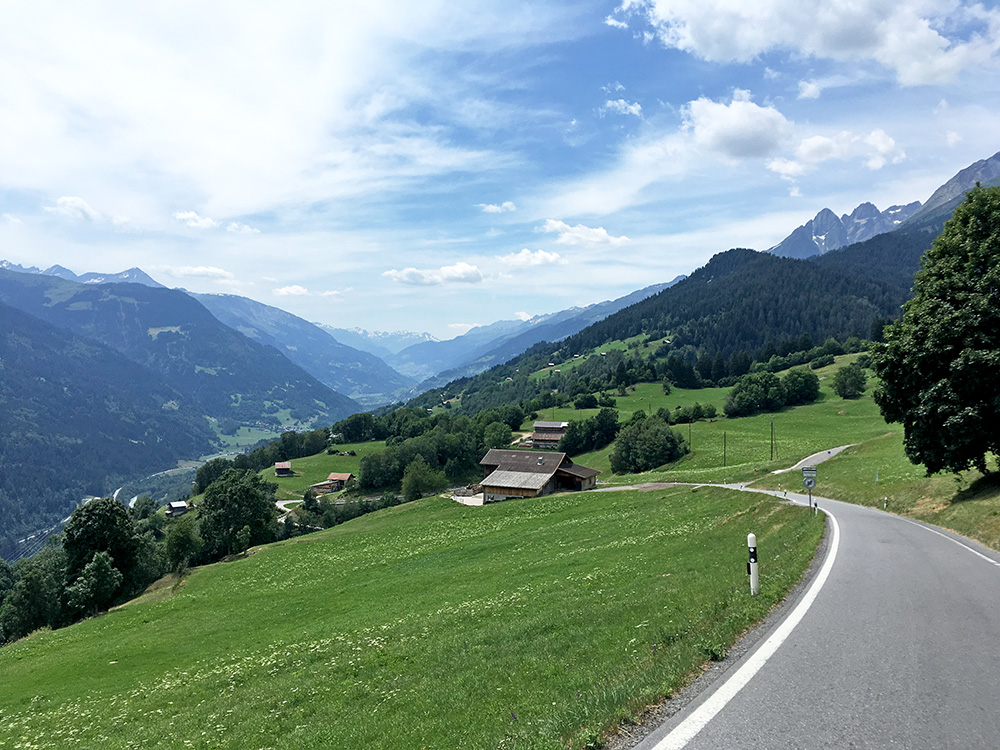 Here I am on the way down from Brigels/Breil and one has a nice view up the Surselva. I was sort of happy I was going up the valley rather than down though. But first I had to go down.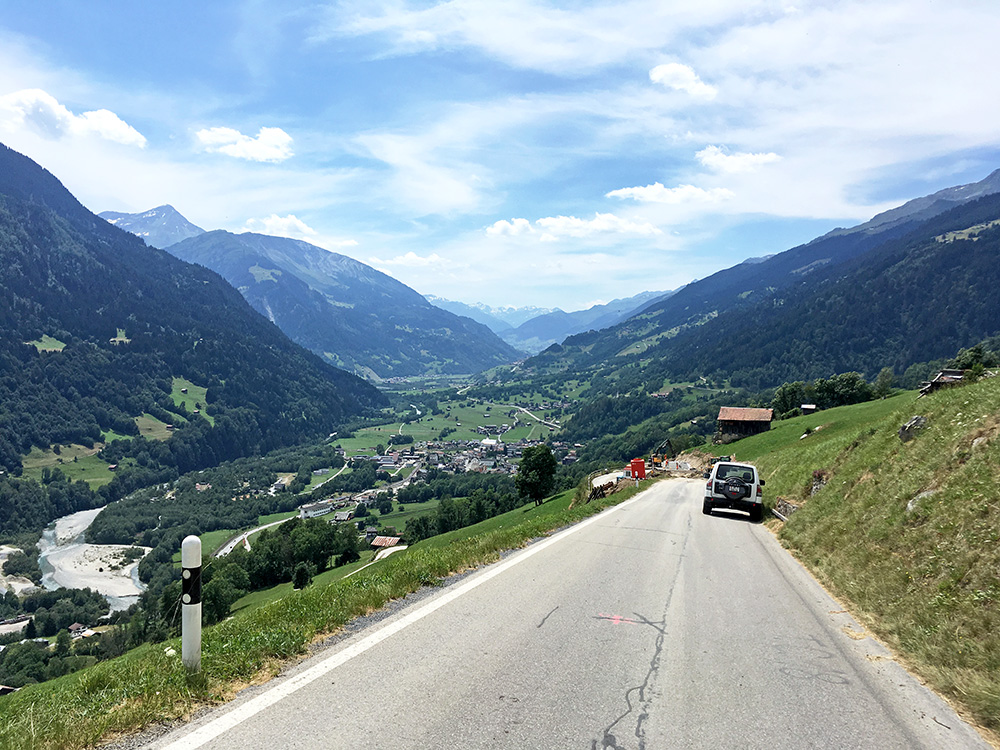 Just before the road work in Dardin there was a high road going to Schlans (well Dardin centre is actually on this road). I had planned taking this road just to avoid a little of the valley below (but it is only a short stretch) and partly because I had thought to climb up to Alp da Schlans/Prada Plauna (1831m), which is a less known high road here, but I was going too slow and and needed to move on, so I decided to skip that climb and also because I did not start it from down the valley. Still the road over to Schlans was nice, but has a curiosity of a gravel stretch of maybe 75m which was not very good either for some mysterious reason (maybe to keep road cyclists away).
Down from Schlans then one has a similar view up the Surselva as from Brigels/Breil. Also here it was road work, so did not avoid it after all. I was eventually down at Trun (855m) and continued up to Sumvitg (1043m) and stopped again at the grocery I have stopped at earlier here. I had an Apfel Schorle to drink which was very good. It was like 35-36°C in the sun.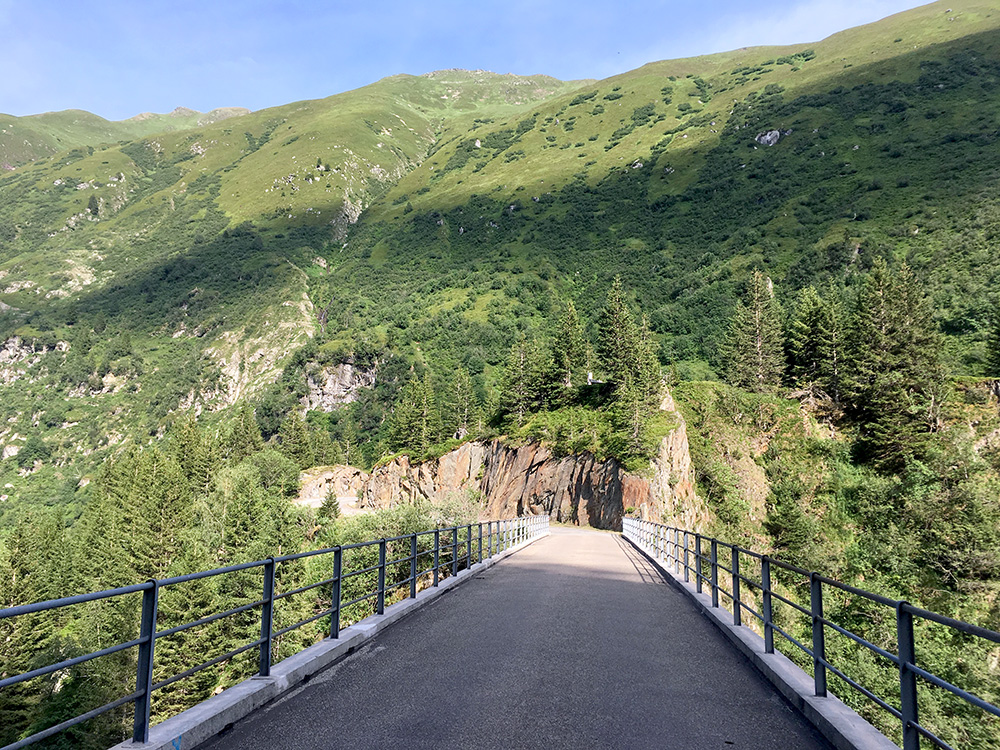 Was writing on Facebook about my ribs: "Stopped [in Sumvitg] and thought about writing that I only feel the broken rib(s) when going to bed, but then the ribs started to move/click a little as I went up to Sedrun. I tried to breath deeply to get the ribs in order, but occasionally they continued to click a little." On I went to Disentis/Mustér and further in the direction of the Oberalppass to Sedrun (1407m) where I searched around for a while trying to find a good place to stop at once again, but stopped at a restaurant by the road and had a radler, I think. Then I was ready for one shorter climb (well it was up from Trun to here).
It was time to climb up Lai da Nalps (1967m), which should be nice. After a descent to 1354m the climbing starts and it is a quite nice and shifting road. Here crossing the only bridge on the way up and after there are serpentines up to the top above the lake.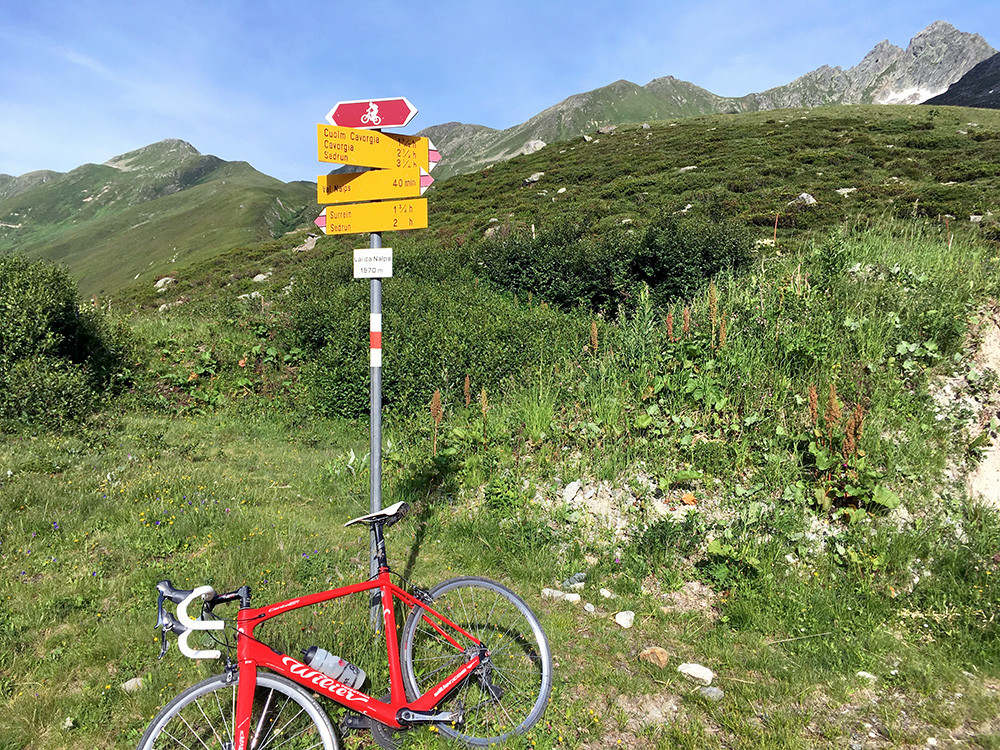 The bike, the sign and the mountains.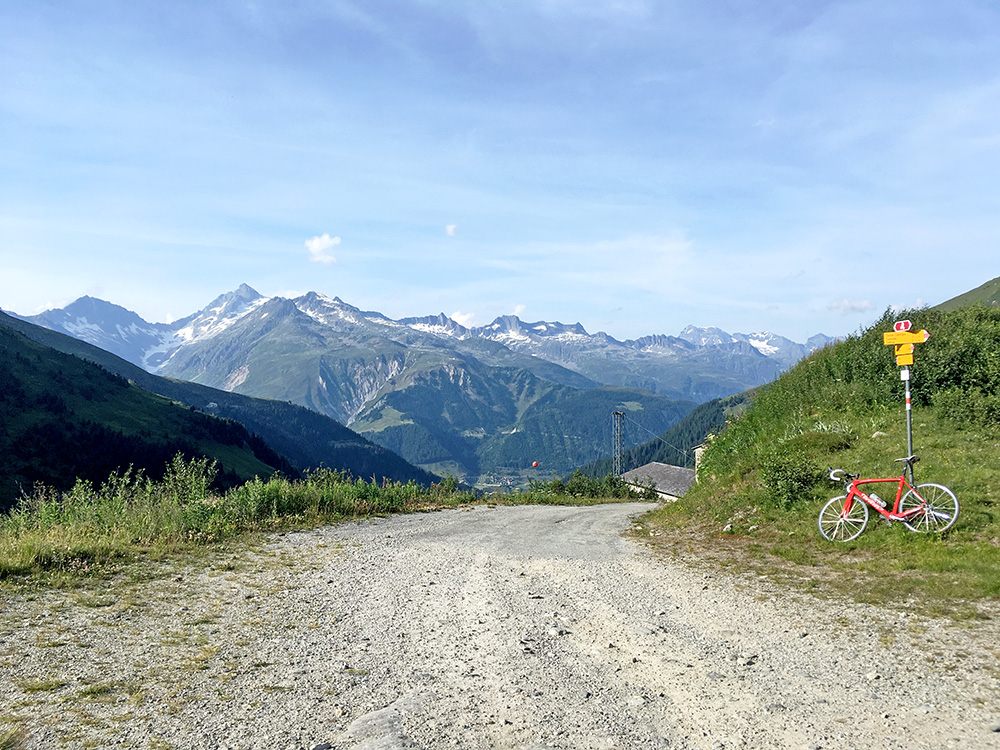 Looking back down over Sedrun and good views indeed!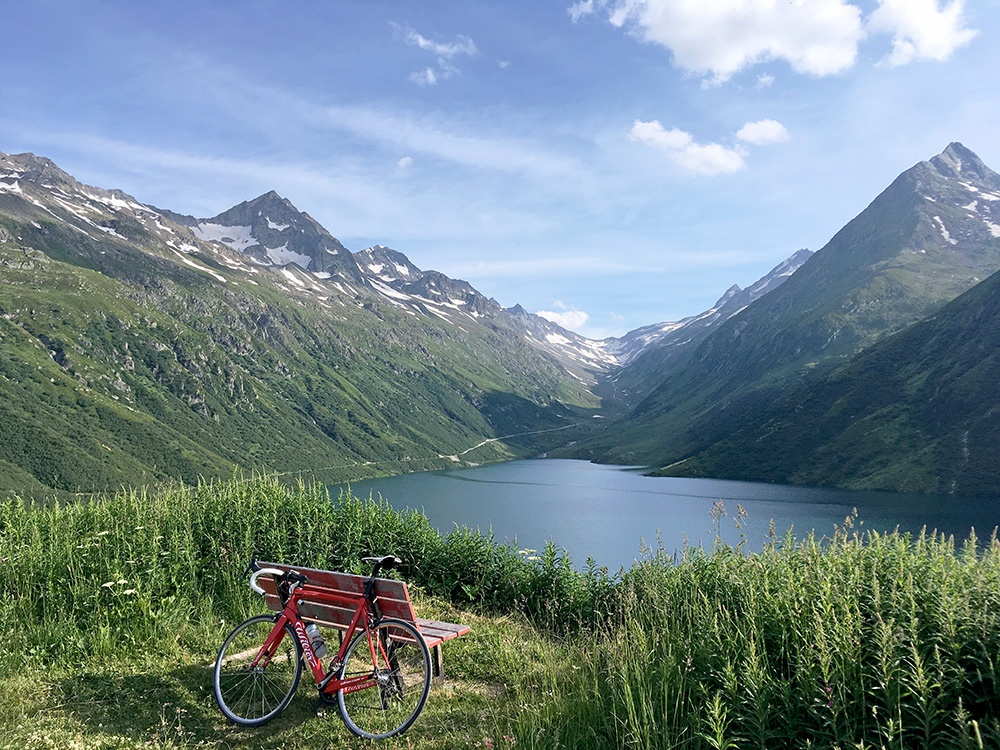 The lake/dam and the mountains at the valley end. Now the temperature started to be quite good and that helped making the evening nicer.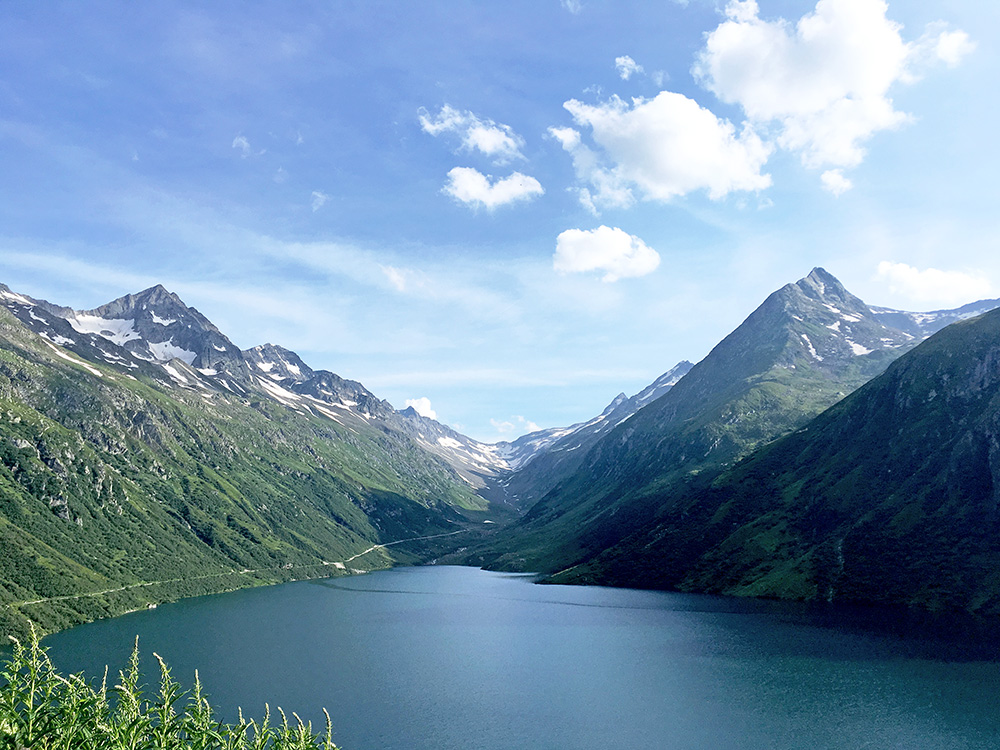 A closer view of more of the lake.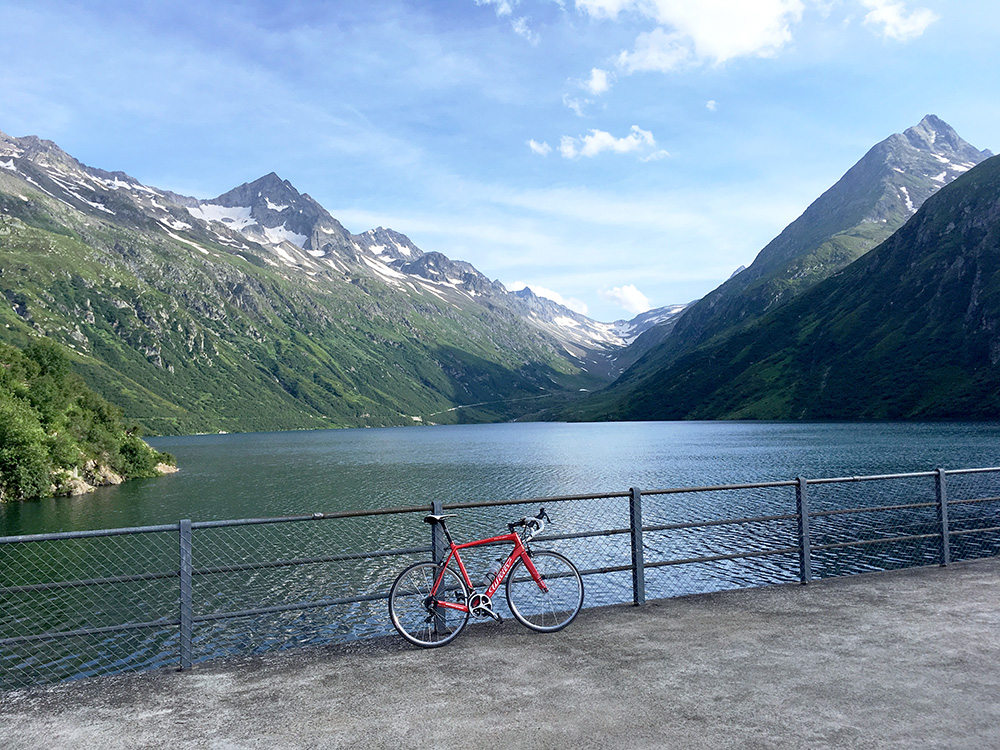 The view from down at the dam. Lai da Nalps is the middle of three lake/dams in the parallel valleys, the one above being the Lai da Curnera and is also very nice and have been there before and the road goes over 2000m on the way there. The one below is the Lai da Sontga Maria by the Lukmanierpass, where I would go in the morning. Val Curnera; Val Nalps and Val Medel respectively are the valleys.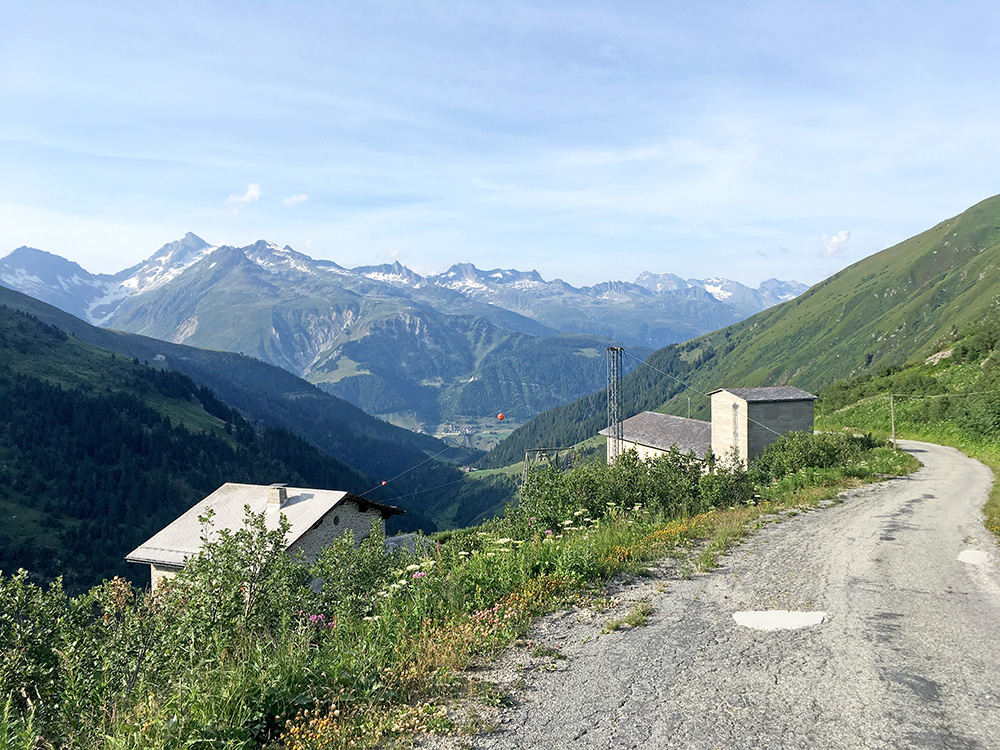 One more view down the valley to Sedrun.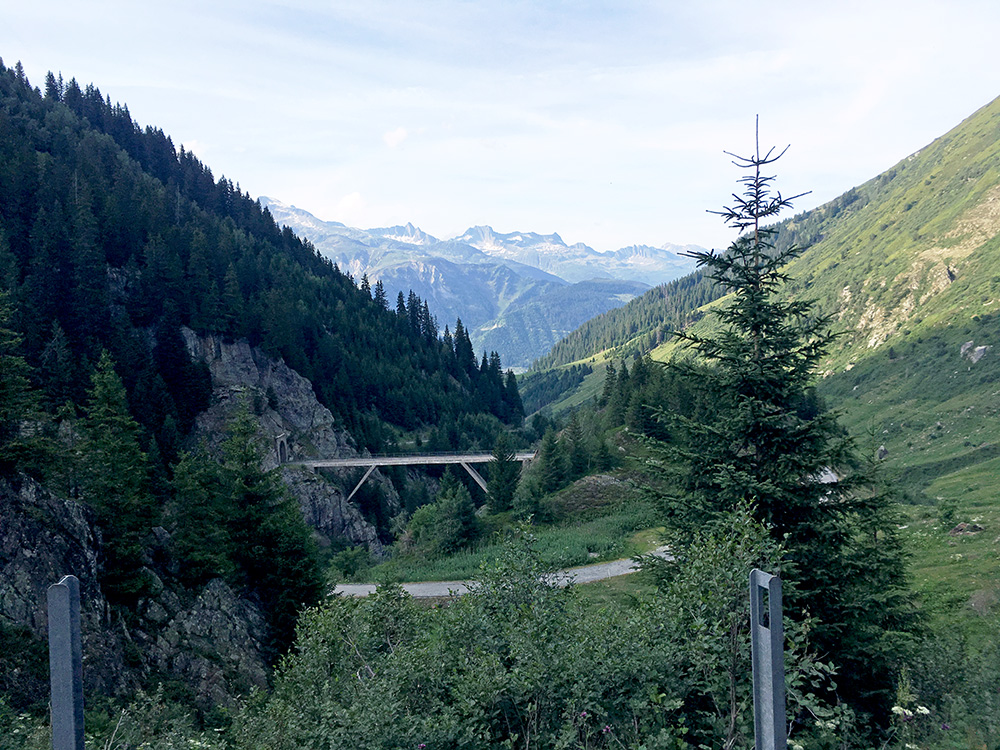 Above the bridge looking down on the crossing. There is a short tunnel after the bridge at once.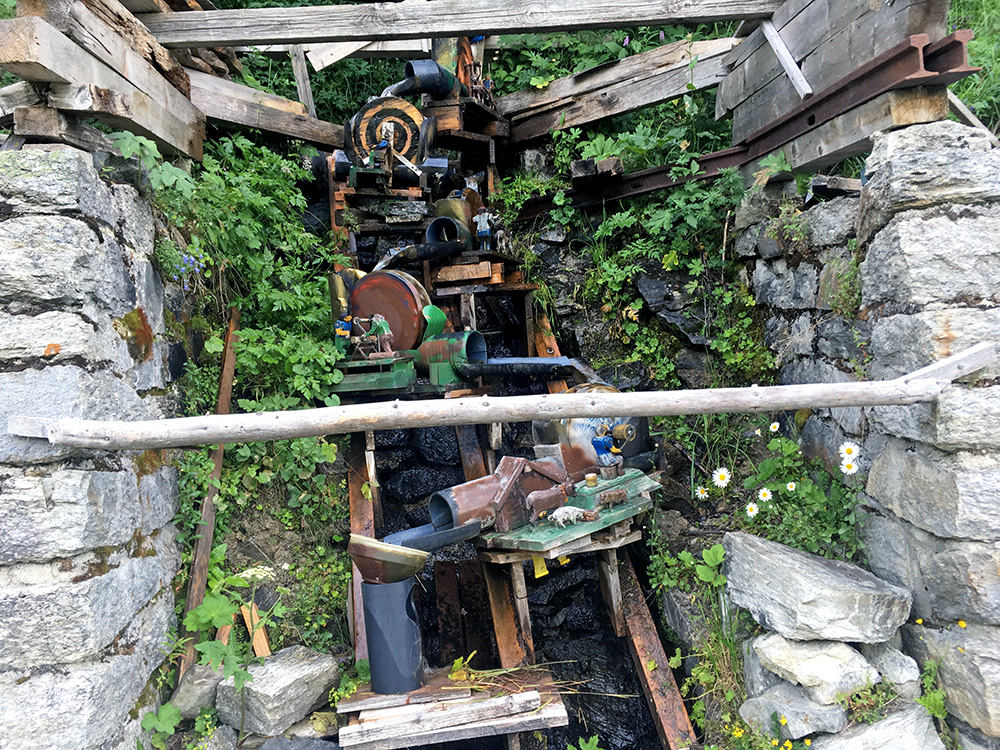 An easy to miss nice installation across the road from one of few houses higher up the valley.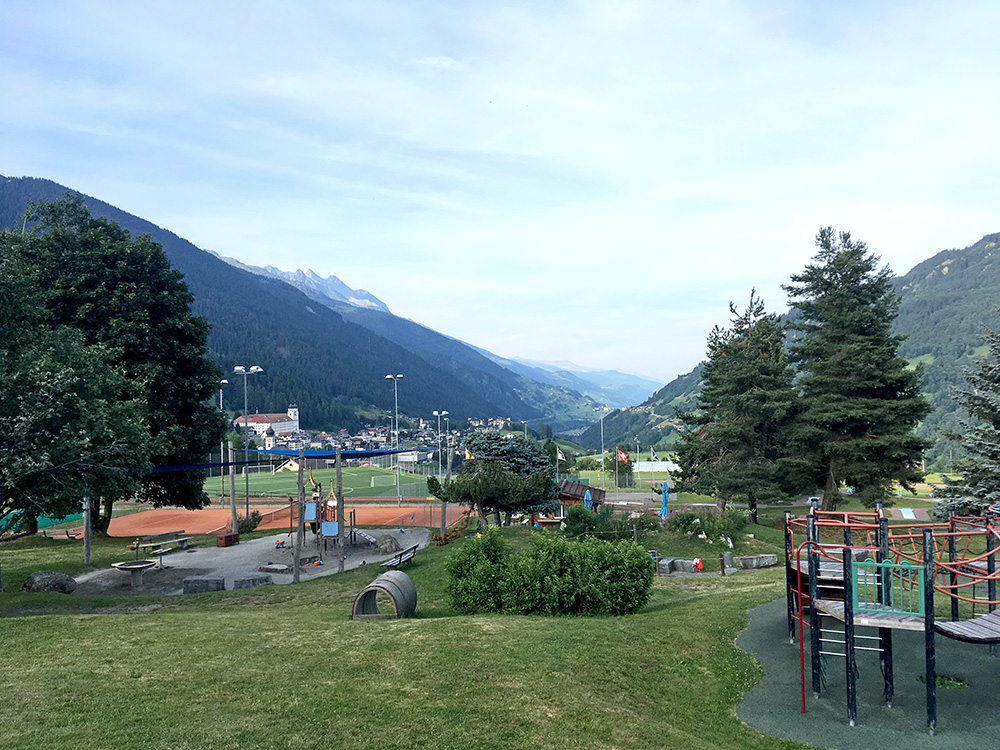 A view over the big monastery in Disentis/Mustér. I then continued down on the road to Passo del Lucomagno/Cuolm Lucmagn/Pass dil Lucmagn/Lukmanierpass (1917m). The road goes down to a bridge at 1070m before the road climbs up the Medel valley. It was getting late and I did not really want to try and go over pass this evening anyway, so I tried to find an open hotel in Curaglia, but the hotel by the main road was closed for the day. I asked some people and got advised to try a hotel a bit up in the village on a side road. Eventually got there despite lack of signs, but a local pointed the way. It was an expensive-looking modern hotel which was also very busy and the personell hardly had time for me, but eventually made clear it was fully booked.
However, I had researched a little before and got confirmed there was a hotel across the valley in Mutschnengia (1386m), though again no signs, but I found my way up the nice narrow serpentines there. It was indeed open and it was a very good hotel. Even though they first was they just had closed the kitchen, they were nice and prepared a good dinner for me.