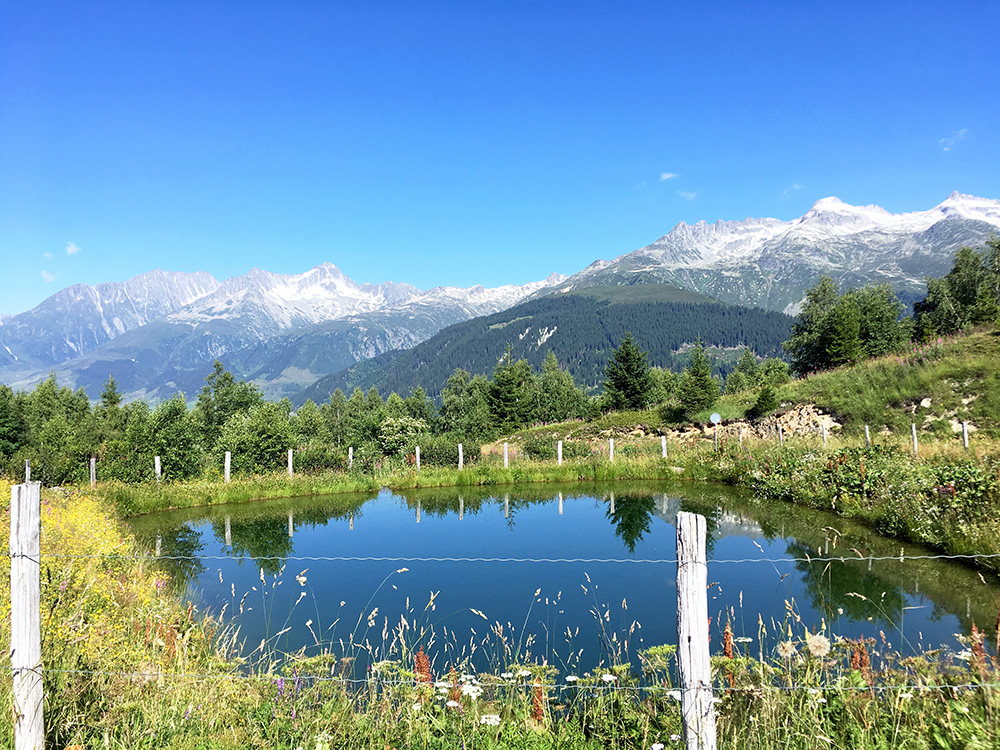 Nice breakfast in the morning and then I did not go down, but up the mountainside to Stagias (1636m), which is also a minor pass I had looked into before. There are however 140m of easy gravel near the top. (and gravel on the other side too, by the lake there). The asphalt road continues up the mountain toward Alp Pazzola, but somewhere along the way it should turn to gravel, but it did not do so for as long as I went up.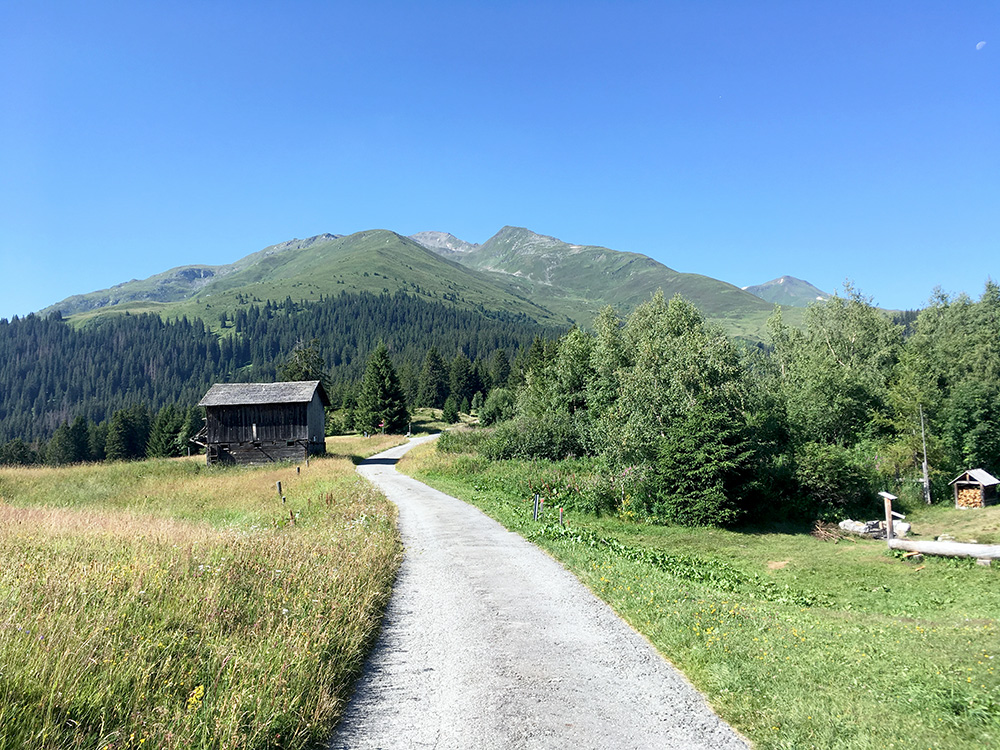 In the photo here I am looking back to where the road came up (after the shelter to the left) and the mountains (Alp Pazzola should be to the right somewhere). The views higher up was not so good, because too much trees, so leave the photo from where I turned around out here.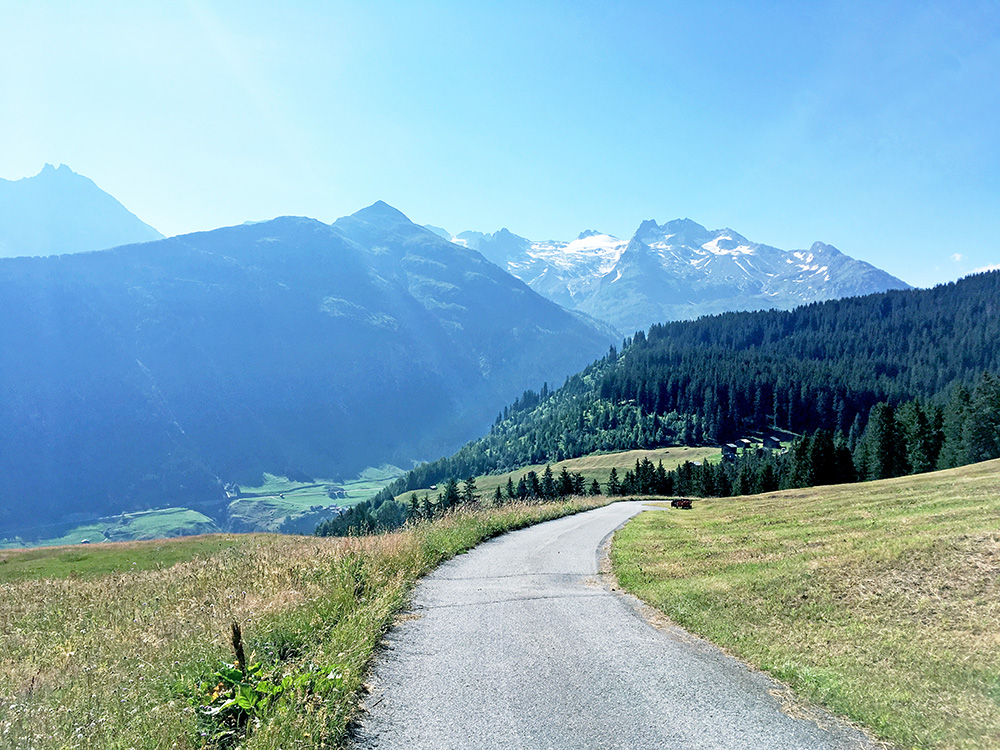 The view on the start of the descent back down.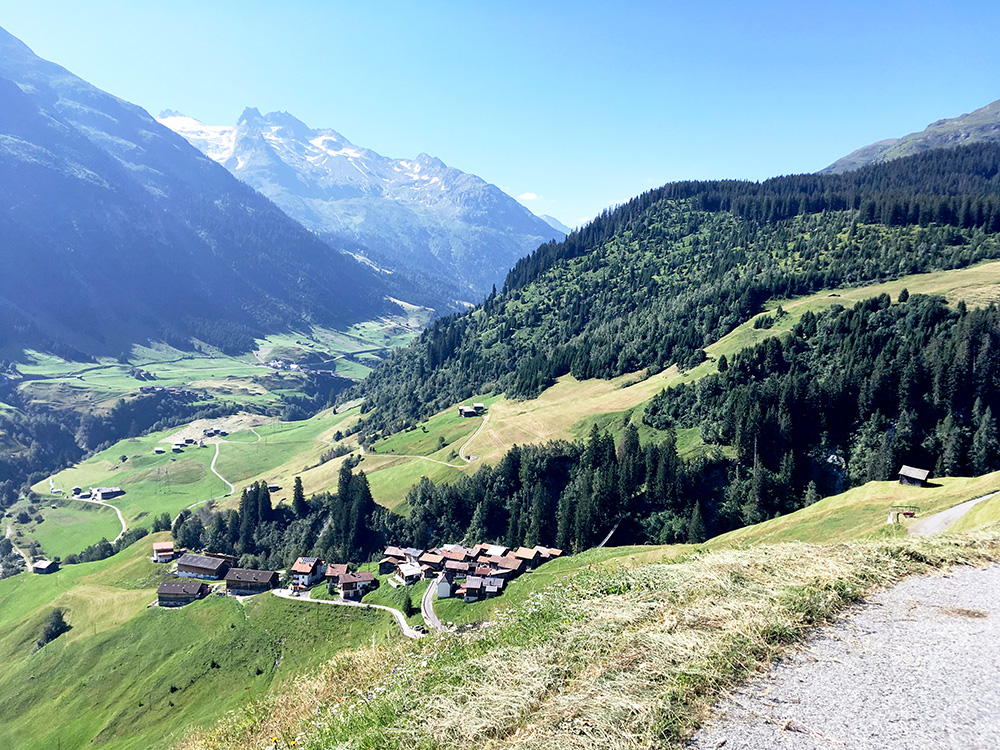 This was likely the hardest photo of all to edit well, but it looks ok now and one sees a bit longer here up the Val Medel.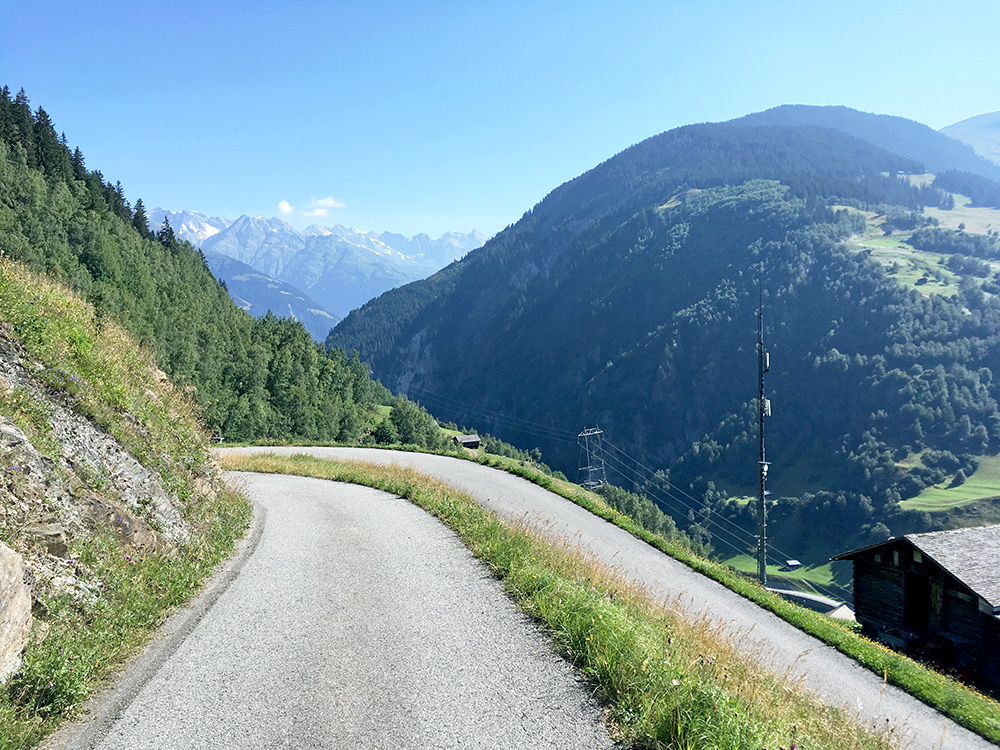 Looking back one can see the mountains behind Disentis/Mustér. The road is very nice here, narrow and good asphalt in steep serpentines.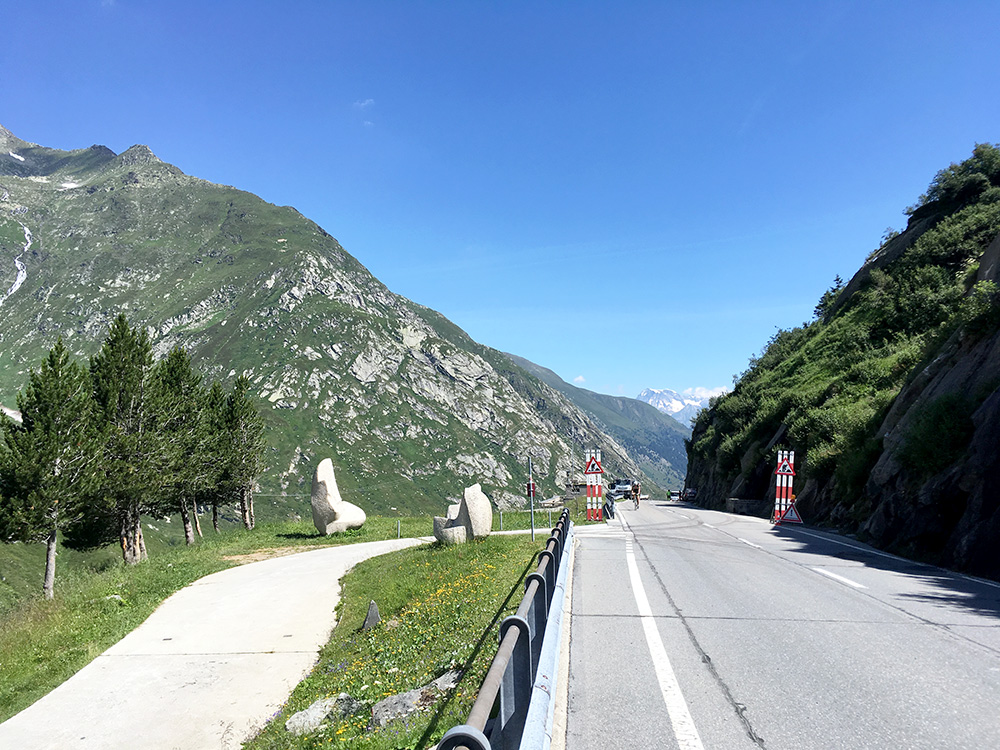 Then it was the climb up to Passo del Lucomagno/Cuolm Lucmagn/Pass dil Lucmagn/Lukmanierpass (1917m), stopping here on the north side of the Lai da Sontga Maria at the pass. Another cyclist came up behind me, but there were not many cyclists out today as it was also a very hot day and it had just started to get hot now.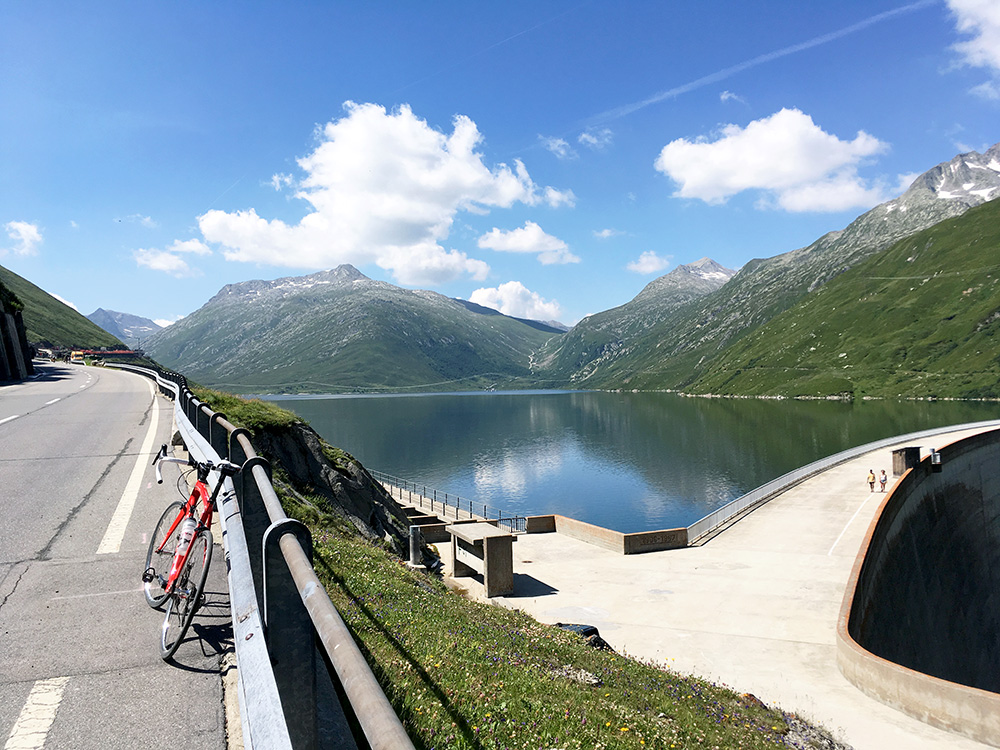 The view over the lake just before entering the gallery tunnel where the road reaches the top at 1972m.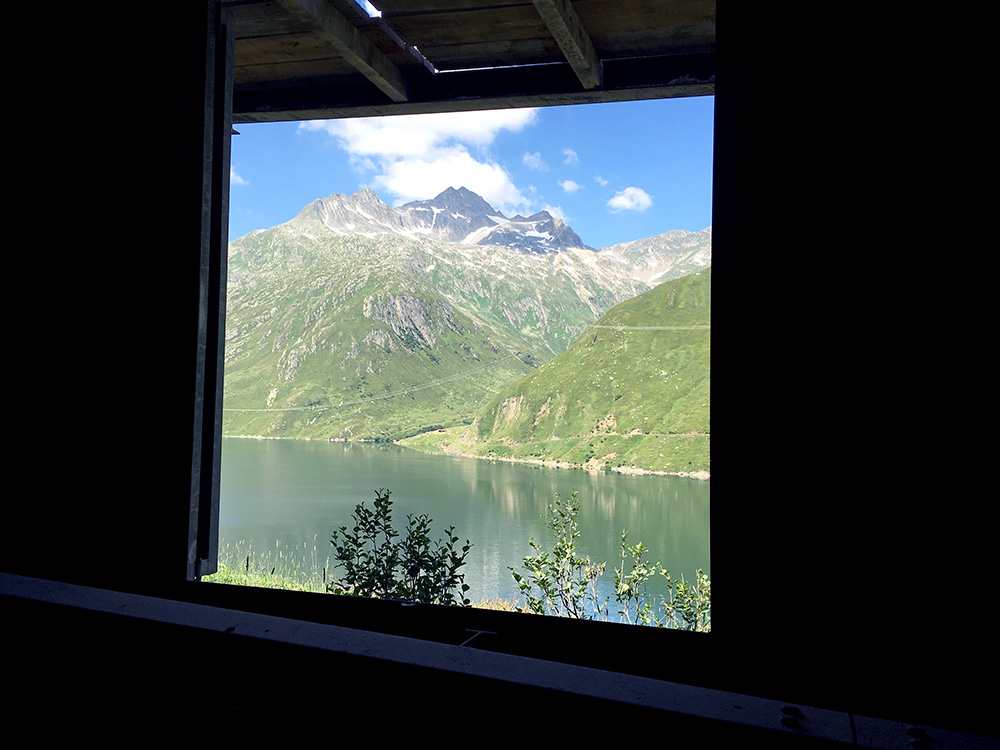 A view from the gallery near the top.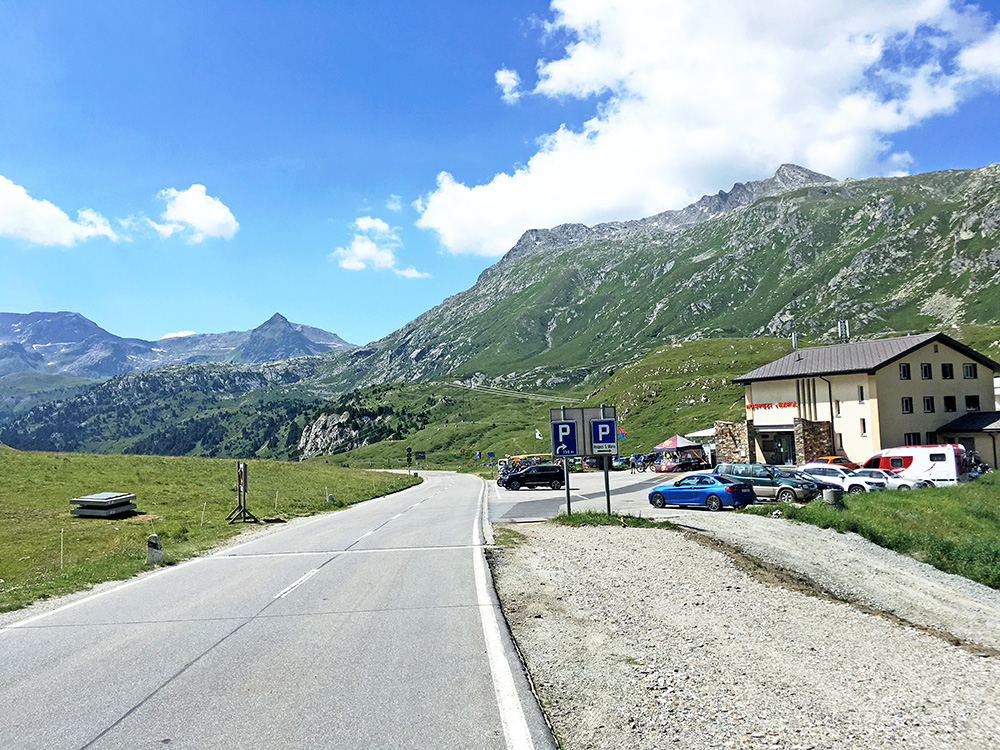 Down on the other side of the lake is the pass situated and also a restaurant. I decided to stop for something to drink to avoid a bit longer having to go down to the very hot southern side. I felt sort of relaxed though as I had not planned any climbs more on this day as I merely were interested in taking a short-cut to Aosta and France via some cycling, boat and train. I have had to cut the plan a bit short (originally I had thought to go over the Furkapass and Grand St. Bernard).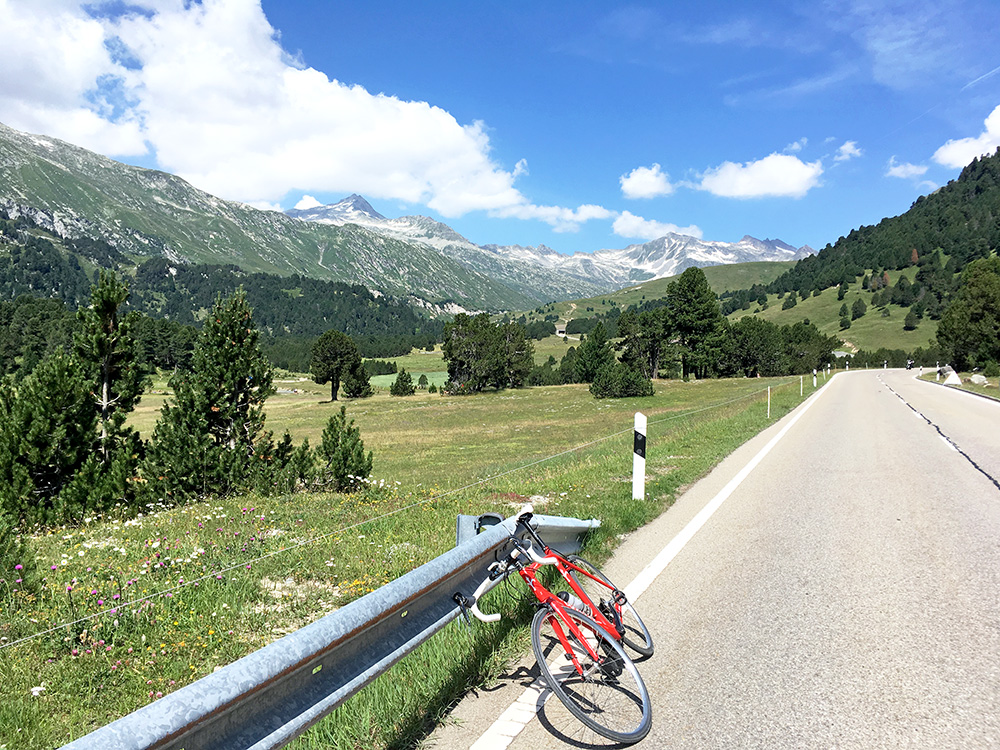 I stopped lower down for some more photos as the weather was good for photos.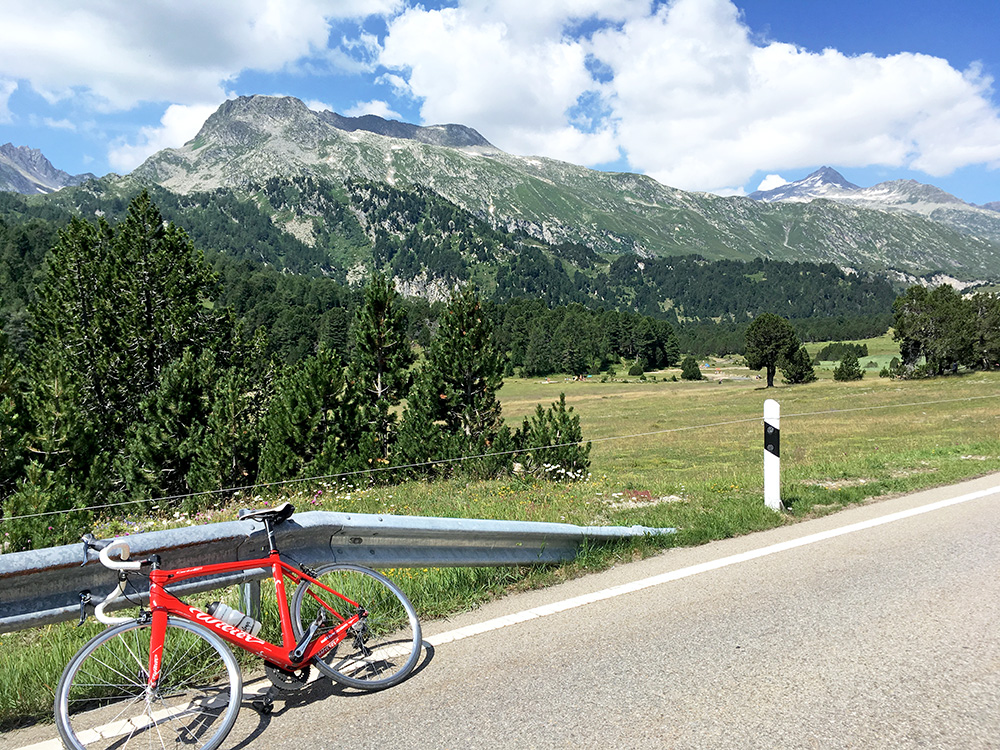 Around this stop I also noticed that my computer had stopped working after leaving the Lucomagno pass. I stopped before Olivone and had gotten advice from support earlier that putting in a new battery in the wrong way was the best way to reset the computer (Ciclosport CM9.3a) as one should do. The problem with that was that I could not get the battery out again no matter what I did and had nothing tiny and sharp enough to fix it, so just had to leave it until in Aosta where I got it fixed later. I will try a new VOD CM6 next year instead, which should handle the battery change better, but we will see. (Do not want a Garmin or the like as they are bulky and need recharging every day etc.)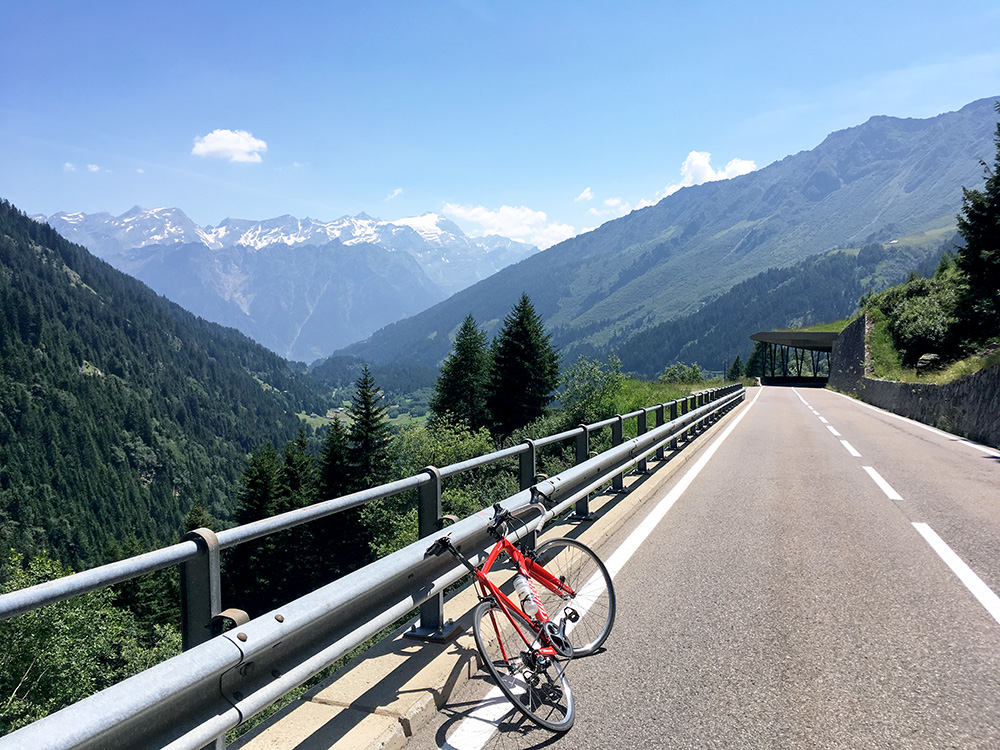 Nice views down to Olivone, but I am not super happy about all the edges of the concrete blocks all the way down (nearly) and wish I was lighter there, still kept a decent speed, but going slower than normally.
It was a long, long way down now, but it was somewhat fast down to Biasca. I braced myself for the heat and managed to avoid stopping until Castione (239m) by the turn-off for Passo del San Bernardino. I had a coca-cola and more at a grocery there. It was now at the highest temperature during the day with ca. 38°C in the sun. As I continued down via Bellinzona to Lago Maggiore it went down maybe 1-2 degrees and more later.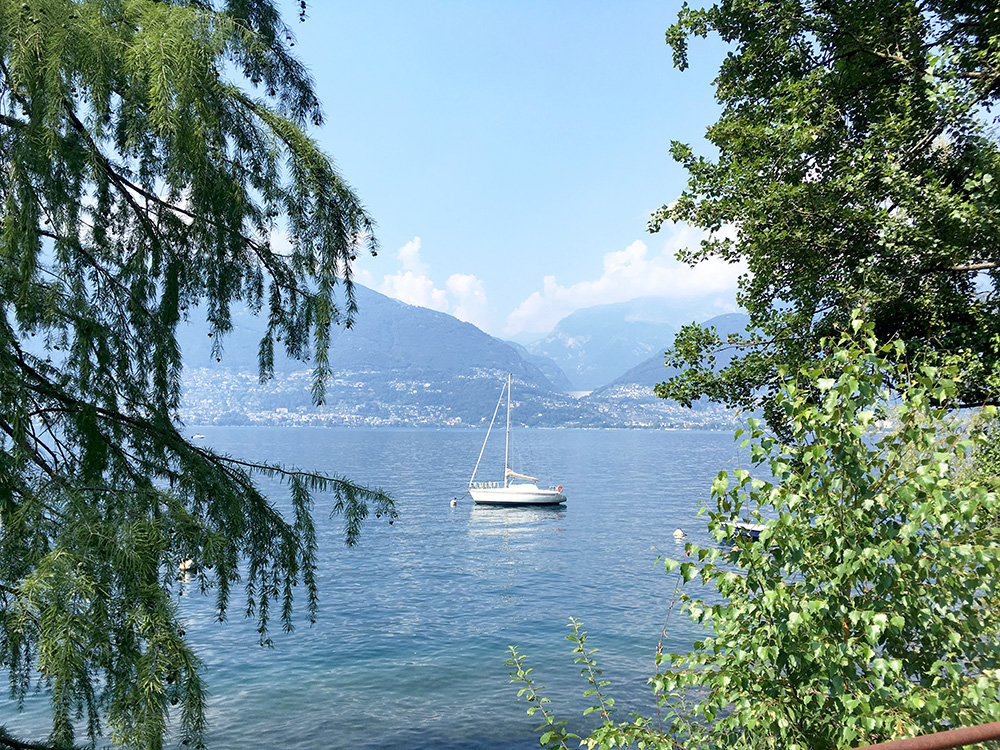 Next stop was at a small grocery in Gerra not so far now from the Italian border along the lake. Got a soda and icy ice stick (?). The photo is from a little earlier looking over the upper Lago Maggiore and toward Val Verzasca, which should be a nice place to visit one day too. I have never been going down on this side from Vira Gambarogno to Maccagno before and it was quite nice for some parts here with very little houses.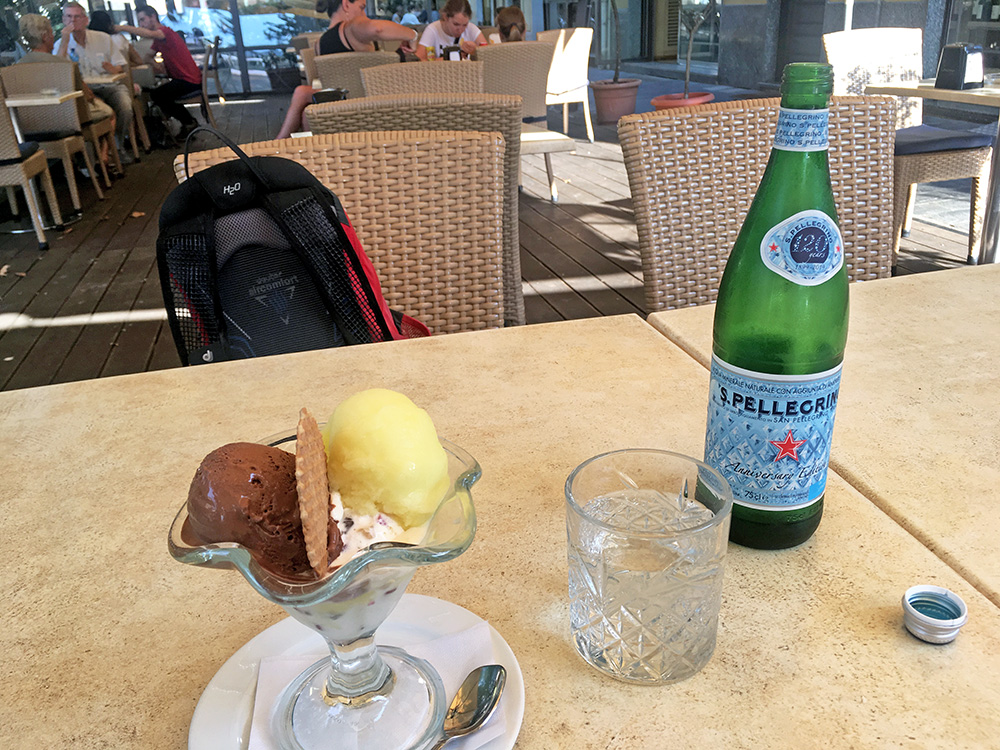 Now I was in Italy and wanted to have a proper ice cream, so I stopped in the centre of Luino again. The old hotel here had ice cream, but their toilet was bad, so I went over to a restaurant on the opposite side with both good ice cream and toilet :-). I had thought about taking the train from Luino, but there were no trains leaving here. I bought a ticket hurriedly in the station café as that was the only place, but had to leave it back as I figured out there were no trains leaving from here this evening. Then I thought it was likely best I continued down to Laveno and asked someone if it was far and if they had a ferry. Apparently not long and a ferry that went regularly, so I continued down there.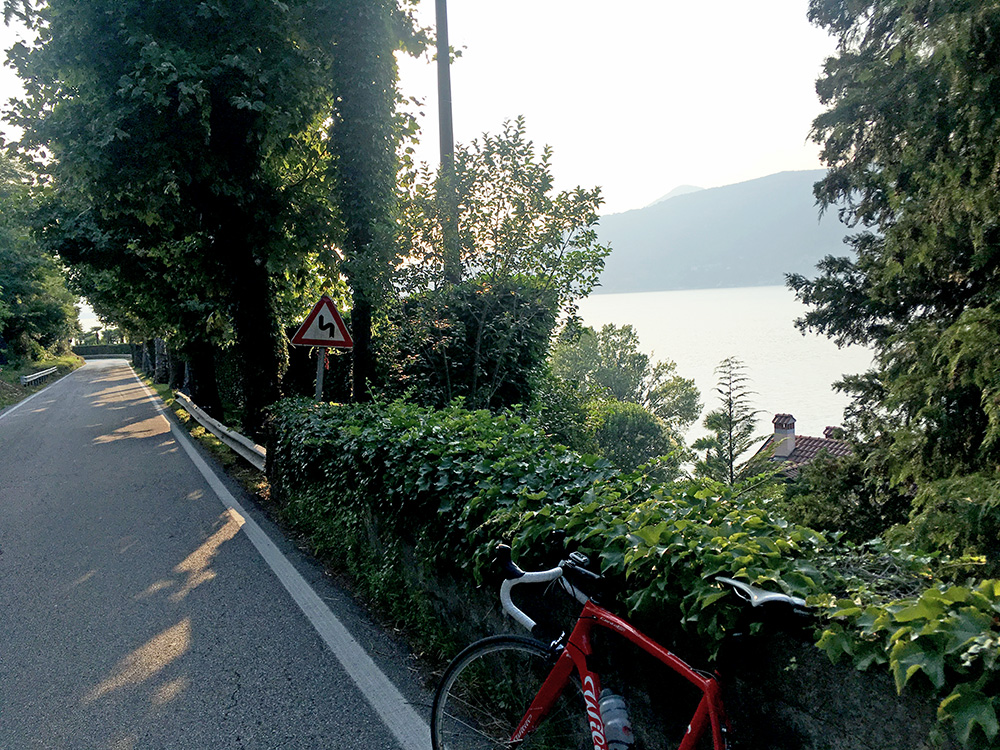 Again it was nice along the way, but the road not so short and it also goes up the hills, so there are some climbing on the way down there (I also started out on the wrong road in Luino and had to go steeply down through the village on some road that was partly one-way against me). Anyway, I felt fine with the situation as I would always get somewhere and it was just to go on.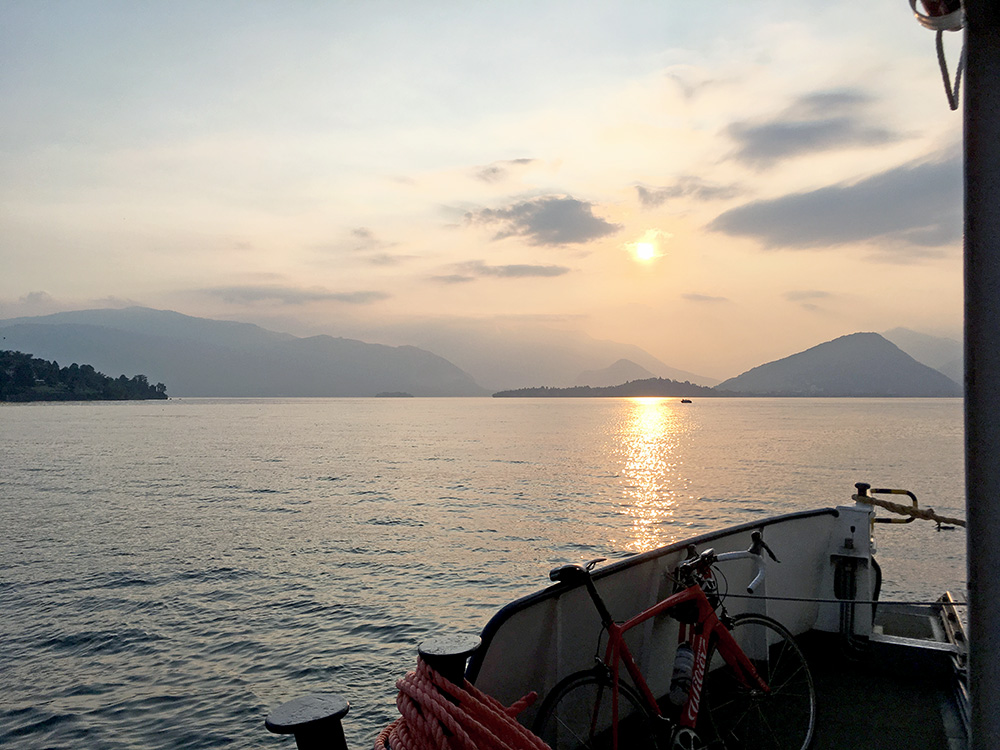 Down in Laveno I checked with the ferry and got a ticket. I asked if maybe I could also go across in the next morning, but they said they would be on strike then after a certain hour and I then thought it was best not to gamble and get over while they were running. I managed to buy some water and get money from an ATM before boarding the ferry to Verbania/Intra.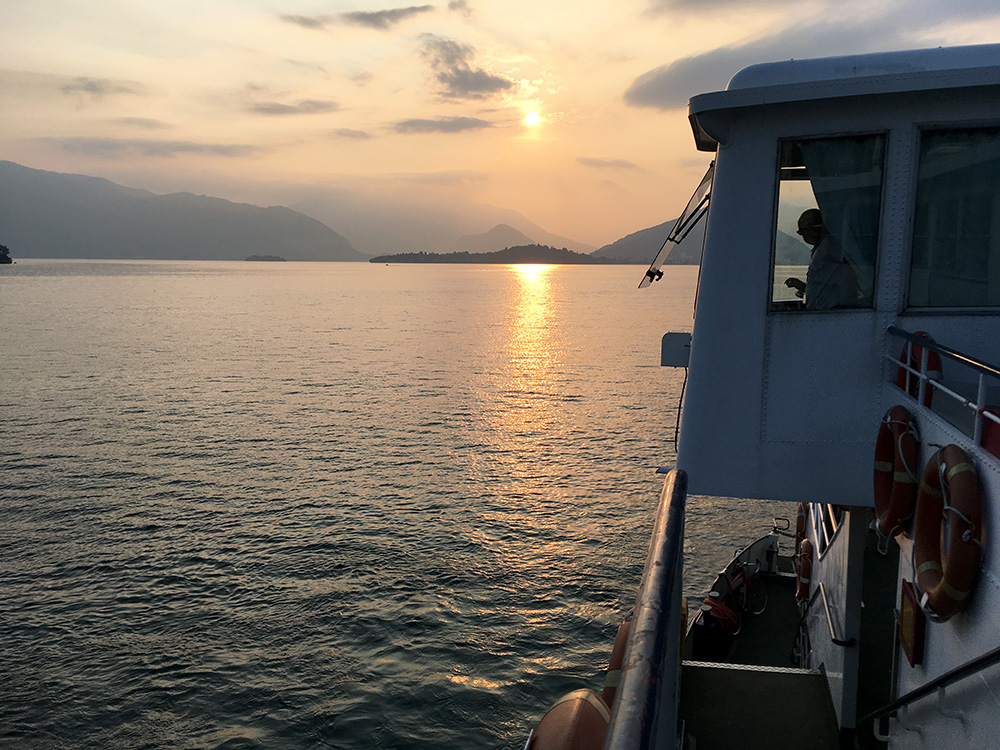 Very nice evening ride on the ferry!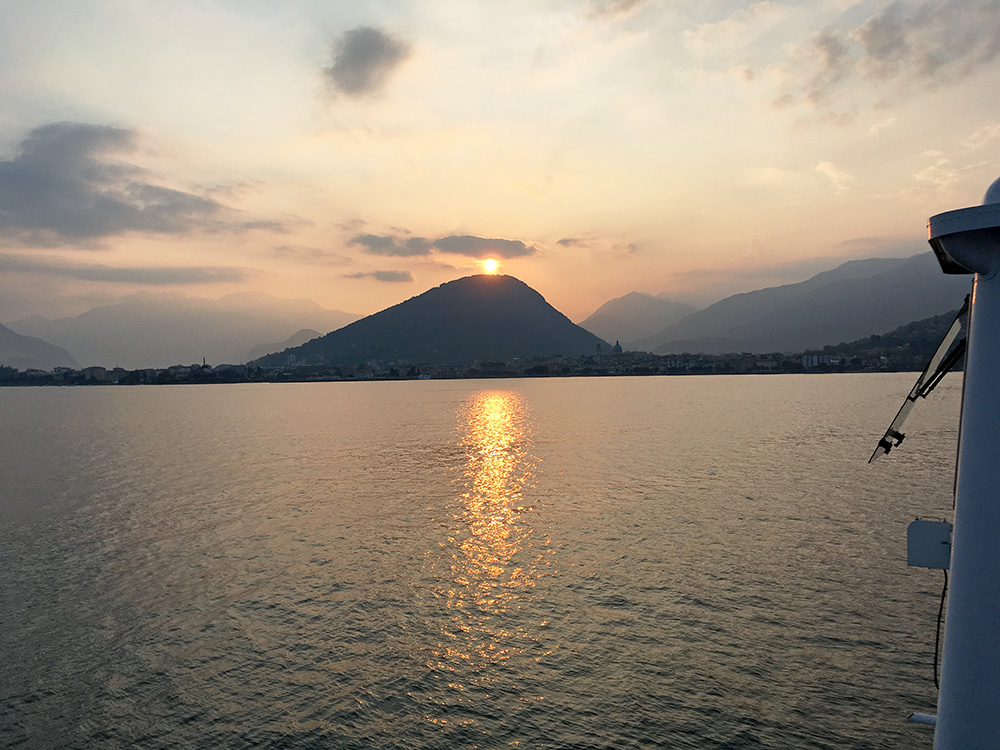 The sun were going down so I had to find a place across here for the night!
I took the coast road to Verbania/Pallanza and it was nice, but then came 5-star hotels and that was not what I was looking for. I had checked on Google and located the cheapest hotel in town, but it was also not so cheap. Then I got a little lost in trying to find it, but saw a sign for Albergo Villa Azalea which I did not remember from my search and thought maybe that would be a good alternative and started out on the road there. I followed more signs, but think I was confused at one point and thought about going back, but then got a bit further and eventually I found it high up on the hill above the coast.
No one at the entrance, but it was open to the house and there was a not with a telephone number penciled on it. I thought I better try it when going this far. I called and a man eventually showed up when he understood I was there looking for a room. The price was almost the same as the other hotel I had thought about, so decided I could as well stay here then. It was a bit odd place though as the place where I should stay was in another house on his property and he even took his car to get there (in central Verbania) while I walked up a serpentine gravel road to the house which was even higher up. It was a very nice old house and with a lovely room for breakfast (also with a big balcony). The only problem was that it was hot here. Luckily they had a net for letting in some air in the room while keeping the door/window open as I later realised there were lots of stinging insects outside.
I walked down to the restaurant he recommended close to the first sign I saw on a little square (Pizzeria Emiliana). The restaurant was good, but I got attacked by insects while trying to sit there. Talked with some other guests at the next table who saw my problem and they happened to be from Norway and had an anti-mosquito stick with them that I tried on, but it did not help much (seldom do so in my experience), and I am fairly allergic to those bites and it was a very sweaty experience. I walked down to the beach buying some water and an ice cream while enjoying the late evening with no insects before walking all the way back to go to bed. There is a reason why I usually try avoiding to stay at places like this in the Summer (also the close by sea probably made things worse here). At least I could sleep, but it was borderline that I suffocated of the heat. Still a lovely place (esp. if not so warm).