Another sunny morning and I was fine with that as I started at high altitude in La Thuile (1447m).
After breakfast I luckily remembered that Diklofenak was not something doctors prescribed in France (only useless paracetamol) and I was running out of the pills I got in Switzerland and thought maybe they were cheaper here. I found the pharmacy, slightly hard to find in the centre, and asked for the pills and the lady came back with a package of Voltaren pills with Diklofenak. The pills were 50 instead of 20 or 25, and were doubly as strong as the one I could buy in both Switzerland and Sweden without contacting a doctor. Still the price was one fourth of the cheapest variant I got in Switzerland. I thought maybe the comma in the price tag was placed wrong and asked the lady, who just said that people in Italy always buys pills before going abroad (makes sense). Maybe this would be a business model to buy them here and sell at home as the Swedish prices are not much better than in Switzerland.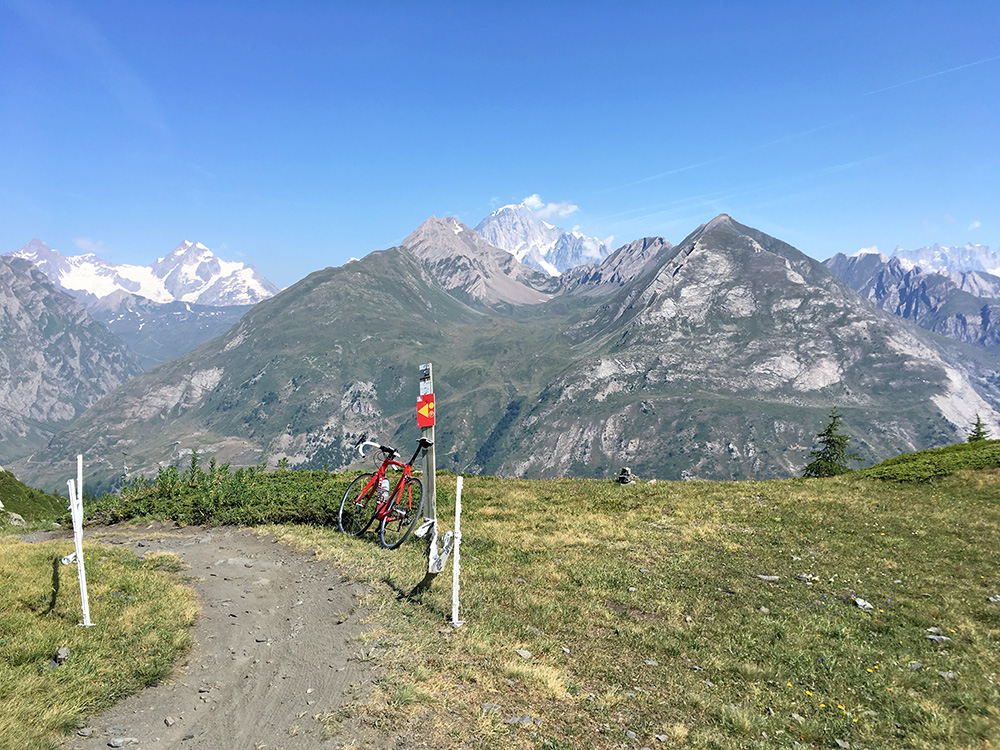 I followed my plan to see a +2000m road I have not been to before in the area. On the way up to the Col du Petit Saint-Bernard/Colle del Piccolo S. Bernardo (2189m), there is an asphalted turn-off for La Suche (2233m) starting at 1970m height. Not a long climb, but partly fairly steep on a little rugged asphalt, but it is built for the skiing here mostly I guess. I went to ca. 2250m on gravel maybe 200m from the asphalt end and then another 100m or so on the grass to the viewpoint here (also a popular mountain bike path).
The highest peak seen here should be the Mont Blanc/Monte Bianco.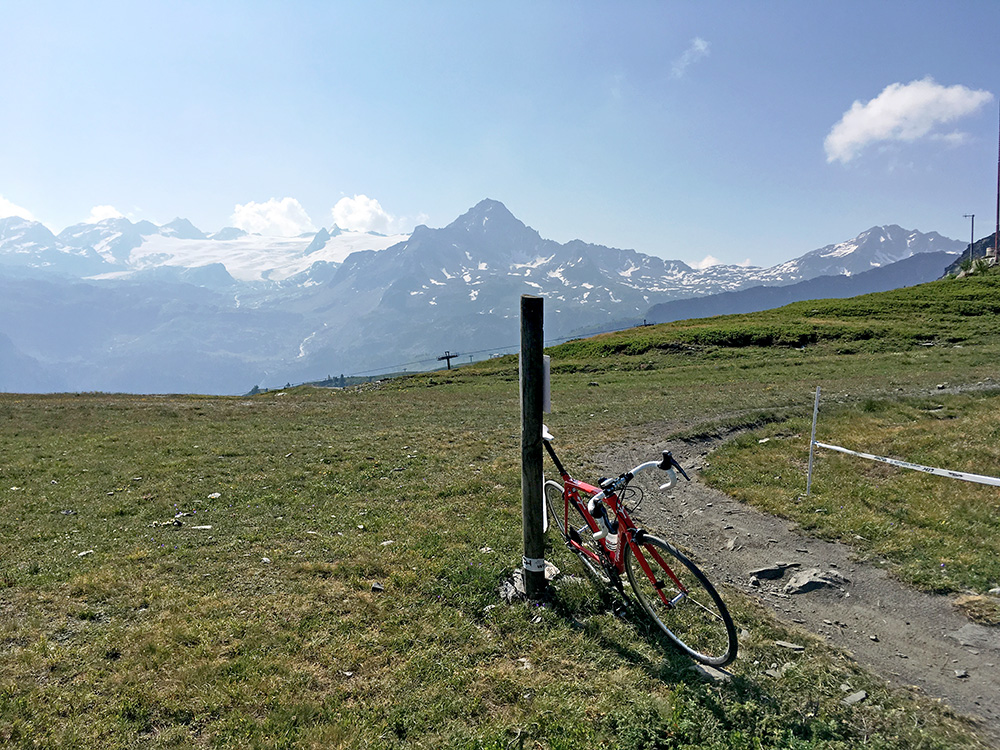 Looking to the mountains at the French border in the opposite direction here.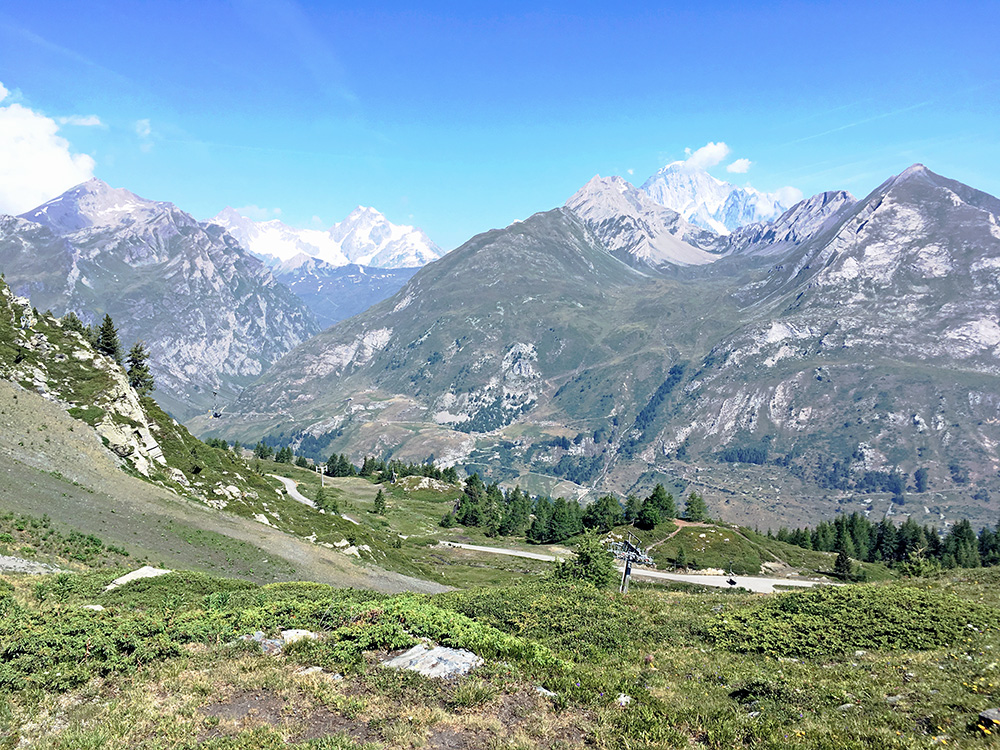 Another photo looking down on the road I climbed up, while still seeing Mont Blanc.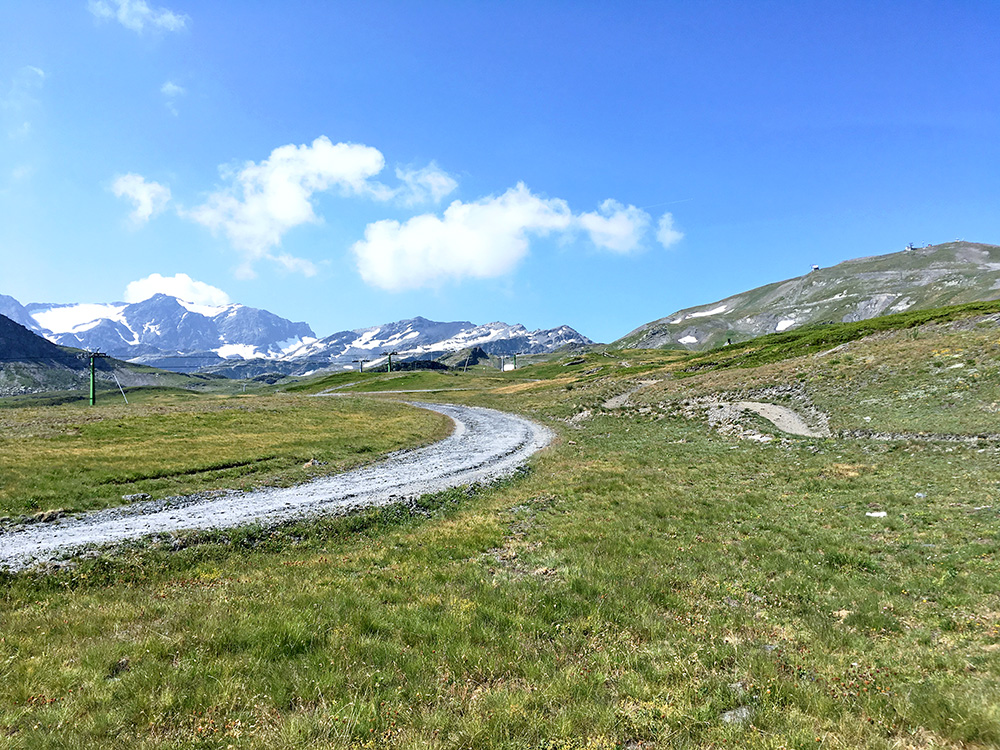 The gravel road that continues not so steep here is rather harsh and not fun with a road bike, so I turned around.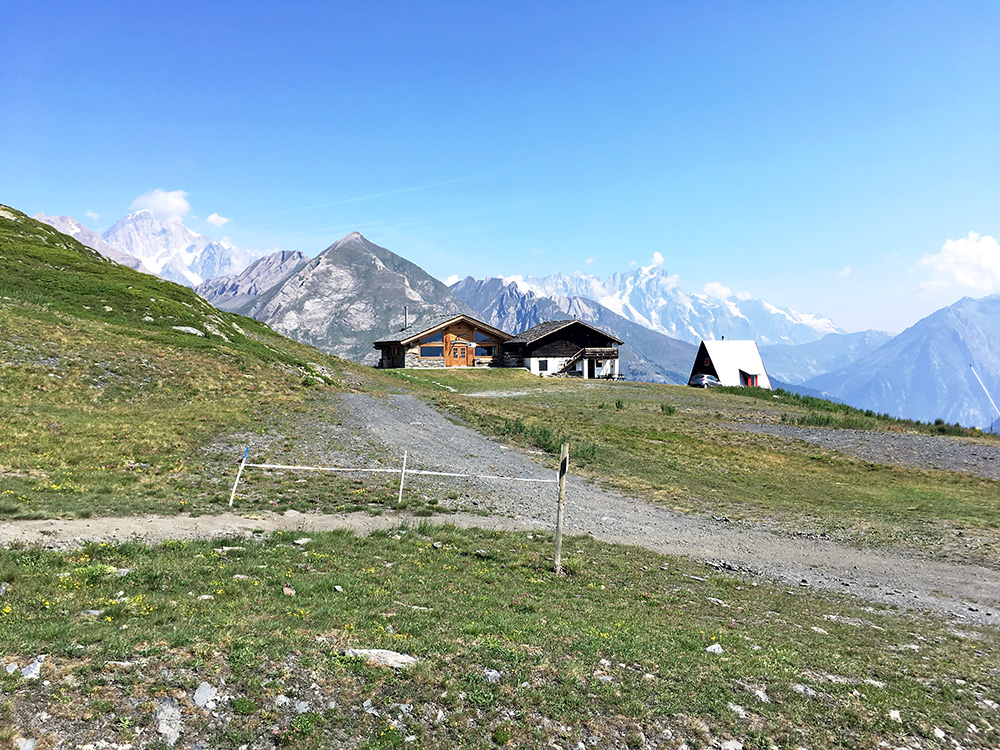 This is the view from where the asphalt ends, which is fairly good too.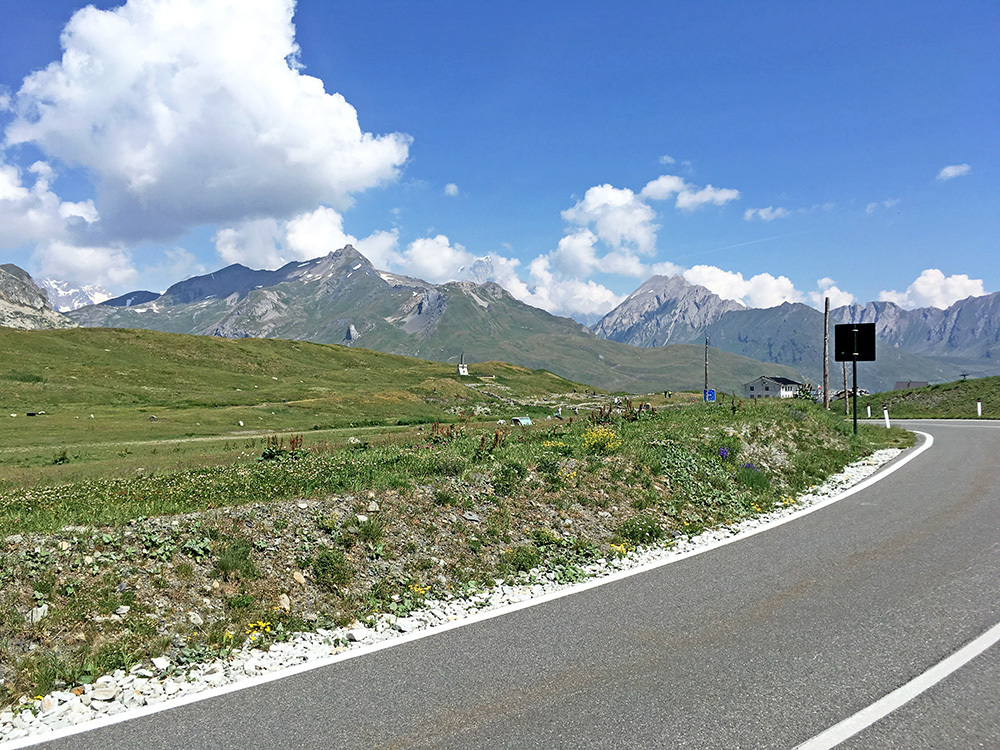 Then down the same way and up to Col du Petit Saint-Bernard/Colle del Piccolo S. Bernardo. I stopped on the Italian side for a coca-cola at an old-looking bar with few customers, but the owner was rather grumpy. Oh well, I am in this photo at the actual high point, which seem to have been made a bit higher than before (hard to determine despite my photo, but it might be like 2193m now). From Google photo one can see they were building this detour around the border point (maybe to protect the historic area or something) starting in 2011 and maybe it opened in 2012. I have only been here in 2004 and 2009 before and the road was just straight here then.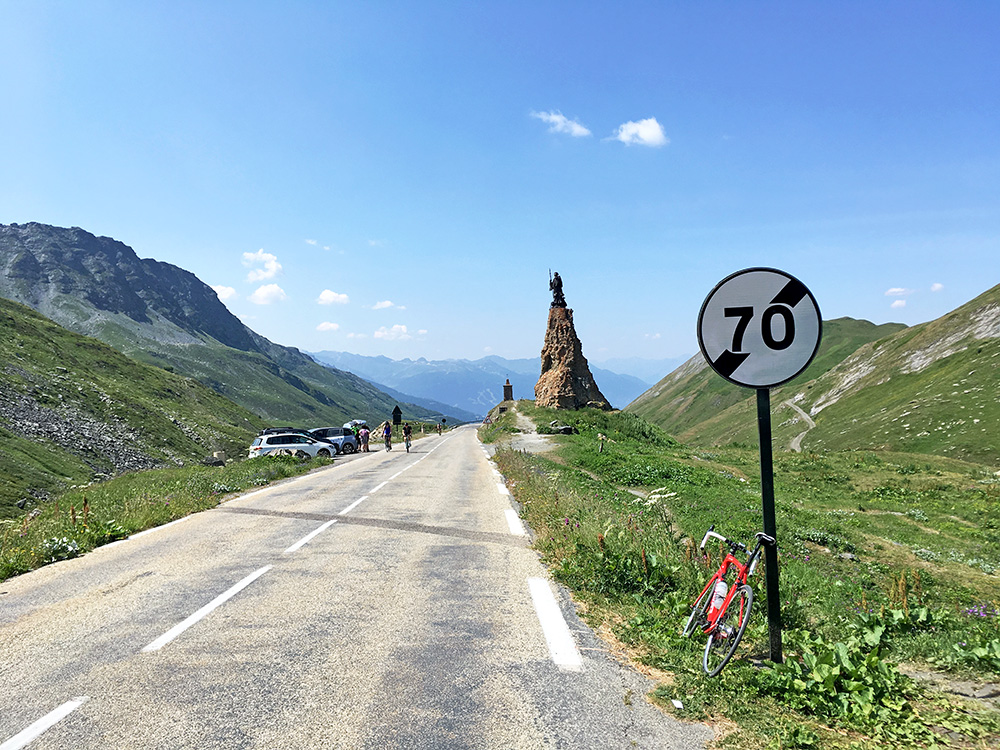 The classic view down the French side of the pass and the road surface looks classically French too.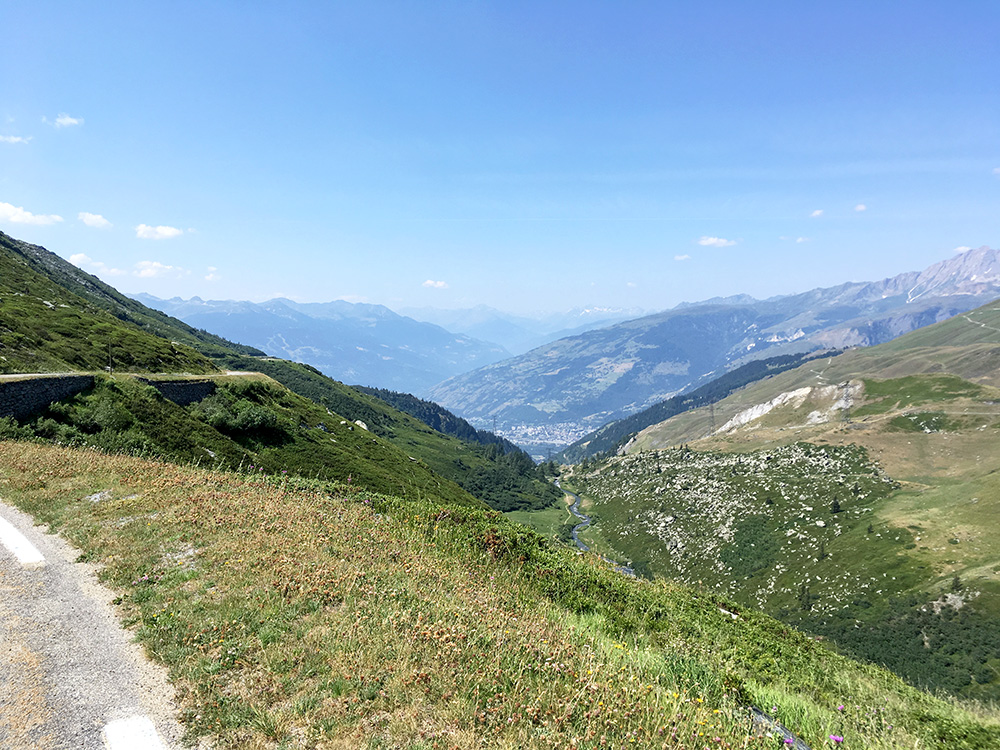 Another photo a bit further down where one could glimpse Bourg St-Maurice. Only 15 mins into France and I meet the first car driving in the middle of the road just managing to avoid it (almost only ever happens in France, but not many such accidents later on).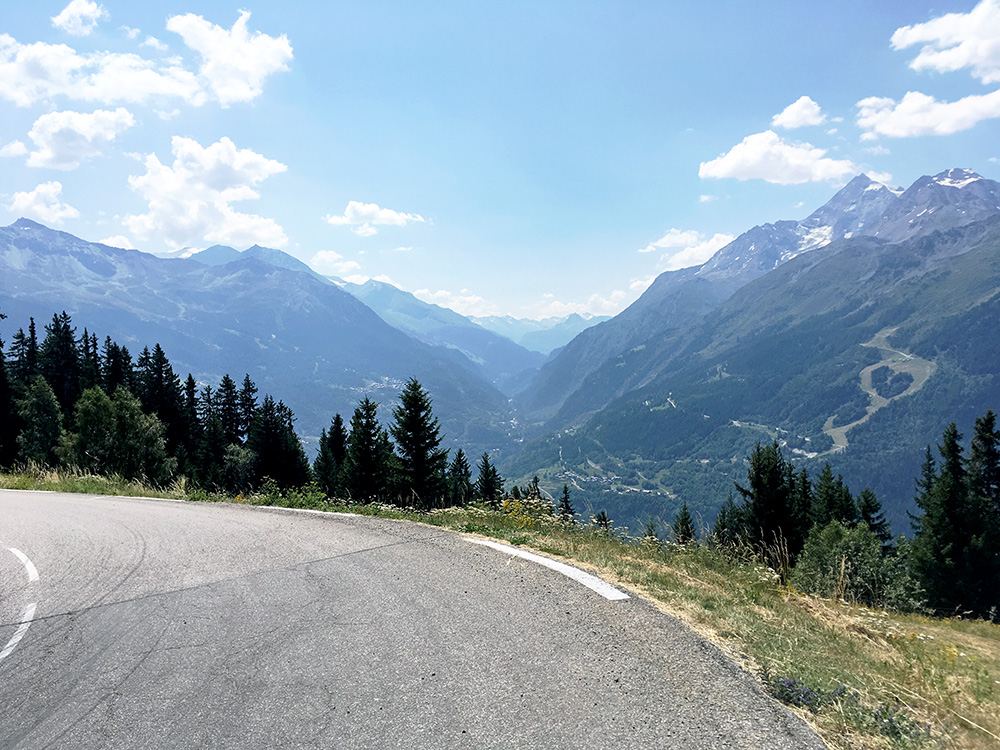 Below La Rosière the road descends in long not so steep serpentines and I stopped for a photo here up the Haute Tarentaise, which is the valley that goes to Col de l'Iseran (2764m).
It was not at all fun to go down into France today as it was very hot down there. I stopped at once down in Séez (894m) to have something cold to drink before I continued through Bourg St-Maurice down to Aime, where I again decided to stop for more to drink and a little ice cream (that I dropped, but got some new, not so good). It was hot in the café and it was 42°C outside in the sun at least. I soon went down to Moûtiers (483m) and found a colder better café here to stop at.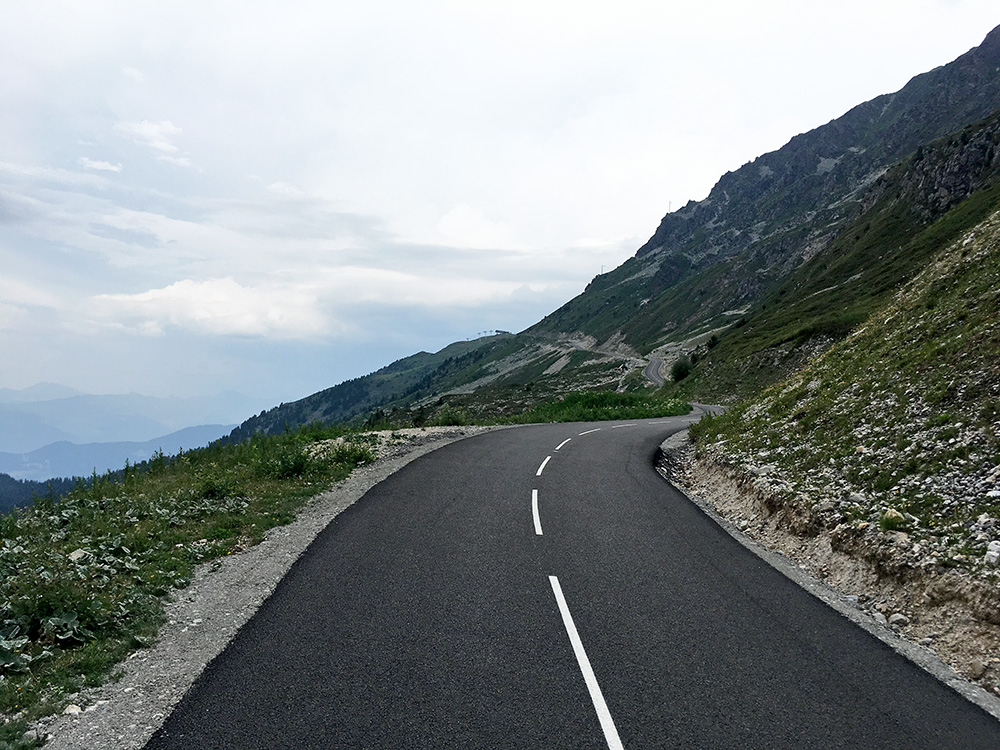 After all the stops I felt a bit better on my next climb and at least I was going up (and think the temperature dropped slightly again now). I was on my way to climb the newly asphalted +2000m pass road between Méribel and Courchevel. I was not sure they had finished asphalting the Méribel side as the last report I had found from the Spring was that they were still working on the paving on this side then. I think they finished the pavement just 2-3 weeks before I got there. I had thought it would be steeper up to Méribel, but had figured out it should be the steepest side up to Sommet des Lanches/Col de la Loze (2304m) so took that way. I stopped for yet another coca-cola at a grocery in Méribel.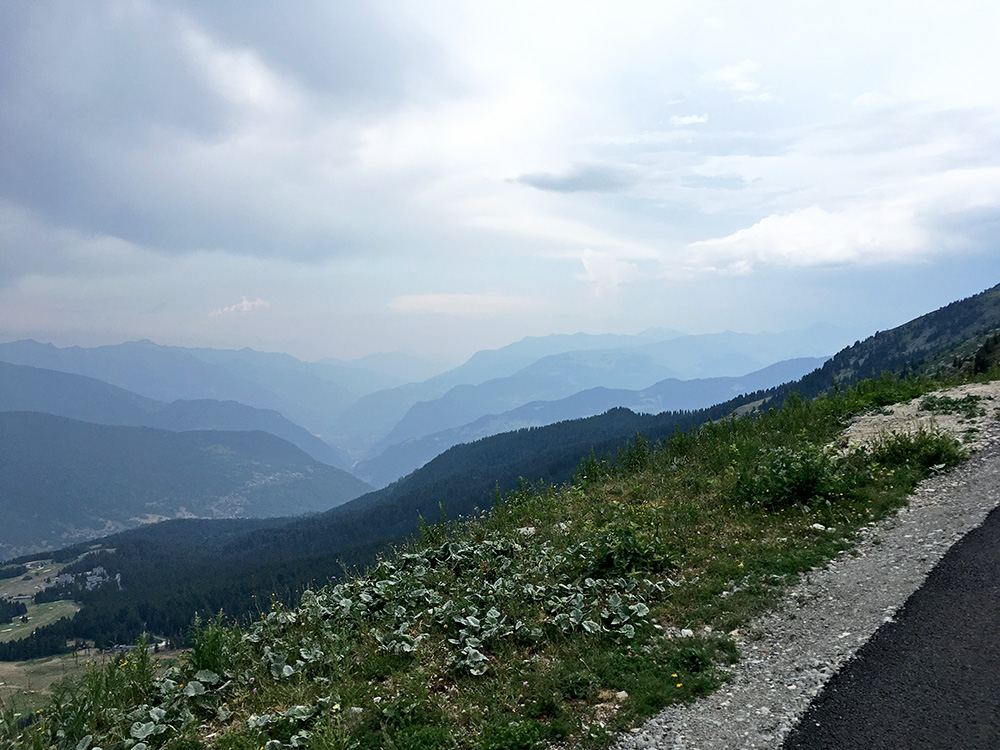 Then I followed some new signs for Col de la Loze and thought that must be the ones to follow and maybe they were (I had planned to take a road up the mountainside further up the valley), but maybe I missed the last sign or it was not there or I took the wrong way, but I ended up going via a golf course (beside it) and even if that was not the new road, it was in fact also asphalted (even if badly) up to the new road with new asphalt starting lower down there somewhere.
Above is a photo from when I was getting close to the top (seen in the distance) and the photo next to here is over the valley down to Moûtiers where I was coming from.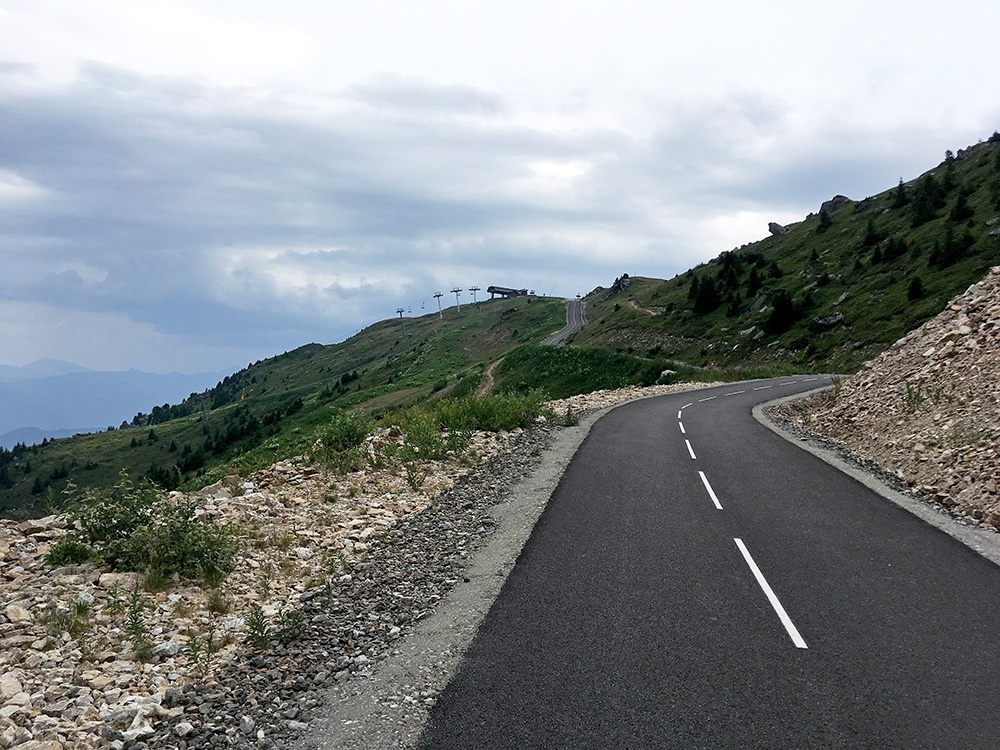 Getting closer to the top and the road is very good, but there had already been a few very steep short ramps at close to 20% and now I saw the last ramp to the top which is a little longer. I went straight up that ramp sitting down to try and determine the exact percentage as my computer has not been reliable lately on the inclination. Now it is high up at 2300m so it might have affected my judgement, but I thought it was like 25%, but it is clearly above 20% (I see some says it is lower, but that must be for the whole ramp, but the steepest 10-15m are around 22-23% at least, I think). This makes the climb a bit special on its own as one very rarely find any +20% at this altitude on paved roads elsewhere (cannot think of any place right now). The road is also narrow like a bike path and no motorised vehicles are allowed (without permits).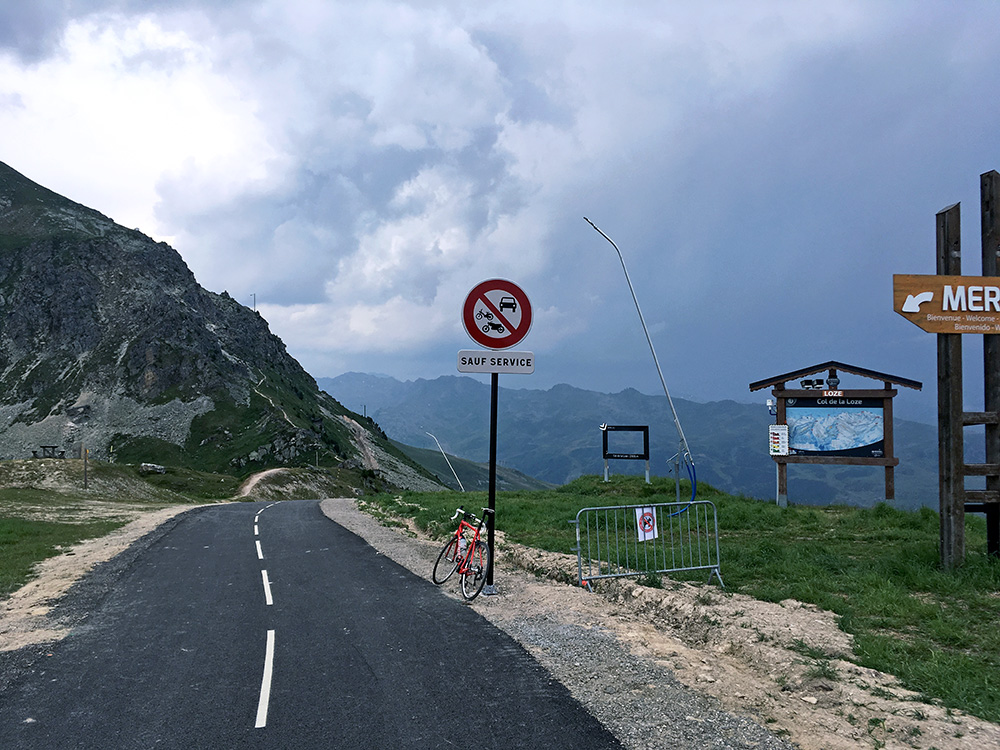 Finally reached the top and was happy I made it cycling all the way. Now, as one my suspect, with the heat sooner or later it would tip over and turn the weather into bad weather with thunder and rain and it was clearly in the vicinity now as can be seen here.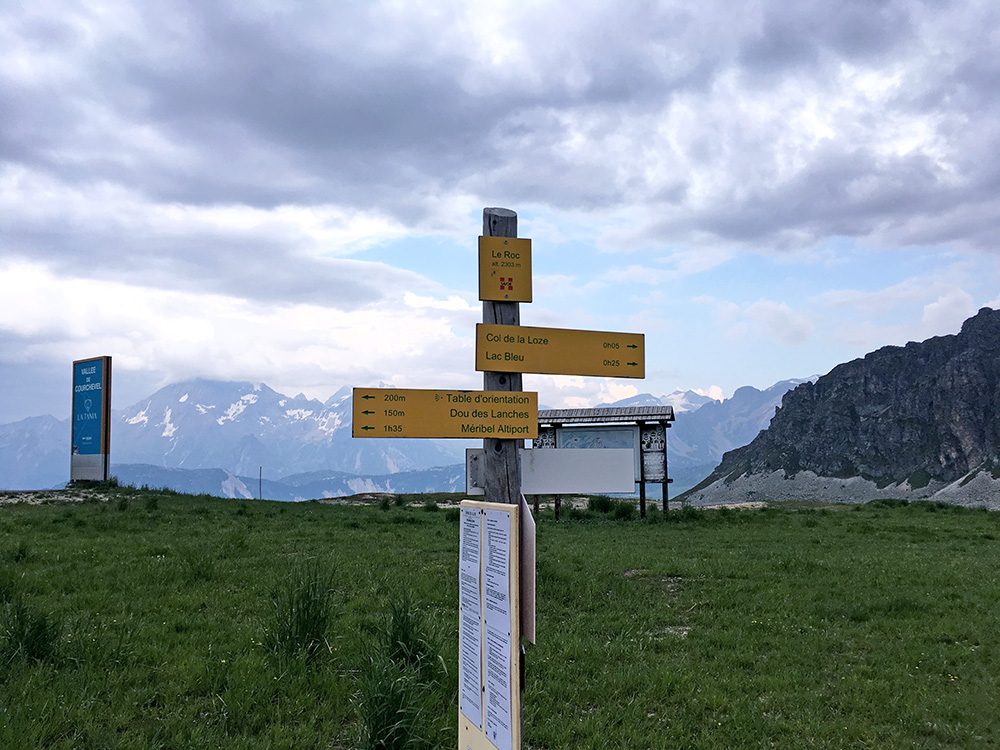 Still I was lucky I got up and saw no other cyclists on the way up (maybe saw someone early on the way up to Méribel).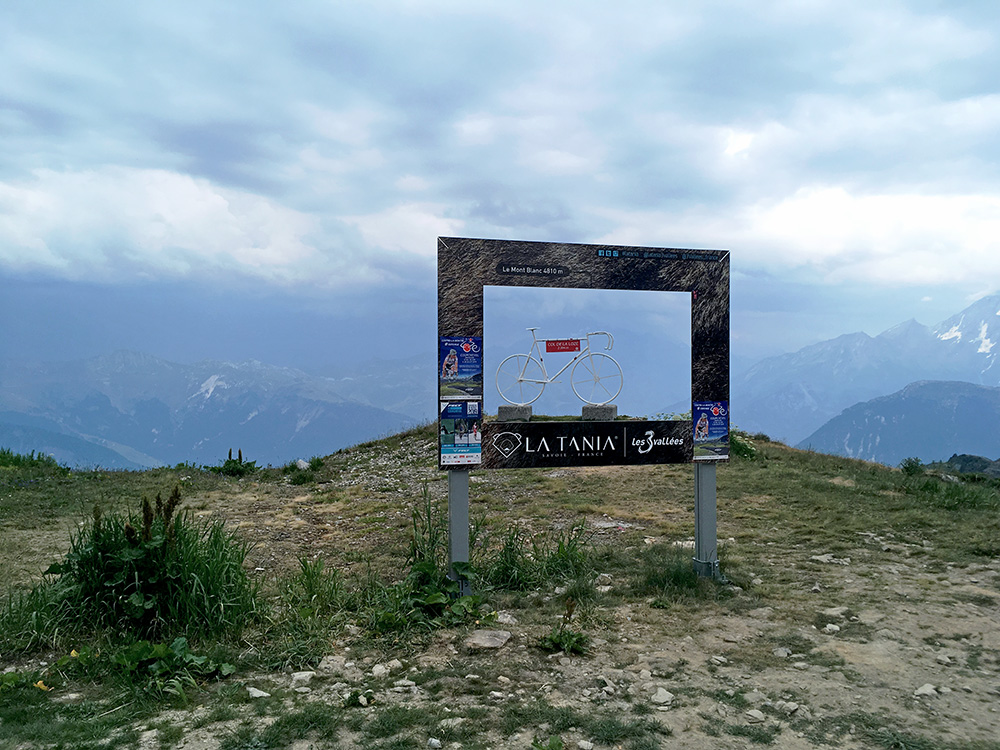 This formerly gravel track/road has been paved for touristic reasons to keep tourism alive in the Summer in the area and apparently there are plans on paving one more +2000m pass in the area soon.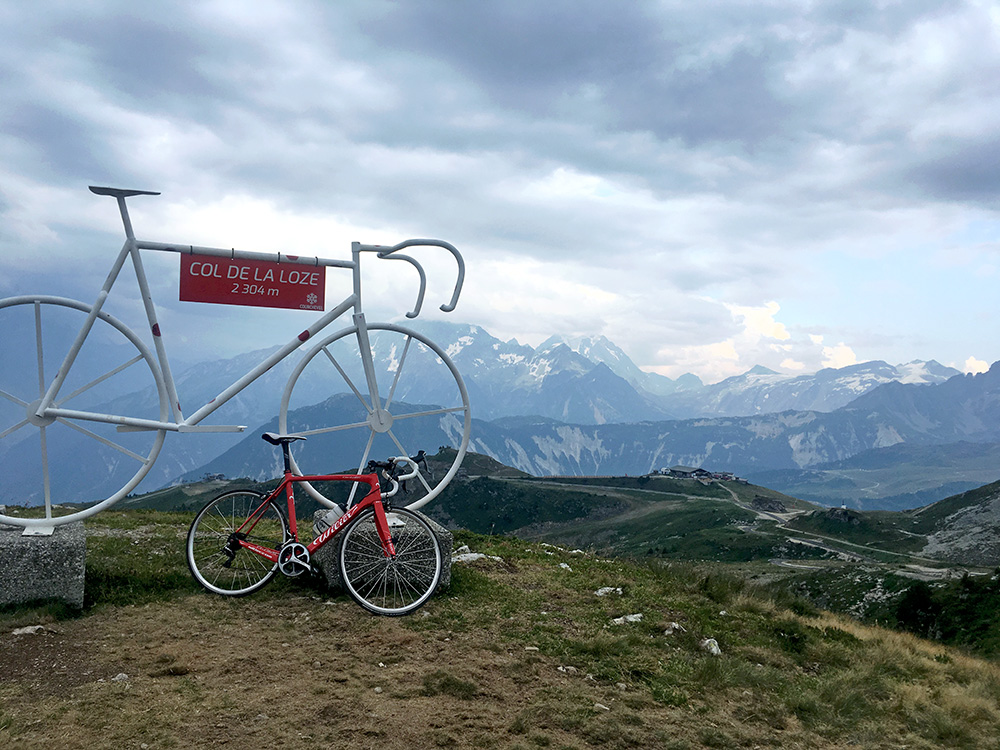 The views are great up here and I am happy there are more high roads to climb for us with road bikes, but the villages of Méribel and Courchevel are not exactly nice places, but one cannot have everything always.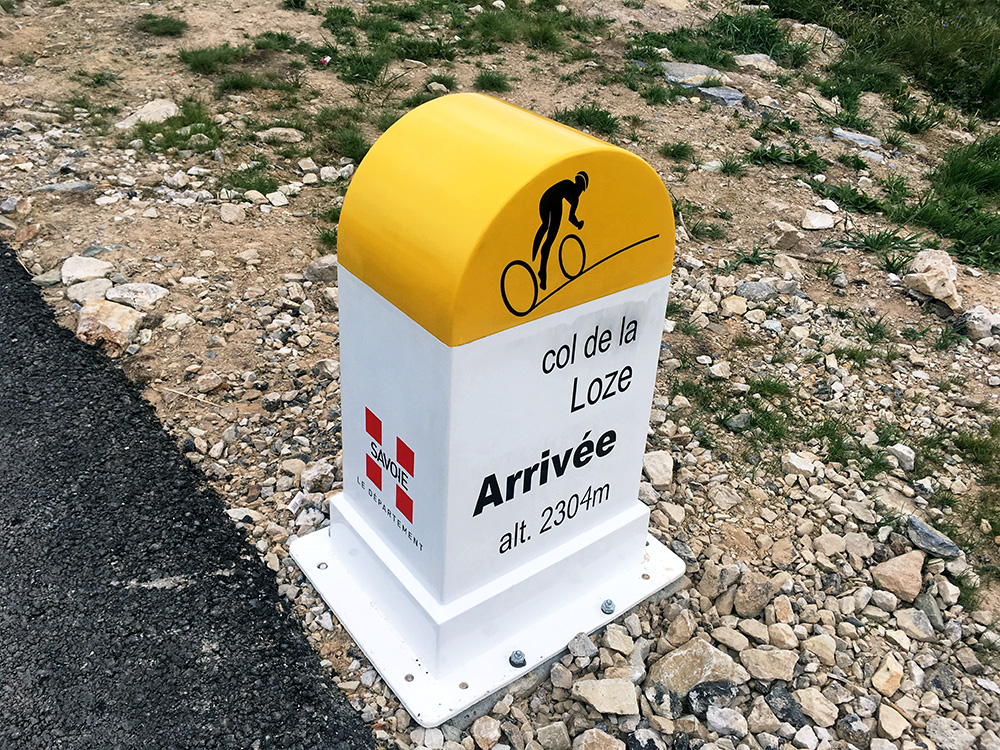 They love to use the Col de la Loze name here, but the pass itself is actually located like 50m in on the path from the last steep ramp in the first photo from the top above and its height is 2275m, while the road is actually going via the mountain that defines the pass, the Sommet des Lanches (2304m). For all practical purposes one does cross the pass also on the road though, so fair enough.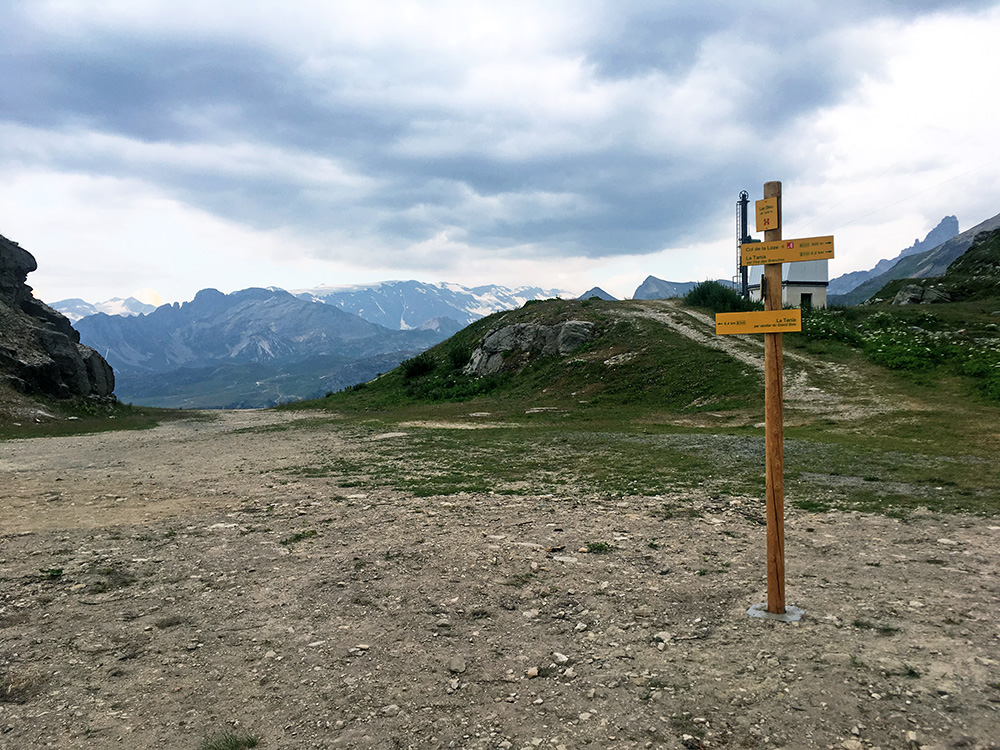 Stopping on the way down at another place looking like a pass (no pass name given), while also giving a nice view. The sign says Lac Bleu (2230m).
The road down is narrow and steep also on the Courchevel side and also very irregularly and it can indeed be a bit dangerous to descend in high speed as one is usually used to having a wider road to make use of. So a little warning here and doubt they will race down these roads in Tour de France, though they may go up here eventually.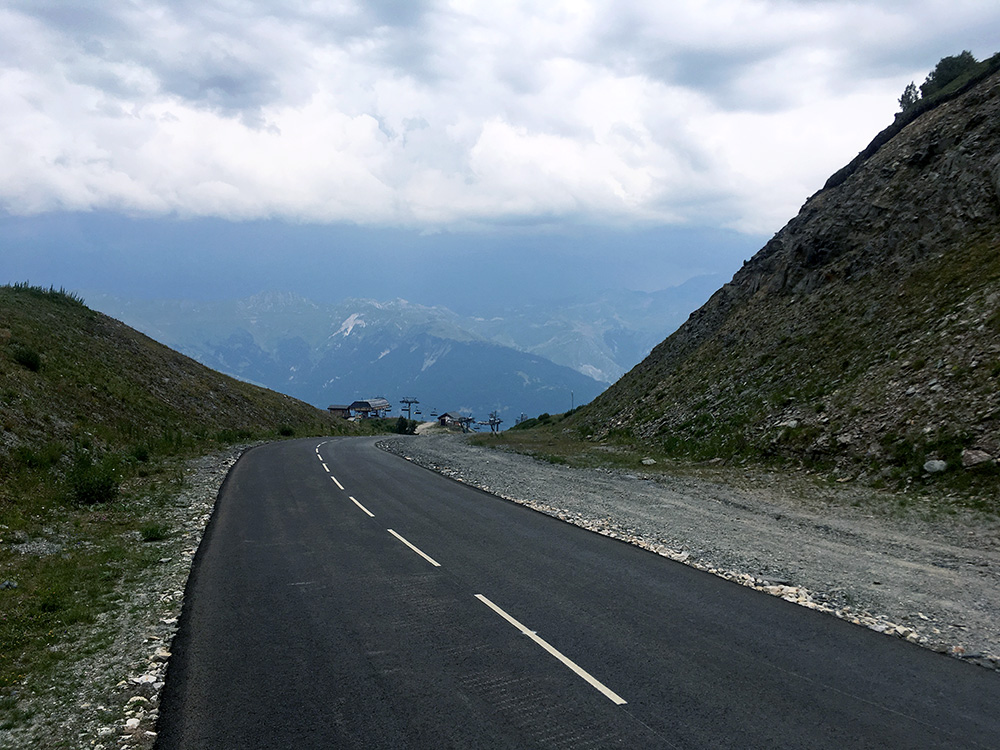 Here it goes steeply down and little below I met the only other cyclist on the pass road this day. He looked ambitious and was going up, but I was later a bit worried he might possibly have been caught in really bad weather up there. I stopped again by a grocery in Courchevel 1850 for a sandwich and something to drink. Just as I was going away it started to rain and cursed myself for stopping while it was still not raining.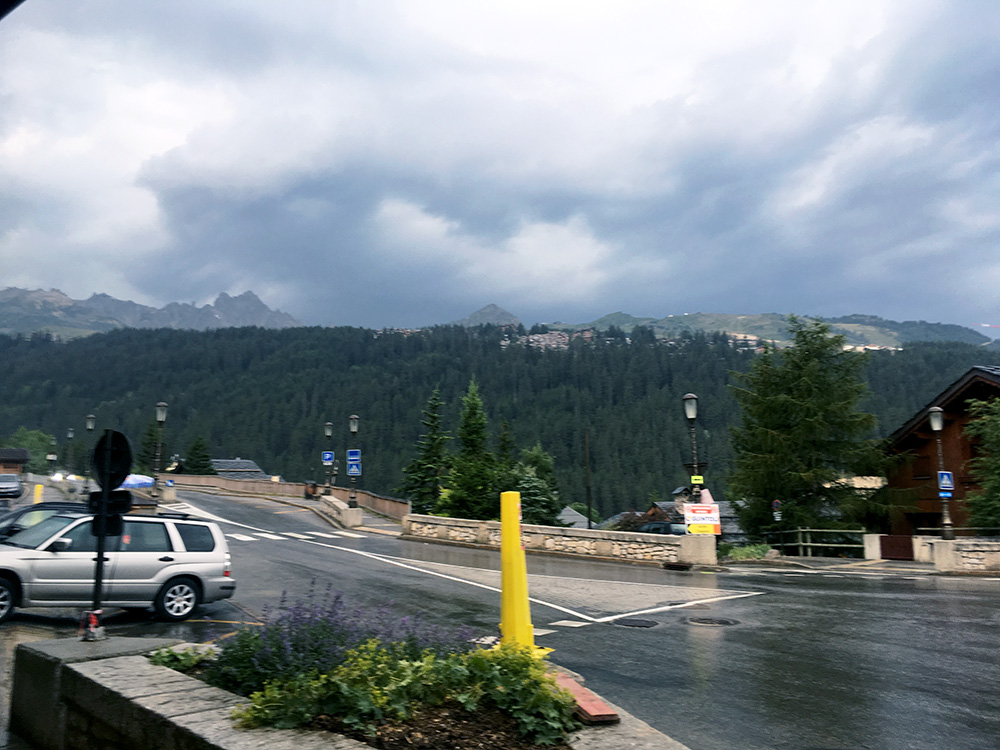 I hurried down the road, but did not get far before it started to rain heavily. I stopped as fast as I could down in Courchevel 1650 before I got all soaked. The weather turned from bad to worse and now I felt lucky. I was sitting outside chatting with some locals (probably working for the tourism industry there) drinking a belgian beer, but we had difficulties staying away from the blizzard of ice cubes smattering down even though we sat under the roof. In the end I had to go inside for a while and waited until the rain had nearly finished before I continued slowly down in the evening (took 1.5 hours or so).
My thought was to somehow just get down to Brides-les-Bains at least so I did not have to start going steeply down in the morning if the weather was still bad then and it would not be so hot down there either now. I knew there were plenty of lodging in Brides from before as I stayed there once and had checked on other hotels also. The first place I tried at was apparently fully booked. Then I tried the central hotel I had previously looked up and they were likely among the cheapest and it was all fine with me. I had a chèvre chaud salad and burger for dinner and a beer.