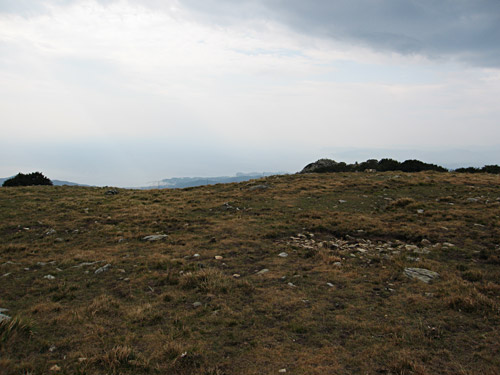 Another fantastic day with two major climbs: Monte Beigua (1287m) and Colle di Melogno (1028m). Now it was time to explore the local climbs. Gabriele thought I could sleep longer today as I would anyway catch up with the other riders on Monte Beigua and as I was a bit tired from the day before, I could not really protest. I went down from Cantalupo on the narrow and steep road to Varazze about an hour later than the others should meet down at Varazze. For some reason I now felt quite fine and made a good climb up the Monte Beigua, if I may say so at (I think) 90 minutes (including one short stop for water high up). At least I overtook a local girl cycling up to Alpicella (much more girls cycling in Italy than in Sweden, even if we have a recent world champion (Susanne Ljungskog) living nearby at home).
The climb starts at Varazze (6m) by the seaside and climbs up via Alpicella (400m) on a good and decently wide road. At Alpicella there are water, bars etc. From here a much narrower and steeper road continues contouring the mountain and it is not easy to understand where you are really going. After a while the road becomes wider again and the gradient soon becomes less steep. On the last part of the climb I caught up with the last of the other guys and up at the top I was one of the first (I believe a few of them was actually up somewhere there before me (I believe the Tirano guys were pretty quick up also)). I guess all did not start at the same time either, but the idea was of course that we should be up around the same time so we did not have to wait too long up there for the others and it worked out remarkably well.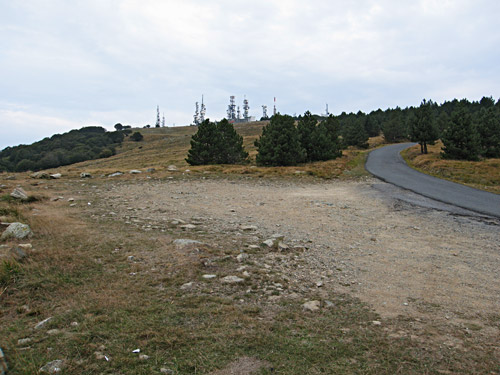 I went over the mountain and down a bit on the other side to find a place for some good photos, but it was difficult to see the sea in the haze. The weather was not perfect, but it was not raining and it was not too cold or windy. I went back up and met the other guys going up to the little church near the antennas on the top for a group photo.
Monte Beigua (1287m) is probably the longest climb in the Ponente part of Liguria. There is a small pass just before the top (a little out on a gravel road) called Sella del Beigua (La Crocetta) (1251m). There is also another pass that we descended to on the other side simply to have some coffee at a bar there: PrÓ Riundo/Prato Rotondo (1108m) (the first is the Ligurian name). (It is marked as a pass on an official map for the Alta Via dei Monti Liguri.) There is an asphalt road going down this side to behind the mountain and further to connect with other roads. The road that goes down toward Alpicella from here is probably only a gravel road (for what I understand). Then we went back up again and down to Alpicella where we split up. Some others were going to climb the Colle di Melogno, but were going to Finale Ligure by car. It was decided that I would go by bicycle and climb it on my own and so I did.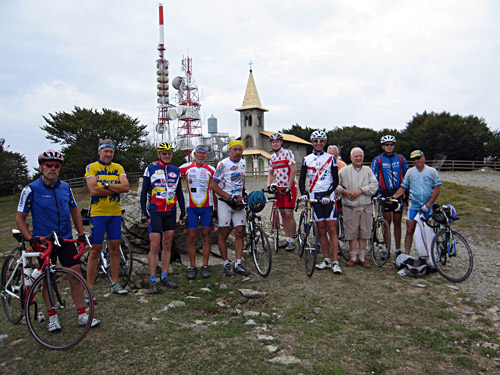 It was mostly a quite nice ride along the seaside to Savona and then later Finale Ligure. I stopped once for a coke and yoghurt and noticed that they sell really strong liquor in shops down here (that can only be gotten at hospitals in Sweden). There are some really nice parts along the coast and the whole stretch between Savona and Finale Ligure is quite nice! Eventually I arrived at Finale Ligure and starting to get a little tired after these ca. 36 km along the coast.
Just at the end of the small town, there is the road going to Colle di Melogno. Just a kilometre into the road I noticed how much hotter it was now when I was not close by the sea any longer. The road soon becomes quite nice as one cross the Sella di Gorra (200m). The pass is referred to in an official map related document I found online after searching and only having found it in George Rossini's book on the Italian mountain passes (George Rossini was also present at the meeting – Rossini also has Sella di Eze (297m) a little later on the road, but I have found no references for it). The heat on lack of any wind made me so tired that I stopped at the (almost only) bar along the road for a coke and a little rest. I might have missed some of the others descending the pass during the few minutes I was here. As I came out and started to cycle up the pass I met three of them and they wondered if I had seen the others.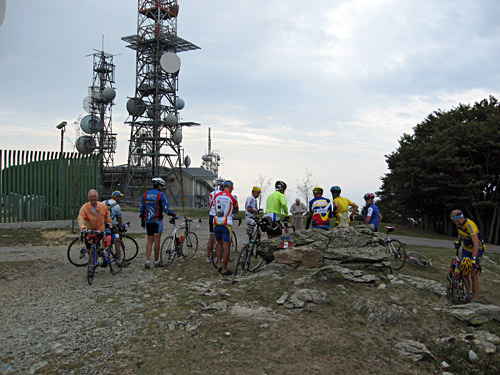 The higher up you get on this climb the nicer it becomes while it also gets a little less hot. The road is in a perfect state and this must be one of the most recommended climbs in the area. There is a crossroads and a bar just 2 km before the pass to where I returned back down later. The pass is marked by an old tunnel obviously built as a military installation once upon a time.
I continued over on the other side a little bit and then returned back down to the crossroad (Sella Macci˛ (944m)), where I took the road going east to yet another crossroad which is also arguably a pass. Gabriele Brunetti has stated in his book that this pass is called Colle del Doppio Bivio (980m), but again I have found no independent source for this (yet). Here is a choice between three roads ahead. Actually, the one I took was the only one with no further pass along the road, but I had not studied the maps much in advance and had only borrowed an overview map of Liguria in 1:250 000 from Gabriele where only the most important passes where noted. I took the quickest road – the road descending directly to the B˛rmida valley, as I was also supposed to be back in time for a meeting at Gabriele's house. This road might be the one least used oddly enough (at least it looked that way).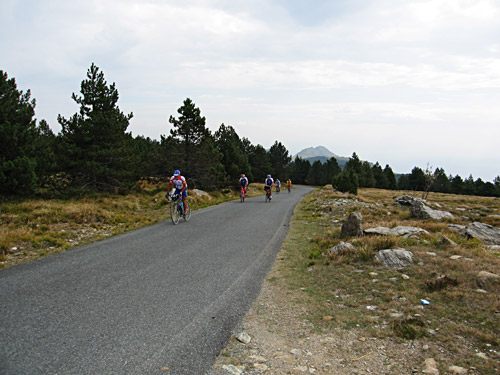 Just after Pian Sottano a road goes over to Mallare. I had not noticed on the map that this was another small climb over a minor pass called Colla del Bresca (588m), but it was only a little over 100 height metres up through a few serpentines. These roads are very little traffic on. After this pass the road was flat via Mallare to Altare, where a very short climb leads to the tunnel of Colle/Bocchetta di Cadibona/Altare (436m) (I think I have seen all these name variants on maps, but generally it is referred to as Colle di Cadibona (and this is also what the sign on the house in the photo says).
From Colle di Cadibona there is a nice and wide road down to Savona, where I could go rather fast down. The road from Savona to Varazze was now already familiar, so it was easy to find where to go. I stopped for a last photo just as I arrived at Varazze. At Varazze I had to go up the steep climb to Gabriele's house at Cantalupo with up to 17-18% and 230 height metres. Gabriele had went down to Varazze to collect the cyclists for the meeting and wile I waited a took a few more photos from up here (the last photos, the last photo was taken later in the evening).
We then went down to the same hotel in Varazze as the evening before for a very nice dinner and a late stroll by the seaside and another beer.