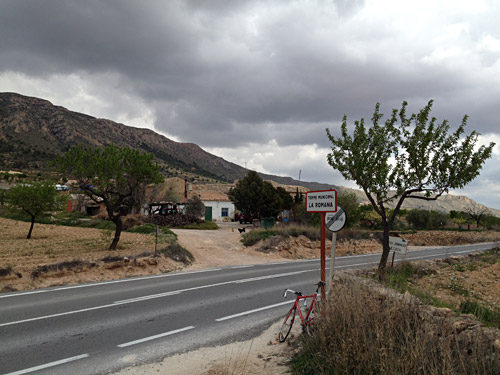 Today I planned to do a somewhat local tour south over some not very obvious passes on the border from the high plateau of the inner Spain and the coastal area, leaving the nicest destinations for the last three days and as they would be closer when starting form the Port de la Carrasqueta (Pou de Neu) where I would stay those days.
I found my way out of Alicante/Alacant to San Vicente and then climbed up via Agost (310m) and down to Novelda. Then I went from Novelda (230m) to La Romana over a possible vague pass Collado/Casa del Coll (387m). From La Romana (420m) there was a nice road to Coll d'Abril/Collado de Abril (632m) where I am in the photo here. It started quite warm and sunny but quickly it got rather cloudy, but that meant it was perfect weather for cycling around in this area.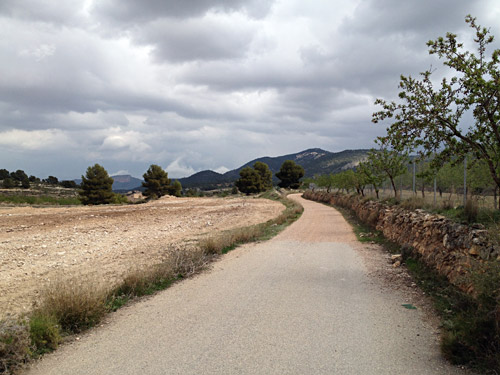 Down to nearby Algueña (520m) and then up to Pinoso (570m) where I stopped for lunch in the centre at a restaurant. After lunch I continued to a peculiar one-sided pass where I met other road cyclists oddly enough (first time also this day). A small road goes to Encebras and the nearby Coll Enzebres/Collado Encebras (687m) where the asphalt ends (otherwise it would have been a good through road in the area and probably possible with a road bike, but I was not going in that direction anyway). Here in the photo you see the asphalt run out at the pass.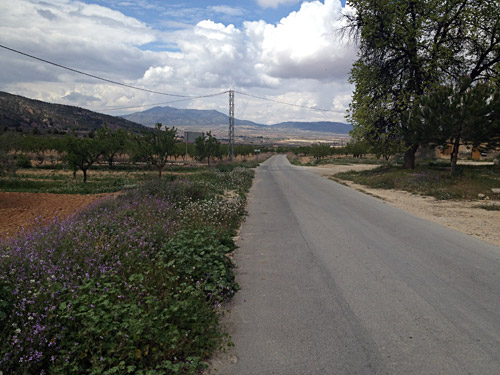 Here I look back down toward Pinoso and where I went back to now. Then I got to Collado de Abanilla (587m), which is a pass well-marked on maps, but very vague geographically. Before turning of the road at Peña Zafra de Arriba (608m) I climbed over a much more obvious but unnamed pass at 692m.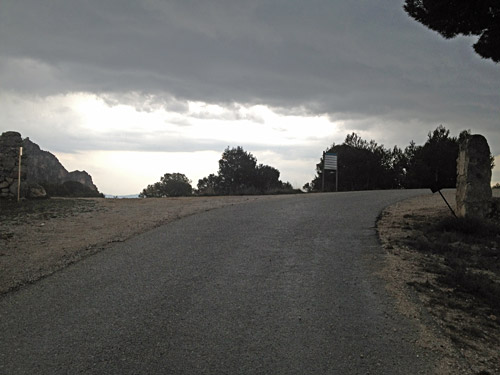 The curious road Peña Zafra de Arriba to the next and maybe the main attraction for the day, the Puerto Frío (835m) is indeed on a fully asphalted road. It is the only asphalt over the Sierra de la Pila (Pila is 1266m and the most pronounced mountain in the area).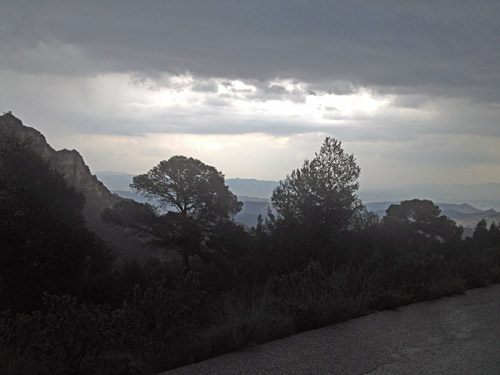 Decent views from Puerto Frío made it feel worth taking the tour of this area which is obviously not very popular.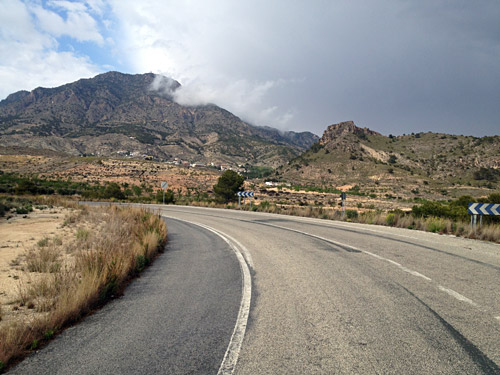 La Garapacha (588m) was another little unnamed pass on the south side of the Pila mountain that I passed over on the way down to Fortuna (which came across a little like a hillbilly village, but maybe it was just the impression I got from someone (not Spanish) I asked about the roads here). Here I am looking back up to La Garapacha.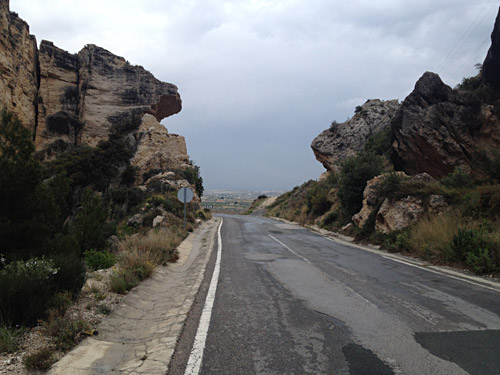 And here is the view down the (not so good) road down to Fortuna.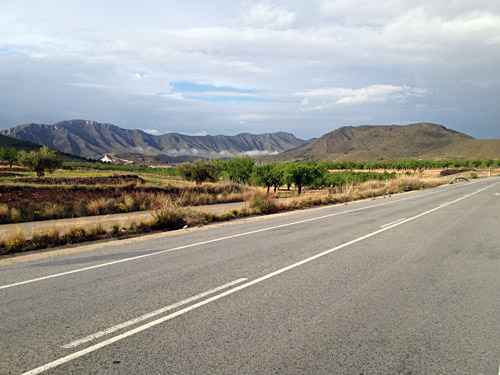 From Fortuna (195m) it was time to climb back up the mountains and get on my way back. First up to Puerto de Barinas (391m) and then on a nice mostly flat road via Macisvenda – photo here is from after that village and from here a road goes up to Algueña that I passed by earlier.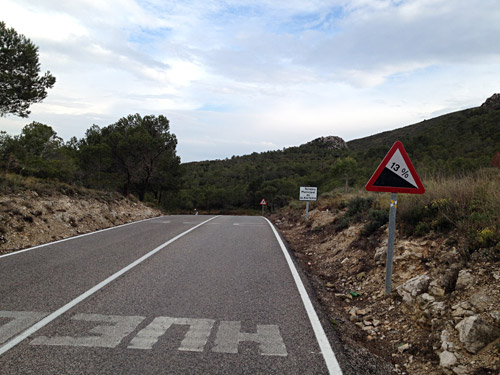 At Hondón de los Frailles (415m) I took the road going to the coast to cross the last pass before going back this day. Coll de la Algüeda/Collado de la Algüeda (497m) turned out to be a really nice pass and one that should be climbed from the other side obviously.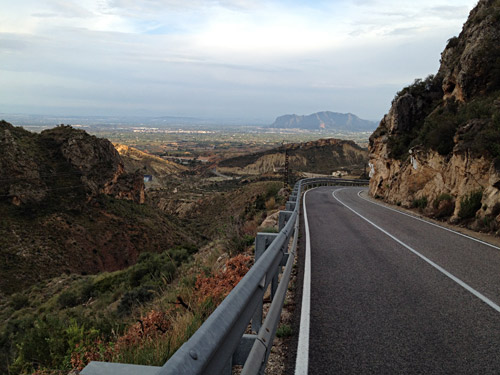 Lovely views on the way down toward the coast in the evening sun. From the photo data it was apparently already 19:32 in the evening now and I was nowhere near the hotel yet, hence no more photos this day. I took a small road along a canal (Canal de Crevillent) down there to Crevillent (115m).
When I came to Elche/Elx it was getting dark and I decided to take the train back to Alicante from there, but decided to have something to eat at a kebab bar first as I knew I would be a bit too late back for going out eating after coming back this evening. Found my way back and guess I got to sleep somewhat soon after coming back. José Manuel and me needed to be up early the next day as he would take me to the hotel up at Port de la Carrasqueta (Pou de Neu) in the morning before going to work.