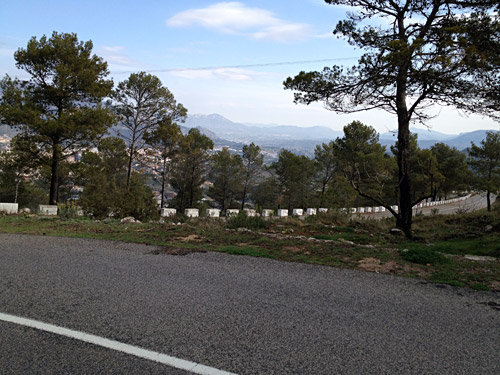 José Manuel was nice to drive me up in the morning to the hotel he had set me up at for the last four nights. Pou de la Neu Gastronòmic is a great hotel, but especially it is a good restaurant with a phenomenal view over the the Alicante/Alacant area and the sea. The place sits on the mountain ridge above Alicante and one access it via the Port de la Carrasqueta (1025m) pass and from there a narrow concrete road takes you to the restaurant in less than 2 km.
Back in the days the special round building up here served as a storage for snow from the Winter which was used in the Summer to produce ice cream that was then taken down to the seaside to be sold. They do have good ice cream here as José Manuel had told me and he said I should ask for their Mantecada ice cream, which I did and it was a very good one. Not sure if the hotel/restaurant has closed down recently (2017).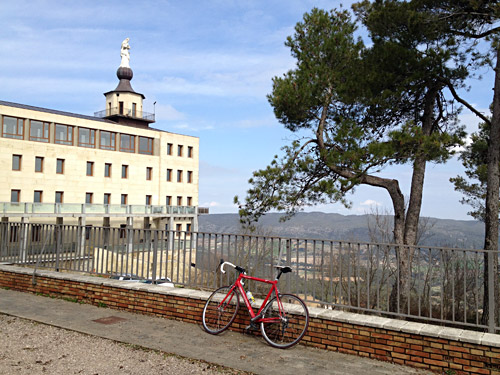 This day was a rather ambitious and long day – most likely the hardest day despite the very hard first climb the first day. I went down from the Carrasqueta pass on the other side of the ridge toward Alcoi/Alcoy and took a road up the Sierra de Menetjador/Serra de Menejador to Santuario de la Font Roja (1060m) passing by the Ermita de San Antonio (915m), which is a little unnamed pass overlooking Alcoi (first photo above).
The climb to the santuario is not very difficult, but it is a nice road and decent views from up there as seen in the photo here (also a popular local destination as I understand).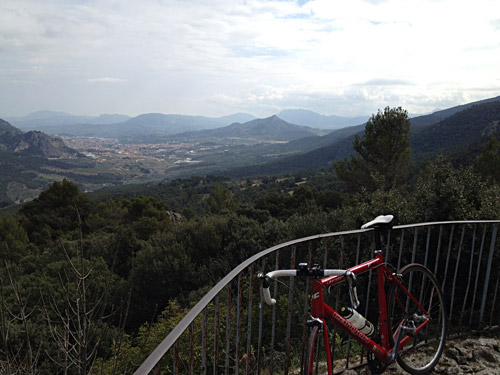 Here the views back to Alcoi. I had to go the same road back to Alcoi where I stopped by a small café for a coffee and cake or sandwich.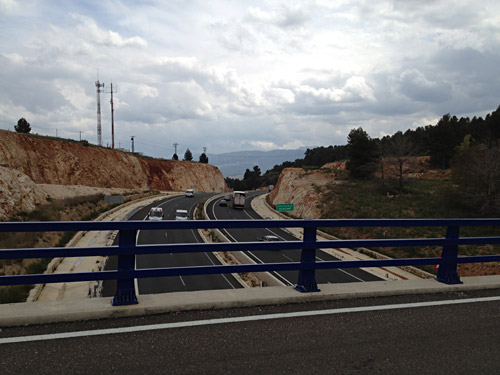 I continued north from Alcoi and took the road over the hard to avoid Port d'Albaida (604m), which is climbed on a local road, but once at the pass the only way down north is on the motorway were you are not really supposed to cycle, but the authorities in Spain seldom have given much thought to such concerns and usually you are at least in practice allowed to cycle on the stretches where there are no alternative roads (but think I have heard that this is not always true, so on your own risk). Anyway there is only a short downhill ride on the motorway here before you can turn off.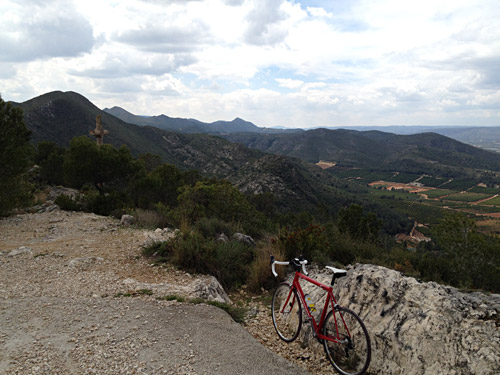 Continuing north one avoids the motorway by going via Montaverner (170m) and L'Olleria to Port de l'Olleria (389m) on a small obscure road that I spent some time researching while planning as it was less than obvious that one could actually cross this pass legally on a bicycle, but it turns out there is a paved bike path down the north side.
At the pass, I cycled up the concrete road along the ridge a bit higher to get some good views for photos. Here looking down at the pass and on the northwest side.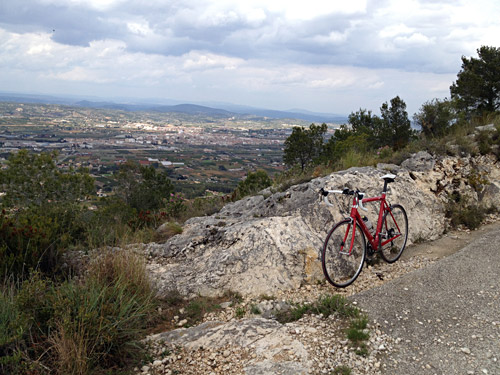 Here is the view down where I was going now.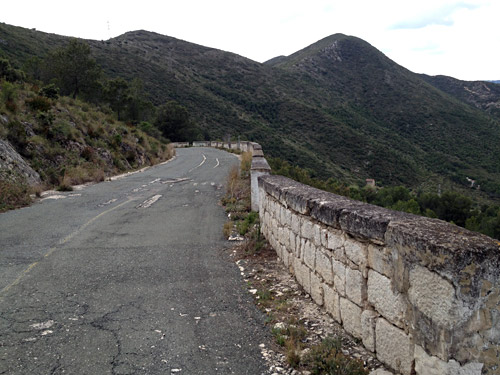 A bit sad the old road is no longer open to car traffic as they obviously then no longer maintain it and it was obviously a fine road earlier (but it is similar in other parts of Spain where they spend ridiculous amounts on building tunnels and close down old nice alternative roads, but here some of the north side was used for the new road so difficult to maintain two roads here maybe).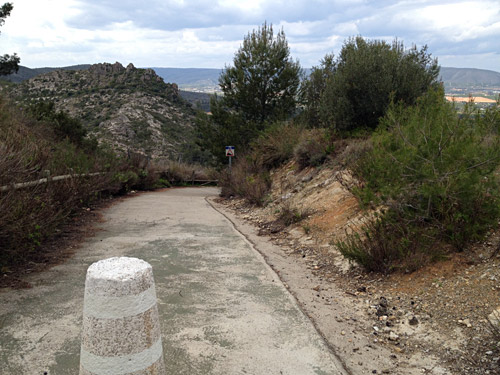 Here is the little used bike path down, which is quite steep for a while (sign in the photo says 17%).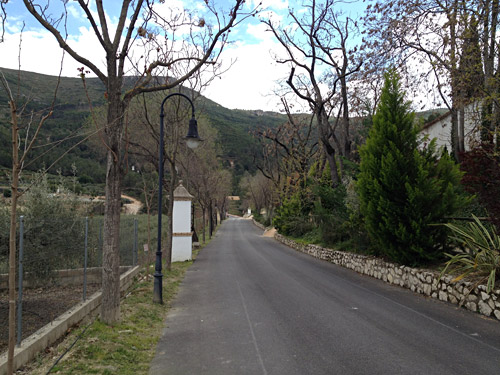 Down at Canals I took the main road to Vallada – think I went on the motorway here, but there is an alternative not so good road along the side that I perhaps should have took. Soon I was in Vallada and there I found the road toward the next climb that had made me make this long route along not so inviting roads.
Quite nice here out of Vallada (270m) in an area that is otherwise a bit boring. Here the climb up to Alt del Campello/Portixol (777m) starts and now we we have at least over 500 height metres of a climb. However, this climb is mostly known for the steepness out of Vallada and the road reaches around 20% on the way up to Campello where it descends slight to meet another road crossing it and going to another pass. Then it is a more normal climb to the pass itself.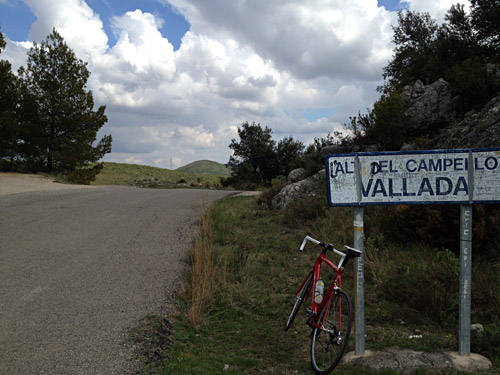 Here I just reached the end of the very steep section from Vallada and the locals (?) have augmented the spelling (Valencia spelling vs. general Spanish spelling I suppose).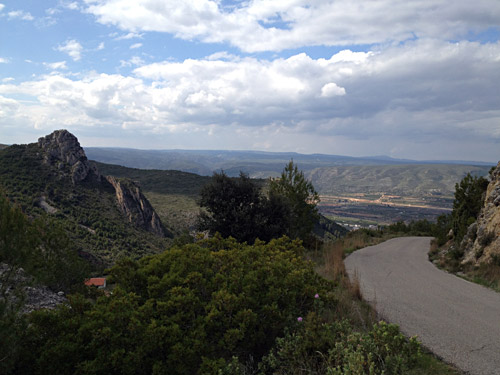 Here is the great view back down over the Vallada area.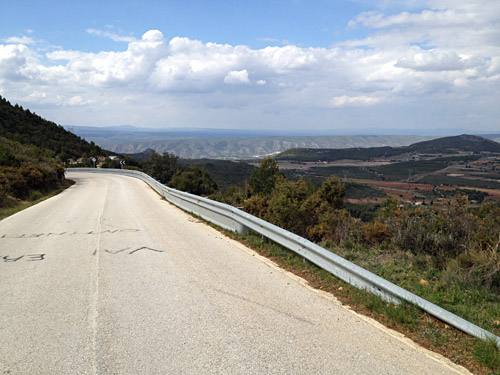 I continued up to Portixol (777m) which is the name the pass is most known by, but there is nothing marked on the official IGN maps nor any sign at all at the pass. Here I look back north and I would not get any further north than Canals on this journey.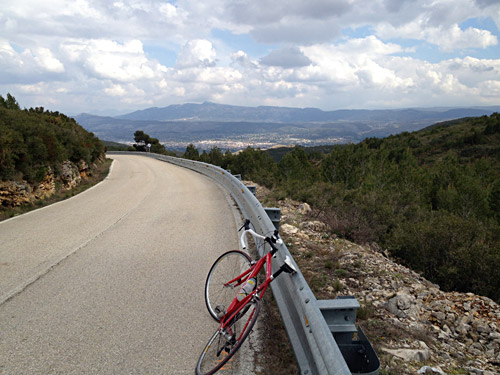 Here I am looking south on the nice descent to Ontinyent (350m). I took my time this day, but the clock were running and I was still a long way from getting back.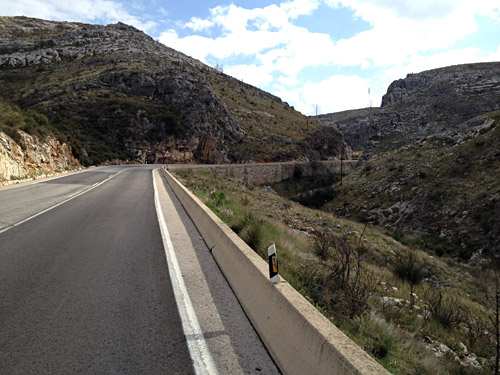 The road up from Ontinyent to Bocairent (605m) was a bit different and quite nice. I stopped for this photo, but otherwise kept a good speed up and now I started seeing some other cyclists.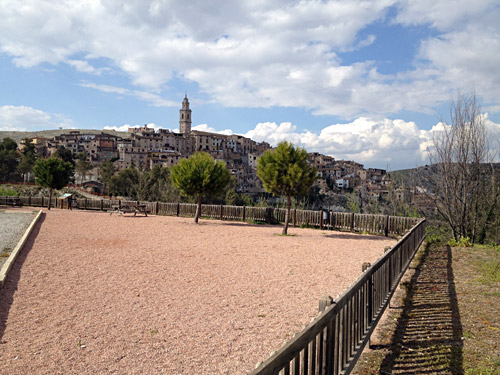 Bocairent looked like a nice village (in the photo here), but I kept going on to yet another unnamed pass in the valley ahead before turning off up to Banyeres de Mairola and I remember going up to the highest asphalted point (849m) in the village for some reason, possibly because I hoped to find a surprise pass sign up there, but did not.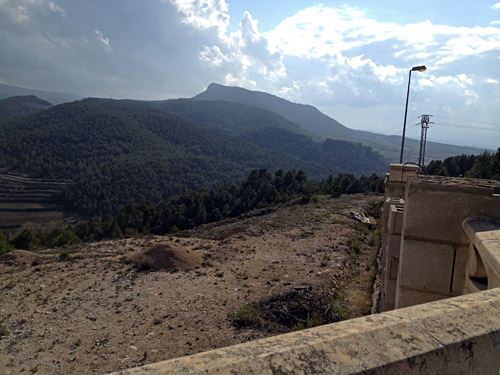 This is on the way down on the other side of Banyeres de Mairola. I then continued on the planned road to Puerto de Onil (1014m), which is not much of a climb from this side, but the road is nice.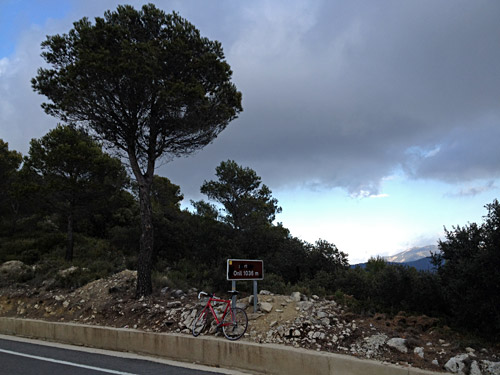 Here I am at the pass sign for the Puerto de Onil. This is from what I understand a very popular pass climb from the other side down in Onil and Castalla. There is an obvious pass before this pass on the north side, but likely this is the one named as it marks the highest point on the road.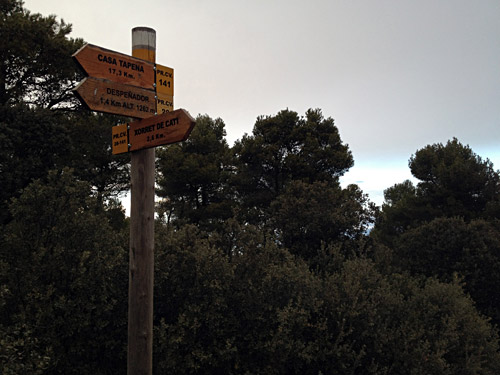 It started to get late and I knew there would likely be problems getting back while it was still light outside if I climbed the last planned pass for the day (I see now that I had planned even more though), but I did not want to miss climbing the Xorret de Catí as it is the absolutely hardest pass anywhere near Alicante apart from Berna that I unfortunately had to leave out this time (and there is a curious climb to Serra Gelada near Benidorm that should be up to 34% but then doubt it can be done with normal 39-28) – also the Carrascoy climb is harder, but then only because of the bad surface, since this is steeper than any other here.
Collado del Portell/El Portell/Xorret de Catí (1097m) is most classically climbed from Castalla (700m) and even though the pass is called Collado del Portell it is virtually only known by the name Xorret de Catí (a location below the pass on the Petrer side). The climb starts at ca. 650m and then climbs gently at first, but then comes some very hard ramps around 20% with a maximum of around 22%. The climb may not seem long, but it was very hard for me and I just about made it up.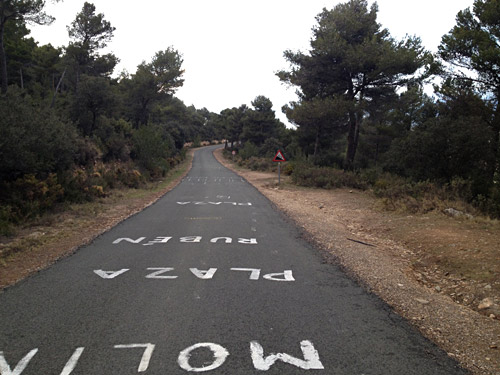 Here upon return down there is a warning sign saying 20%. It is a very popular climb in the area and very well-known since it has been part in the Vuelta. I was happy to have made it and the road is nice.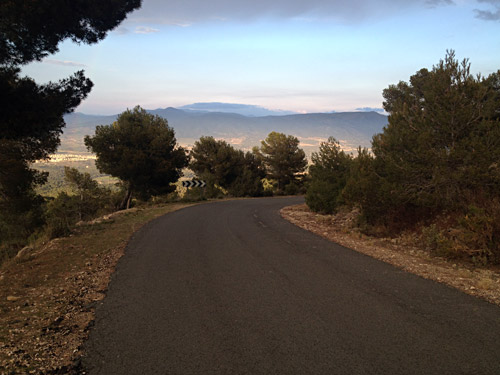 Here is the view over Castalla on the way down the Xorret de Catí.
I took the sketchy road at the bottom of the pass sign-posted for cycling and as one is not allowed on the motorway that is the only choice. One goes under the motorway and then joins a normal road that follows the motorway. I had planned to also visit the nearby Antenas del Pedro Paya (1196m) with an asphalted road that might also have been rather steep (higher and starts lower at 630m) also the twin-destination up there is the Balcón de Alicante and both places should offer better views than the Xorret de Catí, but for another time.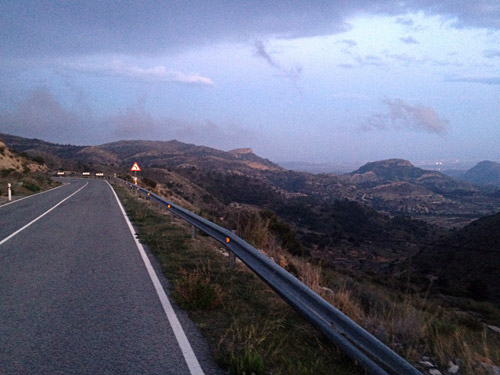 Now it was just to get back in time for dinner. I took the road over Tibi (540m) and from there it was a bit of climbing again up to yet another unnamed pass at Cabezon de la Calina (728m) where it was still light as you see in the photo taken at 20:41, but the twilight is upon me and down in Alicante one could see some lights. Now it was just one downhill ride to Jijona/Xixona (430m) and then the final long climb to Pou de la Neu (1110m). 680 height metres that I now had to do in the dark, but was happy to have reached the start of the climb while I still could see well.
There was very little traffic on the road now and sort of nice to ascend the pass road guided mostly by moonlight and knowing I had somewhere to go for the night. There was no problem having dinner even if I was a bit late, but we are in Spain after all (and not in France). I cannot remember which day I had what, but they served me some really good food all the days and for a ridiculously low price I will not even mention, probably because of my friend José Manuel (but he did not seem to have paid them anything, mysteriously … ). I mean this is a gourmet restaurant with the best of views – one would have suspected to pay a bit more than at McDonalds for a full dinner with great wine. I think they the year before had had the Pro Tour team Euskaltel (no longer around since 2014) staying there for a training camp and they likely were keen on good food too.