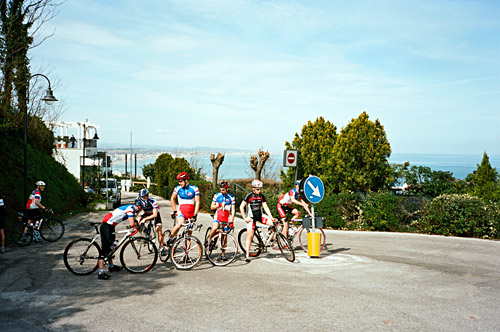 It was nice to sleep a little longer this morning. It took some time to get going with the gang and eventually in Rimini we lost each other, thanks to the cicloturistic Jerry (myself), when I tried to get off my jacket at a red light and spilled coins all over the road and tried to pick them all up. I caught up with the others, but some where getting slower waiting for me and after some zig-zagging we lost the first group. After some telecommunications we eventually all met up again in Cattolica.
We found the road up to Gabicce Monte, where we stopped to discuss the initial training along the exciting up and down coastal road toward Pesaro. (First photo here was taken there.) This is one of the most popular cycling roads in the area, rather obviously. I knew I would have a hard time after yesterday to do any good and started with the slow group and even there I turned out to be mediocre this day. I had almost only had distance training since September the year before. When we all met up half-way to Pesaro and they decided to go back and forth on the road continuing with their interval training, I decided that it was as good that I went away on my own did the last tour I had prepared at home which included this stretch.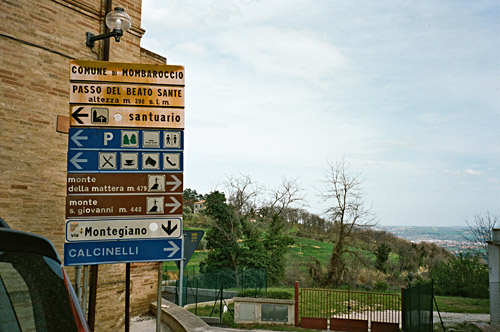 I took it easy and went to Pesaro where I stopped for lunch outside a grocery, not feeling I had really made much this day yet to deserve sitting and eating a lot. Time was going and I wanted to move on. I had had many ideas of the best way fro Pesaro onwards, but decided road by taking the wrong road (the one not intended) and I turned up on the coastal road going south. I planned to then take the next road going inland, but as I did not care enough to have look on my map, I decided to continue a bit longer than in any plans and guess I was down at Fano, where I turned off. Then I got on a wrong track and ended up on a football field, but soon got back on a normal road that seemed right. Soon thereafter I looked on the map, which was a good idea as I would have taken the wrong road otherwise.
I found a road to Mombaroccio and Passo del Beato Sante (398m) (which to my surprise had two pass signs). Here the road (that I followed) continued to climb for some time above 400 metres height. The road ahead was really nice, twisting and somewhat confusing down via Serrungarina (209m) to the main road from Fano at Tavernelle (87m). I went up the valley to Fossombrone (118m) where I searched for a place to buy something to drink, but found no good place. After some uncertainty I found the correct road (it is not difficult as there really only is this one going up here steeply) up the steep mountainside. I was lucky it was not warmer than it was as it could be hellish in hot weather here! The climb from Fossombrone to Monti/Monte delle Cesane (628m) has been part of the Giro d'Italia and is a respected climb with gradients up to ca. 20% in some early ramps.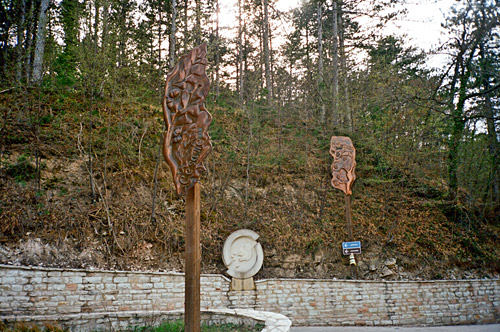 After the hardest part is finished, you come to a crossroad with brass signs and cobblestone pavement for the Cesane road. (See photo.) The pavement is asphalt soon after, but there was a lot of debris on the road and it was not always in the best condition. At the top it becomes a very good road again. It was mostly through woods, but with some nice views toward Gola di Furlo – the nice gorge I had wanted to visit on my tour to Monte Nerone, that unfortunately had to be abandoned in the end. Near the top the IGM map suggests a pass called 'Colla Romana' and there must be at least a few passes here, even if I could see no sign announcing any.
It was perfect weather and I felt relaxed today not having such a daunting tour ahead of me. I was already on my way back to Rimini, but the time had passed quickly at the start of the day and I guess I was not in Urbino before 16:30-17:00 in the late afternoon. As I was a little late I first thought I should skip getting into the city, but knowing it is a nice and famous place, I decided to go and have a little look anyway. I also found a grocery shop. I went up as far as road continued to climb and saw a boy getting up further on cobblestoned lane and following this to the end, I came up to a recreation area with splendid views of the area and part of the town.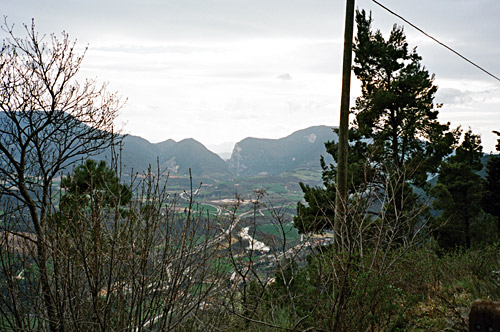 From the hill in Urbino I took several photos before going back down the same way (some seen below). The ridge road I took back from Urbino (direction Montefabbri) was one of the best roads I came across around Rimini on this tour. The road up to Mondaino was also super and nice in the late afternoon. From there it was mostly downhill via Coriano to Rimini, where it started to get dark. (Well, there was a little climb from Morciano to S. Clemente.)
I think it was this day I had problems finding the way back through town as I tried to guess my way through. It took half a n hour getting through town, but at least I got on the right road without the help of the map. I was back in time to get out and have something to eat at a restaurant (not so many open this early in the season).