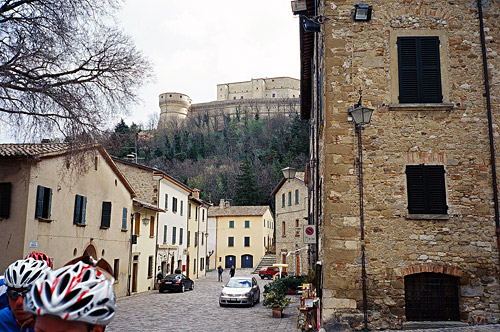 The others were not totally sure they wanted to climb up to Monte Carpegna, but in the end we all decided to go there (a few later decided to make a shorter circuit). Even though I was looking forward to climb together with the others, I knew I was not really up to their speeds yet (and some of them I would not keep up with even if I had been well trained and not having done so long rides before). Up to San Leo it was a race and I felt like I was standing still when they started – I really felt the days before and my legs were stiff as stone. After some warming up, I managed to overtake at least two of them (always nice not to be the last one!).
We went straight up to the fortress (Fortezza (608m)) at the top, which offers a quite steep stretch from San Leo. Up there it was beautiful, but I noticed that I had forgotten to take my second film roll with me, so I could only take some photos with my iPhone, but better than nothing. I went down before the others and bought a film roll in San Leo (which apparently was for reversal film (slide film) I heard when I came back home and hence the quality of the photos from here are not quite as good as on the previous pages).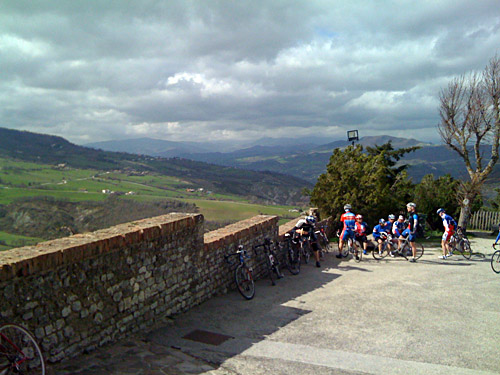 From San Leo the climbing continues and I had to fight to keep up with the others that went in a high speed. I think I lost them a little after stopping for a photo, but caught up with them before the end of the climb at Passo/Serra San Marco (986m). I went ahead of them up to this pass and stopped to take some photos of when they arrived there. (Photo below.) It is obviously quite nice here and there were many other cyclist up here as well.
We had a speedy descent and a little climb and descent to reach Carpegna (735m), where we stopped for coffee. This is at the start of the real climb up the Monte Carpegna – Il Cippo (1357m). I got a little behind the others and managed to miss the road to take off on up the mountain, but soon found it. I had decided to take it easy as I knew full well I would have no chance against the others here this day. They always tend to start a bit too fast for me anyway – I could gain a little later on, but that is not how things normally work in races where people try to get rid of the competition early on (at least at in Sweden, but maybe just because our hills are so relatively short).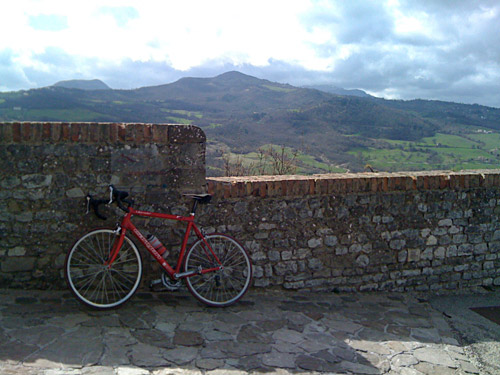 The road had not been cleared of debris for the season yet and was a little hazardous to descend. I met the others a bit after they had turned around. Apparently they had not reached the real top of the road as it was blocked by snow. I went up there and walked over the snow field, which was only like 200 metres and then the road was clear the last 200-300 metres to the top from where I had splendid views and found the Pantani photo in the photo below. I thought about descending the other side and thus maybe gain some time on the others, but it was soon clear the road ahead was more difficult with trees and snow across the road, so I turned back down and when I arrived after another photo back in Carpegna, they were just about to leave after another quick coffee break. (They were supposed to wait for some time, which was why I went to the top.)
So, I thought it was a little disappointing, now when they eventually followed me on a real climb and then did not actually go to the real top, but well, it was not far from the top.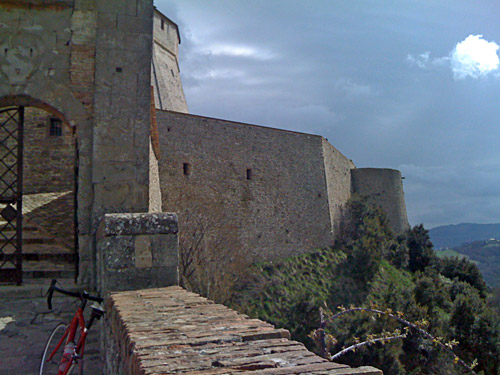 We started out up the Passo Cantoniera (1007m) and now I were beginning to feel a little warmed up. But then I had a flat and discovered that a spoke was broken in my wheel (as I though I had heard when rolling into Carpegna). The flat was fixed somewhat speedily and since I have classically spoked wheels, the single broken spoke did not pose any real problem. We continued over the pass and I took a photo while cycling by with my iPhone.
The descent was windy and quick with gorgeous views of the area. I let the others go ahead as I did not feel like trying to get a good time down. Instead I stopped for a photo along the road as I noticed another of us with high rims did not dare to go down very quickly in the wind and thus I was still not the last guy down despite taking things easy. We stopped to wait in Pennabilli (I believe it was – see last photo).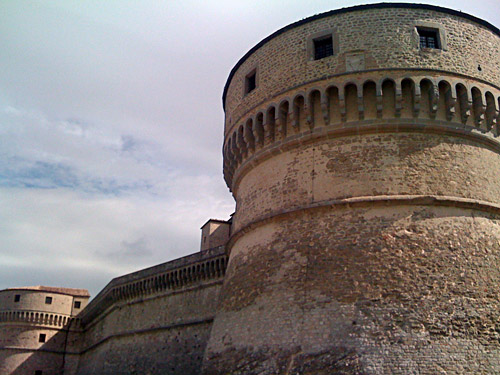 Now I was thinking of going up to San Marino, when the others would go back to Rimini, but as we came down to Novafeltria, the weather got worse and after a while it was clear that there were no mountains nearby that there would not rain sometime soon. So I reluctantly went down with the others toward Rimini. We encountered heavy rain before reaching Sant'Arcangelo and after getting soaked I let the others go away as I was not enjoying sitting behind their wheels in the rain any longer.
Somewhat surprising, while the others went ahead of me, I was the guy who was first back at the hotel. They had split up and some went to train a little more in the rain (crazy guys) and some who wanted to get straight back to the hotel had taken the wrong road. I felt a little bit disappointed in having had such a short cycling day this day. There were ample of time to get out and have dinner this evening and ice cream after that.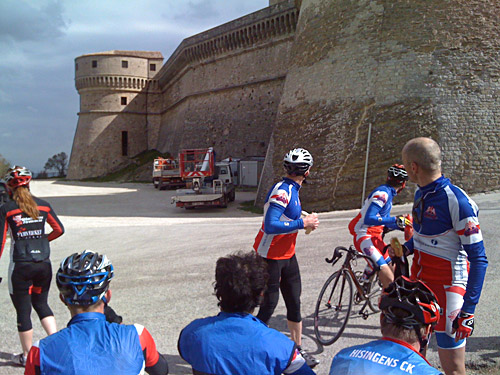 When I forgot about climbing up to San Marino this day it was because I though I could do San Marino on the way to Monte Nerone the next and last day as I had planned going a nearby route anyway. Now things did not quite work as planned for the last day, which otherwise would have made a perfect end to the Rimini visit – read on.