Now I was back on my original plan and was happy. I had a good breakfast at the hotel and went away out in the rather grey weather. Only cause for concern this day was that I had planned a really tough ride for this first day in the Pyrenées. On top of that I had added in some adventurous routes, so I was not certain at all that I would be able to complete the plan for today. But I was in good spirit and thought I take things as they come.
I found the small road out of Foix I had planned to take and it was a very nice road. The weather got worse though and it kept falling a very light rain for a long time, which didn't matter much to me as I excerted a lot of energy and thus kept me warm anyway. Now I was soon to climb above 1000 meters height for the first time. I discovered that they had put signs for cyclists at the beginning of a climb on a pass road where they stated the average (or minimum) degree of the elevation and how far it was to the col. They had even new such signs along the way with new figures on the perecentage to be expected ahead. It was a beautiful road up to Col des Marrous (990 m) where I stopped and thought I should take a photo (as I wanted to do at most pass heights), but I realized that the road was just continuing going up and thought it was ridiculous to call it a col (I think they called it that since it was possible to go down another road – that way they manage to have so many hundreds of cols up there in the Pyrenées … ). Apparently I missed to see the next col – Col de Jouels at 1247 meters. Around here I could no longer see the beautiful views of the valley beyond as the fog and clouds were getting too dense.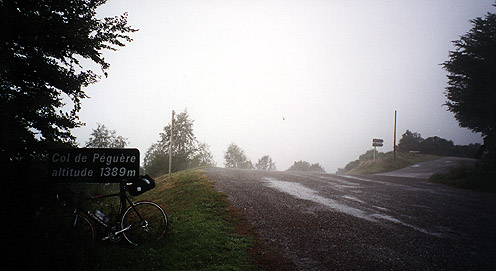 Before I turned of this road I reached yet another col – Col de Péguère at 1375 meters which you can see in the fog here. Now I turned off on the first road that was marked as perilous on the map. This road is among the smallest roads I have ever seen and it was tremendously steep constantly all the way from start to finish. It was constantly 18% downhill and the danger was obviously in getting a problem with the brakes. It is again marked in the map as being 13%, which is simply not true (the sign along the road said 18% and it was at least 18% – I could have looked on my bicyclecomputer, but it is not easy to focus on using it when it was impossible to take one hand of the brakes). I was now out on a bigger road, which had a col where I came down to it at (weird but … ). It was Col des Caougnous at 947 meters. Here it was a really delightfully good paved road to go bicycling and even though it now rained more heavily I also met a lot of other bicyclists here (I believe this is a classic Tour de France road, but it was not used this year).
Now I was soon down in a village called Massat, where I hoped to find a place to eat at (there were really no alternative places around as I had no plans to go down to St. Girons. First I thought there simply was no place to eat at, but then I went a bit further on the road and saw a place that looked like a more exclusive hotel or gourmet restaurant. It was indeed a very good gourmet restaurant, but I thought I just have to try and get something affordable there and hoped they would let me in out of the cold – not looking too good I suppose. But they turned out to be very nice at the place (well a few guests casted some looks at the man in the bicycyle shoes stepping into the restaurant … ). I had a very, very good meal and quite cheap as well – it could have been the best food for the money in my life. I almost planned to go back via that village again just in order to eat there one more time!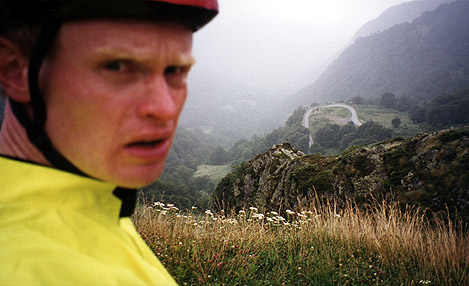 I had been really cold after arriving at Massat and I was lucky to get into this warm restaurant before I continued up the next mountain. I was now taking a smaller road from Massat up to Port de Lers at 1517 meters. Same weather – light rain, but as it was going up I was keeping myself warm and felt rather happy about the weather and nice road. In fact it felt perfect when I was up at Port de Lers and I said to myself what fools that never go bicycling up places like this. I was also lucky on the way down to Auzat (if I understand the map right) as the rain disappeared (on that road I saw one of the very few female road bike bicyclists going on roads like this).
In Auzat (or Vicdessos or what the place is called) I went into the grocery shop and bought a fruit cake and other things to make sure I was having enough energy to get going to the next challenge. I also wanted to ask someone about the idea I had of going over to Andorra on a back road. I talked with a man there who knew the area quite well and he said it was totally impossible to get over to Andorra the way I was planning to – "there are big rocks in the road and then there is a mountain" he said as if I had not understood anything. I had thought it should be possible as I had read in a book somewhere that it was a "clear path" (what that was supposed to mean I never realized and maybe I had not read carefully enough). He was about to tell me of a more plausible alternative route if I was prepared to carry my bike for some time and I said I was. I just wanted to get my map so he could show me, but then he noticed I had a road bike bicycle and said goodbye. Oh well, this nearly convinced me to take the normal road over the Port d'Envalira (which is the highest paved mountain pass in the Pyrenées, but it was not that funny I thought to go that usual way there. I was still undecided and at the last moment (since I was in good spirit and so) I decided that I could at least give it a try to go up that road that the man claimed to be impossible – after all I was prepared to be walking and even carrying my bicycle for at least a shorter distance and maybe it was just an ordinary path over the mountain.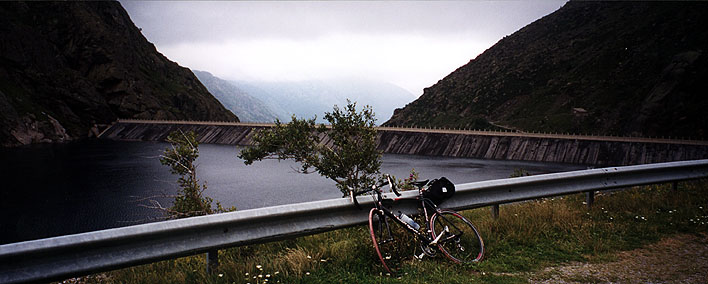 Well, the prospect looked more and more ominous as I optimistically drove up the nice and sometimes steep road straight in the direction of Port de Rat. I noticed a man outside his house above me on the left side who were working in his garden and looked back to him again a little bit later and noticed a curious smile on his face … . Up this valley they were arranging a lot of sports and wildlife activities apparently. I knew the road would soon turn into a gravel road, but thought I might be able to go bicycling on that road also. I did manage to go several kilometers on that gravel road, even though it was very bad and very steep – it was a real fight to be able to stay on the bicycle and I only had to put a foot down once when I met a car before I reached the dam. Here the road really was no longer possible to cycle on with a road bike, which made me a bit nervous as it was now past 6 in the afternoon and I know there would be several kilometers before I could reach into Andorra. However, I decided to continue as it was still very easy to lead the bike here as it was nearly flat now.
After a while I reached the place called Orrhys de Carla (which is only one little house) and here were a few campers with tents. From there on no motorized vehicles were allowed and the road was getting still worse and began to climb a little. Here I met two wanderers on their way down for the day and they wondered about my plans and said it might be difficult to get over to Andorra before the dark would arrive. They showed me some walking maps, but they did not quite know how difficult it could be to get over via Port de Rat. They offered me to stay over the night in their tent, but I said I better hurry on instead and got a chocolate bar from them and said hello. Now there were only cows to communicate with. I was slowly beginning to wonder if it would not really be best to get back, but it was already almost to late (unless I wanted to go back to the tent place and stay there). It was still sunny and nice weather however, so I thought that if I only did my best I would probably make it over to Andorra (if it was dark the last couple of hundreds meters it could not really be a problem, I thought).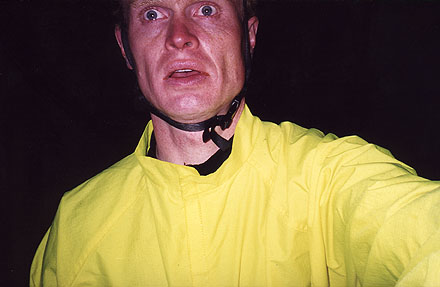 Now I realized, I really had to try and do what I had planned no matter what. I got increasingly nervous as it was several kilometers to walk and it took ages, it felt like. I also did not really see the sign for the path to Port de Rat and continued the road until I stood in fog (now) right in front of a mountain wall and had to go back down a few hundred meters again to a sign that I figured must be for Port de Rat (which it was). Now I had to partly carry my bike on a very difficult (as it turned out, with a bicycle at least) path and had to get over some water passings and made it with some success, but it took a lot of energy from me. I had to fight harder and harder to get myself and the bicycle up and I was getting more and more desperate over how long it seemed to be to the top (which I could never see as it was very foggy and I only saw like 10-20 meters around me – it was bit scary with lurking mountains in the fogs on both sides and a steep small path were I had to look for markings all the time not to get lost). At last I reached the Port de Rat and was immensely happy for that, but I could not really say it was "possible" to go there with a bicycle – I was totally exhausted and realized that if the path down to Andorra was not good I would maybe have no chance to get down there as it was now almost dark. The fog disappeared though and I had a marvelous view over Andorra. I saw some lights down there, but they were a bit far off and very much steeply down under me. Up at the Port de Rat there were a few goats that were frightened of me. There were no place to take shelter and only two heaps of stones brought together. Snow was laying here and there on the mountainside. Well, I could not stay there so I started to try and get down to Andorra, but after only 50 meters or more I could simply not find anything looking like a path at all, no matter how much I tried. Now I got really nervous! I tried to get down a bit further but there were mainly grass in the very steep descent and I found that I was beginning to slip in the sandals I had been walking in and then my bicycle began to be moving on its own downhill (I carried a pair of very light-weight sandals that were nearly without any grip under as I had specialized them to be even lighter – my look-compatible Sidi shoes would not have been any better up here either and barefoot would also be as bad). I had to stop trying to get down before both the bicycle and myself begun to slip downhill at the same time … . Hell, now I was really stuck – this was just what I had feared most. I could not really get back in the dark all the way and nor could I get down to Andorra, nor was there any shelter, nor had I any way to communicate with the world, nor had I much clothes or anything. I put on a light wollen underwear shirt and had my bicycle shirt and my yellow rain coat and kept the helmet on and tried to find a place to lay down and get some rest until the morning. This was crazy, but it got far worse … .

Day1 – Day 2 – Day 3 – Day 4 – Day 5 – Day 6 – Day 7 – Day 8 – Day 9 – Day 10 – Day 11