I was up decently early in the morning despite my tough previous day. I went to the Decathlon shop (it was still raining lightly) on my bicycle in the sandals and shorts. Thankfully they had even two choices of bicycle shoes of their own brand (rather inexpensive) and I bought the better ones and got new cleats attached (had to show them how to do it … ) and could thus cycle back in the new shoes and now the rain had even stopped pouring down!
Okay. Where should I go now? The Tour de France should be leaving from just Foix the next day and I thought that I settle for going their way so I would not get such a tough ride this day. ;-) Now the road was marked with yellow Tour de France signs, so I did not even had to look at the map, which was nice.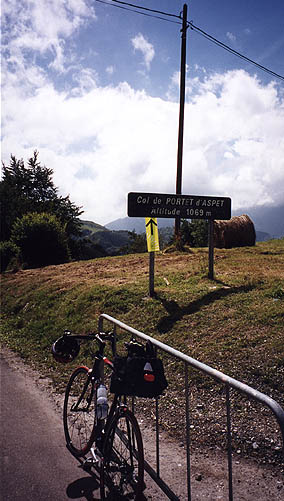 The road was clearly better this day and the weather was really nice after I had gotten out of Foix and up to Col de Bouich (599 m). The road to St. Girons is not terribly exciting and since I found no obvious shop or restaurant in that town I went straight ahead looking for another place to have lunch at. Yes, now I remember, I had real difficulties in getting anything to eat along this road. I had to go up to Col de Portet d'Aspet (1069 m) first and there was one of the often boring places that sell drinks and food on the pass heights. I could not get anything there either (and I am not sure I would have wanted it considering how it looked) and had only an overpriced coke. It was occasionally rather steep up to Portet d'Aspet and here I first noticed that it could sometimes be a bit difficult to steering the bicycle if you have an extra load such as a saddle bag. It was somewhat steep down from this col also – I was a bit close to get into trouble on the down ride as I tend to speed up when going down nicely paved roads (also noticed that the saddle sort of pushed me in the back when I least needed it!!). There were some kind of bicycling monument on the side of road down here were a few cyclists had stopped to take photos.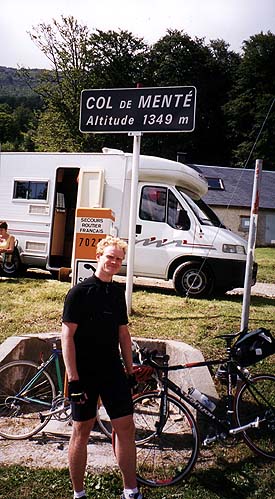 It was soon time to get off the road and on a smaller road up to Col de Mente (1349 m). Just when I started to climb this road a younger belgian cyclist passed me rather hurriedly and said "bon!" to me as he passed by. Probably he meant that he thought I did well with packaging and all – well such comments do not go over too well on me and I thought that I should make an effort to follow him a bit and see just how "good" He was ;-). Well he cycled very tough to begin with, but after a while I cycled up on his side and we talked for a few minutes before I said bye and that I would wait for him at the top. It turned out I had to wait for him several minutes until he finally arrived at the top. He had friends and relatives in a following van and they had a photo of me up there.
Yet another somewhat steep road down from Col de Mente. But it is almost always quite fun to go down these serpentine roads. Down in Lez (about 500+ m) the road over to Spain was uncommonly flat and straight. At the spanish border the road at once got much better (maybe they have better roads in Spain since they have much fewer to maintain on their side of the Pyrenées?!?). So now at last I crossed the Spanish border for the first time in my life. (I was close to the border twice back in 1987 when going around Europe by train, but that is another story! … .) Well there was nothing much to see here (nice landscape, but nothing worth getting there for). There were a supermarket selling mostly big packages of things for customers from France (I believe) – mostly liqour. However, I got something to eat here anyway (nothing that tasted good – gave some of boring cakes away to a begging dog that looked a bit angry and that I first thought was behind a fence, but he soon got very friendly with me … ).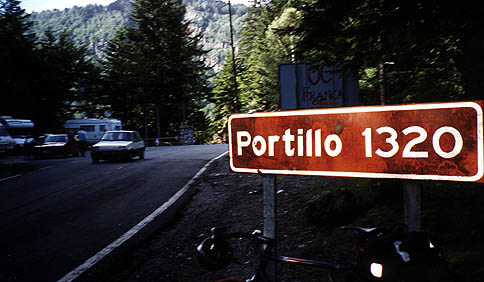 I soon went ahead (it was very hot here) and an american came cycling along the same road as me, but he was very tired after a hard days ride with some of his friends that had gone ahead [there is nothing unfriendly with leaving friends behind on roads like this, I hope you understand]. So he took it easy up to Col du Portillon (1320 m) and I soon also left him behind. The road up here is also marked as scenic in the Michelin map, but I did not think it was especially nice. The climb was somewhat average and no special challenge. At the top there was a lot of people of many nationalities and some spaniards were painting the name of some of their Tour de France favourites on the ground just behind where I took my photo. Well, now I just had to go down to Bagnères-de-Luchon which were just below in the valley.
The road down was narrow, steep and very french. I wondered whether there could be an accident happening there in tomorrow's Tour de France. I found a hotel that looked a bit cheaper and it was very rustic, old-fashioned and worn down. There were an old lady running the hotel and she still was clearer in her mind than what you would think when seeing her. They had the most narrow elevator I have ever seen and I almost have to stand sideways, hehe. I was quite okay and I soon was out on the town buying a postcard which was the only one I sent on this trip. I looked for some place to eat and bounced into the belgian I had met up at Col de Mente earlier (he had went with their van from there to here) and talked a little with them again. I had a pizza at Basque pizzeria which was a bit unusual place. Also had some belgian beer before I went to bed.
Day1 – Day 2 – Day 3 – Day 4 – Day 5 – Day 6 – Day 7 – Day 8 – Day 9 – Day 10 – Day 11