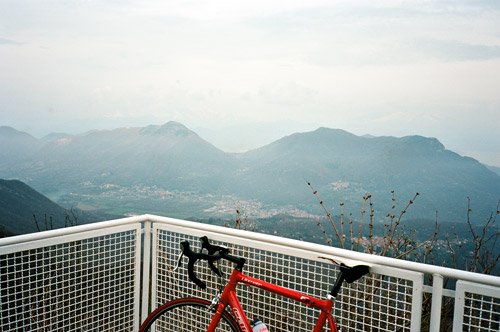 This day I took the train to Varese. The ride takes a little over 2 hours and one has to change train once. The biggest problem with bicycles on trains in Italy is to find a way to fasten it so it does not fall or block exits too much. Occasionally there are special wagons for bicycles, but how to find out about this beforehand is beyond me. The trains where you are not allowed to carry bicycles on can be very strict and you would then do best to put your bicycle with wheels dismantled in some big black plastic bags and carry as luggage. (You can buy a roll of these plastic bags cheaper than it costs to take your bicycle on the slower trains where bicycles are allowed.) They are not always checking tickets on trains in Italy and sometimes I was unable to buy tickets and only once did I have the occasion to buy a ticket while on the train (from a nice new girl who did not know quite how it worked …). Train rides on slow trains in Italy are sometimes hardly worth the trouble, but the tickets are relatively cheap and you can avoid some boring stretches of busy roads.
Varese is a half-big town a little like Bergamo. (Bergamo has more than 100,000 people and Varese less, but Varese is slightly bigger in size, according to Wikipedia.) After going in a circle in the town, I broke out of it on the second lap ;-). – One has to figure out how to get in the direction of the obvious nearby mountain. Then it was basically straight ahead to the mountain. I stopped at a cafÚ located suitably near the start of the climb for a coffee and toast.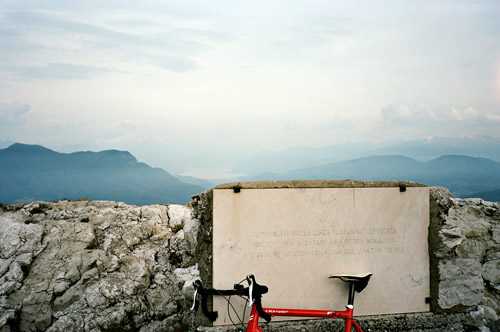 The start of the climb up Campo dei Fiori (1217m) is a bit steep and a local cyclist overtook me here (I suspect that he turned off later as I did not see him descend). This is the training mountain for the Varese cyclists and I saw a lot of cyclists here. Campo dei Fiori has been a goal in several cycling competitions too (in Giro d'Italia too, I believe, but the Italian website for the Giro is not so easy to navigate).
The road up the Campo dei Fiori is pretty rough however and is not especially fun to descend as it is right now, even though local cyclists seems to care less about the pavement. If you you want to race like the pros you cannot think too much about the road surface, but for me it is important to keep my bicycle functional until I return, so I tend to be a bit more careful than most.
The road forks near the top and for some reason I took the road going to the right (which is not the normal road) and came up to the place for my second photo here. I went down and up the other road which reach a parking place where the normal end for the climb is located with an information sign for cyclists (I had a photo, but cannot read the details). The road does however continue, now quite steep and narrow, to the astronomical observatory at the top. I went up there and lifted my bicycle up the short staircase to the viewpoint place for my first photo. You do not get higher on this mountain!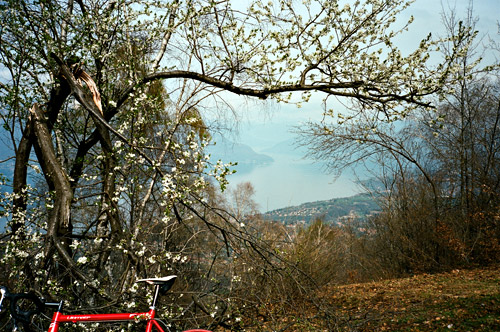 I went down and took a small (bad) road over to the closest road around the mountain, which goes over a very low pass called Passo Motta Rossa (565m). This road took me to Brinzio, where I turned left to follow the base of the mountain on the north side on a quite nice road. I came down to Cuvio (after cobblestone passages in a village above) and then went down to Cittiglio (264m). The next climb starts here just as one reach the village on another narrow road. This is the climb to Passo Cuvignone (1036m), which is basically the next mountain north you see from Campo dei Fiori. Here are however some real passes!
The road to Passo Cuvignone is mostly good and with very little traffic (just a few cyclists and a few cars), but it is also longer than what one might expect given the low height of the pass. It is a good climb with some steepness! There is another cyclist information panel at this pass too (you can collect points for climbing these and Cuvignone was 80 points, while Campo dei Fiori was merely 70 points, which should reflect how difficult the climbs are).
The descent to a crossroads (Passo di Sant'Antonio (647m)) is not long. Go right and then soon another road starts to climb up to the next pass, the Passo di San Michele (890m). This road seems like it is very little used and has very few houses along the road. There is a road going down to Lago Maggiore soon after the pass by a restaurant, but this soon turns into a gravel road best suited to mountainbikes (as far as I could see). The normal road down to Brissago is slightly rough and uninteresting, but useful. I took left at Brissago, but apparently went down to the main road at Roggiano, for some reason I cannot remember (as my original plan was to continue ahead here, but maybe I was not looking at the map and the road climbed up here again).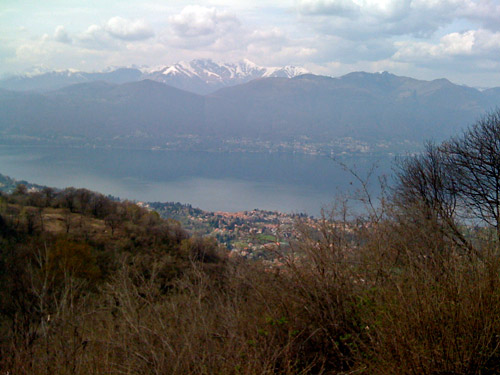 In Luino I was finally down by the seaside and went straight north to Switzerland here along Lago Maggiore. I stopped in Maccagno to have something to eat before I crossed into Switzerland so I did not have to change money as I was anyway going back to Italy soon again (it does however seem like they often accept euros in this part of Switzerland otherwise).
It is quite nice along Lago Maggiore and the traffic was reasonable here. I had one good photo here (below). I was going to climb the Alpe/Passo di Neggia (1395m) from the most difficult Swiss side and return back to Maccagno where the climb starts on the Italian side. The climb in Switzerland starts at Vira Gambarogno (just across the lake from Locarno), but I had seen a higher road going along the lake meeting this climb a bit up and thought it would be more fun to go on this high road so I turned off the main road at Gerra and went up nice road mostly among villas (one photo here, with a snowy mountain peak between the buildings (not so easy to see in the photo perhaps)). They were going back and forth with a helicopter as there were probably a house or some forest fire going on nearby. There were firefighters hanging with long ropes in trees trying to cut them down, it seemed like.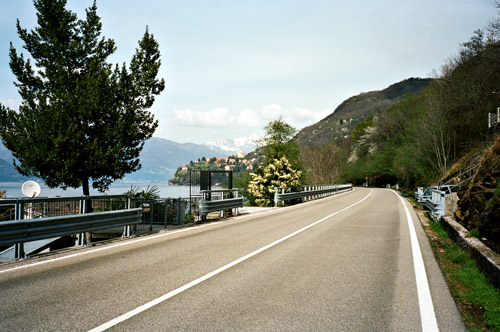 At Fosano (just above Vira), the climb up Alpe di Neggia started for me. It is a consistent climb almost all the way and it is often somewhat steep, but never very steep. It is a LONG climb with 1187 height metres to overcome from Lago Maggiore. It only becomes steeper the further you get.
Near the top the snow started to appear in the forest. The road had been cleared of snow and this was the highest pass I climbed that was totally cleared of snow this time, so I was lucky my guessing it had been cleared was true! There was indeed a lot of snow at the top around the road as you can see in the photos below.
This pass is totally within Switzerland and there is only one tiny village belonging to Switzerland on the "Italian side" Indemni. The road over the pass is probably cleared of snow mainly to provide a bus connection within Switzerland this way to Indemni! After crossing the border the road actually start to climb again! Somewhere here around I stopped to take a photo across the valley (probably not included here as it is unclear what it is of). What caught my sight was the village across the steep valley called Monteviasco. What one wonders about here is how there could possibly be a road to that village (and none is really visible, even though there is one). I thought the village should be called Montefiasco (which should be the pronounciation anyway) instead! ;-) (There is no road across the valley at all, only on both sides.)
When "googling" a bit on Monteviasco I found out that the road I thought was seen on the Kompass map is only a mule path and that they actually have no roads up there. They only have a cable car running daily up and down. I decided to include the photo here now (see below) as this place really is special, but apparently the village only has a dozen year around inhabitants.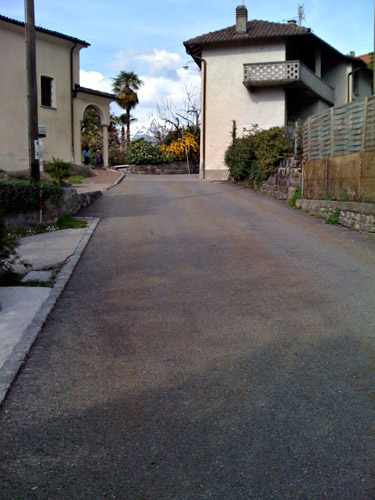 This valley (Valle Veddasca) reminded me very much of some valleys on Corsica that I cycled through last Spring, with some lonely villages. Despite that it was getting late now and I was quite far away from Varese and trains back to Bergamo, I decided to climb up another nearby pass –La F˛rcora/Passo di Forcora (1179m). Without looking at the map I told myself it was hundred metres lower than what it was. It is not far up there from here, but the road is quite steep! The views are most likely much better on the descent from here than on the main road down to Maccagno though! It is a mostly good asphalted road down via Musignano (where the road becomes better, but also more narrow). Last photo for the day was taken on this descent and I was getting tired now.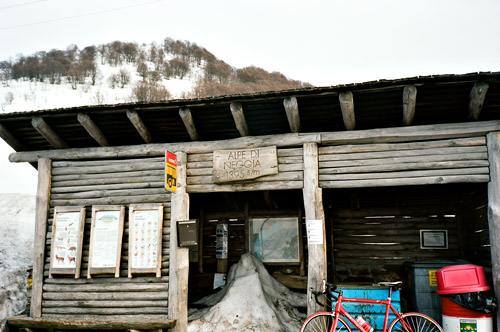 I went quickly down to Luino and stopped there for a coffee. I went to the train station here to see if I could take a train from here back and I could have done so, but the train had left just some minutes before and I could thus as well cycle back to Varese. I had thought (without looking much at the height curves on the map) that the straightest road back via Grantola should be rather flat and quick. However, from Grantola and nearly all the way to Varese it was uphill. The final descent to Varese was quick and short and it had turned dark half-way there. I was at the train station a bit after 21 and after discussing with a girl working on the train to leave next I was told this was the last train to take for Bergamo for the evening (it went only minutes after I arrived there). So I thought I was lucky again. I was lucky, but it turned out I would have been better off taking the next train (which had also been possible) and stay in Varese for something to eat as I anyway had to wait an hour between trains in Pioltello (a not very nice suburb of Milano). The pizzeria near the station run by chinese was perhaps not the best in Italy (the "cheese" smelled really strange) …, but they were at least nice! Late return to Bergamo!