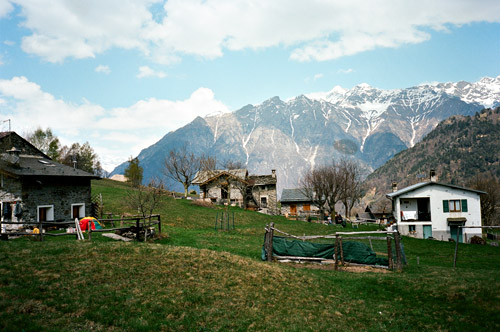 Last day. To this day I have pushed the plan for some more really steep climbs as I hoped the worst pain from Alpe Vaccaro would have subsided by now. Still I decided at the last moment to skip the hardest climb planned for this day up Alpe Malona, with 5 kilometres almost as steep as Alpe Vaccaro's last 5 kilometres. This climb is nearly 14% on average for 5 km, which is like the steepest 500 metres on the Mortirolo climb. One problem on Alpe Malona is a stretch with 26.7% on average according to salite.ch! This would probably have been too much for me and as I decided to climb a nearly as steep climb before this and another nearby climb afterwards, I would not have gained much extra in terms of views. However, when I think of it now it seems like you could get really good views from the top of Alpe Malona and the road continues up here (probably gravel – have found no account of this road on the Internet). One might have good views up toward the Splügenpass and a bit into the valley up to the Malojapass.
I took a train somewhat early in the day to Chiavenna (took some time to get the pronunciation of this place to be right when I ordered tickets). I thought I would be up here somewhat early and would have time to do whatever I wanted. The problem was that I had to change trains in Lecco and Colico. First in Lecco it turned out that I had to wait an hour for the next train to Colico and in retrospect I could as well have jumped on the bike and started to cycle from there. I decided to wait and have a coffee on the town. I asked for a sandwich and the girl looked at the clock and said something like "no, not at this early hour". In the morning Italians only eat sweet cakes, candy and croissants filled with chocolate cream! :-)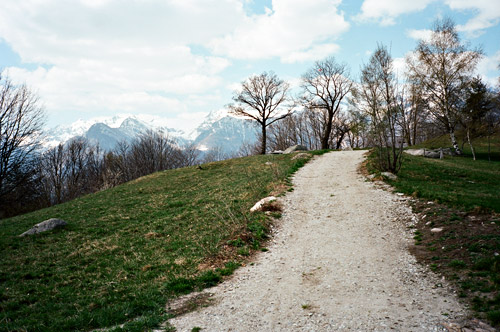 Eventually the train arrived and then went at a speed slower than one could walk up to Colico, staying long at every little station along the way (one would almost come believe one has come to southeast England). Today I did not have to pay for the bicycle on the train, but on the other hand it was no use to take the bicycle on the train this day. At Colico I had no patience for wait for another train to arrive, so I started to bicycle up toward Chiavenna (and it was certainly quicker than taking the train). Unfortunately there were not only one, but two serious traffic accidents along the busy road up here. Luckily I was not involved.
It was now already lunchtime, but not for me. Time to do some work. I took off at Prata Camportaccio (297m), where the last accident had happened on the main road. Here I did as planned and went up a road that is not to be found on any map (I believe) up to Pratella/Pradella (999m). This road is probably somewhat new and it is closed to people without access here with a bar across the road at the specific start of the climb. The road above Prata Camportaccio (the road goes steeply up through the village) forks at a bridge across the river. If you go left you can do another steep climb on a road that is marked on many maps to Uschione (832m), but it is less high and less steep. The road to Pratella is nearly 12% on average for 6 km and it was the second hardest road I climbed after Alpe Vaccaro with max steepness at 25% on a long concrete ramp. This road is in that concrete road category! It has almost a kilometre straight with an average of 17% according to the detailed profile at salite.ch.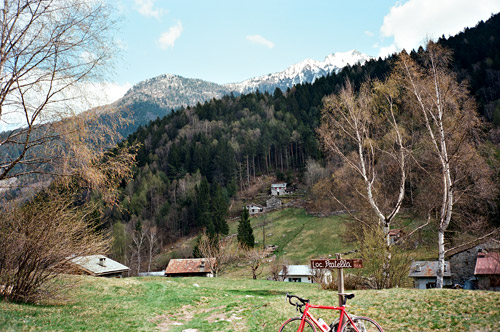 It was hard but possible as the first climb for the day. The views were lovely at the top and I also had a nice photo over Chiavenna at one place (when descending). I was happy enough with steepness after this and did not think I had to do the very steep Alpe Malona, which may only have been more of hurt than fun, especially if I had found out that I could not do it. Instead I was also planning to climb up the nearby Menarola climb, which should be far easier on a more popular road with cyclists and since I missed some time due to the trains earlier I would had to cut something out anyway (ok, enough of excuses!).
The climb to Menarola (and beyond) is a bit steep, but much more even. It has a kilometre of 14% near the end, but this is still quite easy by comparison. The climb is quite nice on a good road. I noticed near the end that there was another road going off uphill and decided to find out where this led. This road was partly concrete and partly asphalt. Eventually I came to the start of gravel pavement and then walked up through some houses to get some better view for a photo. Here I found a water pipe, then I thought to go back, but the gravel road looked better here and I continued just a little more and suddenly found newly laid asphalt again, but this soon ended after a house with a good view, from where I took one more photo and complimented the owner for the good views he had from his house. He confirmed that it was only a bad road from there on. I saw two mountainbikers coming down this road, so it might be possible (with a mountainbike) to get further and possibly over to the Alpe Malona area.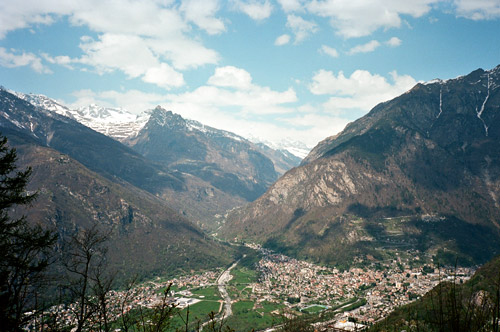 When I came down to the valley I continued down on the much less busy alternative road down the valley until Novate, where there is only one road to use. I avoided the tunnels on both the way up and down, unlike last year when I went through there as I had thought one would have to go on a lengthy detour here, which is not the case). It would have been nice if they could have built a cycle lane on the other side of the lake, but as the mountain drops abruptly straight into the lake on that side, it would probably be very expensive and difficult.
First I had thought to go down the Gravedona side of Lago Como and take the ferry from Menaggio again, but as I was not sure if I wanted to try the Monte Legnoncino climb today or if I had time for it, I decided to take the straight way down through Colico to Varenna. I decided that it would probably be late as it was with other things planned, so I forgot about Monte Legnoncino and took the ferry from Varenna to Bellágio.
I had not previously went to Bellágio, which is seen from the ferry between Varenna and Menaggio, but now it was time. Bellágio (216m) is probably the nicest place of the three and perhaps most popular for tourists to visit. I had some words with an older man working on the boat and he seemed happy to see a cyclist there. I thought it was a bit odd that I had not seen a cyclist on the boat on either trip, but this was probably just because I am so late … . Many sports cars around here and things looks glamorous. Cycling off the boat I felt like a film star or something as this is a place where the cyclists are the most cool guys! ;-)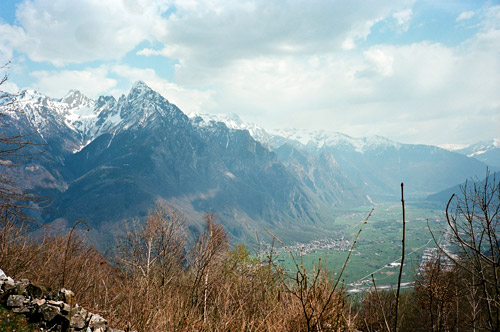 The road up to the famous (among cyclists) Madonna/Passo del Ghisallo (754m) is any cyclists dream road. A somewhat steep climb, with gorgeous views when it is not so steep. Passing through Civenna I had to stop and take a photo. The road descends a little in Civenna before the final nice serpentines and straight last ramp up to Madonna del Ghisallo. Madonna del Ghisallo is a small church dedicated to the greatest cyclists of our time and the church is filled with old bicycles of legends such as Coppi, Merckx and Moser. Outside are plenty of statues depicting famous cyclists and there is also a graveyard where I believe many of these cyclists are buried. Oddly enough there was a lot of people visiting the church, but I was the only cyclist around – I guess this does not happen often that you are the only cyclist here.
The descent was also great and fast! I turned off the road up to Sormano. After Sormano I had to ask about the famously steep alternative road to the Piano di Sormano pass. I should have continued just a few hundred metres on the main road (or taken the walking path I had seen where I turned off). The Muro del Sormano is a 2 km long road which is mostly around 20% all the time, without the the very beginning and the very end. They have painted a line and the number for every height metre you climb on the road and it is a bit fun to see how long stretch it is between these height metres, that are sometimes very close! They have also painted names and times for some people who have climbed this stretch on the ground and I tried to catch it with my iPhone while climbing (not easy and the photos are a bit shaky). This was a fitting end in my view and I was quite happy and relieved when I reached Colma del/Piano di Sormano (1122m). Where it was starting to get dark already (I was lucky I took the quickest way back earlier).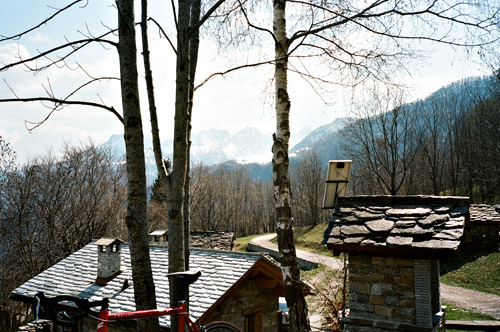 I descended the normal road back an down in Sormano it was time to put the lights on. From there it was still a long descent and approximately 50 km back to Bergamo. I took some strange road alternatives as I did not look much on the map and found myself (after looking not too well on the map) climbing up to Galbiate and then descending a poor road from there. But then it was just the normal hill on the way between Lecco and Bergamo and the final climb up the cobblestoned road in Cittŕ Alta. It felt fine that the trip had come to an end and I was rather happy with the results and that I had such luck with the weather.