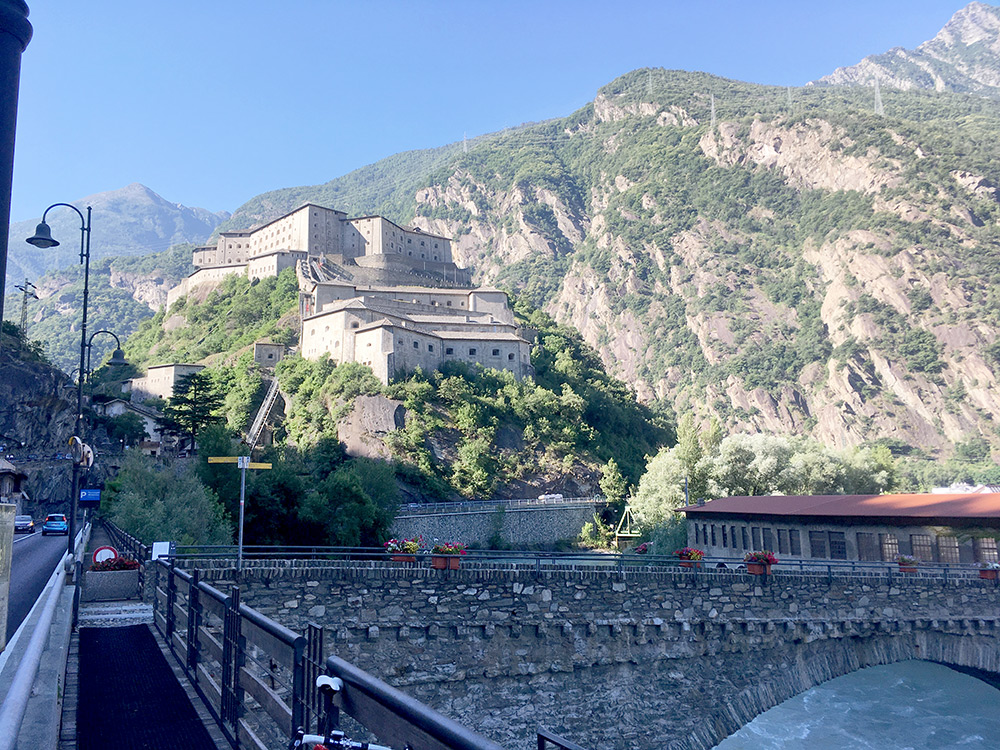 The b&b in Hône was good and I had the upper floor of the house for myself. I got on my way and it was clear from start that it would be a hot day. Stopped for a photo of Bard – the fortifications protecting the narrow and only low entrance to the Aosta valley.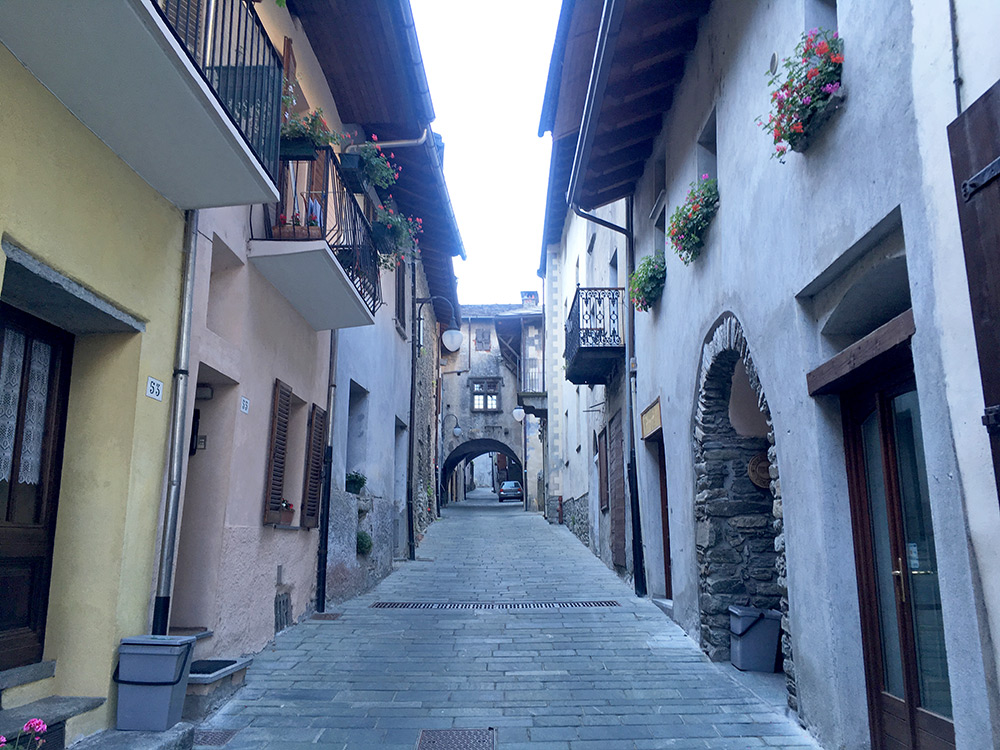 I had seen that I likely should be able to take the old road over the old village (I believe) and it is nice on this side.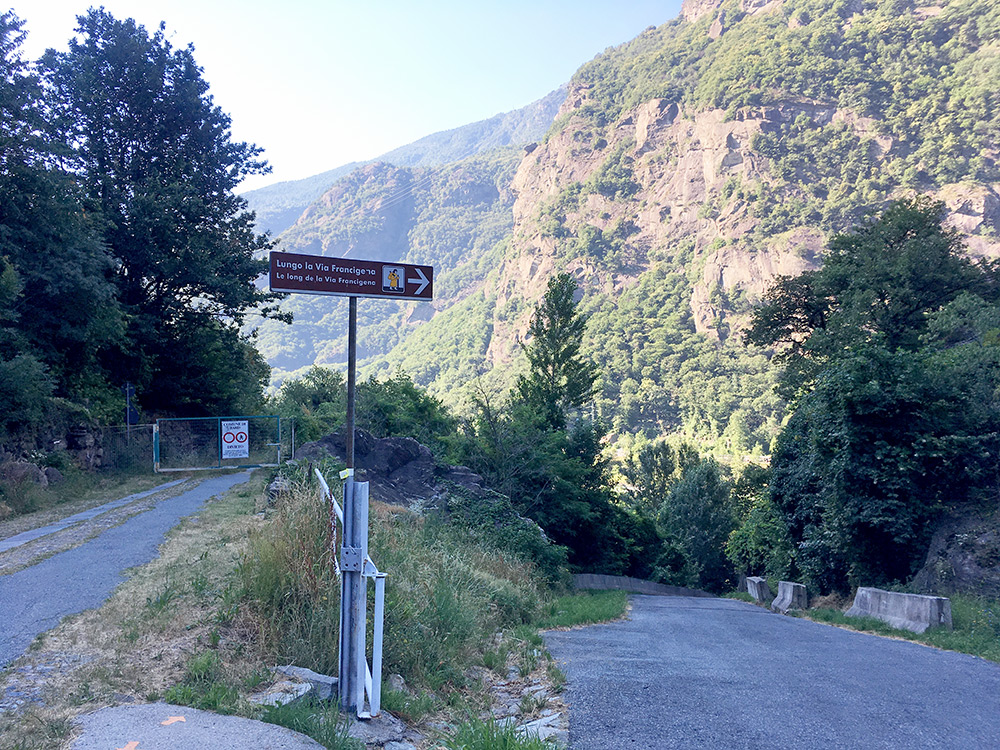 On the other side the original road is closed for some reason, but there is a very steep ramp down a new road and then a small road with a bar across at one point, but no trouble with a bicycle and was soon out on the main road to the last city in Aosta – Pont-Saint-Martin (347m). From there a long road climbs the Valle del Lys (Valle di Gressoney)/Walleschu/Vallée du Lys and I did not decide until I was at the junction to go up there and partly did so to escape the heat down the low land ahead.
It was still hot going up here already around 10 o'clock. I stopped by a grocery on the way up for refreshments and talked briefly with a man seeing my Nove Colle jersey I used this Summer and he had also been riding there.
Another cyclist caught up with me at a long flatter section and I followed him and overtook him, but he disappeared somewhere and I continued to the end of the valley and had studied the side road at the end which is paved highest and went up there and took this first photo.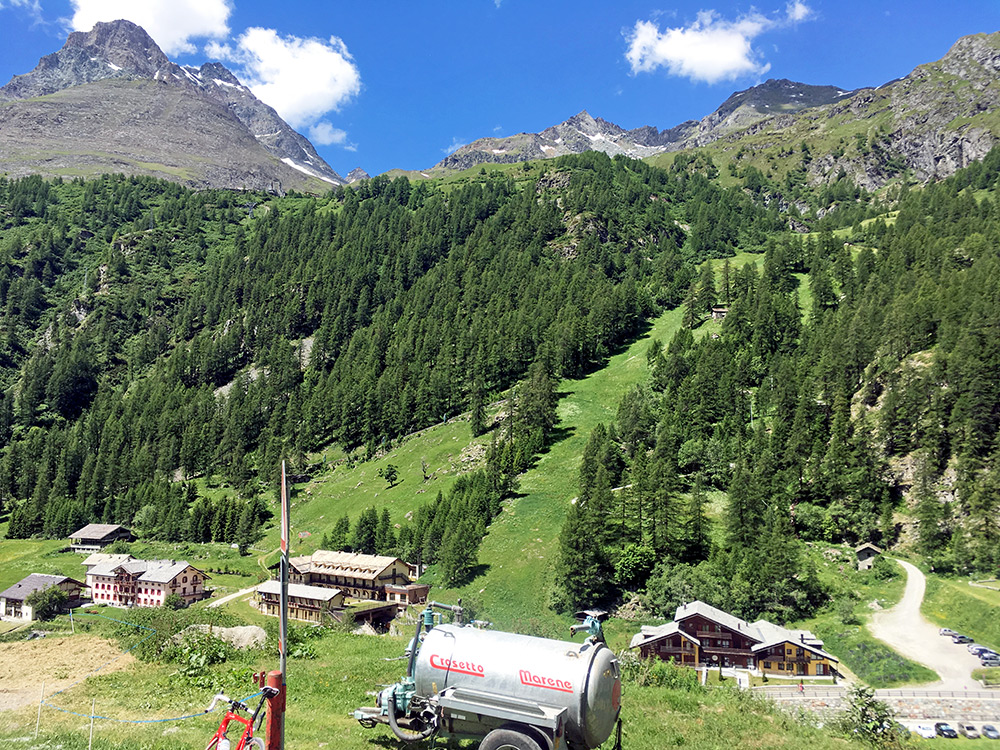 Here across the valley a road goes up to Bettaforca/Bättfòrkò (2672m) and I have had thought of trying it as it is listed on salite.ch as a challenging climb, but it is all gravel and the start did not look very inviting, so I quickly decided against trying it out this time at least. With a MTB it would likely be rewarding, just as the road up behind me.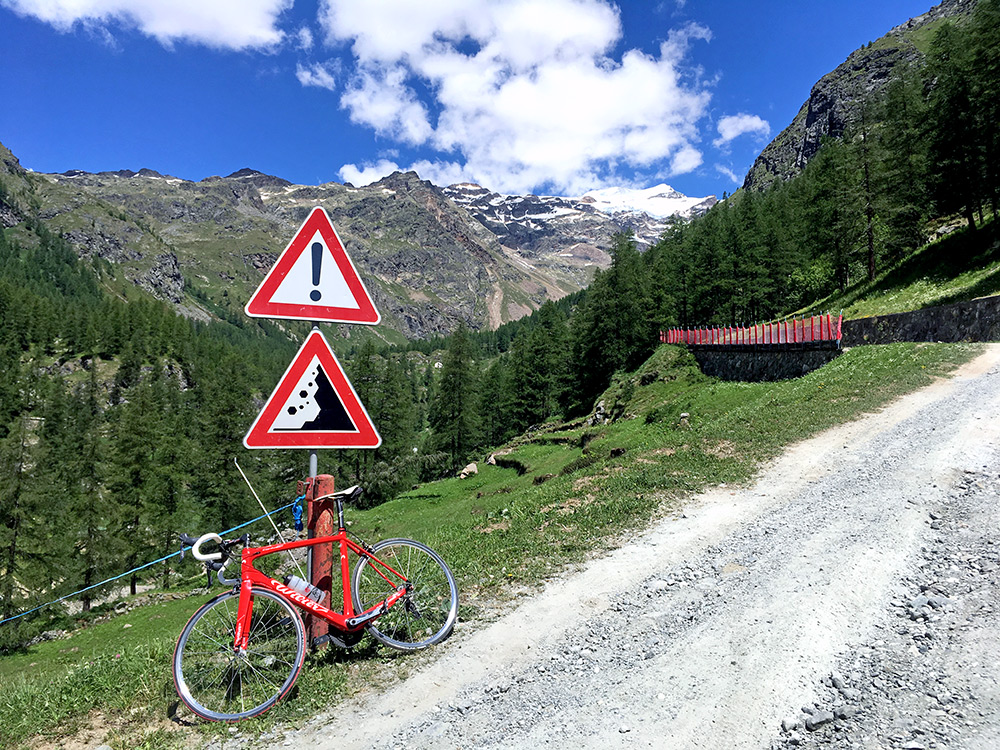 Not sure how far the gravel road might be fairly good here and could have been something to look into, but the climb was very long as it was, so I felt fine with doing the asphalt part and wanted to get other things this day too.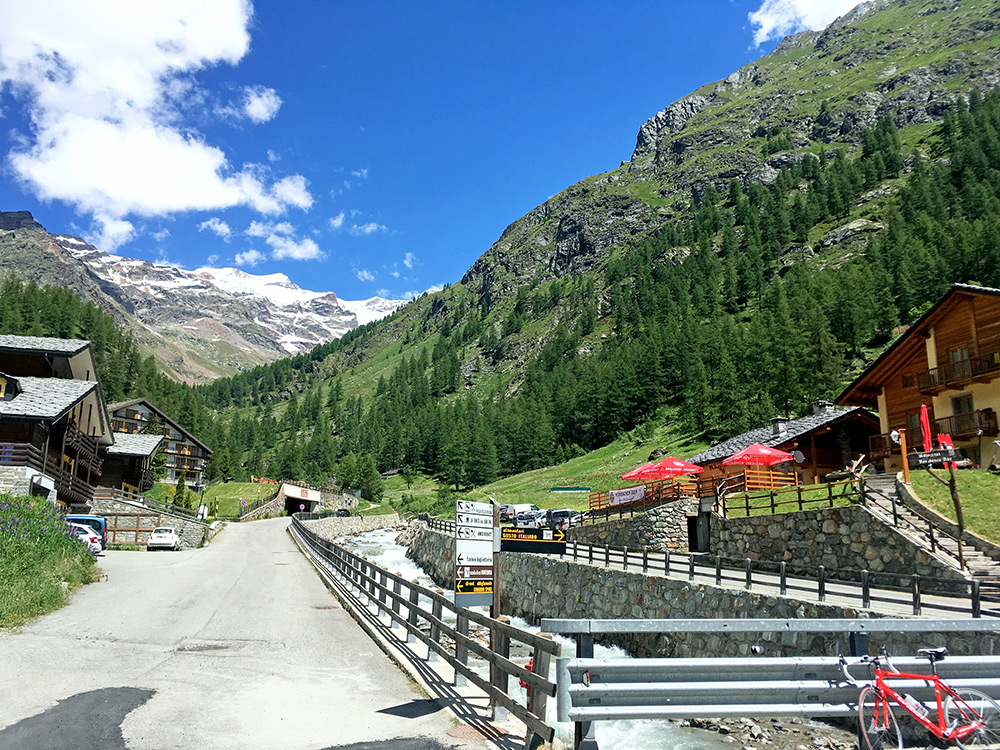 If one just goes straight up the valley this is at the end of the road at Tschaval/Stafal. I bought a coca-cola here too before going back down.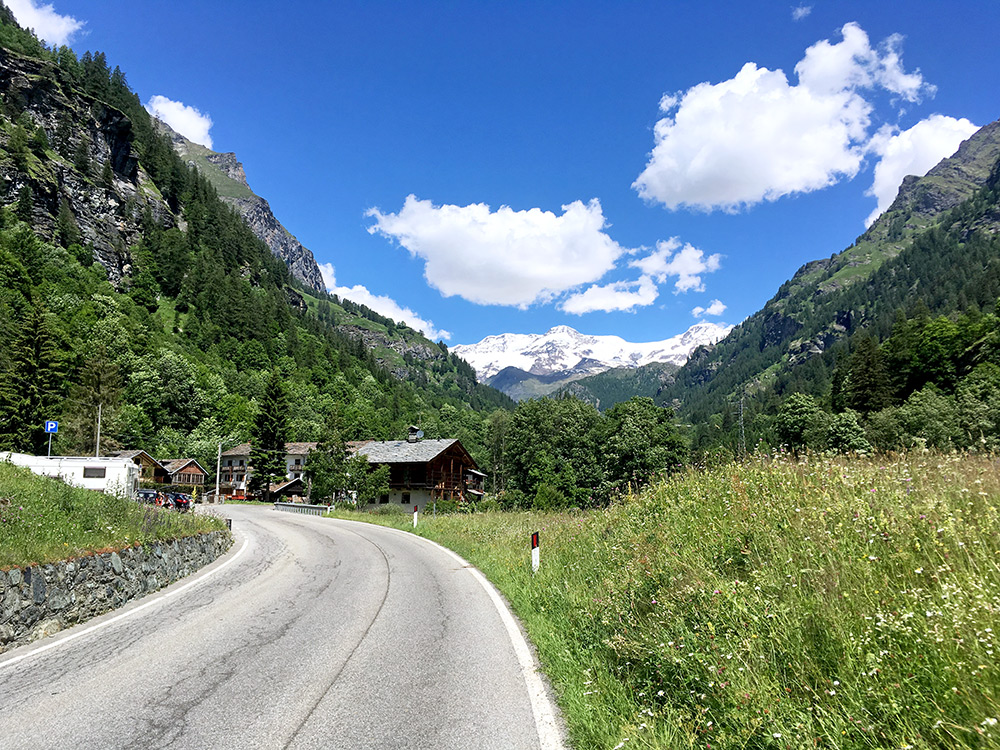 Stopped 2-3 times on the way down for photos back up the valley. There are many interesting side roads in the valley especially early on which are more demanding climbs from Pont-Saint-Martin in terms of steepness.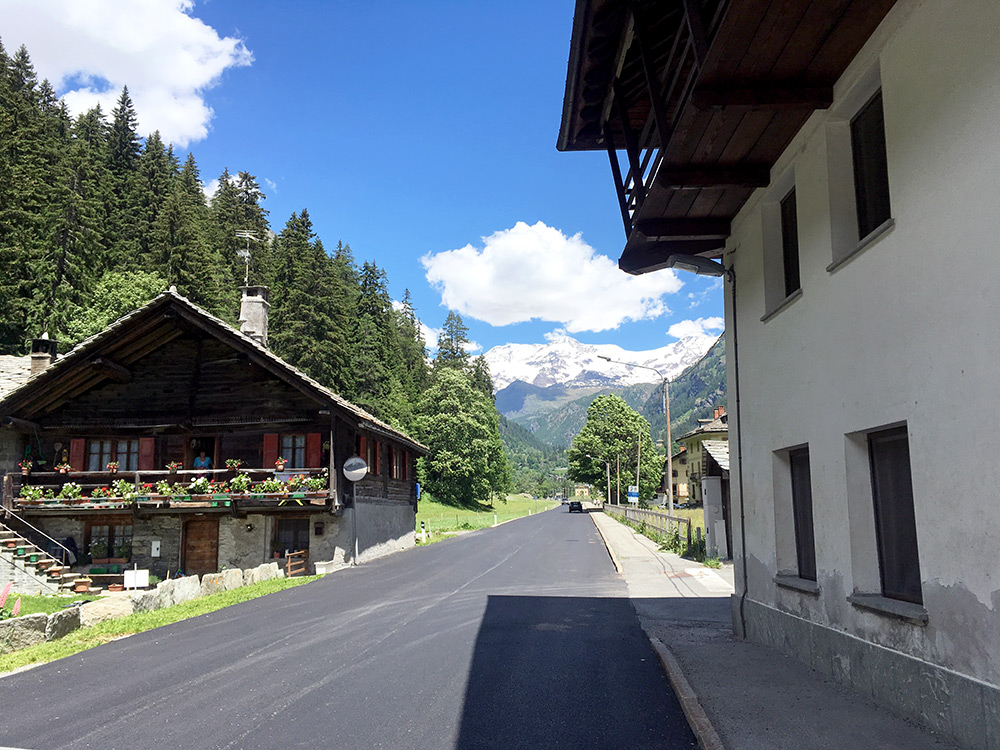 Nice asphalt here and nice views ahead up here in the second half of the valley where they have Swiss Wallis type names on the villages from where people moved a long time ago speaking Walliserdeutsch. Aosta is called Valle d'Aosta in Italian, Vallée d'Aoste in French, and Ougschtaalland in Greschuneititsch (Augschtalann in Eischemtöitschu); Val d'Outa in Franco-Provençal or Arpitan).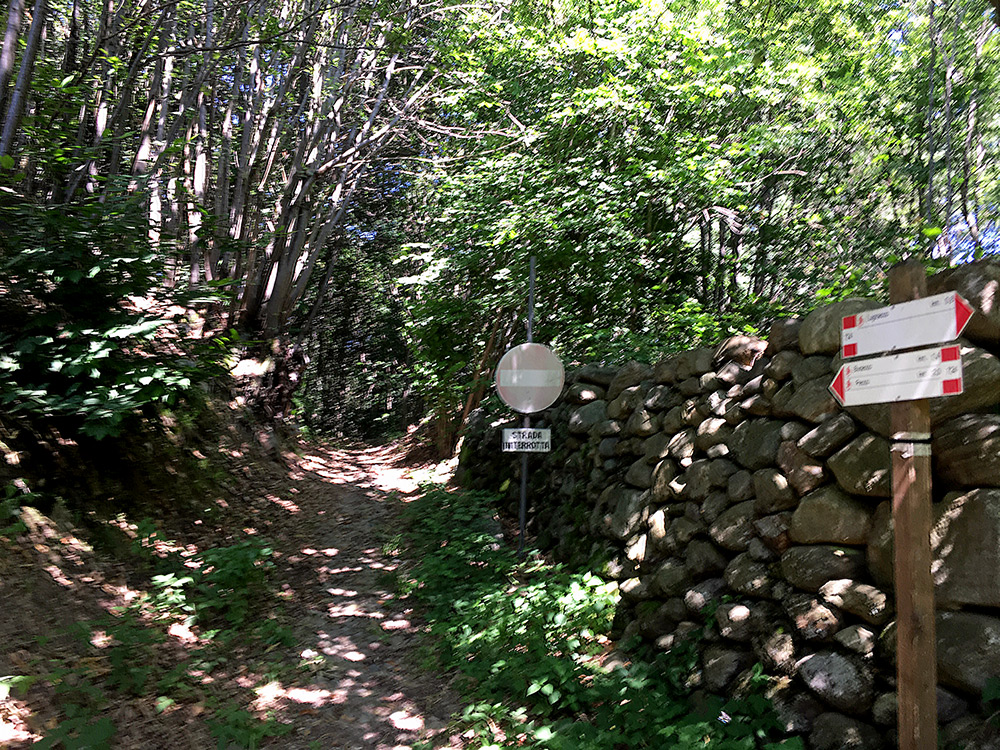 I dreaded the return down to Pont-Saint-Martin and it was hot even on the way down. I continued a bit down in Piemonte and stopped for something to drink and just to take it easy as it was now over 40°C.
I went over on the other side of the Dora Bàltea river to Quincinetto and down to Fiorano Canavese, where I took a sometimes steep alternative road up to meet the ordinary road from Lessolo to Alice Superiore. I was not supposed to get on that road, but made a wrong turn or the alternative road was only gravel (not sure). So had to leave the big road soon again to get on my way Passo di Nonani 650m, which is a nice little road that goes up and down a little as it contours the mountain. Photo of a sign for a road not looking like a road just near the pass.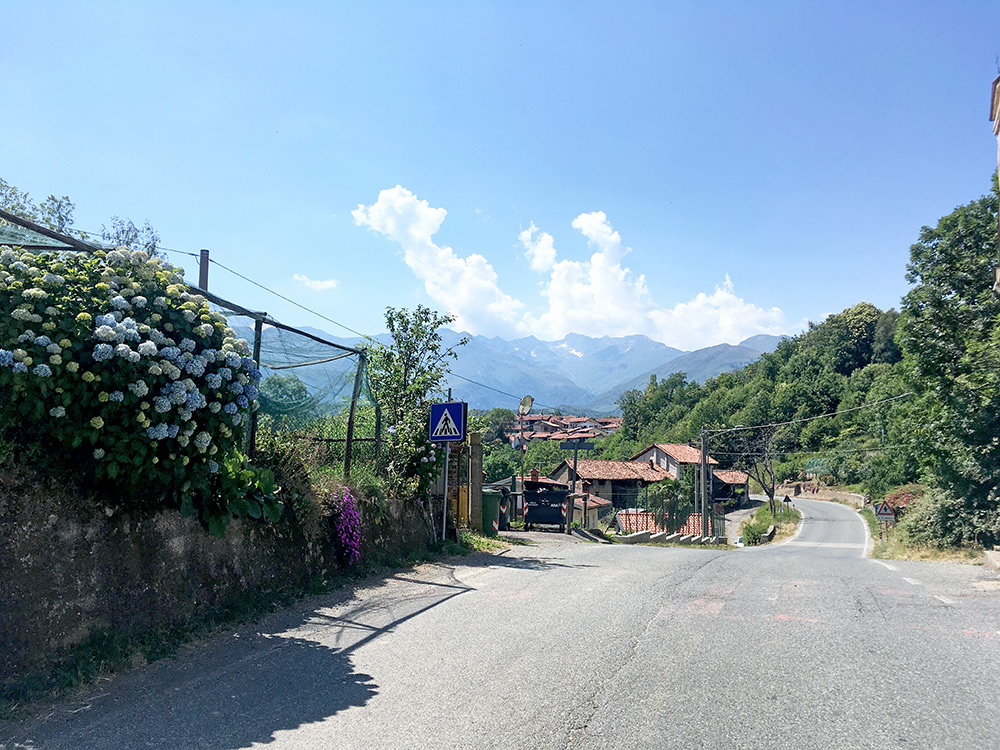 I then came down to a bigger road and first started to descend, before realising I should climb up again and quickly turned around and at the top had this view ahead.
Now it was mostly downhill and some flat section on the way to Castellamonte (343m) and Cuorgnè, where the long road to Colle del Nivolet/Col del Nivolé/Col du Nivolet (2616m) start. I continued to Pont Canavese and got a liitle help from a local cyclist keeping the speed up to there. I stopped in the centre looking for a small tooth creme tube, but only found something expensive. But stopped for a beer, I believe and probably ice cream too before continuing. This is really the more proper start of the climbs here.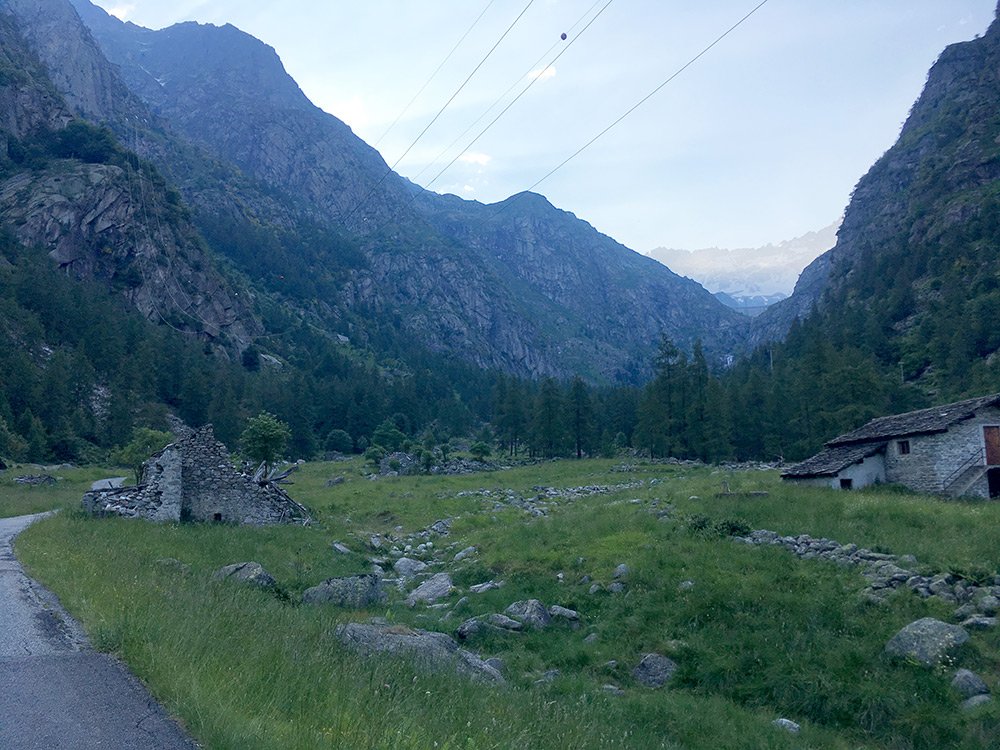 The road goes up and down a little along the way up to Locana where I found some water and did a short stop again in Rosone before taking on the final climb for the day up the Lago di Teleccio (1927m).
I was rather tired this day and it was already getting late, so decided to try and figure out if I could stay for the night as planned in the valley up here at San Lorenzo. Had seen a place there on Google, but that was closed. However, there was one more place that was mostly for people being members of a walkers club or so (maybe a division of CAI), but someone told me I could stay there. It might have been the Trattoria San Lorenzo. I tried speaking to the old lady there, but she simply did not understand much, nor did I understand what she said. After a while I again found someone else just before I was about to give up and all was fine and I left my bag at the room and continued relaxed up the valley. It was a rather flat section, seen here where I first glimpsed the top, above San Lorenzo, to where it was a long climb on a twisting narrow road.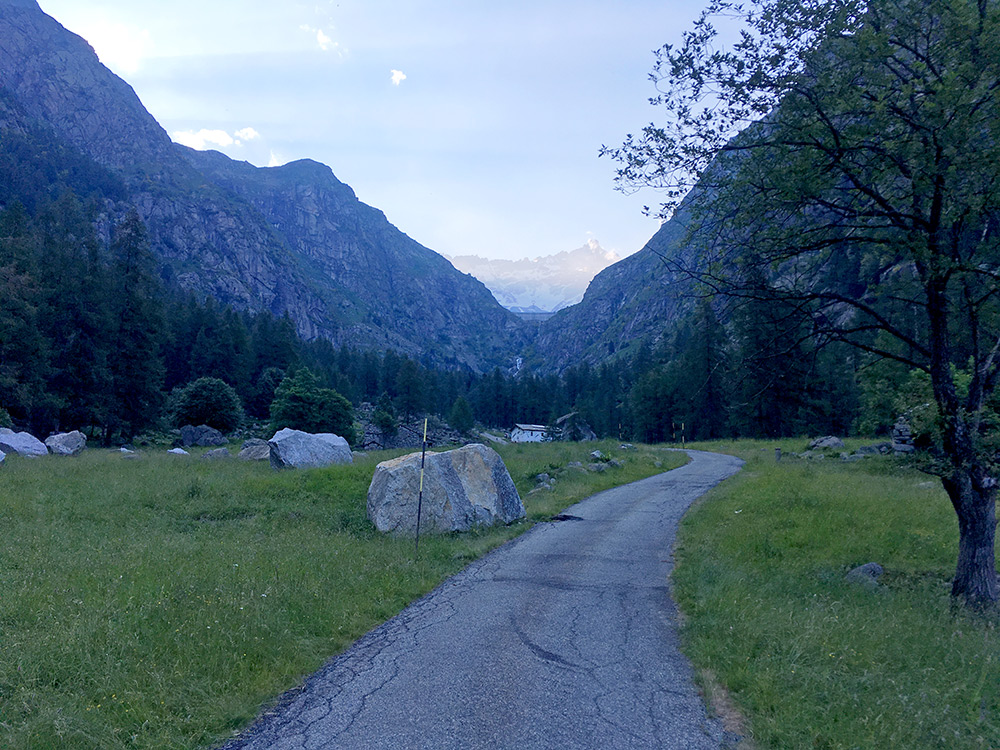 Another view of the nice road ahead. The sun was descending and I knew I was nowhere near the top, so tried to hurry on a bit.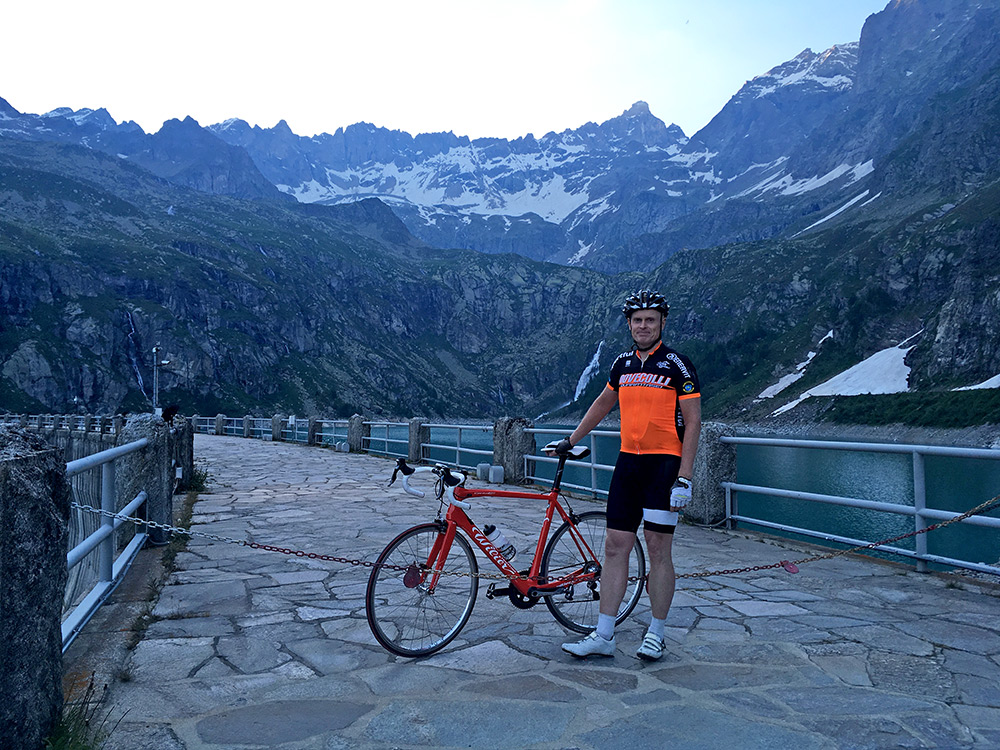 The last section was steep and I got really tired again and wondered if I hade made it with my backpack without stopping. There were even remnants of snow near the only tunnel near the top, but it was not cold. The road was exciting enough to keep me struggling on. I knew there were some concrete near the end, but was not aware of there being big cobblestones and walked up that short ramp, but cycled all else. Finally arrived at the top and some walkers came down to take the car down the valley and snapped a photo of me.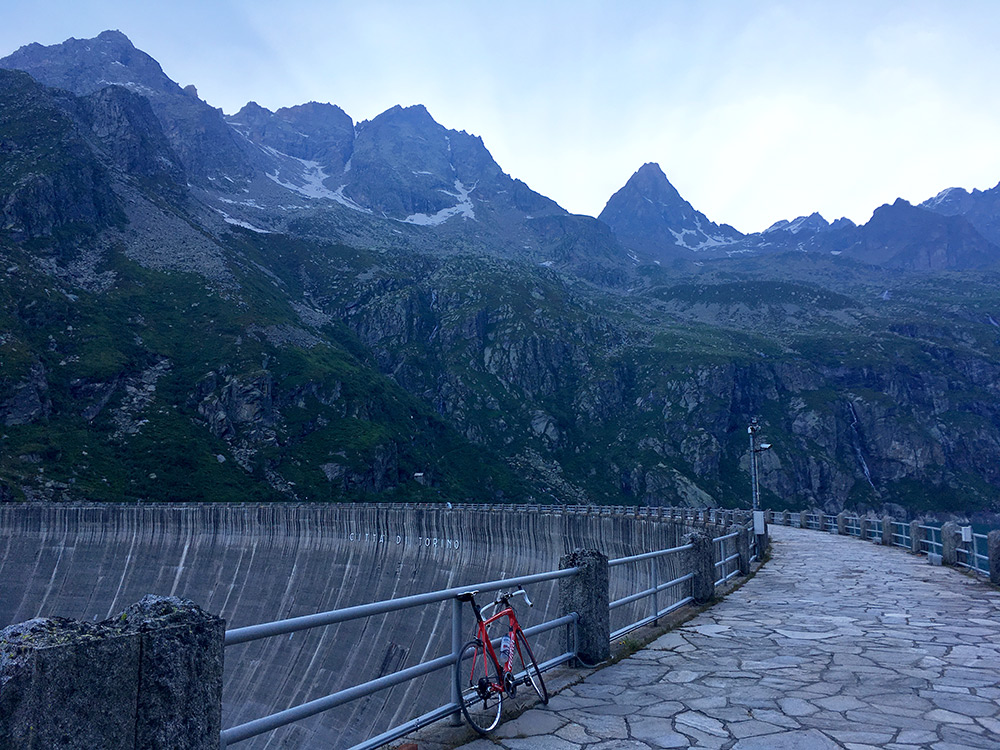 Very nice up here even if the sun goes down a bit early here with the high mountains around.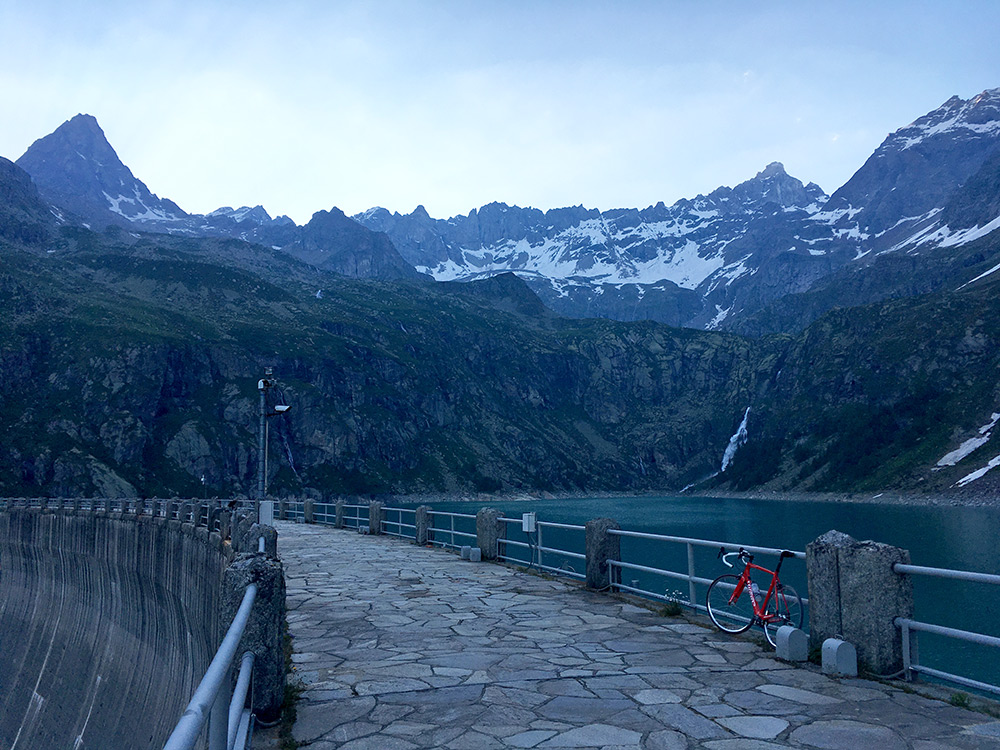 Cannot always choose between photos looking a bit the same, so in those cases like here I include more like here.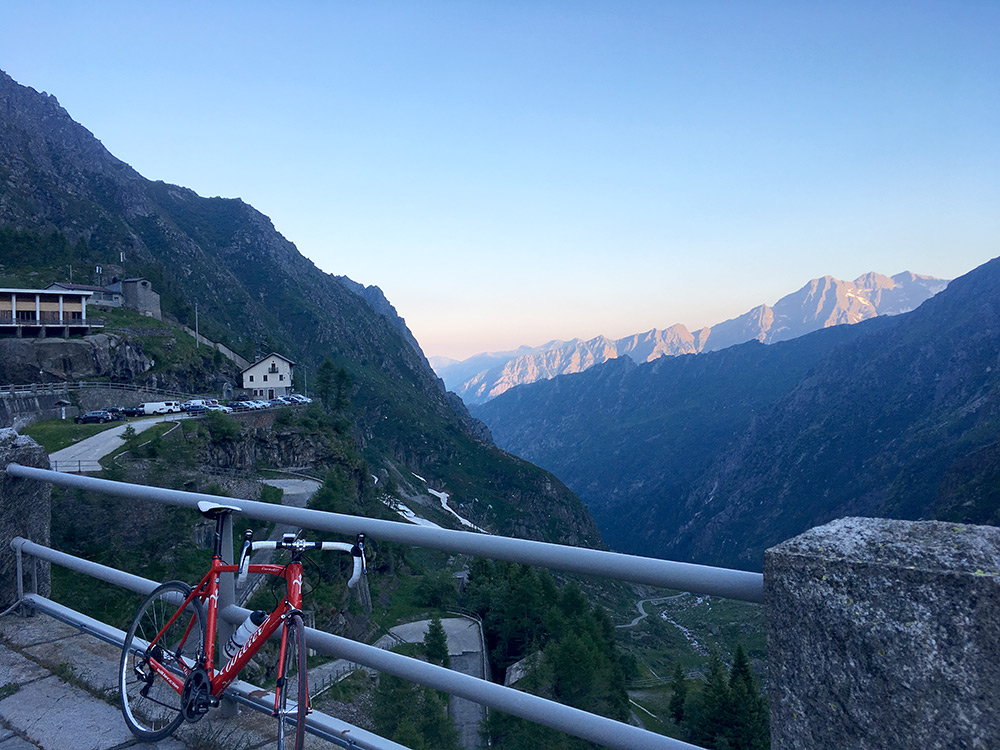 Here you see the last section of the climb and the sun is up elsewhere still in the distance … .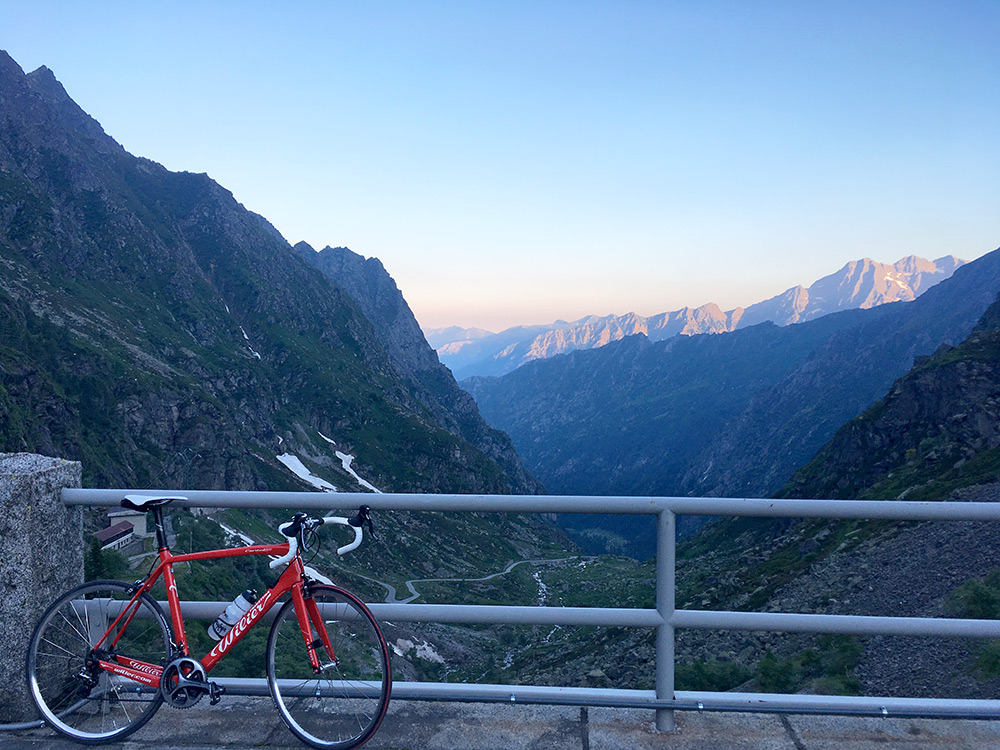 Another view straight down from the dam.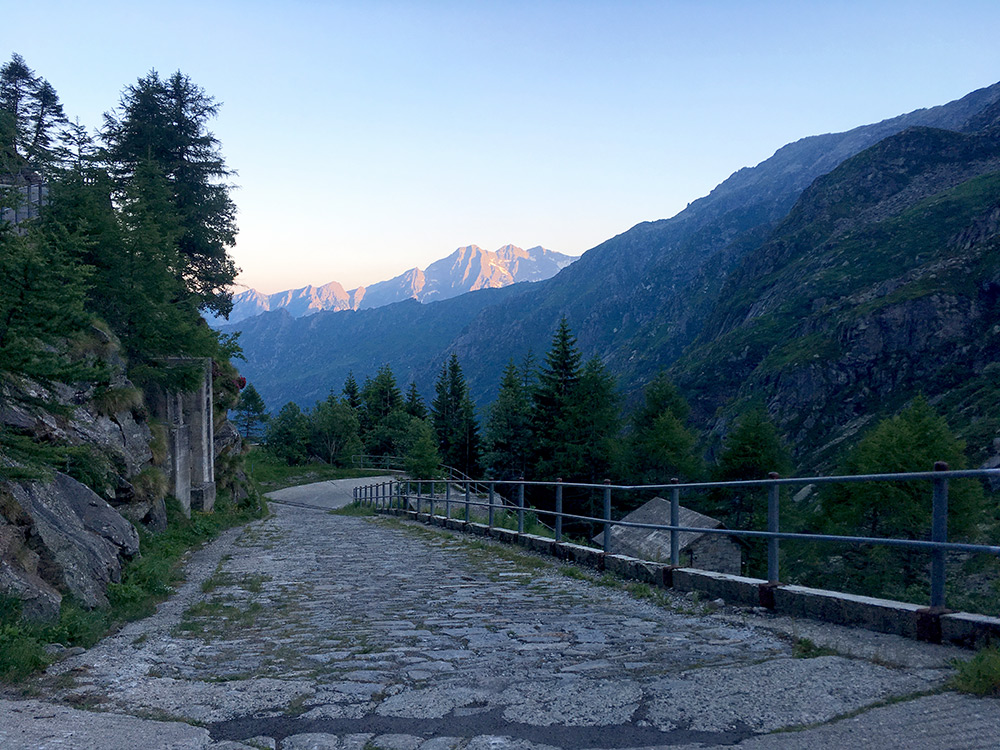 Here the cobblestoned ramp I was afraid of on the way up, but cycled down, which I should not have done, but not because of the cobblestones, but because of the big gap between the concrete in the bend and the asphalt at the end of the bend where I was not focussed enough and thought the gap was smaller than it was and fell. The is a gap at the start of the bend seen here, but the second one was much worse and came quickly as I turned around the corner, so … . Should have noted it on the way up better. Despite the fall I was happy I could fall and not break anything as I have done most of the times in the last 10 years before, so a little bloodied I happily continued down.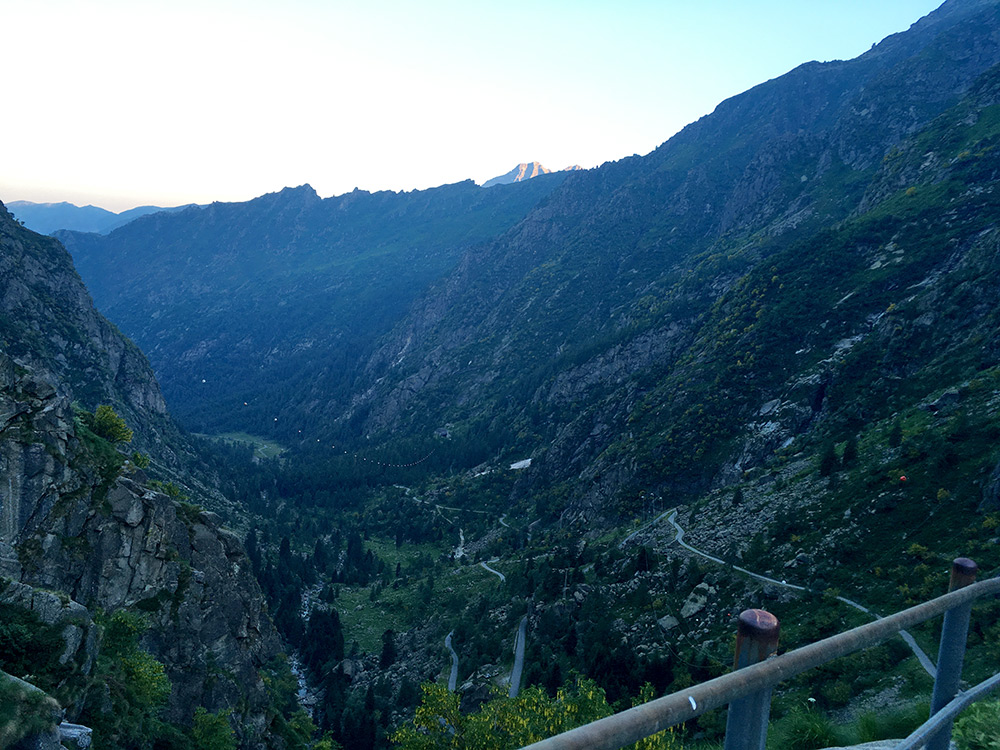 Here the last section up which is also the hardest one, but not as warm as the early section from Rosone.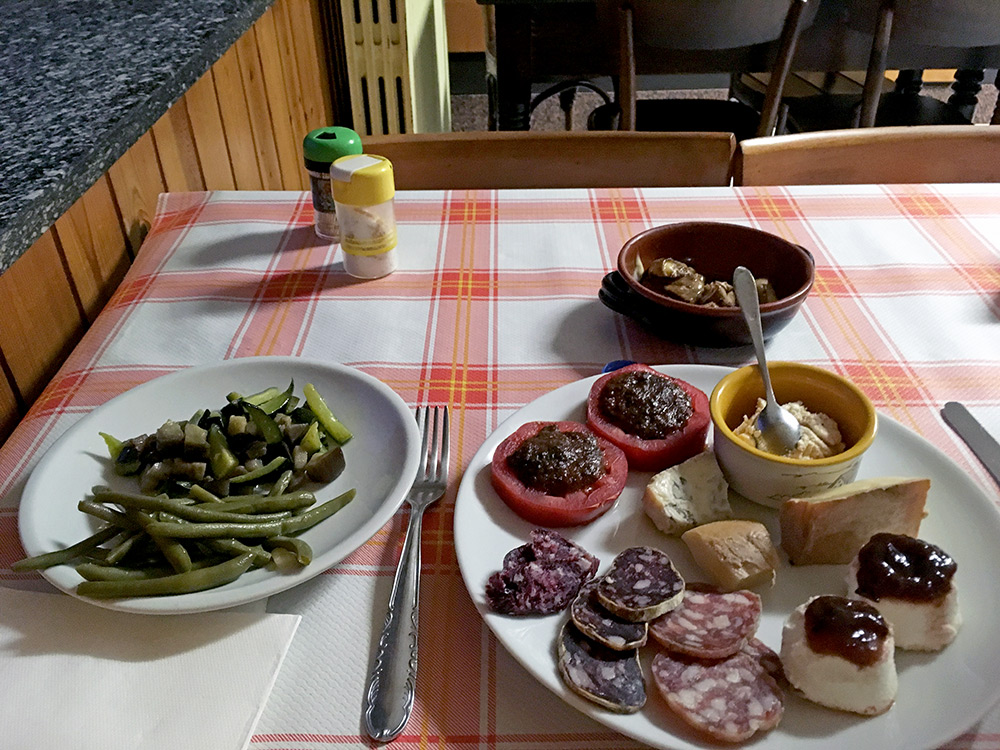 Got a lot to eat and a lot of home made things. Really great food and hospitality! Also had some home made liquor, beer and wine. Great place! The people running it were living in Castellamonte when it was no season up here.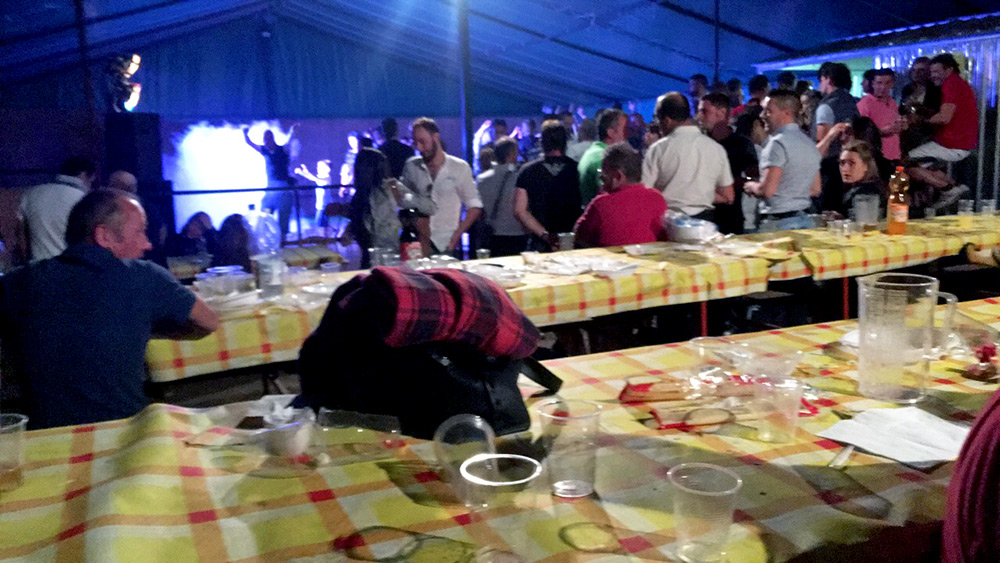 San Lorenzo with maybe up to 10 houses had a big festival/party for the night which I was not aware of with people coming from as far as Torino to attend. As they were going to party all night next to where I was sleeping I could as well go there and hang out for some time even if tired. Got the first beer free also from the nice family running the albergo. Bought another one later on (or two) and it was not easy cleaning my cycling clothes later on (which I think I did sometime after midnight).
As great as the day ended, it was apparently a bit too much of good stuff and later in the night I had to go up up and threw all I had eaten up again … oh well, I suspect that home made liquor was the tipping point there. Anyway, I cannot complain.