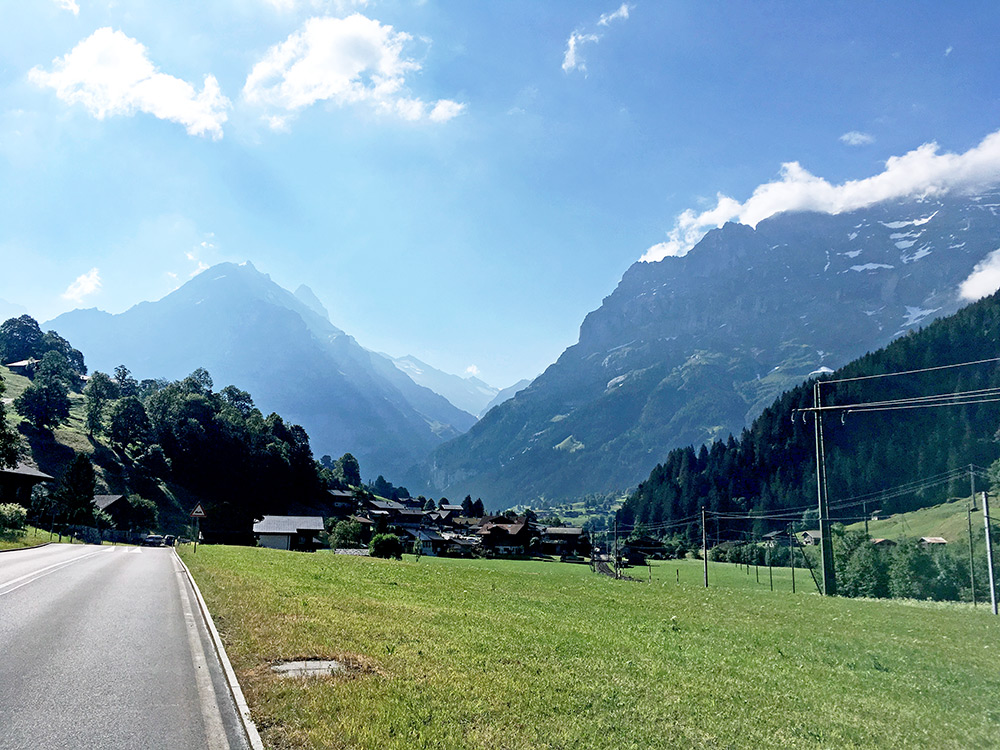 I was a bit disappointed in the morning thinking I had to move on now and miss a nice climb around Grindelwald once again (having missed to climb Männlichen in good weather several times, but once climbed it in bad weather). After breakfast in the morning I decided to forget try and catch up with my plans and instead to go back up to Grindelwald as the weather now was pretty good after all. Here in the photo I am just up to Grindelwald again and the sun is shining hard (close to impossible to get the light right when editing the photos, even with extreme lightening of the shadows, they are still too dark).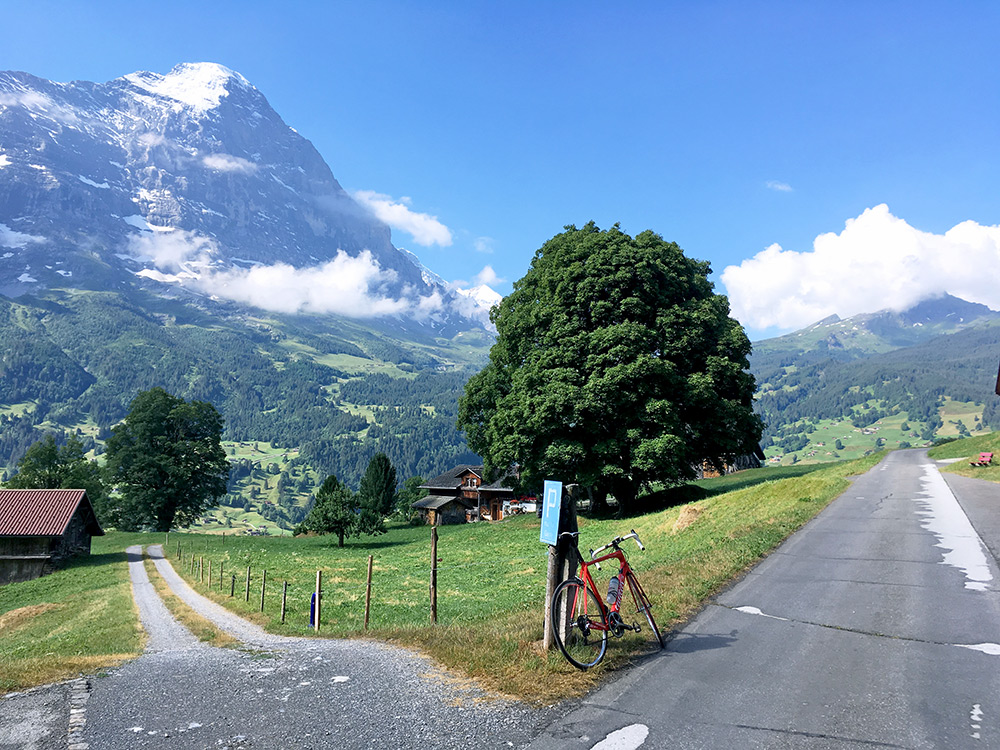 This time I decided to try and bicycle all the way up and thus took the normal longer road through the centre of Grindelwald. There were some clouds on the way up, but it was also quite nice, so decided to stop for some photos on the way up if the clouds would gather and make photos less nice later on. It looks like a perfect day today and the temperature was just right on the whole climb.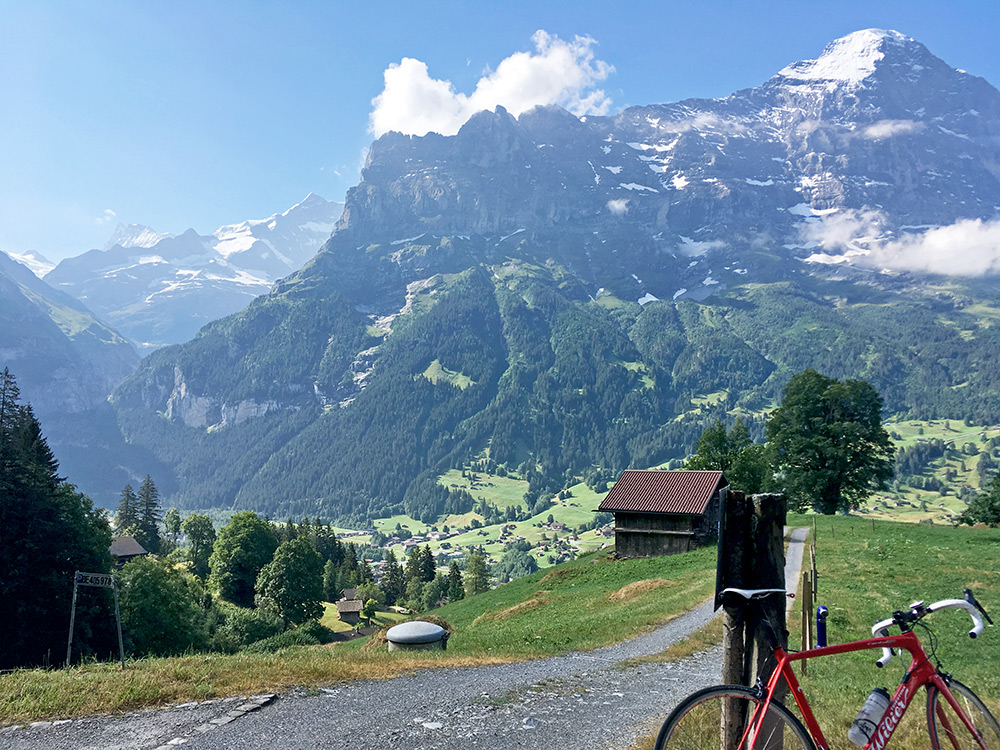 Looking back and one almost does not see anything of all the houses just nearby.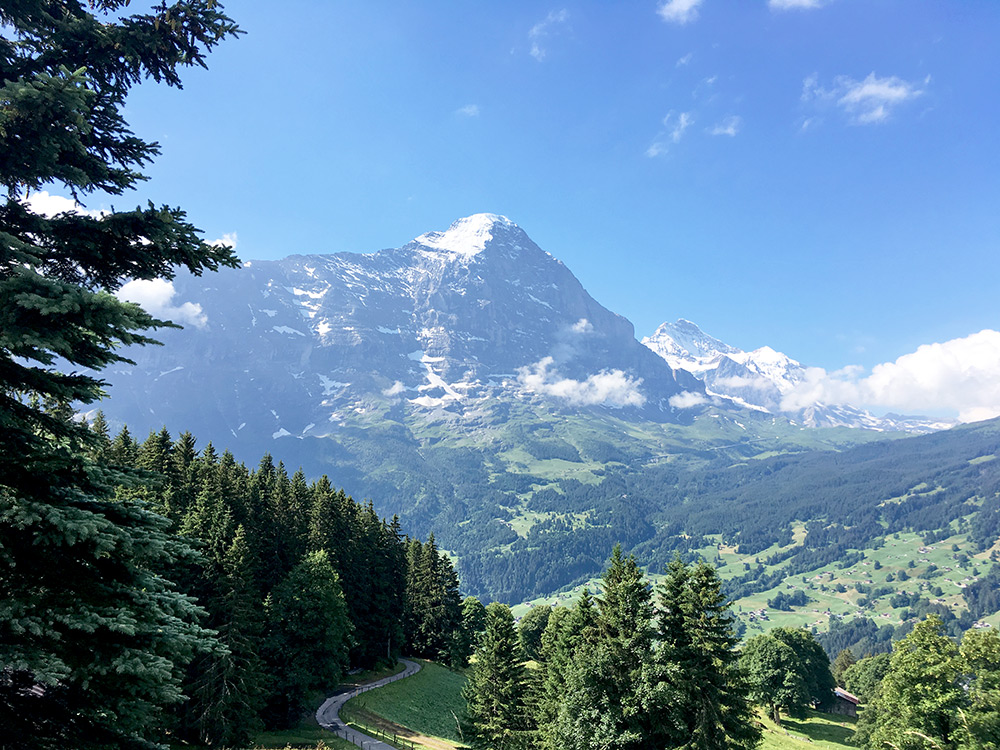 This photo is from near Weidleni (1433m) where I had to stop the day before. From here on I was onto new ground at last.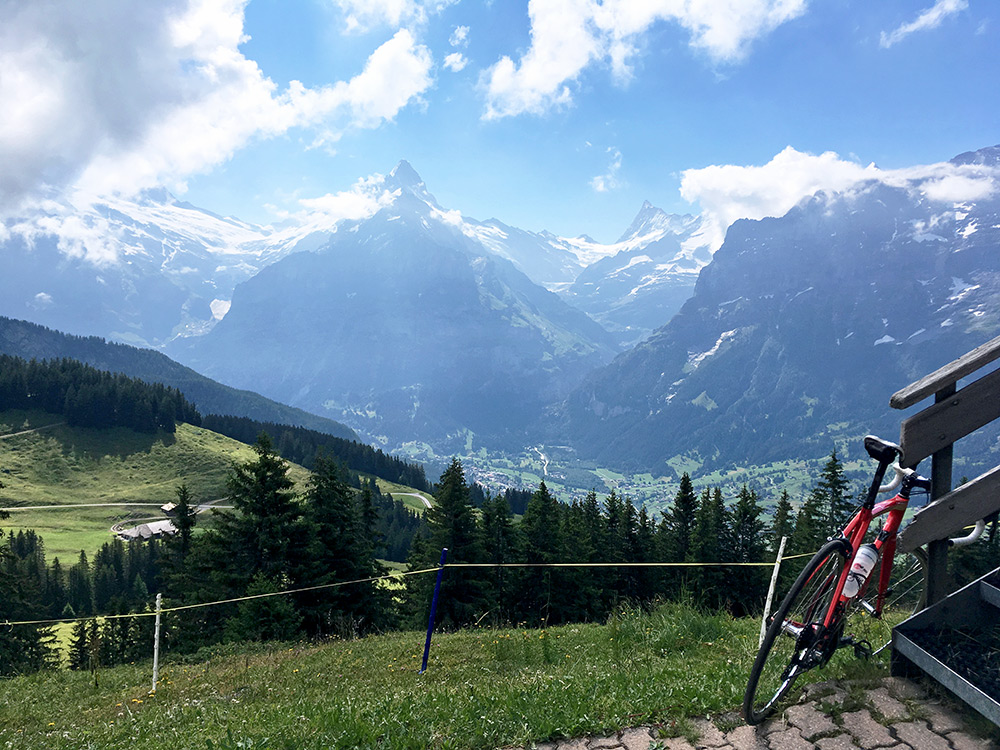 The buses up to Büössalp/Bussalp stops here by the restaurant Bussalp (1801m). Looking back here over the stretch of road where the lanscape opened up again.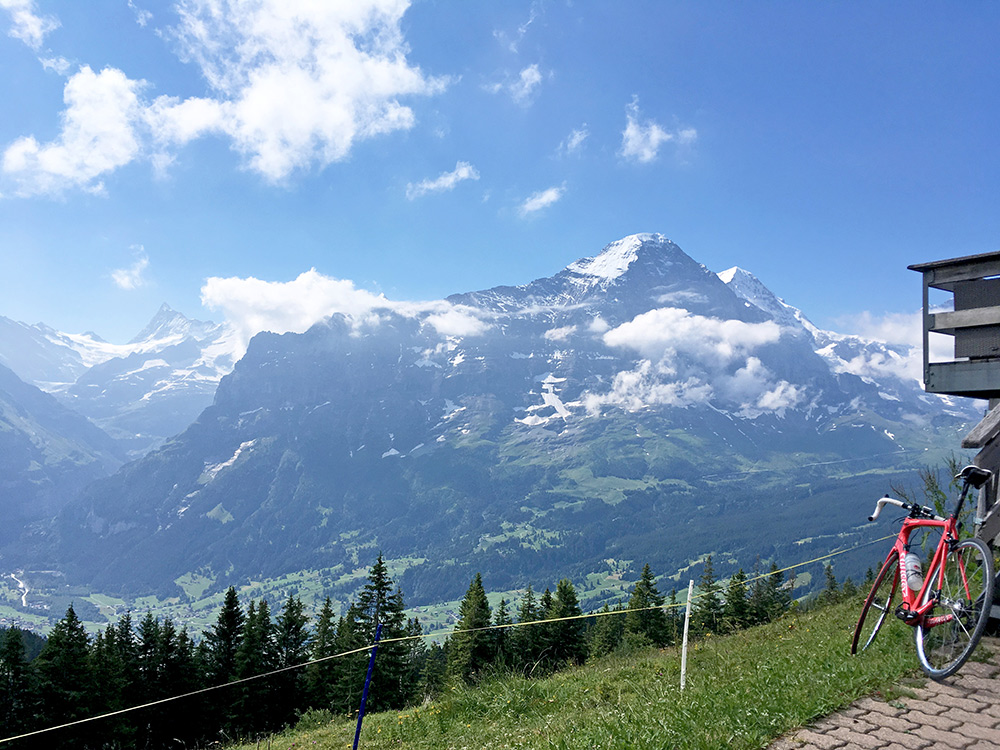 Another photo from the restaurant where also two mountain runners came up.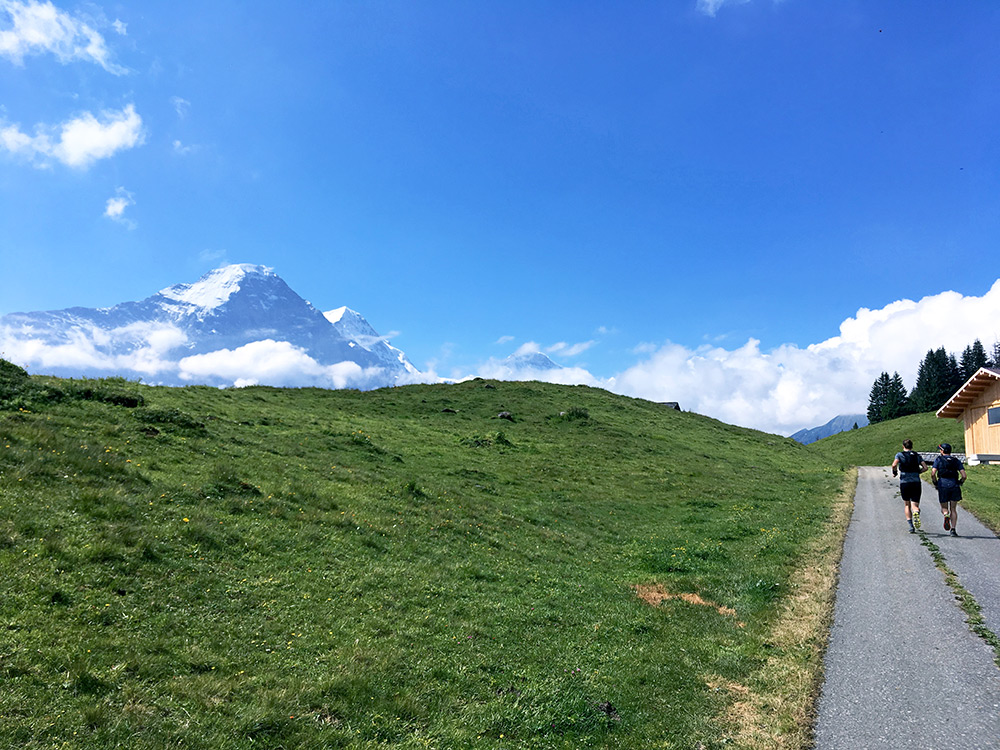 Here the two guys in front of me as I cycled up behind them on the now more narrow and quite steep road continued. Only photo taken while cycling the time. Those bloody guys ;-) managed to talk and run at the same time and I could only just about keep up with them. It was mostly around 15% from the next bend and up. At Oberläger (2021m) they just continued on some tracks up the mountain toward Faulhorn, while I turned left on a road that has only been asphalted for some years (2015-16 or later as it is not shown on the Swiss maps yet).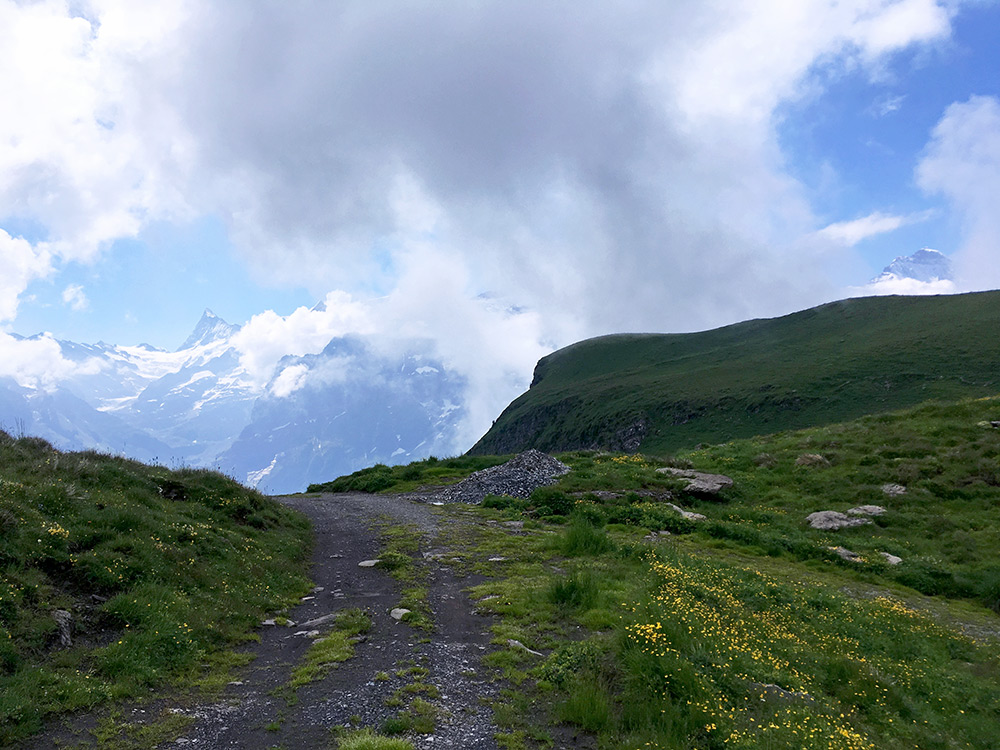 Unfortunately the road up here to Büössalp/Bussalp (2169m) has a stretch of maybe 150m of gravel in the middle where it is fairly steep and to save my tyres I decided to walk the last 50m or so (most would likely be sensible and walk most of it), but it would be all fine with just a little less small stones on the ground or better asphalt. The asphalt is otherwise perfect up to 2162m. Here I am at the end of the climb just above the asphalt end at 2169m, which is an unnamed pass, but no roads goes far down the other side of the Burg (2209m) mountain as it is quite steep down there. The road ahead turns from gravel to a track here.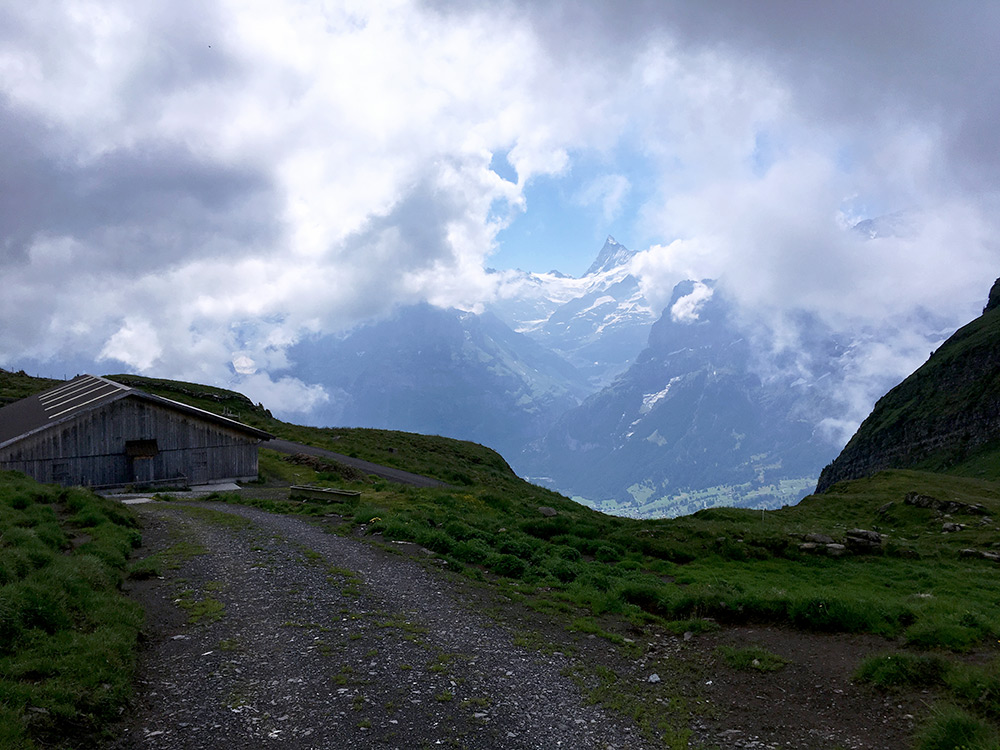 Here the last stretch of the road is seen better and luckily the clouds had not quite engulfed the area, but some mountains were hidden.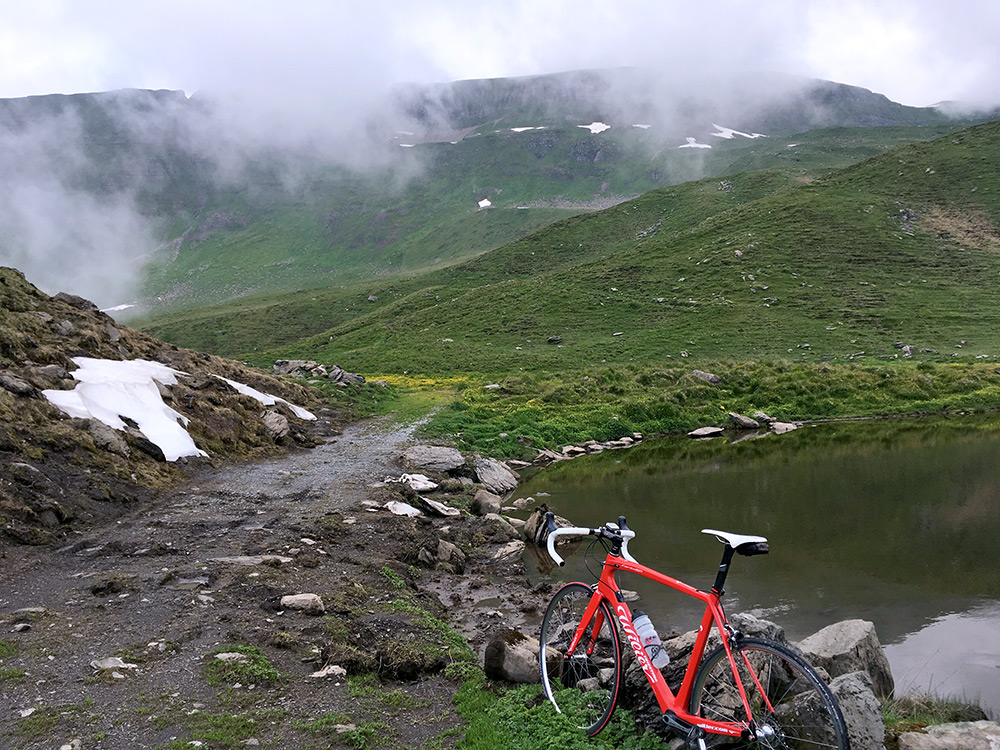 There was one less good continuation on gravel going right up to a small little lake (2175m), from where I could glance the ridge above (do not think I saw Faulhorn from here).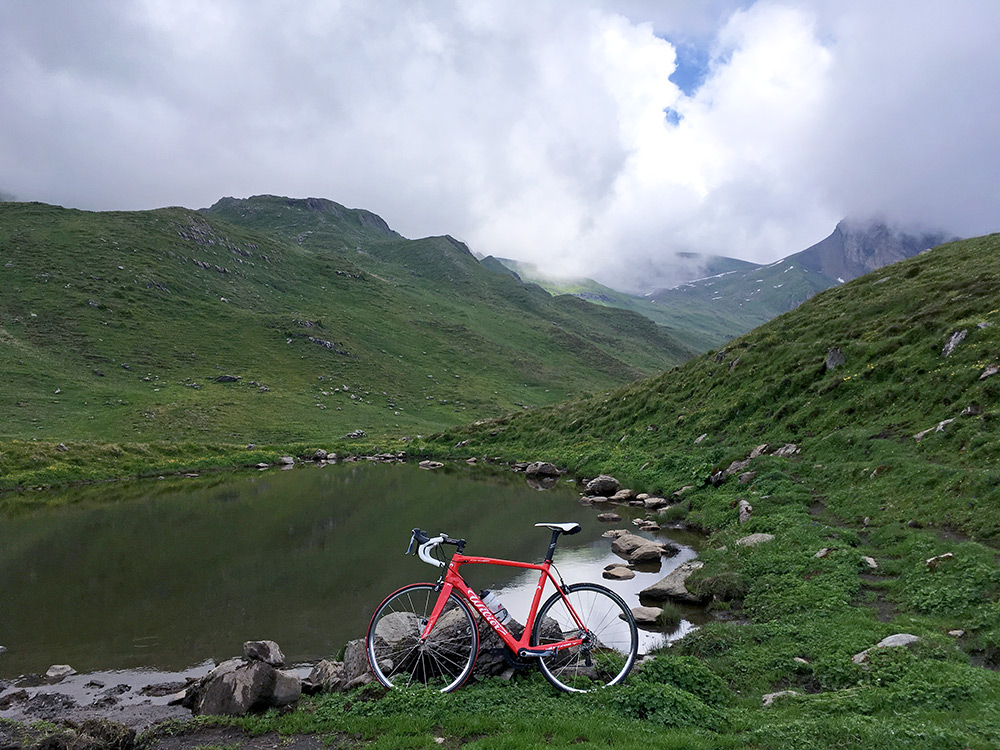 Faulhorn (2681m) should be up the clouds here (there should be a decent gravel road there coming from Bachsee and First, but likely not all possible/worthwhile on a road bike).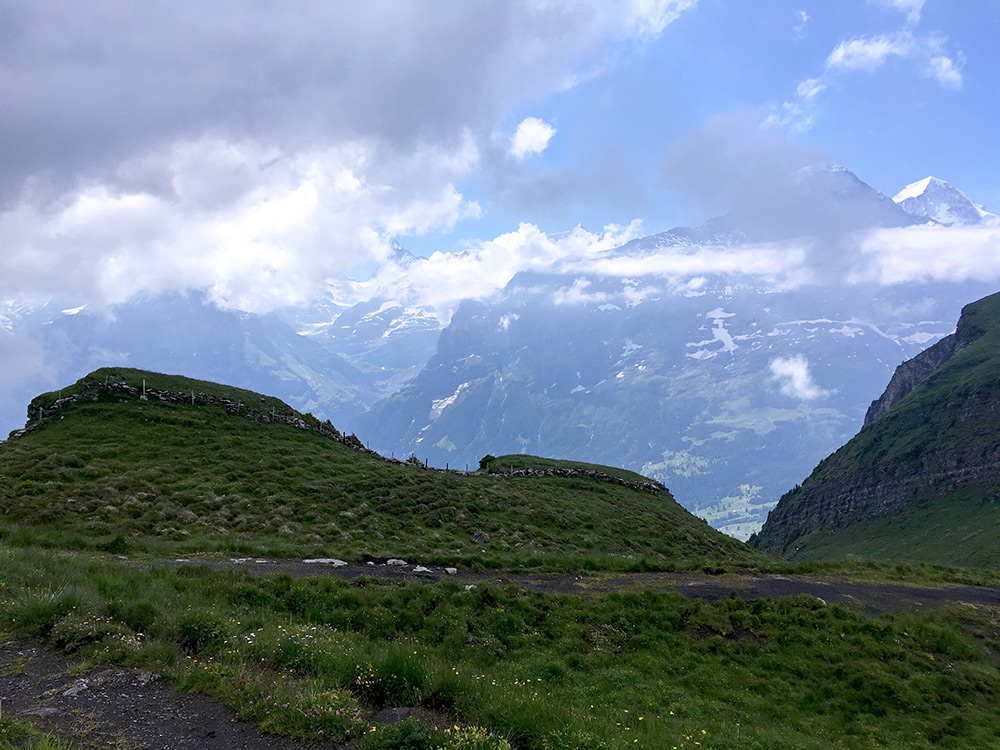 Despite some clouds I was still rather impressed and happy with the views from up here! So took several photos.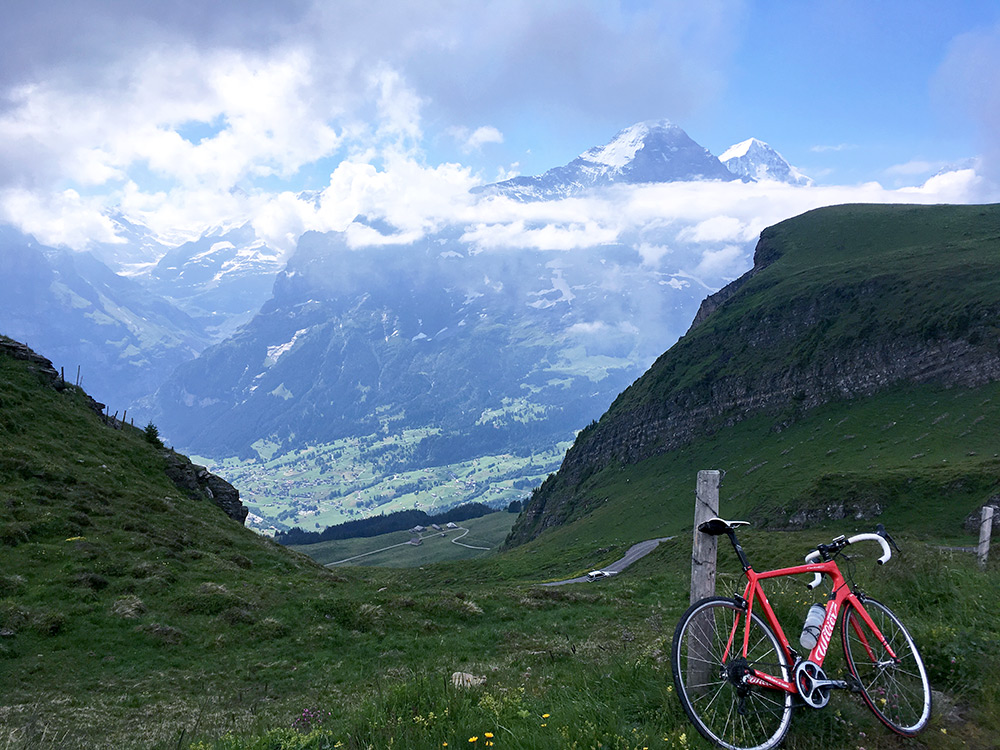 Here you can see the place where I took the photo while cycling up with the two guys in front far below.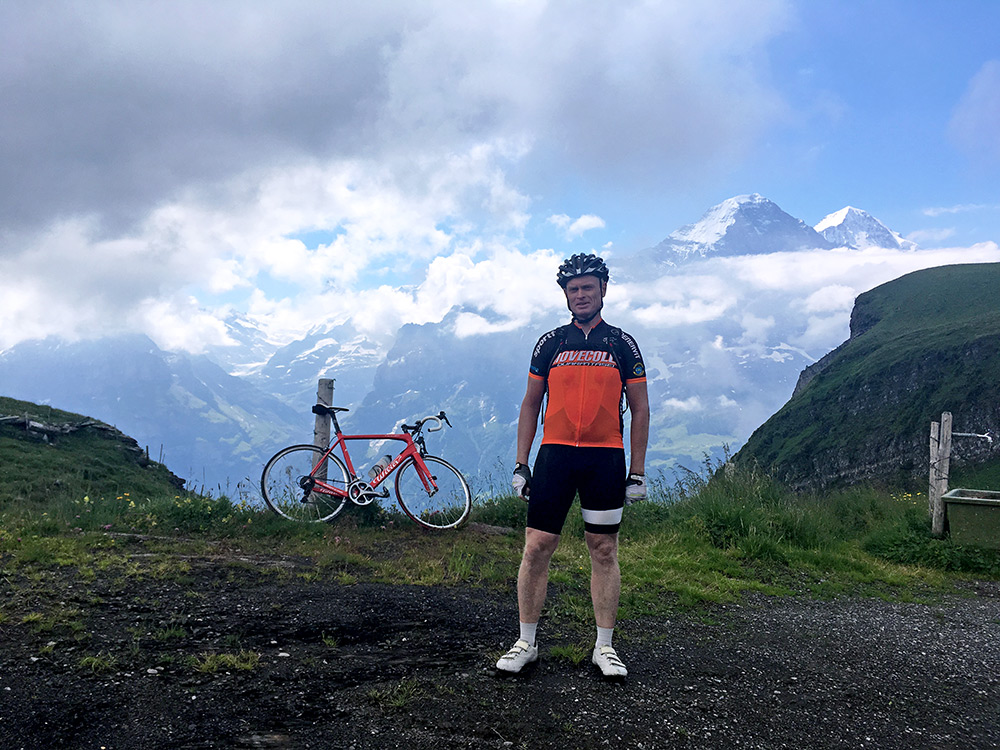 Eventually some walkers came by and were nice to take a photo of me.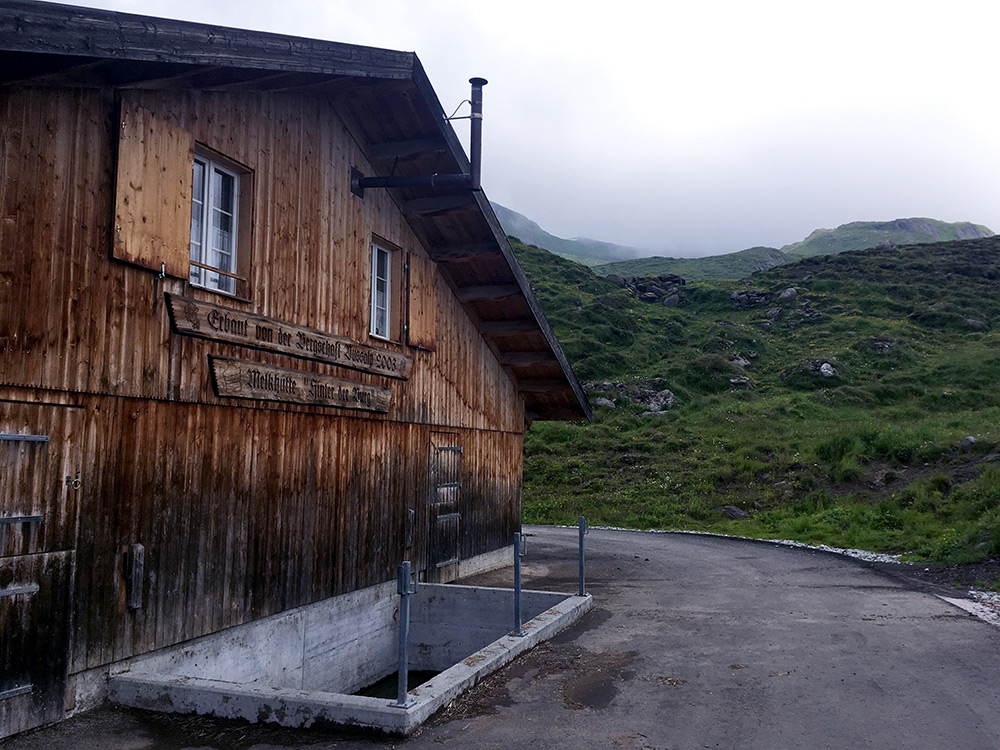 The alp farm was built in 2003 and apparently the reason for the pavement, but in typical Swiss style with some discouragement for visitors with a stretch left as gravel.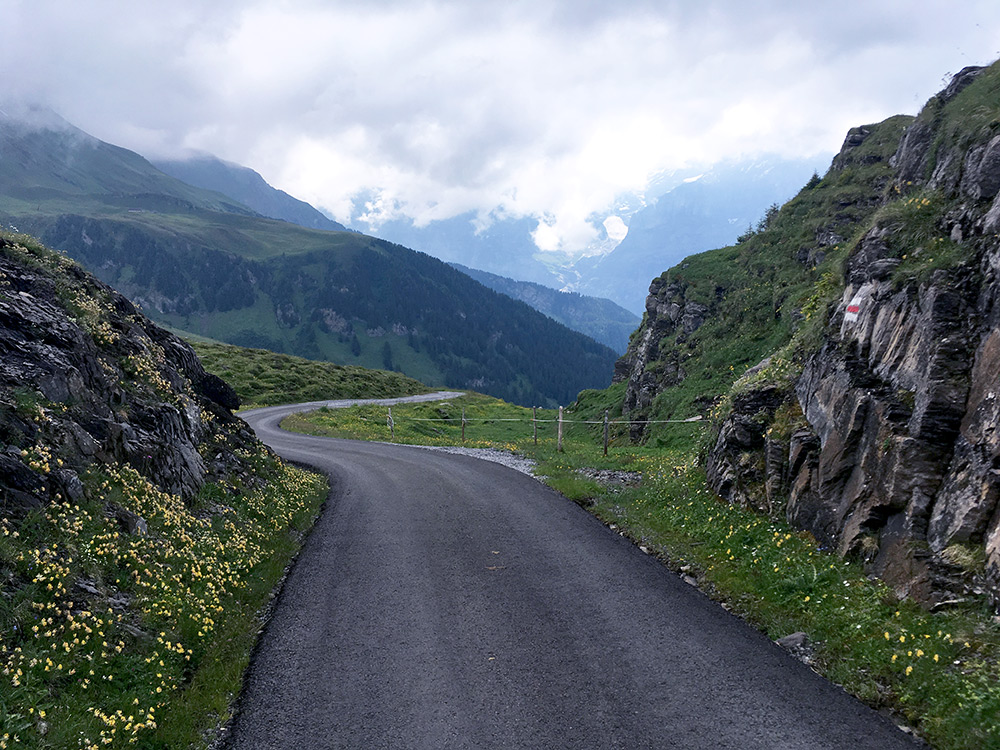 A photo from above where the gravel ended and quite an outstanding road here!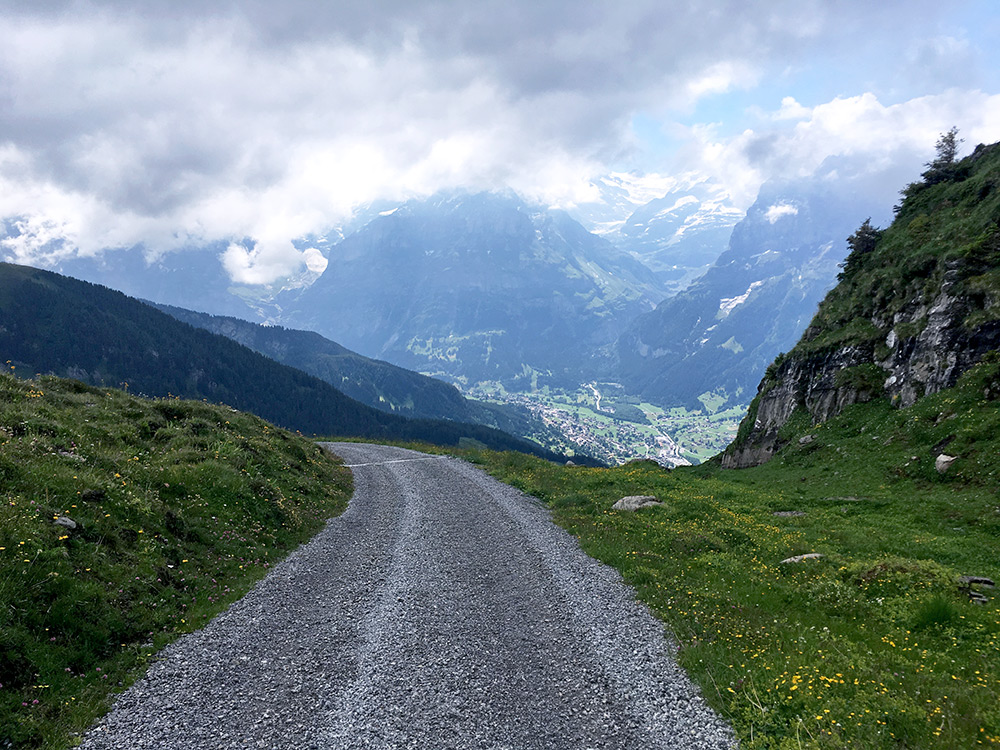 Documenting the gravel stretch and as you see it is a bit too much gravel on it to be pleasant with a road bike, even if it looks nice. The drainage gullies combined with the stones and the steep slope was the main concern for me.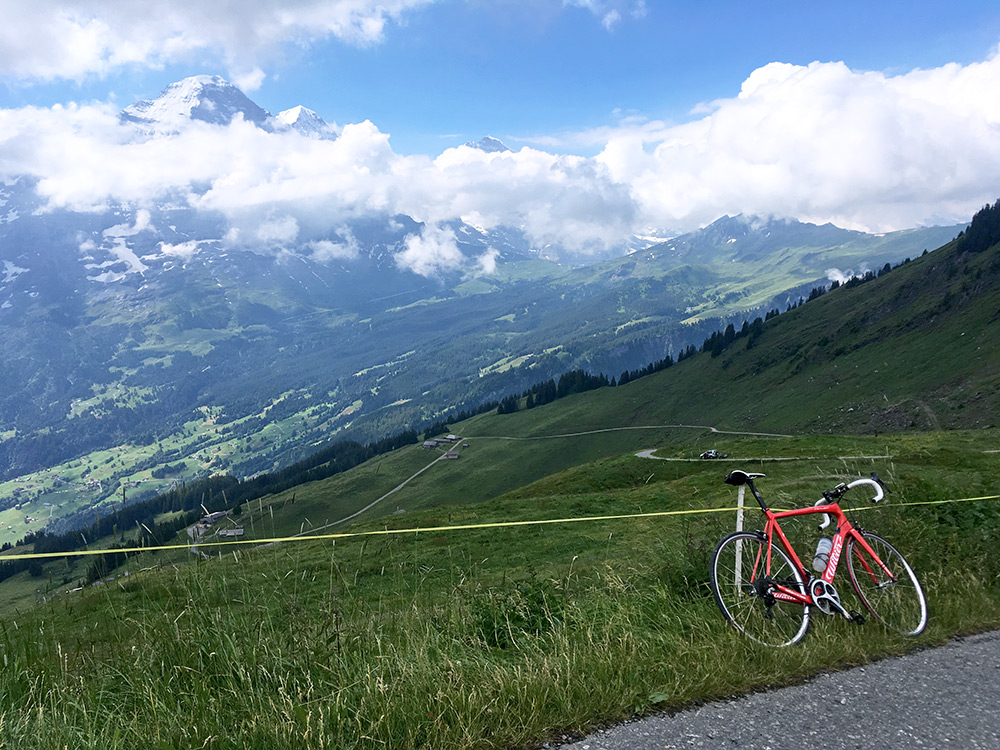 A photo from Oberläger (2021m), to where you have no excuse not going up to when in the area. I was really happy I had decided to go back up here despite my worries over clouds after the massive rain the day before.
I got back down to Zweilütschinen (654m) and stopped first again at Wilderswil to fill up fresh water and taking the short-cut over the ruine Unspunnen to the west end of Interlaken (563m) from where I followed Thunersee in rather hot weather now to Leissigen, where I stopped by a grocery for coca-cola and something more.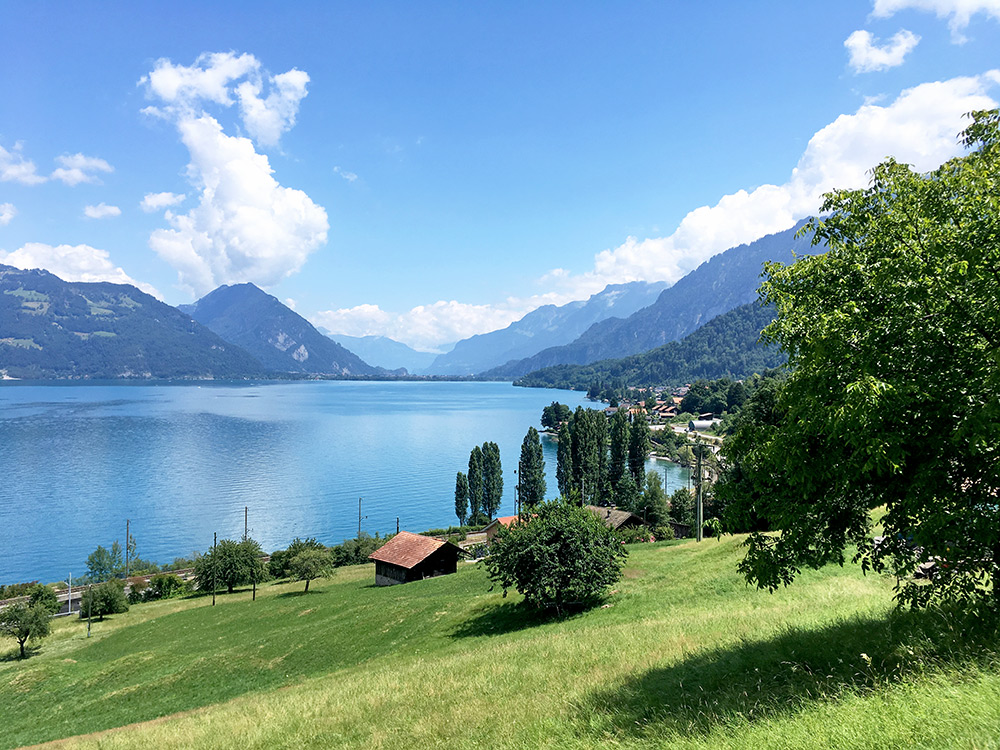 Just out of Leissigen the road to Aeschi starts and it is popular short-cut, but also a climb of ca. 300m. I stopped for two photos, posting the best here looking back to Interlaken. After a while an older man caught up with me and I thought that maybe I should speed up a little and hanged on to him and talked shortly with him (a local man). He did not quite know of cycling up the Kiental where I was heading despite cycling a lot in the area.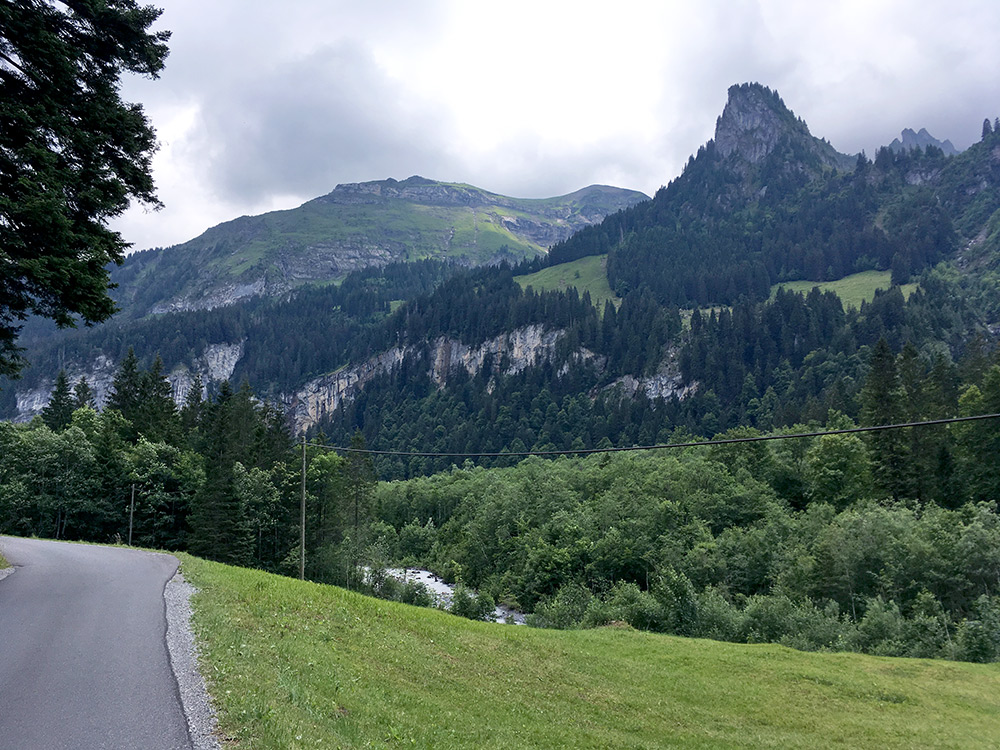 I stopped again in Reichenbach (706m) (went down from the short-cut road to the restaurant at the main road for a coffee). The Kiental is a really nice road to go up. There were a lot of people camping in Kien. This is the first views when starting to get into the Kiental.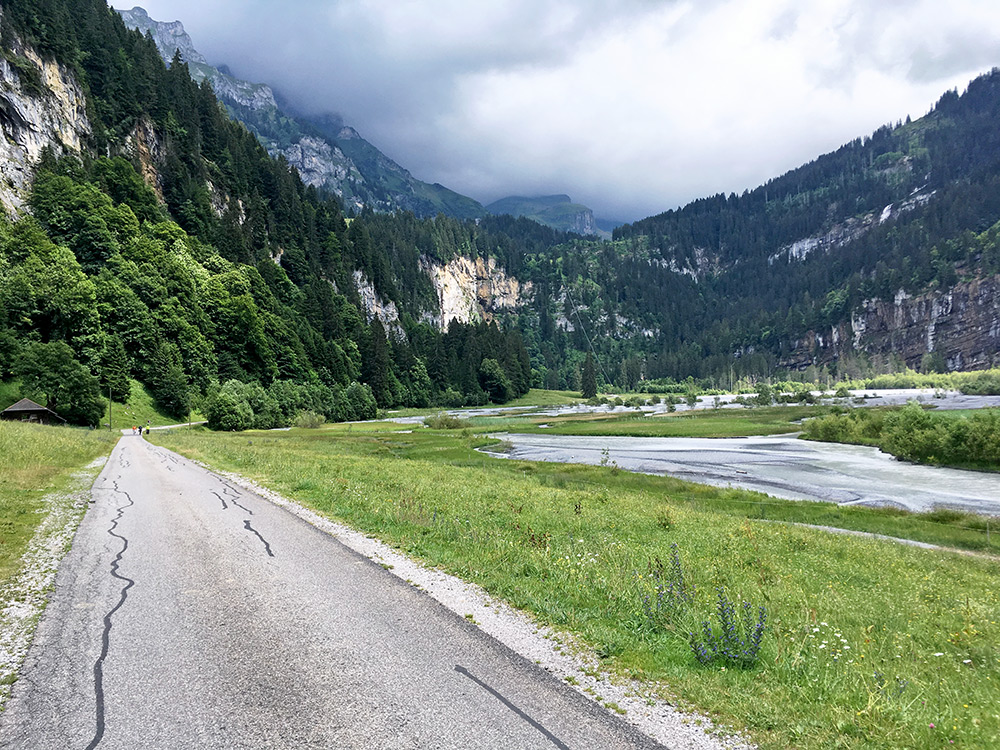 This photo is after climbing up above Kien and reaching the Gorneregrund plain (1153m) just below the famous Griesschlucht to Griesalp (1408m). The climb up here is considered a real challenge (it is the road with the steepest maximum gradient in Switzerland at 24% at Cyclingcols, Quaedich claims it is the steepest bus road in all of Europe with up to 28% (the figure is likely from Denzel's famous motorcycling book, as the same claim appears on the MC site Alpenrouten). There also used to be a sign saying 28% (did not see it on my visit). This is also BIG challenge climb. I had been a bit worried about trying the climb, but this road is not that steep. It might be up to 24%, but it felt like it was at most 21-22% to my experience. However the climb is difficult because the road is narrow with sharp bends and with some traffic.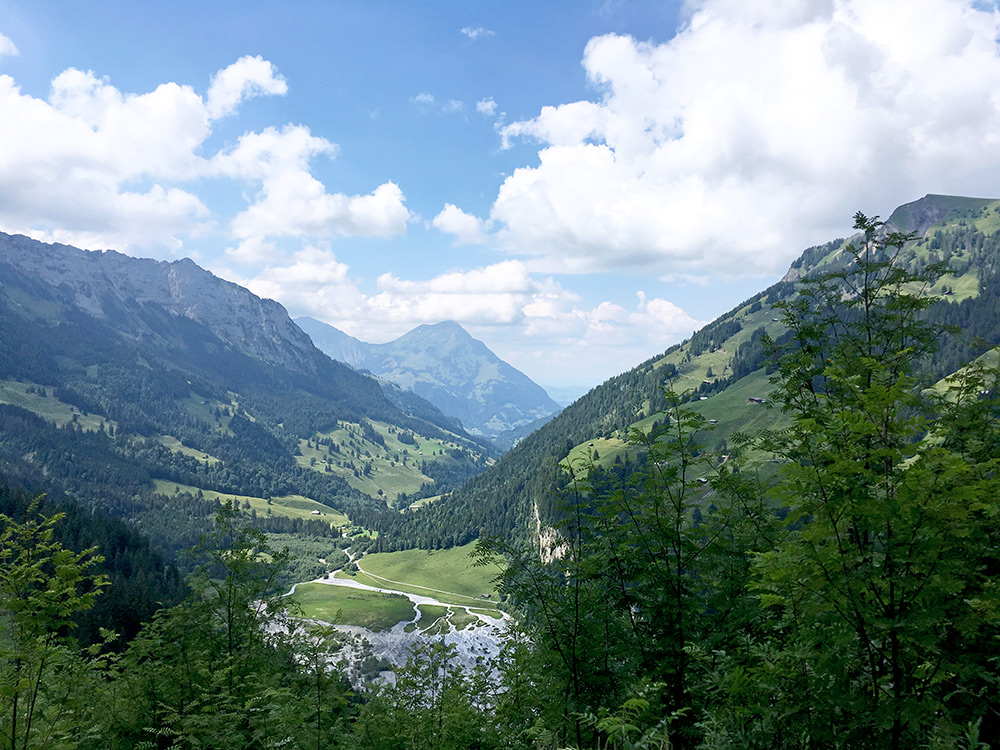 I just managed to climb all the way up to Griesalp (a car was braking in front of me in a problematic place, but I managed to keep the balance). I stopped just above Griesalp as the gravel started right away there – afterwards I realised I had planned not to follow the road up there that I did, but take a road going more to the left when arriving up there, but in retrospect I am happy I did a mistake here.
I continued above a bit higher on the gravel to see how it continued, but there were no change in any way. I decided that I continued a bit further to see if I could get a better view back somewhere and found a place near the road where I had to walk shortly on a path to take this photo back down over the Gorneregrund.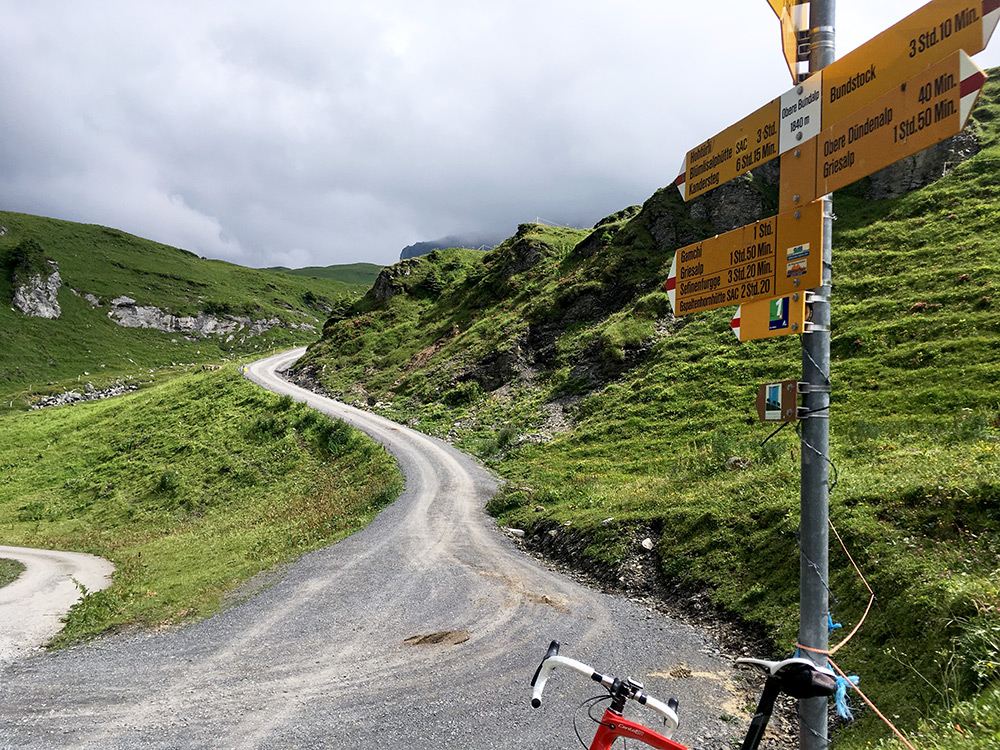 I thought I should turn around, but it felt like I should continue and I had thought that there might be some asphalt higher up here, but was not sure and had thought that if so it would have been asphalted already where I was.
The gravel road (ca. 2.8 km) was not bad and surely did not get worse luckily and after a while I got to the end of the woods and had nice asphalt under my wheels again (ca. 1.5 km). The gravel road up here is somewhat steep but looks good and is likely possible up to Sennhütte (1918m), but I thought this was enough to the Obere/Oberi Bundalp (1840m) and I noticed the restaurant Berghaus Bundalp was open, so went there for a hollundersoda or maybe it was a coca-cola. I was quick though as I noticed dark-looking clouds in the vicinity while sitting there and thus did not think further of continuing up.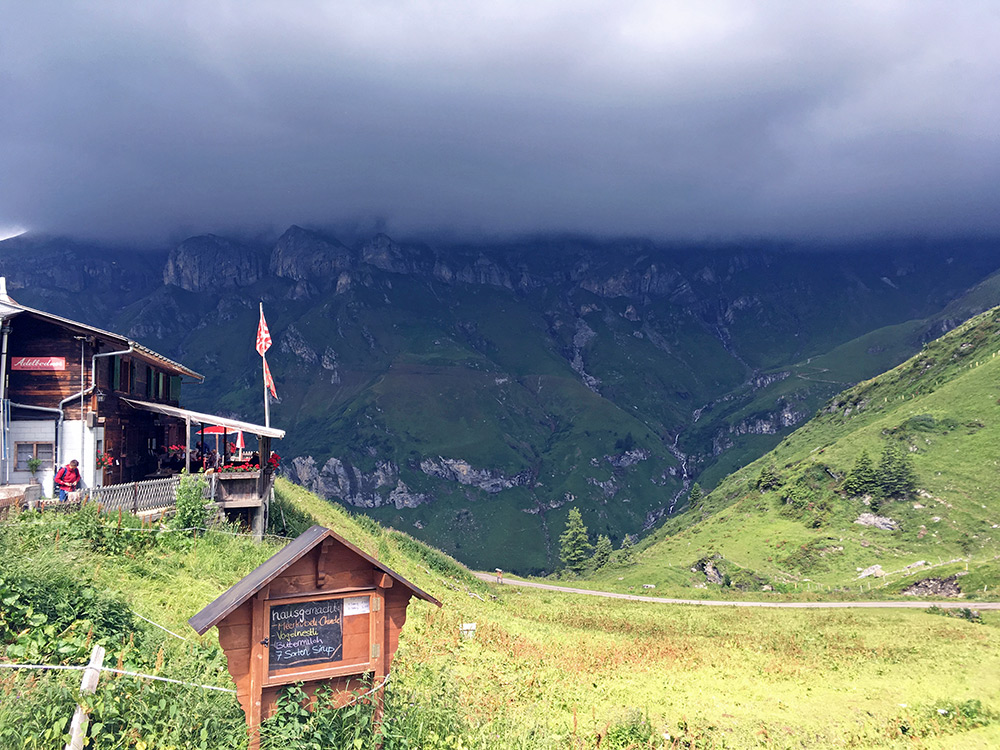 Here is the Berghaus Bundalp and dark looking clouds over the valley below where I had thought to continue up (but that was below here and thus would not have been as exciting). I did not notice the clouds in the other direction before going into the restaurant.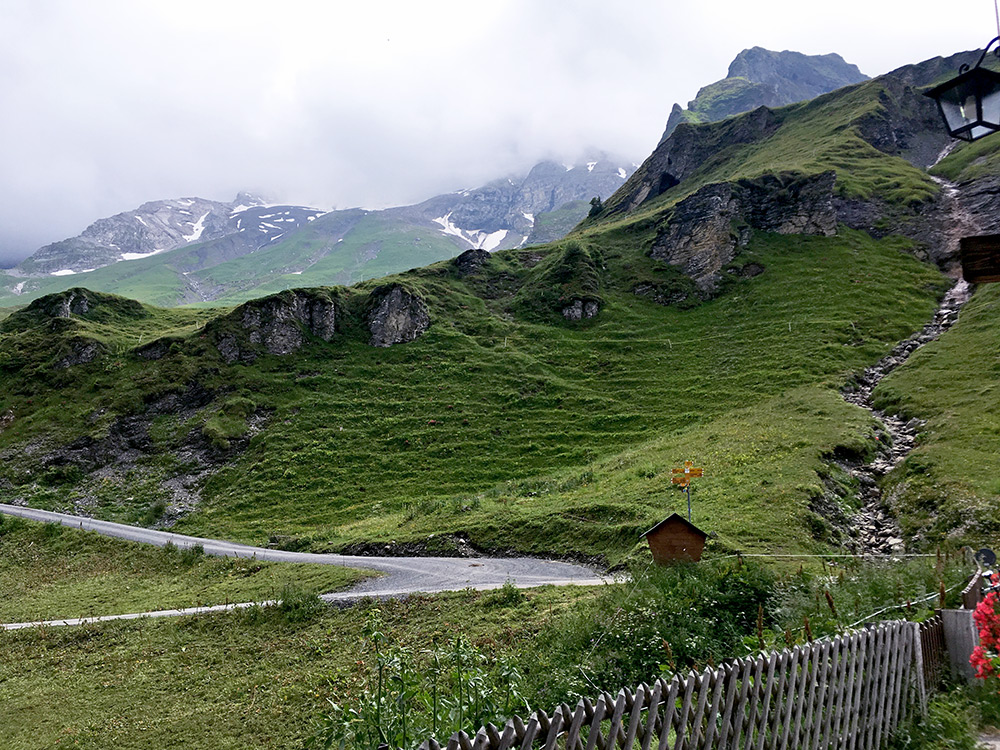 The clouds were not as dark, but it seemed a bit like I should hurry on, which later turned out not to be true (but hard to tell in the mountains and not so fun going down here in rain).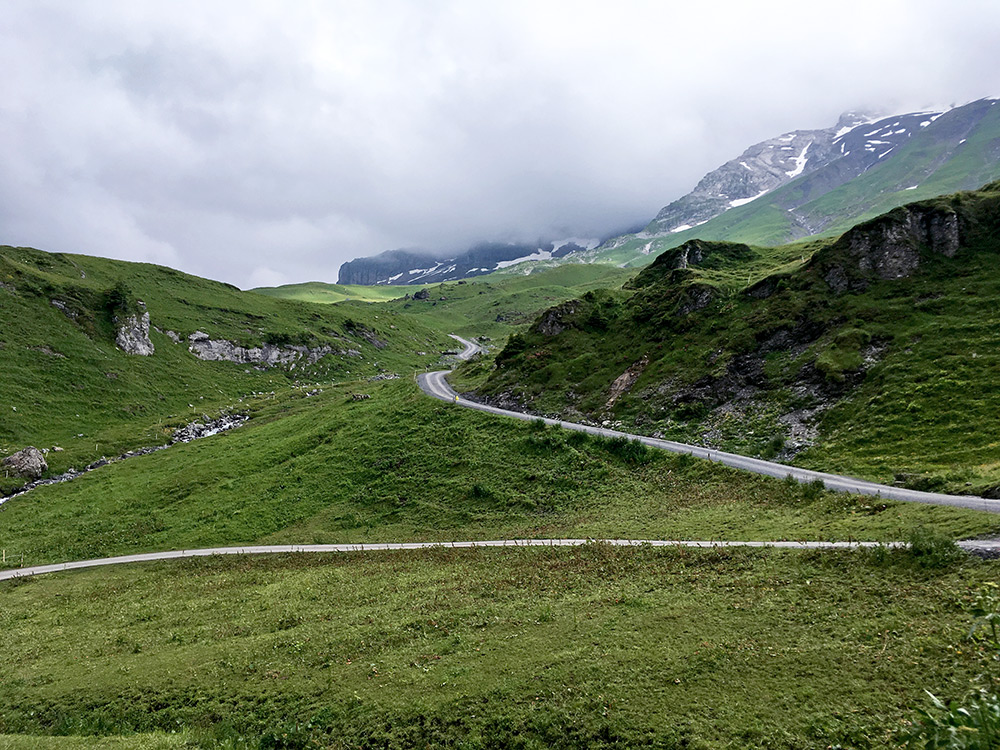 I should almost be able to see the Sennhütte up here, but do not think I did that. The road looks inviting but does not go far.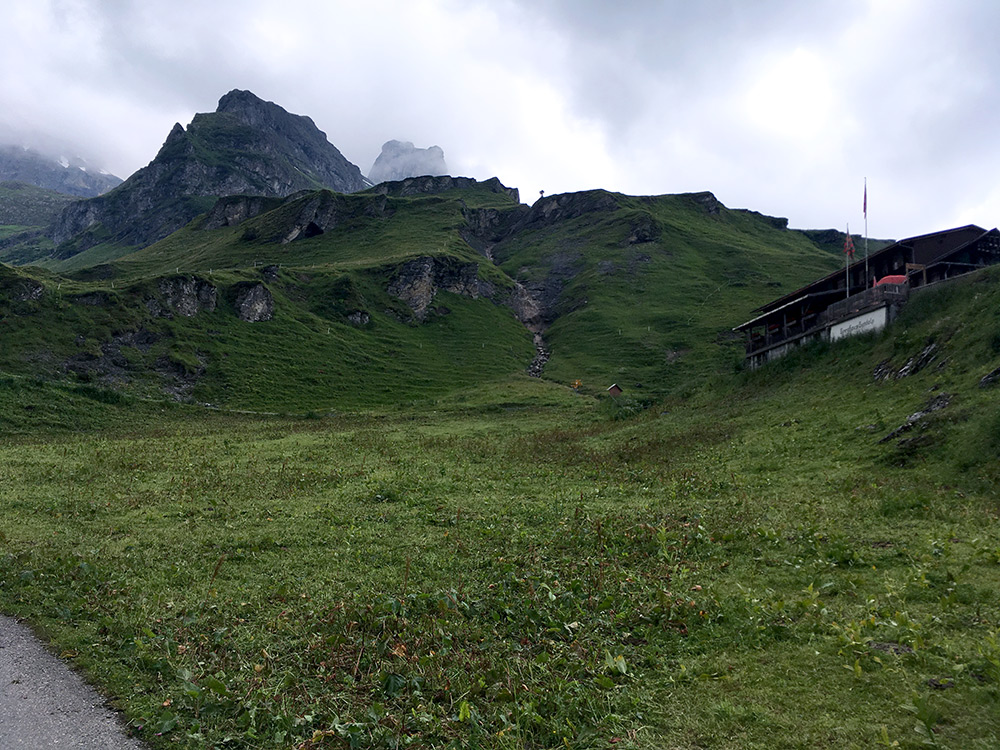 Another view of the last climb up.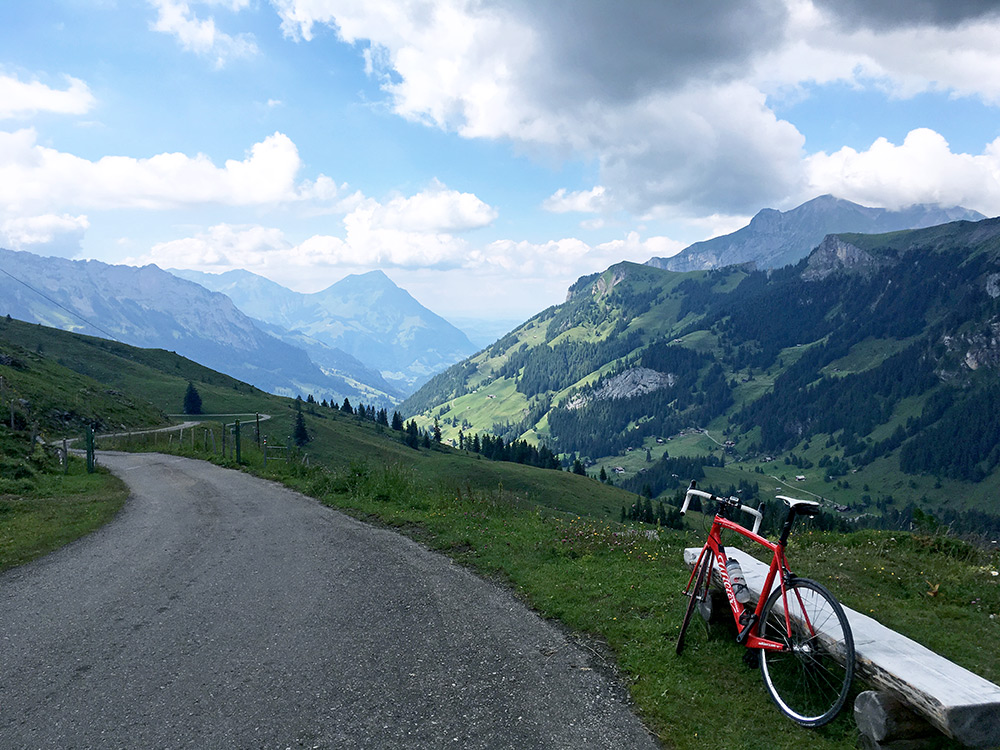 Turning around a corner and I had great views back where I came from and the weather did not look bad at all, so worries were gone again. Very much recommended to climb up here if you don't mind a stretch on decent gravel (the asphalt part is the hardest after all).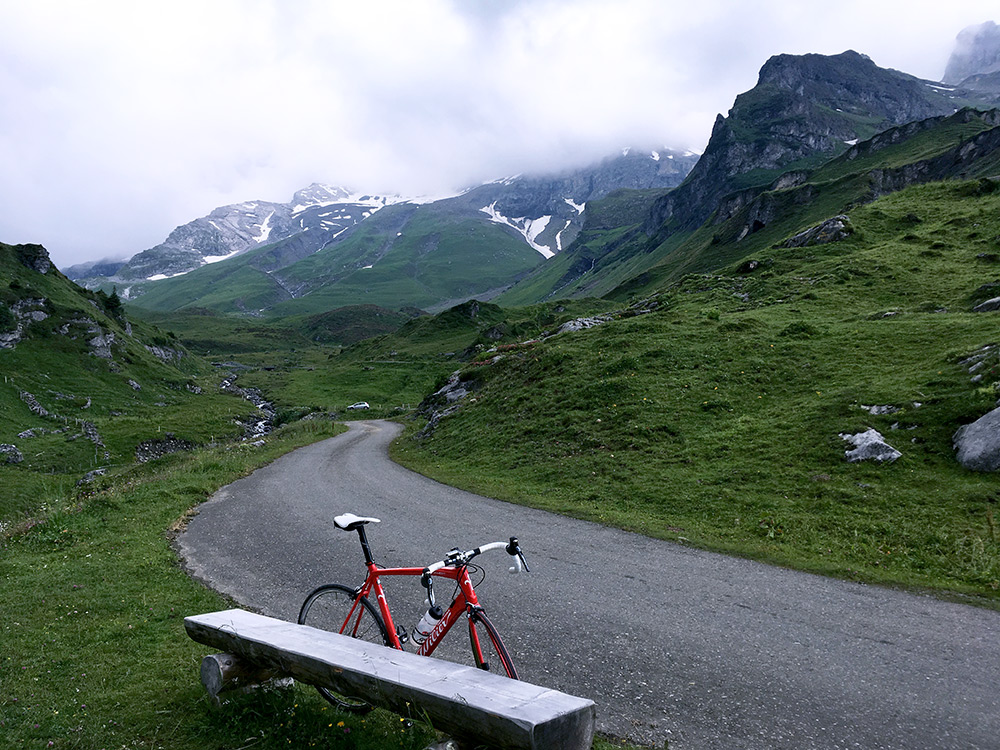 And a last view back up before the views were mostly all gone.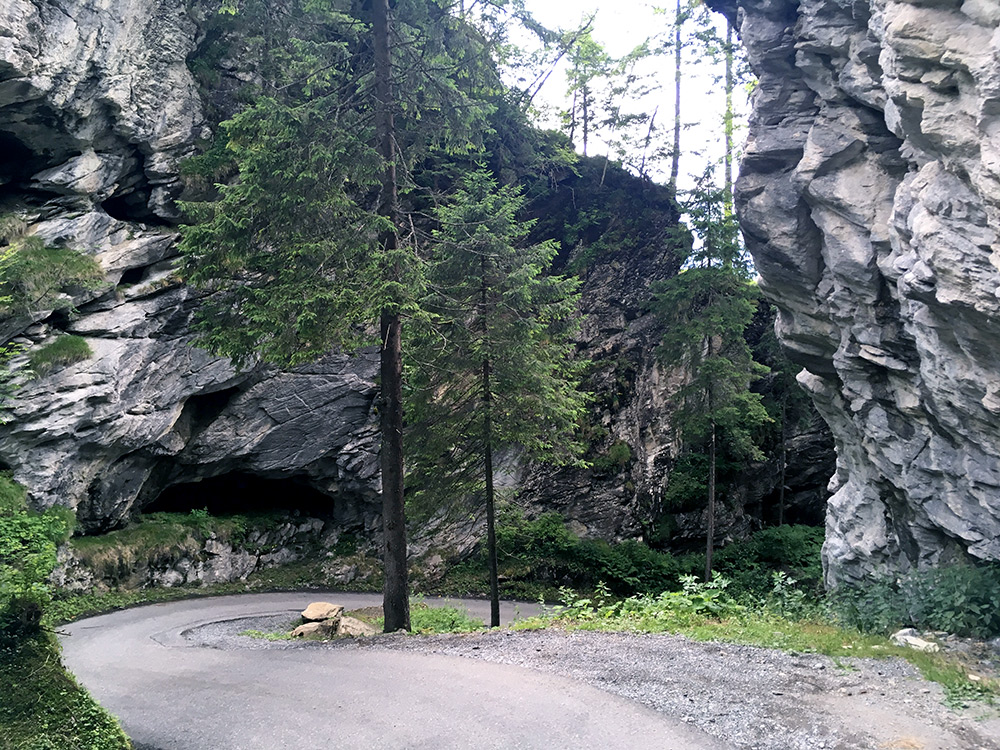 Down to the busy Griesalp looking fresh like few cyclists up here, but continued straight down and tried to stop to take some photos of the most impressive places (only a few selected here). This last stretch is a bit tricky if you have other vehicles here, like I had on the way up and you have to be very careful down here.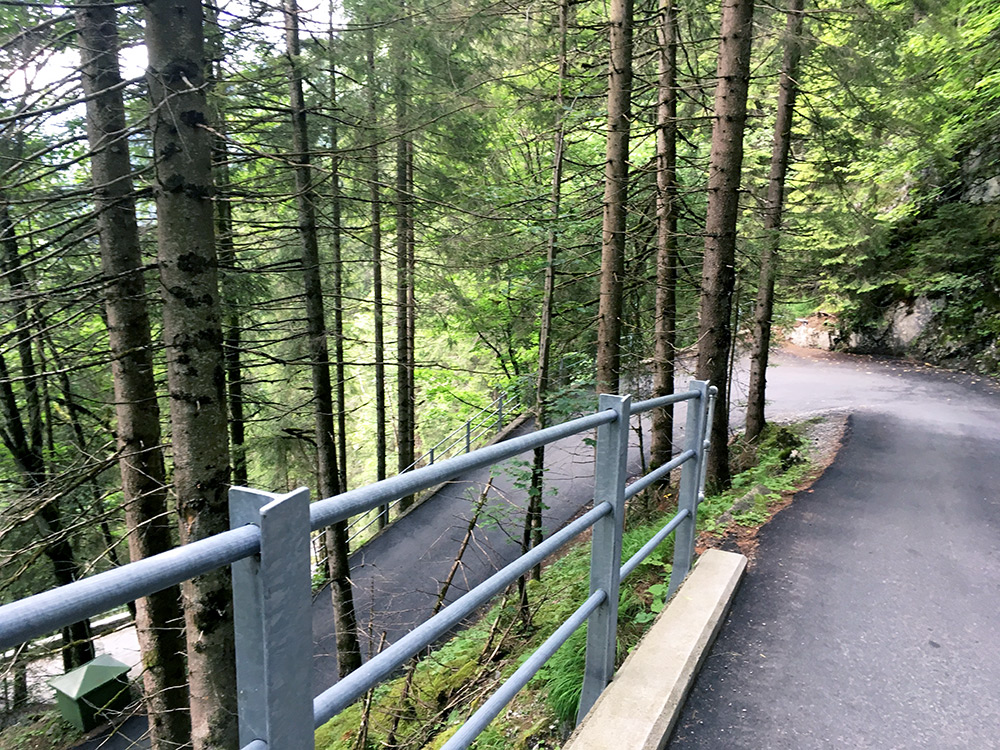 Here is a typical view of one of the steeper places on the Griesalp climb.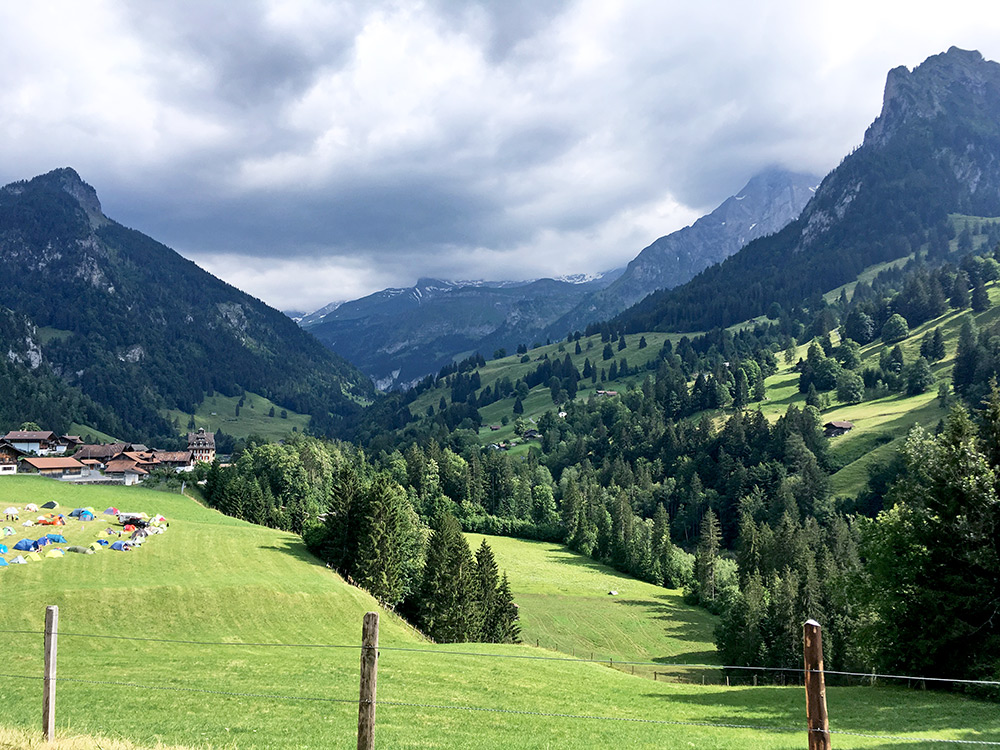 Down through Kien and looking back up to Griesalp it no longer looked as sunny as when I was up there, so maybe I was lucky.
I continued back down to Reichenbach and via the road suggested for bicycles (a bit up and down, but okay here) on the other side at Mülenen of the railway and Kander river to Wimmis (630m). Thought about stopping, but found no open place so continued, again on the alternative road suggested for bicycles, that I never used earlier) to Oey (670m), where I stopped for a big coca-cola by the first open restaurant (later noticed I could have bought a cheaper one at the grocery which was open here, but nice to sit down a while too).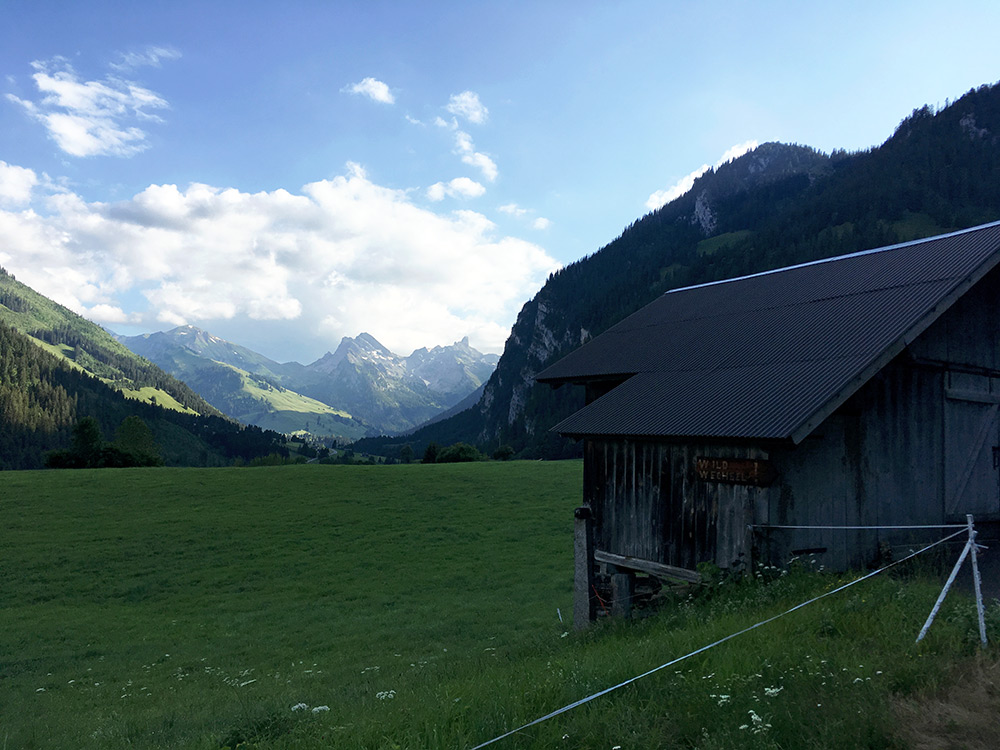 After a while I got on my way up the Diemtigtal to Zwischenflüh (1041m), where I turned off and the climbing starts to get steeper here. Just after Zwischenflüh was apparently where I took this photo at a flatter stretch. Think I am looking up the Diemtigtal, which would be nice to one day climb to the end of at Oberberg (1929m) (looks steep at the end there).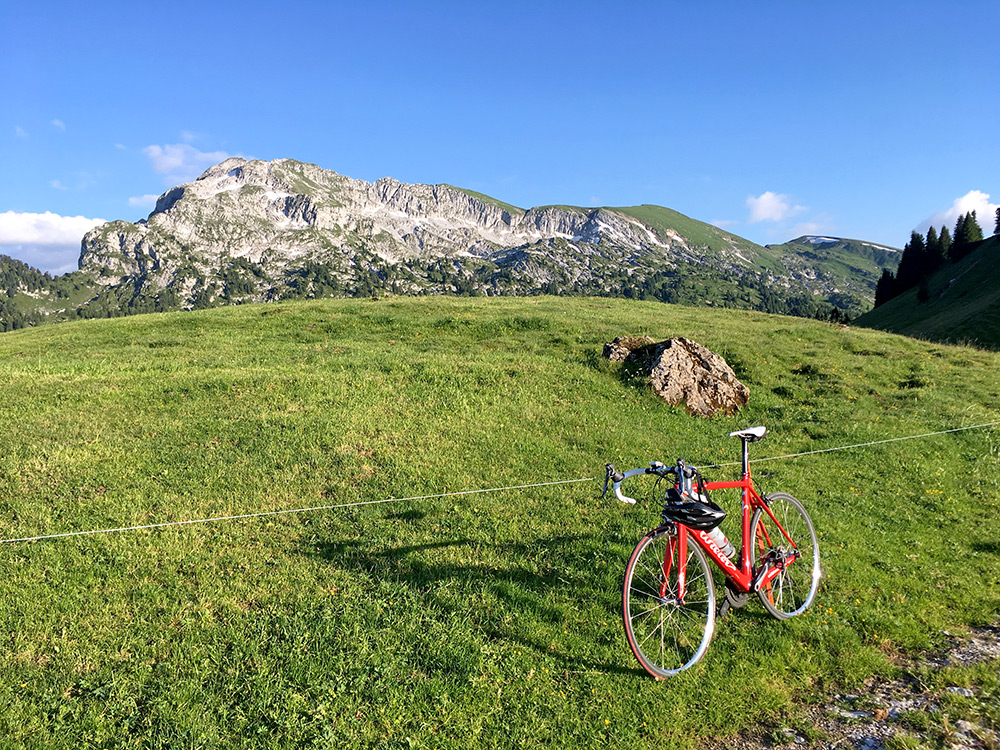 I was however on my way, rather late, to Seeberg – the most popular climb I have not previously been to in the area. It is sort of a pass climb, except that there is not even a path down the other side to Schwenden i Diemtigtal, so likely it should just be counted as a mountain climb or mountainside climb (something I have spent too much time wondering about). This is the first photo after having reached Seeberg (1806m), a 1136m climb from Oey.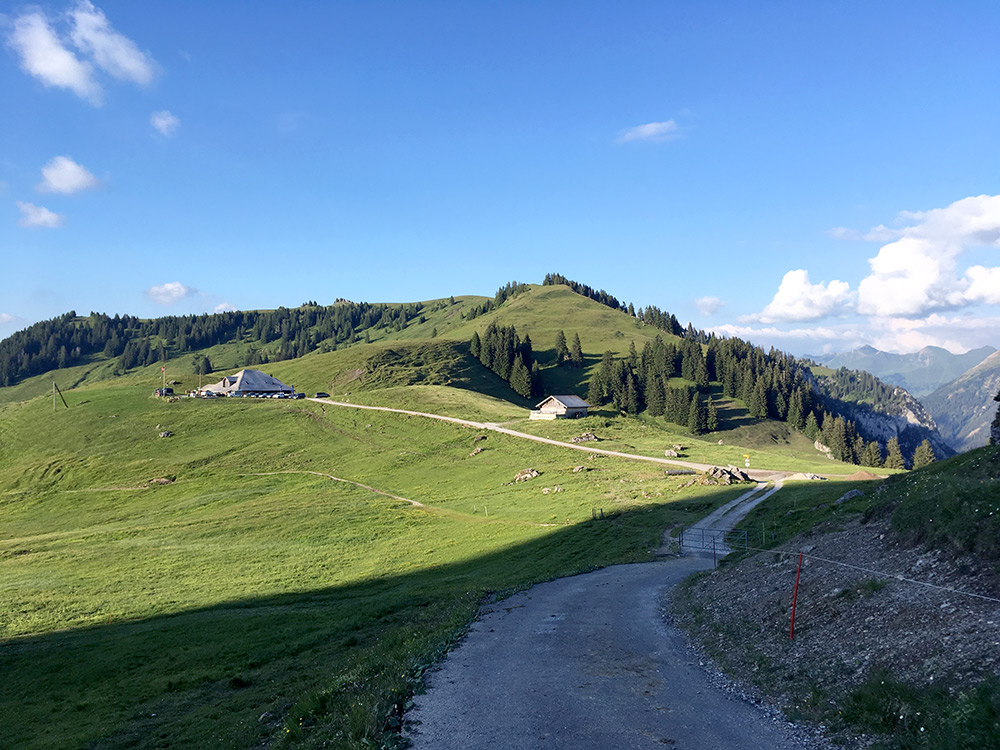 It is very nice up here and the weather was perfect this evening. I had heard they had good food here too and hoped they had a bed here for me for the night, gambling a bit. It turned out they seemed very well to have great food, by looking at the plates of guests, but they did not have beds, so I could not stay there. But one of the girls said I could stay at Stiereberg (1881m), without considering I was coming up there with a road bike. But she thought it would be fairly easy to get there despite the track there as it was not far away and she was nice to call to make sure they had place for me. Photo here from a section of asphalt that returned after a gravel section when leaving for Stiereberg, but it soon ended again. So it is Seeberg and the "fake" mountain pass seen here.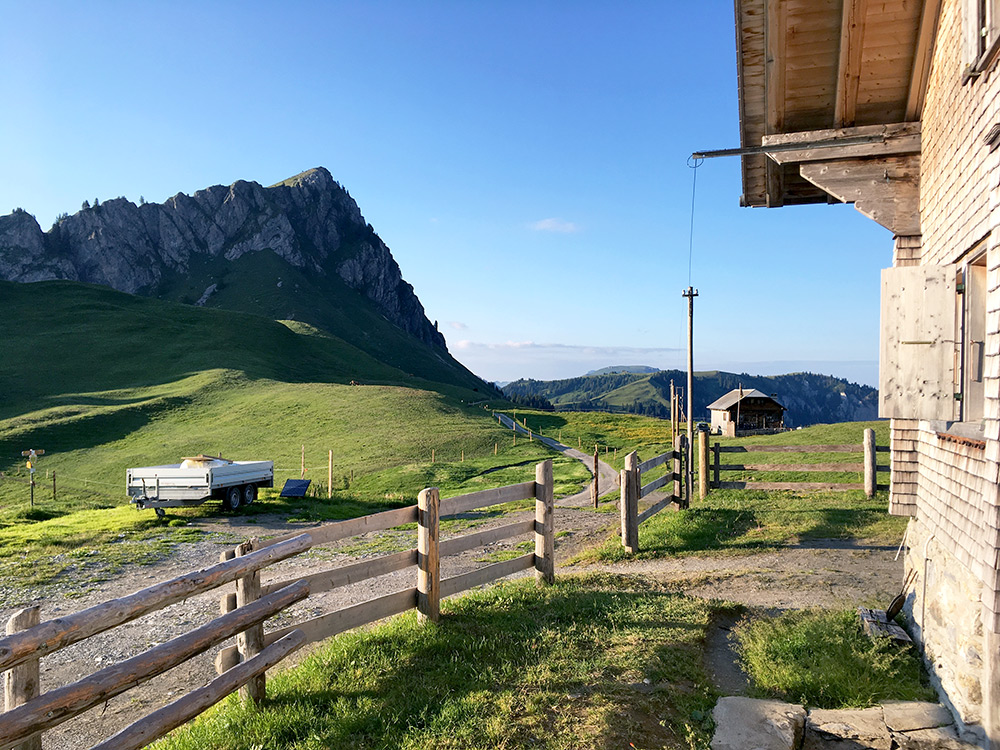 It was possible to cycle nearly every metre to Stiereberg (only one tricky place as I remember). So I was there while the sun was still up. Apparently it is called Bergrestaurant Stierenseeberg (or Berggasthaus Stierenberg as their website says) and looking on older maps the place was called Stieren-Seeberg, but they have increasingly left the old germanised names for the more local dialect names on the Swiss maps, but sometimes traditional naming conventions still rules (very often the case in Switzerland from what I have seen, even though it may be counter-intuitive given that one thought they would like to use the local dialect names, but they may never have been used widely).
Here looking back on the road from Seeberg to Stiereberg and lovely this evening.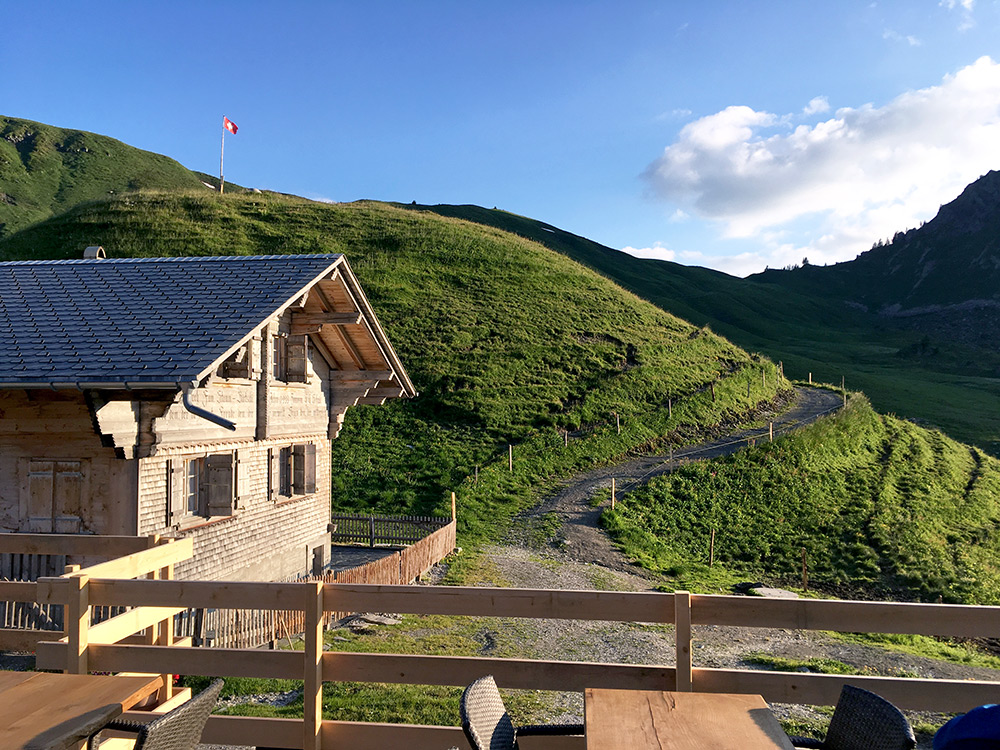 Here is the road/track continuation up to the Gubi (1987m) pass and the best way out of here if not going back. Stiereberg is more arguably a pass (than Seeberg) as we agreed upon at the dinner table with the family running the restaurant. Dinner was good, the price was a bit more expensive though than at similar "massenlager" (mattresses placed next to each other with only a blanket and all sleeping in the same big room/loft), but got dinner, breakfast and lovely views (and no nearby alternative anyway). However, they had no hot water, shower and it got a bit cold in the night (better place for walkers and others expecting the conditions), but still a very nice experience staying here.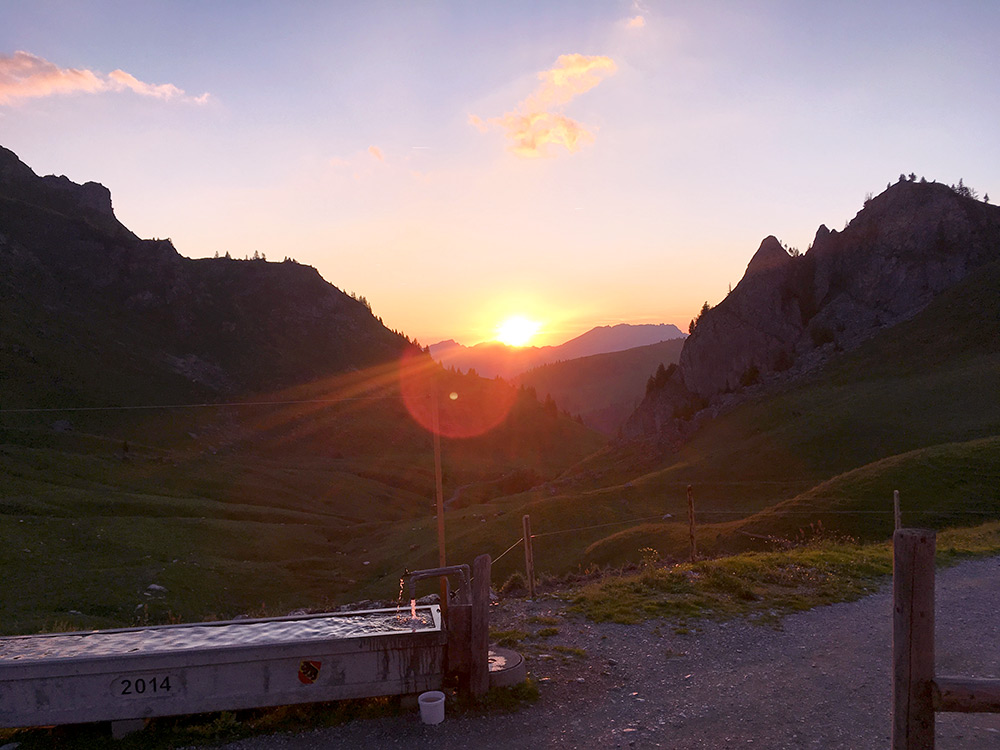 The views from the dinner table before going to bed. Perfect until then, the rest was not as pleasant until I got on my way in the morning, but got some sleep. The main problem otherwise with these lodgings is that there can be many walkers and they usually go to bed when I arrive in the evening and go up in the morning around the time I have fallen to sleep, but there were only 2-3 more people there and I was too tired to remember much about them. The family was nice. A great day, which would be hard to match again./p>