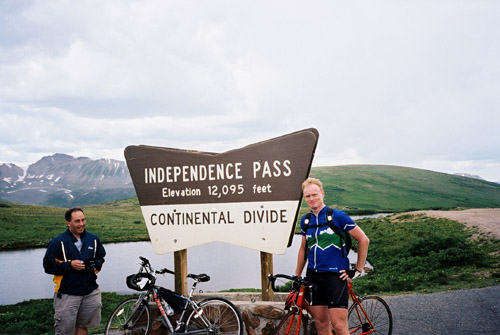 They seldom serves breakfast at hotels (not part of a chain) in America for some reason, but I had some coffee before I took off up the mountains again. It started as another sunny day and the temperature was just perfect as I headed out north up to Twin Lakes.
The mountains kept closing in slowly on both sides before it turned into a kind of Canyon just before the turn-off for Twin Lakes and the Independence Pass. I stopped at Twin Lakes and had a coca-cola and some small pie candy. There were two other cyclists also taking a short break. They had been coming over from Aspen, where they lived. I wondered if they had really lived in Aspen for long as I seldom met anyone in Telluride who had lived there for long (apparently it takes two years to become a local in Telluride, someone there told me ;-)). The lady had lived in Aspen for 30 years, so a real Aspen villager then! She also happened to have a friend in my own hometown of Gothenburg, Sweden (no one I know though). They wanted me to follow them on their route, but I had to decline as I had certain ideas of what I wanted to do this day and the following days and I at least really wished to get up to Independence Pass, which is one of the most famous passes in Colorado and also one of the higher paved ones.
The weather started looking ominous. I was determined to get up Independence Pass this day at least no matter what, so I climbed on up the road (it was surprisingly rough at times on this side). This eastern side should be easier than the longer side from Aspen, which I would have liked to go up, but could not do due to time limits and other places that I also wanted to see on the trip. It was a bit harder than I expected and it took some time before I finally reached the top. It started to rain just near the top. The top had a traffic light and there was road work from there and some way down the west side (which I think the cyclists had warned me of down at Twin Lakes). Someone took a photo of me and I took a photo of them and then I hurried back down again and just escaped any serious rain. I stopped for water on the way, which I had seen running down from the mountainside on the way up.
There should be a short-cut road from Twin Lakes over to the road going to Leadville, but it was not sign-posted and I was unsure of which it was and guessed I would not save any time on it anyway, so I went back to the junction with main road from Buena Vista to Leadville. The main road is rather flat and I could go at a decent speed, but it was a bit of a way to go before I reached Leadville (the steepest part is up through the town). Here I stopped at a café on the main street and had a filled sandwich and a big coffee and rested for a while. Leadville (3094m) is the highest placed town in the US and I did notice the height while going up there. On top of this they played some (rather bad) type of acid pop reggae (or what it could be called) in the café that made me feeling even more dizzy at this height.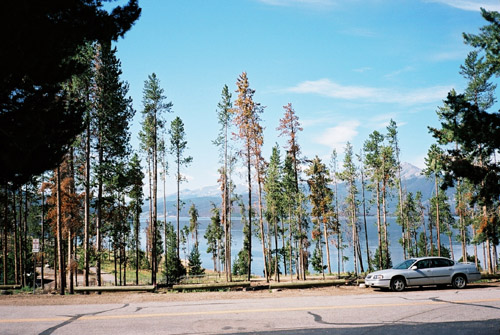 Then the road continues up until you get out of the town, where the road drops height again slightly. From here you can go west over the Tennessee Pass (3117 m), which I had originally also planned to go up and back again (this should be easy as there is almost no climb from this side), or you could go east over the Fremont Pass (3456m), which I did. I almost managed to reach the top of the Fremont Pass (it was obviously raining over Tennessee Pass and almost in any direction from Leadville). Unfortunately a heavy rain caught me when I just had turned into the one and only hairpin up to the pass just ahead. It rained so heavily that I had no chance to get a photo here and just had to go ahead as it was not going to stop raining (as it looked to me).
It suddenly stopped raining again on the eventual descent to Copper Mountain. The Freemont pass area is odd with heavy mining operations still active here. The descent is on a very wide road as it turns into I-70 – the biggest interstate road through the Rockies at Copper Mountain. I stopped again to take shelter from rain in Copper Mountain at a Starbucks coffee place and hoped it would stop raining soon again. I had wanted to get up to Vail Pass (which is only allowed by using a bicycle path), but after an hour it stilled rained as heavily as ever and I decided to skip Vail Pass and roll down the bicycle path to Frisco instead. It just continued to rain and I was really soaked down in Frisco. There I followed the north side of the big Dillon reservoir. I went up to Dillon (the area looked rather boring apart from the Dillon reservoir).
I stayed at the Best Western in Dillon, which was one of the best places I stayed at on this holiday. They even had a special towel for cleaning things, like the bicycle, at my room, which came very handy after this rainy ride! I went out to the nearby restaurant/pub and had something to eat and drink. The 2nd photo here was taking the next morning just outside the hotel.