Some facts
This year I decided to take a break from the line of Summer tours in the Alps and Pyrenees since year 2000. I had the opportunity to attend a conference in Colorado, USA and as there are mountains there as well, I only had to make room for some cycling and bring the bicycle along and I was set for another explorative Summer break.
I only had 6 full days after the conference planned exclusively for cycling, so I was unfortunately not able to see everything in Colorado that I would have wished to see, like the Sangre de Christo mountain range; Wolf Creek Pass; etc. I had strong thoughts up until a day beforehand to cycle the classic original 'Death Ride' that usually starts in Durango and passes through Telluride (where I stayed for the conference). It was unclear that I could do the whole loop in daylight on my own and even asked around for people wanting to go with me (even on the local radio in Telluride), but after having some adventure on a mountain bike and generally not being well accustomed to the height, etc. (and whatever else good excuses I could come up with …), I decided to cancel that project at the last minute. (I would have started in Telluride and cycled myself for around 370 km in the mountains crossing many passes.) Instead I took a shorter ride that day and saved myself for the last 6 days.
I was for the first time in my life above 4000m on the climb up the highest paved road in North America to Mount Evans, but more on this later. For the last 6 days I cycled 202.25 km/day and climbed 2895m/day. Toughest was getting over Imogene Pass (3997m) with a mountain bike.
Note: Internet Explorer is not recommended. Instead use a good browser like Opera, Chrome, Safari or Firefox. These pages looks best in Safari on a Mac.
---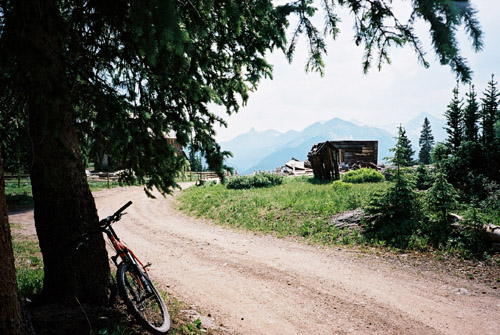 The conference offered me some free time and I had one and a half day free after the first two days. I had decided to rent a mountain bike (mtb) for this time and was lucky to find one in my size and the nice guy in one of their shops even lent me his own mtb shoes, which proved to be very valuable later!
I had not made up any precise plans for the cycling at the conference as it was not totally clear when I could get free time and not and if I wanted to meet people instead of cycling. However, the area around Telluride is very good for mtb cycling and the weather and area was superb, so I took off as quickly as I could with the mtb. I had some good 'Latitude 40' maps of the area which were mostly helpful. I started going up to the Mountain Village via the steep Boomerang road where I lost balance at least once as I was not used to mtb cycling at all (small wheels and a very non-intuitive handlebar (for road bike cyclist ;-))).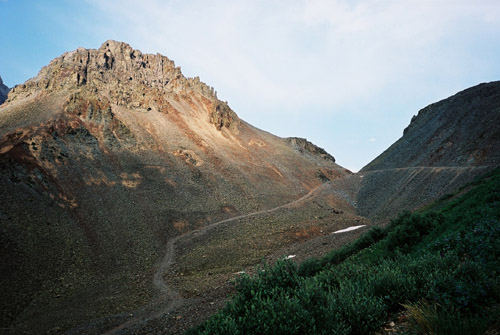 I had thought that the 4-wheel drive roads (jeep roads) in the area should be nice and easy with a mountain bike and that I should be able to cycle everywhere with the mtb. This was almost true at the beginning of the day, but not later on. After reaching Mountain Village, I was lucky to be able to buy a water bottle there as I had forgotten my own. Thereafter I continued up the sometimes steep San Joaquin road and after much confusion found a little (short) path over to a gravel road which is apparently the continuation of the Boomerang road. This road continues with very steep ramps up the woods in the ski area. I managed to cycle all the way up there and then followed a road that descended a little (the map is unclear here, as one should not go straight, but rather take off the road in order to get on the road shown as straight ahead on the map, but I guessed right here) and then climbed again to Alta (some abandoned houses near the Alta Lakes).
The landscape opens up at Alta and my first photo was from there. Then I went down a nicely twisting gravel road (no problem with a road bike) to the main road south from Telluride. It would have been very much quicker to just take the main road up here, but I wanted to test the mtb on gravel roads quickly.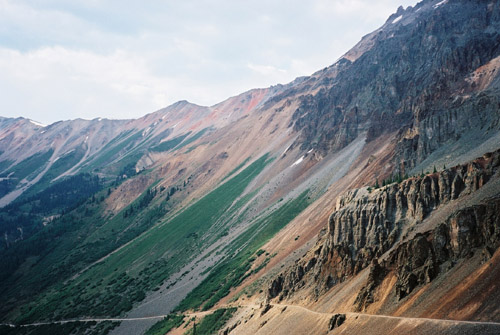 After a little descent on the main road I took off on the gravel road to Ophir (no sign, but an obvious turn-off). The gravel road to Ophir is smooth like a highway. Ophir looked a bit rugged and I had expected it to show some signs of tourism business, but they did not seem to sell anything there at all and there was only a handful of houses. The road starts to deteriorate after the village, but apart from some bad places and some very steep ramps, it was cyclable all the way up to the Ophir Pass (3593m). However, due to the high altitude and my inability to get very accustomed to it, I had to walk a little on the steepest ramps.
I was surprised that it was quite nice up this pass even though I have seen it described as unspectacular. The view back down toward Ophir was quite spectacular, I think.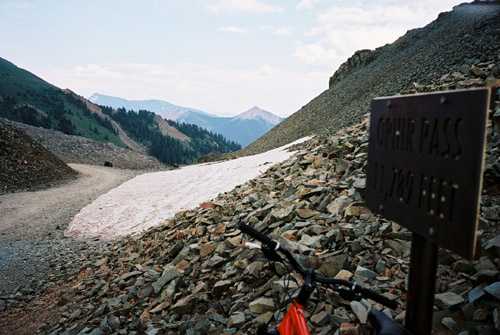 The top of the pass is very well-defined and opens up equally nice vistas to the east with red mountains around – there are so much minerals in these mountains. I was warned not to drink the water up in the mountains due to the high mineral contents of dangerous minerals. This whole area was full of activity at the end of the 1900-century when they could easily get loads of gold and silver right out of the mountains here around. You will see many remains of mining activity everywhere you go and there are many ghost towns left around in the Colorado mountains, which makes a visit even more interesting!
The road down the east side is less steep and is a normal gravel road which could be ridden on a road bike (with some care as there are much loose gravel on it). After some time I got down to the highway on the other side – US 550 the "million dollar" highway that goes from Durango to Montrose (one idea for the name of the road should have been that there are so much gold in the sand on which it is built). I had first thought to turn around at the top of the Ophir Pass, but thought that the day was still young and that I should be able to get back over the very specular Black Bear Pass right over Telluride.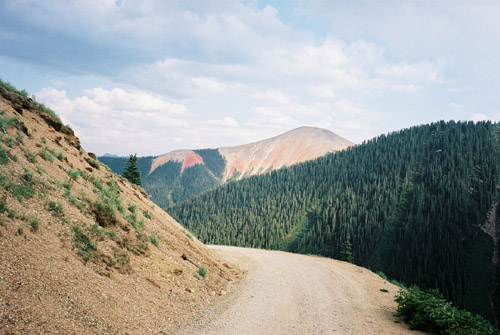 I started out on the highway up to Red Mountain Pass (I had really wanted to get in the other direction to nearby Molas Divide and Coal Bank Pass on the other side of Silverton, but there was not enough time for it). The highway is not steep at all on this side, but it still took some time to get up to the pass on the slow mtb. I had a photo at the Red Mountain Pass (3376m) before I went away on the gravel road to Black Bear Pass, which starts at the pass.
After a little while a man who was camping up here, told me he had seen me on the way up the Red Mountain Pass and told me I was now going on a dead-end road. I thought he was not serious about the dead-end of the road as I knew there was this pass (even though it should be difficult, I had heard). No one had told me the current status of the pass in Telluride, even though I had discussed it with many locals in the few days before … hmmm. I thought I should surely be able to walk down the road to Telluride even if I could not bicycle down.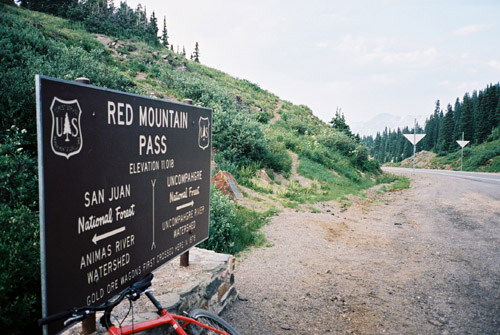 Now luck started to ran out of me for some time. The Latitude map fooled me into believing that I was on the right road as there was no connecting road shown on it (or even a path) to the road going up to the "nearby" Porphyry Basin. Eventually, after walking for long on the very bad jeep road, I found myself at the end of this road not far away from some very peaky peaks called the Three Needles, which did not look like they could even be passed with climbing gear and no bicycle. So I had to return back all the way to a junction that had to be where the road up to Black Bear Pass went.
I could cycle much of the way back down even if this was also difficult and somewhat dangerous. Back at the junction, it started to get dark, but I decided that I could probably find the road in the dark and thus went up to the Black Bear Pass (3823m). I had to walk more than bicycle. Just as I eventually reached the top of the pass it got totally dark and I had a photo of me in the dark, (which I leave out here).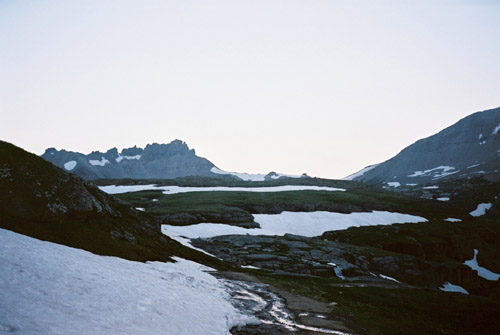 I started down the Telluride side and after a while encountered some snow on the road and wondered if the road somehow had not been cleared yet. I continued for a while, but soon encountered a very big snow field across the road. I started out across this as I just wanted to get down to Telluride, but soon I got second thoughts when I could not see where I was supposed to go to encounter the road again on the other side (and it was steep in some places). I took out my back light (I had no front light with me) and scanned the snow field at its start and discovered that there was (apart from my own) no tracks at all in the snow! Huh – that surprised me that not even some walkers had been over here and I decided it might not be a good idea to be the first to cross the pass this year and in the dark with a bicycle! I also knew there should be steeper and trickier sections ahead and if they somehow was impassable I would be in serious trouble. This Black Bear road is expressly marked on the map as not suitable for bicycles and jeep drivers are warned that they should not try it unless they are really experts as it is considered one of the most difficult jeep roads anywhere (they are also only allowed to go in one direction).
I had to return and as it would take forever to get back over Ophir Pass or cycle around on the paved road over Dallas Divide (I would not have been back before it turned light again outside). I decided to get down to Ouray and stay there for the night. I could not cycle back down to Red Mountain Pass as it was too dangerous in the dark on this road as it was a bit too rough for this (I cycled a bit lower down, but was nearly falling a couple of times). Down on the highway I had to go slowly and try to light up the road a little with the backlight – holding it in my hand so I could direct it backwards when the occasional car or lorry came passing by me. I was lucky to find a room for the night and I had no clue that the clock was already 2 am when I rang the door bell!