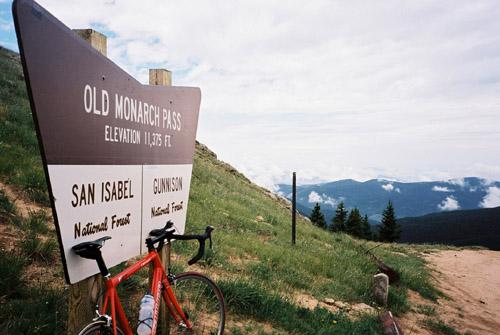 I started the day with a coffe and cake at Bongo Billy (they did not have much in the way of breakfasts). Then I went out on the big flat road to Poncha Springs. From there you easily find the road going to Monarch Pass – it is actually the same road – US 50. US 50 was the only road I had to go today in order to get back to Montrose. I really had to be back in Montrose in time as I had a flight to catch the next day, so I could not venture into much adventures today.
It started out nicely, but I soon got irritated of the heavy traffic on the climb up the Monarch Pass. It felt like I was cycling downtown in Los Angeles or something. The climb is somewhat steep relatively speaking and therefore it was also a bit more irritating with black clouds around me from trucks and the frequent automobile homes. When I got closer to the pass height I noticed the turn-off for Old Monarch Pass, which I had planned to at least go up and back again, in order to visit both the old and new pass. There is also an Old Old Monarch Pass, which requires a mountain bike.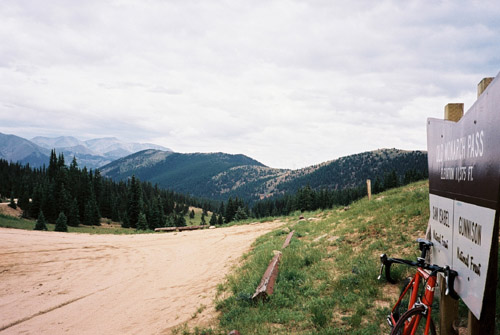 I started up the unpaved road that looked terrible at the start, but thought I could have a little look on its state before giving up. After going a hundred metres it turned very muddy due to the heavy rain from yesterday. I turned around, but then got second thoughts and told myself that perhaps the road was only muddy here among the trees and the road was about to climb out of the woods right here. So I went back and continued up and it was indeed mostly cyclable to the top. (There were one or two places with deep ditches across the road made by the rain.)
Thankfully it turned out to be quite nice at the top of the Old Monarch Pass (3469m) and it had a real pass sign. I was considering the idea of continuing down here as it looked more inviting than the nearby paved road, but I did not want to have long muddy stretches to pass as that could make it hard for me to get to Montrose in time, so I turned around.
It was only like 5 km in all up and back again to the main road. Then there was a short climb to the Monarch Pass (Agate Pass) (3445m). I cannot say I liked this pass much, but what was nice was the really fast descent down to Sargents (from where one could go up an unpaved road to Marshall Pass). No cars passed me by down here (they got held up a bit by a slow wide truck). From here it was a rather hard going before I reached Gunnison, which is not exactly nearby and there is no place where you can buy anything along the road here and no water.
I cycled at a good speed, but was a bit tired as I reached Gunnison. I had hoped to get back to the Italian place I had visited on the way out, but as it was Saturday it was closed. I had to eat at a pub, which was fine and I got free refills of my coke (I had discovered that this is common in restaurants in the US earlier in Estes Park ;-)). They had to refill it at least 4 times (just like in Estes Park) – watch out for touring cyclists!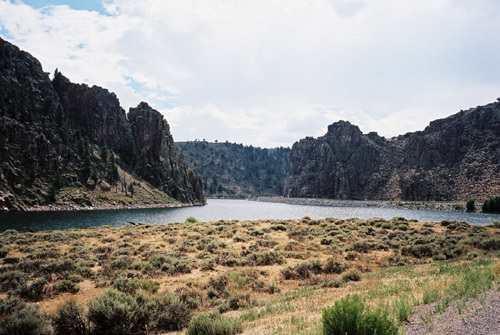 Then I went back the same way as I came up to Gunnison from Montrose. The only thing I feared now was bad weather, but it was not likely to pose any real problem. Around the Blue Mesa Reservoir it was actually nicer now than on my way out and I got a few nice photos along the way. I was back in Montrose at 7 pm around the time I had aimed at.
I got my room and bag and went out to the restaurant they recommended me at the hotel – the Red Barn Restaurant, which looks somewhat boring without any windows. It was rather busy, but I got a table and a menu. I asked if they had the Red Barn stew on the menu and they did. I got a big pot filled with meat, potatoes and vegetables. It was soon emptied. The lady recognised that I had good appetite! I was eating like a real American ;-). I guess a few people were disappointed in the service there (some turned around as I arrived as they had not gotten any attention) and the younger staff did not seem to be very alert. The older lady who took my order seemed to have to do most work herself and she did a good job. The food was good and it was not expensive.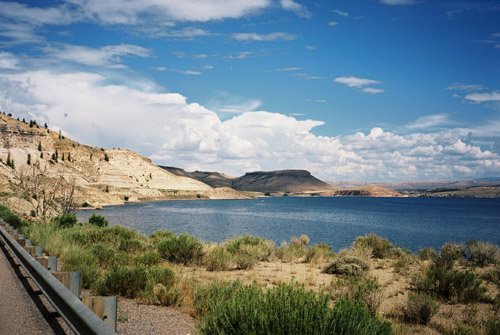 The following morning I just managed to get a coffee at a nice place down the street before I left for Salt Like City and then New York. The guy next to me on the plane to New York turned out to be a Category 1 road bike cyclist. Next year I will go to the Alps again. In the end I think it is much more exciting in the Alps and in some sense it feels even more remote, even though it is closer, which is probably because of the language. The US and Sweden are similar in many ways, both have boring expensive hotels and it is difficult to find good food like down in Europe. However, places like Telluride are hard to come by anywhere else and some of the mountains in Colorado offer outstanding views. The experience of cycling up above 4000m is not something you could have in Europe, even though Sierra Nevada in Spain at 3200m should be an exciting place to visit. I am sure there would have been much more to see in Colorado, but that will be for another trip. Check out Michael Seeberg's book for more inspiration!