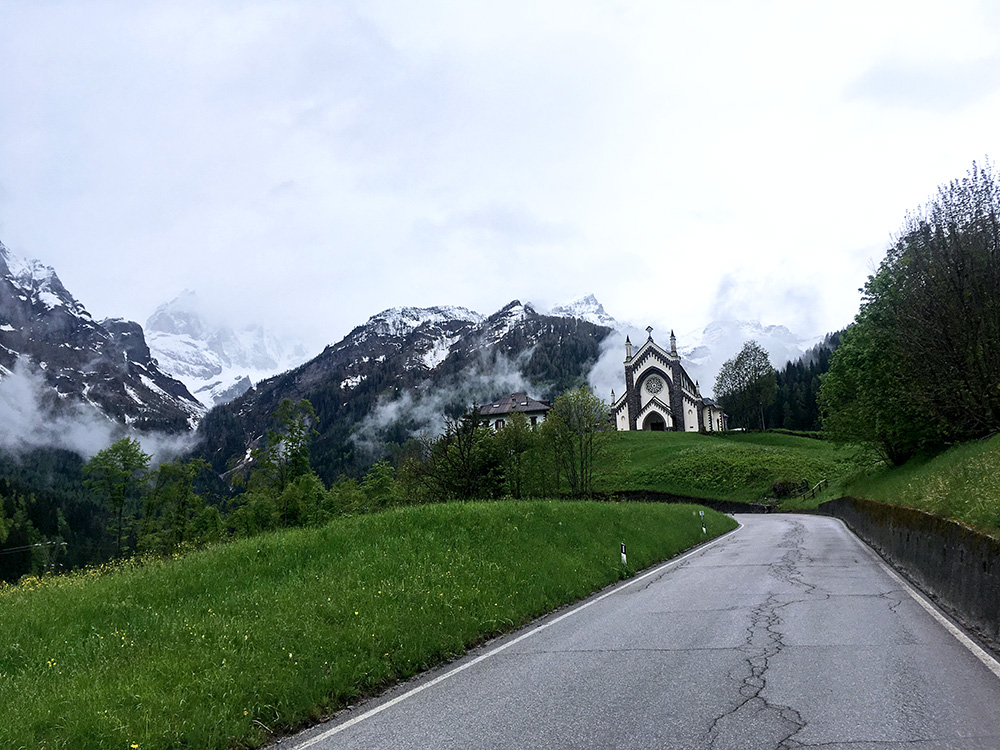 There were no hope for better weather on this day either and an added problem was that I now no longer really could escape going higher up than before if I were to connect to my plan (that originally went up over Toblach/Dobbiaco and Tre Cime/Drei Zinnen). I was taking things very slowly in the morning and waited after breakfast for the rain to stop.
Writing on Facebook (partly to remember for these pages later): "Time to move on [11:52 in the morning]. Just light rain now, but would be best if it stopped altogether as it is quite cold outside now (ca. 8°C). Got thin shoe covers and brought my thin polyester long arm base layer jersey (thankfully), thin long finger gloves, my thin skull cap (that I also use in Winter), thin old wind jacket, but no leg warmers. It should be fine for the climb, but ideally it should dry up on the road for the descent to make it a nice experience, which is the main reason for dragging out a little on time and rain could also increase if it doesn't stop and then I soon will have to stop again, but the rain should slowly stop from now on … (the midday report … )."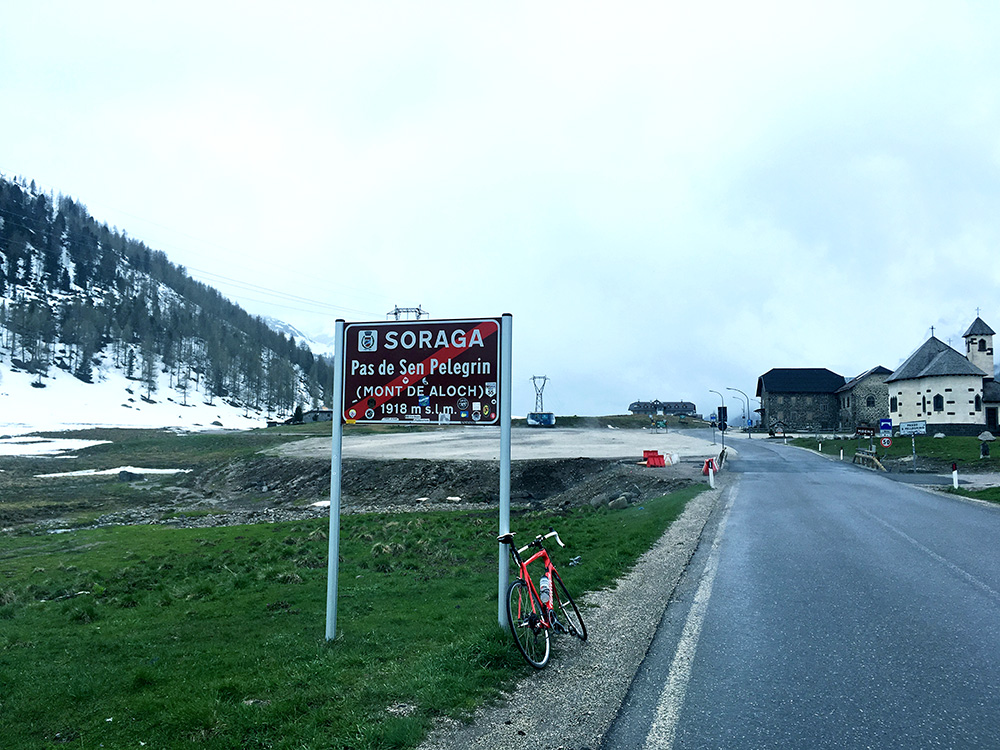 Harsh weather, but going up is mostly fine and it stopped raining on the climb, but it was 7-8°C most of the time. The climb to Passo di San Pellegrino/Pas de Sèn Pelegrin (1919m) is rather steep in the middle up from Falcade, which was mostly for the good in this weather.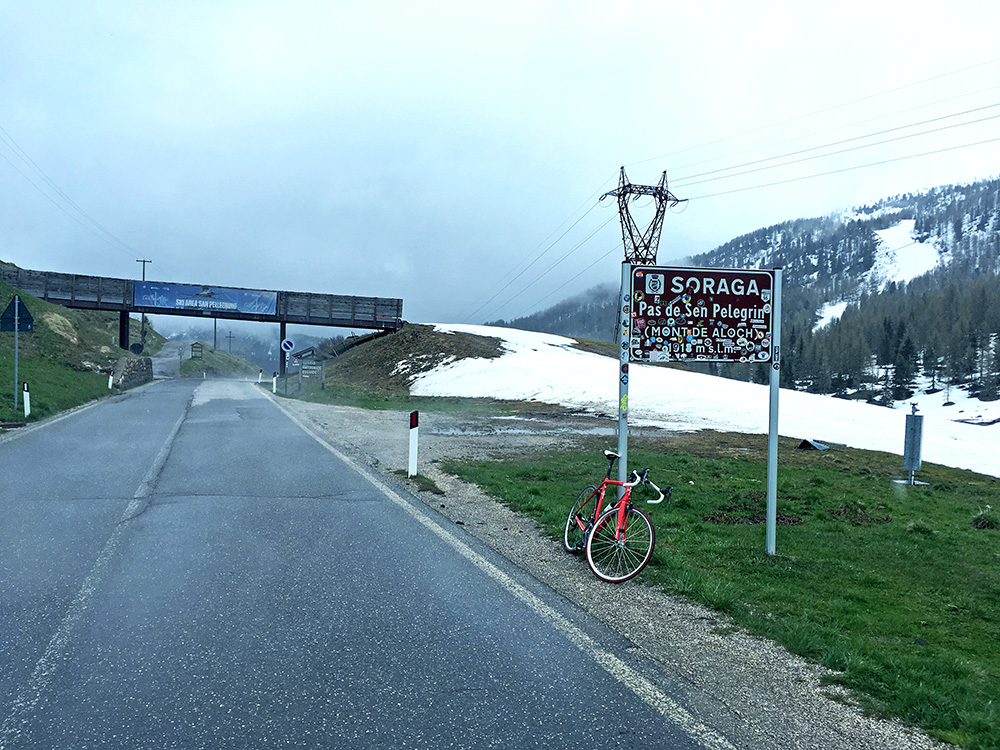 Up at the pass there were still snow (even outside the skiing tracks) and it all felt like in the middle of the Winter rather than close to June. I was freezing as I took the photos as I could not be warm enough on the climb.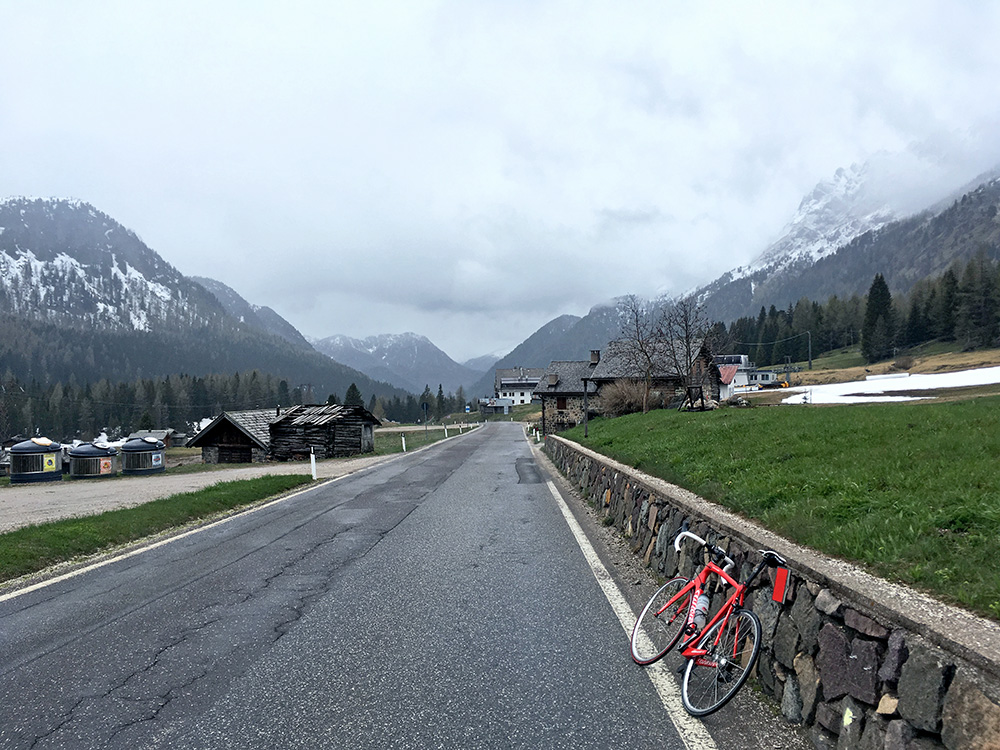 Time to go down and maybe as well there was no place to stop at up here now (not that I saw or wanted to see at least). Still wet on the ground, but on the way down to Moena it was dry almost 50% of the time. It was cold and I kept braking to and from not to go too fast, nor too slow and looking on the computer to see if the temperature increased, but it only increased very slowly, but was at least up around 11°C before coming down to Moena.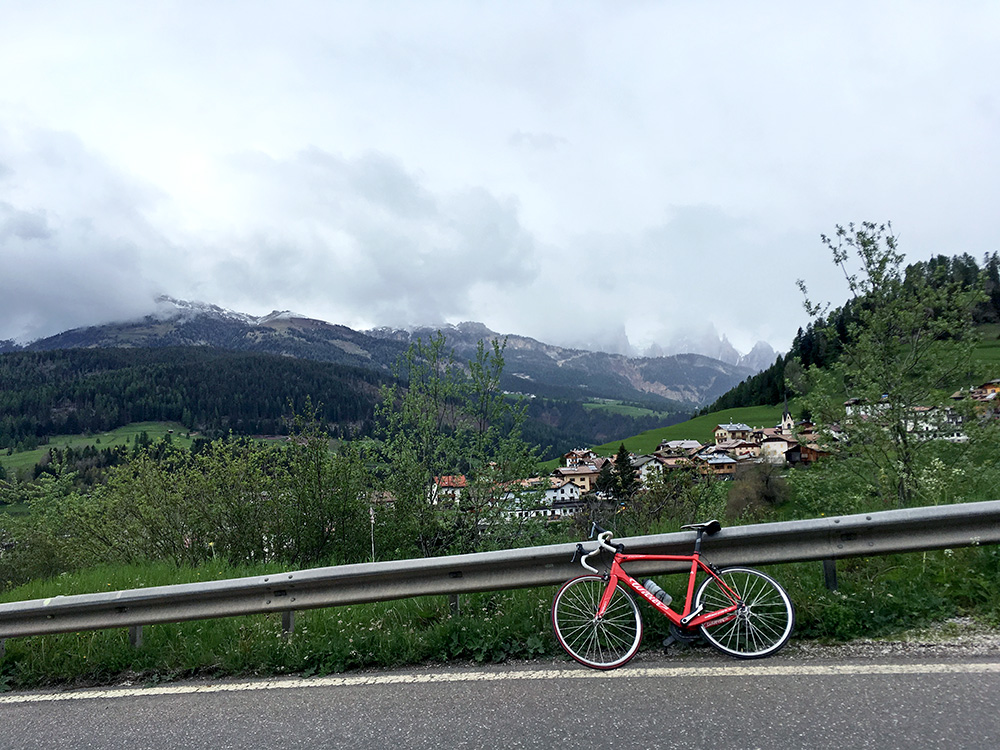 Stopped for a photo up over Moena (1164m), where I stopped for a coffee and cake and mostly to warm up a little. (Slightly disappointing café.)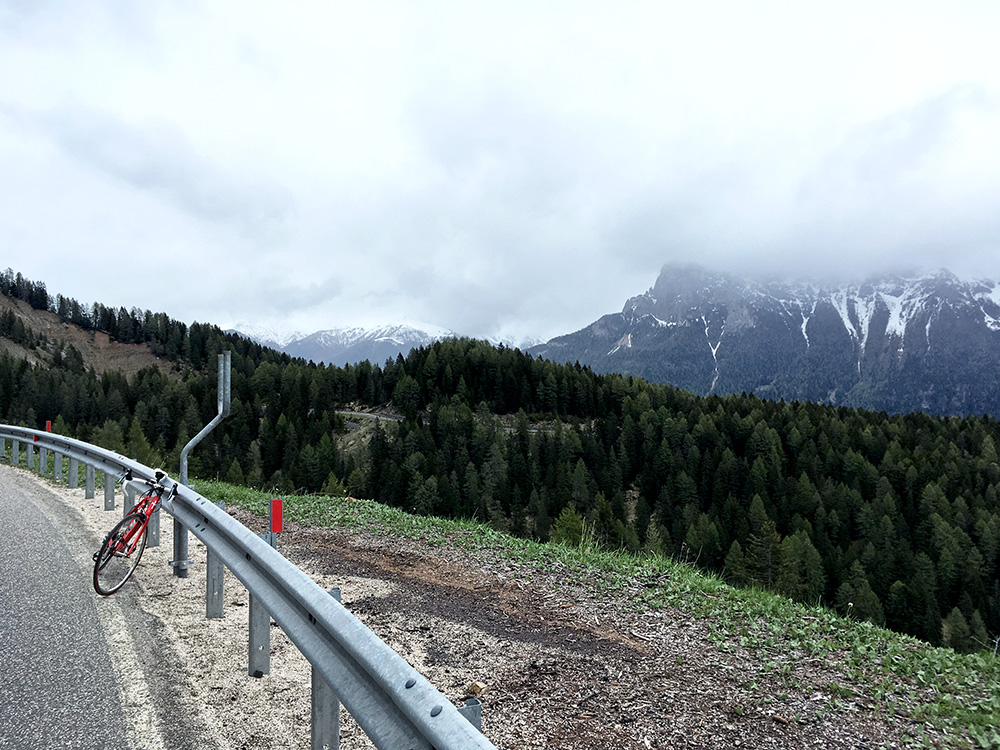 I think the temperature was up at the maximum at 15°C for this day just before turning off up to the easy Jouf de Ciareja/Karerpass/Passo di Costalunga/Pas de Costalongia/Passo Carezza (1752m, road height 1755m) (easy from the east, but not the west). The road was dry until just after these two photos here. Looking back here.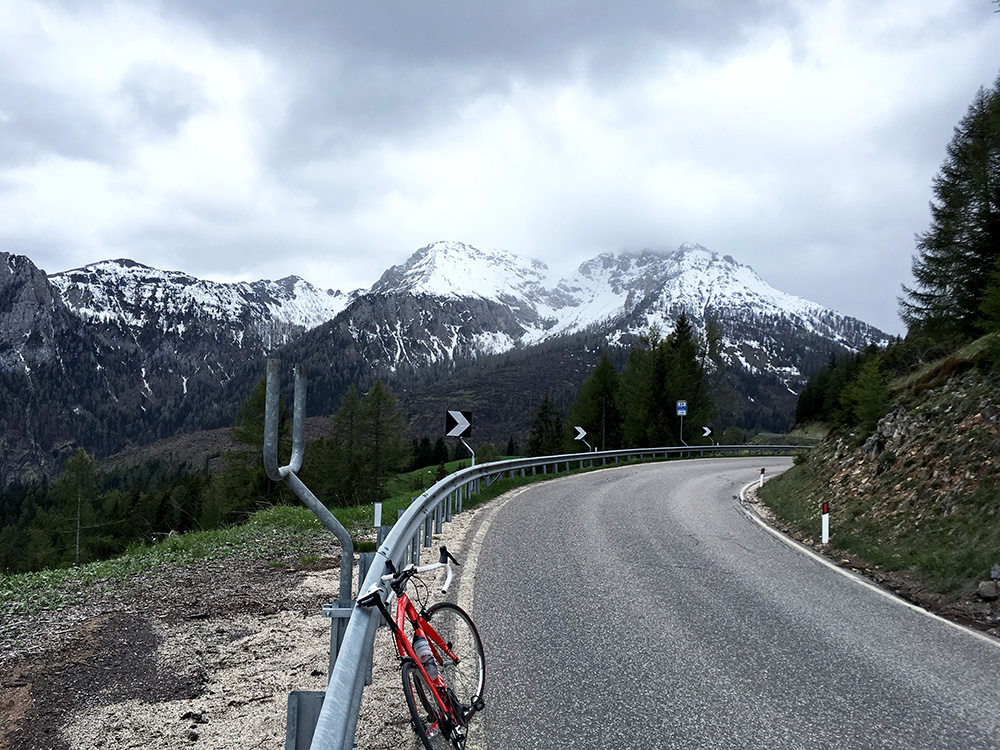 Looking ahead here, but the pass is to the right.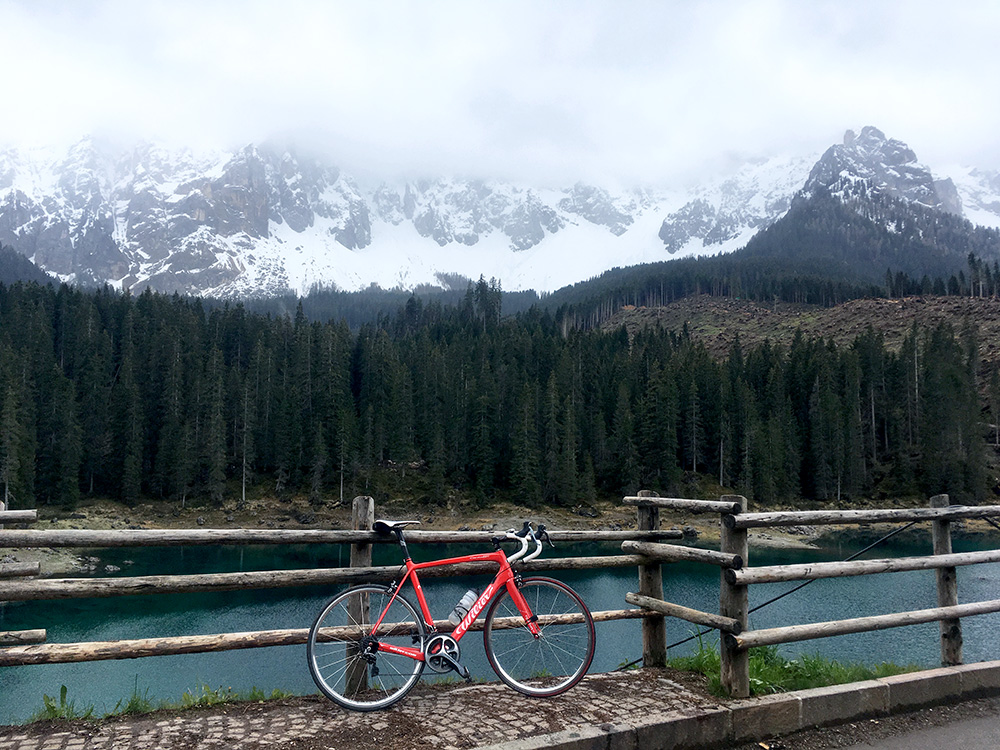 Down to Lago di Carezza/Karersee it was very cold and wet again, but no real rain. Terribly cold taking the photo here.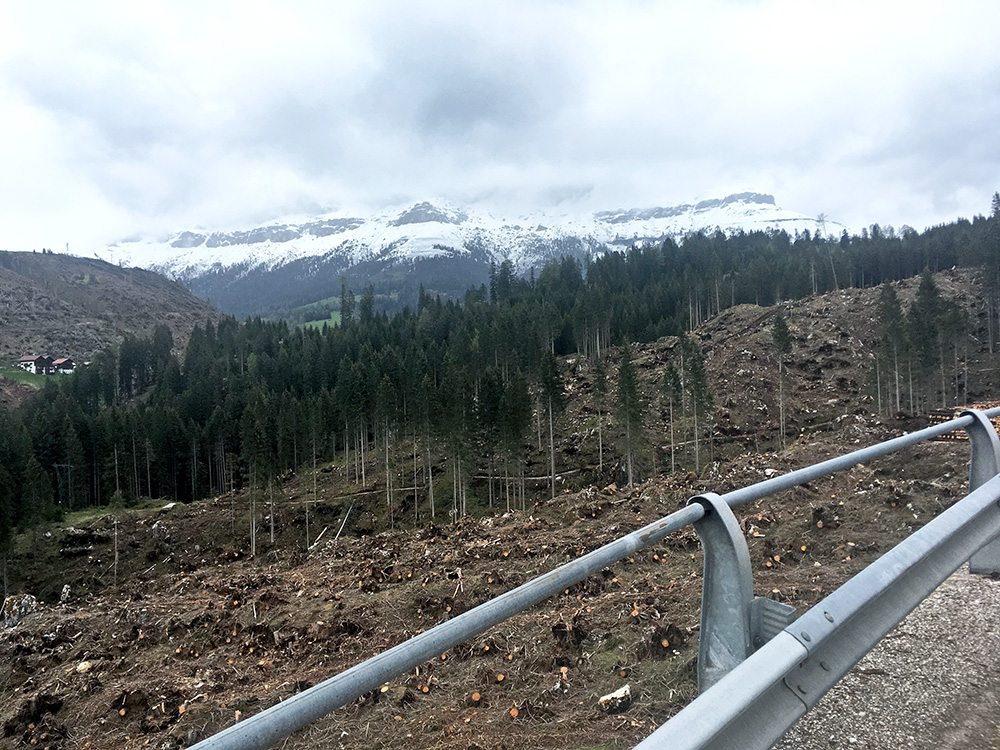 A bit further down having to stop for a traffic light where the roadside had been most severely affected by the storms. Looking back up here. Anywhere you see houses they have survived as it seems they know to make sure to clear the area closest to the houses from trees – there are likely exceptions, but still surprised me a bit seeing all the houses seemingly survived the nightmare storms.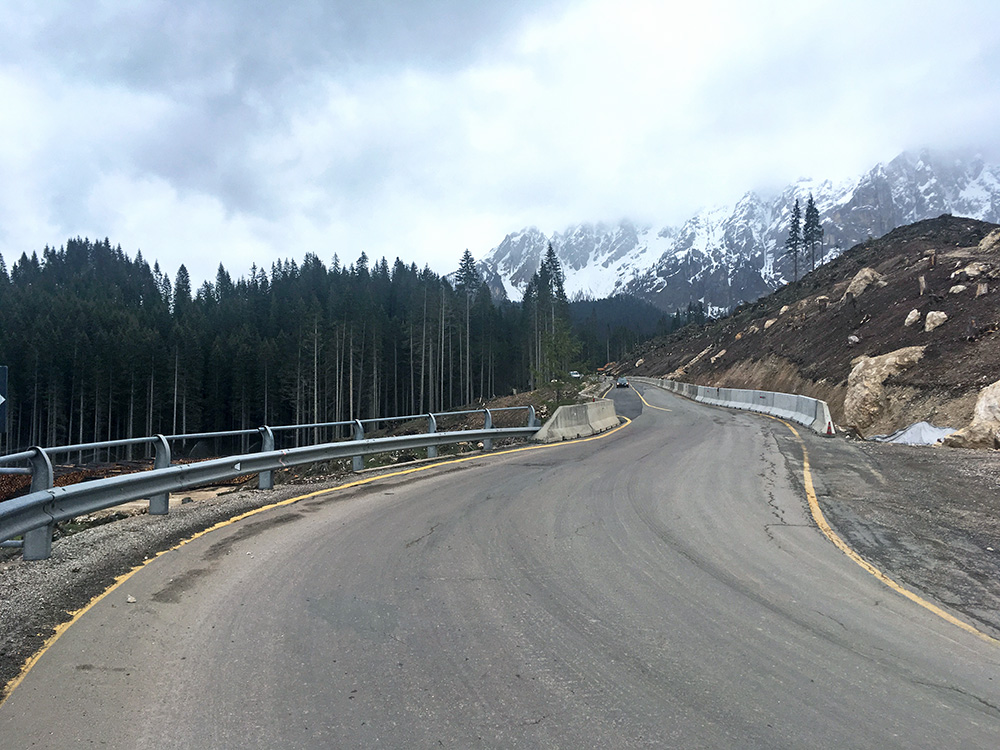 Here also looking up (skipped the photo looking down) and now the road was dry again.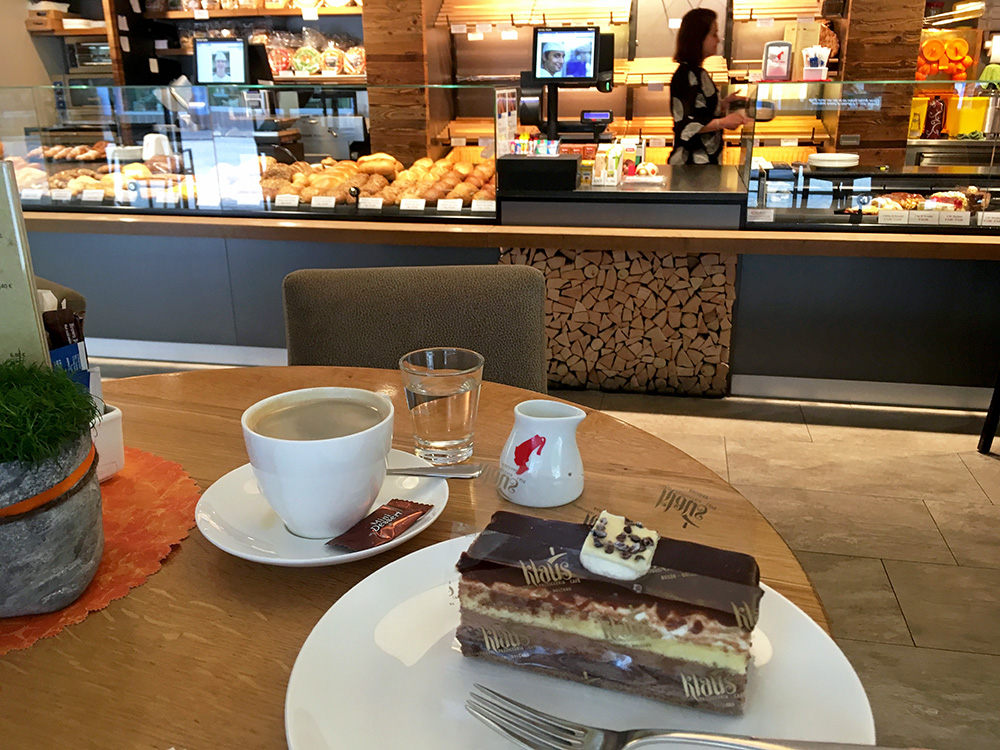 Down in Welschnofen/Nova Levante it was starting to feel like the worst was over and I stopped by the nice café in the centre (they had more open cafés in the little village). When I got out the weather had already improved a lot and it was looking like the afternoon was going to be good and indeed the bad weather had eventually came to an end now.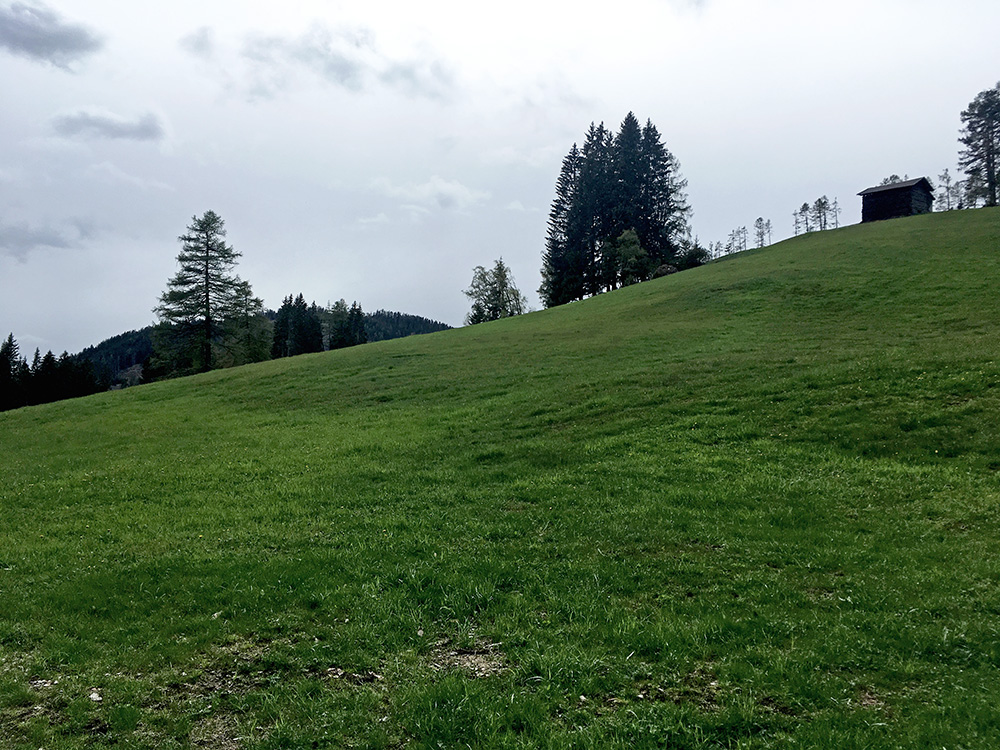 I had originally planned to go up here from near Bolzano when coming down from the north, so I was now back on plan and even ahead a little. In my search for +1000m climbs in the Alps, I noticed some other roads here that would count if climbed from down at Cardano/Kardaun (286m). Even if no +1000m climbs from Welschnofen/Nova Levante, I was curious about those roads and had thought to visit two of them, but ended up visiting all the 3,5 of them (the last has two variants at the end). Here I am up at Hagner Alm (where the main road was blocked by forest machines) mainly in order to see how far it was asphalted (went like 500m longer to get this view).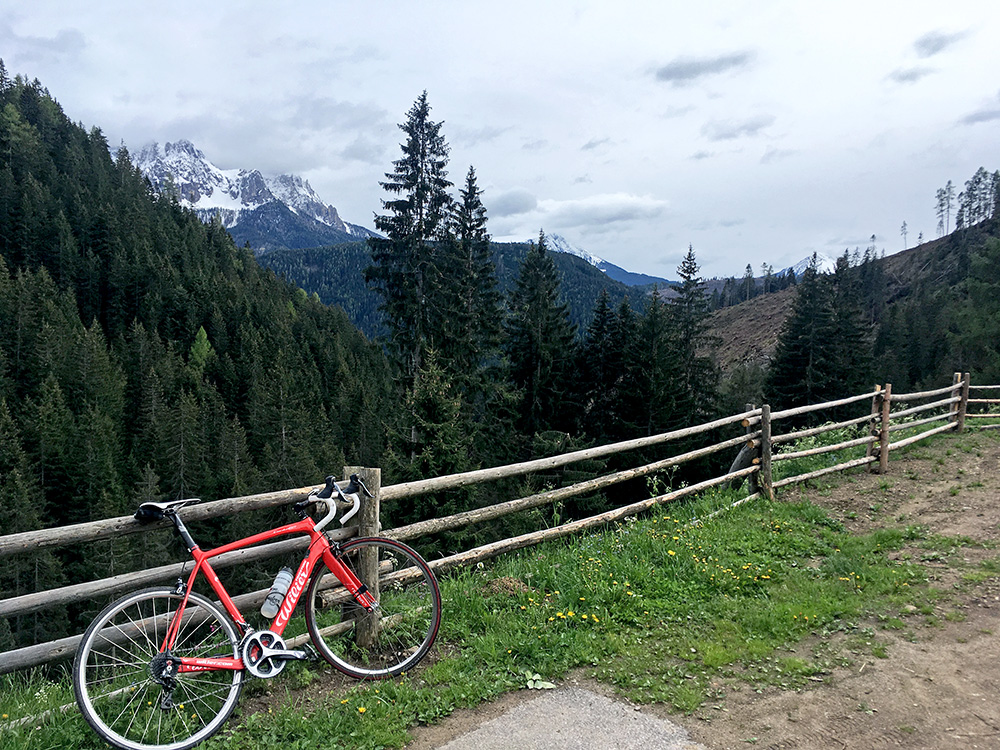 There is a variant here and it turned out that was the better ending point here even if it only goes to a private house at Tatzer/Katzer/Tazza (1426m) and it is slightly higher than just going ahead up toward Hagner Alm (the only asphalted turn-off on this road). This is by far the steepest road and it starts right in the centre of Welschnofen/Nova Levante.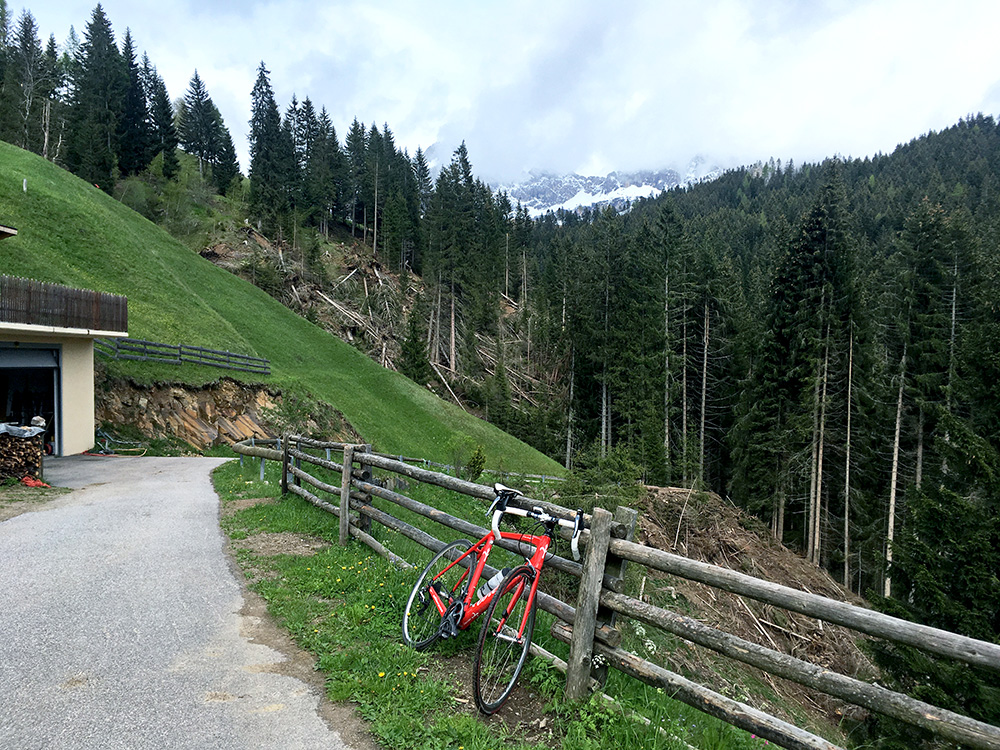 Also the views were better here and they had a nice dog (the owner came up as I went down and not sure he was as nice, but guess he was just curious about seeing a cyclist up here).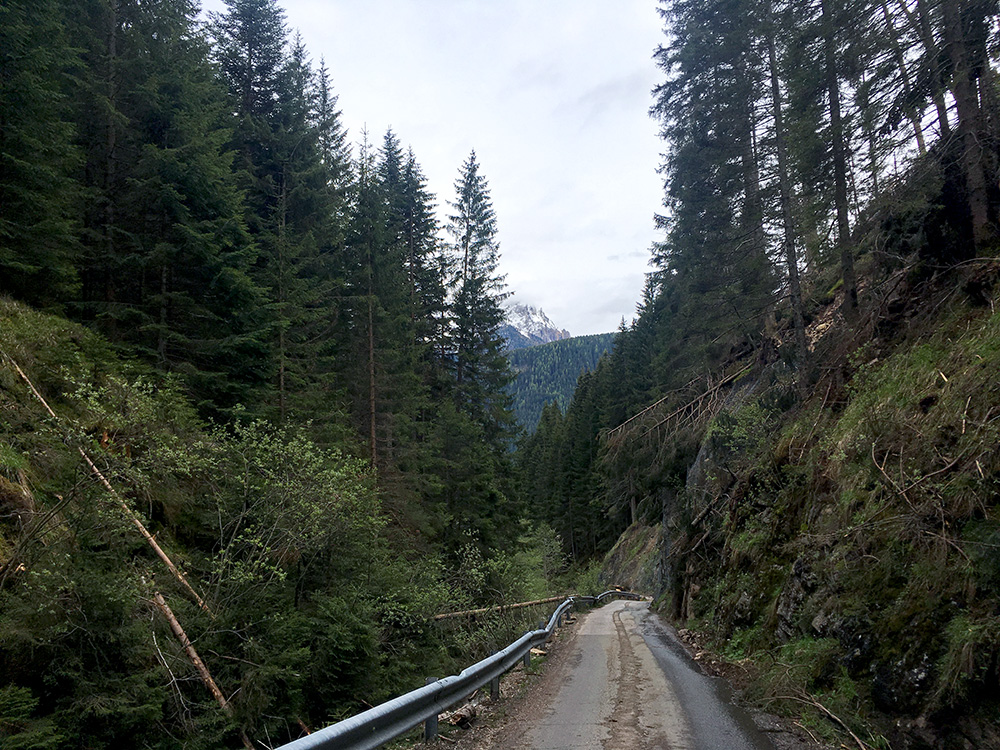 The road is minimal and quite steep!
Here is the very long first very steep ramp up above 20%.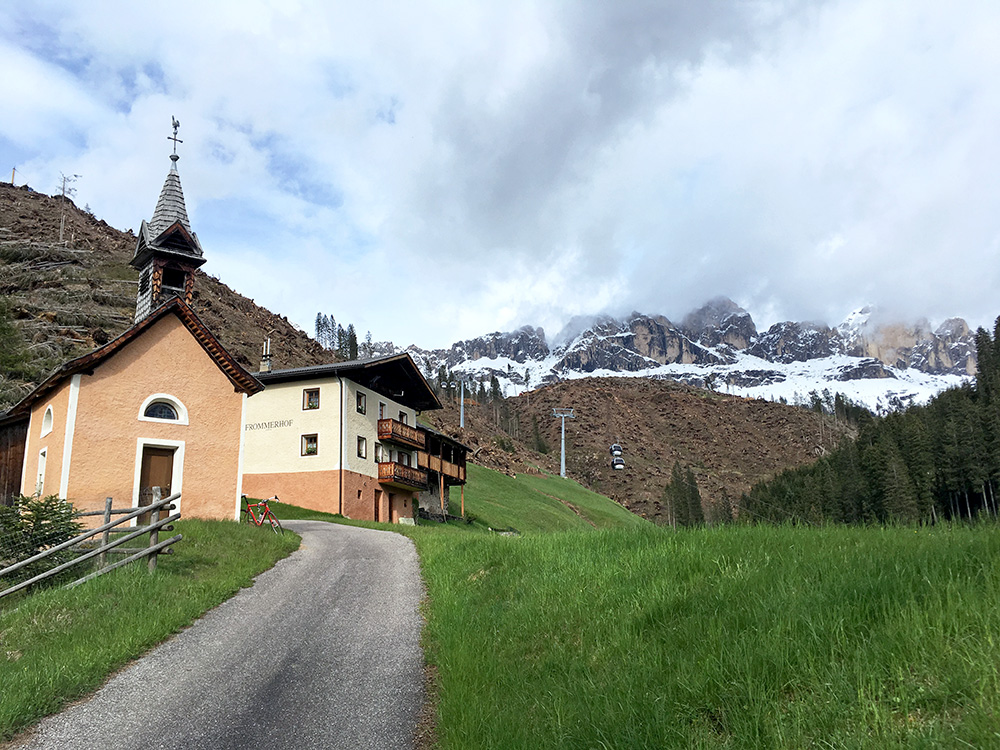 If one continues straight up the valley from Welschnofen/Nova Levante one climbs the Locherer Tal and the very end on asphalt is at Frommer/Frommerhof (1442m), I first started to turn around before the end as I had not really meant to climb up there, but changed my mind when I saw the weather improved more and was happy I went up there as it was really nice at the end. Only steep up the last bit.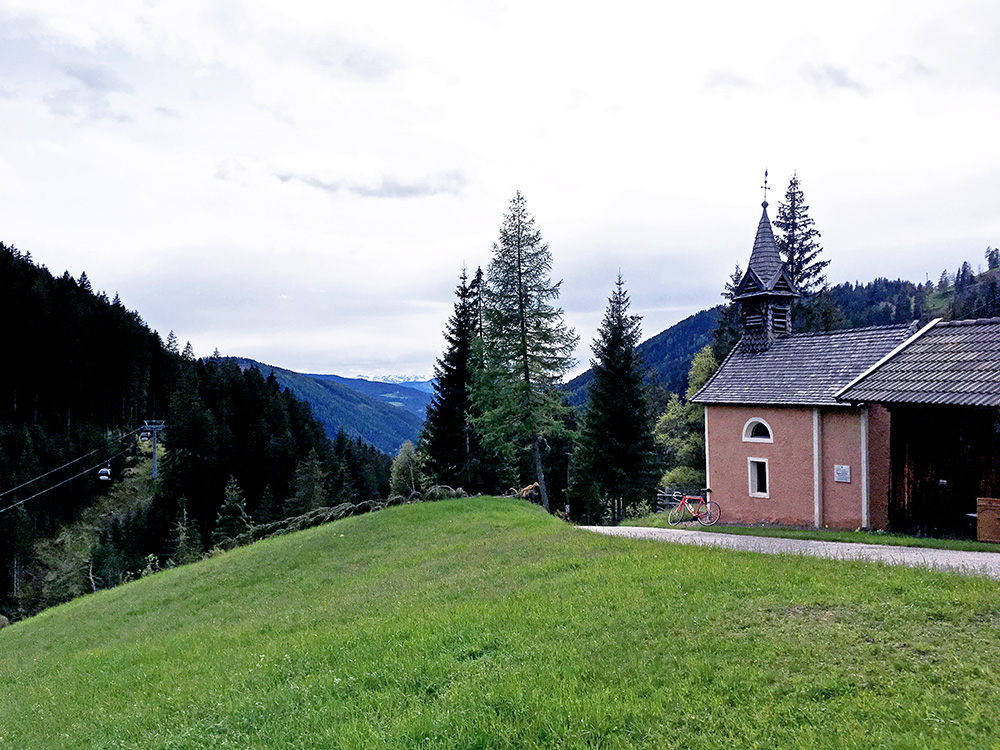 There is a gravel road continuing up to the Passo Nigra/Nigerpass road, but is not allowed even for bicycles apparently.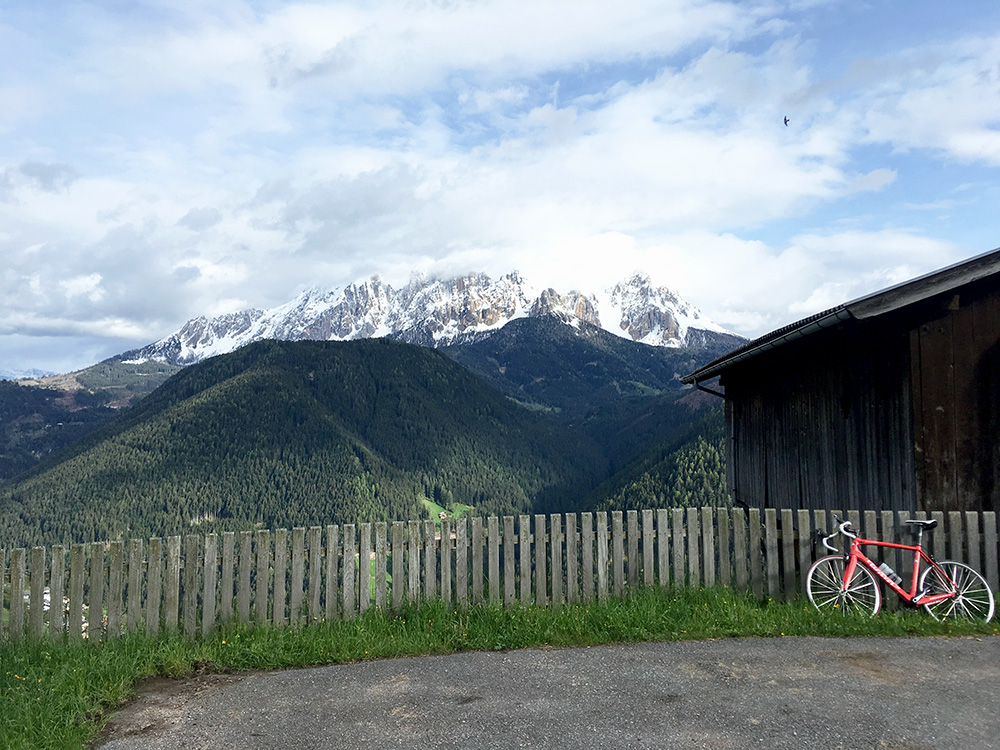 At last I was now leaving Welschnofen/Nova Levante and took the high road to Gummer/San Valentino, but turned off that road just out of the village on the Samerweg/vicolo Samer. This is perhaps the most worthwhile of these three roads to climb as it is a bit longer from the turn-off.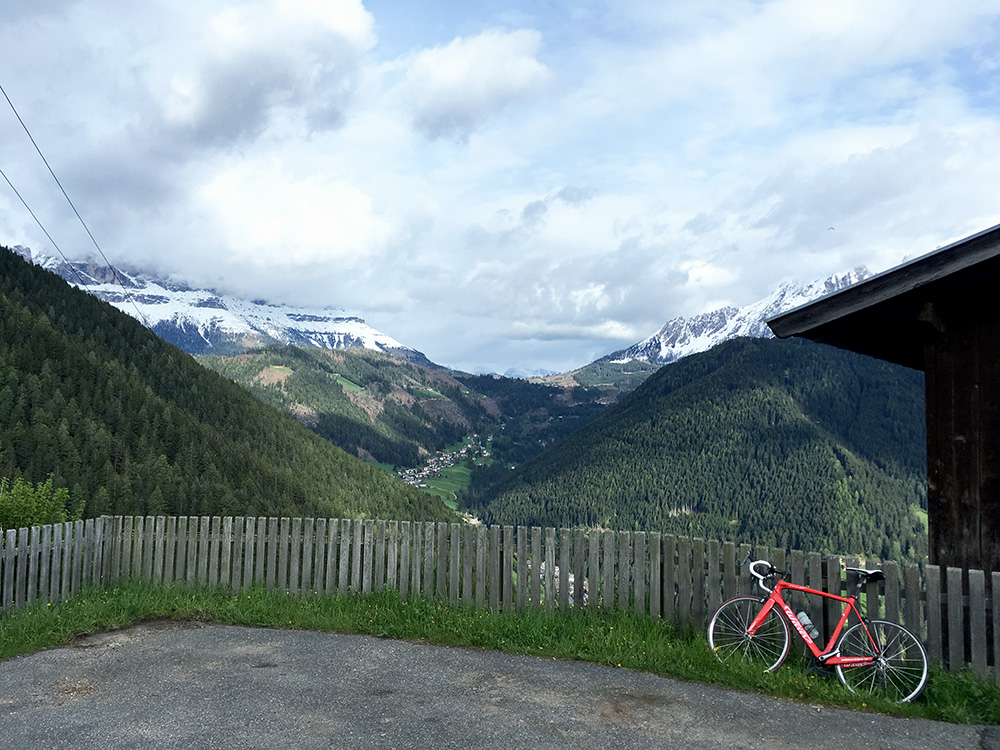 Above this place where this photo and the above are from the road splits up and both variants are worthwhile to try out as they go a bit further than one might believe.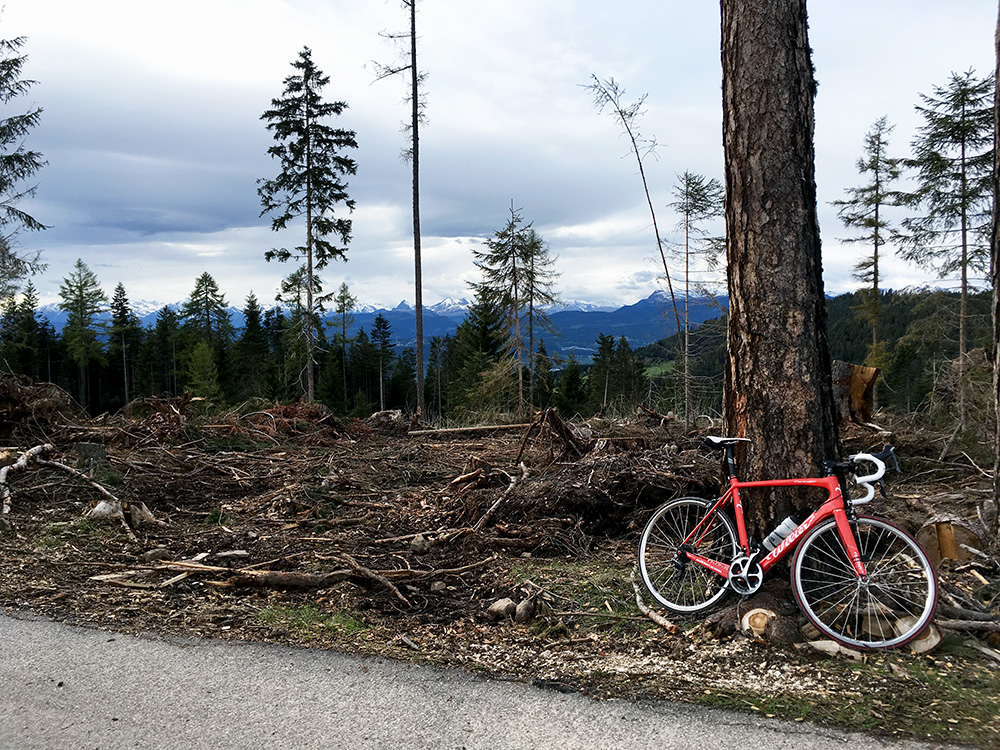 The road straight ahead I decided to climb first, as I was not sure the other one actually went more than to the house seen when passing by, goes to Samer (Gummereregg/Samberg/Monte Sommo) (1535m) and I really thought this must be the highest road up here.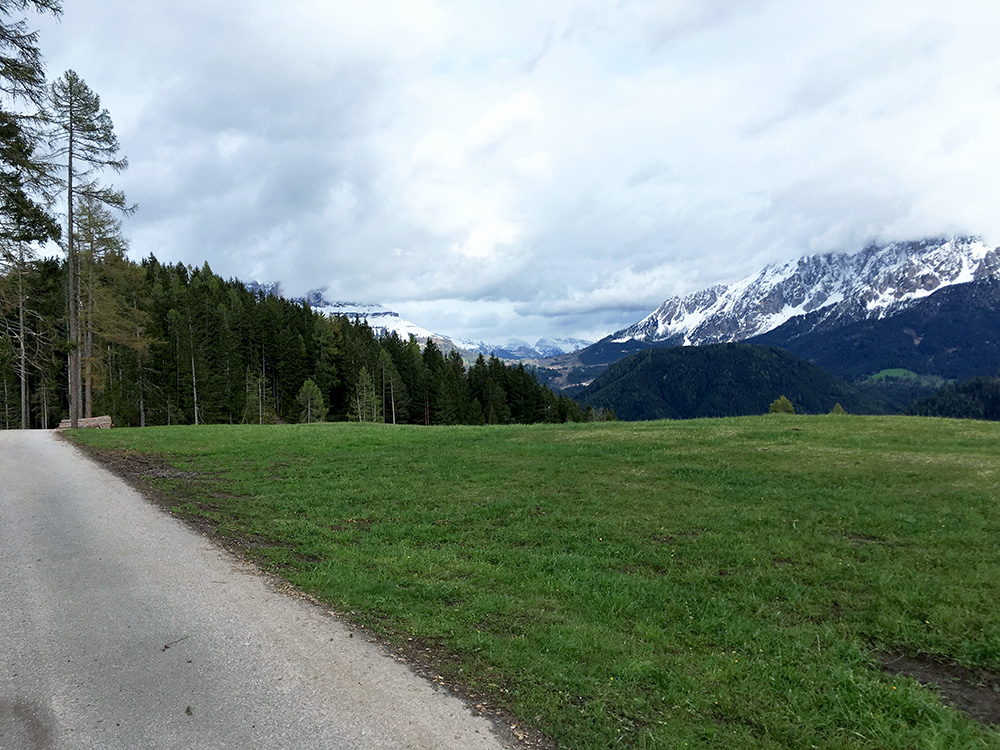 Great views at the top!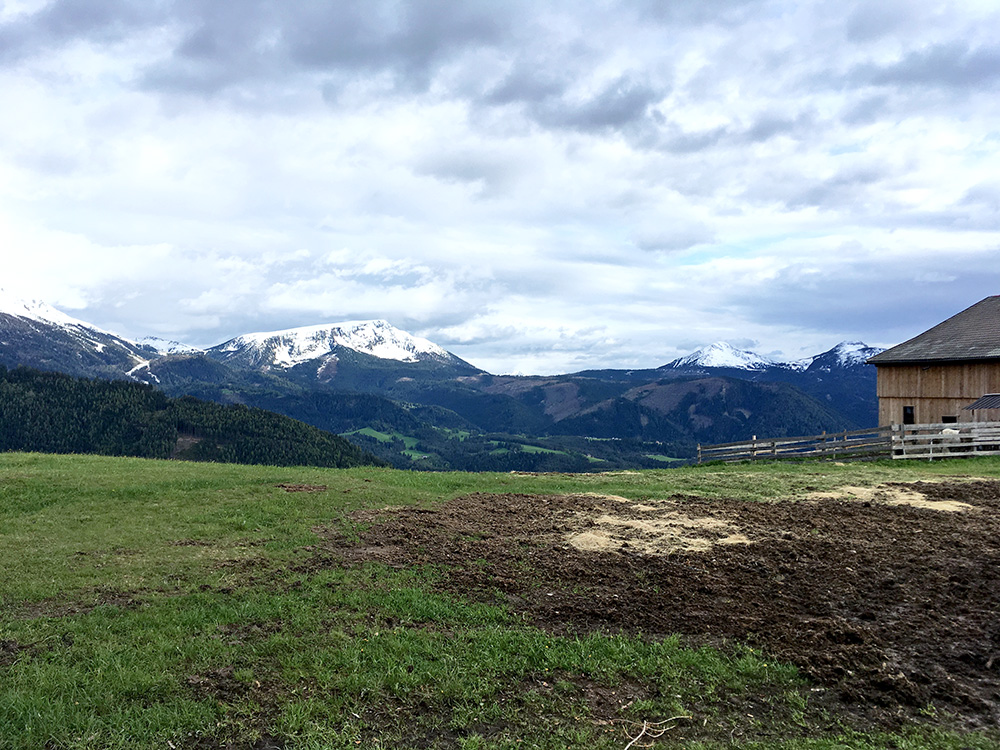 Almost 360° views around here and a bit curious why I had not heard about this climb before.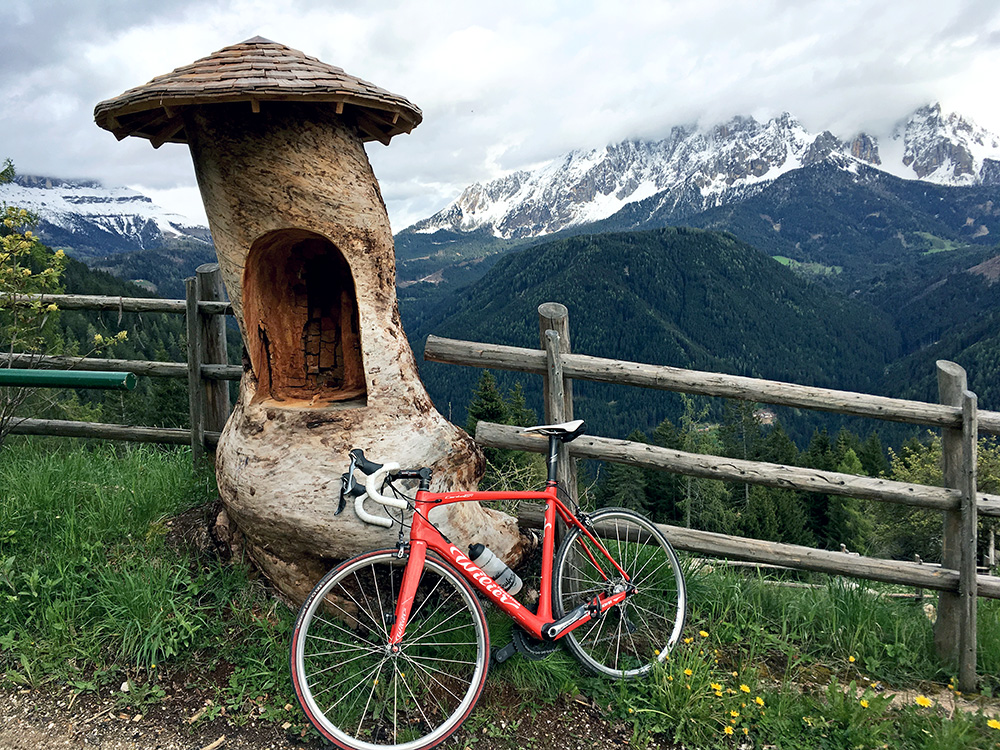 Then I tried the other road and it turned out as I had figured out (but forgotten about in planning) that it was in fact the highest road here. It goes to Pardeller/Pardellerhof (1560m). A forest track continues even a bit higher.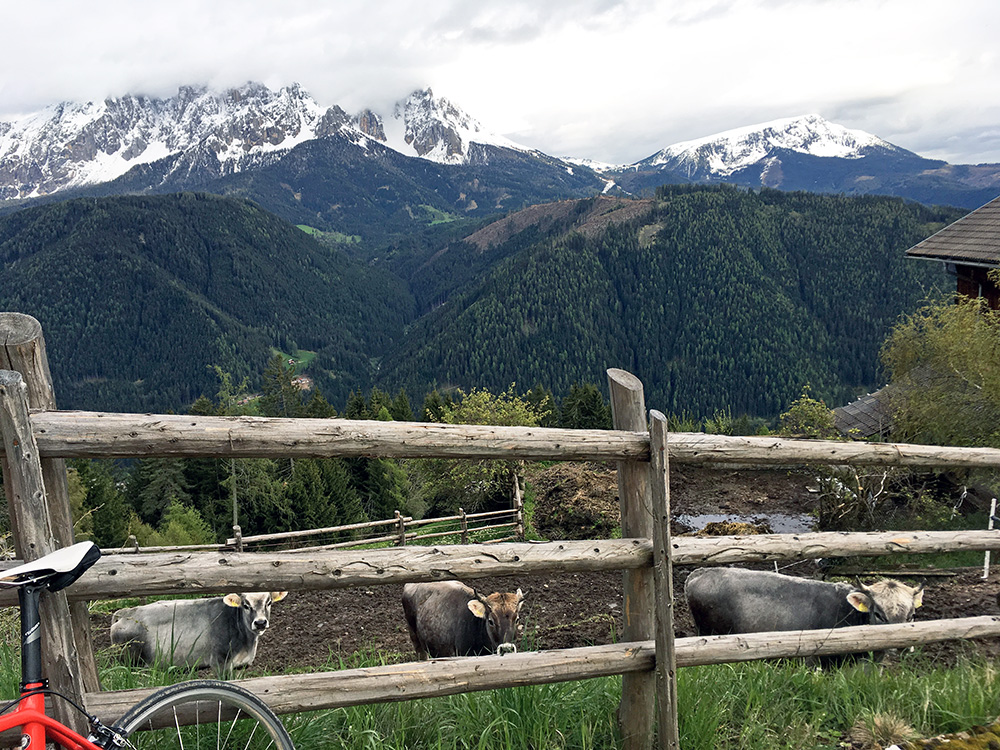 You get a sense here that you really are much above the valley below.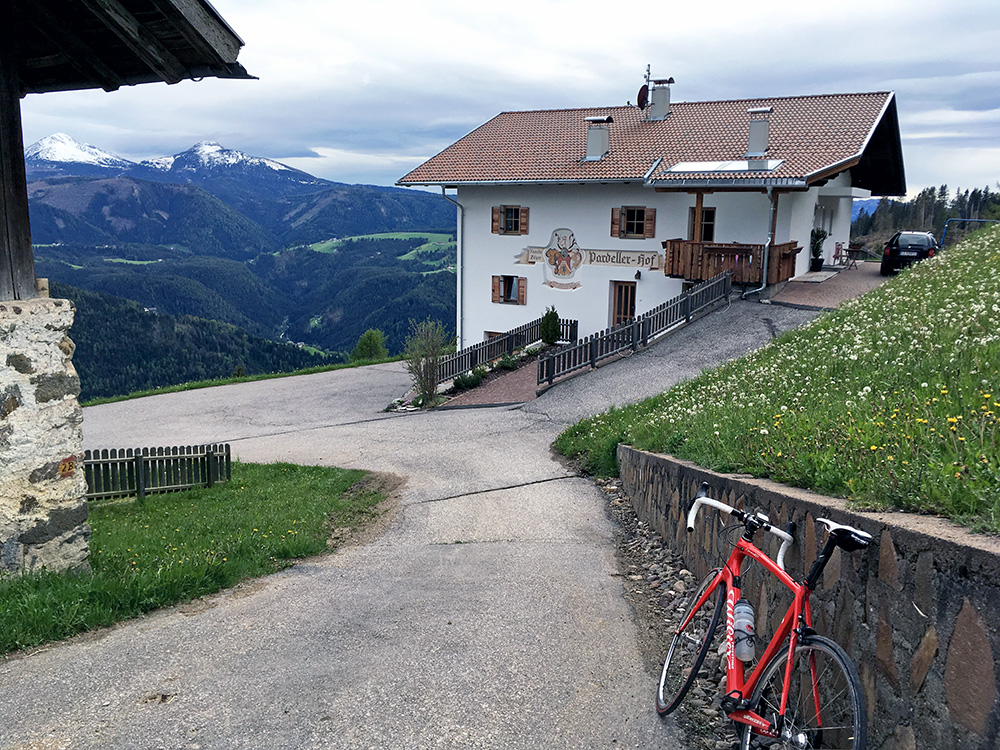 It looks a bit cold, but it was fairly ok now and more sunny than it looks like, but also clouds.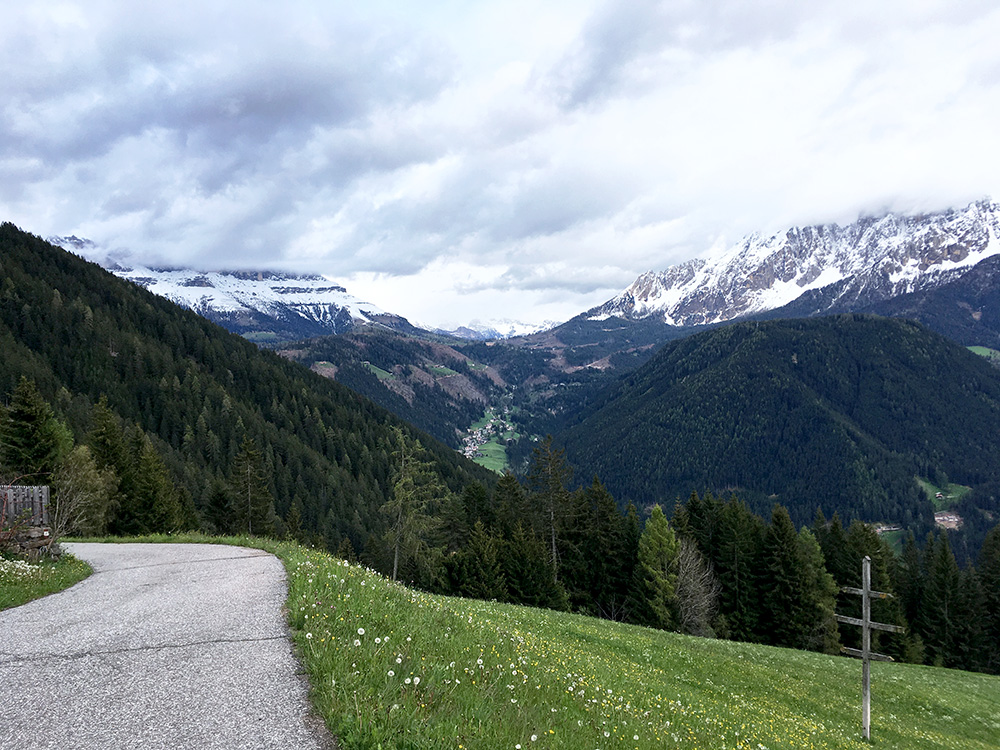 A last photo from Pardeller before continuing on to Gummer/San Valentino.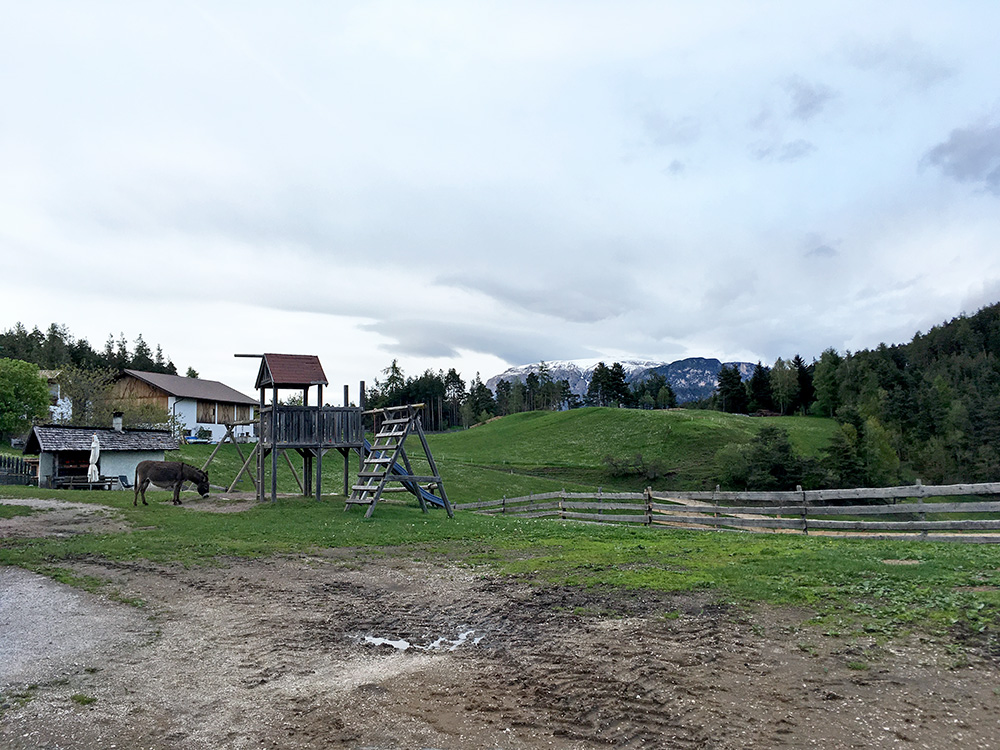 Then via different road choices to Unter Egger/Costa (Sternwarte/Osservatorio) (1316m) (I think I could have gone a bit higher up on asphalt here, but good views anyway from here).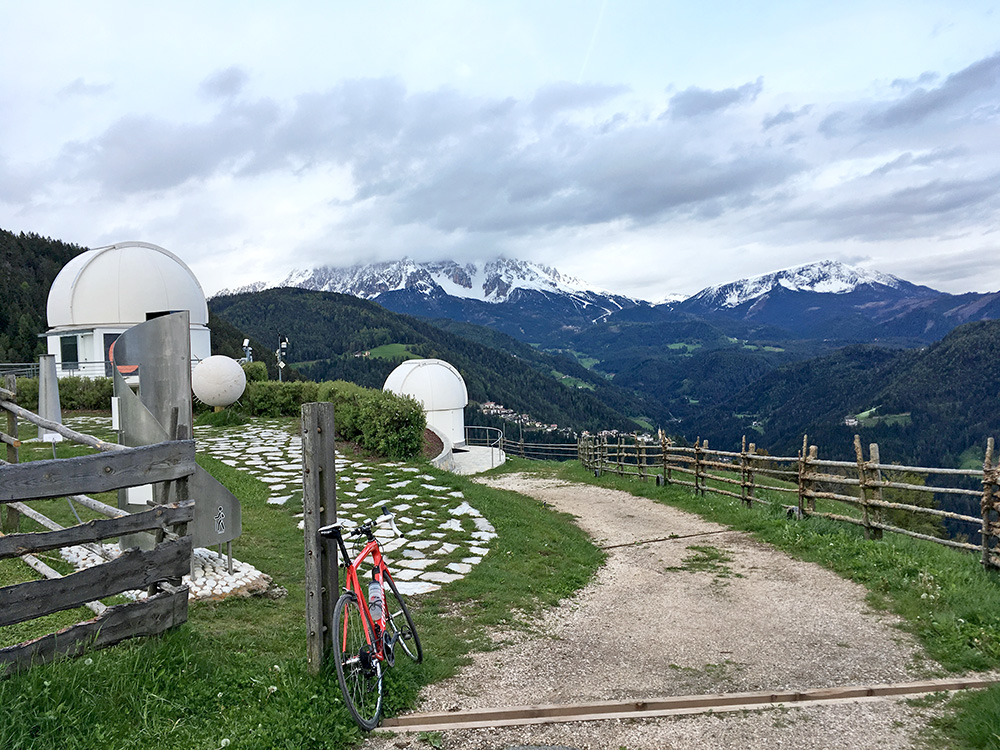 Here the Sternwarte/Osservatorio.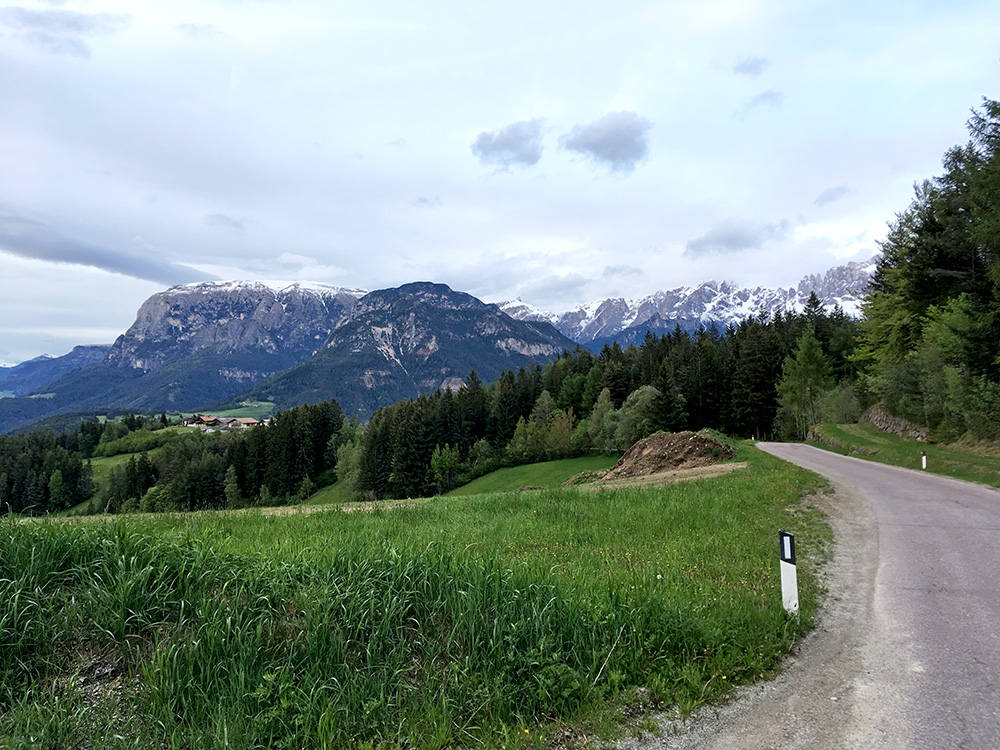 Then down on a narrow road and then up over a final little pass only named Kasererbild (1274m) and then down to Steinegg/Collepietra. Here on the road from Kasererbild to the main road.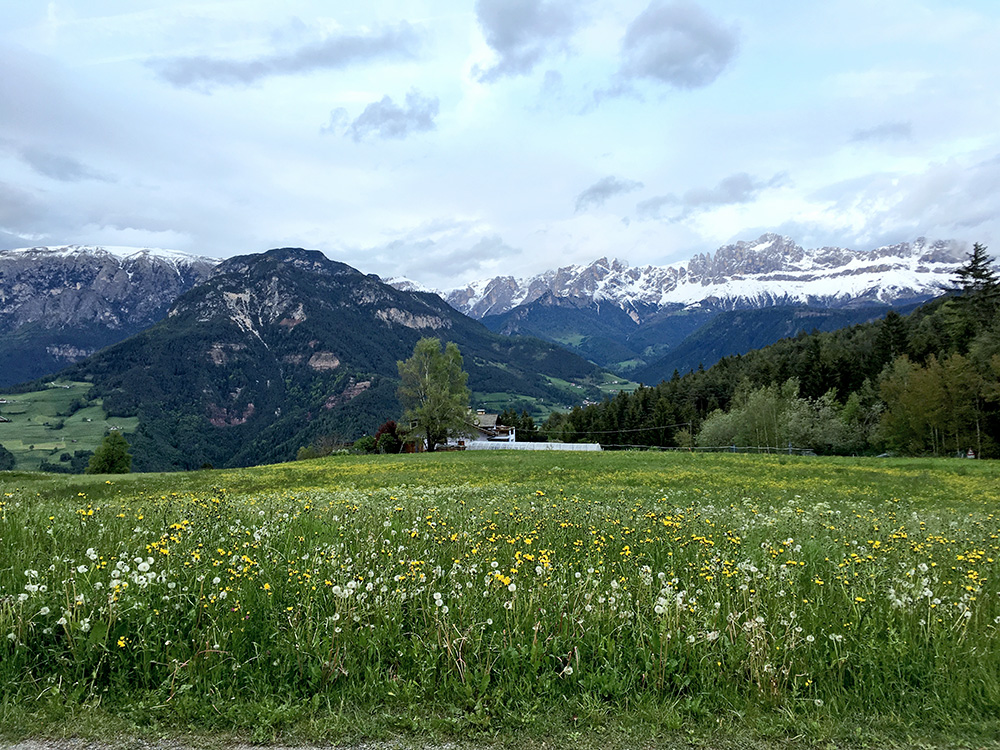 A final photo in the evening before reaching Steinegg/Collepietra. I did not want to go down to near Bolzano/Bozen for the night (much nicer up in the mountains). Unfortunately the first hotel I checked with was very expensive, then next one was fully booked and closed for the day. The third and last one I could find (there should be more options, but maybe they were closed and could not get any information) was also expensive, but slightly less so than the first one, so decided to stay there as it was also soon getting dark.