Very nice weather from start today and it was relaxing to having gone through these previous days. Nice and easy down the mountain from the start. Here stopping for a view down over Bolzano/Bozen. I was soon to climb up the mountain ahead of me here though.
I found a good gas/petrol station just as I reached Bolzano and could clean my bike a little and put on some new oil. I apparently went a bit too long and had to go back a little on the road I have been to many times now going out of Bolzano centre to northeast.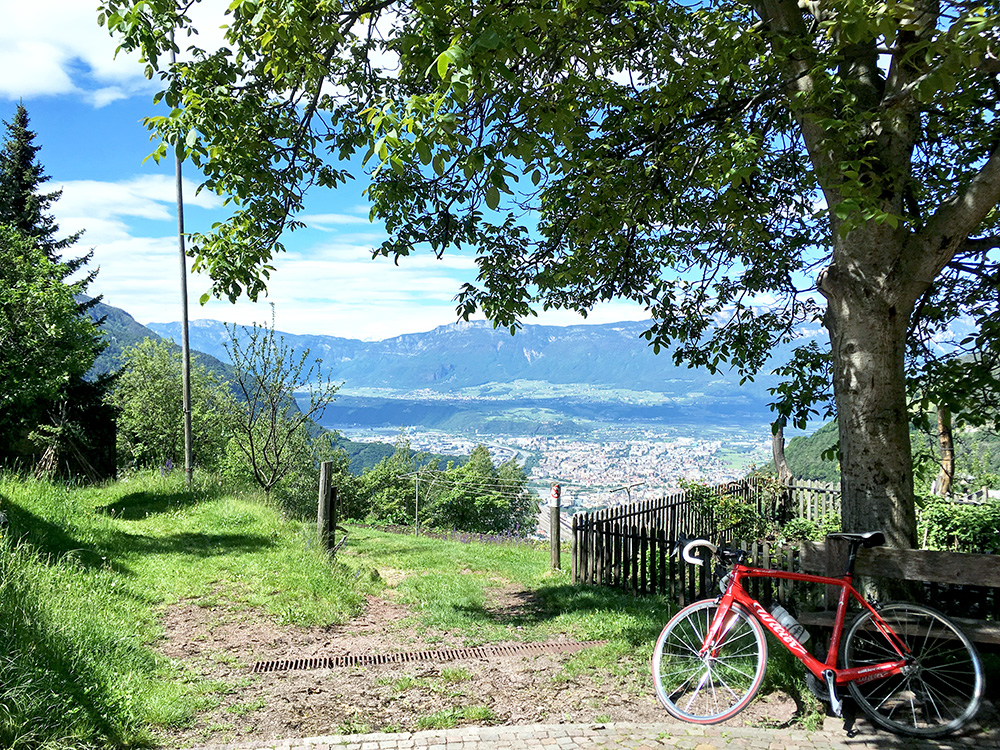 It was time to do the climb up here via Signat that starts in Bolzano/Bozen (east) (305m) and a climb I have long thought about doing, but it used to be partly gravel above Signat and was not sure of the state of the road now. I had also figured out that the logical end of this climb is at Höldhof (Wolfsgruben/Costalovara) (1348m) with a consistent climb of 1043hm.
One takes off the normal road to Renon/Ritten at a bend and follows the sign for Signato/Signat. Here stopping for water and a photo down over Bolzano in Signat/Signato (now the German name is first on the sign, but down the valleys the Italian names are normally the first on signs, which also reflects the languages most spoken down from and up in the mountains).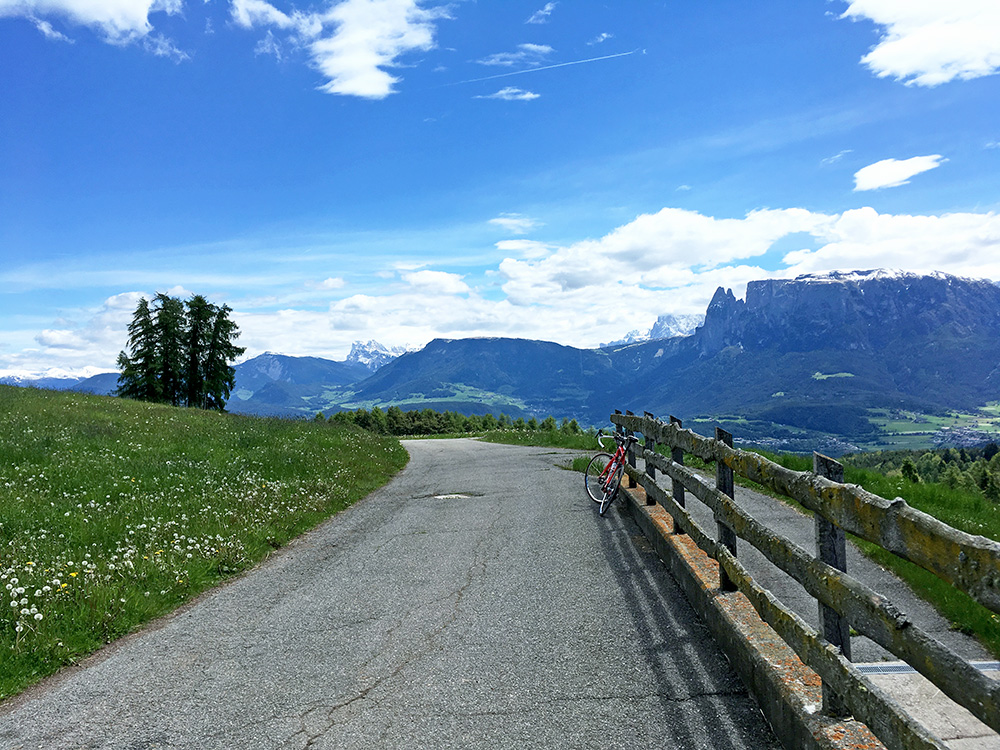 From Signat the road becomes even more narrow, but it turned out to be well asphalted all the way up and luckily so as it has some places where it is much above 10% (Google does not know about the road and it is closed higher up for non-local car traffic).
Once up on the Oberbozen/Soprabolzano road at Wolfsgruben/Costalovara I had to check my Pocket Earth maps to make sure I continued on the right road to Höldhof, which meant taking off on the next road going up all the time. (I see there is a sign for Höldhof in Google street view, but there are some further road choices after that too, where you may have to consult a map, but see there are signs all the way, but it was slightly confusing nonetheless).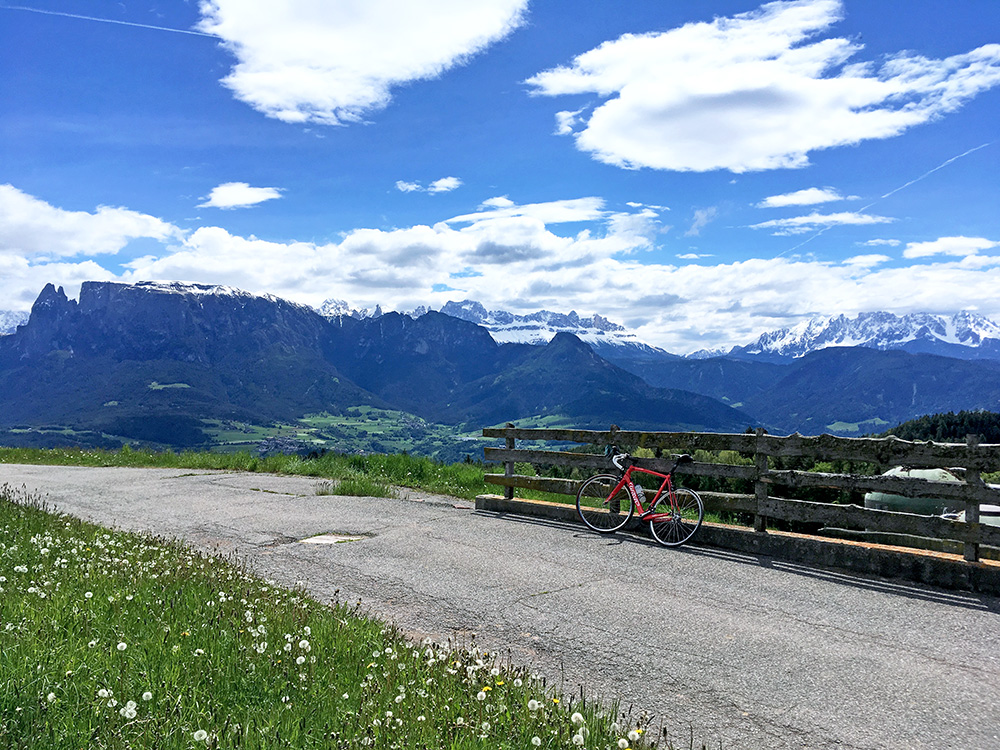 Once up at Höldhof you have the views here and in the photo above – pretty good views if I might say so. A very good climb if you are in the Bolzano area and not sure even all local cyclists knows of this climb all the way to Höldhof via Signat.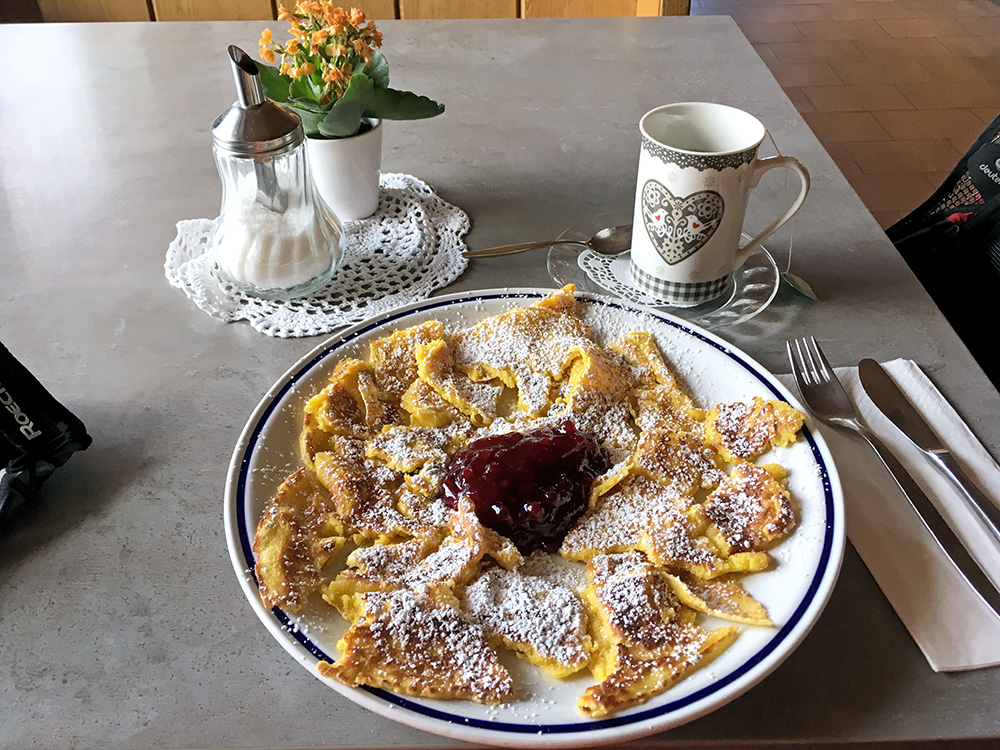 Then I had noticed a gravel road shortcut over to the Wangen/Vanga road, but did not look carefully enough on my map and took a wrong one (via a place they were building a lot and also many walkers), so instead got down to the start of the Wangen/Vanga road, but the other gravel road might have been worse (not sure).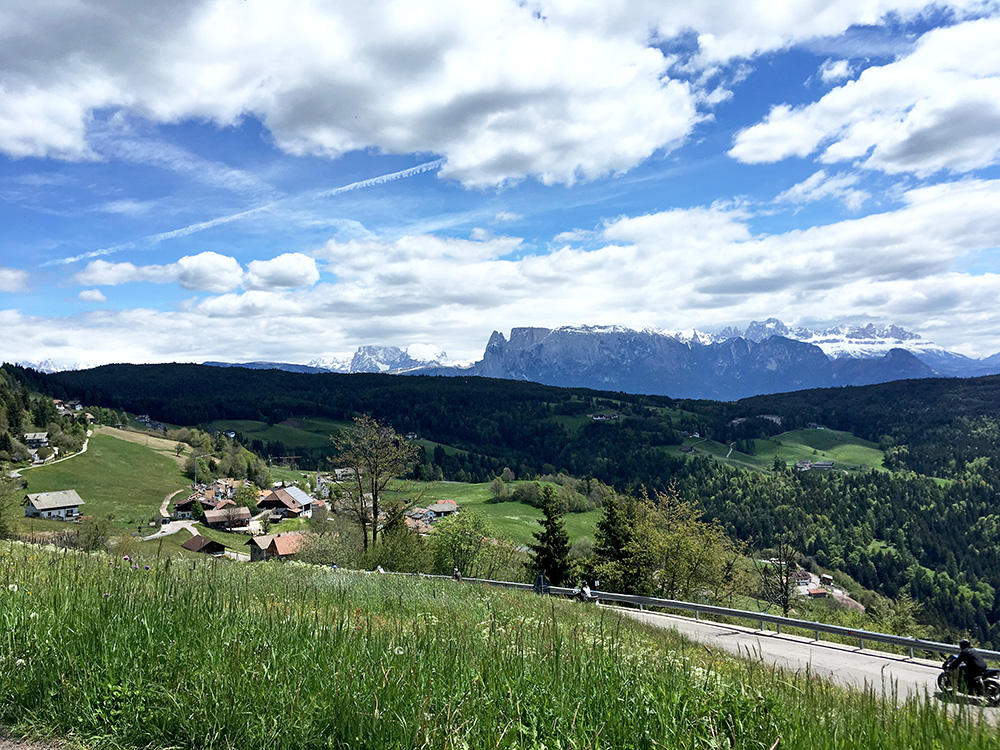 The top point (1381m) on the Wangen/Vanga pass road is just after Oberinn/Auna di Sopra, where I stopped for a Kaiserschmarrn dish (very good) and something to drink. The photo here is from the top point looking back east for a last time. The highest paved road here goes to Aichholzerrain/Oberinn (1562m), but unfortunately it does not connect to the highest paved road in the area above at Obergrünwald/Rosswagen (1732m) (reached from Klobenstein/Collalbo).
Down at Wangen/Vanga (where I had originally planned to stay for a night) I had the first views up the Sarntal/Val Sarentino.
I had a long but somewhat easy climb up the valley, but felt tired partly due to headwind, but also, I guess because of too little training this Winter when I had been ill for long, getting older and the quite steep road from Welchnofen the day before as some excuses. Anyway, I was starting to get into the road climbing now and the weather was great. I stopped in Astfeld/Campolasta for something to drink and eat from a grocery before I continued up the side valley (Durnholzer Tal/Valdurna).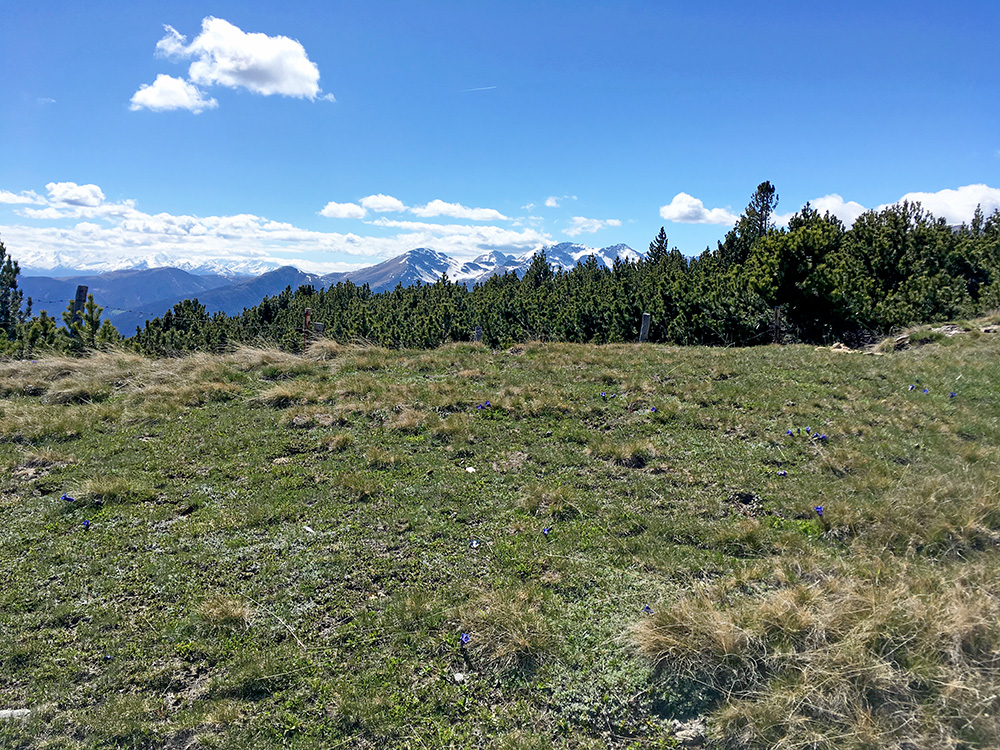 Apart from the Wangen/Vanga road there is only one more asphalted road out of Sarntal/Val Sarentino (apart from going down to Bolzano) and that goes over the Penser Joch/Passo di Pennes (2212m), which I have only been to once from this side (thus far). That is the highest paved road in the area, but I wanted to see the next highest paved road and that is found up on a side road from Durnholzer Tal/Valdurna to Reinswald/San Martino. I was not sure exactly where the asphalt ended on the road above Reinswald though, but it ended about where I thought it ended at Pichlberg/Hoffmanwies Alm (1914m).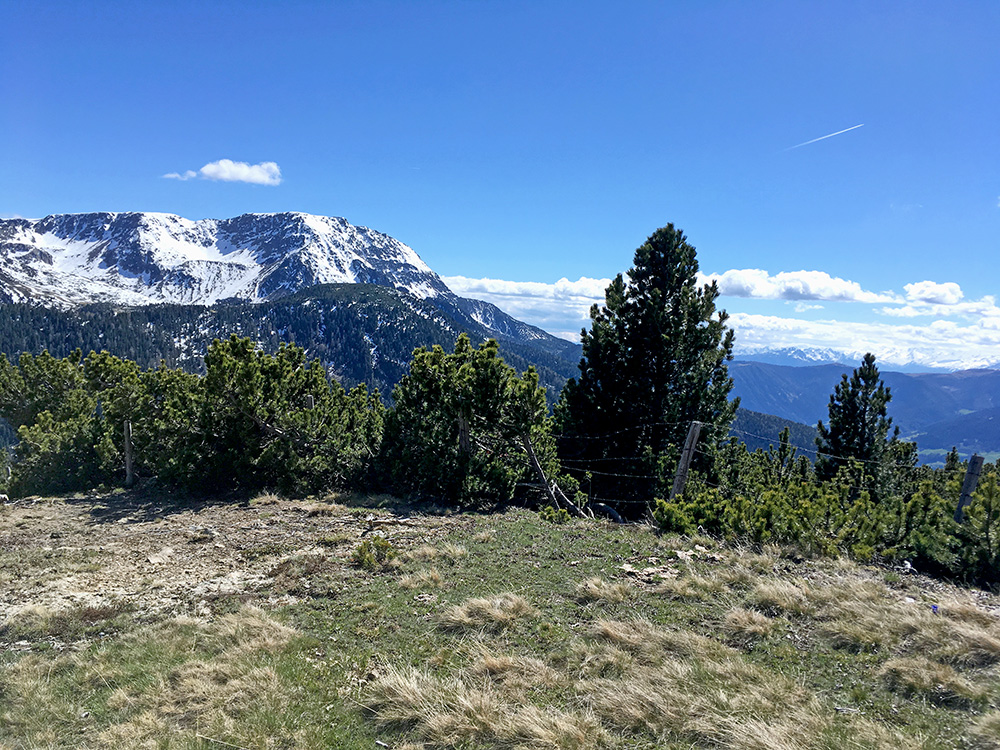 The road from Reinswald/San Martino is blocked by a bar across the road, but I went around and continued up on the very nice and steep road here. There were some local traffic and you better make sure to leave them place if they should tolerate you up here, but no big problem for me.
The worst steepness was just at the end of the asphalt and then it was easy gravel, so I continued up above 2000m height, but at a fork it started to get very steep again and no asphalt. I walked up a little to see if the road would get easier soon again, but it continued quite steep a bit too long for my willingness to walk on, though it might have been worth it as I believe you would get even better views up there and I think the road is fine until the Pichlberg restaurant (2126m). I only went to ca. 2021m height (fr. where the 3 first photos here are from).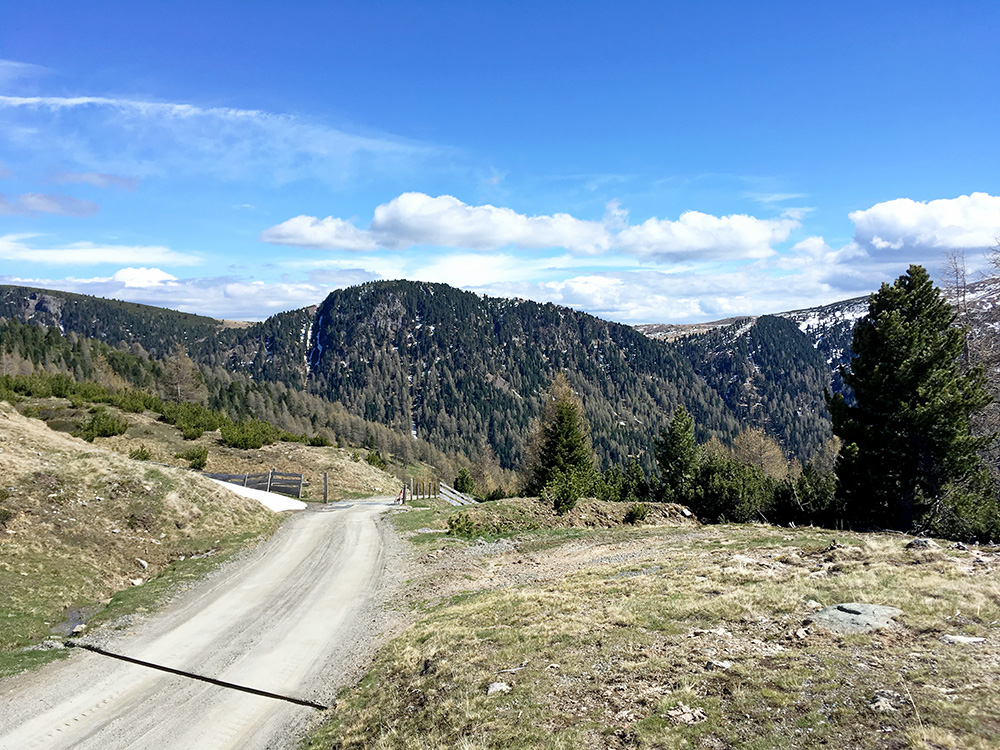 Right here it was not too steep, but before it was borderline and after too, so I thought I had done good enough.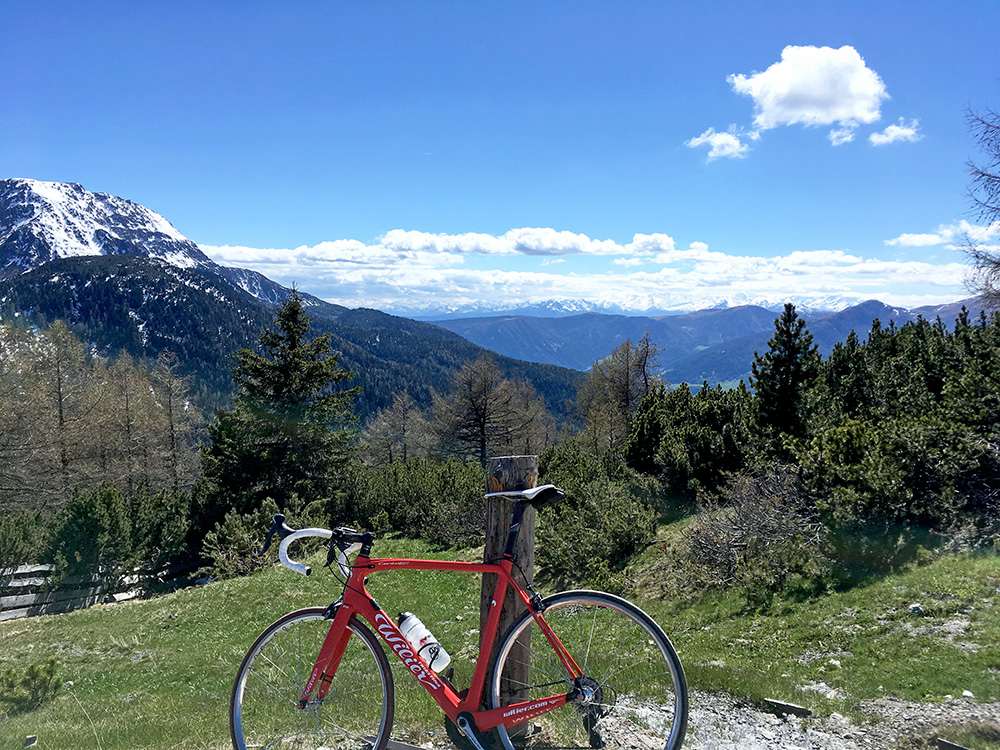 Looking down in the direction of Astfeld/Campolasta.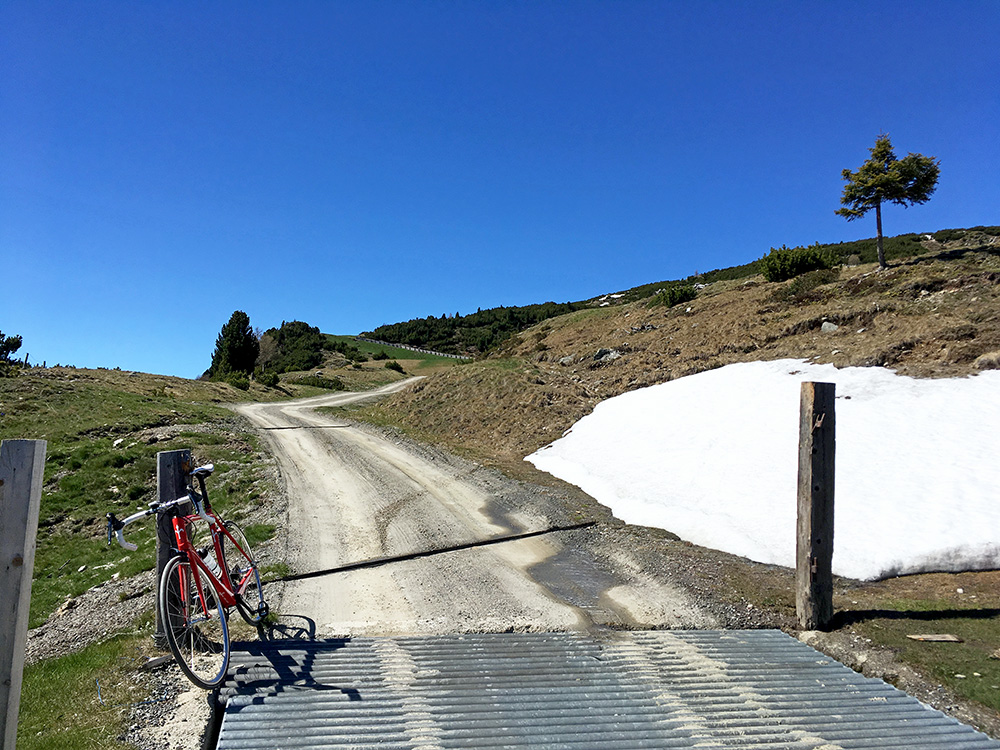 As you see the road climbs steeply and it looked quite steep further up there, so I doubted I would be able to cycle up.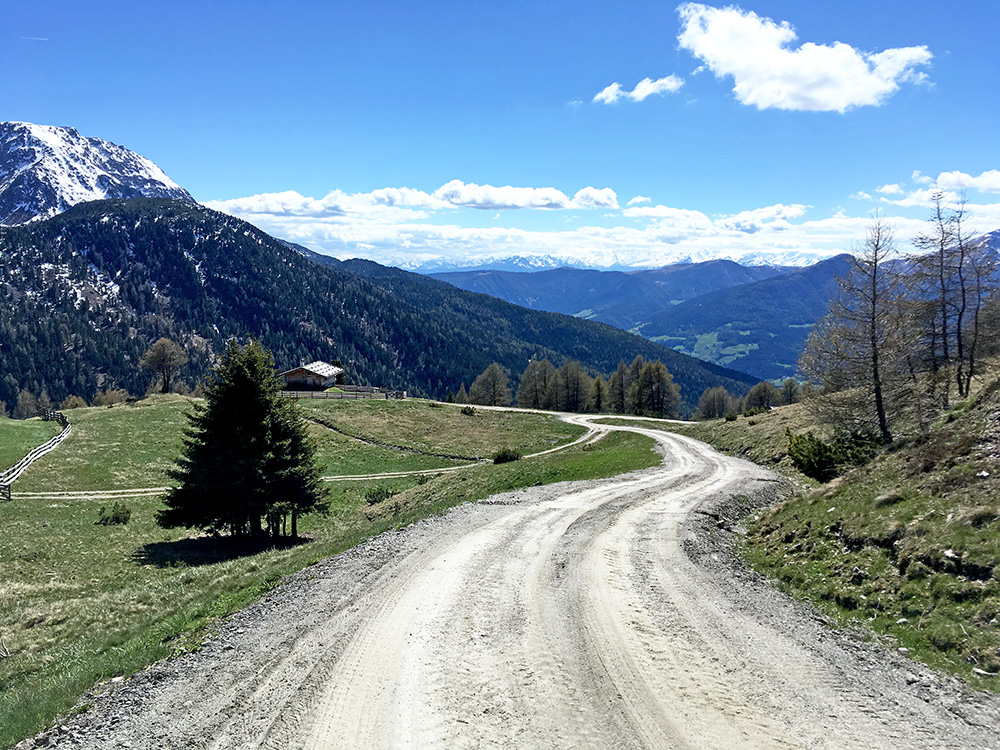 Up to here I could cycle without any problem, but believe I did not try the next steep ramp at the fork because the gravel was looser and more stony there.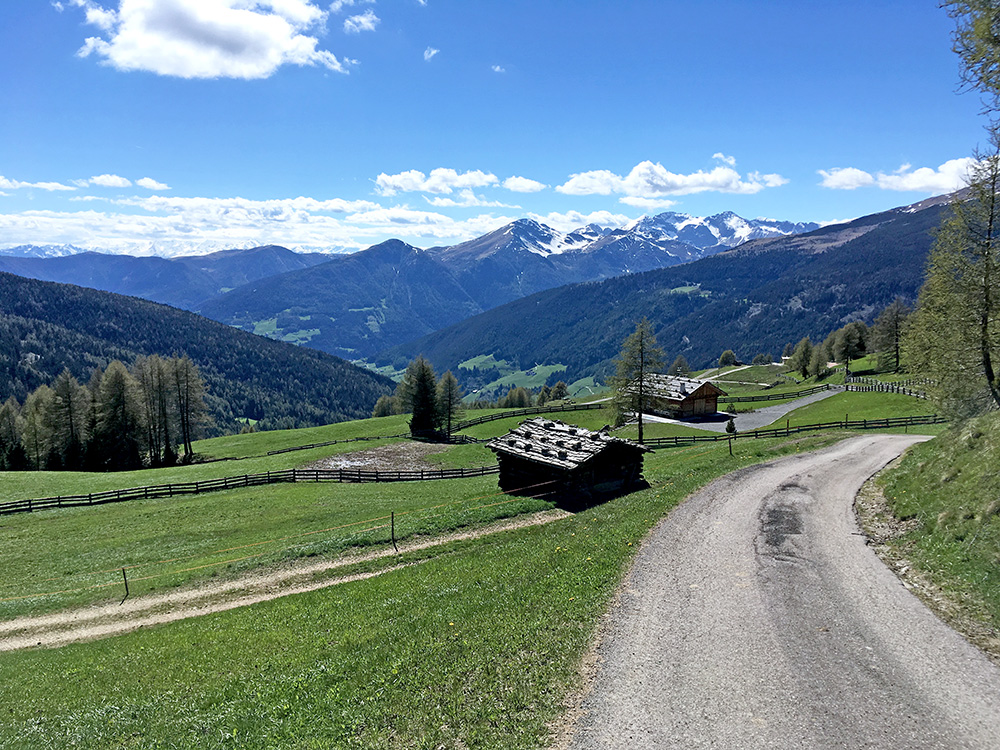 Not so scenic just where the asphalt ends, but this is just below the last steep asphalt.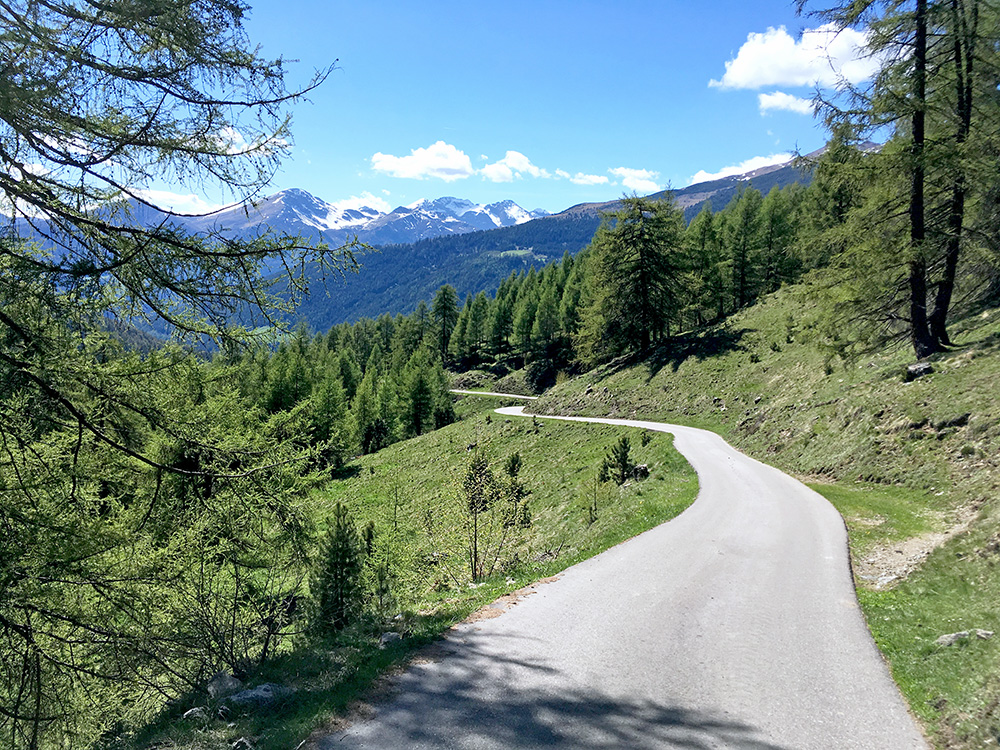 Here is a nice, but narrow, section on the road up from Reinswald/San Martino. On the way up to Reinswald I passed by a lady with an electric bike pushing it and it did not look all that good. E-bikes can be good, when the battery is working … oh well.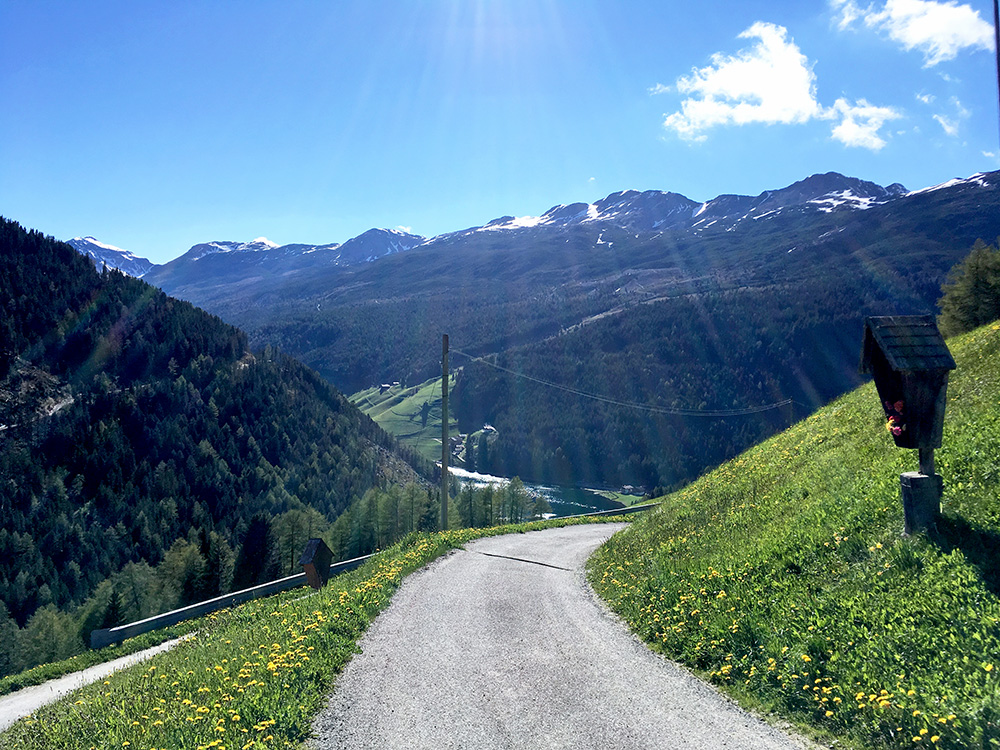 I believe the third highest paved road here is the the very end of the road up the Durnholzer Tal/Valdurna and decided to go there too, even if I had merely considered it as potential extra climb. It was quite nice up there, so I was happy I went there. In the photo I have reached the end at Innerst above the Durnholz/Valdurna village and lake.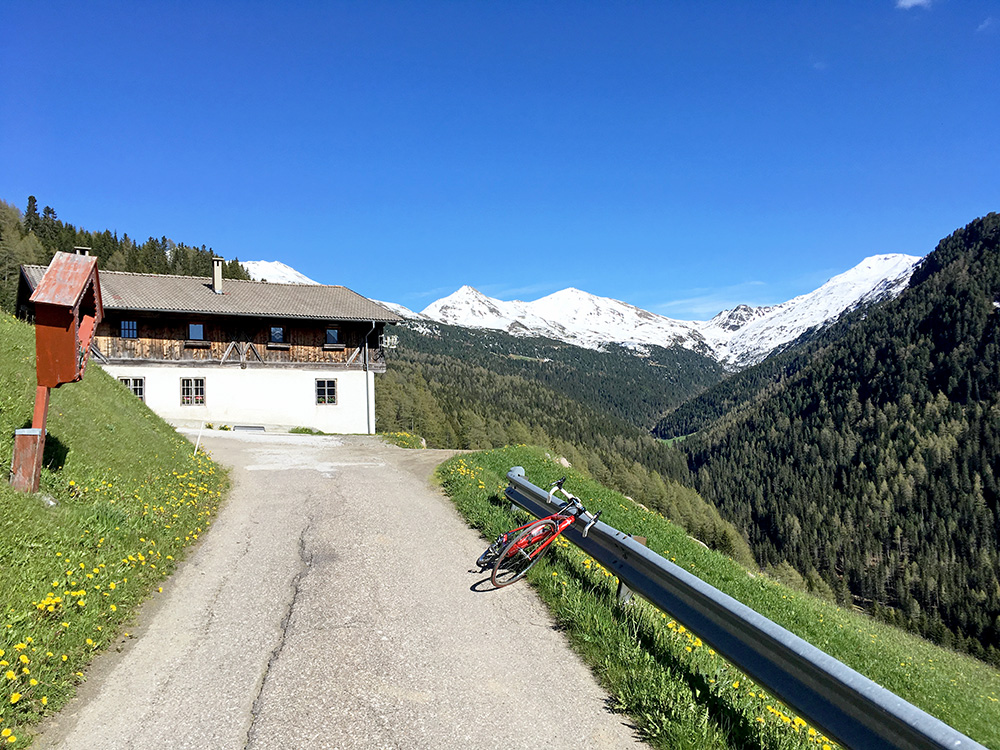 No roads up here.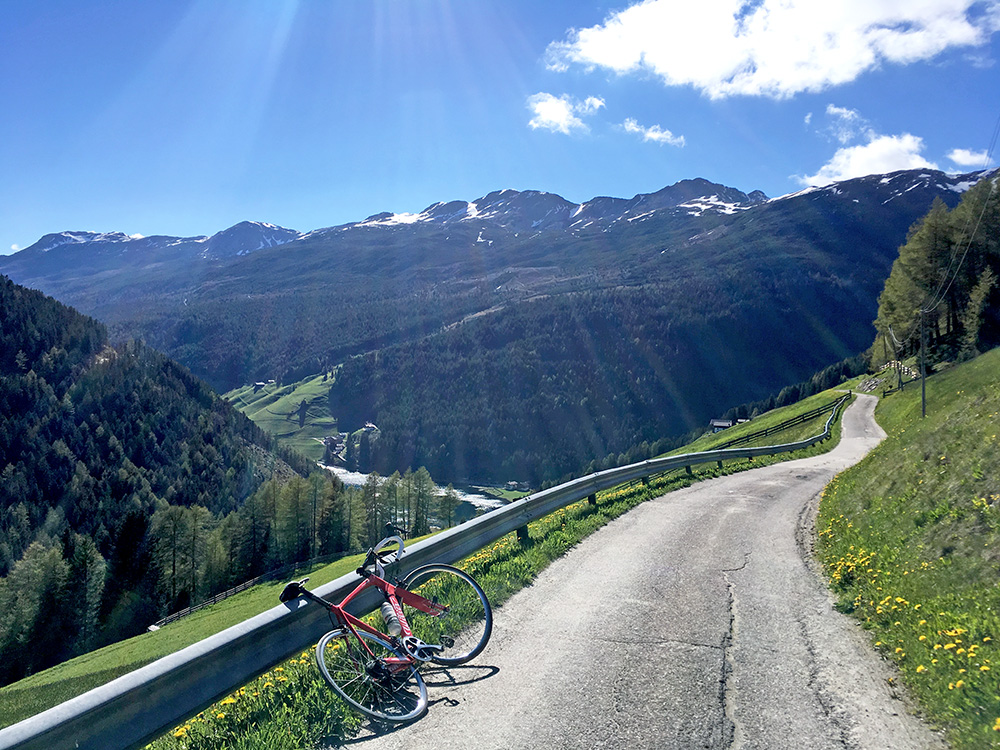 More views on the way back.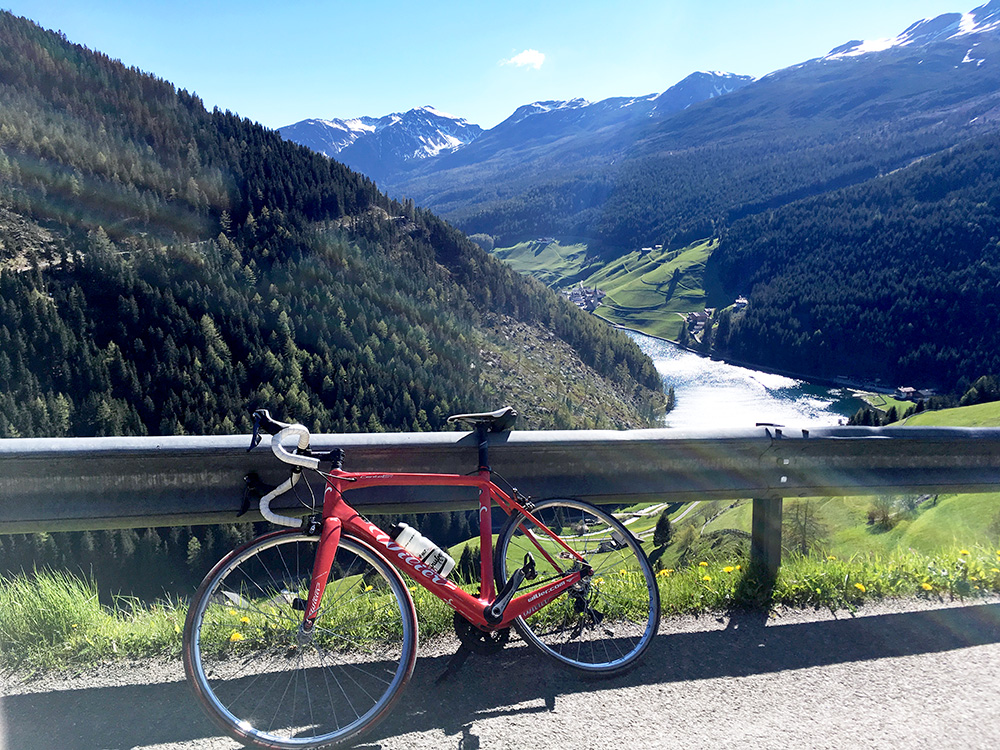 Here you also can glimpse the village (and a gravel road across the valley).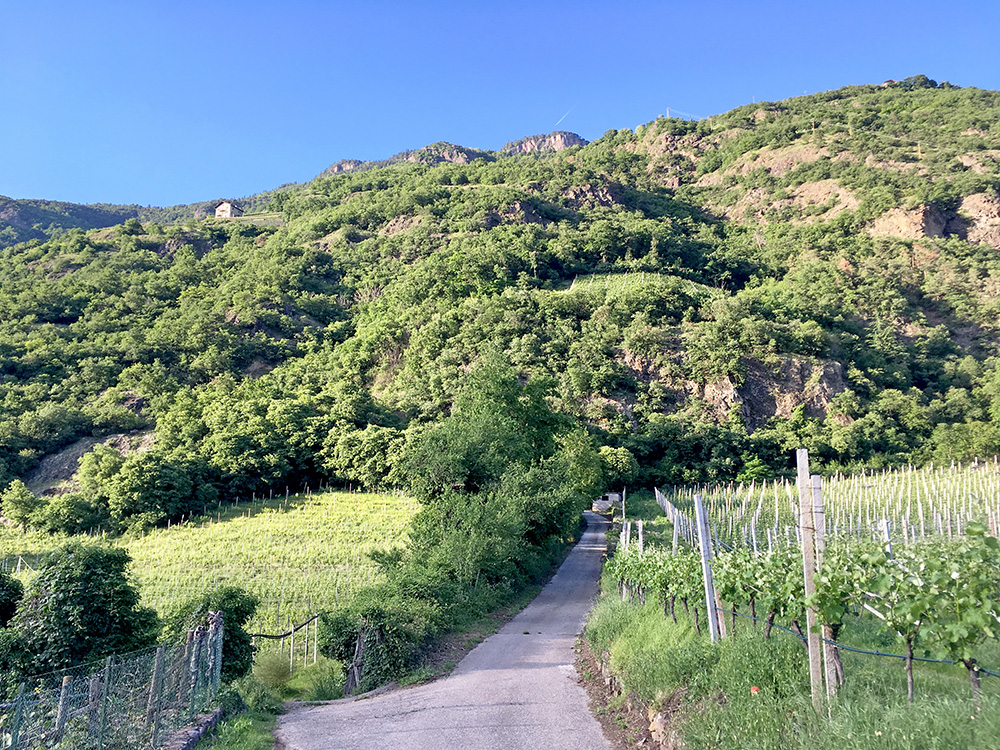 Time to go back down to Bolzano/Bozen and to make a last climb for the day. I had again carefully studied roads up from Terlano/Terlan and determined the paved road variant that would be shortest/steepest, which of course would be more fun to try than the normal road, or so I thought. Even Google Street view had been going a short way up there (and it looked steep). I carefully studied the map and managed to find the little road and looked fine in the photo here, but the steepness starts right at the trees at the first bend.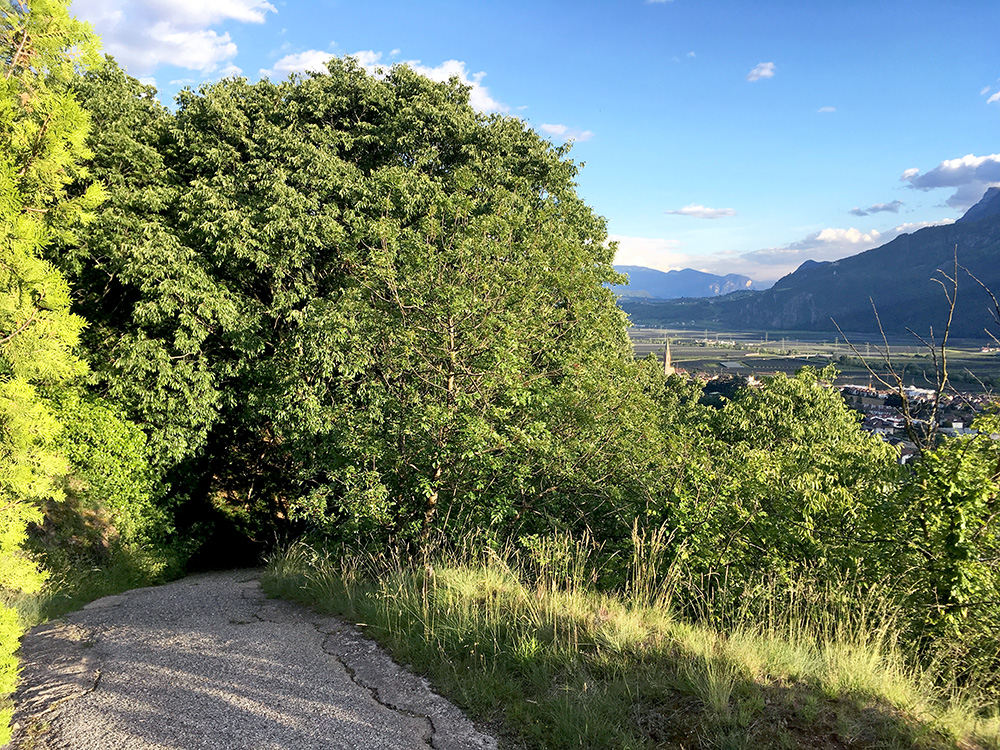 I could not manage to climb more than 30m or so before I had to walk. This was ridiculous and I could cycle maybe 10m at where took this photo before walking again. Higher up one meets another minor road going up here and that road might be possible to climb up all the way and I might think of checking it out another time if I happen to pass by again. From there I could cycle the rest up to the main road and once on that road I felt relaxed, but also a bit disappointed I had not taken the other road up there, but anyway now I knew for sure that this ca. 31% road was not a good one.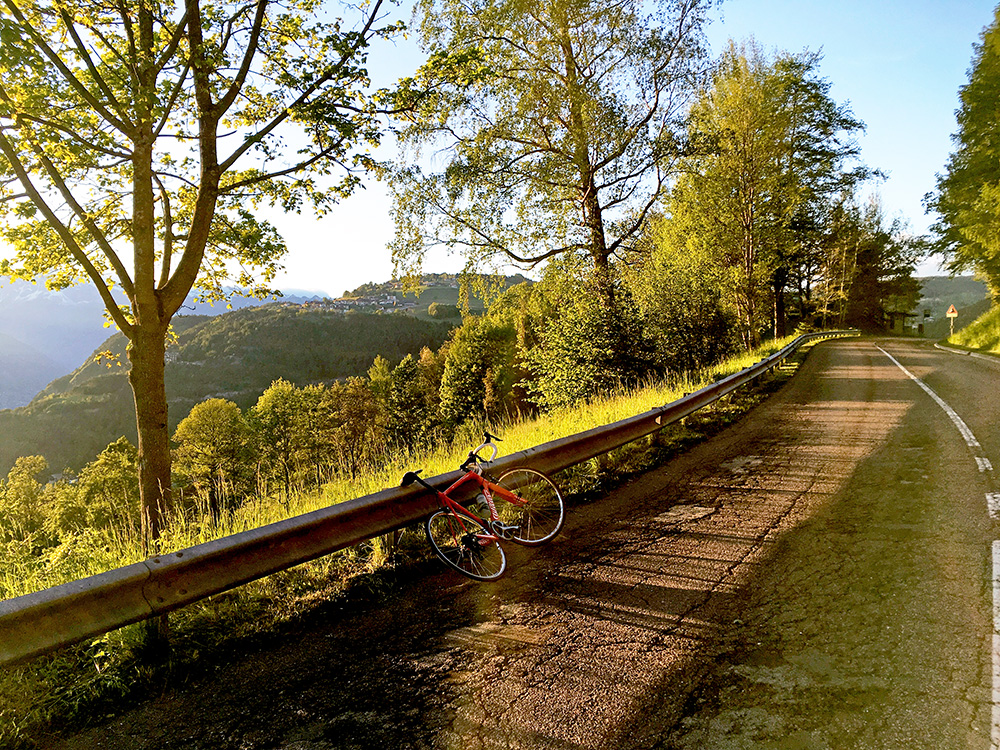 I met the last road cyclists coming down the road for the evening and then very little traffic. Lovely evening weather, but I was slightly worried about finding a place for the night up here, but also knew there were several small villages up here and that there should be some place open.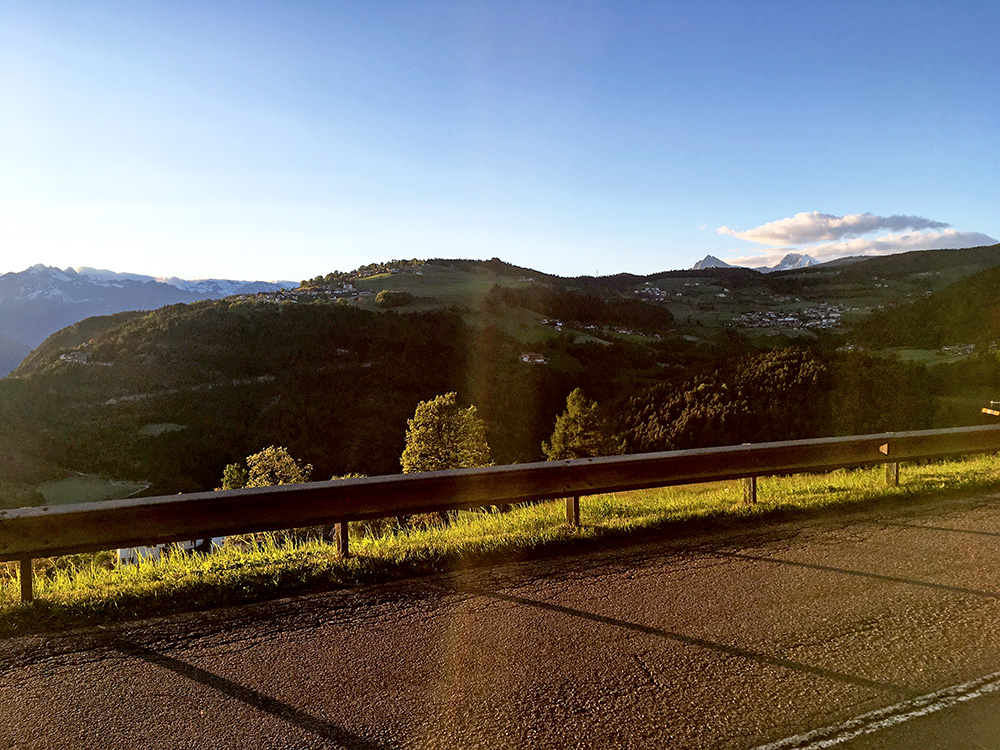 I looked around and looked on the map, but found very few places, so continued to Mölten/Meltina and asked at the pizzeria there and they told me of the hotel in the village which according to them was the only place. The hotel had one room left (they said) and had to take it even if a bit expensive. Then back to the pizzeria for something to eat. All ended well and basically happy with the day even if I would perhaps have hoped to get a bit further (as almost always).