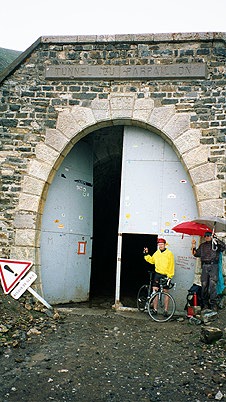 After a nice breakfast at the Gîte in Jausiers, I went to the post office sending off the postcards I had written the evening before. I was asking the lady at the Gîte whether she knew if it was possible to go through the Tunnel du Parpaillon and she said there had been a rockfall inside the tunnel but that she had heard that some people had managed to go through the tunnel by climbing over the rock fall, but she could not recommend me to try it and asked that I went to the tourist office to hear with them. I asked the person at the tourist office, but all she said was that it was closed. I decided nonetheless to give it a try as my original plan was possible to try and follow again after my short-cutting some 3-4 cols the day before. I was supposed to go over the tunnel du Col de Parpaillon and then continue down and up over Col de la Valbelle and Col de Vars and Col de Larche, back down to Demonte in Italy where I had been close by the day before. However, I was no longer as optimistic about being able to stick to my ambitious plans as I was at first. Moreover, the sky was looking very ominous in most directions this morning. Somehow it did not look as dark up in the direction of Col de Parpaillon, so I thought I could as well give it a try. This is a very famous unpaved high mountain pass road that was used many years ago in the Tour de France, but it has deteriorated since then. Many cyclists still want to try and get up here though, but with a road bike it has become increasingly difficult.
I followed the main road up until La Condamine-Châtelard and then took off up the steep but paved road to Ste Anne. The Michelin map claims the road from there on is unpaved, which is not true as it is paved (even if a very small road) for 2-3 km more. From there it is a difficult road (with a road bike, no problems with a mountainbike) in the woods up to the Cabane du Grand Parpaillon (Grd Parpaillon is the mountain near the tunnel at 2988 m). I stopped at the Cabane (a small house where a man served a little of everything) and had a coke. Then I went out again and now it was beginning to rain a little again. From the Cabane it should only be 6 km to the tunnel, but that must be wrong – at least it felt like it was much longer, so even some walkers thought that I talked with. The road from the Cabane and up was terribly bad, but I was brave and tried to force my way up, but it was almost impossible and after 2 km it became impossible in every way, since the road became muddy and mud was congested around the brake on the rear wheel and actually made it impossible to turn the wheel around at all. So I learned the hard way the obvious truth to mountainbike cyclists that you cannot use a road bike on really muddy roads. I could in fact hardly lead the bicycle up the road and had to scrape off some mud with a stone as it was not possible to wash off. Well, I thought I was not lucky with the weather, but still continued ahead up to the tunnel. A german couple with a jeep had to turn around because of the mud and I walked up to the tunnel with the man.
Upon reaching the tunnel (2637 m) I noticed that (what I heard was true) there was a thick layer of ice inside (maybe half a meter) and it was totally dark and I also saw a big rock fall inside there. I was terribly chilly inside the tunnel (which was the only proof that it was possible to get through). But it was almost not possible to walk inside the tunnel even with good shoes. So, I thought that I could maybe use the path over the actual col (2783 m) as I had heard some have done (but the man in the Cabane thought it would be very difficult). The german man did not want to go through the tunnel and neither would I want to try and get through the 500 m tunnel on my own. So I tried to walk up the path, but it was more or less impossible as I begun to slide down the mountainside for every step I took, since it was so wet. Just when I was about to give up on this project I noticed two mountainbike cyclists approaching the tunnel below and hurried down to see if they were interested in joining me through the tunnel. Not even they (a french couple who had cycled up there several times before) managed to cycle all the way on this day. Unfortunately they were not interested in going through the tunnel, nor was another german couple of walkers that I met. I must admit that I did not dare to go through the tunnel alone as it was also reported to be totally dark for 50-100 meters in the middle. Maybe I could have made it, but hearing falling stones inside there and seeing the slippery ice with possible wholes in it and a large rock fall that I had to climb over and drag my cycle over, it turned out to be too much to my nerves. I gave up! Damned it, but given the weather I would clearly not have been likely to complete the whole stretch I had planned for the day anyway with other unpaved roads above 2000 m in the same mountain region.
I walked down with the german couple who took the photo here. The man holding the umbrella had been cycling a bit on his own in the alps in previous years. After a while they walked ahead of me – well, it is not so easy to walk fast on such roads in road racing shoes ;-). I tried to cycle down a few meters here and there to catch in on them. They waited on me down at the Cabane (as they said they would) and offered me a cup of coffe down there. They were very nice, but unfortunately I cannot remember their names (she was working in a bank and they were from the south of Germany). They asked me to try to add some sugar and that I should try it! Hmm, well it turned out the sugar cubes were in a greenish liquor filled jar. I took some extra spoons and it turned out to be very strong indeed. :-) I talked a lot about my plans and experiences thus far.
I stood washing my bicycle clean from mud as good as I could for 20 minutes outside the Cabane – "ah, nettoyer" the french man said a bit sarcastical when he came out looking what I did, but he did not mind. Then I begun to cycle down the difficult forest stretch and finally passed by the german couple again and was relieved to soon see some asphalt again and even the rain had stopped now. I went down rather fast on the steep road to La Condamine-Châtelard and then suddenly a spoke went in my rear wheel on the nice road – damned! Nothing went my way this day. I had hoped to really short-cut and go over the Col de Larche directly and still be on schedule, but now I had to take care of this wheel. I had brought a spoke wrench with me as I had a little problem earlier with my german Citec wheel, but I could not get the wheel straight enough to pass between the brake easily. Then suddenly there came a big group of mostly old road bike cyclists suspiciously going up the road (it could not be that they were heading for the the Parpaillon, really – no there could not be a chance in hell they could be, they were probably turning back up at Ste Anne). One of the last men stopped and I got some help losening my brake so I could possible roll back down the valley. The nearest bicycle shop was in Jausiers (from where I had left in the morning – damned!).
I just had to go back there and I arrived just shortly before 18 o'clock, just to be told that they could not help me, but they were nice and tried to call another bicycle shop (down further in the wrong direction) in Barcelonnette. They also could not be of help, but they thought that a shop in Barcelonnette that they could not find a phone number for could help me. So I simply had to go down to Barcelonnette and find the shop and visit it the first thing in the morning as it would be closed by the time I was there. I asked the woman in the cycle shop in Jausiers if she knew of a good and cheap hotel in Barcelonnette and she recommended that I tried the Cheval Blanc (a Logis de France). I did stay at the Cheval Blanc, but it was possibly the worst place I stayed at during my 14 days trip. It was not a disaster though, but a bit too expensive for the non-service, shabby room and lousy breakfast I got.
I had a sicilian pasta at a restaurant and it was fine. I found the bicycle shop in town and it might have been the last shop I saw on my walk around the town, but I did not think it would be on the main walking road. It looked old and well equipped.
Day1 – Day 2 – Day 3 – Day 4 – Day 5 – Day 6 – Day 7 – Day 8 – Day 9 – Day 10 – Day 11 – Day 12 – Day 13 – Day 14 – Day 15