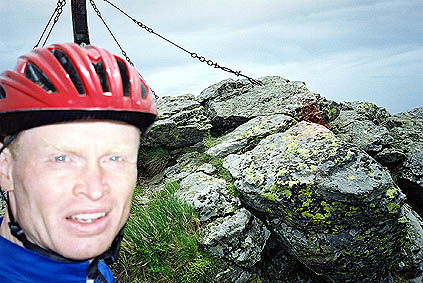 I had planned to go up to Koglereck, which is a very steep climb from near Lavamünd 348 m, but since I had planned to go back the same way and the scenery did not seem to be very exciting, I went ahead directly to the next challenge. I had been looking up a web site with descriptions of some of the most difficult climbs in the Alps and found that the most difficult I was likely to be able to do with only two rings in front was the Große Speikkogel/Koralpenstrasse near Wolfsberg. There is a road a bit south of Wolfsberg in a small village called Maildorf 460 m (alt. Paildorf could be seen on some maps). From here starts a road that goes all the way to the highest point of the mountain. It really does not look like one of the most difficult roads in the Alps could go up there as it does not look steep at all.
Große Speikkogel 2140 m is cyclable to 2120 m. The last around 5 km are not allowed for anyvehicle, bicycles explicitly included and one has to climb under or over a road barrier. However, no one told me I could not cycle there among the people I met, including a car driver with permit. The average gradient should be 11.2% for the final 14.4 km. Maximum inclination, however, is not above 17%. This makes it clearly harder than the famous Stelvio pass for example. More steep mountain roads which are shorter may be more difficult if your weight is higher than average and there are many other considerations to take into account which makes it almost impossible to give a fair comparison of the relative difficulties. Here it turned out that the wind made this climb a real difficulty. I almost did not dare to cycle the last part to the military observation station, because of the hard wind. I tried to make myself as small as possible. I wondered for a long time if this climb really could be more difficult than the Stelvio one for example, but in the end it turned out to be harder.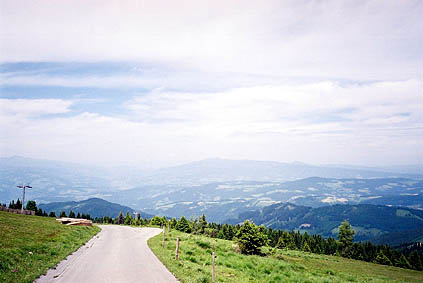 I climbed up the last part to the top to take a photo, but I did not dare to go up the last meters as I was afraid my bicycle would be blown off the mountain. I could not see any mountain top in the near region in any direction that was higher. Only far in the west could I see mountains with some snow on and I realised I was really at the very eastern end of the Alps. (There are only a few mountain tops higher which are more easternly, mostly in the NE direction from here toward Vienna.)
I had the usual kind of sandwich lunch outside a shop at the edge of Wolfsberg 463 m. Here I talked a little with a local cyclist and he knew very well the roads I had travelled in Slovenia and thsi corner of Austria. He confirmed my impression that Paulitschsattel was a very hard pass and of the Koralpenstrasse, he said it was "eine elend".
Now I took the shortest (or one of them) way west as I wanted to get back to more spectacular mountains. From Wolfsberg there is a nice road via Preims to Klippitztörl. This road is very steep near Preims, but is otherwise gentle and it joins the main road up to Klippitztörl after going over a small pass called Bischofeck 1357 m.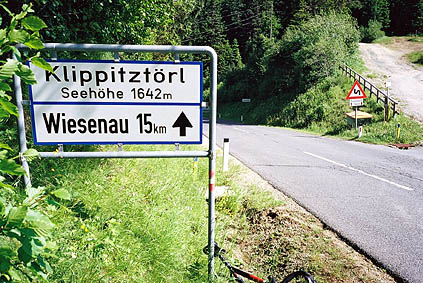 The Klippitztörl pass 1644 m is not very noteworthy and I decided to skip one of the photos I took there. While the road east of the pass was quite good, the road on the west side is very bad quality (mostly because of small potholes and damages to it) and I was furious about it upon reaching Lölling Graben (a nice village lower down). Sometimes gravel roads are preferable to surfaced roads. The problem here was that it seemed like you could go down at rather high speed, but it was not really possible to avoid bumping into all kinds of wholes then. So rods in Austria need not always be good. The Koralpenstrasse was of very variable quality as well.
Now it was mostly gentle hilly landscape for a long time ahead. I stopped again in Guttaring 642 m and it was very hot. The long road up the Gurktal was very tiring as I had a constant head-wind. I stopped in Gurk for snacks and sodas again. Upon reaching Deutsch-Griffen 847 m it was already starting to get a bit late (the last photo here is from this village and I had to work with it some in Photoshop as I did not have good light).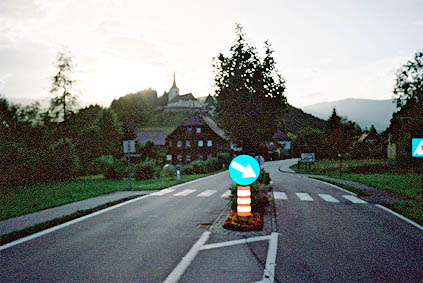 There is a very small road continuing up a very nice mountainside. After a long but never very steep climb one eventually reaches another pass – the Hochrindl-Alpl 1529 m. (The road first goes a bit higher.) One feels more accumulating tiredness when traveeling on flatter roads and the last part up this pass made me wonder if I was aspiring to become a new Christ on the cross. Well, I thought for myself, I am not hypocritical about it and suppose I do it for others though.
The road down to Ebene-Reichenau 1062 m turned out to be a (wide) gravel road to my surprise. I had not been able to figure that our from any maps. It was quite good gravel though, so it did not take forever to get down. It was getting dark and I turned up a small steep little road at the first free room (Zimmer) sign I saw. It was a quite agreeable place for the standard price of 25 euro. The restaurant did not serve any hot food when I came around, but they made me a sandwich and I had two beers.
Day 1 – Day 2 – Day 3 – Day 4 – Day 5 – Day 6 – Day 7 – Day 8 – Day 9 – Day 10 – Day 11 – Next Day – Day 13 – Day 14 – Day 15 – Day 16 – Day 17 – Day 18 – Day 19 – Day 20 – Day 21 – Day 22 – Day 23