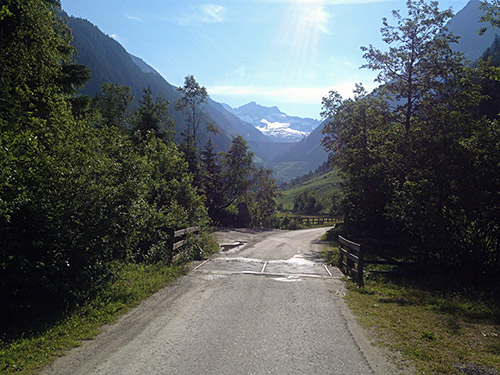 Great morning weather and very nice outside. Only feared that it might get really hot later in the day. So now I had shortened the climb up to Speicher Zillergründl (1880m) by climbing from Nösslrain (1018m) instead of Mayrhofen (626m), but it is here that the more consistent climb really starts and this road is never very steep anyway. I wanted to get up here because it is a BIG climb and also a nice one and I do not want to go too long stretches on the flat between climbs (nor do I want to do too many nearby climbs which destroys the epic aspect of going over long distances). Going long distances on the flat would make it difficult to do more than two big climbs in a day, while otherwise one could aim for three, roughly speaking.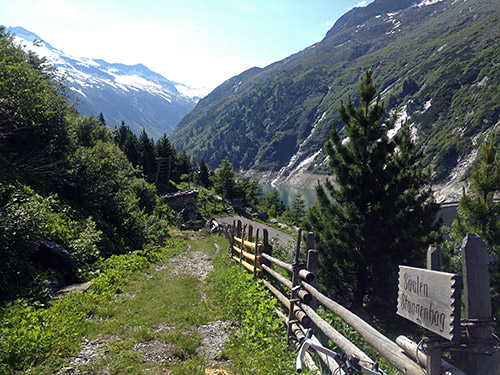 This is the highest point I went to. You can see the end of the asphalt (1880m) just at the bend down the track here. I just walked up a bit longer to get a better view for photos (this and the next one). There were a good water tap up by the end of the asphalt road, so if you go here do not miss to go there.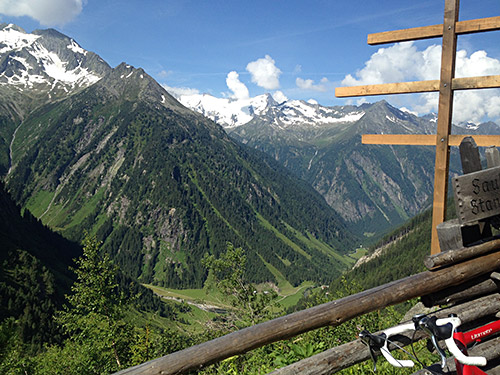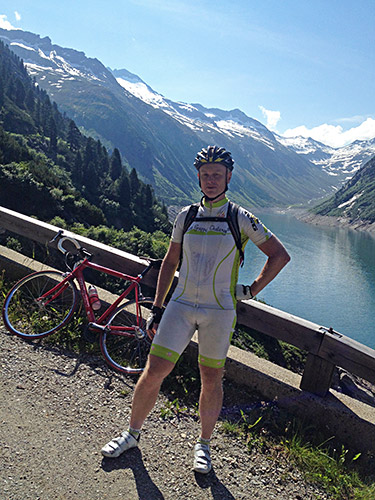 This photo was taken at ca. 1875m height along the gravel road that follows the dam and goes to the end of the lake (it reaches max 1910m before going down again). This road starts with a long tunnel that is very easy to cycle through and it is also lit. There can be many walkers here on a fine day like this in the Summer and I was lucky to have someone take a photo of me.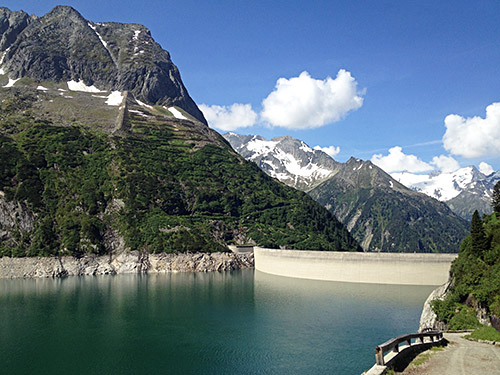 Great views from this gravel road, but I did not feel the need to continue any longer here and instead returned.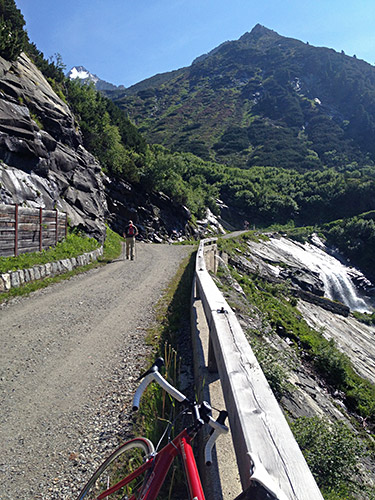 The nice gravel road continues a bit more up here and the man in the photo was the one taking the photo of me. It was a little chilly in the long and lit tunnel down from the dam. The tunnel is good asphalted and somewhat wide, so no problem even if a bus comes by, but it is slightly narrow below the tunnel. (As always be careful in tunnels if it is really cold as there may be frozen water on the ground.)
I took the proper road down to Mayrhofen now and it was rather nice and narrow. Mayrhofen looked nice as I wheeled through. The main road down the Zillertal is very busy and cars are not very friendly here as they want you to find out alternative roads and possibly a bicycle path nearby. Lower down it is not allowed for bicycles in parts, even though it is by no means a motorway. They forbid cyclists when they feel like it in Austria and typically when the roads are wide and good for cycling safely.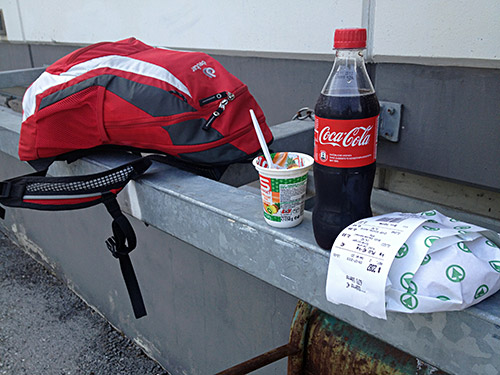 I took off this road as quickly as possible as it is not so wide up here and there are indeed a nice alternative road just a bit lower down here to the west in the valley. Cycling paths I try to avoid as far as possible as one never really knows where they may lead and what will happen along them (surface may change, or there may be obstacles, detours and other surprises, or one simply gets lost) – best left to locals who might know them. After going down the slow valley and getting shortly out on the main road again, I stopped at a Spar grocery to have lunch, so here is a typical lunch stop for me. Great sandwich made with my choice of cheese and salami, yoghurt and coca-cola – the perfect lunch when cycling like this and all for just above € 2.50!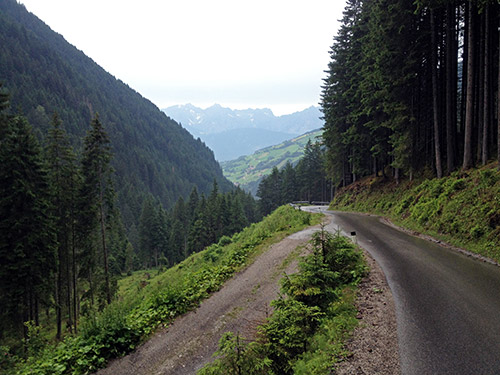 After a little further stretch on the main road at the very end of the valley, I turned off the road just before a tunnel that is forbidden to cyclists, but which I went through the first time here. It is really a good idea not to take the tunnel as you can get on a nicer road here toward Schwaz and Innsbruck higher than the main narrow road. There is a little climbing here, but now the headwind I had lived with for some time down the Zillertal was now gone and it felt easy going up here from Strass to St. Margarethen and Buch. In Schwaz one has to join the main road again and I were reminded of the terrible accident I had here in 2003 that ended my tour that year early.
I continued to Wattens (563m) where I stopped for a coffee and cake by a café in the centre. Wattens is known for the Swarovski crystals and a Swarovski truck came by. The factory is seen from afar and was very visible on my climb up the steep road in the Wattental, where I had hoped to get up above 2000m on an asphalted road, but there were problems ahead. I knew there were a military area above and that it might be in use. I also met military men working on the road as I climbed up the forest in the good weather.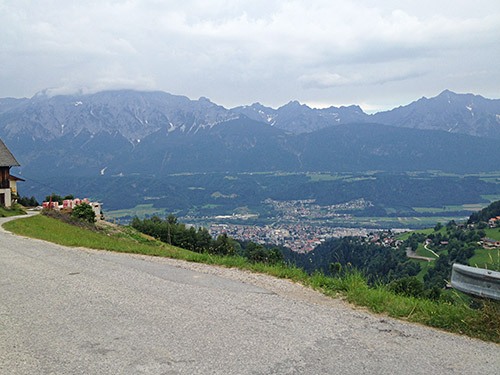 At gasthaus Haneburger (1351m) (according to the map) it started to rain suddenly and I went in the restaurant and ordered a beer and an apfelstrudl and hoped to wait out the rain. It rained for quite some time though and it was not fun sitting there waiting out the rain. I had also hoped to climb up to a gravel road pass above the end of the asphalt road – Klammjoch (2359m) and maybe complete the loop road up there (it reaches 2429m), but given the rain I could not go up the gravel road. I waited at least 1.5 hours before I finally got out again as the rain had subsided. I started slowly up the road that is getting rather flat here and it started to rain again. In a short while I reached Lager Walchen (1410m) and noticed the stop sign for the military area and the parking place, but thought as a cyclist they would likely not stop me. Wrong! A guy came out the little booth by the stop sign and told me to stop and turn around. He was nice, but could not let me go up. Apparently they let walkers go up here and I thought that some cyclists have also been up here before, but no way for me today. Maybe I could have walked up or asked for a special permit or something, but I did not care too much given the weather, but it was all very disappointing as the valley is also not nice at all down here. (It is nice above Wattens before one enters the woods. So only one photo (above) from me shivering on the descent in Wattental.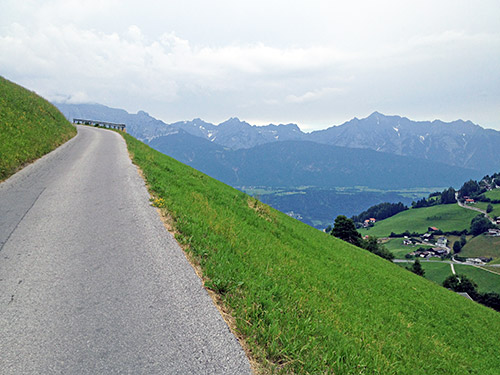 After this anti-climax (cannot be lucky all the time), I decided to follow my plan even if the roads were still wet up here as I planned to do some minor shortcuts on gravel in order to avoid having to go down the valley again. If they had asphalted those two short stretches I guess many road bicyclists would have wanted to take the same way as me here, but now they all have to go on the main road instead (not like it is either or as this involves a lot of climbs and goes really high up). On the way back to Wattenberg, but before getting there, there is a road going down to the river (Wh. Säge, the map says) at 1000m. On the other side of the river a gravel road goes almost flat ahead (and that is the one to take, not the one climbing). I met a women and she said it was good for her walking with the child caddy so we guess I would be fine too and there were no problem even if the gravel was a little wet. One soon arrives at an asphalted road in Ried by Vögelsberg.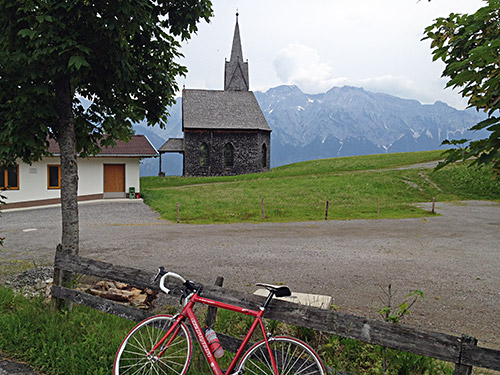 You should generally go up, but not always – follow signs pointing to Großvolderberg! Very nice on the small roads up here as you can see. The road goes up and down and up and down here and you are on your way to Volderwildbad in Voldertal. When I arrived by some house in Auer (no signs) (1011m) I knew that there should soon be a gravel road again climbing on the west side of the river up this valley, but there were only a grassy track here so I decided that I likely was not yet in Volderwildbad and followed the asphalt road now climbing steeply and arrived at Volderwildbad (1104m) (also no obvious sign saying where I was). Here is a bridge across the river and then two alternative gravel roads.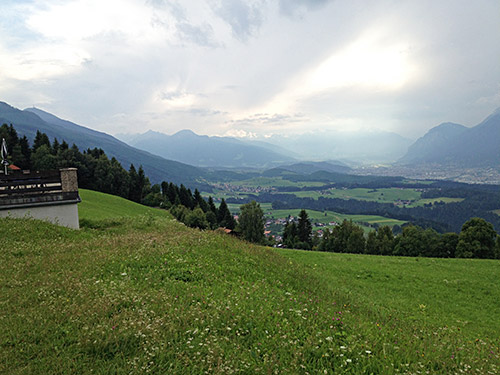 I got confused and thought that maybe I should really go over the river down in Auer and went back down. I asked a many walking with his dog there and he told me that I was right when I went up to Volderwildbad and should take the less good looking gravel road going right there. So, again had to climb up this steep little road and should perhaps have understood it was right but did not see anything familiar on the signs up there. This road is mostly fine too, but there were a steep ramp with less good surface. Eventually one arrives at Windegg (1189m) (maybe a small little pass) by Tulferberg, which is the high point of this road. There is an asphalt road going quite high up from Tulferberg and it is likely a good climb from Volders and there is also a more direct road from Volders, but it is at least in part gravel as it joins the gravel road I was coming on – this climb is not documented either on any bicycle climbing site). The little wooden church here offers a nice viewpoint and the photo next to here is by the hotel nearby where a bus of tourists were just arriving.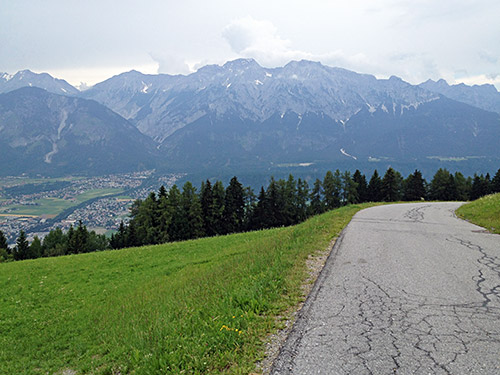 The road down to Tulfes (923m) is very good and nice. Then I followed the road going a bit up and down via Rinn (918m), Sistrans (919m), Lans (867m) and Igls (870m). I stopped at a grocery above Rinn, I believe (good view from there). I followed another (fast going) cyclist for a short while until Igls where he turned up and I turned down toward Vill (817m). Just before Vill I stopped to look on my maps and for good reason as there is an incredibly hard to find bicycle path of sorts here that makes it possible to cross the Sill river coming down from the Brennerpass/Passo del Brennero (1370m) and there is no other (obvious) place to cross the river between Innsbruck and Matrei, which is a bit strange (maybe one can get over at Sillwerk, but not sure). Given how smart this bicycle path would have been for cyclists wishing to escape the traffic at Innsbruck one would have thought it was a good and well signalled path, but even with detailed maps in hand it is mostly guesswork to get right here. The path is so bad near the river on the east side that it is actually dangerous to use for cyclists at one place at least and there is a short stretch of gravel and one earlier section is very steep asphalt road.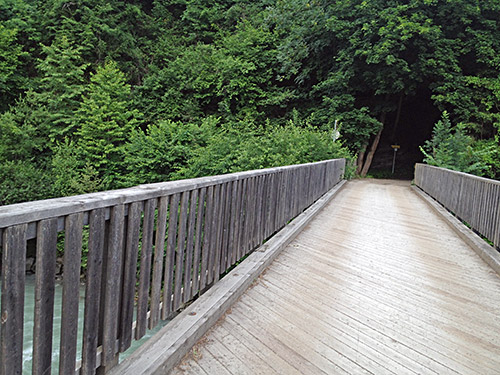 The wooden narrow bridge is nice to cross, but it seems like only a few local walkers may know about it at all and there were dogs yelling at me from the houses across the bridge. The road goes up and one has to go a little in the direction of Innsbruck and then go up on the main Brennerpass road and follow it up a few metres and then take off to Mutters (or Natters) to continue westward here. I did this passage somewhat quickly (had to consult my maps at least 4 times and still started out in the wrong direction at one place), but guess many will get lost trying to find the passage from Vill to Mutters. So only try this on your own risk (not many people here around to ask for the way).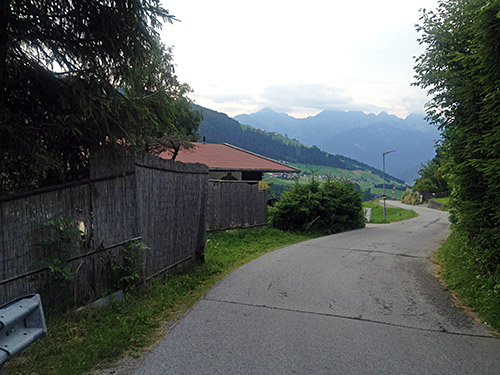 On the way over Mutters I knew the road ahead as I had been travelling here before in the other direction (2003). One climbs from the Sill bridge (639m) up via Mutters to ca. 917m at Lufens (pass-like place), then descends to Götzens (861m), then to Axams (874m) (from where a good climb goes up to Axamer Lizum (1580m)), then the road climbs to Grinzens (984m) and the road continues up to Tanneben/Tannrain (1117m).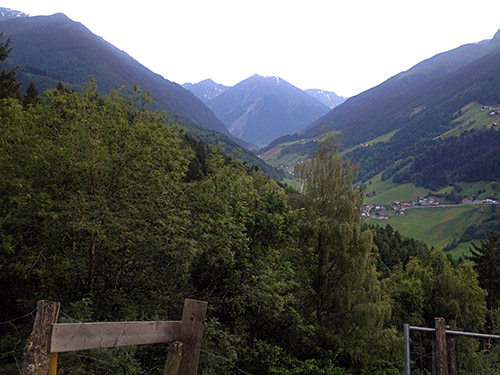 The last two photos here are from Tanneben/Tannrain, before the descent to Sellrain (936m) on the Kühtai pass road that it was too late to start out on this evening. There is an obvious hotel by the main road, but it looked rather closed and I tried to look around in Sellrain after some other lodging alternative, but did not see anything after a quick look around so returned to the hotel and saw someone enter it so guessed it might be open after all. The hotel is rather simple (Gasthof Neuwirt), but I got something to eat and a beer.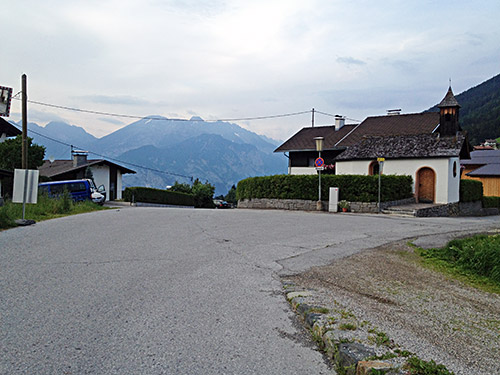 The photo above looks up the Kühtai valley and the last photo here is looking northwest. (A sign suggested the road down to Sellrain was closed or had problems, but that was not true.)