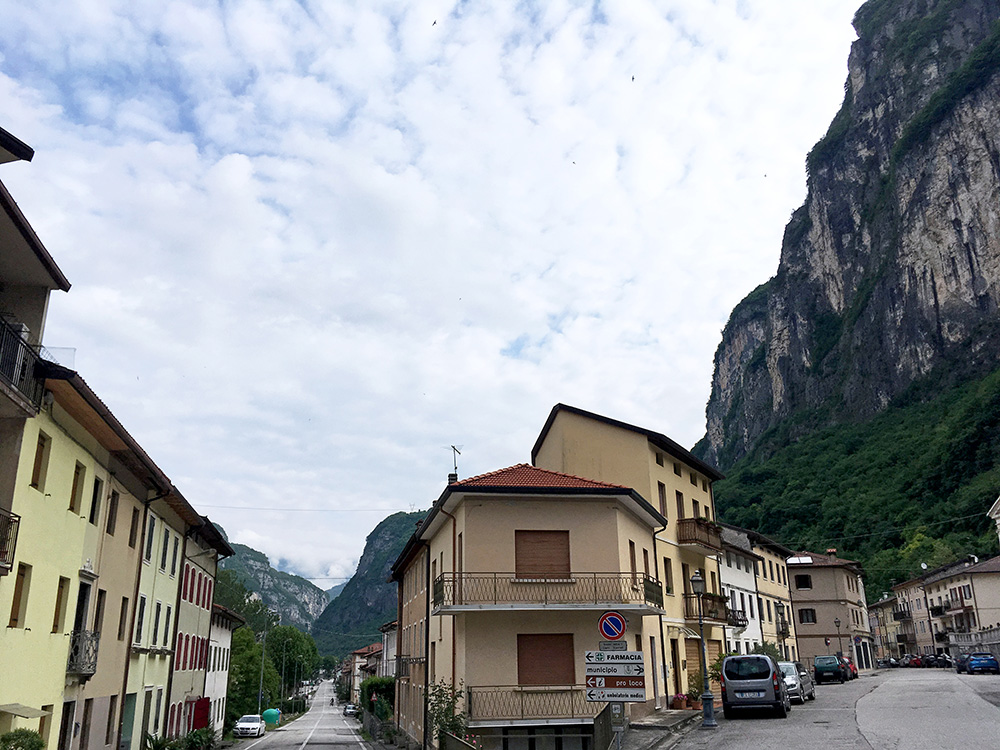 I left Cismon del Grappa (199m) in the morning and to only return back 10 days later. The weather was better now and I was hoping for less problems on this day. One reason I stayed in Cismon was to make sure I climbed up the Monte Grappa on the least know (so-called) 10th variant road for climbing this famous mountain. This road has been the least well-known climb and the road is still not all asphalted, but more was asphalted only some years ago. It is still a rather curious road with no obvious signs and you really have to know where to go. It is not easy to see on most maps and both the technical Veneto maps and Google maps are not quite correct here. It is also wooded and therefore difficult to follow on satellite images.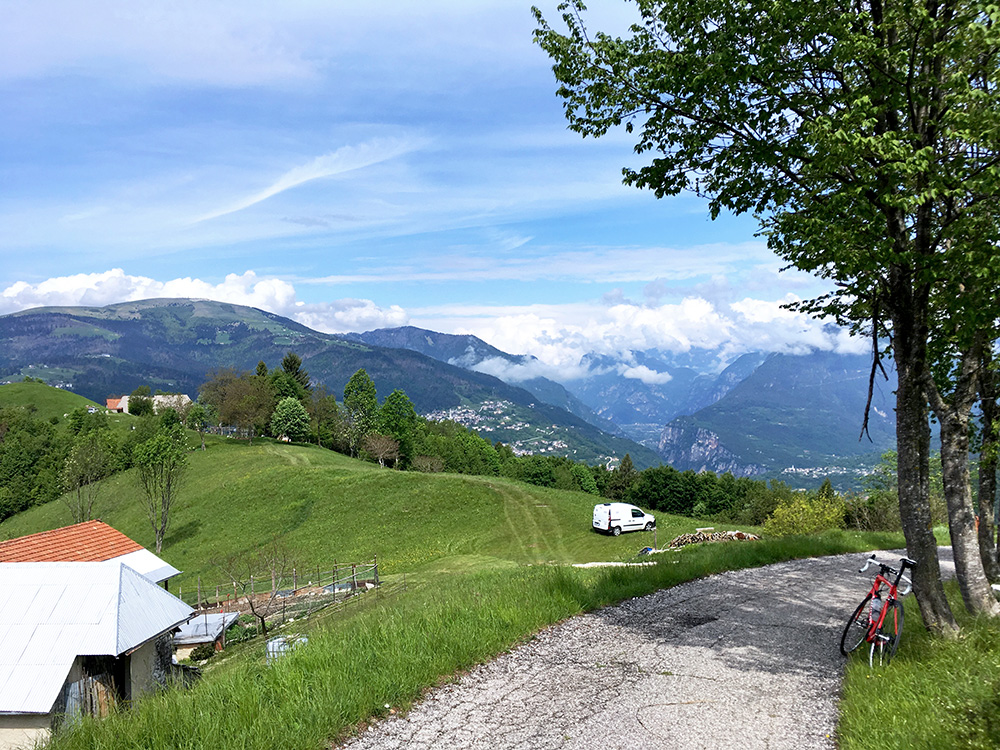 It is a fascinating road that vary in steepness quite abruptly and it is rather steep early on. However, problems started after merely 1 km in on the road at one of the first steep serpentines where I incredibly had yet another flat for no apparent reason (not a good road though). Even if I had bought patches and glue, I had real problems getting them to stick (worse than ever). I was nearly giving up, but this was in the morning and I just had to get this done – first after 45 mins I managed to fix it, but luckily the fix held up all day through places you would only walk on with good walking shoes. So I lost an hour at once. Several walkers went by in the morning, but no cyclists or cars on the road that I can remember (maybe one mountain biker), which gives a hint of the kind of road it is.
The photo here shows the first resting place after the steep climb up through the dense forest. Luckily the views were great and the weather kept improving.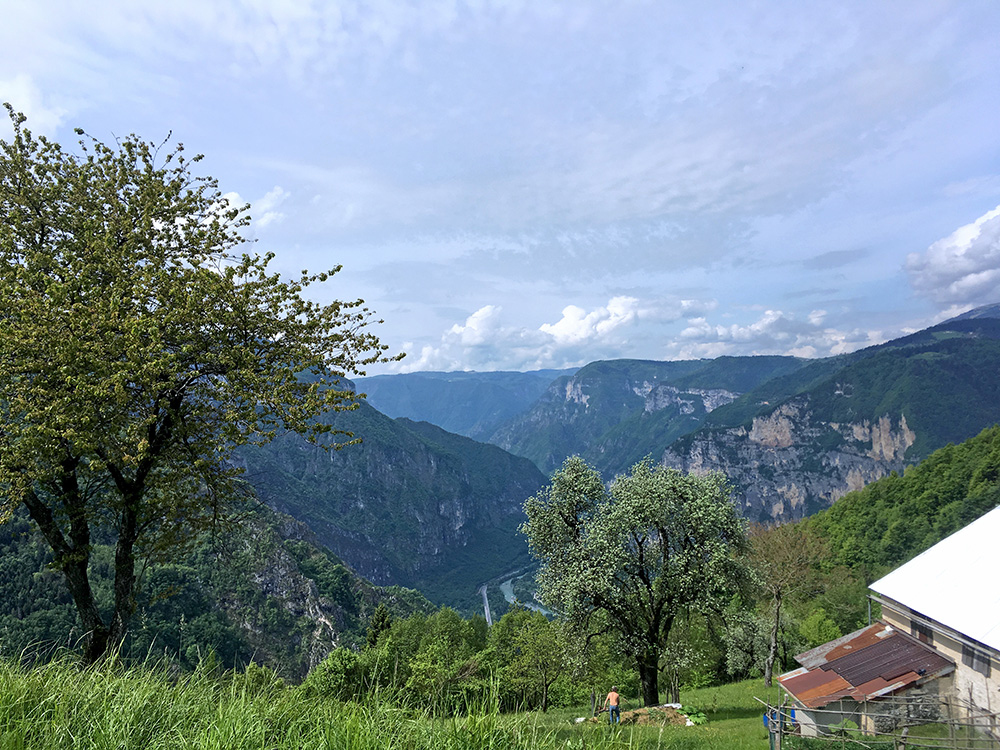 The road to Monte Grappa from Cismon was as challenging as I have heard, but the surface was also quite poor (and there were two gravel sections before reaching the road coming up from the north in Caupo). Most of the roads to Monte Grappa are much worse now than they were in 2010 on my first Monte Grappa challenge event when I could go as fast I wanted on all the roads (but with other people also going fast one tend to think a bit less about the surface).
Even if I knew there were houses up here I was almost surprised to see people living here as it feels difficult to access. Nice views down in the direction of Bassano too here.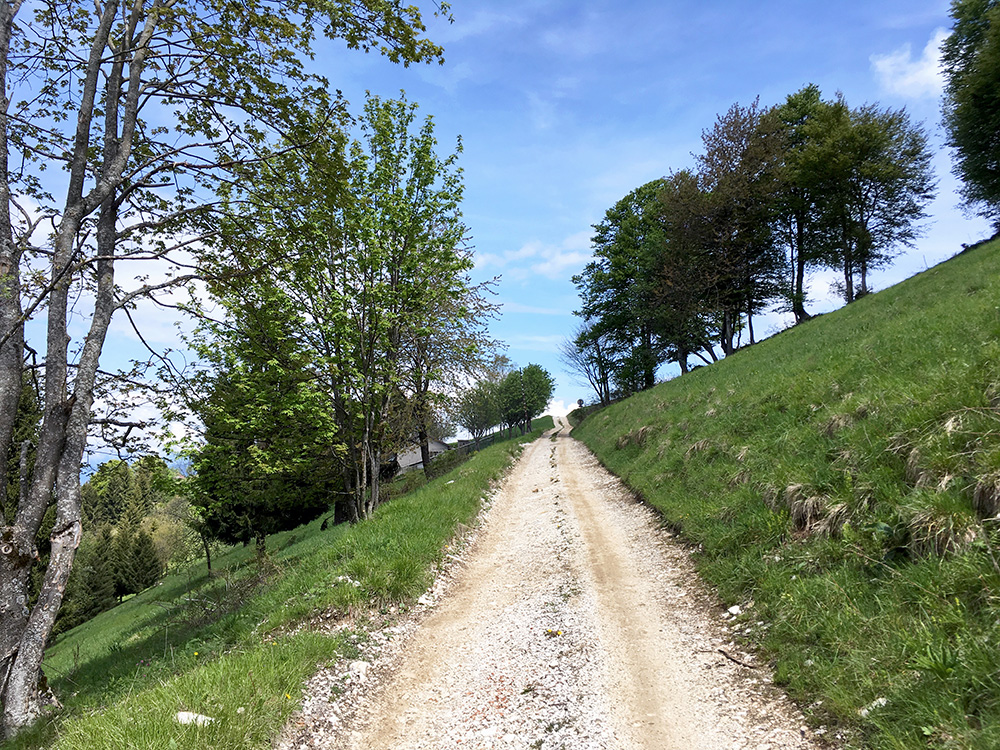 After a turn-off where I had decided one should go up (one could possibly continue straight ahead up to Finestron and also have asphalt, but the connection road up from there seems less good (or longer on gravel) than going up here to Portella (no names or signs as I can remember). It was steep and nice up and eventually I came to this ramp of dirt road where I decided to not take a chance and walked up instead, but possibly it would have been fine cycling up and would have tried it with a new reserve tube. The asphalt returns just at the end of the road seen here.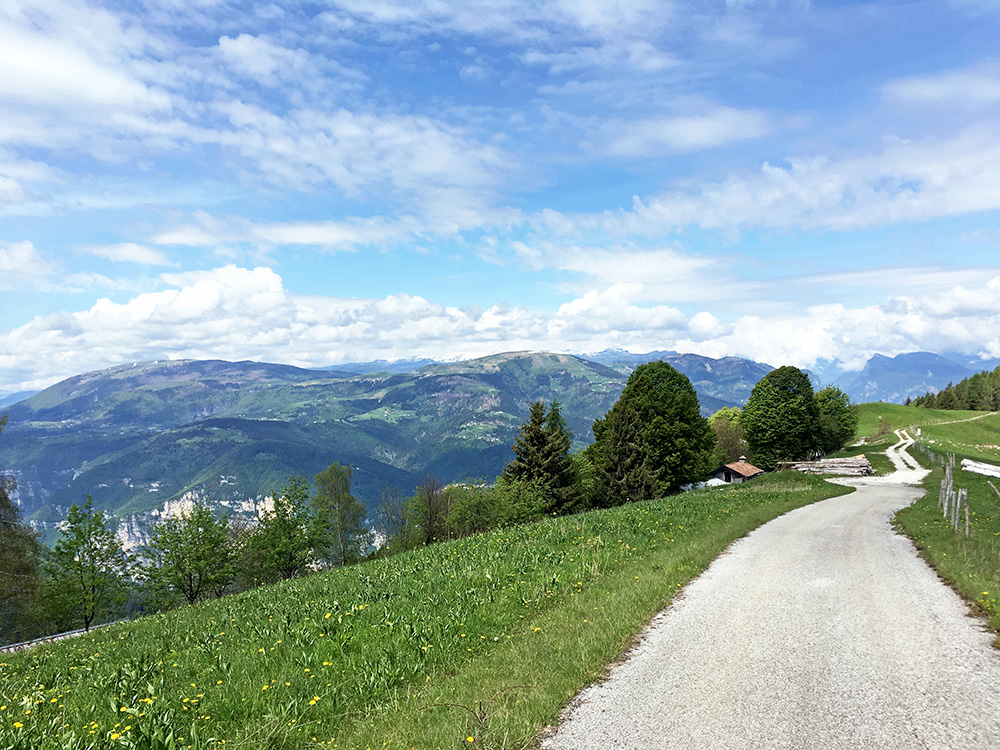 This photo should be of Portella (1294m) and this or the next junction would likely be possible to regard as a minor pass on the way up (might be the reason for the Portella name). The asphalt only lasted for less than a kilometre before gravel returned until the junction with the Caupo road at Menaor (1381m) (also arguably a pass). Here I cycled even if the road was not better than in the photo above, but it was flat (even slightly down) and did not want to walk on the stony road (about a kilometre).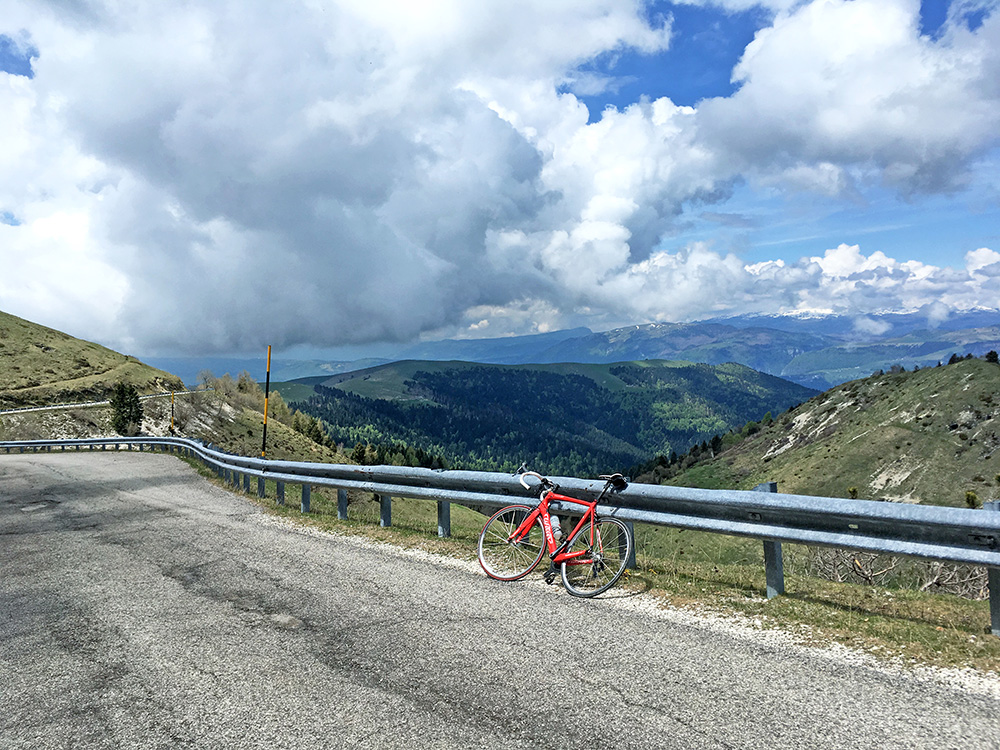 Felt tired when I got on the ordinary Monte Grappa road and wondered if I should really do the tour/retour to the Monte Grappa on this day now that I had been losing time already, but decided to stick to my plan here and maybe leave out the Monte Tomatico climb later on instead, which I also did.
Here I had passed over the Forcelletto (1391m) (one of few commonly recognised passes on Monte Grappa) and I would get back there again later to take a steep road down from there.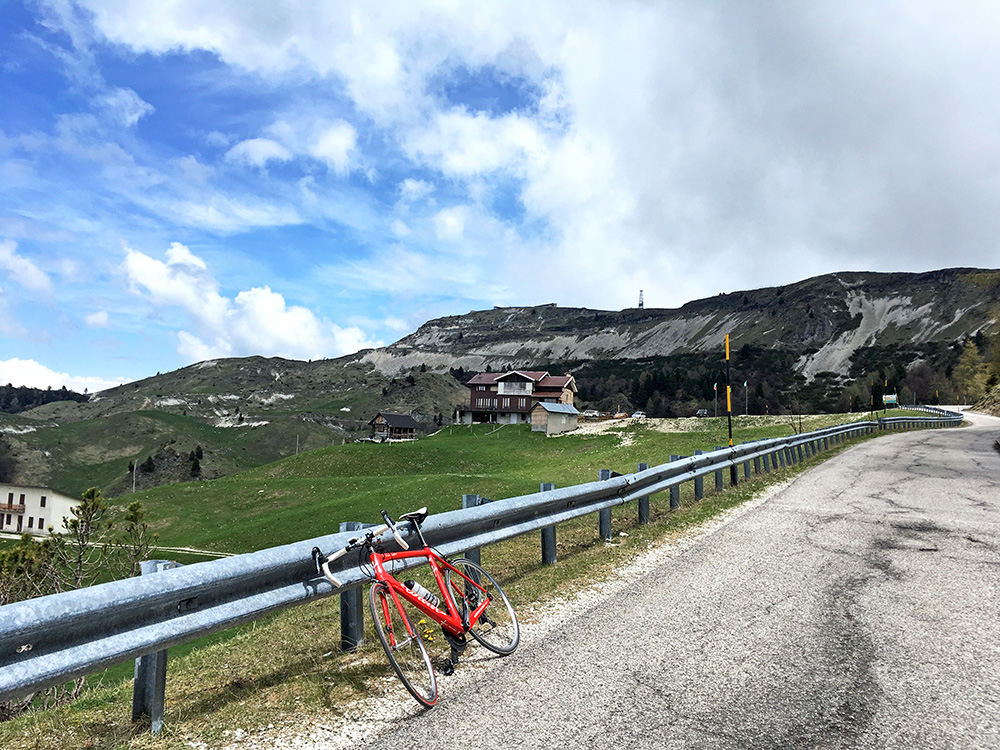 One sees the northern peak of Monte Grappa here (looking back – the road descends a little here), but one has to circle around the mountain in order to get up there on asphalt, so on I went to the rifugio at Monte Grappa.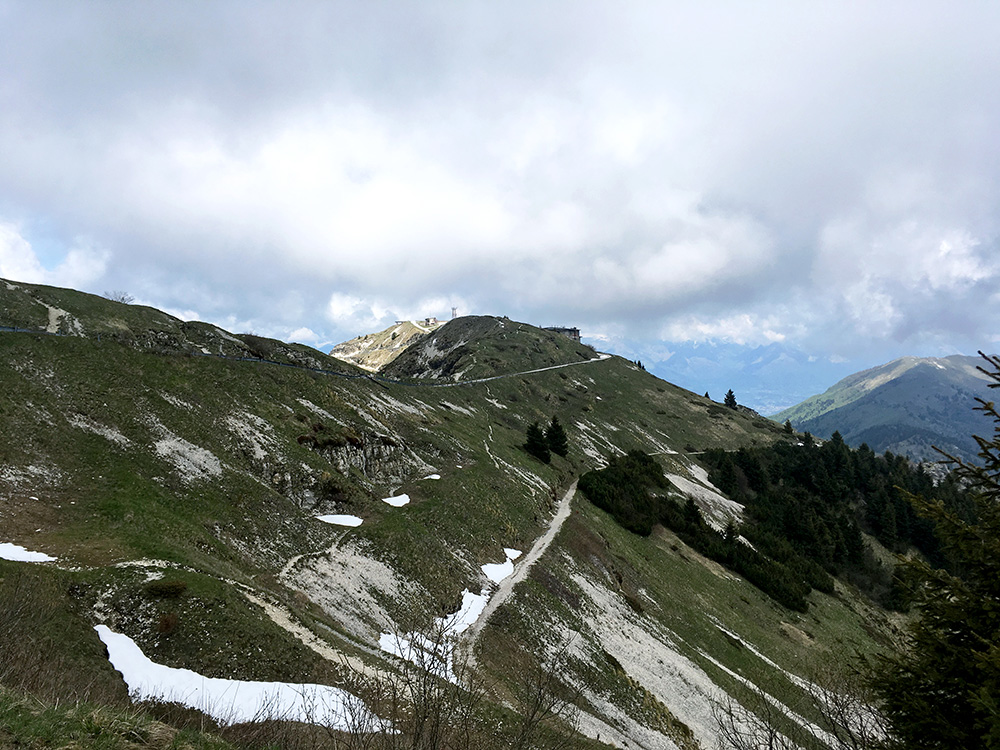 Finally arrived at the Monte Grappa rifugio and looking at the same peak from the other side as in the photo above. To the left of me there is the big war monument on the peak normally meant as Monte Grappa, which I visited on my last visit here before, but now I wanted to see that second peak too and it should maybe be slightly higher possibly.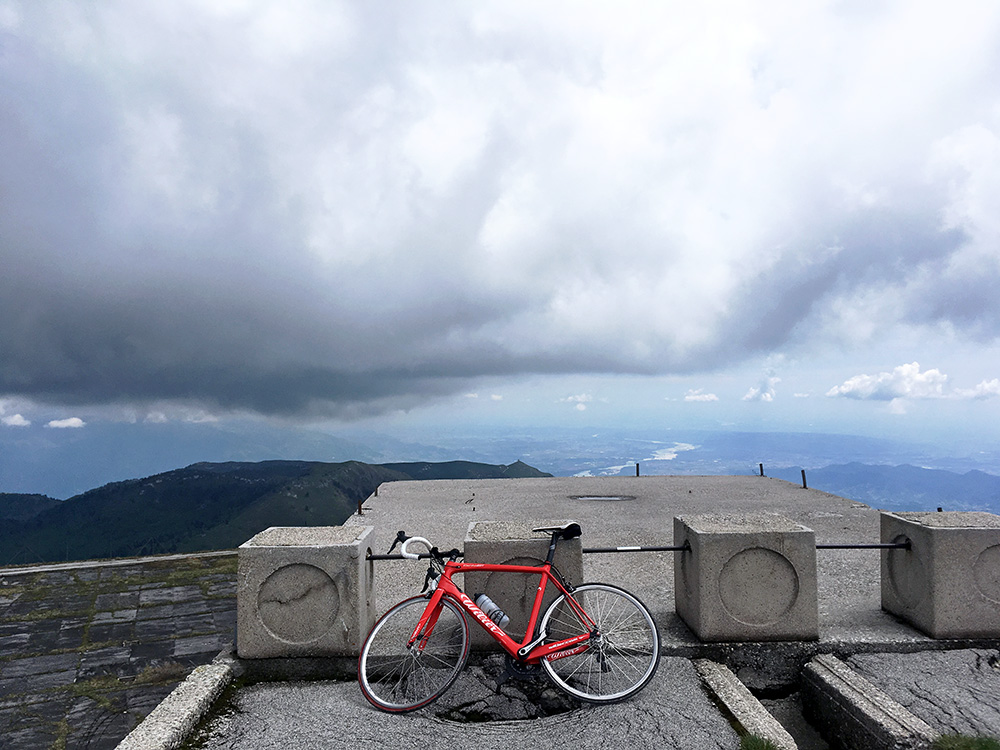 The road is practically all surfaced (a little damaged and with a little snow on my visit), but rideable to the top (which you cannot quite do to the first peak with a road bike). Here the first views down in the direction of Venice.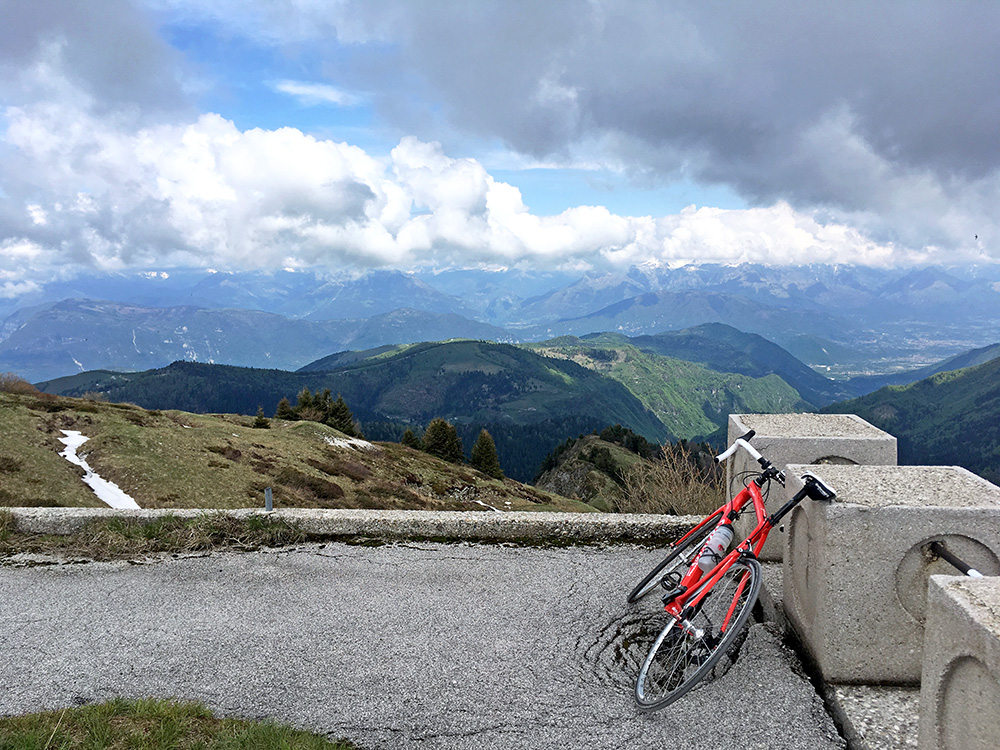 Here I am looking up north toward Feltre etc. and were I partly came from (to the left) and were I am heading (the valley to the right). The Caupo road follows the ridge in the middle to the end and might be the easiest way up to Monte Grappa, but it is also long and with some ups and downs.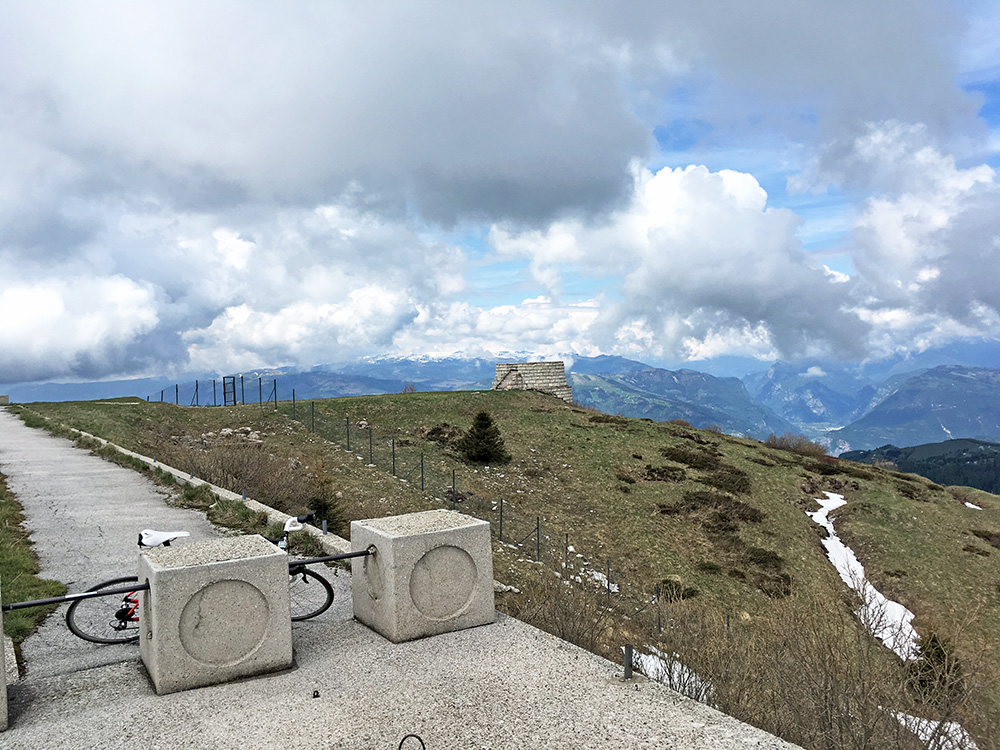 The view up the Valsugana and the direction I came from.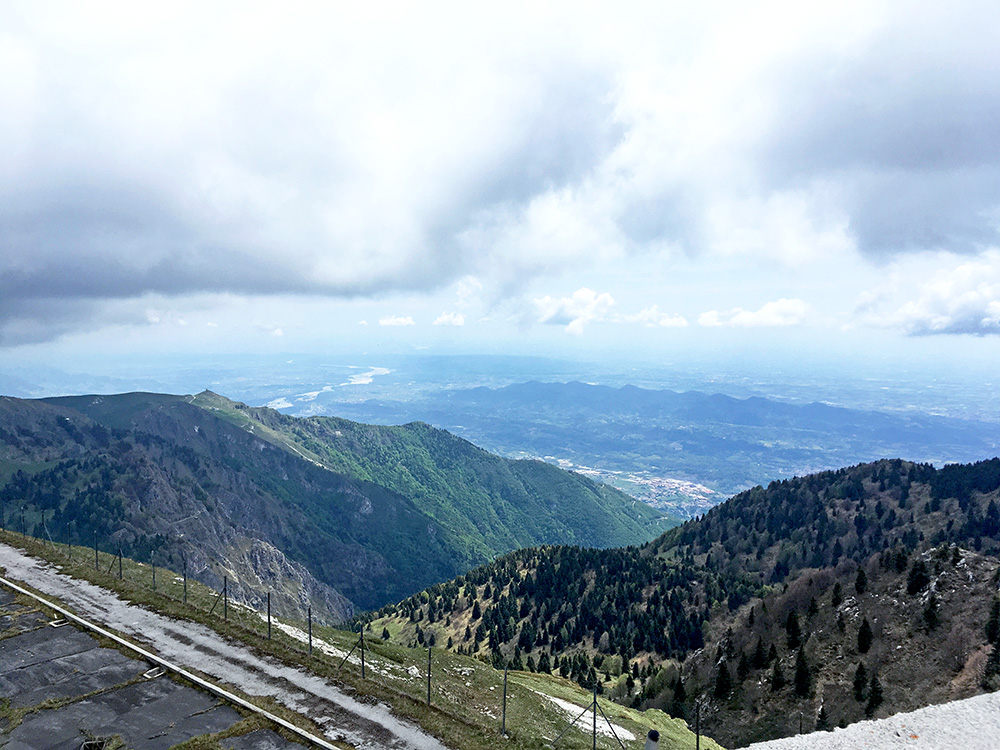 There road to Monte Tomba and the start for half of the 10 climbs goes below here between the mountains, but not at all visible in this photo. See the roads on my presentation here: Monte Grappa (I am showing 6 variants up here, but usually only 5 of them are counted and it might be a one too many as well).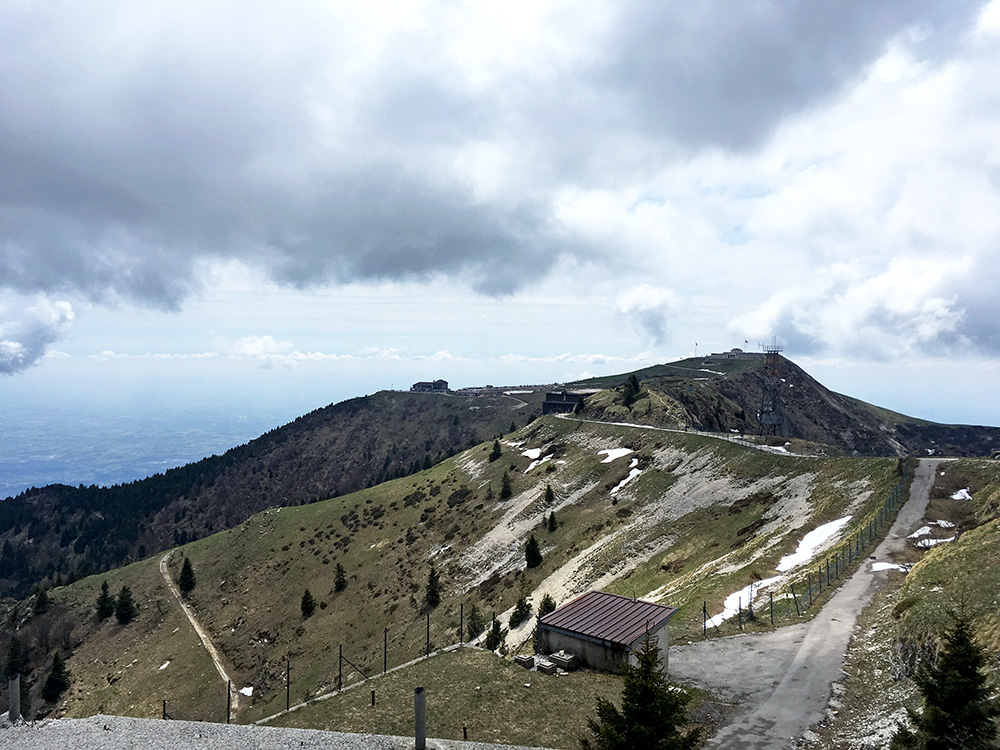 In this photo you see the more popular first peak and rifugio below it and the road up here.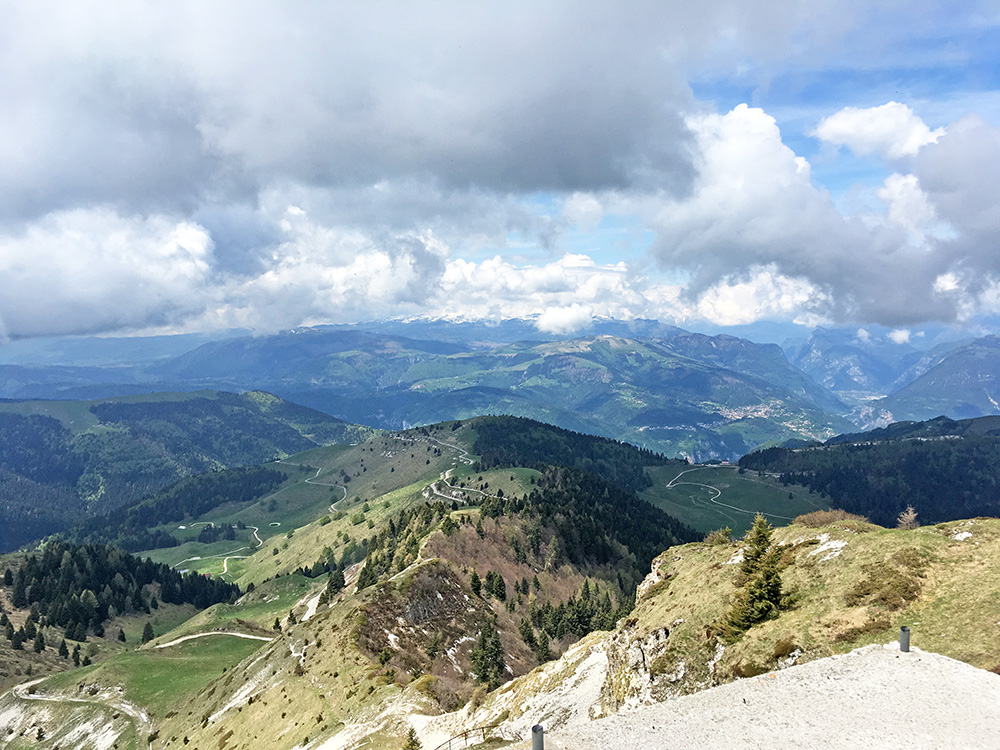 The roads below here is the one I came cycling up and the house in the middle is the restaurant at Forceletto and the road going toward me to the right is the one I would take later to Seren del Grappa.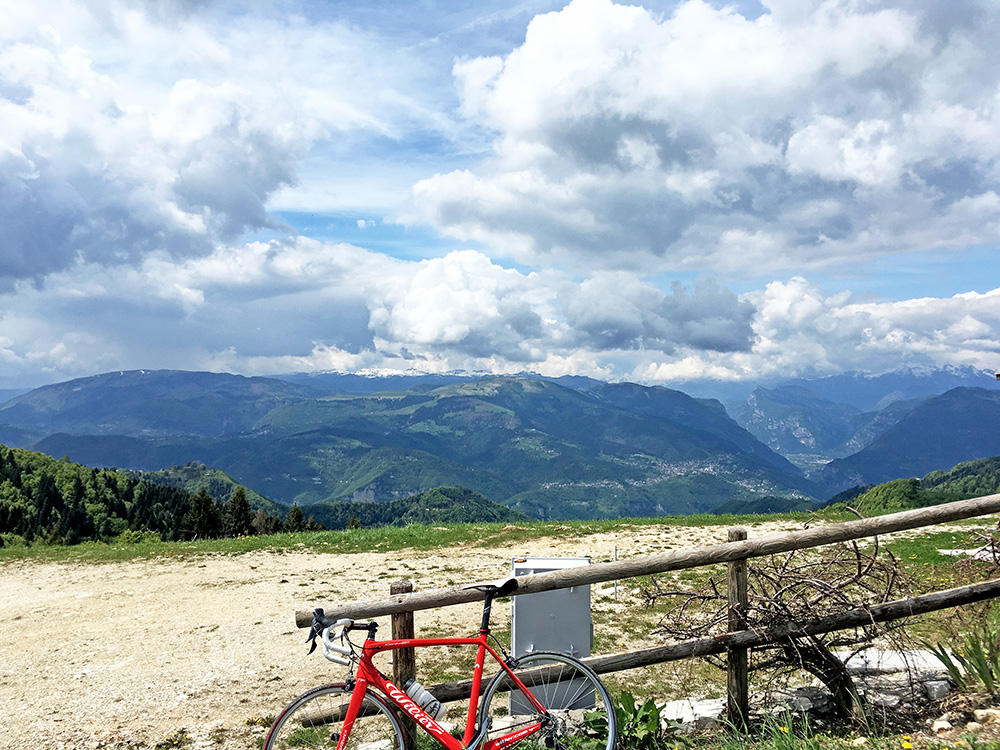 Another photo on the way back again also looking west.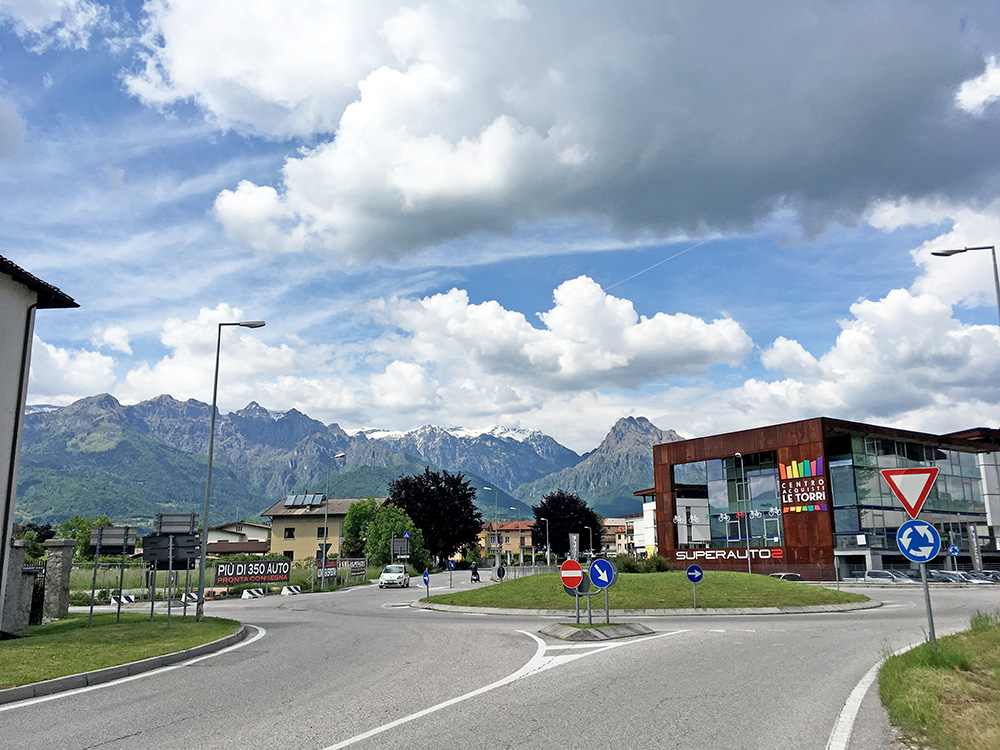 After a coffee stop in Seren del Grappa I went down for an ice cream in Feltre (photo).
From Feltre (266m) it was easy going to Gus (306m).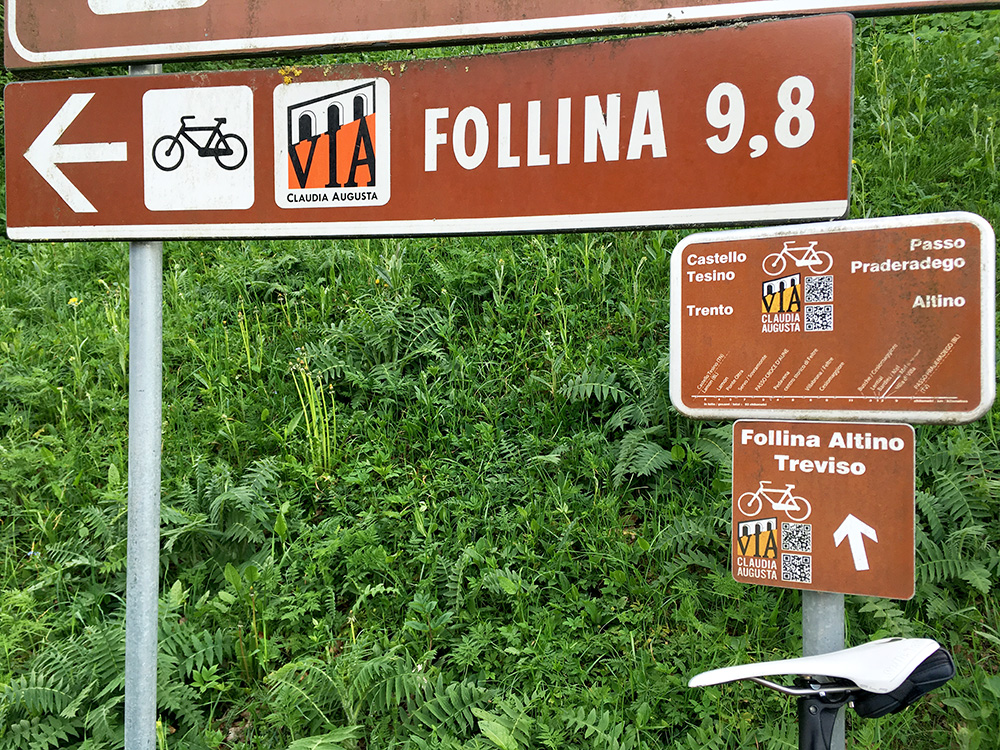 From Gus I climbed a nice road to Passo di Praderadego (914m), which is a bit difficult with a descent and then quite steeply up to the pass. Remembered that I felt like cheating when I climbed this nice pass before from the other side, so I was now making good on this. It was not so bad though, but enough to get quite tired with ramps over 20%.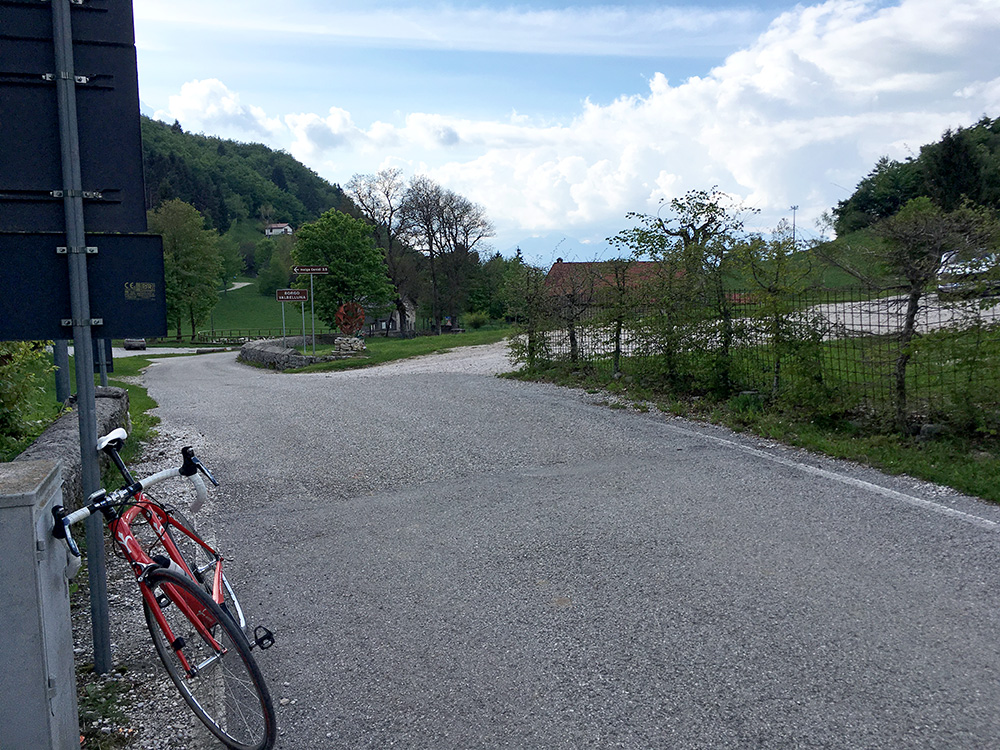 Looking back, but better views a little further down.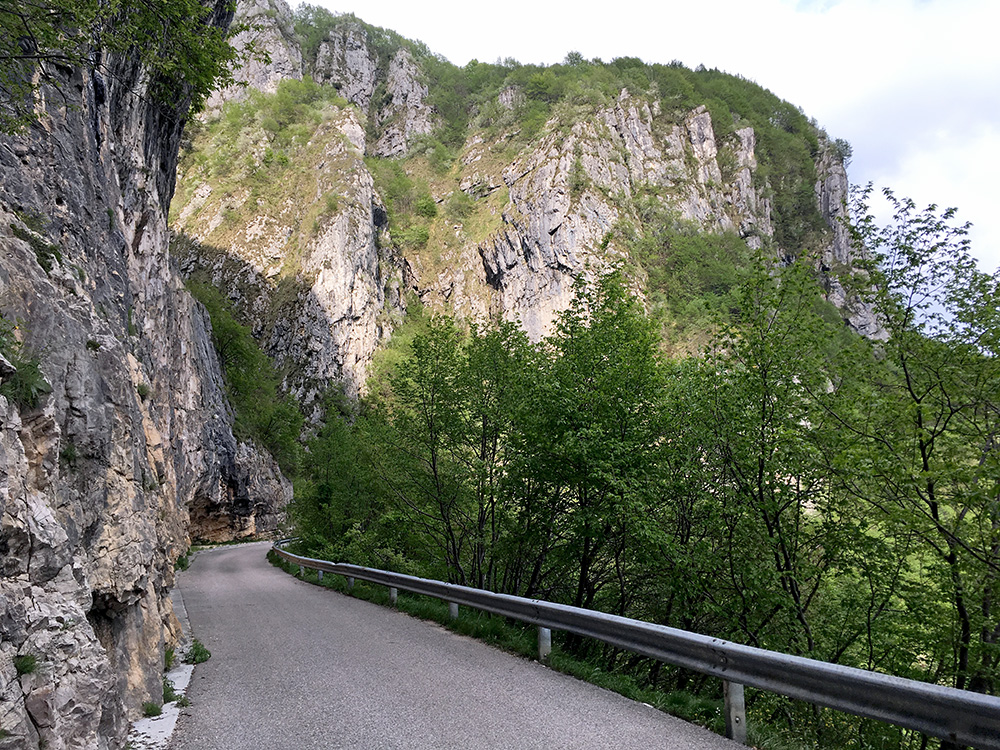 The south side of the pass is the best thing though. this stretch of the road was also asphalted soon after I visited it the previous time so now it makes a perfect loop road with the famous Passo di San Boldo (704m) with all it tunnels in the serpentine bends.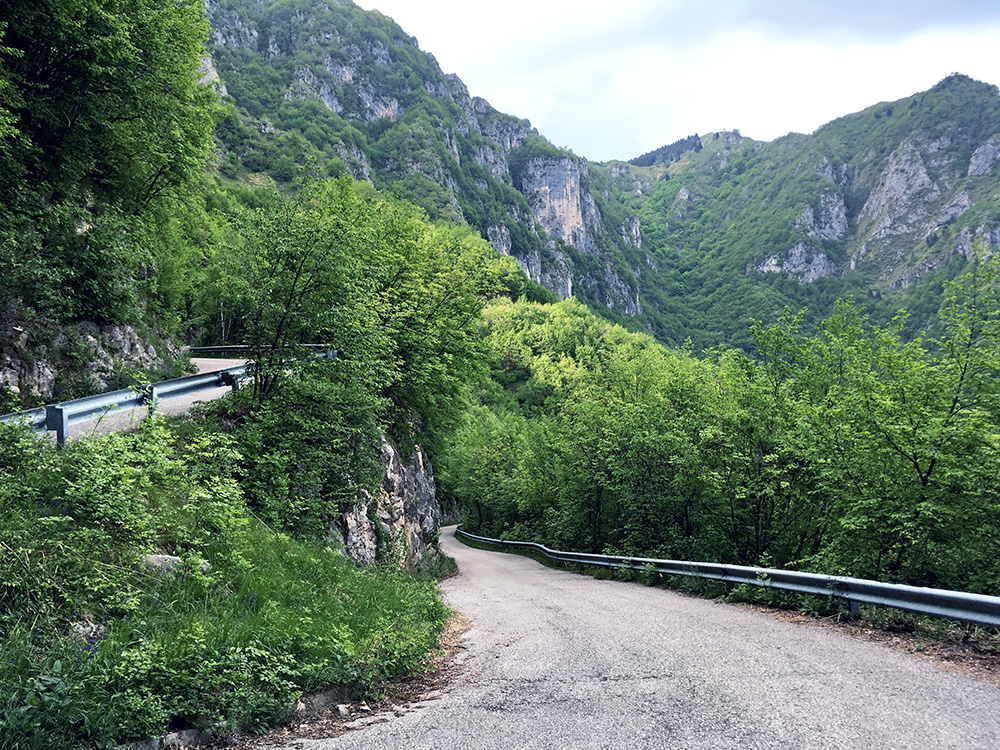 Nice serpentines up here, but the surface was slightly rough now (this stretch was asphalted earlier). Time was running out on me and I just kept going to Vittorio Veneto (136m) and to decide where to go from there. I continued further on and started on the climb to Passo la Crosetta/La Crosute (1119m) and Monte Pizzoc (1557m) as planned, but realised from start that I had to find somewhere to stop before the pass and hoped to find a place in a village early on th climb.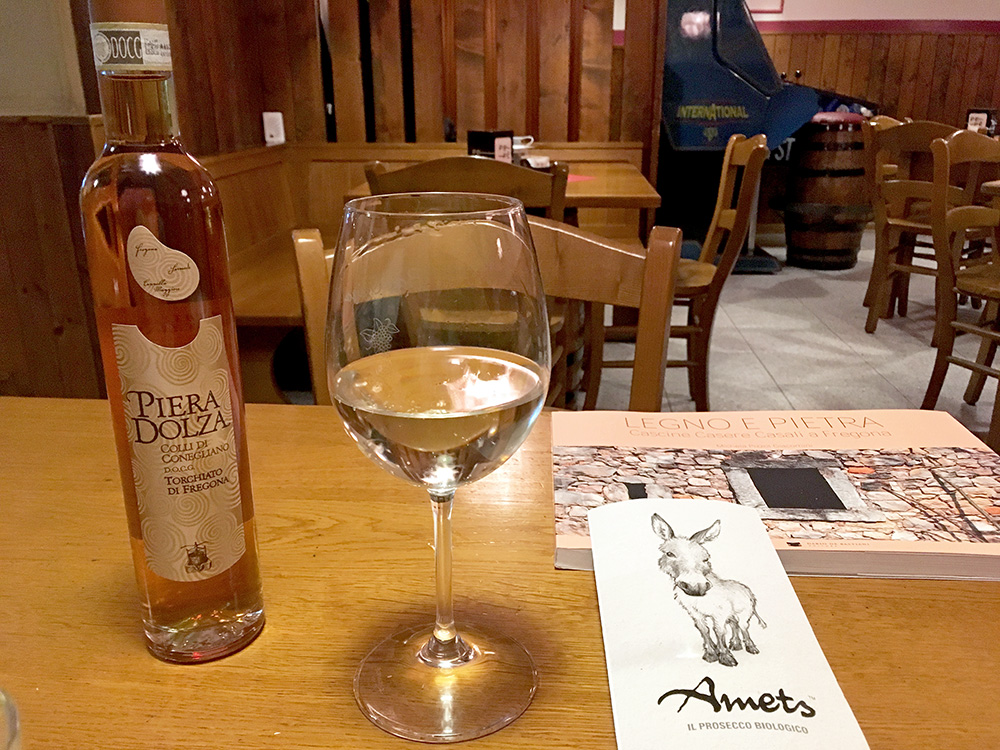 I stopped in Osigo (345m) which I reached on a straight little road from below that I had measure would be the shortest way up. I asked at the bar in the centre and it turned out there was a bed&breakfast (Colodi) in the village and they helped me find it (not that easy). The man had a room and it was all fine. I went back down to the restaurant to have dinner and got to try a local grappa (photo). The man at the bed&breakfast were working for another grappa producer and showed the facilities to me the next day, where I also got to taste his grappa.
In the restaurant/bar another guy approached me and it turned out he spoke Swedish and had moved to a place I cycle by on some of my local (long) tours. So here I go to meet someone living out in rural Sweden were few but me would know where he lived when he described it (still did not learn exactly where). Nice gut and we talked for some time before it was bedtime.