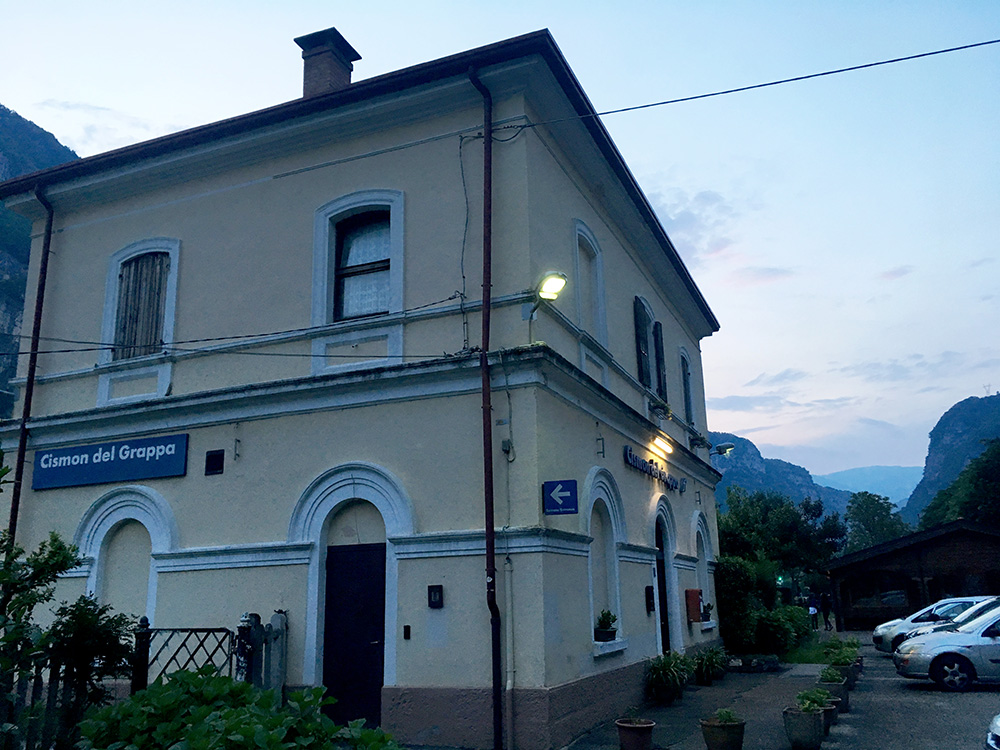 The mountain cycling this year started in the village of Cismon del Grappa just north of Bassano del Grappa, where I arrived by train (& bus) from the Venice airport. Early on I realised I had to amend my plan and leave out some higher climbs in the Dolomites as there were still by the end of May a lot of snow in the mountains this year (even more than last year, when it was also more than usual).
Cismon del Grappa proved to be a very nice place to start and end this little tour. The hotel was good, but nothing fancy, and all was handled properly there even though they hardly understood a word in English (and my Italian is as poor as ever). It is the most nicely located village in the Valsugana as far as I could tell (and nicer than staying in Bassano or Trento at the ends).
The results were not so impressive, in part due to the weather, but also due to the choice of roads and some flats early on. 1222 km/30731hm (111.1 km/day & 2794hm/day for the 11 days of cycling).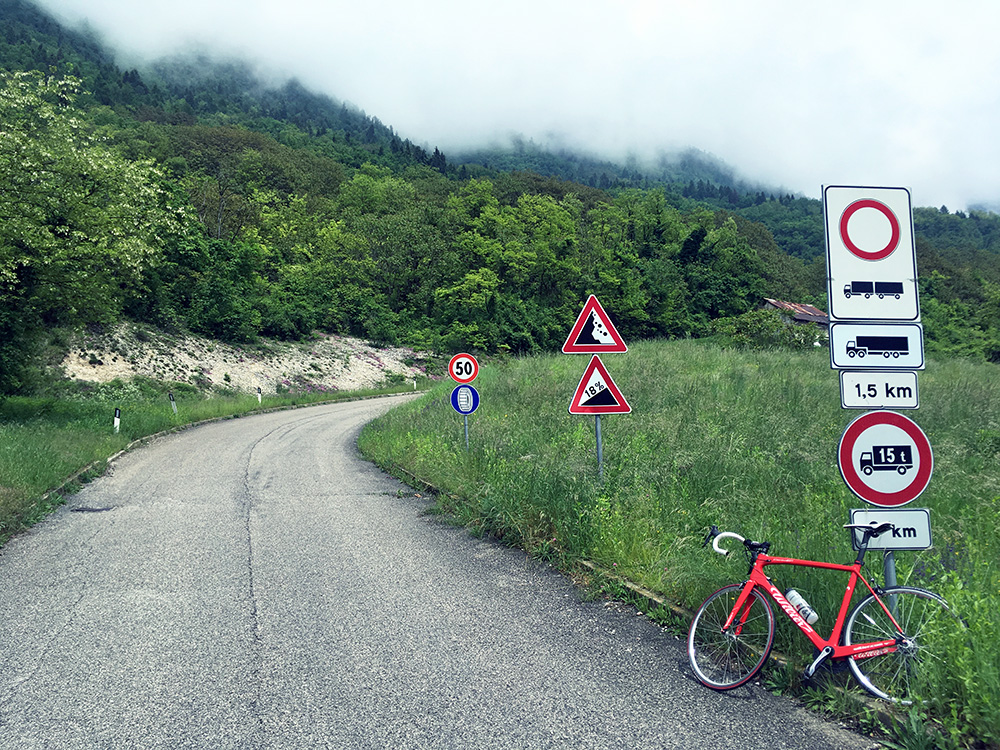 A difficult day, but not so much thanks to the climbs, but having no less than three flats and after the second, I had to get a long ride to a train station to get to the next village to buy more tubes (luckily I bought two + a patch kit (or if I found it back at the hotel later on, but it was the only thing I had forgotten to bring with me this time)). All flats on my perfectly new rear tyre (Michelin Pro Race 4, but maybe it could have been a bit old).
I only got away sometime before midday as it was raining in the morning, so I took my time. I started by trying to take the bike path up the Valsugana, but got wrong at once and found myself cycling through big water holes on a gravel road until I was back on the main road (and never visited a bike path again in the area). Here I am at the bottom of the first climb, well there are some easy serpentines up here from Primolano (216m). This is the road to Cima Campo climbed in Giro d'Italia only shortly after my visit and I was not even aware of it being part of the giro this year.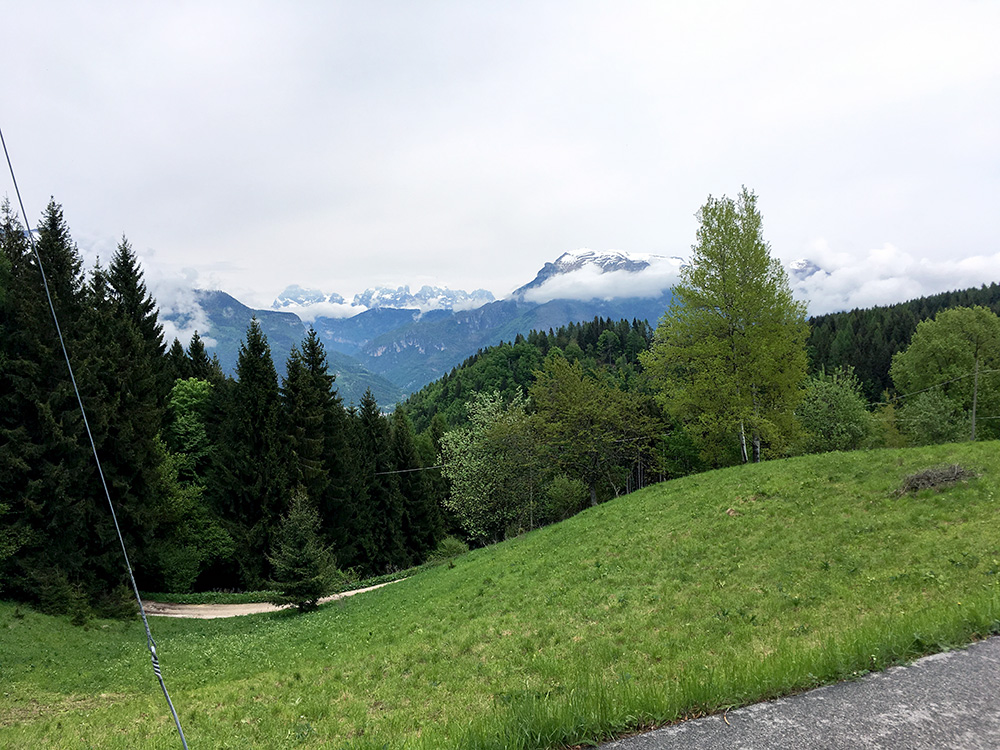 It looked ominous with the clouds above, but luckily I got up above them at Col Perer (which I am leaving just here in the photo).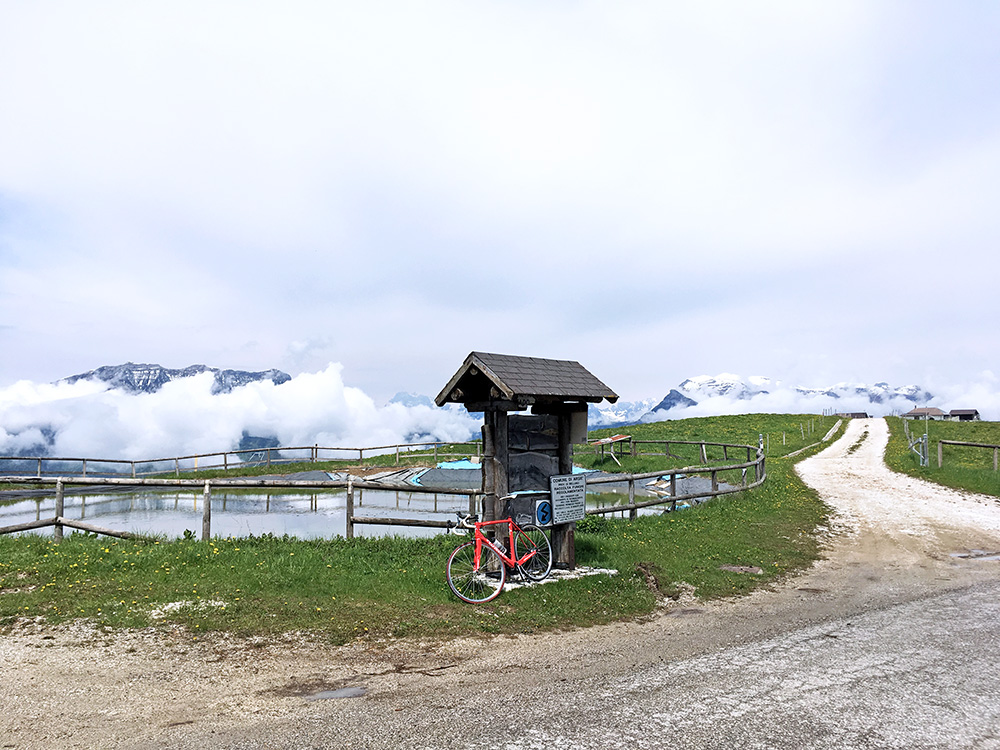 This place marks the end of the steep climb and from here it is an easy nice ridge road ahead.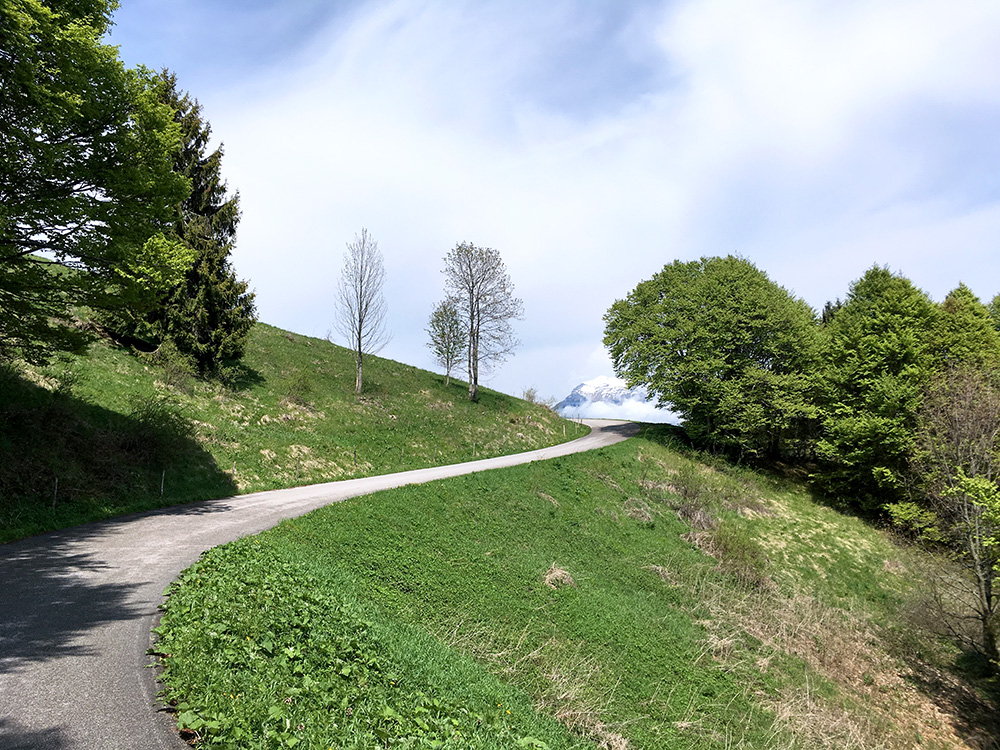 Luckily some sun now appeared as it would otherwise have been a bit cold here. The views also improved a lot!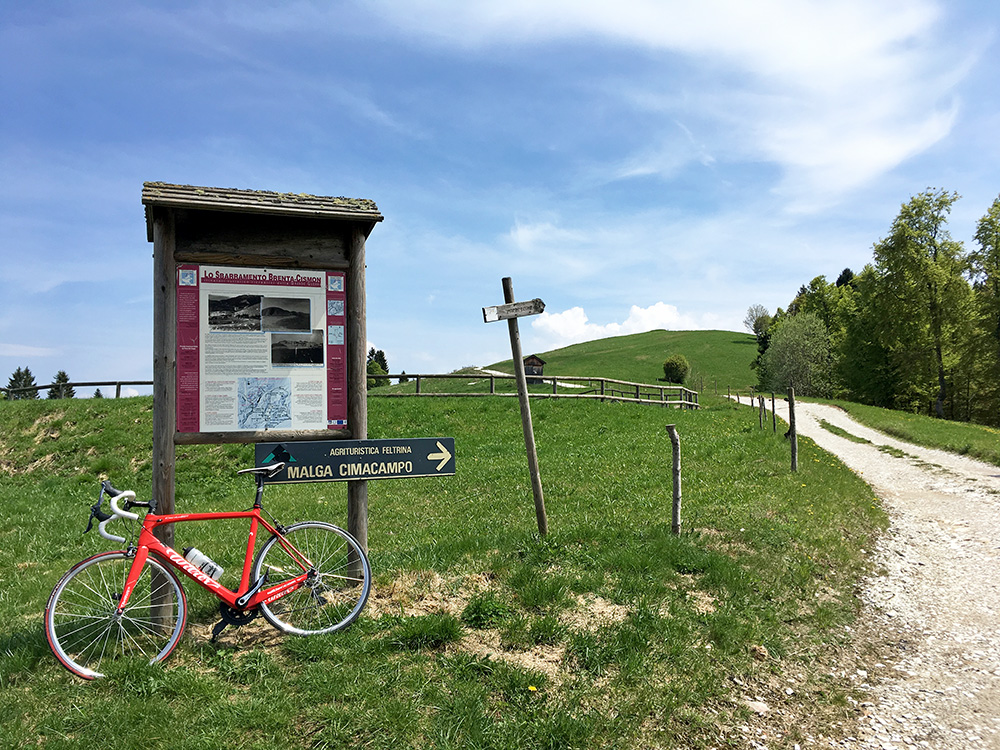 At Cima Campo (1432m) at last. The gravel road goes to the top of the mountain, but it was not looking very good for a road bike.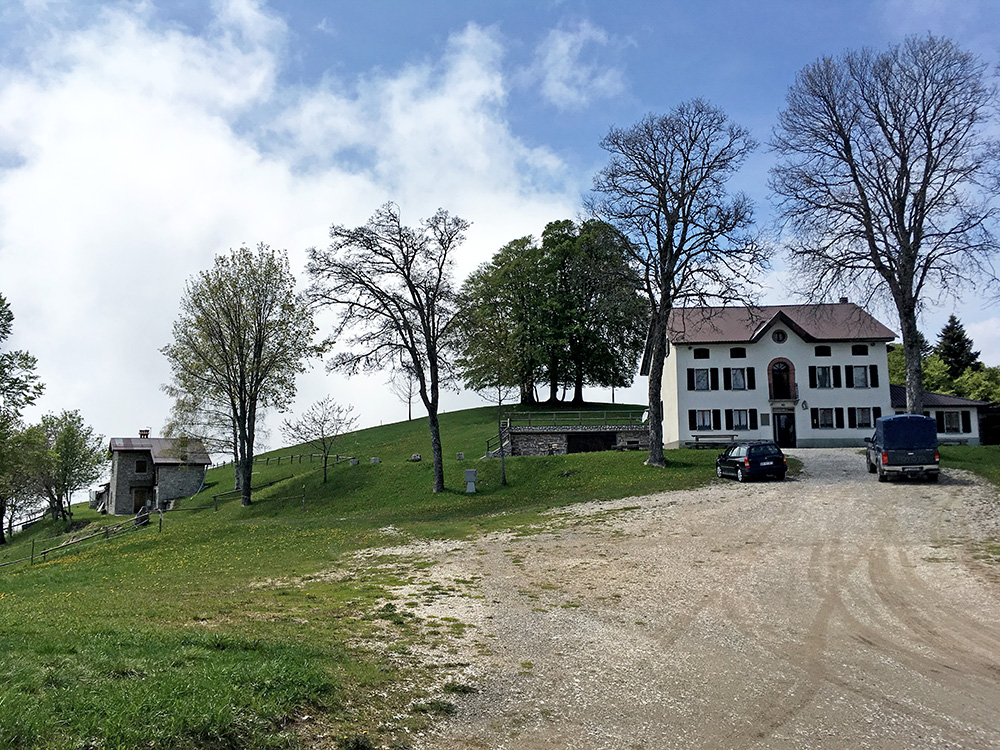 There is a nice-looking little restaurant here.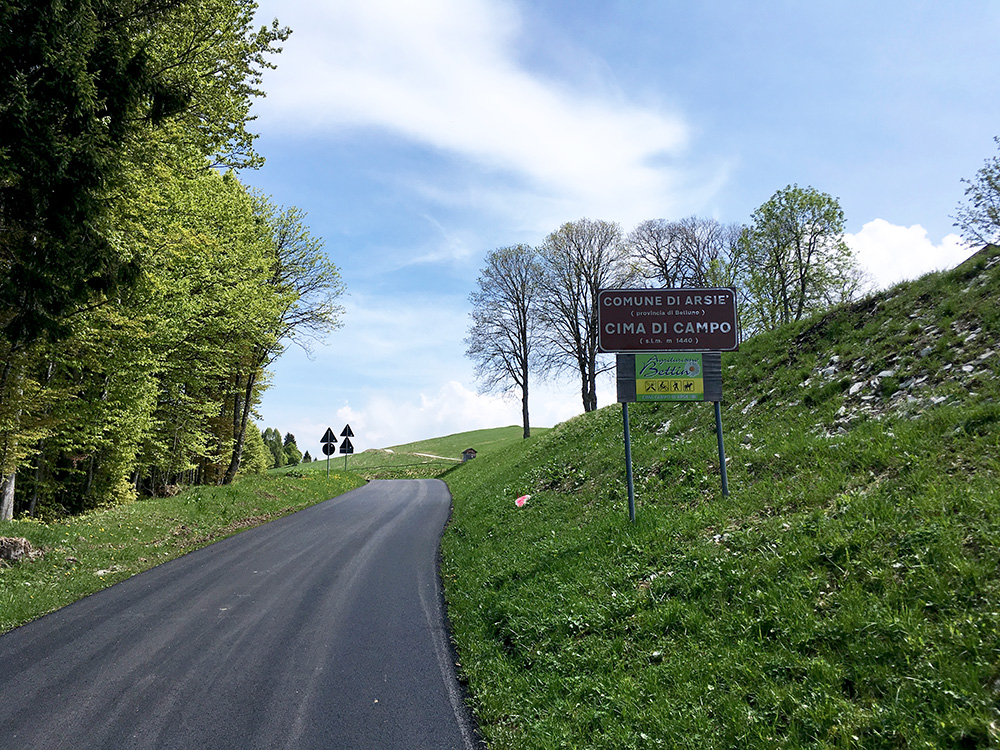 To my surprise the road was newly asphalted on the other side and I was feeling very happy.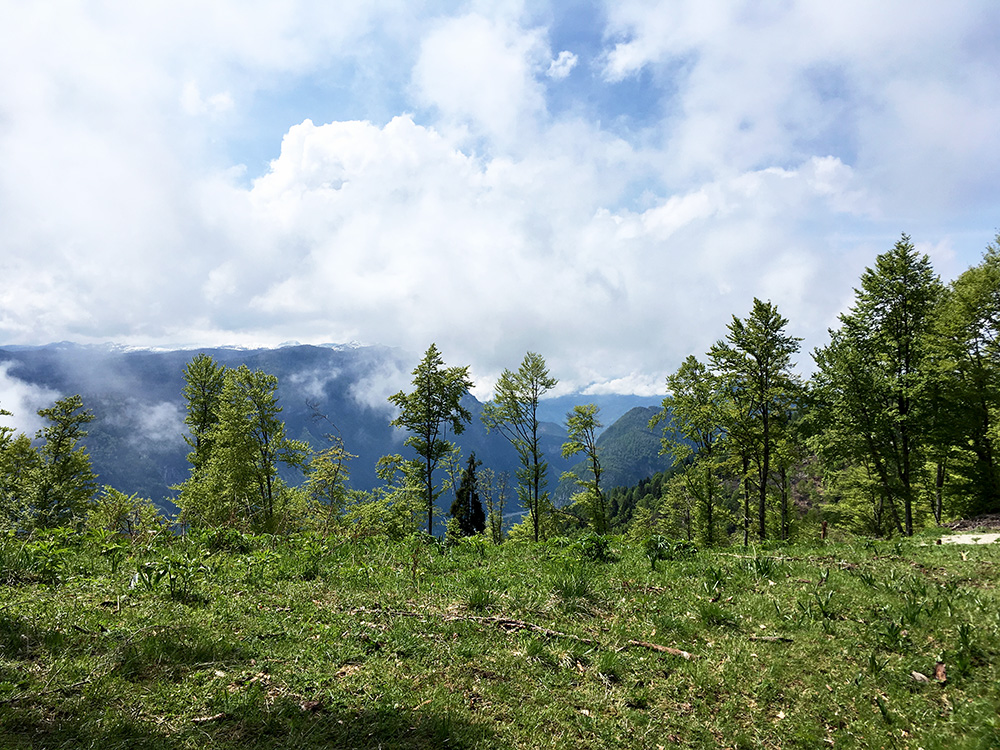 Just as I stopped for a photo of one of the few views across the ridge to Valsugana (where I came up from) I noticed I had a flat. There were some sharp small stones on the new asphalt.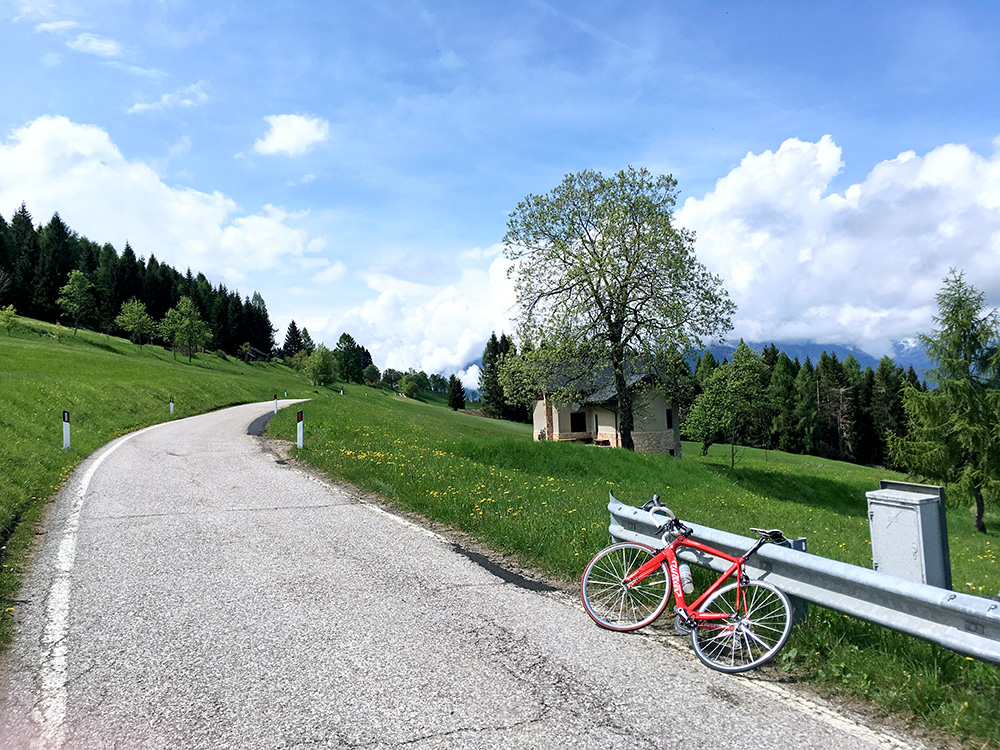 I pumped up the tyre and wheeled down to a better place to stop for fixing the flat. As I sat down carefully changing the tyre I saw the first other cyclist on this road passing by and he asked if I needed help, but I did not need any here. Lovely weather now and I was soon off again. However, I only got a few kilometres down the road.
Just as I passed by Celada (1164m) (where I have been before coming up from Arina via Passo della Baia on a lovely road, but the end is gravel) I had no time to avoid some more bigger stones on the road and they were super sharp and I had a very obvious flat again. Now I had no more tyre with me and I had already noticed there was not any patches and glue in my saddle bag this time, so walked back to Celada like 200m and wondered what to do, but soon decided to try and get a hike down to the next village. I very quickly got a hike with a nice man to Castello Tesino, but after conflicting ideas from locals, we eventually realised I would get no help there and the next place was Strigno. We tried there, but also without any luck and he should not really go that far, but thankfully drove me down to the train station below.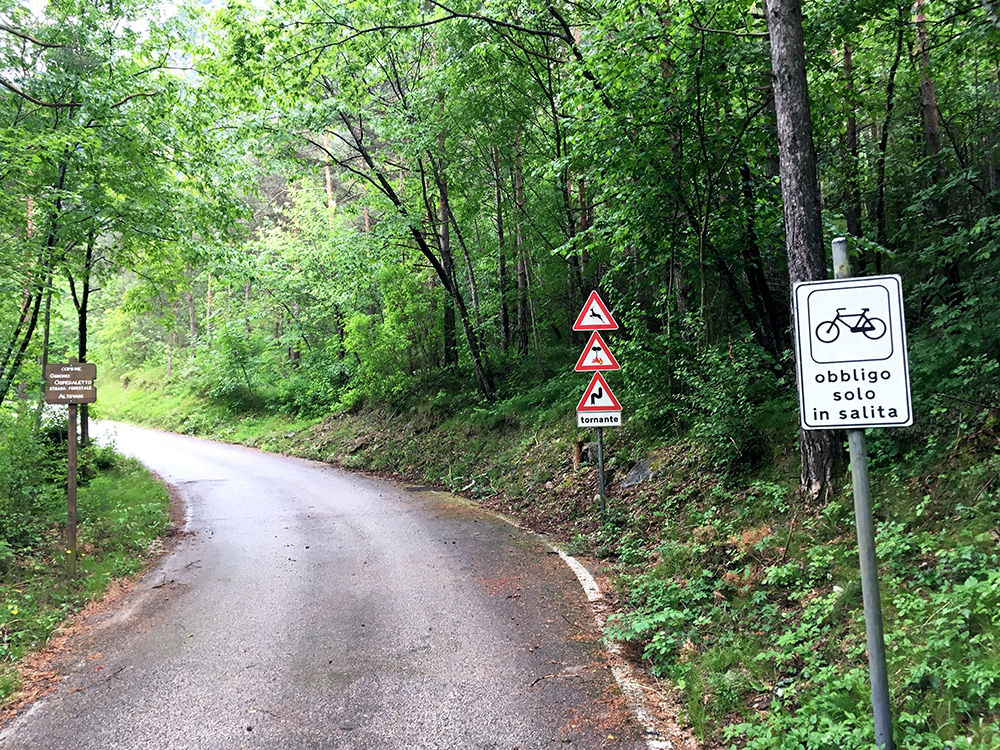 I was not going to go back to Cismon now and anyway there would be no help to get there either, so I took the train to Borgo Valsugana (two stations I think, with a not particularly nice ticket checking guy, but had bought my tickets, but he complained about where I put my bike as if it mattered with a mostly empty train). Anyway I escaped some more rain coming now. I found the two bike shops in the village and the one on the south side of the river is the only relevant one.
I was finally on my way again and now it was like 17 already with only one climb done, but I was hoping for the best and really had wanted to go up the Barricata climb that I have only ever descended before. To descend this road is forbidden as the sign here says and there are good reasons for it here as I nearly smashed on a rock wall even when going down in 10 km/h before. The road came across a lot less dangerous on the way up though.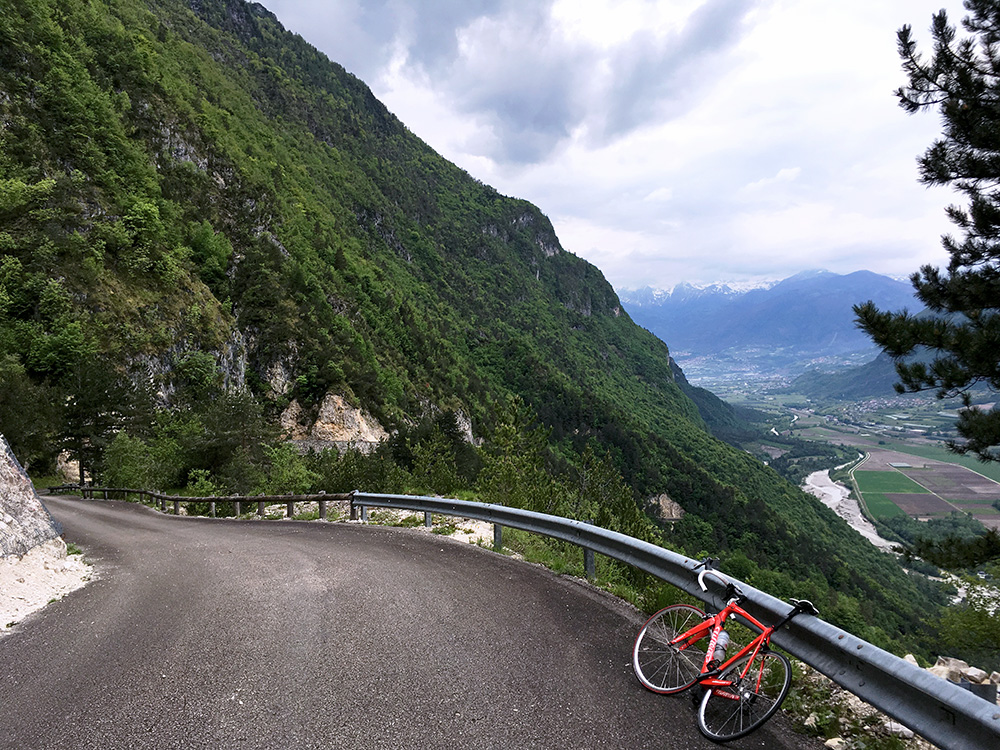 There were no signs indicating that the road might not be passable at all, but I was in fact very well aware of the fact that the area had been hit badly by storms late in the year before and that there had been lots of efforts to clear many roads, so I was expecting possible surprises.
Not as steep as I had remembered the road (around 9% a lot of the time), but the views were as good as I remembered!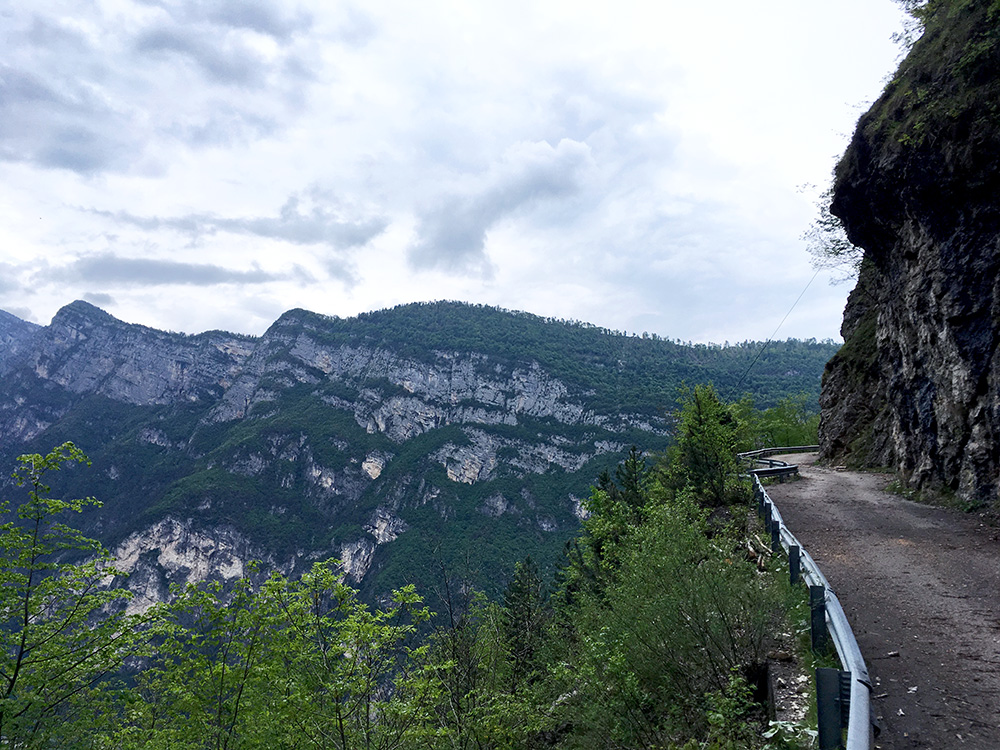 The road started to look a bit abandoned after a while and while it was nice not having to worry about traffic, I got increasingly worried and was not in the mood of turning around and could not be too much delayed either now.
A very nice road though.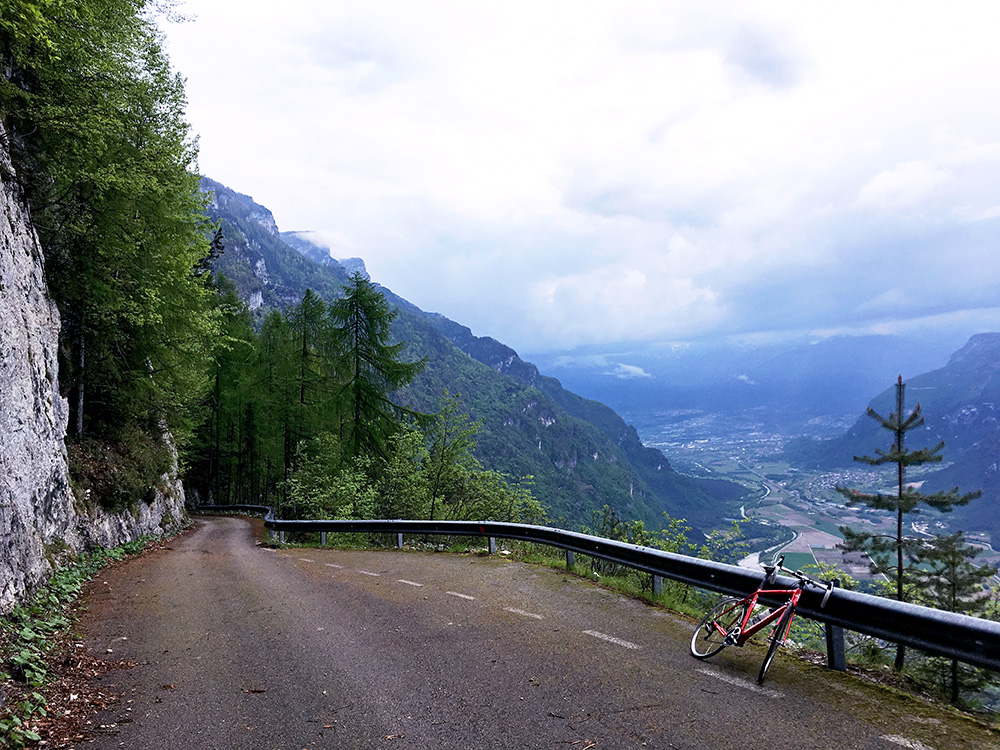 And even better views down the Valsugana.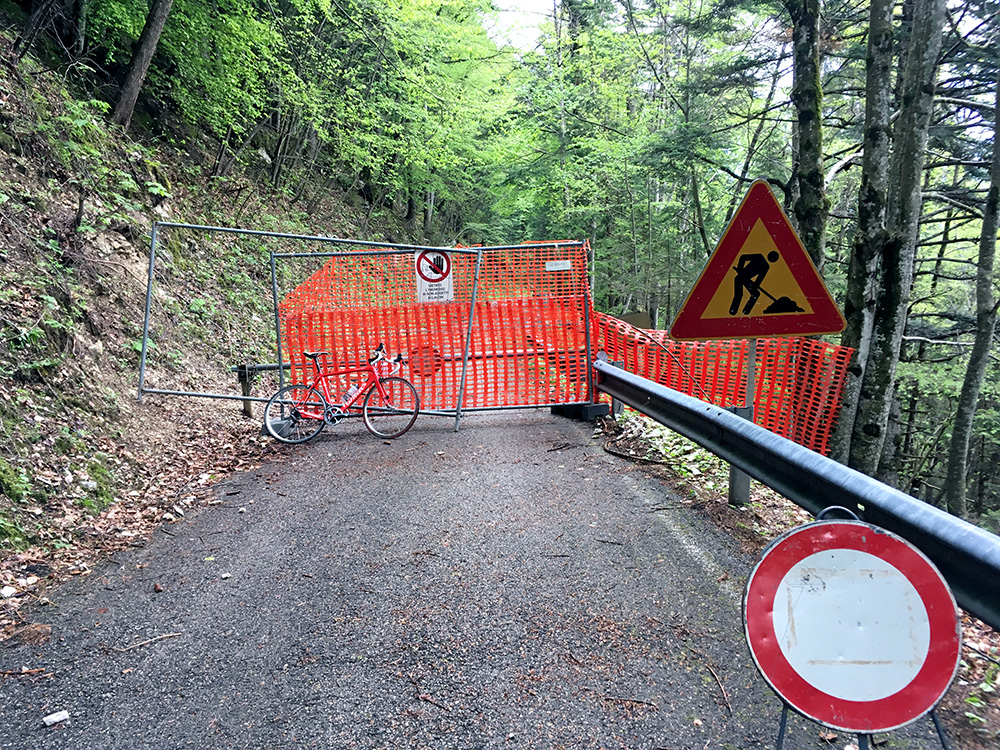 Oh well, there were a reason I did not see anyone here. The road was indeed closed. I happily could somewhat easily walk around and continue, but was worried there would be more serious problems ahead like a whole forest of trees laying across the road.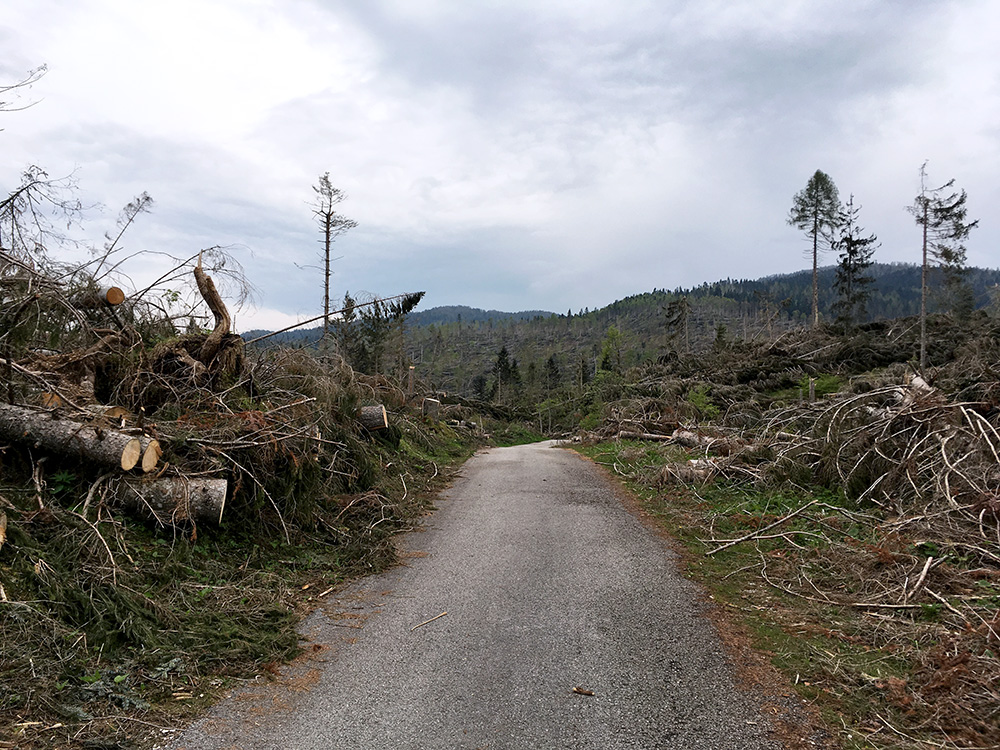 And as you can see here it could very well have been the case if I had been here earlier as they obviously rather recently had cleared the road. To go up here before that would literally have been impossible!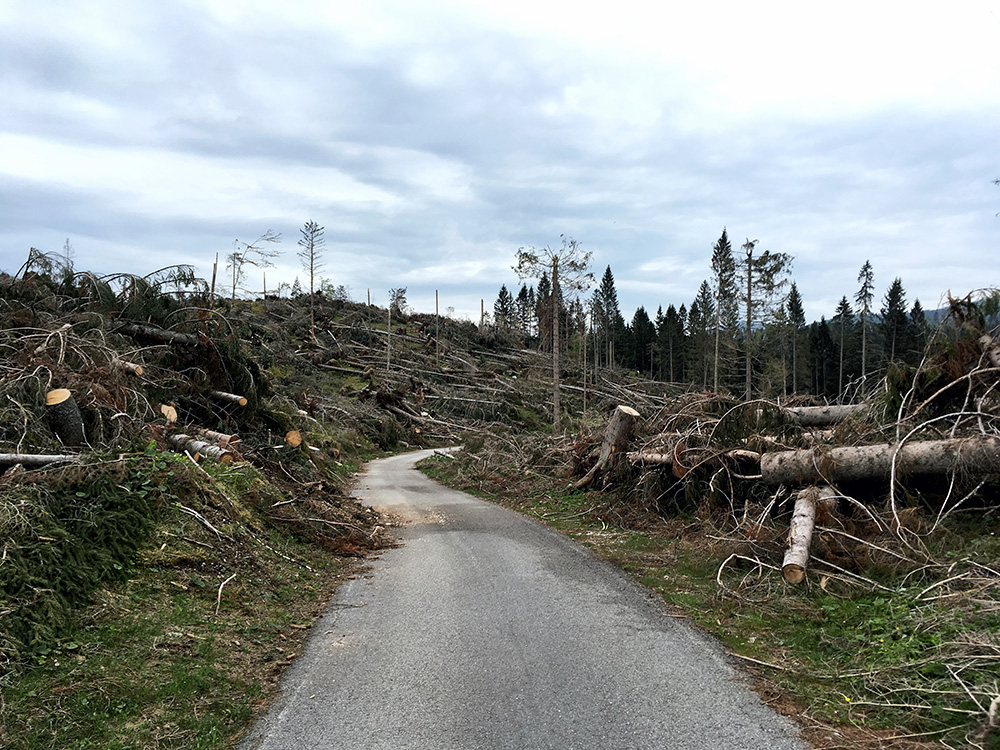 I was terribly lucky though that they were not working on clearing the road and that it had just been cleared all the way. Maybe it was good I was getting late (but it was also Saturday, so maybe they had not worked here today).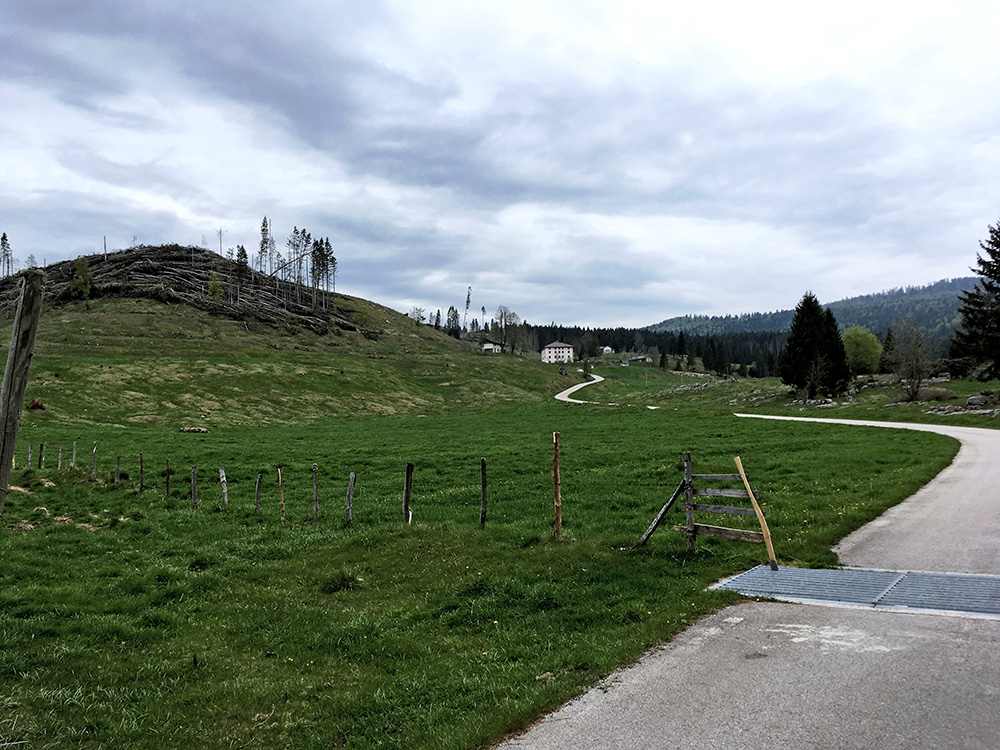 Here the road starts to look fine again as I was reaching the Rifugio Barricata. The rifugio was open and someone arrived there about the same time I got up there, but I just continued as it was getting late.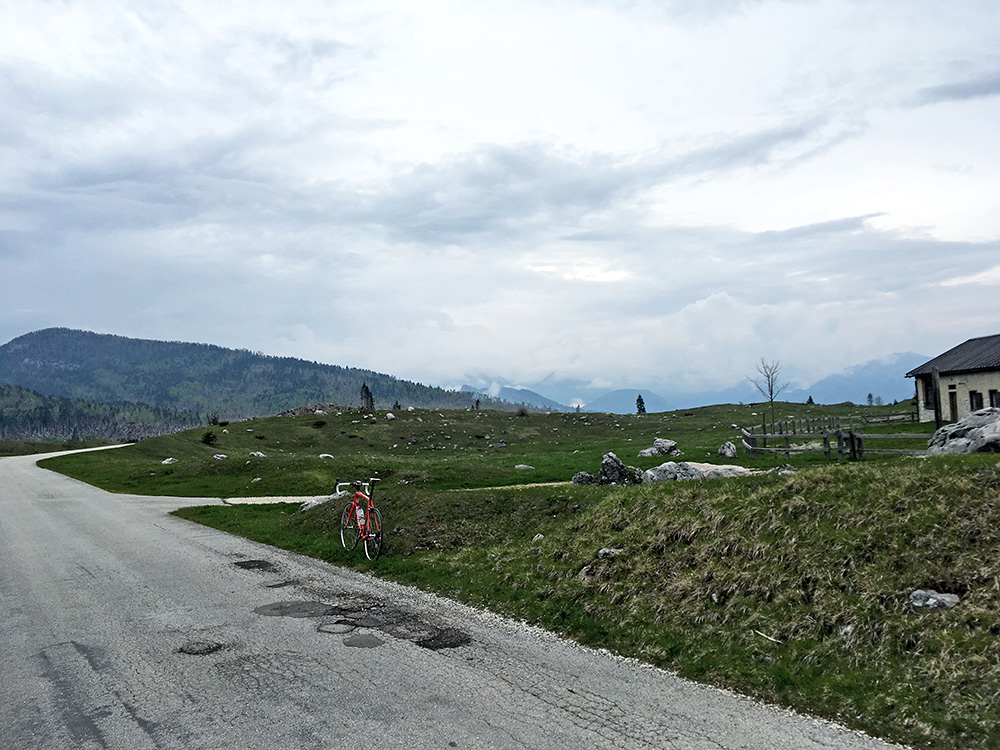 Then I reached the high point of the road at Piana di Marcesina (1374m), which is a fair climb from Selva (265m). This is a plain that is also a pass, as I would say. Looking back here.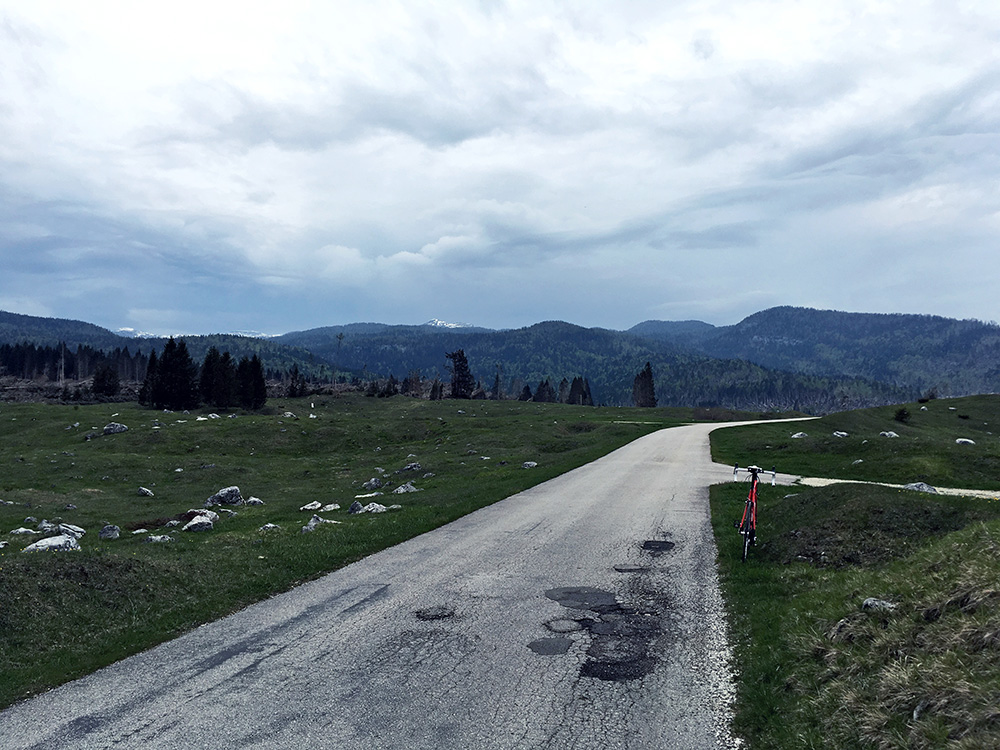 Here I am looking ahead from the same point as above at the direction I am going in.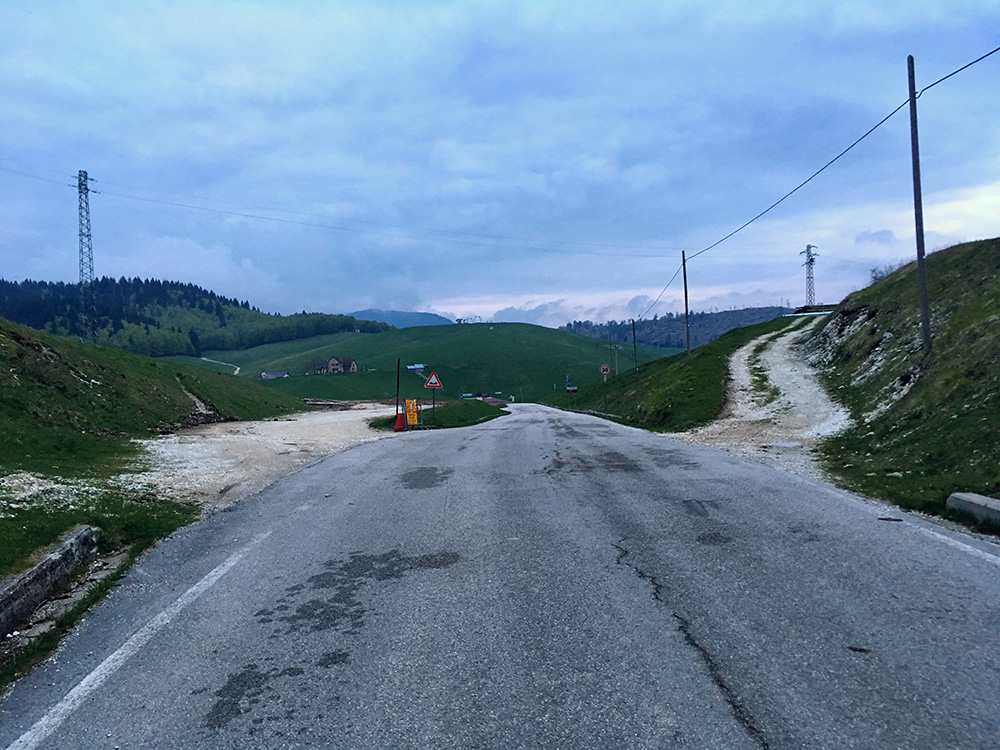 Now, I thought I was home safe so to say as it was merely a short climb over another pass and then a (long) descent back to Cismon. The road started to go down and there were another area where they had put up woods to be collected and I hit something and had yet another flat. Now I got sort of tired on this, but was still happy I had another tube with me and that it was still not dark. I very carefully once again changed tube as now I simply could not afford another flat until I was back in Cismon. All went well, but it started to get dark slowly.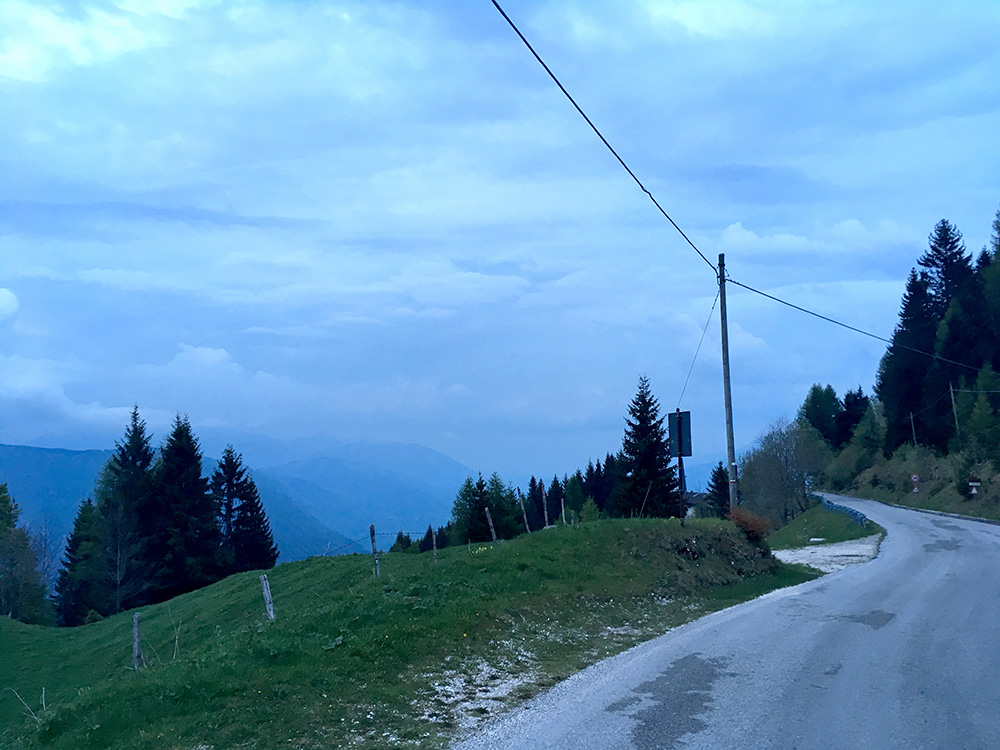 I continued on to Passo Casera Stazio (1390m) (which was one of the highest paved passes I had not climbed before in the Alps now). You see it is starting to get dark and the descent was fine, but still takes time, especially for me not being an Italian descender … . So by the time I reached the valley it was all dark and too dark to take the bike path I had first thought of using. Luckily there were not much traffic on the big road and the distance to Cismon was not so long.
I had a nice dinner at the hotel and then went down to the main road where there was also a restaurant and had an ice cream there.